Date: November 7, 2017; To: PFIC Message Board; From: Snookie; Subject: Influx of small bat rays
In the surf area there was an influx of small bat rays that probably exceeded hundreds of them on both sides of the pier. Since I have spent my whole life down there, I have never seen anything like it before. This week we have had a young whale with unusual markings and a medium size turtle in the surf. What is next?
Date: October 12, 2018; To: PFIC Message Board; From: Sbookie; Subject: Bonito Run to Beat All Previous runs at Balboa Pier Yesterday
 Yesterday it was fantastic! There were bonito from the end to the surf all day! All were big. They all ran from 5 to 10 pounds. Some of them had to be netted if the line was to light to lift them. There were six of us doing the majority of the catching and retrieving so we had three people also doing the netting and the getting of more lures when needed. It was chaos a lot of the time, but oh so much fun. I hadn't seen this in almost 40 years. Today there were only a few big ones caught, and the wind picked up to about 17 knots. Tomorrow it is supposed to rain and have thunderstorms. We"ll see.
Posted by Angler 67
No Doubt Snookie, I just came out on a whim yesterday and that size & quantity of fish I haven't seen since my teens (1980's) LOL my hands are all cut up hand lining up (sometimes with sea lions attached). Those brutes… Can't believe the stark turnaround today.
Posted by Rusty
I was there too! But not expecting anything like what we saw, those huge boneheads attacking jigs like they did, its been a long time since I've seen a bite like this on the pier. Amazing to see these giants landed, they fight like crazy! I landed 1 out of 8 hookups, lost 3 to sea lions, pulled hook on the rest, my Kroc was way too small! But plenty happy! The previous Sunday I was out there and the ones I was catching were a lot of smaller, 2-3 lb. Planning to go out there tomorrow, hopefully they are still Around.
Potpourri — Possibly more than you may want to know about the Balboa Pier
<*}}}}}}}}}>< — Fish counts done at the pier by the California Department of Fish and Game from 2004 to 2009 showed that just like the counts at the nearby Newport Pier, Pacific mackerel dominated the catch. Here the species count was 19 with the leading fish being Pacific mackerel with 1467 fish. Pacific sardine came in second at 397 fish while 193 Pacific bonito were counted. All three leading species are pelagic in nature, often traveling in large schools, and species that, when present, will typically see large numbers of fish caught. Pacific mackerel were available all five years while the bonito only showed in 2004 and the sardines only in 2004 and 2005. They were followed (numerically) by jacksmelt, walleye surfperch, white croaker, topsmelt, shiner perch, jack mackerel, queenfish, barred surfperch, California lizardfish, yellowfin croaker, northern anchovy, white seaperch, spotfin croaker, California corbina, barred sand bass and sargo
<*}}}}}}}}}>< — Cass, a friend of Snookies, caught a 10-pound, 29-inch striped bass off this pier in 1991. It was the first striped bass reported caught on an Orange County pier even though stripers have been planted in Newport Bay since the late 1960s. Snookie says the bass was caught on a live smelt. "I was standing beside him when that fish hit. It was a beautiful sight to see it jumping. I netted the fish, measured him, photographed them and sold the article and picture to California Angler when they were still in business," said Snookie. Several striped bass were recorded from Orange County piers in 1998, the year when the normally elusive linesides invaded southern California waters.
<*}}}}}}}}}>< — Whenever the big Humboldt squid make an appearance, and the word gets around, there is a crowded, chaotic atmosphere at the pier. Squid jigs will be a flyin' and people hoppin' out of the way of the splattering ink that's spewed by the gnarly creatures as they are brought over the railings. In May of 2007 Ben (dompfa ben) and his brother Bryan visited the pier and experienced just such an event. Shortly after, on May 29, they posted a report on their visit together with pictures. On May 31, Ben posted a follow-up, tongue-in-cheek story on the collapse of the pier due to the number of fishermen. The story became an immediate "Classic" on the PFIC board. The only problem was that it alarmed some readers who thought the story was real. It reminded me of the uproar over the infamous "War of the Worlds" radio broadcast by Orson Welles back in 1938 (on a much, much smaller scale).
Date: May 29, 2007; To: PFIC Message Board; From: dompha ben; Subject: Jumbo Squid Invasion at Balboa! (pictures)
Around 3:30, we… drove around to Balboa Pier. When we arrived, there were only a few families at the end, enjoying a wide-open mackerel bite. I split-shotted a small piece of mackerel and kept a few of the cannibals for bait. Almost all were released; those that didn't look like they would make it (eye injuries, etc.) were given away to folks.
As the afternoon turned to evening, more and more people showed up at the end of the pier. By the time the sun was setting, it was shoulder to shoulder, with people wrapping all the way around Ruby's.
As dusk fell, I saw the first squid cruise under the lights. At first, I thought it was a baby seal, but I noted the erratic pulsing movement, and realized what it was. Soon, there were hundreds of the huge critters flashing in the water. Bryan and I tossed out squid jigs, and immediately hooked up. Everyone on the end of the pier was bendo…it was incredible! I haven't seen that much excitement on a pier for a long time.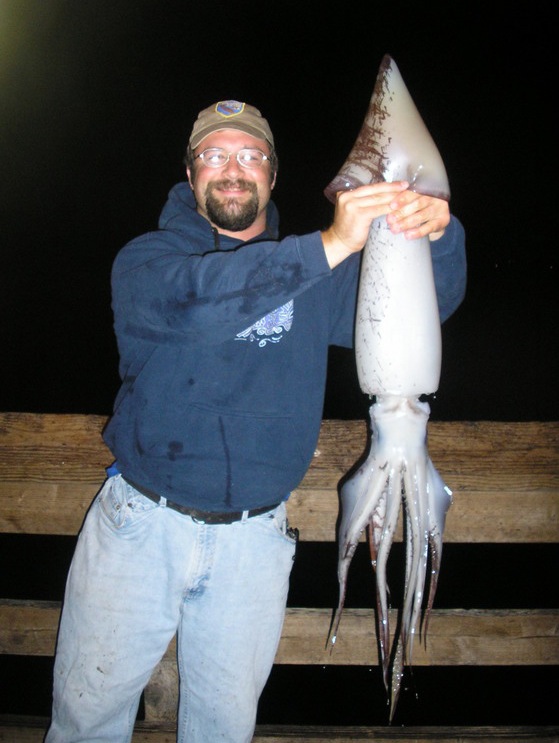 DOMPFA Ben with a jumbo squid caught from Balboa Pier — Don't forget to bring a landing net for reference, I'm 6'3″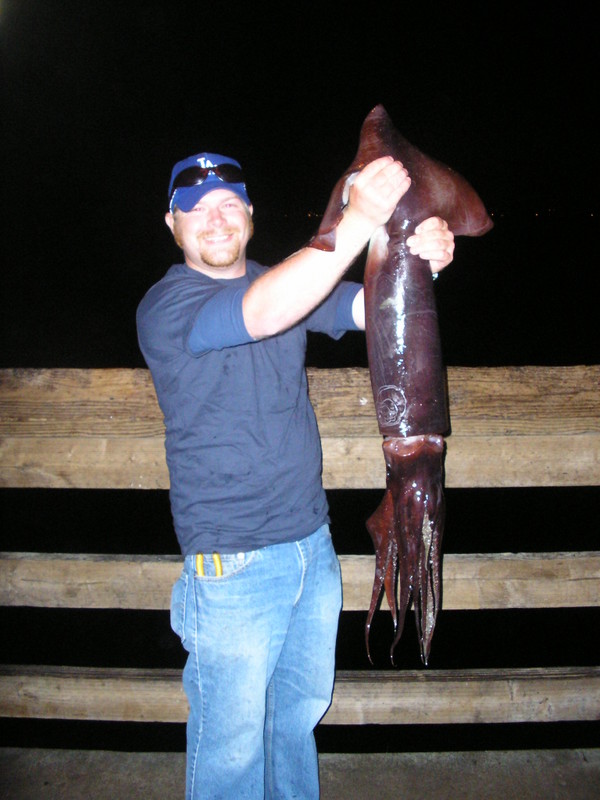 Calstar Bryan poses with an angry squid at Balboa Pier
If you do catch a big squid, stay clear of the tentacles and the sharp beak. They can do damage to your flesh, and give you a painful experience!
After a solid 40 minutes of wide-open squidding, they seemed to vanish just as quickly as they had arrived. I didn't keep any of the beasts, as I have a few slabs of calamari in my freezer from a squid my brother Dan gave me a few weeks ago. Instead, the squid we caught are going home with some of the nice families with whom we fished tonight, including a couple of people that didn't manage to land any squid of their own. I don't like to give away my catch as a rule, but in the case of squid, which don't release well, I didn't mind.
All told, the pier probably landed around 50 squid by 9:15, with over 100 lost due to light line, pulled jigs, inexperience, and unpreparedness. I had one of only three nets at the end of the pier, and it was being passed around like community property… I didn't mind, actually, and stopped catching squid for a while so I could help people net theirs.
My hoop net was in high demand tonight…Did I mention…BRING A NET!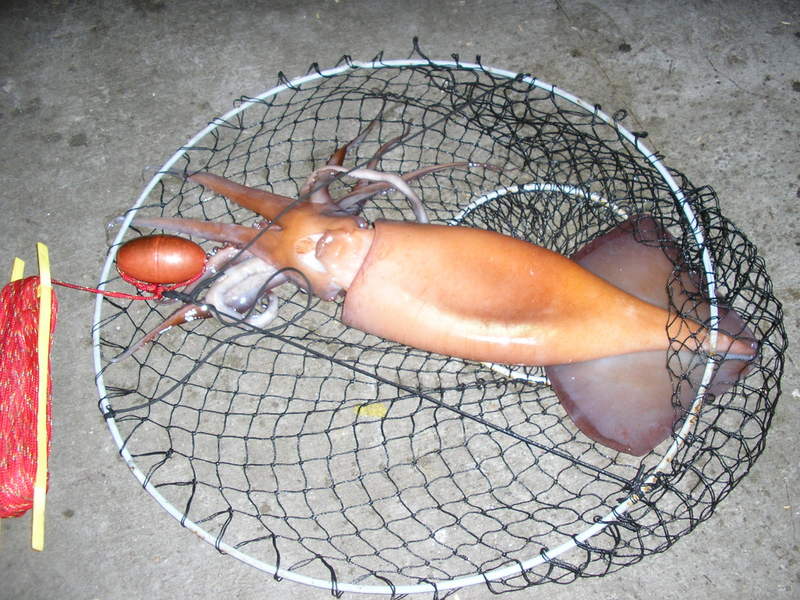 Everyone was appreciative, and no one fought, complained, or acted too greedy. I can see why people think Balboa is the "friendliest" pier in SoCal.
Word has it the last few nights have had similar showings of the big squid at Huntington, Newport, Balboa, Oceanside, and Dana Point. Don't forget a landing net… these squid are BIG. By the way, I'm not blowing up the spot. It's already blown up, and the number of people using cell phones to call in their buddies tonight was almost comical. As we walked down the pier leaving, there were hoards of people coming in with coolers and buckets. I hope the squid came back to give them a repeat performance…because they were gone when we left. Happy hunting…
Posted by Calstar Bryan
Hi Everybody- Thanks for all the kind responses. The squid were (no pun intended) a blast to catch. As for rod and reel combos, I was using an 8ft. jig stick coupled with a Daiwa Sealine 30 tossing 30lb. test and they were still ripping drag and putting tons of bend-o in the rod.
Ben seemed to take top honors in "Fight of the Night" fishing an Abu 6500 on an 8ft. 15lb. rod with 50lb. Power Pro. I can't tell you how jealous sick I was watching him fight those freight trains on that light gear.
As for jigs, Ben was rigged pretty traditional for squirts, working a plastic squid jig 12 inches above a four-ounce torpedo sinker. I threw a painted glow-in-the-dark torpedo sinker with squid hooks and that seemed to work well too. Anglers fishing neon glow sticks (green or purple) were hooking up pretty consistently. Unfortunately, as Ben mentioned, some squid unbuttoned due to pulling the jig, inexperience and/or too light of line. It was kinda' entertaining though seeing some of the broken-off glow sticks breeze through the water then disappear into the depths.
I've never seen such excitement on a pier in all my life. People were cheering and high-fiving while others patiently played out the big cephalopods waiting for a landing net to be lowered. Complete strangers encouraged their fellow anglers on throughout their fights as fresh ones were being hooked up around the entire end of the pier. Oh to be a patron of Ruby's, witnessing all this from a booth, must have amazing. The experience was truly awesome. If my brother reads this…Brady sorry I inked up your jeans.
The following spoof generating quite a bit of comment!
Pier Collapse Prompts Investigation
by B. Russell Acker, Staff Writer, May 31, 2007
NEWPORT BEACH– In what is being called a freak accident, the Balboa Pier collapsed under the incredible weight of a large crowd of fishermen, and plunged into the roiling surf, late Wednesday night. While no one was killed in the incident, scores were hurt, and hundreds have already filed claims against the city for their injuries and loss of fishing gear.
Nick Tripodes, a local merchant, witnessed the ordeal.
"I heard a loud snap, followed by screams and a tremendous splash," recounts Tripodes. "You could hear all those people swimming for shore in the dark. It was awful."
Newport Beach Police Sgt. Raymond Devonian cites eyewitness accounts that suggest the pier collapse was caused by giant cephalopods.
"When the giant squid come in, the pier loads up with [anglers]," stated Devonian. An avid angler himself, Devonian empathized with the calamari-crazed fishermen. Still, he encourages anglers to be safe.
"It's just not designed to support that many people," Devonian said about the pier, now little more than a concrete and wood jetty jutting out from the shoreline at a right angle. "What we're going to do with the tons of squid jigs that are washing up on the beach I really have no idea," said Devonian.
Initial reports from the Army Corps of Engineers suggest that over 17,000 people were on the pier Wednesday night at the time of collapse.
"That's astronomical," said Ken Jones, author of Pier Fishing in California. "It's not the kind of thing we [pier anglers] take lightly. When this sort of thing takes place, there's really only one question: Where's the tartar sauce?"
Jones' comments were merited by how rare it is for the tasty cephalopods to swim en masse this close to a pier.
It is unclear at this time if last winter's cold weather spared enough of California's lemon crop to meet the demand of calamari anglers. "Let's just hope the price of lemons makes these eight squid I caught last night worth it," stated one soaked angler. He did not wish to be identified, but added, "Balboa is still the friendliest pier in California. I'll be back."