Inshore, try for croakers and perch. I've caught quite a few yellowfin croakers and corbina here on fresh mussels and bloodworms, and seen some nice barred surfperch caught by anglers using similar bait or live sand crabs. I've also been told that quite a few good-sized spotfin croakers are captured, not surprising considering the fact that the nearby Newport Bay is one of the best areas in California for the large croakers. Unfortunately more of the large spotfins are snagged by the "unlicensed commercial" fisherman at the pier than by anglers. Sargo are another fish commonly caught inshore to mid-pier and some are big as seen in a 17-inch, 3-pound, 14-ounce fish in July of '99.
Another fish you may see cruising the shallows is mullet and when the schools of 2-3-foot-long fish show up anglers will toss a variety of baits and lures at them, generally with little luck. They're not impossible to catch on a line and hook, but about as close as you will probably come. They're vegetarians, primarily subsisting on algae and tiny bits of food they strain from the mud and sand, and about the only thing that will occasionally attract them are doughballs on tiny, size 12 or 10, hooks. Raymond Cannon in his excellent book How to Fish the Pacific Coast recommended making doughballs with cotton, flour and bananas and even suggested adding some garlic. I'm not to sure if these fish are Epicurean enough to require garlic but that old doughball recipe does work on some fish. More common is to see the snaggers snagging them with large treble hooks, a feat that is legal but not exactly sporting.
At night, fish the inshore area using squid, mackerel or anchovies for better-than-average action on thornback rays and occasionally a bat ray or shovelnose guitarfish. Schools of fifty or more small bat rays are occasionally seen in the inshore area, generally in the fall.
Like the Newport Pier, Balboa will also see runs of squid every so often, both market squid and their larger Humboldt cousins. Snookie sent in the following report in September of 2002, "The Humboldt or Jumbo squid have been making nightly appearances for several weeks now, but are almost gone. It was a show in itself to watch as the pier was lined with elbow-to-elbow fishermen waiting for that magic hour when the squid would appear. They ran all the way to the surf following the grunion and other baits farther out. Those were happy people while the squid were there." Another run of the Humboldt squid started on Memorial Day in 2007 and lasted for several weeks (see below) while a third run occurred in 2011.
The Pier Rats Speak 
Date: January 15, 1998; To: Ken Jones; From: Ben Acker; Subject: Balboa Pier
"I visited the pier mid-month and it was a virtual Mac-attack. On four-pound test and a trout rod, it was a good time…"
Date: January 1999; To: Ken—Pier Fishing in California Message Board; From: Snookie; Subject: Top piers for halibut
The message board left out the Balboa Pier [on the list of top piers for halibut]. Balboa is an excellent halibut fishing pier. My halibut fishing friends and I catch many keepers every year, and we have over 50 years of experience fishing that pier regularly all year long. Remember to always watch the food supply in the water. If there are baitfish, chances are the halibut have moved in. By the way, we all fish the middle of pier to the surf. That is where the halibut congregate. As to baitfish, don't forget the sardines as well. Unfortunately the best bait is a live grunion. DFG frowns on that bait. Remember the bigger the bait, the bigger the fish. I carry a 48-inch in diameter net for landing the big ones, and we use it. Snookie
Date: July 5, 1999; To: PFIC Message Board; From: Ken Jones; Subject: Balboa Pier
Finally got the chance to meet Snookie, "the gang," and Mark Jackson at the Balboa Pier on the morning of the 29th.
Out at the end of the pier anglers were catching mackerel but I only caught one. Saw an angler hook a 10-12 pound salmon on his multi-hook mackerel rig. He got it up to the pier but tried to bring it up by hand and it broke his line. Remember to have a net!!!
When I joined Snookie at the middle of the pier she quickly made some bait (small smelt) and we were soon fishing just for the halibut. Snookie paved the way with the first fish and Mark soon duplicated her feat. Soon after, another member of the gang caught a flattie and I was beginning to worry. But I was next and caught a pretty nice-sized fish. We took turns catching fish for a couple of hours. The net haul of halibut was 10-11 fish for the 5 (eventually 6) anglers.
Snookie proved to be a very hospitable host (as well as an obviously great angler), the gang was a great group of people, and I'm ready to go back to Balboa.
Posted by Snookie
Dear Ken, The rest of the pier rats would be proud to have you fish with them. It was a great day, and it is something for them to look forward to. That halibut you caught wasn't just a halibut but a beautiful 27-inch halibut. You left our group very envious that day. You did well. You are welcome back to Balboa Pier anytime.
Date: September 22, 1999; To: PFIC Message Board; From: Snookie; Subject: Yellowtail
Take note that the small Spanish mackerel are in at the pier en masse. A regular snagline will get them. This can mean that the yellowtail will be behind them shortly. The water temperature is on the cool side, but may not make too much difference. For those of you that are going to try for yellowtail, use a slider rig. Cast out first with just a heavy sinker. Put a snap swivel on a 3-foot leader, add the Spanish mackerel (hook in the "nose" area), and snap the swivel to the line and let it drop into the water. Even if the yellowtail don't show up there are other fish that will like this method such as halibut, sharks (bigger ones). Snookie
Posted by fongster
Hey Snookie—are there many YT (yellowtail) caught off piers? I heard that many, many years ago it was common practice to land many, probably three decades ago. I would think if there were any size to them it would be near impossible due their nature of running for structure such as the pilings. If people are catching and keeping those 2-3 pound ones, shame on them! Those are the ones that shouldn't be taken till they're at least 7-8 pounds or even bigger. Last year and the year prior it was a problem on the private boats too. Manly men saying they slayed the yellowtail when in actuality they only found and caught juveniles. What a waste.
Posted by Snookie
Yes, there are yellowtails off the Balboa Pier at times. For about 12 years now we have had them show up in September and October if the jack mackerel show up first in quantity. We don't get them every year, but it has been often enough that have learned to expect them under these conditions. The conditions are right. Going to check again tomorrow. Yes, a lot of them are the firecracker sizes, but with all the fight the bigger ones have. My biggest has been about 15 pounds. My smallest were about 5 pounds. Believe me they are a real challenge for the fishermen. As to Balboa Pier we have always gotten ours from about midway out to Ruby's. They have always been on the sides—either side. Something to look forward to. I hope! Snookie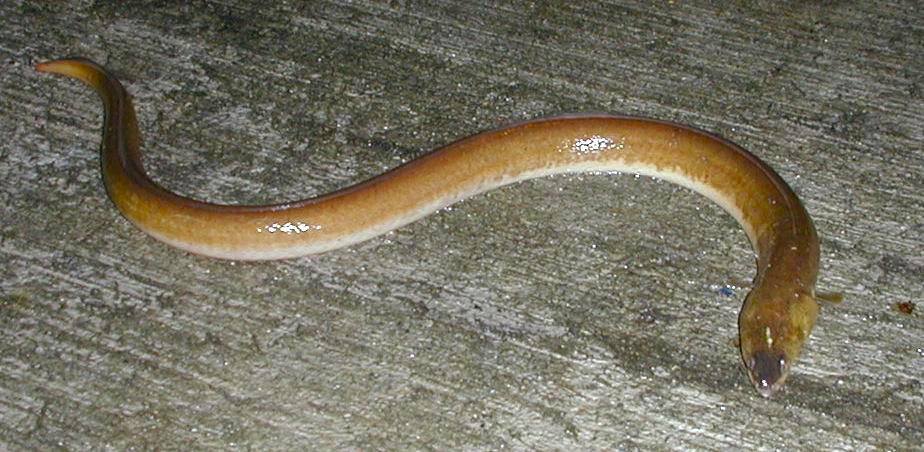 Yellow Snake Eels have been caught at both the Balboa and Newport piers
Date: September 21, 1999; To: PFIC Message Board; From: Steve; Subject: (In reply to any giant squid on Balboa Pier)
There were some giant squid off Balboa Pier tonight. They started biting around 8:30. I saw about 20-25 caught. My girlfriend caught three that were about 2-feet long. There were less squid caught compared to last night and they were about 1 to 2 feet smaller than the ones caught last night. The squid jig worked like a charm. At about 11:30 Bat rays started biting. Two were hooked as I left each w/ a 2-foot wingspan. A huge one that was hooked and lost was swimming on the surface. It had a 4-foot wingspan. Steve
Date: September 27, 1999; To: PFIC Message Board; From: Steak; Subject: Balboa Pier Report – Saturday
Hi all, Fished Balboa pier with the kids 11am to 6pm on Saturday, second "T" on the left. No rays, lots of crabs eating bait. Saw NO bait until around 3pm when the sun came out. Four-year-old daughter got a few bait balls going with bread. THREE YELLOWTAIL started cruising past repeatedly, yes YELLOWTAIL (first time I have EVER saw them off a pier). Got daughter throwing bread and catching small mackerels on Lucky Lura. She'd bring me the macks and I'd put them on son's line. Meanwhile I was tossing every jig I had…yo-yo iron, surface iron, and Fish Traps. Got maybe one head turn from the passing yellows and the tail bitten off one of the macks (smallish bite radius, maybe a halibut?) but that's it. What I would have given for a nice lively flylined anchovy! Anyway nothing but small macks, most released and a couple chunked for ray bait. Enough action to keep two small kids busy for 6-7 hours so not too bad at all
Posted by Snookie
Dear Mark, If you return to Balboa Pier, go to the phone area out by Ruby's. Fish for your bait there. You want the Spanish or Jack Mackerel for the yellowtail. After you have some go back to where you were, but try both sides of the pier.
Use a slider for yellowtail. The sliding rig I am referring to is simple. Just attach a heavy enough sinker to give you a good cast. Now cast just the sinker on the line out as far as you can. Use a 3-foot leader with a snap swivel attached to the loop end. Now put your bait on the hook, and then attach the swivel snap to the line near the tip of the rod. Let it slide down to the water. It will stay on the surface indefinitely, and then gradually sink to the bottom. If nothing hits it on the top, it might wake up a halibut on the bottom when it gets there or as it is getting there. Check to see which way the wind is blowing, as your leader won't slide well against the wind. Good luck. Snookie
Date: April 14, 2000; To: PFIC Message Board; From: Bent Rod; Subject: A question to all Pier Rats
I remember as a kid fishing with my parents off of Balboa Pier and would see tons of big piling perch feeding on the mussels. Over many years every time I go onto a pier I always check to see if I can spot any more of these beautiful fish. But it seems they have vanished, has any seen these fish lately or have they gone along the wayside…
Posted by Snookie
As to Balboa Pier, yes, years ago and not that many years we had beautiful piling perch. If you will notice the pilings have been wrapped to keep the growth down. That was and is a food supply area for all the fish. Also not too many people use the proper baits for those fish. We used the little crabs from the bay, and fresh mussels. None of this squid and dead anchovy stuff. We still have some large sargo around. They also eat the same things that the piling perch do, but they are closer to shore. The pilings close to shore are not wrapped, so they still have a feeding area. The rest of the fish such as the bonito, halibut, etc., will be back. They are here and gone in cycles for whatever reason they cycle. As Songslinger put it there is weather, toxins in an area, no food source, etc., but they WILL by back. Each year has always been different, and each year will continue to be different. That is the wonder of the ocean.