Public Pier — No Fishing License Required
The memories that I have from my first visit to this pier illustrate or symbolize the dual nature of this area. Shortly after I arrived, a trio of huge, majestic Canadian Geese swam by the pier and then rose, somewhat awkwardly, into the sky while honking their distinctive good-by. Here, within view of the Carquinez Bridge, and a heavily populated and industrial shoreline, were these impressive visitors from the north. Their presence was uplifting.
Yet a few minutes later, I noticed a single, sad outline near the shore. It was a large white sturgeon, sixty to seventy pounds in weight, floating belly-up in the shallow water. It seemed such a waste. I wonder if the fish died after a gallant fight or if it died from some natural, explainable reason. I hope it was nothing related to the pollution common to this region. As mentioned, the environment is dual natured, dichotomous; an area rich in natural beauty and resources, yet an area which reflects, often unseen, the devastation caused so often by man.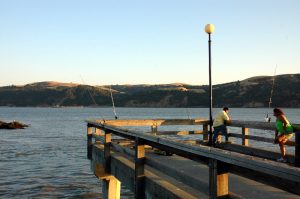 Environment. This pier, also as the  Benicia 1st St. Pier and Point Benicia Pier, is located on the most westerly point in Benicia, land that extends far out into the waters of Carquinez Strait. The concrete pier dates to 1982 and is fairly small, being only 16 feet wide and 125-feet-long on the stem with a 100-foot-wide T-end. For the most part, the bottom appears to be mud and the shoreline is simply rip rap rock.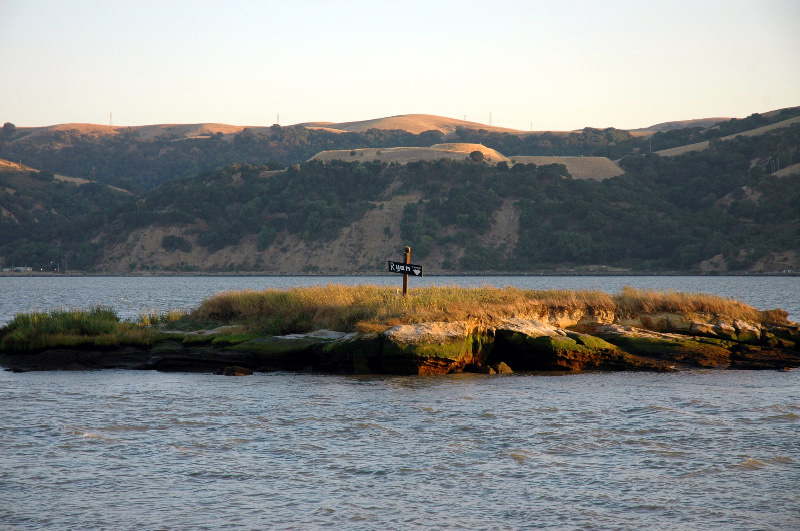 Just out from the end of the pier are old pilings and a small island while the pier pilings themselves show little growth with the exception of a few barnacles. Looking back to the shoreline, a shallow water bay sits to the left of the pier; a bay which is mostly mud flat at low tide. Off to the right is the Benicia Marina. Pier waters themselves are fairly shallow and a strong current often prevails. Although the pier is small, the currents and features seem to attract fish.
This is a striper and sturgeon area, and any other species are incidental to the main two. Luckily enough large stripers and sturgeon are taken off of this pier every year to keep things interesting.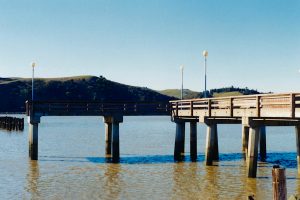 However, local experts say this is actually one of the hardest places to fish due to the water conditions and the bottom (especially for sturgeon). The experts (who are regulars and have learned from experience) concentrate on large, incoming tides and fish on the left side of the pier.
Fishing Tips. Concentrate on the larger fish here, the striped bass and the sturgeon. Both can be caught year-round and most days will see at least some fish; although fish that are under the size limit will prevail. For both species, natural bait is preferred. Striped bass (especially the larger fish) are most commonly caught in the spring or fall. In the spring, the bass are moving down toward the ocean. In the fall, the fish are returning to fresher waters to spend the winter. A few fish will be caught year round but not in the same numbers as during these times. Best natural baits seem to be a nice slab of anchovy, sardine or shad. Next best would be grass shrimp or ghost shrimp followed by pile worms. Fish on the bottom with a sliding sinker and size 2 to 2/0 hooks and be prepared for a strike at any time.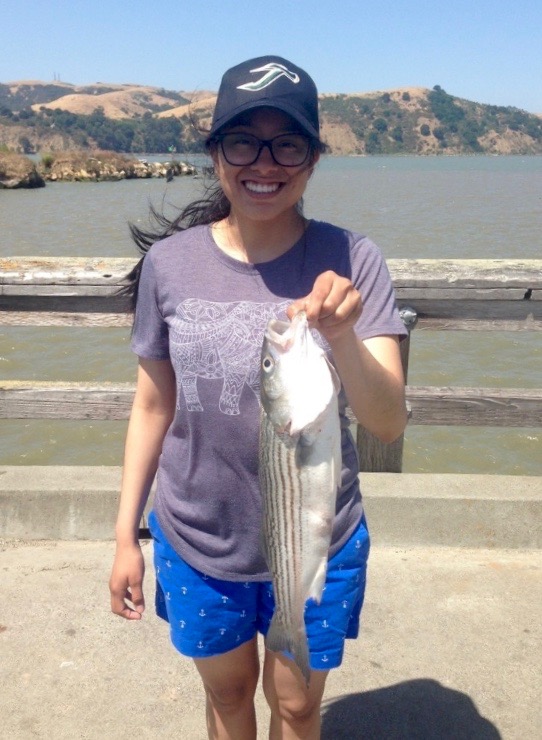 Striped Bass
If wind and currents permit, you might also try artificial plugs, spoons and spinner baits. As mentioned earlier, top local lures include the Cordell Spots, Hair Raisers in several colors, Rebel plugs (several models), spoons and wormtail jigs.
Some really large sturgeon are found in these waters and they can be encountered year round. Here, use a sufficiently heavy line (at least 30-40 pound test) and large enough hooks, 2/0 to 4/0. Best baits will vary with the time of the year but it is hard to beat ghost shrimp and mud shrimp. When unavailable, grass shrimp and even pile worms will often work. Do be sure you bring a large net with you or, at the very least, plan out how you will land the fish if you hook a "monster." Fish to nearly two hundred pounds have been seen here.
King salmon will be present in the fall so bring along a few spinners (Blue Fox or Mepps. No. 5). Try for jacksmelt in the late summer when waters can be saltier; use pile worms and small hooks fished just under the surface of the water with a bobber. Also be prepared for small sharks and rays late summer and fall, they can show up.
During the winter and spring fish on the bottom for starry flounder. They are not as common as when I first fished these waters in the '70s but they still show up. Use grass shrimp or pile worms on a high/low leader or a sliding sinker leader.
Lastly, remember the advice from the experts given above.
The Pier Rats Speak

Date: August 14, 2002; To: Pier Fishing In California; From: Bluegy; Subject: (In reply to: Mudsuckers posted by Ken Jones on Aug-13-02 3:11pm)
I used to catch tons of these around ten years ago in Benicia state park. They were extremely plentiful and all you needed was a piece of pile worm or grass shrimp. Nowadays all I ever catch are these black-colored gobies. Anyone know what they're called and are they even native? I tried those black gobies and have only caught one striper in using them about 6 times. In my opinion they are not as good as the longjaw mudsuckers. Anyways, last year iI saw this guy catching mudsuckers in the Delta. I tried to catch them the next day using a stick and drop-line baited with a little bit of grass shrimp, this is the setup the guy used, and I didn't catch any. Anyone know where they are still plentiful and easy to catch and what technique? It's unfortunate that these mudsuckers are so hard to come by, when they were plentiful they were more effective at catching stripers than bullheads from my experience and cut large mudsuckers make excellent sturgeon bait!
Posted by ben
(In reply to: Mudsuckers posted by Ken Jones on Aug-13-02 3:11pm)
FYI, we used to catch em for bait. first street pier in Vallejo right at the boat launch. A size 10 salmon egg hook with a little piece of pileworm; weight with a split shot. We would catch enough bait for three of us within a half hour.
History Note. In December of 1846, Dr. Robert Baylor Semple, one of the founders of Benicia, gained a deed from General Vallejo giving him a half interest in a five-mile stretch of land along Carquinez Strait. In return, he agreed to do a number of things including establishing a ferry and building several wharfs. These were the oldest wharves in Benicia and began a building boom that would eventually result in almost the entire waterfront being covered with wharves.
Semple saw the area as the center for west coast shipping and originally wanted to call it Francisca (to show it was near San Francisco Bay) but was beaten to the punch by Yerba Buena which changed its name to San Francisco. To avoid confusion, Semple agreed to call this area Benicia. Once gold was discovered, he would watch San Francisco become the port city of the Pacific.
Among the early tenants of the wharves was the Pacific Mail Steamship Company which established its headquarters in Benicia in 1850. Expansion in 1853 called for an enlargement of its wharf and eventually it was here that all of its seagoing ships were repaired and loaded with coal. Although the firms mighty ships — the "California," the "Oregon," and the "Panama," would call Benicia home for a number of years, eventually the company moved its headquarters, and its ships, to San Francisco.
Benicia did enjoy a brief period as capital of California. On the corner of First Street and West G Street, sits the building which served as the third state capitol in California from 1853 to 1854.
Much later, during World War II, this waterfront area around First Street became, in essence, a red light district with over 15 brothels which stayed busy servicing the needs of servicemen (and others) from Mare Island in Vallejo. Their lights were put out after the war and the area itself began to deteriorate in the late 1950s with the decline in shipping. Much of today's waterfront beauty has occurred as a result of development since the mid-1970s.
Near the front of the parking lot is a plaque that reads: "Dedicated To The Memory of Pony Express Riders — 1860 — The Knights of the Saddle — 1861. William Hamilton, the first Pony Express rider to reach Benicia on the final relay. Carrying the mail from St. Joseph, Missouri to California. Arrived in this city April 23rd, 1860 at 7 a.m. Thomas Bedford, a young Benician, took the Mochila by ferry across Carquinez Straits to San Francisco via Martinez and Oakland."
City of Benicia Fishing Pier Facts
Hours: Closed from 1/2 hour after sunset to 1/2 hour before sunrise.
Facilities: Appurtenances include a handrail, benches, lights, a fish cleaning sink, a drinking fountain, and trash containers. Portable toilets are found near the entrance to the pier. A large dirt (sometimes mud) area is found near the front of the pier for parking. Although originally designed and requested, wind shelters are nowhere to be found; they would make a welcome addition to the pier.
Handicapped Facilities: No handicapped parking or restrooms. Not posted.
How To Get There: From Interstate 780, take the Second Street exit south to Military Street, turn right and follow it west to First Street, turn left and then follow it south to the end of the street.
Management: City of Benicia.