Private Pier — Fishing License Required
My first fishing trip to this small pier was on a fairly balmy, shirtsleeve weather kind of day in early January. Boat traffic was minimal, most of the nearby trees were void of leaves, and I pretty much had the pier to myself.        Placidly swimming, and occasionally ducking their heads into the water, was a variety of small ducks—Common Goldeneyes, Surf Scoters and Clark's Grebes.
Unfortunately I was missing the bait I had hoped to bring—pile worms or ghost shrimp—and had little hope to land the desired wintertime perch. Turned out I was right as I failed to receive even a nibble.
However, the pleasant day, the opportunity to enjoy the surroundings, and the company of some birds made the short visit worthwhile. On later visits, armed with the proper bait, I had better results.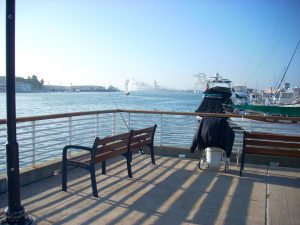 Environment. Jack London Square is one of my favorite places in Oakland and this pier sits just down the street from the Square. The square with its restaurants and other businesses take up several waterfront blocks between Washington and Franklin streets while the Jack London Square Marina and its 162 slips sits at the southern end of the square. The pier adjoins and sits at the southwest corner of the marina.
The pier is attractive and offers up a great view of Oakland's Inner Harbor. It's a pretty view if you don't look too closely down into the water— which can be a little gnarly. The water is rarely pristine; it's common to see a mélange of items floating by, as you are fishing, i.e., Frito bags, Styrofoam cups, plastic bags, soda cans, etc. Simple flotsam jettisoned off by a careless society.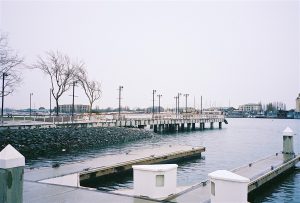 Water depth here is relatively shallow, averaging 13 feet at the marina, but a good cast into the channel reaches mush deeper water. The benthic bottom is mostly mud populated by a host of critters such as sea worms and clams and fish will bite those for bait. The pier itself doesn't offer much in the way to attract fish since the pilings are fairly devoid of growth, just a few barnacles and no mussels, but the pilings do offer a little haven and safety for some fish.
Overall the angler is presented water and species like most of the other piers along the Embarcadero.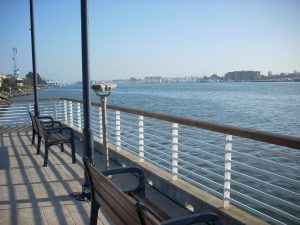 Fish and Fishing Tips. Although a variety of fish can be caught in these waters, only a few species are really common.
Striped bass will lead the hit parade of favorite fish at the pier and most will show from the spring (April-May) when they enter the bay until the fall (around October) when they head inland out of the bay.
When present they can be caught on bait or with lures. Most bait anglers use an oily fish like sardine or anchovy as bait while some prefer live bait. Most common live bait here will be shinerperch or small smelt if you can catch them. Many anglers prefer plugging for stripers and the closeness of this pier to the water makes it an excellent platform for plugging. A wide range of lures are used, everything from Hair Raisers to metal spoons to soft baits (with a hundred other lures being tried along the way). Ask the local bait shops what seem to be the "lure of the day."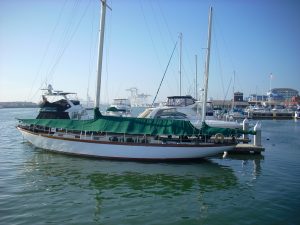 Sharays, sharks and rays, may be seen almost any month they're most common in warm-weather months. Most seem to go away during the winter months to deeper waters in the bay although a few stragglers may be caught throughout the year. .
Leopard sharks and brown smoothhound sharks are the most common sharks with some of the leopard sharks reaching nearly five feet in length with the brown smoothhounds more commonly being two-foot-long fish with an occasional one reaching three feet.
Bat rays numerically are one of the most common fish and youngsters of only a few pounds to mama bat rays weighing over a hundred pound may be encountered.
If seeking out the sharks and rays bring along some stout tackle, sufficiently strong line, and a hoop net to bring the fish up onto the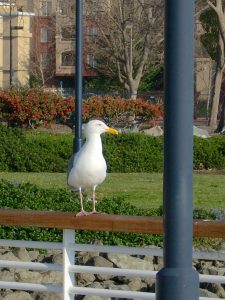 Most of the larger perch species—pileperch, whiteperch, blackperch, rubberlip, striped and rainbow perch show up during the winter to late spring April/May months. Pile worms (with grass shrimp and ghost shrimp following closely) fished on a high/low on the bottom with size 8-4 hooks will land the large perch. Summertime often sees the smaller schooling surfperch—walleye surfperch and silver surfperch. They can be caught on size 8 or 6hooks fished from the bottom to midlevels dependent upon where they are feeding. Most of the year will also say shinerperch, often times more shinerperch than you want since they will steal the worms intended for the larger perch. The only consolation—they make excellent live bait for striped bass.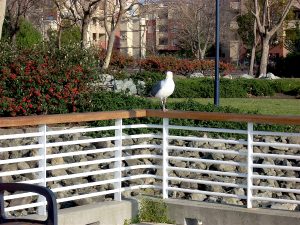 Luckily jacksmelt can show up almost any month of the year and a roving school of jacksmelt may provide steady action for an hour or longer. Usually if you catch one you'll catch more. Fish 2-3 small hooks under a float for them; pile worms, small pieces of shrimp and pieces of fish all will work for the feisty, good fighting little fish.
At one time kingfish (white croaker) were common during the summer months as were starry flounder in the winter but both species seem to have seen a drastic drop-off in numbers.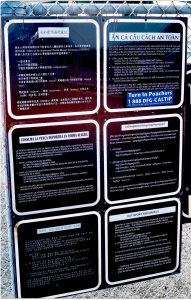 <*}}}}}}}}}>< — Special Bay Area Regulations:
A perch closure exits in San Francisco and San Pablo Bay from April 1 to July 31. No perch may be kept other than shinerperch (20).
In San Francisco and San Pablo Bay a fishing line may not contain more than three hooks.
Sturgeon Regulations:
A sturgeon report card and tags are required for anyone fishing for or taking sturgeon. (a) The card must be in the angler's possession; (b) a tag must be used for any sturgeon retained by the angler; (c) the angler must record information on the Sturgeon Report Card immediately after catching and   keeping or releasing the sturgeon.
White sturgeon can only be kept from 40-60 inches; larger and smaller sturgeon must be released.
Green sturgeon may not be taken or possessed.
Alice Street Pier Facts
 Hours: Open 24 hours.
Facilities: Metered parking on Alice.
Handicapped Facilities:
How To Get There: The pier sits at the end of Alice Street in Oakland.  From the north, take the Nimitz Freeway to Oak Street to Embarcadero West and turn right to Alice. From the south, take the Nimitz Freeway to Webster Street to Embarcadero West and turn left to Alice.
The pier sits across the street from the new Oakland Amtrak station.
Management: Jack London Marina