Frustration thy name is the Ellen Browning Memorial Pier. One of my long-time goals has been to fish from every California piers (or at least as many as possible) so a visit on 2009 to the pier was both great and frustrating. Hashem, a friend whose daughter worked for Scripps was able to get permission for he. another friend Adam (Baitfish), and I to visit the pier. We walked out to the end and even walked down the steps under the pier to observe the pilings and fish. But as for fishing, NO, it was not to be. An hour's fishing would have sufficed and catch and release would have been in effect but it just wasn't allowed (even though I've been told an occasional scientist does still wet a line at times).
This fairly famous pier sits just up the coast in La Jolla. That pier is the Ellen Browning Scripps Memorial Pier, known by most locals simply as the Scripps Pier. Fishing, as mentioned, is not allowed although apparently the original pier was open to fishing by the public until 1940.
Nor is the pier generally open to the public to visit (although for a price people can now sign up for "Full Moon Pier Walks" during summer and fall months. It serves as a center for UC San Diego's Scripps Institution of Oceanography, one of the premier schools of its kind in the world.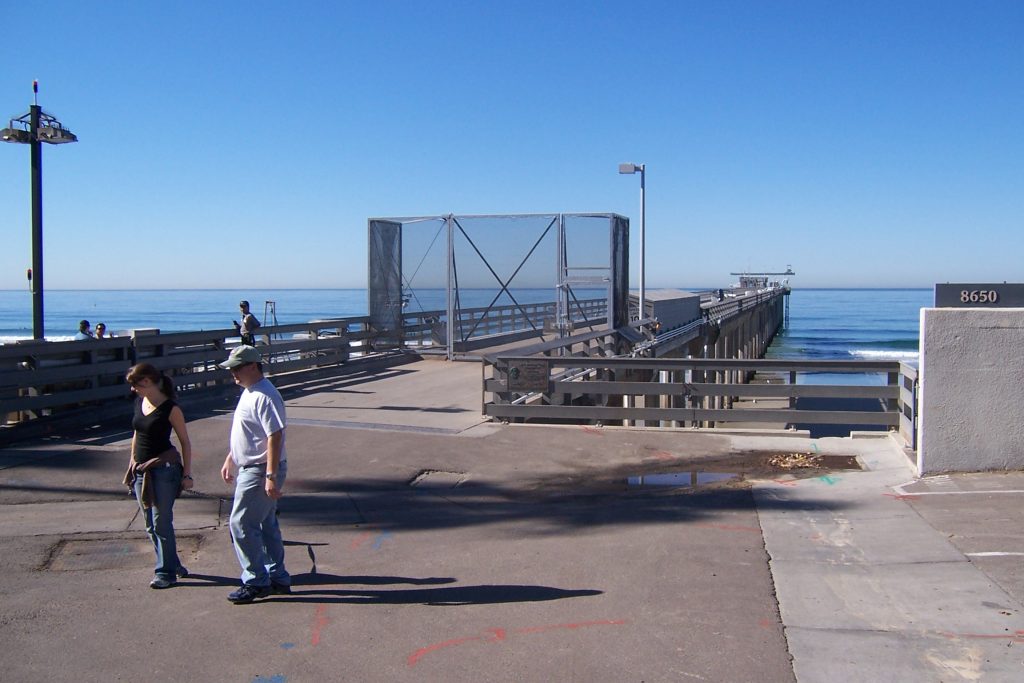 The original Scripps Pier was built in 1916 and today the pier has the distinction of having been the daily site for seawater temperature and salinity measurements since August of 1916. It also houses the oldest tide gauge in the open ocean on the West Coast, dating back to 1924.
The original pier, made of concrete pilings and wooden surface, was replaced in 1988 by the new pier that is 1084 feet long and 22.5 feet wide for most of its length (although 46 feet wide at the end where a small lab/pump house is found). The deck on the pier is listed as 33.5 feet above Mean Low Water.
Today, in addition to its role as home base for the school's various research craft, it contains pumps which intake and pump over 1.8 million gallons of sea water to the various laboratories on campus and the large public aquarium which sit on the hill, high above the pier.
One of the most interesting aspects of the pier is its location itself. Just to the south of the pier lies the west-facing beach known as La Jolla Shores. The beach slopes gently to a depth of about 35 feet and then plummets sharply to a depth of over 2,000 feet in the La Jolla Submarine Canyon. As is usual whenever a pier sits near a submarine canyon, a diverse and interesting mix of fish can show up, especially at night.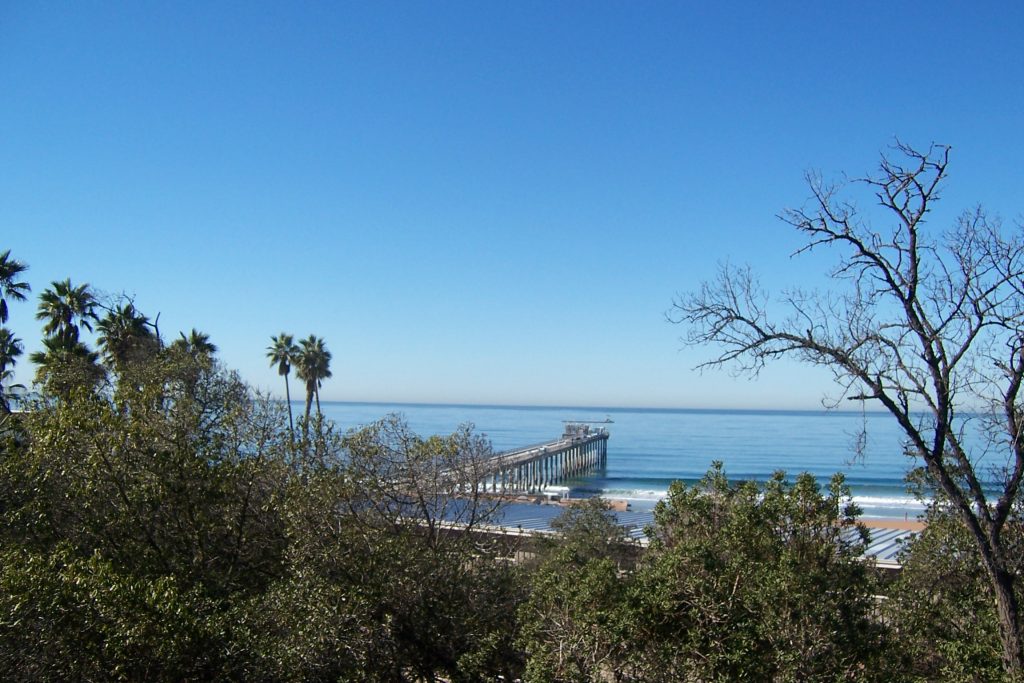 <*}}}}}}}}}>< — Fish at the pier:
Mackerel Fishing
In looking over some old pier records today I ran across numerous notations concerning the abundance of mackerel at the Scripps Institution pier in 1919 and 1920. Good catches were also made in 1921, but since that time they have been few and very uncertain at this pier.
1919 was an especially good year. Day after day my pier log indicates that people were making heavy catches. In fact, it was not unusual for individuals to carry away two or three hundred fish of eight to twelve ounces in weight day after day. Some salted down enough to last them all winter, and then gave ample supplies to their kindred and friends.
All of this catching was done by hook and line, and some persons were much dissatisfied if they had to haul up a line with less than four fish on it. Some got so excited that they jerked fish off the hooks and threw them anywhere on the pier floor, in headlong haste to get others hooked. The pier floor was sometimes covered with mackerel mush where the loose fish had been trampled by the hurrying fisherman. Conditions were like this for a month or more in 1919, and many fish were caught over a period of four months up to December.
In 1920 the period of good catches was shorter and there were only scattered days when the mackerel were caught in large numbers. In 1921 there was a marked decrease in the size of the catches and in the number of good days. After 1922 every mackerel fisherman who had got himself spoiled by the heavy catches of 1919 and 1920 has grumbled because there is no good mackerel fishing at the pier any more.
In the last five years probably been less than ten days in which fishermen could make in an hour or two the enormous catches, which were so common in 1919. There is really a difference of some kind.
In response to verbal inquiries at different times I have hazarded guesses at explanation of the change, but, as a matter of fact, no one knows why the one period was so good and the later one so poor. Of course, it is fairly well known that mackerel are erratic in behavior and that they are difficult to study, but that does not really explain anything.
Since I am studying plankton (the microscopic plants and animals on which mackerel sometimes feed) I am naturally inclined to think that the lighter production of plant plankton in the San Diego region in the last several years may have something to do with the condition. Less food for fish, fewer fish. It looks reasonable, but there are lots of angles to the problem.
Further, why is there less plankton? I think this may be possibly be due to less drainage of fertilizing materials from land to sea because of reservoirs and other man-made hindrances in the region; but that is not proven. However, continued study may bring light on this problem as on many another. — W. E. Allen, Biological Feature Service,Catalina Islander, January 4, 1928
Guitar Fish Caught At U.C. Institute
Berkeley, Sept. 2.—Capture of one of the Pacific Ocean's rarest specimens, the striped guitar-fish was reported by the University of California's Scripps Institute of Oceanography at La Jolla. The fish, a species of skate, was taken on hook and line by Donald Pigney, son of one of the institute employees off the end of the pier at La Jolla. It was nearly three-feet long, the largest known guitar-fish ever captured. Only two specimens of the fish ever have been taken before, records show. They were less than a foot in length, and were caught about 10 years ago. P.S. Barnhart, curator of the museum at the Oceanography Institute, who reported the catch, made a plaster cast of the fish, and then placed it in preserving fluid. —Oakland Tribune, September 2, 1937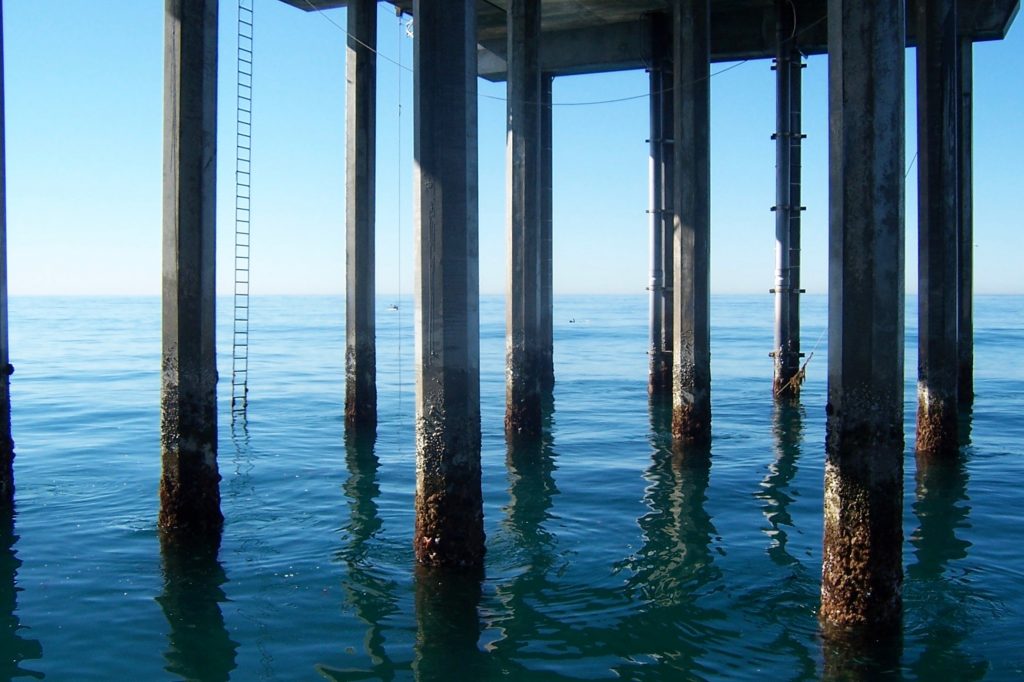 Great White Sharks
<*}}}}}}}}}>< — Most piers in Southern California have, at one time or another, seen great white sharks caught from the pier and, in the past two decades, some have seen so many of the great whites that their capture no longer even merits attention (although today it is illegal and merits a different kind of report).
However, this was not always the case. In fact, there are only a handful of reports of pier-caught great whites in California during the entire 20th century.
The exception was at Scripps Pier where a number were caught in the 1950s. Most were killed but an attempt was made to keep one alive by shipping it north to the large Marineland Oceanarium at Palos Verdes. Unfortunately it too would die shortly after the journey
The first story concerned the hooking of a great white shark from the pier in October of 1955. Apparently two skin divers and an ichthyologist spotted a great white near the pier one day. The next day a specialist in sharks, Arthur O. Flechsig, baited a hook and hooked the fish that eventually was lost. However, the fish supposedly attacked his boat near the pier and left two teeth embedded in the boat—the teeth of a great white. I do not have the newspaper account of that event. However the following reports covers several additional events.
In Great White Sharks by A. Peter Klimley and David G. Ainley, four great whites were reported to have been taken at the "La Jolla Pier" which would have to be this pier. The dates and lengths given were: (1) July 21, 1948, 60 ¾ inches; (2) October 30, 1955, 71 7/64 inches; (3) October 31, 1955, 64 9/64 inches; (4) November 6, 1955, 64 1/64 inches. One more great white is recorded from the "La Jolla Cove" on November 4, 1971. It measured 78 47/64 inches in length. All of these would have been young sharks.
Tiger Sharks Sighted Off La Jolla Shore
La Jolla, Aug. 14 (AP)—Dr. Carl Hubbs, professor of ichthyology at Scripps institution of oceanography here, reported today that tiger sharks, the man eating variety, have been seen in local waters recently. Hubbs said Fred B. Sissler, Scripps bacteriologist, sighted a blunt-headed shark more than five feet long while goggle-fishing near the Scripps pier yesterday. Louis Biller of Phoenix told Scripps scientists that he hooked a five-foot tiger shark while fishing at nearby Pacific Beach two weeks ago [Crystal Pier?]. The tiger shark usually inhabits warmer tropical waters, Hubbs said. —San Bernardino County Sun, August 15, 1950
Man-Eating Shark Is Caught At La Jolla
La Jolla (AP)—A Scripps Institution of Oceanography scientist said Monday a man-eating shark he caught Sunday off the Scripps pier was extremely rare this far north. Arthur O. Flechsig, a research assistant at the institution, said he could recall only three others taken in Southern California waters. The 140-pound great white shark was known to be in the area since two U.S. Naval Electronics laboratory skin divers reported it made a pass at them Saturday. Flechsig was fishing from the pier with a half-inch manila line. He had gone to his home for breakfast when the shark struck at the mackerel bait. It was threshing on the line when Flechsig returned. He killed it with a rifle. —San Bernardino County Sun, November 1, 1955
Rare Sea Haul — Third White Shark Caught
La Jolla (AP)—The third great white shark in two days was caught by Scripps Institution of Oceanography (SIO_ staff members Monday night off Scripps Pier. They caught one Sunday and another Monday afternoon. The three were identified as great white sharks by Dr. Carl L. Hubbs, professor of biology at Scripps. Arthur O. Flechsig, SIO research assistant, and Sam Hinton, SIO museum director, caught the three fish on a 5/5-inch Manila set line. Hinton said only three such sharks are known to have been caught previously off California. The two sharks taken Monday were immature, one a male and one a female, Hubbs said, and the one caught Sunday was an immature female. They ranged from 5 to 6 feet in length… The male shark caught yesterday had in its stomach a two-foot long shark of a different species, a cabezon fish, a quantity of fish line and two hooks that Hinton had lost from a set line Sunday. —San Bernardino County Sun, November 2, 1955
Scientists Get Fourth Shark Off Scripps Pier
La Jolla (AP)—Scientists at the Scripps Institution of Oceanography yesterday captured a 6-foot man-eating shark — the fourth since Sunday — from the Scripps Pier. Art Flechsig, a research assistant, said the shark was taken alive and placed in an outdoor tank on the institution grounds. Flechsig said southern California waters have been practically free of the man-eating or great white sharks… Flechsig said, "We don't have any idea why they have suddenly appeared here." Flechsig said the shark would be taken to the Marineland of the Pacific in Palos Verdes. —San Bernardino County Sun, November 4, 1955
Dangerous Baby — Scientists Take Live Great White Shark
La Jolla, Nov. 4 — Scripps Institution of Oceanography scientists went shark fishing again and the result is that Marineland Oceanarium at Palos Verdes today has its first great white shark, a man-killer. Fierce and dangerous though only a baby, the 5-foot, 7-inch, 120-pound male shark was caught on mackerel bait from a line attached to Scripps Pier and hauled through the surf to the beach. Although Scripps scientists had killed three other baby man-eating sharks since last Sunday, they decided to chance taking this one alive. Arthur Flwchsig and Edward Arebalo, staff members, lifted the shark into a tarpaulin and dumped it into an outdoor tank. This afternoon Marineland sent a big tank truck to La Jolla to pick up the vicious creature. Flechsig said that the capture of the four man-eating sharks in one week is an unprecedented occurrence in Southern California waters. The first shark was caught last Saturday after menacing skin divers in an aqualung class at Scripps. A great white shark reaches a length of more than 35 feet and a weight of 10 tons at maturity, Flechsig said. Scientists are mystified at the sudden appearance of the baby sharks here. —Los Angeles Times, November 5, 1955



Shark Attacks Diver Near Pier at La Jolla
La Jolla (AP)—An engineering aide at Scripps Institution of Oceanography, Earl Murray, today reported that he was attacked by a shark as he was diving at 65-foot depth 600 yards off the end of Scripps Pier. Murray said that he was searching for a lost anchor when he noticed a 6-foot shark circling him about 10 feet over his head. "I stayed on the bottom as long as possible," he said, "hoping to hide from the shark, but I had to come up because of shortage of air." Murray was equipped with a fishing spear which he used to jab at the shark as he ascended. "I drew blood from the shark as he came within arm's length of me," Murray declared. He managed to elude the shark and swim to a boat 200 feet away. He was uninjured. This was the first reported shark attack in more than one and one-half years in this area. In December, 1955, a 6-foot shark bit off a diver's swim fin near Scripps Pier. —Los Angeles Times, July 30, 1957
State Joins in Search for Shark
San Diego (UPI)—the State Fish and Game Department joined Scripps Institute of Oceanography Thursday in a search for the La Jolla Cove killer shark. Boats were scouring the area where Robert L. Pamperin, 33, was killed by a shark Sunday. Capt. Donald E. Glass, marine warden in charge of the hunt, said baited hooks would be planted from bird rock to the Scripps Pier in La Jolla. Scripps baited special hooks Wednesday with whale meat and dried cows blood to attract any man-eaters which might still be in the area. Nets 100 yards long were strung in the vicinity, but no catches were reported. However, Wheeler. J. North, a biologist at Scripps Institute, said he received reports of two shark sightings Wednesday. Je said two boys on paddle boards about one-half mile from the Sunday death site reported seeing a large shark in the water below tem and it was rumored a patrol boat ion the area sighted one of the man-eaters. Biologists claimed the shark which devoured Pamperin probably was a 20-foot tiger shark. They said if the man-eater still was around it would be accompanied by other sharks. Unusually warm currents off the Southern California coast were believed to be attracting the tropical sharks which normally frequented waters off Baja, California. —Long Beach Independent, June 19, 1959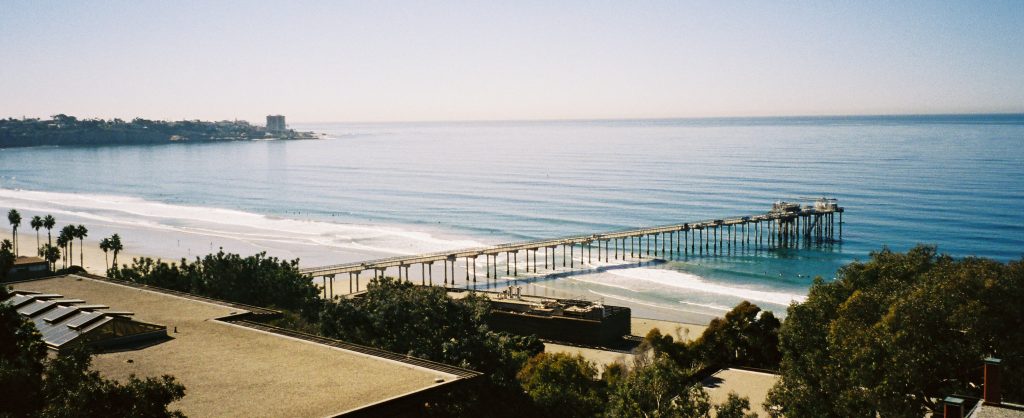 <*}}}}}}}}}>< — Two marine life protective areas now blanket the pier. To the south of the pier is the Matlahuayl State Marine Reserve that prohibits the take of all living marine resources. Adjoining that reserve and extending north is the San Diego-Scripps State Marine Conservation Area. The pier itself sits in the San Diego-Scripps SMCA which prohibits the take of all living marine resources except for the recreational take of coastal pelagic species—northern anchovy, Pacific sardine, Pacific mackerel, jack mackerel—and market squid. In essence, these species are allowed for the kayak anglers in the area since anglers cannot fish from the pier.
<*}}}}}}}}}>< — One of my favorite places to visit when I am visiting San Diego is the Birch Aquarium (although known by most of us old timers as the Scripps Aquarium). It's the public outreach center for Scripps Institution of Oceanography and sits on a hillside with great views of the Pacific Ocean.
There are tanks of fish from many areas of the world but for me the tanks showing the local Pacific species are most interesting. "Know thy fish" is a maxim I tell the "Pier Rats" and what better way than to see them up close and personal in their environment? Of note in the history of the aquarium seen below is the fact that for many years local anglers were allowed to fish from the pier.
A public aquarium has been a feature of the Scripps Institution since before it was an institution, because the members of William E. Ritter's summer study sessions, which began in 1892, always had a few display tanks for interested visitors. When the Marine Biological Association of San Diego set out to establish Scripps Institution in 1903, they listed as one of their objectives: "to build and maintain a public aquarium and museum.
In 1905, in the "little green laboratory behind the bath house" in La Jolla Cove Park, a few shelves were set aside for a museum display, and a central counter held open containers of live specimens (some of which vanished with visitors). Five years later the public aquarium was located on the ground floor of the institution's first permanent building, the George H. Scripps Laboratory.
In 1915 a separate public aquarium was built, a wooden building 24 feet by 48 feet, just north of Scripps Laboratory… The following year the museum, previously located on the second floor of Scripps Laboratory, was moved into the ground floor of the newly completed library building… The curator of both aquarium and museum was Percy S. Barnhart, who had joined Scripps in 1914 from the Venice (California) aquarium operated by the University of Southern California.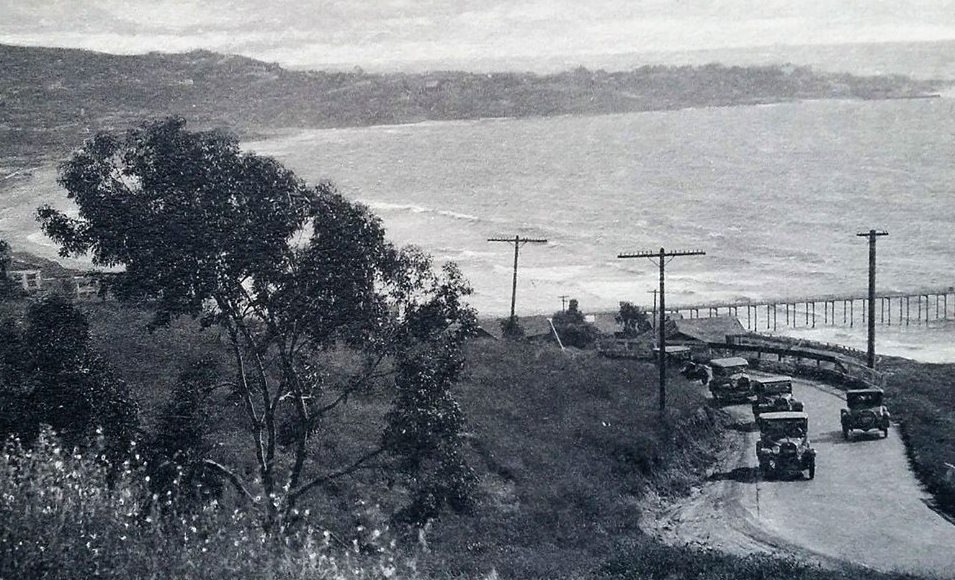 Barnhart's usual technique of acquiring exhibits for the aquarium was by fishing from the pier. In the 1930s some specimens were gathered from the Scripps and the E. W. Scripps, and, during World War II when the institution had no ship, Barnhart kept a trap set off the end of the pier for gathering new material.
As early as 1925 the curator was complaining, in his annual reports, that the aquarium tanks were gradually disintegrating, and that "bad water, cracked glasses and broken tanks [were] a constant source of worry and aggravation." … Barnhart also dreamed of the ideal aquarium-museum. His vision was a building in which brightly lighted display tanks would form a periphery around a central museum room. That vision became the design theme of the new aquarium-museum. Barnhart retired in 1946, while his dream was still only in the planning stage, and Sam Hinton, who had joined the staff a few months earlier, became the next curator.
The new aquarium-museum building was completed and occupied in October 1950 [and named for T. Wayland Vaughan, the second director of the institution]. As the Aquarium-Museum has never been supported by research funds, attempts to make it self-supporting have periodically led to the suggestion of charging admission. Hinton wrote eloquently against the idea in 1954: Many La Jollans have a proud sense of proprietorship in the Scripps Institution, and enjoy bringing their visitors to see "their" aquarium and museum…
Many local youngsters start nearly every summer day with a routine tour of inspection of the aquarium; these boys and girls are always delighted with new specimens and new exhibits, and frequently conduct their parents on guided tours on weekends. Lots of groups of families organize beach picnics and parties with the Aquarium as a meeting place; a tour of the place before and after is usually the order of things. These examples of the public attitude are individually small, but they add up to the fact that we enjoy a position of high prestige, and are considered by the community as a whole as part of the civic family. It would be most regrettable if this standing were to be lowered, as I feel it would be if each person were required to pay for admittance. It is surprising to realize that a considerable amount of bitterness still exists because of our having closed the pier to public fishing, nearly fourteen years ago… The issue of charging admission was shelved at that time…
The score of illuminated display tanks, in several sizes up to 2,000 gallons, have presented a colorful array of inhabitants through the years. Recently the displays have been composed of natural habitat groupings, chiefly of the San Diego area and of the Gulf of California region, where a much more tropical fauna dwells. Much admired by visitors are the orange garibaldis, dubbed the "La Jolla goldfish," and their blue-spotted young. An especially popular aquarium personage for some years was Harvey, a 100-pound grouper, who majestically circled a large corner tank from 1956 until his death in 1973. Morays, as they stretch open their mouths to display an array of needle-sharp teeth, draw awed gasps from viewers. At times sea turtles have swum the rounds of the larger tanks, and at least briefly one tank displayed highly venomous sea snakes, carried home from a tropical expedition…
The seawater line was renovated in 1964, to increase the capacity and improve the filtration system. Seawater for Scripps needs, including the aquarium, is drawn in from the far end of the pier, by means of two vacuum-assisted pumps that lift the water to a wooden trough that slopes to the landward end of the pier. It passes through a sand-bed filter and is then stored in two tanks near the aquarium building. From one the water flows by gravity through the Aquarium-Museum, the Experimental Aquarium, the Physiological Research Laboratory, Ritter Hall, and Scripps Building. From the other storage tank seawater is pumped up to the Hydraulics Laboratory and the Southwest Fisheries Center… As a convenience to the public, a seawater tap was installed at the landward end of the pier in 1972. Home aquarists stop there regularly to fill jerry cans, bottles, and buckets…
In cooperation with area schools, Wilkie set up a career-training program for high school students interested in aquarium or marine biology careers… The very popular Junior Oceanographers Corps (JOC), for students from fourth to twelfth grade, is also under the auspices of the Aquarium-Museum. Roger Revelle and Sam Hinton began it, originally as a means of allowing enthusiastic young fishermen to fish from the pier and as a source of specimens for the aquarium tanks. Hinton organized JOC in March 1959, as a monthly lecture program; members had the privilege of fishing from the pier on weekends, but with the requirement that the catch must be offered first to the aquarium. Finding adult supervisors proved difficult, and over the years boats and equipment on the pier were occasionally damaged, so in 1964 all pier fishing was again forbidden…
The central museum area was given a major face-lifting in 1968… In the spring of 1975 the Aquarium-Museum opened its outdoor tide pool exhibit… The display features a unique tidal cycle: a three-foot tide that rises and falls every four hours. Periodically waves wash through the pool to simulate natural conditions… Local marine denizens from nearshore areas inhabit this display, in a hide-and-seek fashion that is typical of tide pools of the San Diego area…
Aquarium tenders learn to avoid the poisonous stonefish and lionfish, and the threatening gape of the morays (only Ben Cox regularly petted those, during his many years of feeding the fishes). They have found the octopus to be the most troublesome aquarium inhabitant, as it is inclined to wander. Several times octopi have been found on the floor by startled janitors or staff. Late one night a restless — or hungry — octopus crawled from his own tank into his neighbors', inadvertently dragging along his probably life-saving refrigeration unit. The neighbors were crabs, which the octopus was eating when discovered. A hastily called aquarium crew wrestled for twenty minutes with the 35-pound octopus, prying loose the 2,000 suckers of his eight arms. As they lifted him out of the tank, he reached back to snatch one last crab. —Elizabeth Noble Shor, Scripps Institution of Oceanography.
Probing the Oceans, 1936-1976, 1978
By 1985 a new aquarium was needed and the Stephen and Mary Birch Foundation began to raise funds for its construction. In 1992 a new, $14 million Birch Aquarium opened its doors on land donated by UC Sad Diego. The new aquarium had a number of new exhibits but new ones continue to be added. Recent exhibits have included the following—the Hall of Fishes, Shark Reef, Elasmo Beach, Coral Reef, There's Something About Seahorses, Tide-Pool Plaza, Boundless Energy and a 70,000-gallon live kelp forest tank.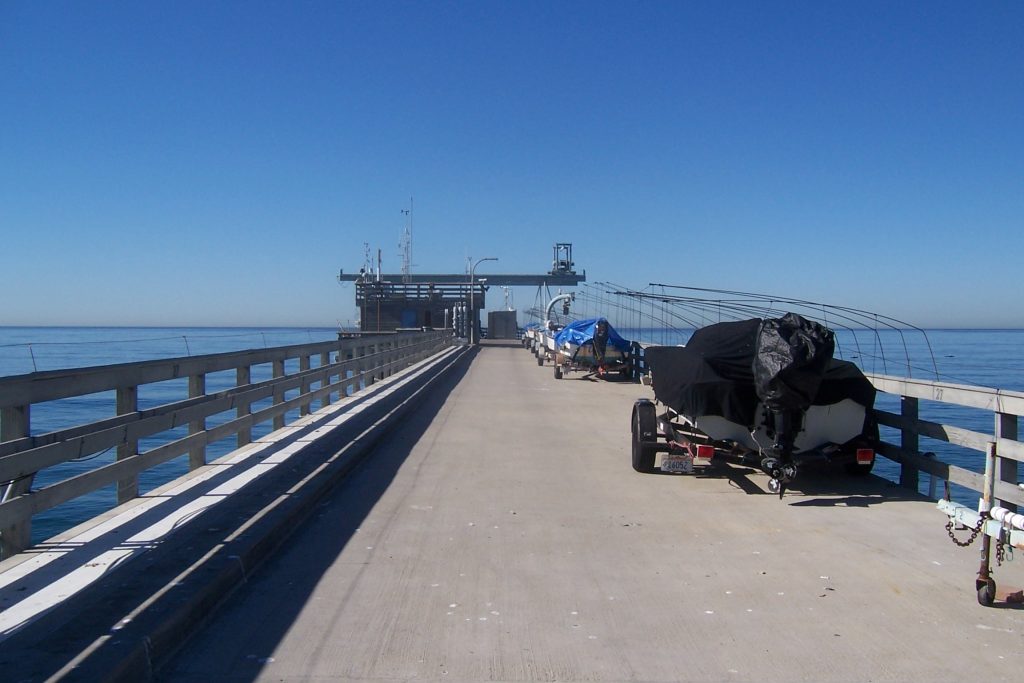 History:
Old Scripps Pier Will Soon Be Headed for Davey Jones' Locker
LA JOLLA — It's weather-beaten and rickety, laden with gull droppings and perched on a set of wobbly pilings that look ready to crumble. But the Scripps Pier—a La Jolla landmark since 1916—is a structure rich with lore.
Take, for instance, the pier's little-known contribution to America's victory in World War II. In 1941, a Scripps researcher spent many long nights on the pier, monitoring underwater animal sounds between naps on a cot. His discovery that the symphony emitted by snapping shrimp drowned out all other ocean noises proved invaluable to the U.S. military. Henceforth, the Navy took pains to steer its submarines through waters thick with colonies of the crustacean, exploiting its noisy habits to conceal the craft from Japanese sonar.
The 1,018-foot pier has served more whimsical purposes as well. Graduate students hold parties on the structure to usher in each new school year, and in eras past, some half-starved young researchers found their evening meal at the end of the pier, hunting the pigeons that roost in the web of beams beneath its deck.
Several particularly devout Scrippsians have even gone so far as to march down the pier's planks, wedding party in tow, to exchange vows as the surf crashed below and gulls flapped overhead.
But before too long, the set of timbers and pilings that hold such history will crash into the sea. Late this year, the Scripps Institution of Oceanography will begin work on a new pier right alongside the old one, a $3.9-million replica designed to withstand the waves for 100 years. Once the new structure is completed, its predecessor will be demolished.
Officials at Scripps, which uses the pier for research purposes and relies on it to help pump a round-the-clock supply of ocean water to laboratories and the public aquarium, say construction of the new structure is long overdue. Seventy years of flogging by the surf has taken its toll and weakened the structure to a point where it is beyond repair–and ready to surrender to the sea.
"Back in the '40s they had some hellacious storms and waves up to 40 feet were hammering that pier," said Jim Stewart, unofficial pier activity coordinator and chief diving officer at Scripps for more than 25 years. "Then we had the big storms in '82-'83, which damaged 11 pilings. They've braced the cracked pilings, reinforced it and put all sorts of Band-Aids on it, but there's not much else we can do."
In the view of Scripps officials, replacing the pier is urgent, because it supplies the institution with its lifeblood—seawater. About 1.8 million gallons a day is pumped from the ocean to aquarium tanks and research labs via a 1,000-foot-long flume, or channel, that stretches along one side of the pier. If the pier were damaged in a storm, the system could falter and the flow would be interrupted.
"If that happened, we would have large numbers of animals in jeopardy within several hours," said Tom Collins, assistant director for administration at Scripps. "That water flow is vital to the institution, and with the pier in its present condition, the system cannot be viewed as reliable." Indeed, the school has an emergency response team trained to react if the seawater supply is disrupted. Arrangements have been made to house some of the institution's animals at Sea World, but if large numbers were threatened, many would have to be released into the ocean. "That would be devastating because it would interrupt months, even years, of research by faculty and students using controlled groups of species for experiments," Collins said. "Let me tell you, I don't sleep well during the winter storm season."
Construction of the new pier is expected to begin by December and will take about a year. Unlike its predecessor, it will be made entirely of concrete, and will be 65 feet longer and 2 feet wider.
Although it will look much the same, the new pier will provide Scripps scientists with a few advantages. First, the seawater supply channel will be below deck, removing a cumbersome obstacle that renders the left side of the pier useless. That will enhance the pier's use as a small boat-launching facility, enabling researchers to proceed off the south side if the seas to the north are rough. Also, the ocean water pumping capacity will increase from about 800 gallons per minute to 1,200 gallons per minute, allowing for increased use by scientists and the growing aquarium.
Finally, the increased length will enable the seawater supply system to draw from greater depths and below the thermocline, a layer of warm water that sits atop the surf during summertime. Colder water is optimal for most experiments, Collins said. —Jennifer Warren, Los Angeles Times, September 7, 1986
Replacement for Scripps Pier Should Be Ready in Early '88
Ground was broken Thursday on a $3.95-million pier that will replace the deteriorating and storm-beaten Scripps Pier. About 65 descendants of the Scripps family, joined by officials from the Scripps Institution of Oceanography, local and state government officials, watched Ellen Revelle, the grandniece of Ellen Browning Scripps, use a gold oceanographic coring device in the official ground-breaking ceremony on the beach in La Jolla. The coring device is often used by divers to collect sediment samples.
The new, state-financed pier will be 1,102 feet in length, 84 feet longer than Scripps Pier. The new pier, which will be concrete, will also be 2 feet wider than the structure it will replace. It will take about 10 months to build, said Tom Collins, assistant director for administration at Scripps.
The new structure, which will be named Ellen Browning Scripps Memorial Pier, also will include a new water-supply channel, which will be installed beneath the deck. The new channel will allow an increase in seawater pumping capacity from about 800 gallons per minute to 1,200, Collins said. Additionally, a new pump will be able to reach deeper into the ocean to retrieve cold seawater, vital for lab researchers, Collins said.
When the new pier is ready, the 71-year-old pier will be razed, along with its current 1,000-foot-long channel, in which about 1.8 million gallons of ocean water is pumped daily to the institution's research laboratories and aquariums.
Scripps officials and oceanographers considered the old pier an integral part of the institution's livelihood, but last year conceded that it could no longer withstand the punishment of fierce waves and would eventually collapse, destroying the institution's seawater supply system.
Collins acknowledged that there is still concern because the old pier needs 10 months more to survive possible storms while the new pier is built. "The best I can say on that is that I lose a lot of sleep on each storm that comes," Collins said. He added, however, that the school has an emergency response team trained to react if the seawater supply is cut. Scripps also has made arrangements for emergency pumps to be used in case the old flume is inoperable. —Hector Gutierrez, Los Angeles Times, March 27, 1987
Location: The Birch Aquarium is located at 2300 Expedition Way in La Jolla and is open most days from 9 AM to 5 PM (although the ticket sales end at 4:30 PM). Free parking for three hours and special prices for Military, Seniors, and Students. Phone: 858-534-FISH.