Public Pier — No Fishing License Required
Small though it may be, this pier has long held special affection for me for a number of reasons. Most prominent is the fact that it was the pier where my initial introduction to ocean fishing took place and where I would catch my first ocean fish. The experience would provide an entryway into a sport that to this day helps define my life.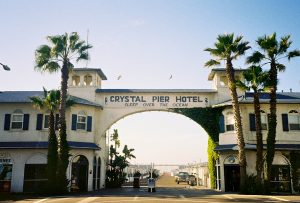 My family moved to Pacific Beach in the "I Like Ike" era of the '50s, 1957 to be exact. We lived in a small house that was located just a few yards off of Garnet Avenue and at the ocean end of Garnet Avenue sat Crystal Pier. My mom liked the ocean and so a few days after our arrival we rode the bus down to the end of our street. The bus stopped at the corner of Mission Boulevard and from there you walked a short half block to the arched blue and white entrance of Crystal Pier. The pier seemed old but had a fresh coat of paint and you could feel the timbers sway as the waves pushed their way ashore on the fairly short pier. We didn't fish that day; instead, we just watched the waves, the swimmers, sunbathers, sea gulls—and fishermen. Eventually we left and walked over to the Oscar's Drive-In, a restaurant on the corner of Mission and Garnet. They had great milk shakes and burgers and we sampled both.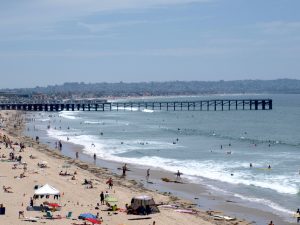 Of course the discovery of that pier meant a return visit—to fish—was necessary. It was a long walk from our house to the pier but it seemed like a much shorter journey on my flashy Schwinn Corvette, a bike that seemed to have as much shiny chrome and bright red paint as the Corvette's after which it was named. It was a gift from my dad and would be my main means of transportation for many years. I don't know how long the trip took but anticipation seemed to lessen the distance (although it seemed far longer coming home).
Garnet Avenue was different then—not quite as crowded, absent the shopping centers of today, and the traffic was actually tolerable. I headed out, tooled past Brown's Military Academy (wondering what life was like in that starchy school), zipped past the bowling alley where my dad sometimes worked, checked out Oscar's, and then arrived at the pier. It cost money to fish the pier, twenty-five cents I believe, and you had to go into the motel office to pay your money. Soon they would open the gate and you could head out to the end.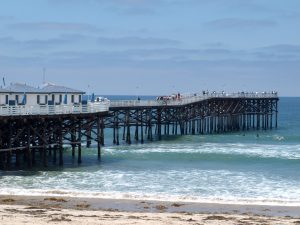 I was a newbie on that first visit, basically clueless as to what I was doing, but somehow I managed to catch a fish that day. It wasn't much of a fish, in contrast to the fish I had read about in magazines, and the fish was caught on a hand-line, not one of the beautiful rods and reels you saw in the magazines. But the rig worked! My mom had given me an inexpensive set-up that consisted of heavy, green Dacron line wound around a wooden contraption that looked like four Popsicle sticks stuck together. To the end of the line I attached a long-shanked Mustad hook and a small sinker, both items I had discovered in the garage next to the house. You had two choices as far as casting, unwind the line and then toss it out, or slowly unwrap the line and drop it straight down. The former was more fun but it seemed like most of the bites were down around the pilings (a lesson I remembered).
It took me a few hours but I finally managed to catch a fish using a small piece of shrimp. Then, as soon as I caught the fish, I stopped fishing and headed home to show the prize.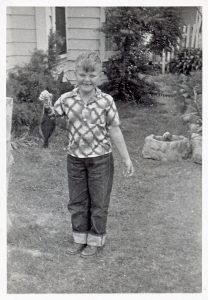 But before I had even gone a block I made a short detour. A quickly drying fish, held up by a pudgy young angler, was proudly paraded through the nearby Oscar's Restaurant. I'm sure that all those lucky patrons munchin' on their 44-cent double-deck burgers and slurpin' up their 25-cent creamy shakes were impressed.
It may have seemed exciting to me at the time but, as said, I hardly had a clue. But emotion and logic come from different worlds; I was proud of that fish. To this day I have a picture of the fish but cannot tell what kind of fish it was (although it looks like a flatfish). I do know we ate it for dinner that night after my mom cleaned it.
My family left San Diego soon after that inaugural trip to the pier and it wasn't until seven years later, in April of 1964 that I would return to the pier. By the time of my return I was a far different and more accomplished angler. I had spent many a day learning the basics at the Newport Pier. Now I just needed more time on the piers.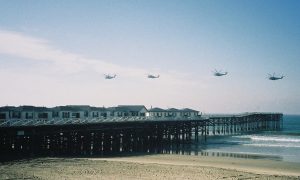 It's not every day that you see a flock of helicopters above the pier
Unfortunately, our new home was inland in sun-baked Santee, just a little too far from the ocean for my trusty Schwinn bike, the bike that had served me so well on my earlier visit. No problemo! I was in high school and soon I had a big-time, $1.00-an-hour-job at Jack in the Box. Greedy capitalist that I was, even then, I saved my hard-earned money looking for the perfect investment. That investment came in the form of a light blue '55 Ford that I purchased for the princely sum of $100. It came equipped with white sidewall tires and a great big Ahoooooga horn. I now had some wheels and the American freedom of the road beckoned (especially since gas was 18 cents a gallon and included green stamps, blue chip stamps and/or a free glass when you filled up).
Transportation meant that I was able to fish whenever I wasn't working or going to school and during the next five years I would be a regular visitor to all of the area's piers. Crystal would prove to be my most productive San Diego pier: it yielded the highest number of fish per hour as well as good numbers of big fish, especially halibut and shovelnose guitarfish.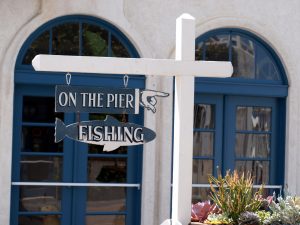 Environment. The pier itself is fairly short being only 872 feet long and it's also unique since there are cottages available on the pier, the only pier on the California coast to offer such accommodations. Inshore the pier is wide to accommodate the cabins but once past the cabins the pier narrows to only 20 feet wide before a wider 100-foot end section.
Pilings are old and heavily covered with mussels and during the summer months there may be heavy growths of kelp around the outer end of the pier.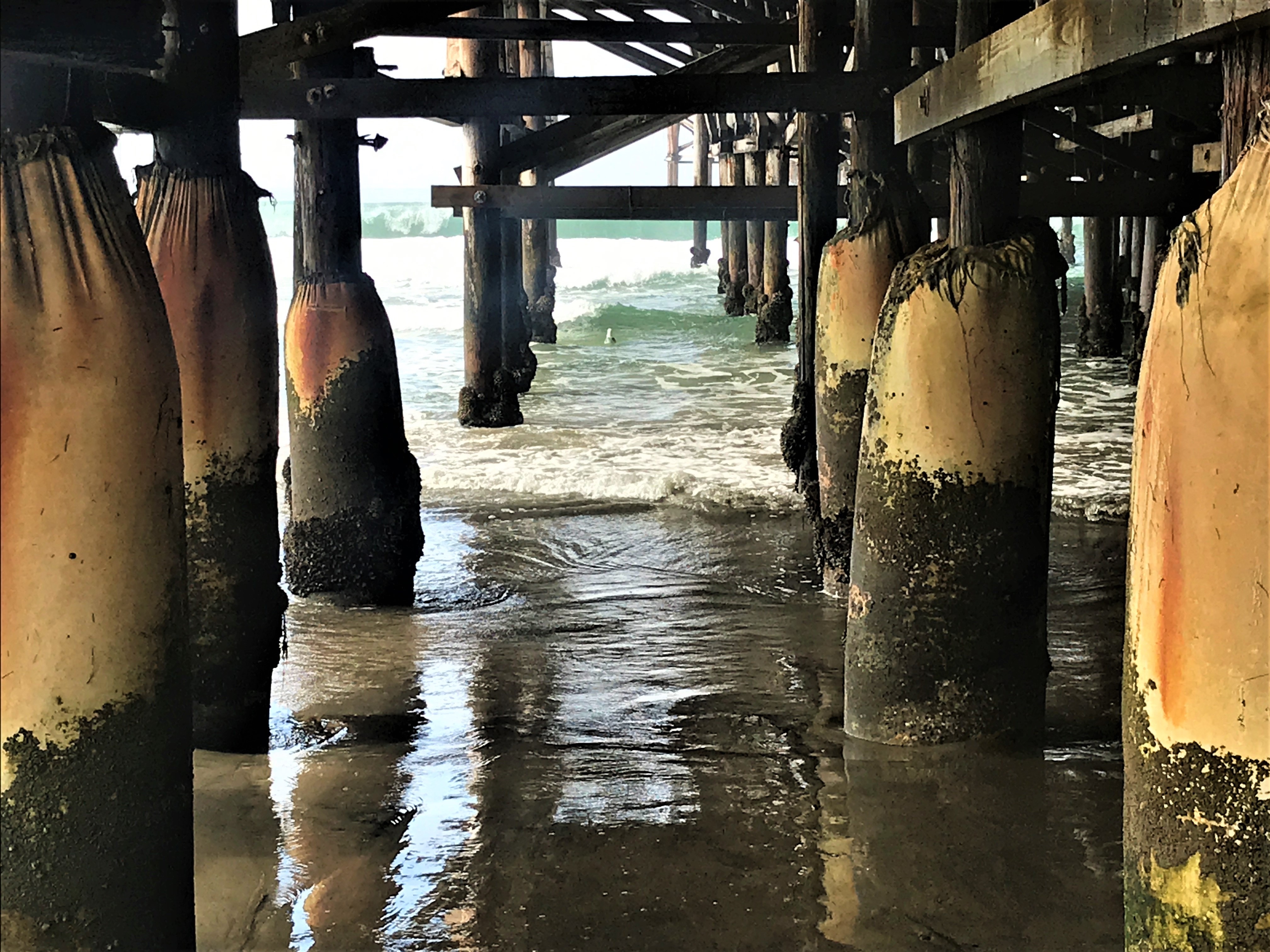 The pilings looking from the shore end of the pier — picture courtesy of my son Mike
The location is at the end of Garnet Avenue in Pacific Beach ("PB" to locals) and sits on a long sandy stretch of shoreline that stretches from Mission Beach up to the rocky Tourmaline Surfing Park. The pier has neither rocks nor reef to attract fish; it is simply one of the best beaches to fish for sandy-shore species. However, its proximity to the fish-rich waters of Mission Bay (just down the beach) and La Jolla kelp beds (just up the coast) probably have some influence as to the fish that show up at the pier.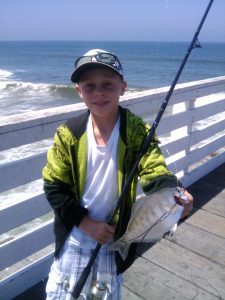 Walleye Surfperch taken in 2010 (Picture courtesy of Crystal Pier Bait & Tackle)

Though small compared to most piers, Crystal is still, in my opinion, one of the better piers for at least four species of fish: barred surfperch, walleye surfperch, shovelnose guitarfish and (at times) California halibut. It has also shown during the past fifteen years or so that it is the number one pier in the state for yellowtail, especially in El Niño warm-water years.
So even though Crystal isn't one of the largest piers, one of the most modern piers, or one of the most convenient piers in California (as far as parking), it still gets my nostalgic vote for one of my favorite piers in the state.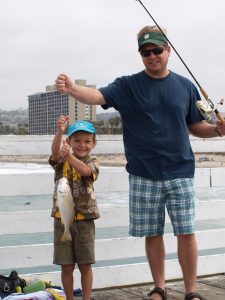 Son-in-Law Dave, Grandson Adam, and a yellowfin croaker taken in 2009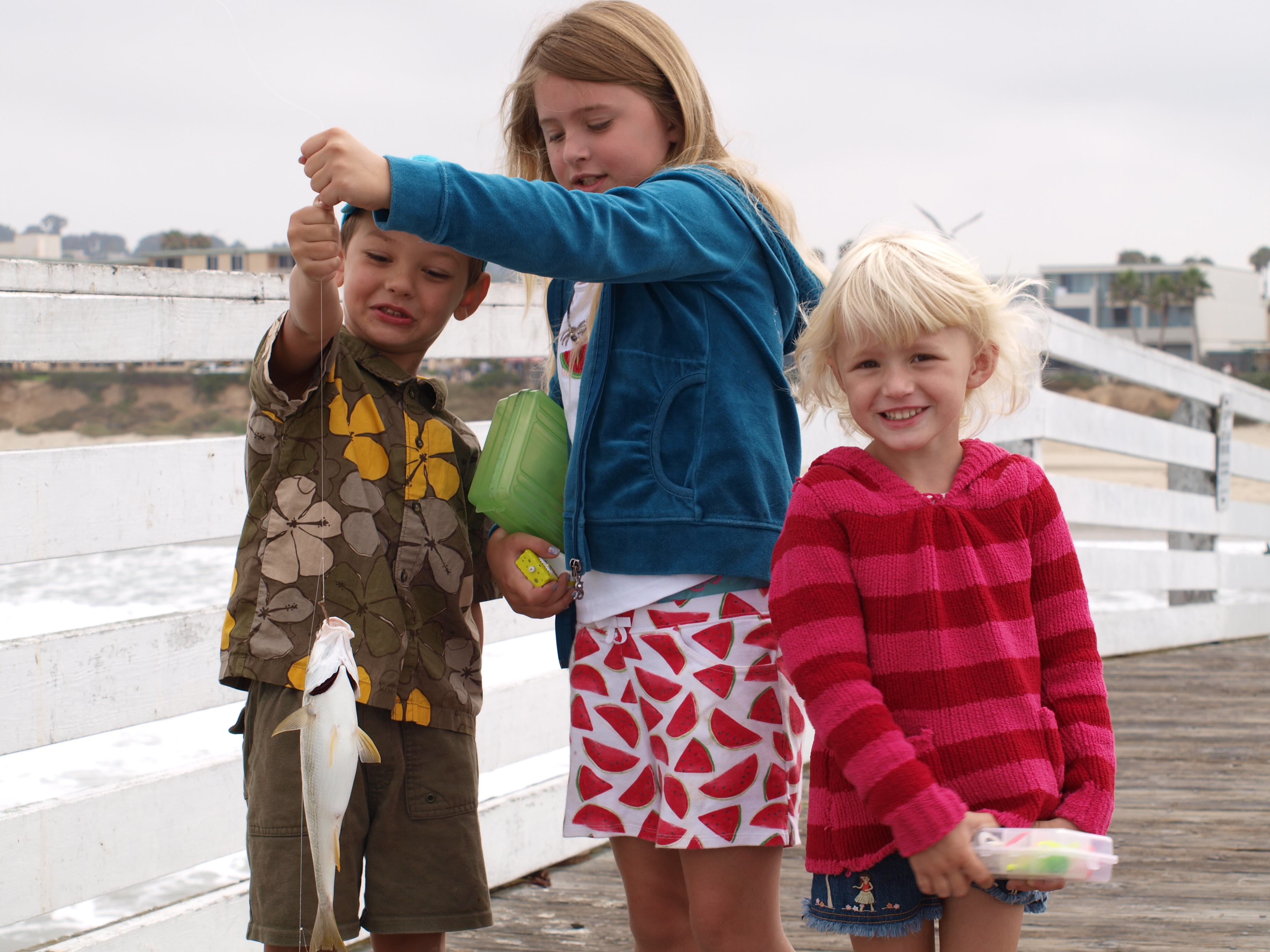 Kids just wanna have fun! Grandson & granddaughters
The Fish. The number of different types of fish here doesn't seem as high as some piers (although one PFIC member said he had seen 46 different species); however, the concentrations of some species are very high. Fish here at the tide line include corbina, barred surfperch, spotfin and yellowfin croaker, round stingrays, guitarfish and thornback rays. Halfway out there are all of these but also more walleye surfperch, queenfish, white croaker, halibut and smoothhound sharks. The end area will see these plus Pacific mackerel, jack mackerel, jacksmelt, bat rays, small to medium size white seabass, bonito (some years), and an occasional yellowtail.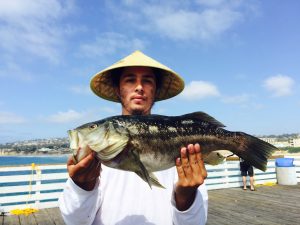 22-inch kelp bass taken by Angel Hernandez in 2015
Increasingly, in the last few years, more and more bass—kelp bass, barred sand bass, and even spotted sand bass—have been caught.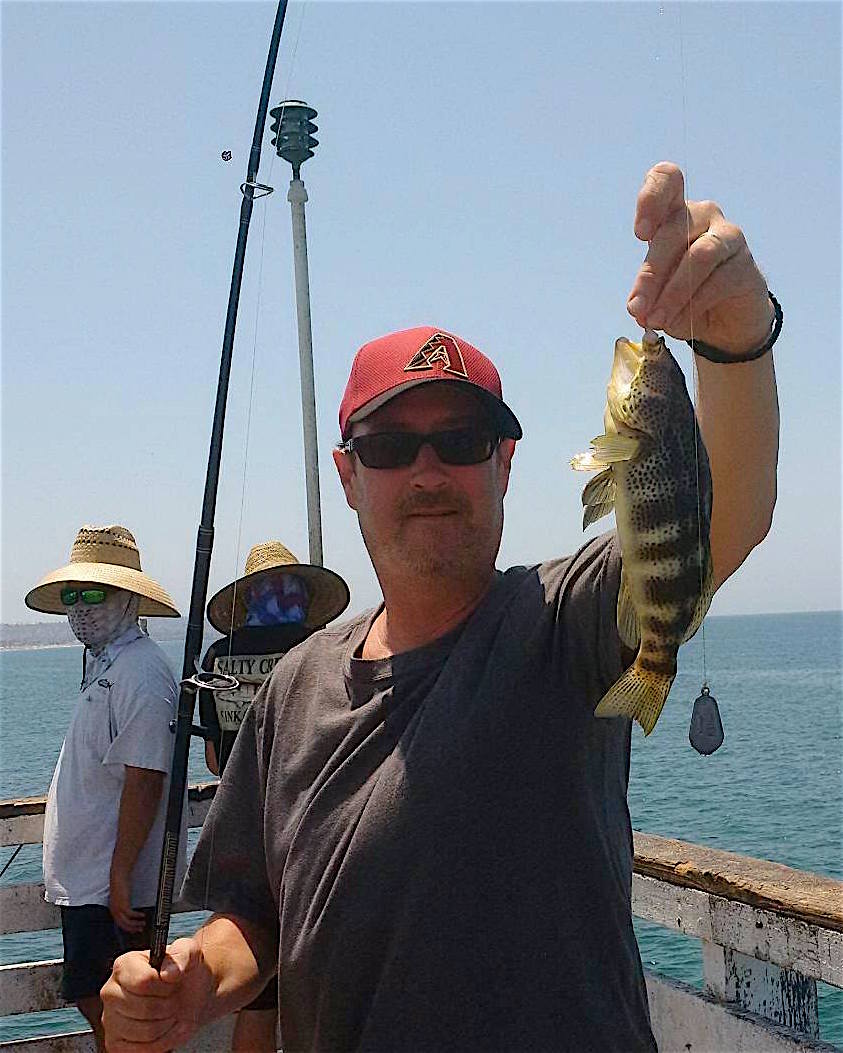 Spotted Sand (Bay) Bass (Picture courtesy of Crystal Pier Bait & Tackle)
The same is true with giant (black) sea bass, most of them youngsters in the 20-50 pound class. A number of the illegal big bass have been hooked, caught, and released during the new millennium and the numbers seem to increase each year.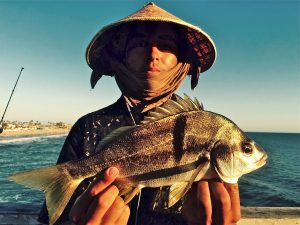 Sargo caught by Angel Hernandez in 2010
Sargo are another fish that used to be rarely seen at the pier but now seem to be fairly common. Although most of these species can be caught almost any time of the year, summer is by far the best time, especially for halibut, spotfin croaker, corbina, mackerel, bonito, big sharks, and rays. Winter often yields fewer but larger halibut; early spring yields the largest barred surfperch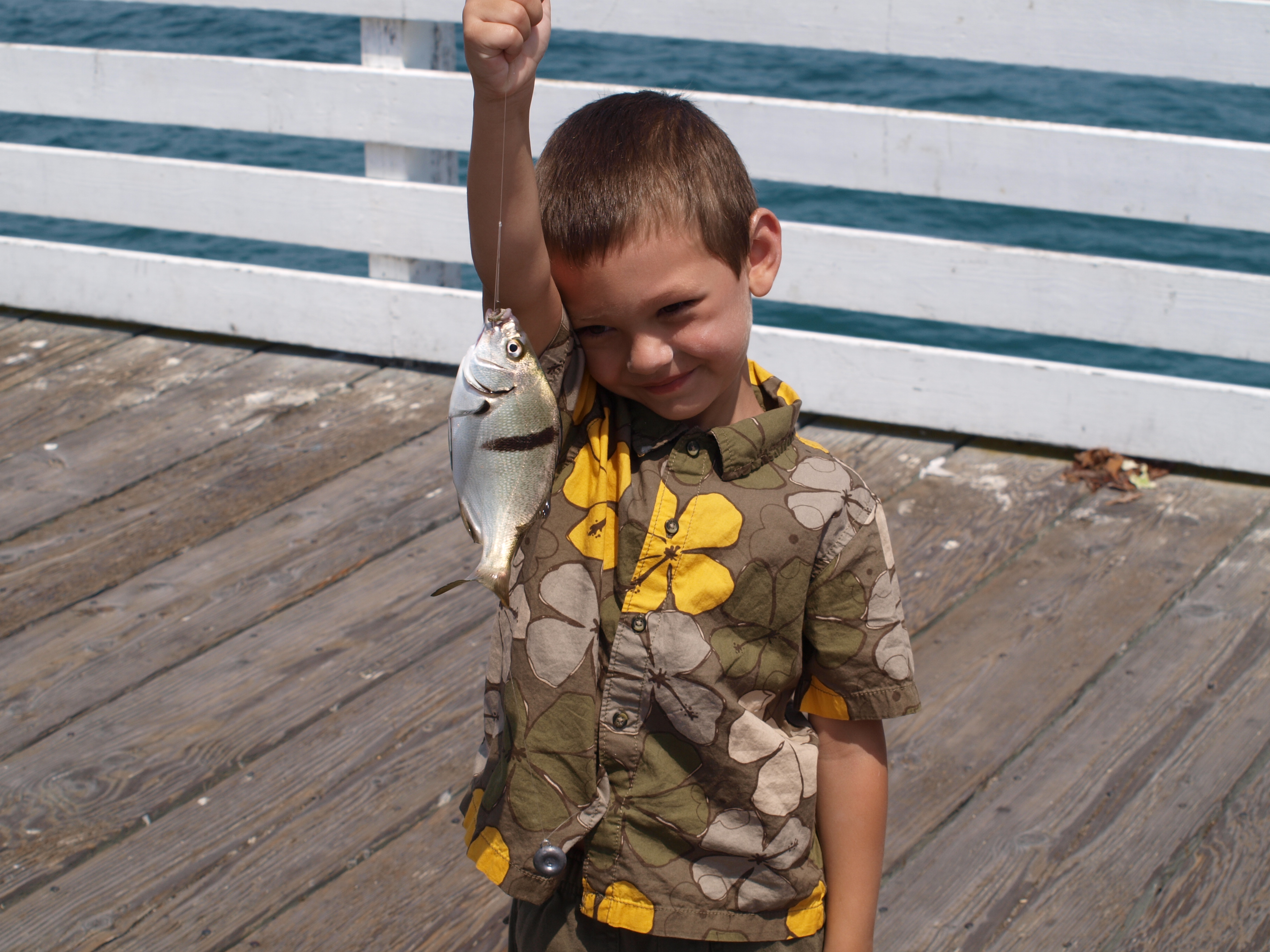 Grandson Adam with his first sargo
Summertime, surprisingly, is also a prime time to catch illegal (because of the season) spiny lobster. They're commonly caught but remember that if one of the bugs grabs your bait (and hangs on) throw them back, failure to do so could result in a very stiff fine.
Unusual catches at the pier have included a 10-pound striped bass and a 55-pound broomtail grouper (Mycteroperca xenarcha). Steve Carson, the esteemed angler and fishing writer, sent me a note that said during the 1983 El Niño a paloma pompano, aka palometa in Mexico (Trachinotus paitensis), and a gafftopsail pompano (Trachinotus rhodopus) were confirmed catches at the pier.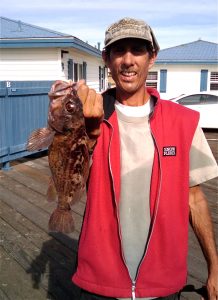 Brown rockfish taken in 2010 (Picture courtesy of Crystal Pier Bait & Tackle)

January of 2010 saw a 14-inch brown rockfish taken from the pier, an unusual catch of a fish more commonly seen in bays and rocky areas. Going way back in time, a 29.5-inch long louvar, Luvarus imperalis, was recorded from Pacific Beach in December of 1944 but it isn't clear if it was taken from the pier.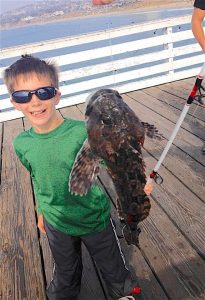 Cabezon caught in 2014 (Picture courtesy of Crystal Pier Bait & Tackle)

One of the most unusual catches was that of a banded guitarfish, Zapteryx exasperate, in August of 2011. Not only was the fish an unusual species itself but the manner of catch was unusual. James Barrick, owner of the pier's tackle shop netted the fish for the startled angler. When he went to remove the hook from the fish's mouth, he discovered that the angler's 2/0 hook was in the eye of a larger 6/0 shark hook, and it was the larger hook that was actually embedded in the mouth of the fish. After extracting the hooks, the fish was lowered back down into the water using the net.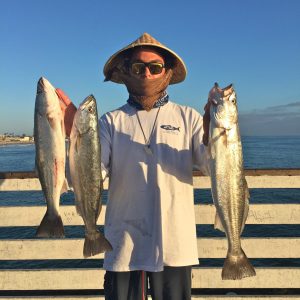 Shortfin corvina taken by Angel Hernandez in 2015
A once rare species that has begun to show up at the pier are shortfin corvina. Perhaps reflecting their increasing numbers in San Diego Bay, shortfin first showed up at the pier when two small specimens were taken in August of '08. Then, during the grunion runs in July of '09, more shortfin made an appearance and most were good-sized fish. Only problem was that some mistook the fish for undersized white seabass and called the DF&G who, much to their surprise, announced after checking that they were legal shortfin corvina.