Probing the Oceans, 1936-1976, 1978
By 1985 a new aquarium was needed and the Stephen and Mary Birch Foundation began to raise funds for its construction. In 1992 a new, $14 million Birch Aquarium opened its doors on land donated by UC Sad Diego. The new aquarium had a number of new exhibits but new ones continue to be added. Recent exhibits have included the following—the Hall of Fishes, Shark Reef, Elasmo Beach, Coral Reef, There's Something About Seahorses, Tide-Pool Plaza, Boundless Energy and a 70,000-gallon live kelp forest tank.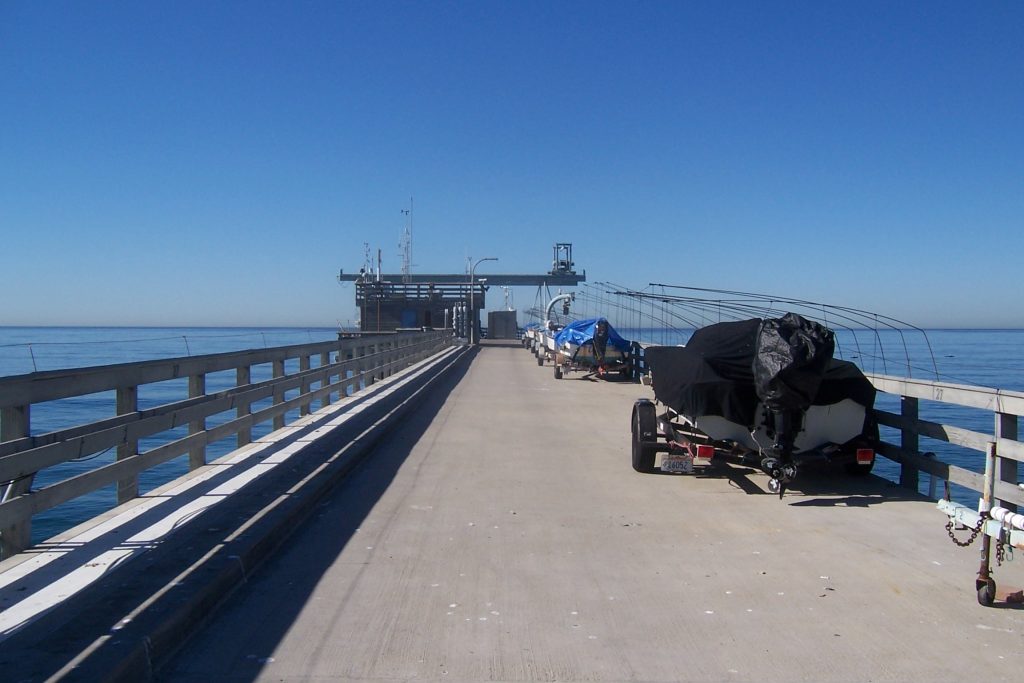 History:
Old Scripps Pier Will Soon Be Headed for Davey Jones' Locker
LA JOLLA — It's weather-beaten and rickety, laden with gull droppings and perched on a set of wobbly pilings that look ready to crumble. But the Scripps Pier—a La Jolla landmark since 1916—is a structure rich with lore.
Take, for instance, the pier's little-known contribution to America's victory in World War II. In 1941, a Scripps researcher spent many long nights on the pier, monitoring underwater animal sounds between naps on a cot. His discovery that the symphony emitted by snapping shrimp drowned out all other ocean noises proved invaluable to the U.S. military. Henceforth, the Navy took pains to steer its submarines through waters thick with colonies of the crustacean, exploiting its noisy habits to conceal the craft from Japanese sonar.
The 1,018-foot pier has served more whimsical purposes as well. Graduate students hold parties on the structure to usher in each new school year, and in eras past, some half-starved young researchers found their evening meal at the end of the pier, hunting the pigeons that roost in the web of beams beneath its deck.
Several particularly devout Scrippsians have even gone so far as to march down the pier's planks, wedding party in tow, to exchange vows as the surf crashed below and gulls flapped overhead.
But before too long, the set of timbers and pilings that hold such history will crash into the sea. Late this year, the Scripps Institution of Oceanography will begin work on a new pier right alongside the old one, a $3.9-million replica designed to withstand the waves for 100 years. Once the new structure is completed, its predecessor will be demolished.
Officials at Scripps, which uses the pier for research purposes and relies on it to help pump a round-the-clock supply of ocean water to laboratories and the public aquarium, say construction of the new structure is long overdue. Seventy years of flogging by the surf has taken its toll and weakened the structure to a point where it is beyond repair–and ready to surrender to the sea.
"Back in the '40s they had some hellacious storms and waves up to 40 feet were hammering that pier," said Jim Stewart, unofficial pier activity coordinator and chief diving officer at Scripps for more than 25 years. "Then we had the big storms in '82-'83, which damaged 11 pilings. They've braced the cracked pilings, reinforced it and put all sorts of Band-Aids on it, but there's not much else we can do."
In the view of Scripps officials, replacing the pier is urgent, because it supplies the institution with its lifeblood—seawater. About 1.8 million gallons a day is pumped from the ocean to aquarium tanks and research labs via a 1,000-foot-long flume, or channel, that stretches along one side of the pier. If the pier were damaged in a storm, the system could falter and the flow would be interrupted.
"If that happened, we would have large numbers of animals in jeopardy within several hours," said Tom Collins, assistant director for administration at Scripps. "That water flow is vital to the institution, and with the pier in its present condition, the system cannot be viewed as reliable." Indeed, the school has an emergency response team trained to react if the seawater supply is disrupted. Arrangements have been made to house some of the institution's animals at Sea World, but if large numbers were threatened, many would have to be released into the ocean. "That would be devastating because it would interrupt months, even years, of research by faculty and students using controlled groups of species for experiments," Collins said. "Let me tell you, I don't sleep well during the winter storm season."
Construction of the new pier is expected to begin by December and will take about a year. Unlike its predecessor, it will be made entirely of concrete, and will be 65 feet longer and 2 feet wider.
Although it will look much the same, the new pier will provide Scripps scientists with a few advantages. First, the seawater supply channel will be below deck, removing a cumbersome obstacle that renders the left side of the pier useless. That will enhance the pier's use as a small boat-launching facility, enabling researchers to proceed off the south side if the seas to the north are rough. Also, the ocean water pumping capacity will increase from about 800 gallons per minute to 1,200 gallons per minute, allowing for increased use by scientists and the growing aquarium.
Finally, the increased length will enable the seawater supply system to draw from greater depths and below the thermocline, a layer of warm water that sits atop the surf during summertime. Colder water is optimal for most experiments, Collins said. —Jennifer Warren,
Los Angeles Times
, September 7, 1986
Replacement for Scripps Pier Should Be Ready in Early '88
Ground was broken Thursday on a $3.95-million pier that will replace the deteriorating and storm-beaten Scripps Pier. About 65 descendants of the Scripps family, joined by officials from the Scripps Institution of Oceanography, local and state government officials, watched Ellen Revelle, the grandniece of Ellen Browning Scripps, use a gold oceanographic coring device in the official ground-breaking ceremony on the beach in La Jolla. The coring device is often used by divers to collect sediment samples.
The new, state-financed pier will be 1,102 feet in length, 84 feet longer than Scripps Pier. The new pier, which will be concrete, will also be 2 feet wider than the structure it will replace. It will take about 10 months to build, said Tom Collins, assistant director for administration at Scripps.
The new structure, which will be named Ellen Browning Scripps Memorial Pier, also will include a new water-supply channel, which will be installed beneath the deck. The new channel will allow an increase in seawater pumping capacity from about 800 gallons per minute to 1,200, Collins said. Additionally, a new pump will be able to reach deeper into the ocean to retrieve cold seawater, vital for lab researchers, Collins said.
When the new pier is ready, the 71-year-old pier will be razed, along with its current 1,000-foot-long channel, in which about 1.8 million gallons of ocean water is pumped daily to the institution's research laboratories and aquariums.
Scripps officials and oceanographers considered the old pier an integral part of the institution's livelihood, but last year conceded that it could no longer withstand the punishment of fierce waves and would eventually collapse, destroying the institution's seawater supply system.
Collins acknowledged that there is still concern because the old pier needs 10 months more to survive possible storms while the new pier is built. "The best I can say on that is that I lose a lot of sleep on each storm that comes," Collins said. He added, however, that the school has an emergency response team trained to react if the seawater supply is cut. Scripps also has made arrangements for emergency pumps to be used in case the old flume is inoperable. —Hector Gutierrez,
Los Angeles Tim
es, March 27, 1987
Location: The Birch Aquarium is located at 2300 Expedition Way in La Jolla and is open most days from 9 AM to 5 PM (although the ticket sales end at 4:30 PM). Free parking for three hours and special prices for Military, Seniors, and Students. Phone: 858-534-FISH.