Public Pier — No Fishing License Required
Sitting just a few hundred yards south of the North T-Pier, the South T-Pier is slightly larger and seems to be seeing an increasing proportion of the local pier anglers choose it as home. Perhaps this is due to its larger size, a fact that seems to allow more space to remain open to fishing than its sister pier when boats are in port.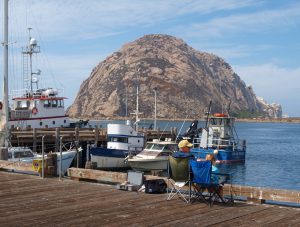 Father and daughter fishing on the pier
Environment. The South T-Pier is a little longer than the North-T at 256 feet, but has a similar 400-foot-wide end; the surface is listed at 12 feet above the water. Inshore, one side sees an open rocky shoreline; the other side sits adjacent to the Great American Fish Company. Water inshore is fairly shallow while a good cast from the end can see a fairly good depth; the bottom is mud with some eelgrass
Almost all of the environmental conditions mentioned for the North T-Pier are duplicated at this pier: strong tides and current, occasional heavy amounts of eelgrass in the water (especially out-flowing tides), and distinct seasons for the fish.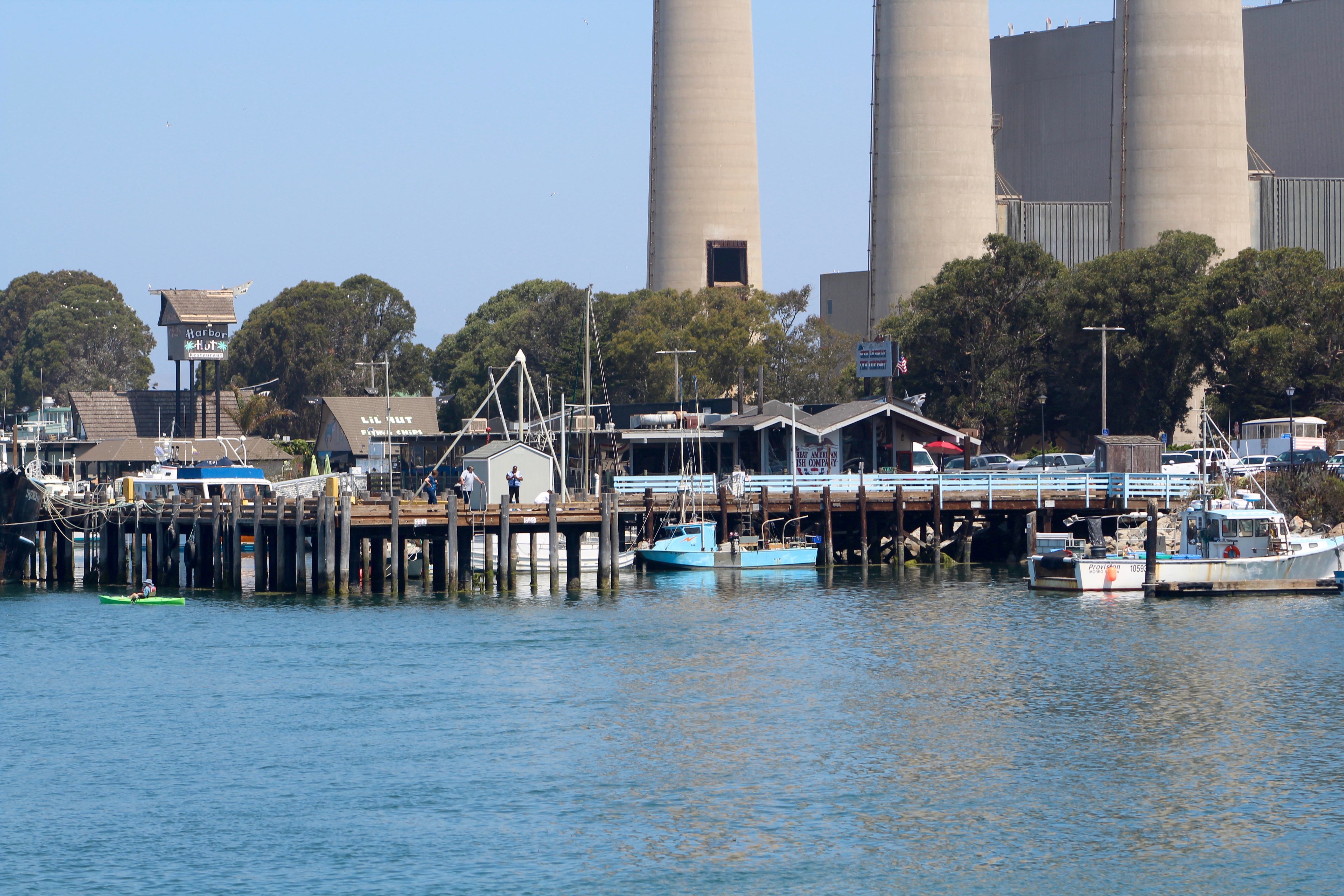 Fish and Fishing Tips. The main difference between this pier and the North T-Pier is the fact that the inshore rocks can be fished and they yield a plethora of rock-loving species. At the North T-Pier, those rocks are mostly blocked off.  My first visit to the pier proved that to be true when two grass rockfish and a small lingcod grabbed the baits I had dropped down into the crevices between the rocks. An additional fish, seemingly large (but I'll never know for sure), was lost to those same rocks. That fish, a fish that felt like an eel, reminded me that it's often good to connect your sinker with a short piece of lighter line. That way you can often keep the fish even if you lose your sinker. Of course I hadn't followed my own suggestions.
Subsequent trips fishing the rocks have produced eight species of adult rockfish—black rockfish, black & yellow rockfish, blue rockfish, brown rockfish, copper rockfish,  gopher rockfish, grass rockfish, kelp rockfish and another four  species of juvenile rockfish—bocaccio, chilipepper rockfish, vermilion rockfish. The same was true with several species of perch that like to hang around a rocky environment—black seaperch, striped seaperch,  pileperch and a large rubberlip perch that I managed to lose at the end. Further rock hugging species have included lingcod, kelp greenling, and a gnarly monkeyface eel (prickleback).
My tackle for the rock fishing is simple, a size 6 or 4 hook tied on a short dropper leader a foot above a torpedo sinker. I drop the sinker in the hole or crevice and make sure I am ready for a strike. I never rest this rod against the railing! You have to be ready to reel in the line as soon as your have a bite or you will lose the fish (and often your sinker to the rocks). Bait is either a pile worm, lug worm, ghost shrimp, small piece of market shrimp, or a piece of mussel cut to look like a worm.
When fishing the stem, the area leading out to the end, the best set-up seems to be a light outfit, hooks size 6 or 8. These are baited with worms, small pieces of shrimp or mussel. Fish mid-depth or near the top for walleye and silver surfperch; fish near the bottom for blackperch, rubberlip seaperch, rockfish and flatfish. A Lucky Lura-type or Sabiki-type bait rigging or a small jig, is often most productive if schools of sardines, jacksmelt, Pacific mackerel, or jack mackerel show up.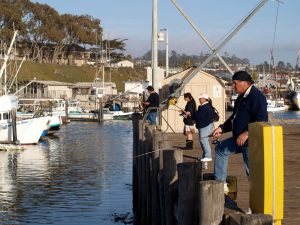 Anglers fishing for sardines
Fishing at the end offers two options. One is to fish the inside waters for the same fish you catch from the stem or to fish the water outside the pier for whatever is on the bottom—halibut, sharks and rays.
For the halibut a Carolina-leader with a live bait (shiner perch or small smelt) works best. Many anglers also will try for the halibut using an artificial lure such as a Lucky Craft lure or a soft plastic like a Big Hammer.
Although I've never seen too many "shark" fishermen on the piers at night, these bay waters are considered excellent for leopard sharks, brown smoothhound sharks, and bat rays (and the piers are reputed to be a hot spots for big rays). A bloody piece of mackerel or an oily sardine seems best for the sharks while the bat rays prefer squid. A 95-pound skate (I assume it was a big skate) was caught at the pier Christmas week of '99 and bat ray approaching 100 pounds have been reported.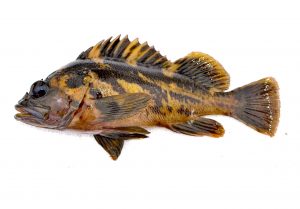 Black and Yellow Rockfish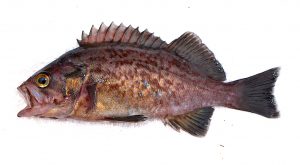 Blue Rockfish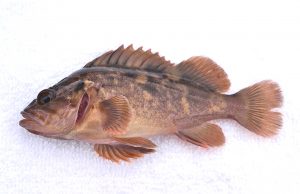 Brown Rockfish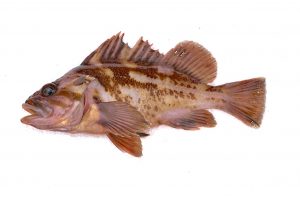 Copper Rockfish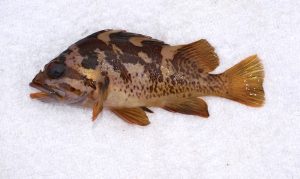 Gopher Rockfish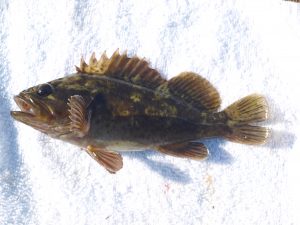 Grass Rockfish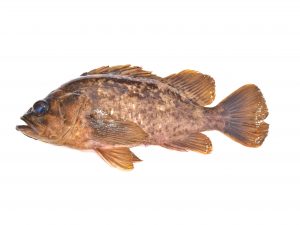 Kelp Rockfish

Monkeyface eel (prickleback)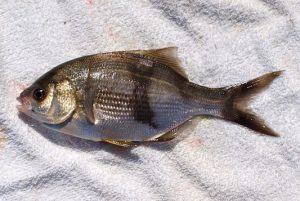 Pileperch
Potpourri — More than you many want to know about the pier
 <*}}}}}}}}}>< — If your angling appetite is not satiated by the fish on the piers you can enter the dark side and take a trip on one of the boats from Virg's Landing, it sits a few hundred feet up from the pier. As of 2009 the boats available were the Admiral, Fiesta, Harbor Pathfinder and the Princess. Most trips from Morro Bay fish for rock cod although there are seasonal trips for salmon (when allowed) and albacore. Increasingly there are also a number of non-fishing trips out in search of whales.
<*}}}}}}}}}>< — The state record barred surfperch is recorded from Morro Bay (although tied with a fish from Oxnard). The fish weighed 4 lb 2 oz and was caught on November 8, 1995.
<*}}}}}}}}}>< — Morro Bay itself is a natural bay with an artificial harbor and is the only all-weather, small craft commercial and recreational harbor between Santa Barbara and Monterey. A large sandspit, augmented by breakwaters, protects the harbor from the Pacific Ocean to the west. Morro Bay Harbor's channel silts up and must regularly be dredged. In response, some have proposed reopening the Shark Inlet that once connected the back bay to the ocean to slow the sedimentation that is filling up the bay.
<*}}}}}}}}}>< — Although you will undoubtedly see crabs on the rocks lining the shoreline—mainly rock crabs, kelp crabs and spider crabs, and most likely will have one crab a bait as you are fishing, all are illegal to take. In September 2007 the Morro Bay State Marine Recreational Management Area (that basically includes all of the main area of Morro Bay) went into affect and it prohibits the take of all species excepting finfish. Thus no crabs, octopus, ghost shrimp (for bait) or mussels (for bait). If you pull a crab up (and some simply will not let go of your bait) release it unharmed back into the water.
<*}}}}}}}}}>< — If you like sea otters this is a pier you should visit. I have never made a trip  to the pier without encountering at least one sea otter.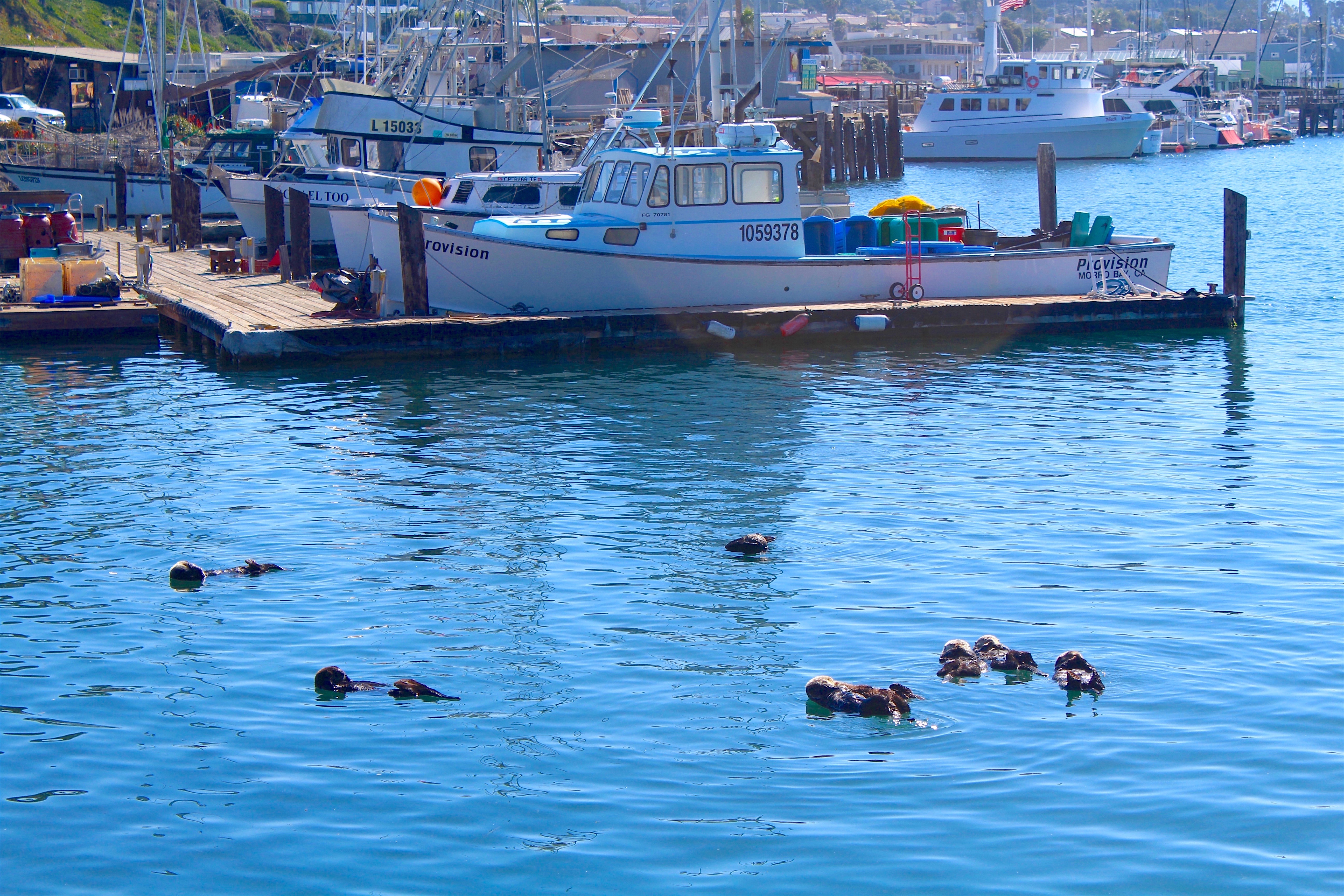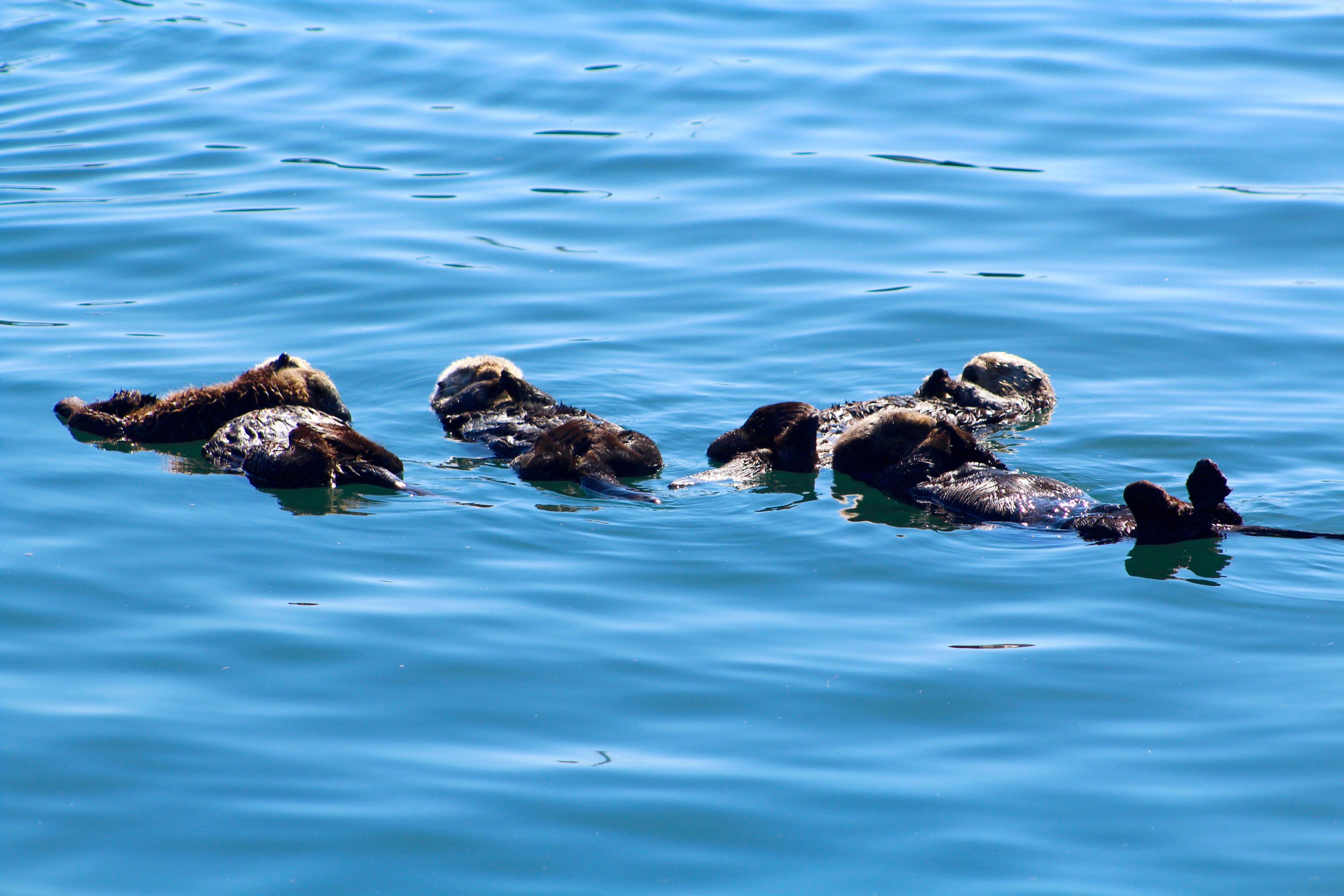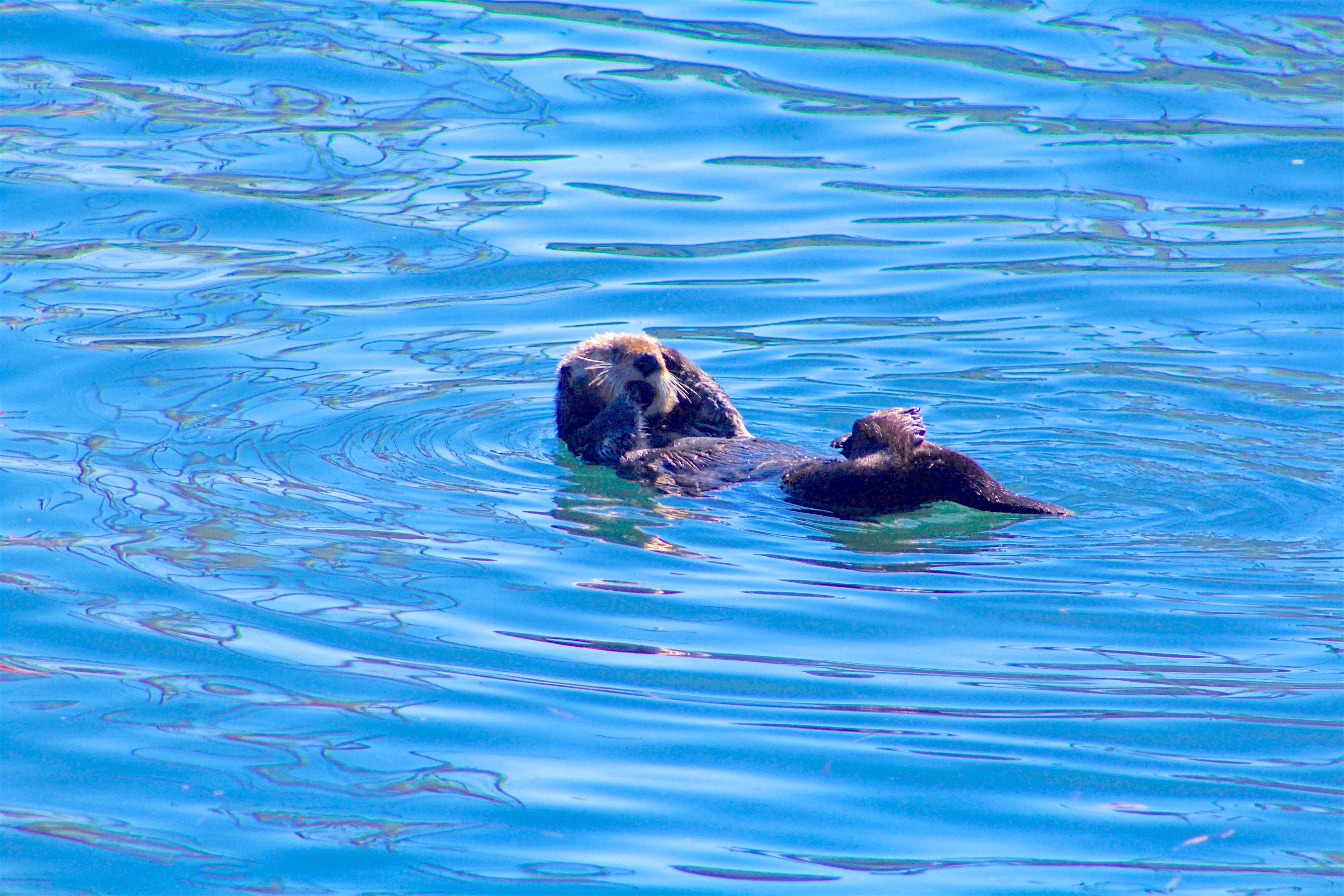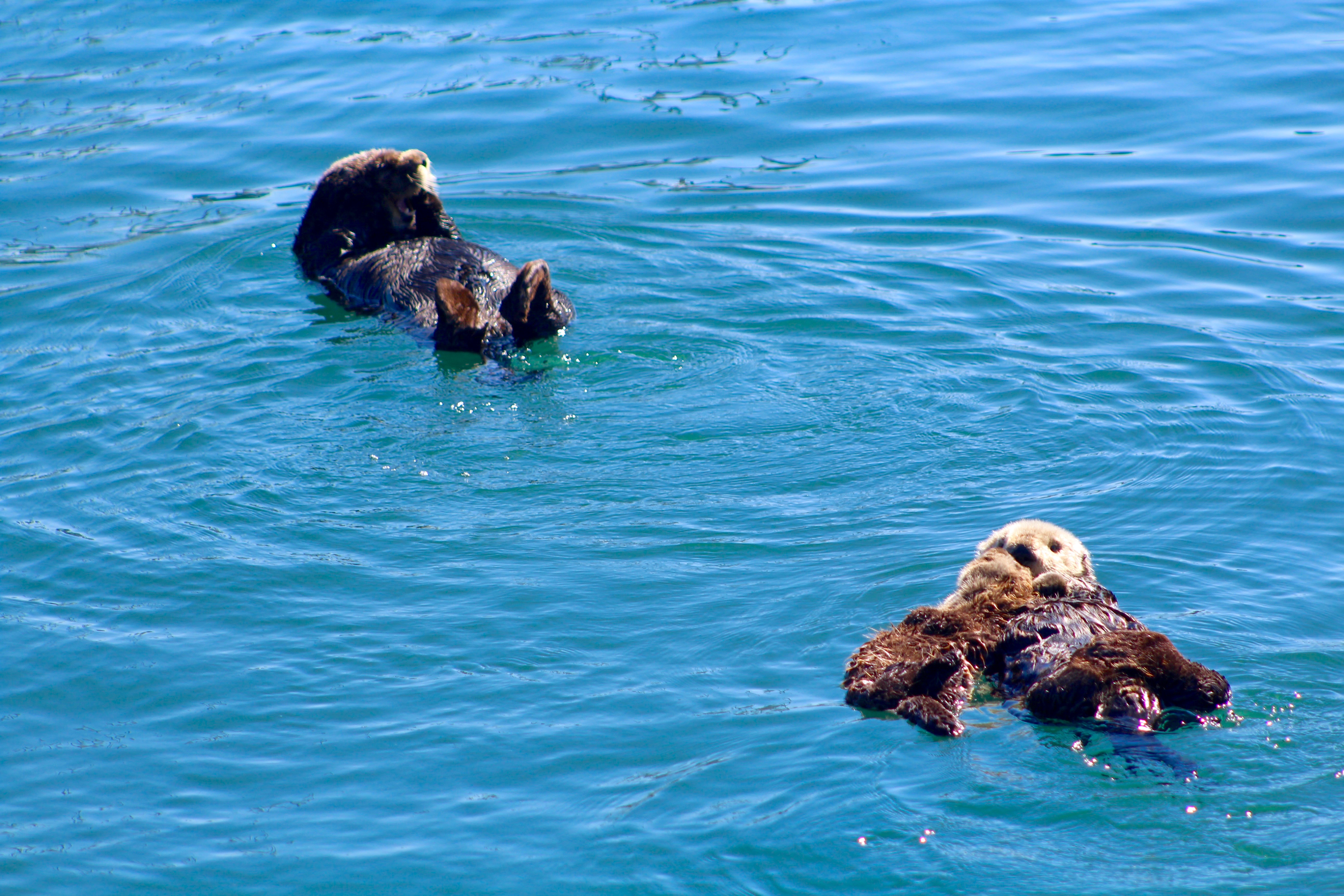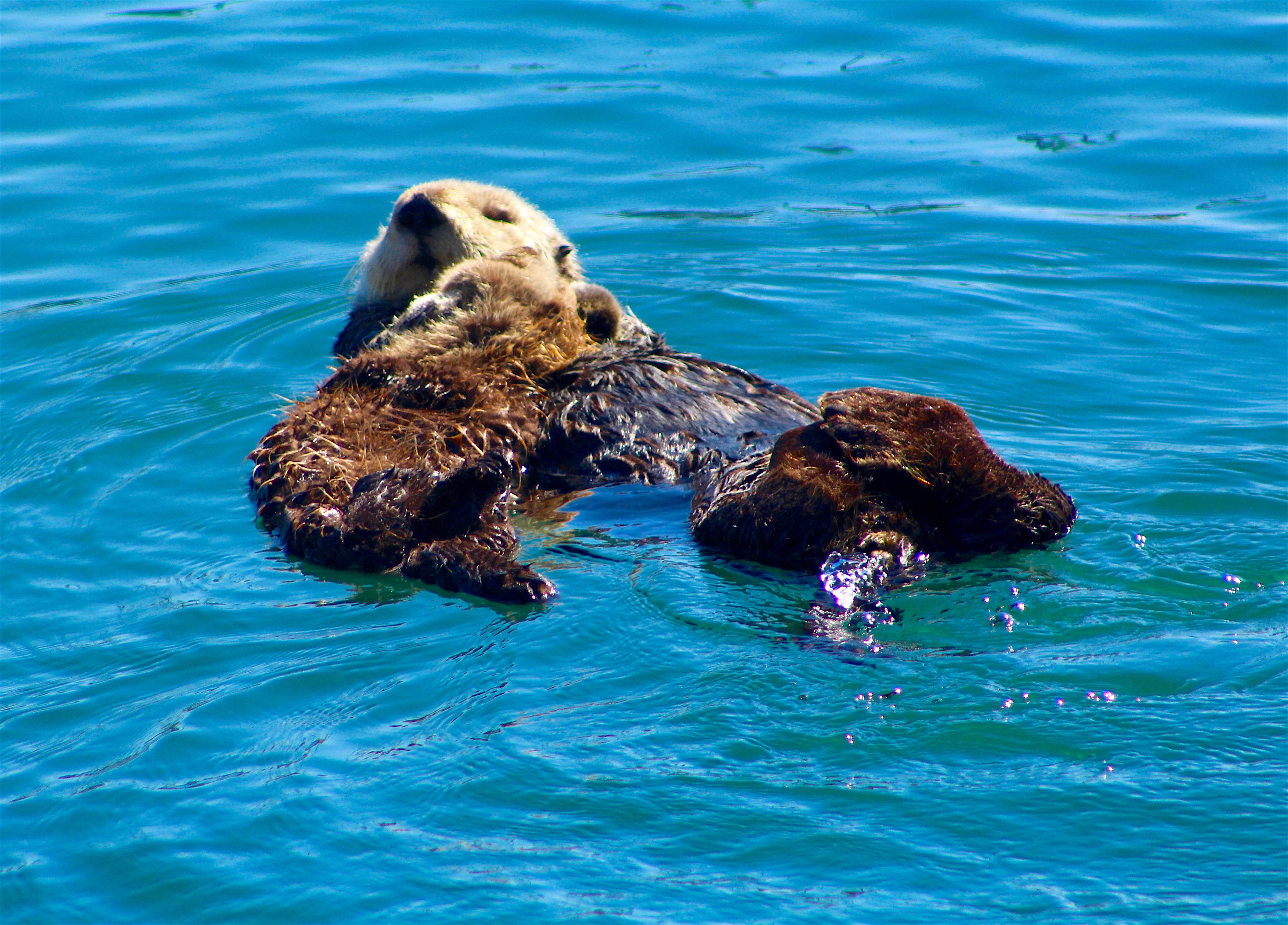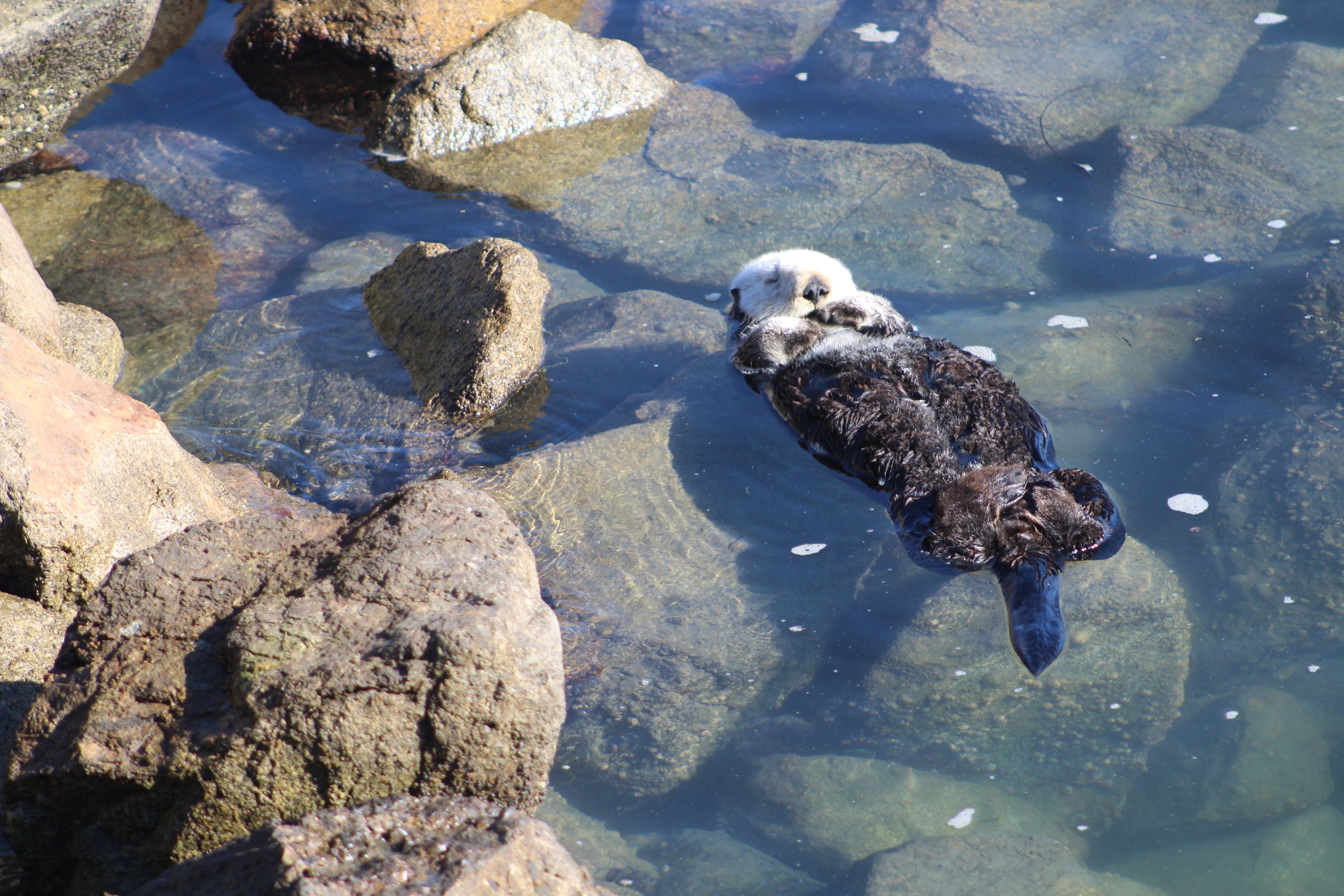 The Pier Rats Speak — Posts from the Pier Fishing In California Message Board
Date: September 16, 2003; To: PFIC Message Board; From: EddieE; Subject: Morro Bay T-Pier Report 09/15/03 LEOPARD CITY!
The way the tides are now in the bay, I'm having a hard time staying away! (the non-stop bite doesn't hurt either…lol). I hit the south T-pier this afternoon and started catching my bait, which was plentiful! I got quite a few jacksmelt at first, most of them too large for bait. After an hour or so, the smaller fish started jumping in my bucket. I had a big setup tossed out towards the channel while I was making bait. (I put my 6/0 Senator on my 10′ spinning surf pole…it worked but was a little awkward) The clicker went off like a rocket so I grabbed the pole and set the hook. With the big setup, it only took me about 5 min to land the fish which turned out to be a 53" Leopard! There was a couple from Paso who helped me net it.
After I settled down, I happened to glance over towards the restaurant and saw the windows lined with people watching the fight. As it turned out, there was a tour bus from Wisconsin at the restaurant. As soon as everyone finished eating, they all came out onto the pier. After about 42,000 questions and 672 pics. I was able to get back at the game.
A little later in the night, the couple from Paso fished with me. They had just started fishing a couple days before so I tried to help them out. My next hit was on my Alpha 070 spinning outfit. I set the hook and adjusted the drag then gave the pole to the woman from Paso. She had a he** of a time! I took he pole a few times to get the fish out of the pilings and from around a boat but other than that, I let her fight it the whole way in. We landed the fish…a 55" leopard!
The lady was extremely happy and excited! I think I enjoyed letting her get it more than I would have if I had landed it myself. We continued to fish but couldn't get anything but thornbacks, a total of 12-14.
Anyway, it was a wonderful night! Eddie
Date: October 14, 2003; To: PFIC Message Board; From: EddieE; Subject: Morro Bay
Hi all, I fished Morro Bay for a few hours tonight hoping for some more leopard action, but didn't hook any. There was a lot of action though! The bite was pretty much non-stop from around 7PM till 11PM. Eddie
Catch:  9 Thornback ray (all small-12 to 16 in.)
6 Bat ray (5 were 2-ft. or less and 1 was 4-ft.)
The jacksmelt bite was also non-stop, they were hitting within seconds.
Bait: Tiny bits of squid for the smelt and the smelt for everything else.
Rigs: Shakespeare Alpha, 50lb. power pro, 10'Abu Garcia surf pole.
Penn Peerless #9, 30lb. Trilene Big Game, 6'6″ Berkley graphite pole.
Date: April 18, 2004; To: PFIC Message Board; From: fatfish; Subject: Morro Bay
South T Pier 2:30-3:30—I started fishing for smelt because my dad saw me as he was walking and told me that it was the right tide for them so I started to fish for them. I started from the end of the pier casting a high/low baited with clam and was quickly getting hits, which I couldn't hook for some reason. I went down to the front of the pier and continued casting. I had just hooked a smelt, and thought I had a snag while reeling it in as it felt like it was stuck on a rock. I was going to try to maneuver my rod around to get it free then whammm, something huge hit it, and was taking out some line.
It felt like a halibut because it was shaking it's head and making short runs. It kept trying to tangle me in the rope that held the boats to their docks. After a couple of minutes I thought it had tired out so I started to try to slowly get it off the bottom inch by inch. I had it about 4 feet from the surface, and I could see it was a nice sized halibut about 3 feet long. My dad rushed over when I saw him again and told him to get a picture of the fish. A man with a crab net was about to come over when the halibut drove under the pier and snapped the cheap Eagle Claw snelled hooks right at the dropper loop.
I was so disappointed because this was the second time I had hooked a halibut and lost it. I was surprised I even got to play the fish for that long because I was using a light bass rod and baitcast reel spooled with 8-pound line. I went for a walk last night past the South T pier and saw a sea otter sleeping on its back and I crept up on it and took a picture of it. The weather was great.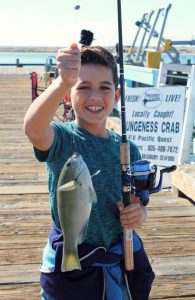 Young angler with an opaleye, 2016
Date: August 4, 2004; To: PFIC Message Board; From: cayucosjack; Subject: Morro Bay 8-3-04
Last night Morro Bay lived up to the moniker Morro RAY as we called it much of last summer. I fished from about 6pm-9pm from the South T-pier. Still no baitfish. Lots of boats out drifting for halibut. The dredging appears to be over? If so, good news for fishing as that seemed to shut things down. I had set out to do some rockfishing but I forgot my license and the jetty was getting wet. I settled on trying to find live bait and fish for halibut at the T-pier. No bait anywhere so I chucked just about every lure I had in my bag up and down the pier. Nothing.
I was going to quit and go home but decided I'd throw out a shark/ray rig with squid (the only bait I brought). I also rigged up a Sabiki and climbed down the ladder to nab some mussels off the pilings (it was low tide). The Sabiki was getting hit constantly by very small black perch (as g-dude would say, pogettes) and tiny rockfish. The big rig was getting bites but no fish so I scaled down from 5/0 to 1/0 muto light circles and started catching thornback after thornback. It took about 6 thornbacks to finally find a bat ray. Last year EddieE and I fished there a lot and there was usually a thornback to shark/bat ray ratio of 10/1. So a little better last night. Not anything like those 30-50 fish nights but a start! I'm sure if I stayed later it could have been much better though. The fish were ALL small, but again that is usually the way it goes until after dark. I had to leave before my favorite Thai food restaurant closed but I might be back tonight or tomorrow to see if the freaks come out at night.