Public Pier — No Fishing License Required
In the summer of 1963 I moved from Costa Mesa to San Diego. The first place I fished was the Shelter Island Pier and I thought I had entered Nirvana, Utopia, or perhaps Canaan, but instead of milk and honey it was the land of the "killer B's"—boneheads, barries, bass and 'buts—the pier angler's equivalent of paradise.
My first visit produced more than a dozen fish including bonito, barracuda, and halibut. My next two trips saw kelp bass and sand bass added to the mix. Here I was, fishing on a pier, and catching most of the southern California "gamefish" every visit. Today, looking back at my records, I realize that those first visits were among the best of my many visits to the pier; they were exceptional and really don't reflect an accurate picture of the pier. It is a good fishing pier but not "paradise." I'm still looking for that pier!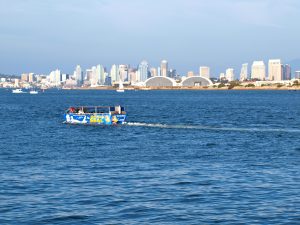 Environment. Shelter Island is one of the most popular spots on San Diego Bay. Resorts and restaurants  share  the island while the mile-long Shelter Island Shoreline Park spans the outside or bayside length of the island. Shoreline grassy areas, bike paths, picnic tables, play equipment, a public boat launch (the busiest in San Diego Bay), and the Shelter Island Pier share the park's waterside venue.
On the inside, protected waters of the island are two harbor areas with several yacht clubs and and marinas along with associated businesses. The north harbor, now called Americas Cup Harbor, is not only home to an America Cup ship, but also home to San Diego's various Sportfishing landings (H&M Landing, Fisherman's Landing, Point Loma Sportfishing, etc.). Together they make up the world's largest Sportfishing fleet.
Although we are most interested in the fishing, the pier (and nearby park) do provide great venues to view the bay and downtown buildings as well as to watch the watercraft, everything from kayaks to huge Navy ships and cruise ships.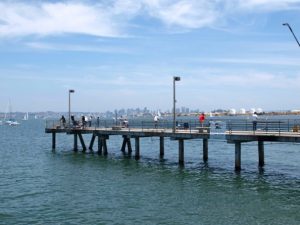 The pier itself is fairly new—and not the one that I fished in the '60s. That pier, the original Shelter Island Pier, was built in 1956 but condemned in 1990. A new pier, almost identical to the first, was built and opened in the summer of 1991. Surprisingly small for the number of fish caught, the pier extends out only about 200 feet from shore but has a T-shaped end that is nearly 500 feet in width.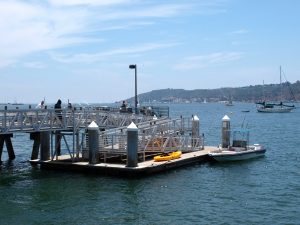 One major change is seen on the inside of the pier's west wing where the city constructed a boat/kayak launch dock. The dock restricts casting inshore from that area of the pier. However, since fish like to hang under floating docks, nibbling away on attached organisms, it's also an area that can produce a lot of fish. Just know that you are restricted as far as where you can fish (think straight down under the float).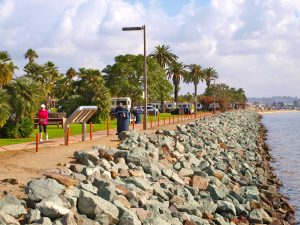 The bottom here is diverse. The shoreline itself is protected by riprap rock and some rocks are in the innermost areas. There is next a fairly narrow section of sand followed by a fairly extensive eelgrass bed that extends about two thirds of the distance of the pier. Past the eelgrass the bottom is mostly sand and mud. Casting out away from the pier yields deeper water and some obstructions but mostly it's still sand and mud.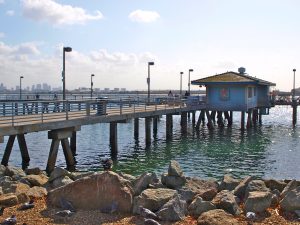 The pier itself and its pilings are concrete and though the pilings don't have much in the way of the mussels and barnacles that are so attractive to fish, they are often covered with kelp and it can attract fish.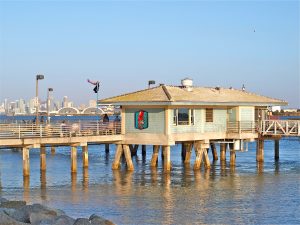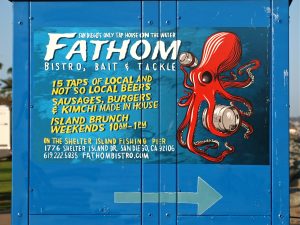 Fish. Typically anglers either fish the inside section of the pier between the pier and shoreline or cast out from the end. Inshore, both by the rocks themselves (high tide) and in the eelgrass, anglers can see bass (kelp bass, sand bass, and spotted bay bass), perch (blackperch and rubberlip), perch-like species (opaleye and halfmoon), and an occasional halibut.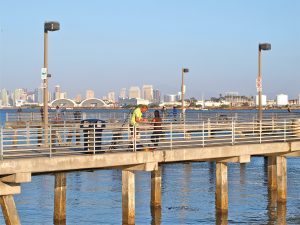 In the inside section, between the eelgrass and the pier (a mostly sand bottom), anglers will see some flatfish—halibut and turbot, as well as some croakers (yellowfin, spotfin and black), sargo, smelt and an occasional rock wrasse.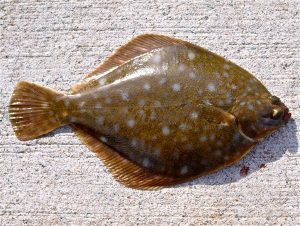 Diamond turbot
Casting out from the end can yield all of the already mentioned fish, but also presents more of the pelagic species. When fishing on the bottom anglers can expect the three species of bass, the three larger croakers mentioned above, the smaller croakers—queenfish (herring) and white croaker (tomcod), flatfish and quite a few scorpionfish (sculpin). If lucky, an angler might catch a sheephead. If unlucky, you might catch a lizardfish.
Anglers fishing the top water area may encounter Pacific mackerel, jack mackerel (sometimes), jacksmelt and, especially at night, barracuda.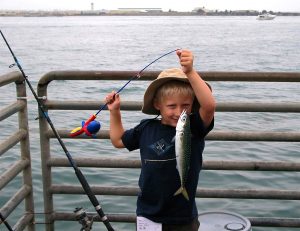 Pacific mackerel
As for the sharays (sharks and rays) the pier isn't considered that good, with the exception of bat rays, but sharks are caught and some are good sized. Most common species are the aforementioned bat rays along with some sand sharks (gray smoothhound shark), shovelnose sharks (guitarfish), thornback rays and round stingrays.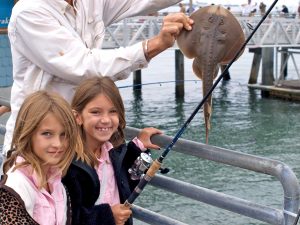 Thornback ray
High tide usually seems to be the best time to fish although some fish are around the pier at all hours. Do be warned that tides can at times produce a strong enough current to require a fairly heavy sinker. However, this is primarily true when casting out from the pier in deeper water.
Unusual catches at the pier have included several Pacific angel sharks (Squatina californica), thresher sharks, horn sharks, large butterfly rays, and a rare banded guitarfish (Zapteryx exasperata), a species that is usually found from Mexico to Panama but which occasionally is seen in San Diego Bay. The latter was reported to weigh 24 pounds but looked much smaller in the pictures. A 38" soupfin shark was landed in March of '01.
Although more common in the south bay, a few Cortez bonefish have been caught at the pier. Shortfin corvina, a species that was once considered rare, started showing up regularly in reports in 2003 and seem to have increased in number; their numbers continue to mystify the experts. If you want to try for the corvina fish live bait (i.e., smelt) under a float or try a spoon at night.
Starting with a baby 10-pound fish reported in October of '97, we have also had a number of giant (black) sea bass reported at the pier. Most have been properly released although some were misidentified and kept (including a seven pound, eleven ounce fish misidentified as a salmon grouper in April of '08). Remember that they are illegal and must be returned to the water.
A common fish of uncommon size was reported in August of '09 when a huge sculpin (scorpionfish) was caught from the pier, a fish supposedly measuring 24 inches in length. Since most books report the maximum size of the scorpionfish at 17" it would seem that either the fish identification or size was mistaken. However, given the always-unexpected nature of saltwater fish you just never know.
Another mid-identified fish was an 18-inch fish taken in July of 2011. It was reported as a spotted sole but there isn't any such critter. There is a spotted turbot, Pleuronichthys ritteri, but it's only reported to reach 11.5 inches long. In all likelihood it was a diamond turbot, a species that maxes out at 18 inches.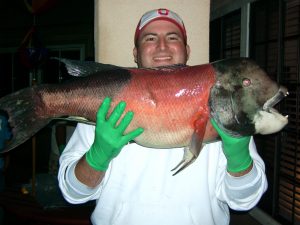 21-pound, 36-inch-long sheephead caught by Jesse Campbell at the pier  on February 20, 2007. He caught the large fish using a long strip of squid for bait.
Quite a few buck-toothed sheephead have also been caught in recent years. A wayward 17" sheepie made a mistake in visiting the pier in April of '00, two nearly identical 14-pound billygoats were caught in December of '2000, an 11-pounder was caught in January of '01, a twelve-pound humpy was caught in March of '01 and a 20-pound fish decided to take the bait in March 2005. All were topped by a 21-pound, 36-inch sheephead taken by Jesse Campbell on a strip of squid in February of '07. (Wow, there are lots of nicknames for these fish!) Don't know why there's been this recent action on the black, red and white gamesters. (However, there has been an attempt by some people to replace the mascot at my old school, San Diego State. They want something a little more politically correct than Aztecs or Montezuma. Since the school's colors are black, red and white, I nominate a fighting fish—sheephead—as the new name for a mascot. But what sounds better, the San Diego State "Sheepheads," "Sheepies," "Billygoats" or "Humpies?" After all, any of these would be a better name than that used at U.C. Santa Cruz, the "Banana slugs," or the puny-sounding "Poets" of Whittier College. Guess we could take a poll and forward it on to the chancellor.)
Fishing Tips. As is true at most places, live bait is almost always the best bait and there was a time when live anchovies were available at the pier's bait shop. Occasionally other live bait was also available but those days are over. Still, that doesn't stop a person from netting his own live bait via an umbrella drop net. Using such a net a person can almost always gather a few anchovies and when available they can be used both on the bottom and on the top.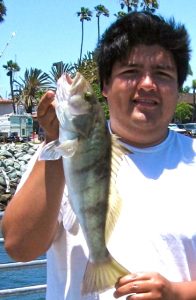 Barred sand bass
If seeking out halibut or bass (sand bass, kelp bass, and spotted bay bass) try casting out to the area between the eelgrass and the pier using a Carolina-type leader on the bottom with the live bait. The same bait and rig can also work when casting out from the end of the pier but the inshore area is a better area. If anchovies are unavailable, you can also try using smelt, shinerperch, small herring, tomcod or lizardfish that you have caught.