Public Pier — Freshwater — Fishing License Required
Most commonly called the Antioch Bridge Pier, this is the most heavily visited pier in the Pittsburg-Antioch area. As usual, the reason for the pier's popularity is that it yields a good number of fish, in fact an almost unbelievable number of small striped bass at times. It is another example of a Bay Area bridge being turned into a pier. In 1979, when the new Nejedly Bridge (named after State Senator John Nejedly) was being constructed, he suggested that some of the old bridge's pillars be used as a fishing pier. No sooner said than done; the southerly end of the old Antioch Bridge was converted into a 535-foot-long and 16-foot-wide fishing pier that also contains a 46×25-feet platform at the outer end. The pier that sits 11.5 feet above the water opened in the early '80s although a slight modification was made in 1984 to allow anglers access to the beach at the front of the pier. Today the pier is part of the 7.5 acre Antioch/Oakley Regional Shoreline Park, another outstanding park and pier operated by the East Bay Regional Park District
Environment. The pier is at the south end of, and adjacent to, the Nejedly Bridge (Highway 160) in Antioch. Water is fairly shallow but usually there is a good current (and generally there is wind). The bottom is primarily sand, but there is some grass, and lots of obstructions which like to grab onto sinkers. Water here is that of the main San Joaquin River although the Big Break area curves off along this southern shoreline and goes on to front Jersey Island and the town of Oakley. Near the front of the pier is a Fish and Game station along with a sluice in which hatchery reared striped bass and other fish can be released into these waters (and an alternate name for this pier is the Antioch Delta Field Base Pier).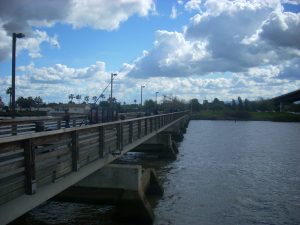 Fishing Tips. Although for the most part the species of fish caught here are similar to the other piers in Pittsburg and Antioch, there seem to be more, both in quantity caught, and in different species caught. Striped bass, sturgeon (both white and green), black bass (both largemouth and smallmouth), Sacramento pike (actually Sacramento squawfish—a large minnow recently given a more PC friendly name), channel catfish, white catfish and several types of bullheads are commonly caught. A few anadromous starry flounder show up some years (usually dry-water years), and an occasional salmon or steelhead is sometimes taken in the fall as they head upstream.
Most fisherman fish on the bottom, and most use a sliding sinker rig baited with cut anchovy or shad, although many use grass shrimp, ghost shrimp, worms or live gobies (good for the larger stripers). I usually simply use a high/low leader even though it is admittedly probably not as good for the larger fish. I have also found that while many of the regulars go out to the end of the pier, and the deeper water, to try for the larger fish, the inshore waters can be very productive. Just a short way out, around the first windbreak, is a good area for small to medium-size stripers. Inshore, by the rocks, seems most productive for summertime largemouth bass and successful anglers are generally those who use live minnows.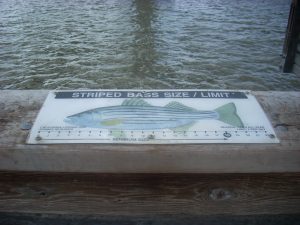 If using lighter tackle, do be prepared for a lot of bites from the smaller stripers and expect to lose some bait. One way to avoid it is to use the Magic Thread sold at some local tackle stores. This is the first pier where I saw this thread used, and I saw one angler receive six strikes before he had to replace his bait. You simply loop the thread around your bait once it is on the hook and it helps hold it to the hook during the cast. It also helps to keep the bait on the hook even when you receive a nibble.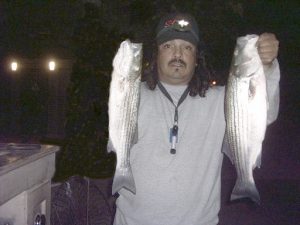 Two striped bass
Using artificials for stripers can also work at this pier; try the same outfits that are used by boat anglers. Use Fish Traps, Cordell Spots, Hair Raisers, Rat-L-Traps and broken-back Rebels. Also be aware that both salmon and steelhead pass through these waters during the fall and winter months. Have spinners and spoons ready for these fish, most of which seem to weigh 4-12 pounds. Finally, remember that largemouth and a few smallmouth bass are present, especially along the shoreline area, so don't be afraid to try spinnerbaits.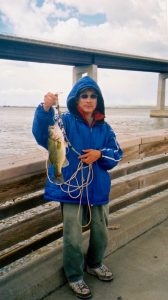 Smallmouth Bass caught near the front of the pier
If you simply want to catch a fish (any fish), try on the bottom with a light outfit and use cut anchovies, shad, grass shrimp or pile worms. You should be able to hook one of the smaller fish. An additional thrill can occur at night when fairly large catches of catfish and Sacramento pike can occur. The Sacramento pike will hit almost any bait while the catfish really like smelly cut baits like anchovies, mackerel or the small black Delta clams that are available in local bait shops.
Pier Fishing In California Messages
Date: March 17, 2004; To: Pier Fishing In California Message Board; From: StripeSideChaser; Subject: Antioch report
Fished Antioch Bridge pier, Monday night from 5:00pm to 1:00 am… fished small pieces of pile worm on #2 hook for about two hours, trying to get some mudsuckers or splittail for bait. Nada, too many baby stripers… I set the hook on any small tap, trying to make sure none of them swallowed those little hooks. As the tide started to change, I gave up on the live bait idea and switched to my backup… frozen shad, filleted open from the tail (butterflied).
I had a few small taps, and then about 11:00pm, my reel finally started a run. Slow enough that I didn't think it was too big, but fast enough that I knew it was a fish and not just hyacinth dragging my line. I gave a quick, hard hook-set and my rod just doubled over! I started to reel in, and hollered for a guy nearby that I knew could handle a crab net. He took one look at the pressure on my rod, and came running! All of a sudden, the striper came up out of the water (literally), about 20 feet out from the pier. It was amazing… a 19″ striper, with an extra, foul hook in its mouth that was dragging at least 20 lbs. of seaweed.
I brought it in very slowly, since it was pretty badly snagged and I was only using 15 lb. test. We did manage to get it in, got both hooks out, removed the snag and seaweed from the water (and into the nearest trash can), and the fish back into the water in good shape.
The highlight of the evening for me was when a sturgeon jumped about 30 feet out from the fence, by the fish release pipes (about 20 feet from where my bait was parked). The thing was probably way oversized (hard to tell in the dark), but was so big that it sounded like a man hitting the water when it landed! Bait used: frozen shad, anchovies, pile worms. I fish, therefore I lie!
Date: August 6, 2006; To: Ken Jones; From: Red Fish; Subject: Antioch Bridge Pier
It's pretty crowded, but people are catching big stripers at the Antioch bridge pier using live bluegills… A couple of friends of mine have caught several in the last week between 14 and 22 lbs.
Date: October 1, 2018; To: PFIC Message Board; From: Red Fish; Subject: Antioch Bridge Pier
Met up with an old member of PFIC, "Stocktrader" that I hadn't fished with in (10) years. He had some sons and was doing semi/pro black bass fishing. Anyway, we met up at the pier, which is like a halfway point from where he is and I am. We just wanted to have a time out to fish and relax with not too much expectation. We just kept it simple with some sardines and some other miscellaneous items from my freezer like mackerel and chicken livers. So, incoming was at 1pm Saturday so we tried to arrive at that approximated time fishing and being in the water at two by the time it was said and done. My friend brought one of his sons, the nine-year-old, that enjoys fishing. We fished a few hours for some sub-legal bass to 15" depleting quite a bit of bait that was chewed up by these "shakers."
About six, I hook into the fish pictured that pulled off drag on my Spirex Baitrunner with 30/30 Braid to leader. The fish hit so lightning fast that I don't recall the hook up as the G-Dude special "bull trout" "10' spinning rod loaded up. The fish pulled with tremendous ferocity right off the bait with the help of a little incoming current. The initial blast was unbelievable ending with a spectacular surface leap about 60 yards out. This thing bolted with greater speed than many bat rays and I was in fear of being spooled in the 4000 reel before engaging additional drag pressure. From the leap, and what I saw from the distance I exclaim, "big striper" as I moved down the rail to the left further blaring out, "coming down!"
I kept going down and under about three lines to the left as the fish is giving all its got and working me and my gear to the maximum. Time goes by and I fight to the right coming down now over about five lines of people that do not want to move an inch by themselves to get out of the way. I move over and under untwisting my line as I "run and gun" down the rail with the fish still unrelentingly. Two, three, four more tremendous aerial displays with the fish now moving somewhat closer but with just as much pressure. 30 minutes later, I am still thinking this fish is going to break its way free. As the fish finally gets closer, it's starting to look less and less like a striper. The fish made it to the net only to be returned due to it being: (1) about two football fields out of range of being legal to take at the San Joaquin river and (2) It was hooked in the side.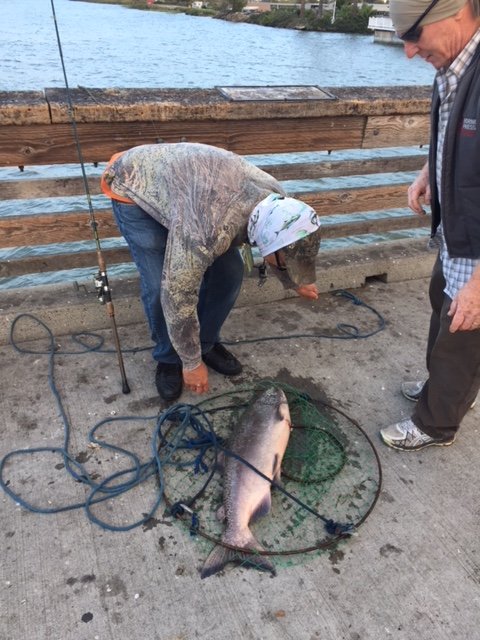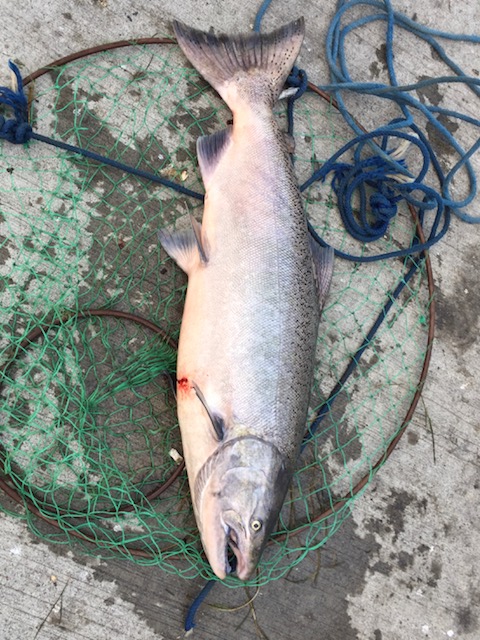 Special Recommendations. (1) This is a windy area so always bring along warm clothing. (2) Throw back most of your catch. The state recommends that you eat no more than four meals per month of any striped bass from this region because of elevated mercury levels in their flesh. And, women who are pregnant, nursing mothers, and children under six should eat no fish from the delta. (3) Remember to bring a freshwater fishing license, this is one pier where game wardens generally check several times a day. This was the first pier, after thirty years of fishing on piers, where a warden actually asked to see my license. Typically here, the wardens are checking to see if anglers have licenses and also looking for illegal, under 18 inch, striped bass.
Special, Special Recommendation. Several times I have seen kids at this pier tossing back small stripers in such a careless manner that the fish were almost sure to die. If you see kids, or any knuckleheads for that matter, using these small bass for pitching practice (or seeing how high up they can toss them), talk to them. I have found that generally most of them will stop such actions if you explain the sorry state of the striper population. It will not always work, but it is worth a try.
History Note. A plaque at the base of the pier reports that at this site in 1775 the Spanish explorer DeAnza, with his group of soldiers and missionaries, stopped and camped. The plaque says "from this point you can see the Delta, the Sierra Nevada, and Mount Diablo." That's still true but only on a clear day.
Before bridges were built in the area, a car ferry operated between Antioch and Sherman Island; the ferry was run by the Lauritzen brothers. The need for their service ceased with the construction of a $2 million lift bridge that opened on January 1, 1926.
Fishing Pier Plans For Bridge — $90,000 Project
Antioch—The 49-year-old highway bridge adjacent to the new Antioch Bridge may be transformed into a 300-foot fishing pier under a plan being studied by the East Bay Regional Park District. A key element in the plan is a very tentative offer of $90,000 in state funding, enough to pay for the conversion, which would take place in five years.
Park district General Manager Richard Trudeau has warned the $90,000 estimate is in terms of 1976 dollars and the price-tag for construction of the pier could escalate by 1981. Trudeau reported that Chester Hart, executive officer of the state Fish and Game Department's Wildlife Conservation Board "suggested that at some point in the future, he would consider recommending to his board that they accept responsibility for funding the development of the entire Antioch pier project.