And rather than let that ruin my night of fishing I packed it in and moved to the South T-pier. I went on to have a very enjoyable night. The three Darryls did make the mistake of letting me see what they drove in in. Cayucosjack doesn't get mad, he gets even. Kooks go home. Hopefully the karma police were out too and delivered them a skunk. If any of you Darryls ever read this congratulations! You've just been awarded cayucosjack's prestigious "shmuck 'o' the month award"!
Oh yeah, I did some fishing. Lots of bait in the water and you couldn't keep the thornbacks away. Squid and cut mackerel were equally effective baits. I was able to fish about 3 hours before the tide turned. All fish released. All fish were weighed on a 50lb scale (unfortunately none bottomed it out)
stats: 1 25-lb bat ray — 1 29-lb bat ray — 1 36-lb bat ray — 1 44-lb bat ray — 12-15 thornbacks
Took an hour or two to make some bait at Cayucos Pier Wednesday after spending the afternoon rock fishing. Water was nice and blue and lots of bait (1st half the pier, under it mostly). Jumbo sardines (8-12") and Spanish mackerel filled my bucket in no time. I didn't even bring a normal rod (just my Sabiki) but nobody else seemed to be getting anything bigger.
Date: September 23, 2005; To: PFIC Message Board; From: cayucosjack ; Subject: Morro Bay report 9/22
With some great low tides right at the time I like to fish (dark-midnight) I decided to hit up Morro Bay last night. Fished the South T-pier. Non-stop thornback action on sardines and squid. I had two big fish come unbuttoned (one def a ray the other maybe a shark). Fished about 3 hours of the low tide. Lots of bait around. Threw a Sabiki baited with shrimp for some baitfish and a small rockfish.
Stats: — 10-12 thornbacks — 4 smelt — 4 sardines — 2 lizardfish — 1 SBRF — All released except the sardines.
Date: January 16, 2007; To: PFIC Message Board; From: madfatties; Subject: Morro T Pier Perches
Caught these [two opaleye] and had others hooked on the T pier next to the fish company in Morro Bay. They were caught on chartreuse mini jigs. The fish were actually following the jigs from about mid depth down to the bottom and only after sitting for a bit on the bottom, would they finally pick it up. It took a bit to figure 'em out but I was able to entice a few.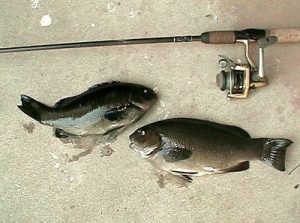 Opaleye
History Note. The South T-Pier like the North T-Pier was built as part of an  amphibious training base during WWII. The pier was built in 1942 as part of that training facility. On the pier, a two-story scaffolding was constructed with a shear wall on the bay side of the pier. Trainees would board boats and then the trainees would travel to the "bay side" of the pier before "assaulting" the scaffolding and climbing via chair or rope ladders over the scaffolding.
The town would acquire the pier after the war. The pier would see repair in 1953 and 1982 before a large rebuild in  1988 (after a fire destroyed much of the pier).
1 Killed, 2 Hurt in Pier Fire at Morro Bay
Flames engulfed the wooden pier in Morro Bay early Thursday morning, killing 1 man, injuring 2 others and destroying 10 boats and 2 cars.
The man who died, a commercial fisherman whose name was not released, was asleep in his boat when the fire broke out on the pier and spread to his vessel, said U.S. Coast Guard spokesman Greg Ozzimo.
The fire began at dawn on the T-shaped pier, and within 10 minutes, flames had engulfed the entire pier, authorities said. There is no dollar estimate of damage, and the cause of the fire is under investigation. "There were flames 25 feet in the air, and huge clouds of smoke blew over the area," said Paul Janetski, a cook at Dorn's Original Breakers, a restaurant a few hundred yards from the pier. "Each time you saw a quick flare-up and a mass of smoke, you knew another boat caught fire."
Nearly Drowned—An elderly man and woman jumped from their burning boat and were pulled out of the water by rescue crews, Ozzimo said. Naomi Griffith, 78, was reported in critical condition at Sierra Vista Regional Medical Center in San Luis Obispo after nearly drowning. Henry Pederson, 70, suffered hypothermia but was listed in good condition at the medical center.
The waterfront of Morro Bay, a town of about 10,000, 175 miles northwest of Los Angeles, is lined with restaurants and souvenir shops. But because the winds were blowing away from the shore and the tides were running out to sea, Ozzimo said, no businesses were damaged. "The winds often blow toward the shore around here, and if they had been blowing that way this morning, we would have lost quite a few businesses," Ozzimo said. "We would have had a much worse fire to deal with. We were lucky with the tides too because when the burning boats broke away, they drifted out into the bay, away from shore." Many of the fishermen and boat owners who lived aboard their vessels were eventually able to get their boats untied before the fire reached them.
The pier, which was built in 1981, is still standing, but the fire damage is so extensive that sections of the pier will have to be dismantled and reconstructed, authorities said. Because the pier was soaked with the petroleum-based material creosote–used to protect the wood from saltwater — the fire was extremely difficult to contain, Ozzimo said.
—Miles Corwin, Los Angeles Times, December 2, 1988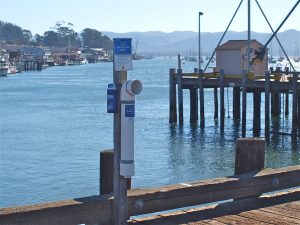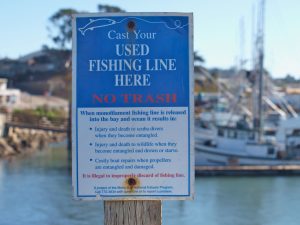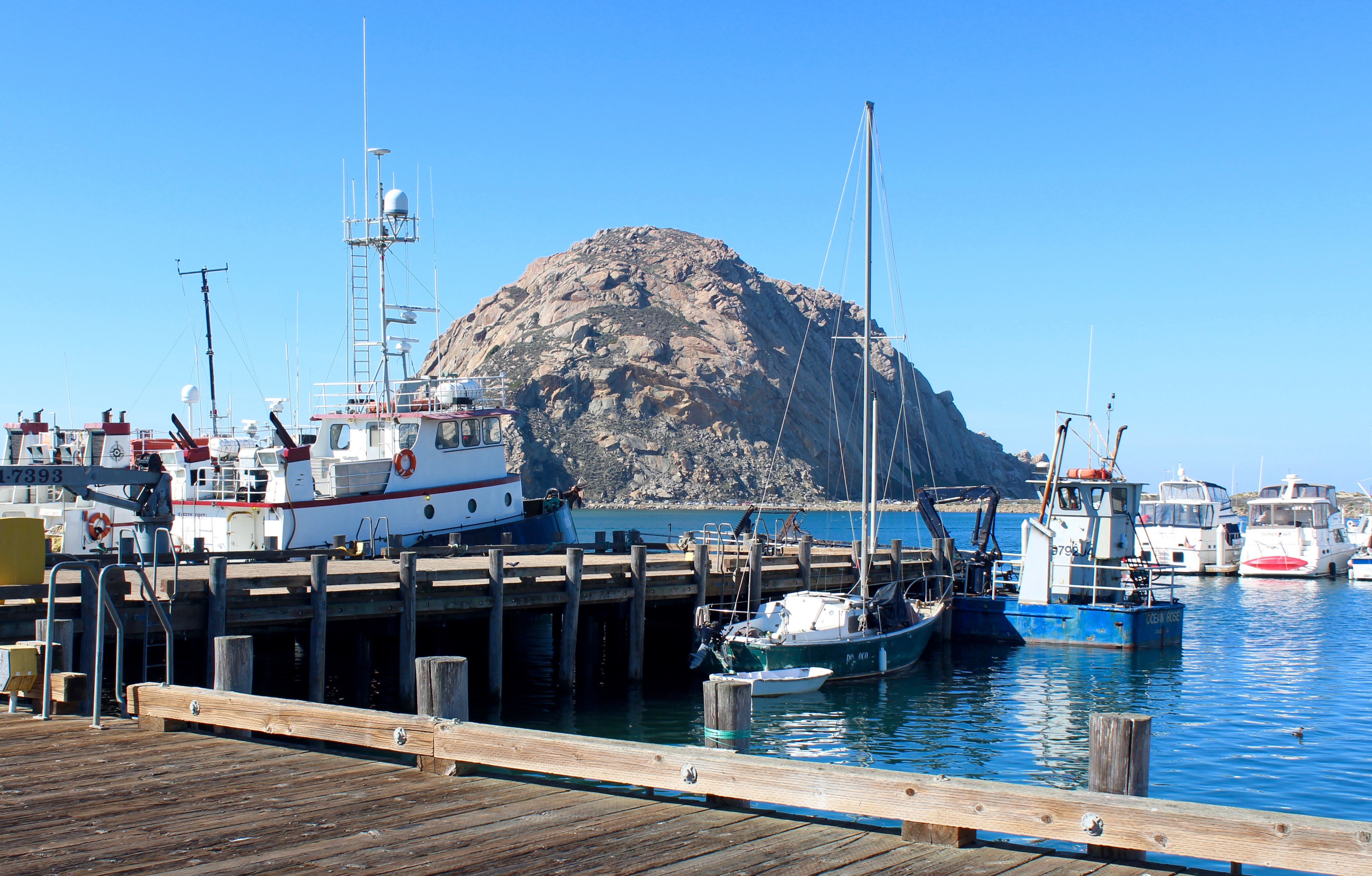 South T-Piers Facts
 Hours: Open 24 hours a day.
Facilities: Free public parking is available at the front of the pier. The Great American Fish Company restaurant sits adjacent to the pier while Virg's Landing, and bait, are found just past the restaurant. Lights are found on the pier but there are no restrooms or fish cleaning facilities.
Handicapped Facilities: The pier surface is wood planking with no rail but a 7.5-inch curb exists fairly close to the edge. Posted for handicapped. And some free handicapped parking is located a short distance from the pier.
Location: 1100 Embarcadero
How To Get There: From Highway 1 turn south onto Main Street, follow it to Morro Bay Boulevard, turn left toward the bay and follow it to Embarcadero, turn right and follow Embarcadero to the public parking which adjoins the piers.
Management: City of Morro Bay.