Only a couple of thornbacks tonight. Lots of bat rays, unfortunately they are all tiny. I'm guessing that the big ones are in the bay birthing because these babies are everywhere. I did hook into two big ones but each time they did the same thing to me. They took my line right into the boats and eventually sawed through my 65-lb power-pro.
Last night I used squid and mackerel for bait. Scent was again Mike's herring oil (I know we don't get herring but it works!). Those of you who think scent is only for lures are missing out.
Stats— 2 thornbacks — 5 baby bat rays — 2 walleyes — 2 black perch — 2 jacksmelt — 2 break offs (98% sure they were rays)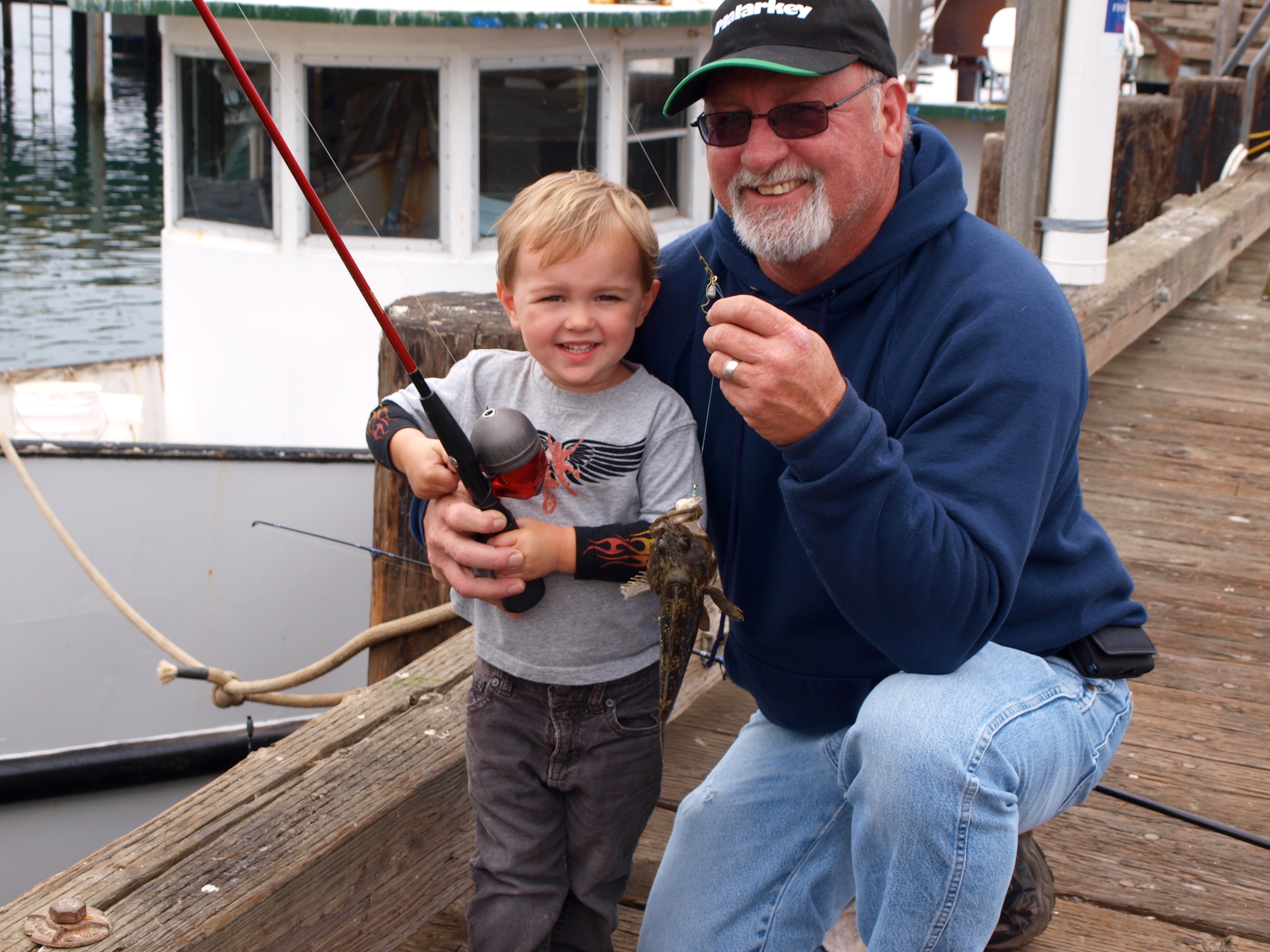 Grandpa and his grandson's first fish
Date: January 7, 2005; To: PFIC Message Board; From: cayucosjack; Subject: Morro Bay South T-Pier 1-5-04
Ah, Fishing in the rain. Gotta love it. I fished solo at the S. T-pier in Morro Bay Wednesday night from 7pm-9pm. Rain started in just after I got there and continued throughout the evening. It wasn't a heavy rain so I stuck it out. High tide was around 7:30pm and current wasn't much of an issue. Towards the end it did start to turn and bring in some salad.
Fished a Sabiki tipped with squid and mussels (a couple hooks of each) on my Sabiki rod. I also threw a heavy set-up for sharks/rays using squid as bait. I also soaked all baits in anchovy scent which seemed to be key.
The big rod was being molested by crabs all night. I went to a hi/lo with a float but they still got to my bait within 10 minutes of casting. In between shaking off crabs and rebaiting I did get one freight train hit that I didn't get to in time and missed. At least I know there are still some rays around.
Small fish kept me busy all night on the Sabiki. Not a good fish in the bunch but compared to recent action I can't complain.
Stats (all on Sabiki w either squid or mussel): 3 small black perch — 2 walleye perch — 5 shiner perch — 3 baby bocaccio — 12 assorted small rockfish (blacks, browns mostly) — (All fish released)
Date: February 22, 2005; To: PFIC Message Board; From: cayucosjack; Subject: Morro Bay South T-Pier 2-21-05
Just a quickie since it's nothing new. Fished in the rain from 7-9:30pm @ the South T-Pier. Incoming tide. Rain was heavy at times. I fished out deep with shark/ray gear for an hour and a half without even a nibble. Decided to avoid the skunk and play with the rockfish in the shallows. Squid was more effective than the plastics. I was using bigger plastics and bigger hooks just to try and weed out the little ones. A small hook will hook a little fish almost instantly. I scared up a couple of 12"ers but most were in the 10" range. Fun catch and release on light gear. I used circle hooks for the bait and every one was hooked perfectly for release. I urge all those who CnR rockfish to use them especially when you don't keep your rod in hand at all times.
Stats: Artificials: 3 grass RF (2 came on root beer/GF 4" grubs, 1 on a pearl white grub, 3/8 lead heads)
Squid (on 4/0 circles): 4 grass RF — 1 kelp RF — 3 brown RF — All fish released.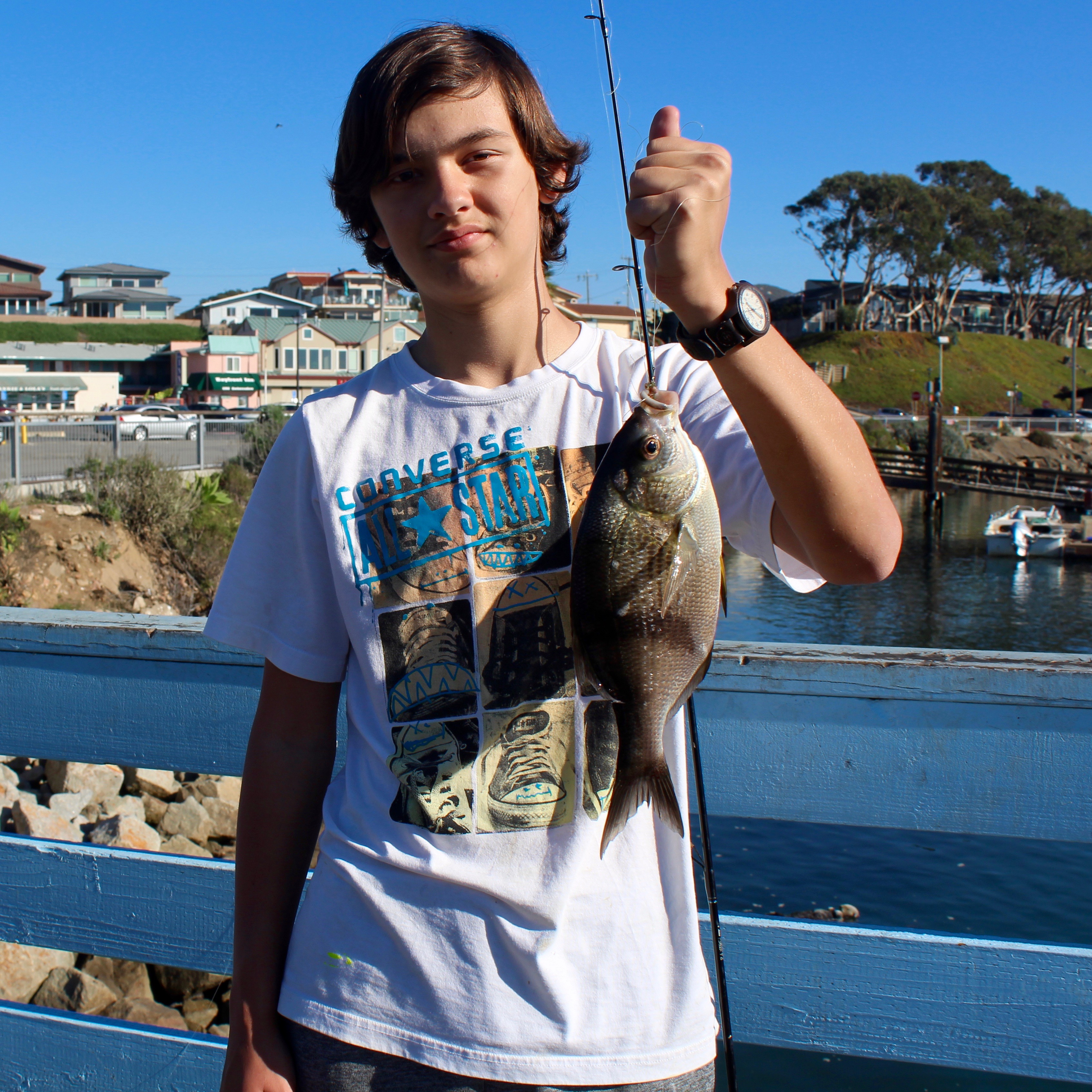 Grandson Adam with a pileperch 
Date: July 28, 2005; To: PFIC Message Board; From: cayucosjack; Subject: Morro Bay 7-27-05
I headed down to Morro Bay to get some more bat ray exercise. I feel like I've been going to the gym. I decided I'd try Tidelands park until it got dark and all I could find there were a couple thornbacks. Once it got to dark to see without a light I trekked to the South T-Pier to do my thing. I fished for another hour or so (with only a few more thornbacks to show for it) and about 10pm I decided pack it in.
Just as I bent down to pick up my last rod it bends too. Perfect timing. I could tell I had a huge ray on and it was heading for the rock full throttle. It had my line rubbing on the boats that are docked there. Even a rusty boat hull is no match for 65-lb power pro and just before backing showed I turned it. I knew this fish would put my solo net skills to the test if I could get him up for the chance. It sat on the bottom several times and I couldn't move it. I put my Ugly Stik through the ultimate test after about 30 minutes of fight I made my move.
The ray was beaten. I was able to horse it (well kinda) into the net. Somehow it folded into my 36" around and very deep crab net, barely. This fish was monster with definite gang affiliations. Wings at least a foot wider on each side of the net and easily a foot and a half or two thick. Once I felt like it was in the net good enough I put the reel in free spool and went to hoist it up for a photo op. My arms were burning and even my adrenaline buzz couldn't budge that fish. I even closed my eyes and tried to use the force. I struggled for a while before he flopped back out and nearly took my rod with him when my line caught on the pier. I got him out from under the pier again and was looking around for anyone who could help.
About this time a guy was walking out on the pier with a mackerel rig. I yelled for help and he came running. He was a little guy who didn't speak English but he quickly figured out what I need help with. The only word I understood was "WOW!" I managed to slip the net under it again and we both pulled. This guy was about 5-ft tall and the fish may have been a weight class or two above him. We were beginning to get it out of the water when the dude slips, the rope slips from my hands and the fish flops out again.
I decided the poor thing had had enough (and so had I!) and pulled him to the surface near the edge, reached down and cut the line as close as I could. It swam off like nothing ever happened. I wasn't so nonchalant. I really wanted to put a tape to that fish and get a photo-op since it was probably the biggest fish I've ever caught. Funny when I got the fish up I told him "I won, give up."
Turns out he won. I'm the one that left battered, bruised and beaten. I guess when a fish lives that long and gets that big it deserves to win… every time. This ordeal lasted over 45 minutes of battle and landing attempts. My arms were quivering on the way home, my cramping palms doing their best to grip the steering wheel trying to ignore the dozens of power pro paper cuts on fire with the sting of salt water. I'll be back soon, if not tonight.
Nights like last are what its all about. I don't think it was that record fish EddieE professes lives in Morro but I do know that I've landed rays to 80lbs alone before and a ray of 100lb+ with help and this was heavier by a long shot. If nothing else I have myself another fish story to tell. If Big Rays are your thing (or if you're into thornbacks hehe) Morro is the place to be right now…go get'um.
Date: August 25, 2005; To: PFIC Message Board; From: cayucosjack; Subject: Morro Bay & Cayucos 8/23 & 8/24
Tuesday evening featured a perfect low tide at just at dark making for excellent bay fishing. I headed out to my favorite spot at the North T-pier. I get set up at the bench on the end. As I'm trying to make bait and wait out the tide just a bit a group of three idiots come up and spot rush me. Now I wasn't off making bait…I was standing right there. There is about 8-ft of open casting area between boats and I was planning on having a rod at each corner. These guys never said a word to me and literally squeezed me out. I was the only one fishing out there mind you and the other end of the pier was empty. They threw their THREE rods right where I was planning on fishing. They stepped all over my crab net. I couldn't believe the rudeness. They acted like they own the place and everybody knows if anyone owns that pier it's cayucosjack hehe. I thought for sure I was the butt of a joke on a hidden camera show. I looked everywhere, no cameras to be seen. After my recent reply to pinfishe's complaints of idiots on the pier I decided to follow my own advice and not get into it with three big fat Bakersfield hicks.
And rather than let that ruin my night of fishing I packed it in and moved to the South T-pier. I went on to have a very enjoyable night. The three Darryls did make the mistake of letting me see what they drove in in. Cayucosjack doesn't get mad, he gets even. Kooks go home. Hopefully the karma police were out too and delivered them a skunk. If any of you Darryls ever read this congratulations! You've just been awarded cayucosjack's prestigious "shmuck 'o' the month award"!
Oh yeah, I did some fishing. Lots of bait in the water and you couldn't keep the thornbacks away. Squid and cut mackerel were equally effective baits. I was able to fish about 3 hours before the tide turned. All fish released. All fish were weighed on a 50lb scale (unfortunately none bottomed it out)
stats: 1 25-lb bat ray — 1 29-lb bat ray — 1 36-lb bat ray — 1 44-lb bat ray — 12-15 thornbacks
Took an hour or two to make some bait at Cayucos Pier Wednesday after spending the afternoon rock fishing. Water was nice and blue and lots of bait (1st half the pier, under it mostly). Jumbo sardines (8-12") and Spanish mackerel filled my bucket in no time. I didn't even bring a normal rod (just my Sabiki) but nobody else seemed to be getting anything bigger.
Date: September 23, 2005; To: PFIC Message Board; From: cayucosjack ; Subject: Morro Bay report 9/22
With some great low tides right at the time I like to fish (dark-midnight) I decided to hit up Morro Bay last night. Fished the South T-pier. Non-stop thornback action on sardines and squid. I had two big fish come unbuttoned (one def a ray the other maybe a shark). Fished about 3 hours of the low tide. Lots of bait around. Threw a Sabiki baited with shrimp for some baitfish and a small rockfish.
Stats: — 10-12 thornbacks — 4 smelt — 4 sardines — 2 lizardfish — 1 SBRF — All released except the sardines.
Date: January 16, 2007; To: PFIC Message Board; From: madfatties; Subject: Morro T Pier Perches
Caught these [two opaleye] and had others hooked on the T pier next to the fish company in Morro Bay. They were caught on chartreuse mini jigs. The fish were actually following the jigs from about mid depth down to the bottom and only after sitting for a bit on the bottom, would they finally pick it up. It took a bit to figure 'em out but I was able to entice a few.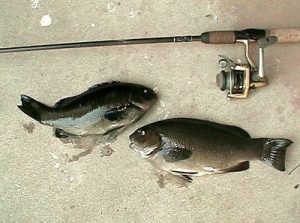 Opaleye
History Note. The South T-Pier like the North T-Pier was built as part of an  amphibious training base during WWII. The pier was built in 1942 as part of that training facility. On the pier, a two-story scaffolding was constructed with a shear wall on the bay side of the pier. Trainees would board boats and then the trainees would travel to the "bay side" of the pier before "assaulting" the scaffolding and climbing via chair or rope ladders over the scaffolding.
The town would acquire the pier after the war. The pier would see repair in 1953 and 1982 before a large rebuild in  1988 (after a fire destroyed much of the pier).
1 Killed, 2 Hurt in Pier Fire at Morro Bay
Flames engulfed the wooden pier in Morro Bay early Thursday morning, killing 1 man, injuring 2 others and destroying 10 boats and 2 cars.
The man who died, a commercial fisherman whose name was not released, was asleep in his boat when the fire broke out on the pier and spread to his vessel, said U.S. Coast Guard spokesman Greg Ozzimo.
The fire began at dawn on the T-shaped pier, and within 10 minutes, flames had engulfed the entire pier, authorities said. There is no dollar estimate of damage, and the cause of the fire is under investigation. "There were flames 25 feet in the air, and huge clouds of smoke blew over the area," said Paul Janetski, a cook at Dorn's Original Breakers, a restaurant a few hundred yards from the pier. "Each time you saw a quick flare-up and a mass of smoke, you knew another boat caught fire."
Nearly Drowned—An elderly man and woman jumped from their burning boat and were pulled out of the water by rescue crews, Ozzimo said. Naomi Griffith, 78, was reported in critical condition at Sierra Vista Regional Medical Center in San Luis Obispo after nearly drowning. Henry Pederson, 70, suffered hypothermia but was listed in good condition at the medical center.
The waterfront of Morro Bay, a town of about 10,000, 175 miles northwest of Los Angeles, is lined with restaurants and souvenir shops. But because the winds were blowing away from the shore and the tides were running out to sea, Ozzimo said, no businesses were damaged. "The winds often blow toward the shore around here, and if they had been blowing that way this morning, we would have lost quite a few businesses," Ozzimo said. "We would have had a much worse fire to deal with. We were lucky with the tides too because when the burning boats broke away, they drifted out into the bay, away from shore." Many of the fishermen and boat owners who lived aboard their vessels were eventually able to get their boats untied before the fire reached them.
The pier, which was built in 1981, is still standing, but the fire damage is so extensive that sections of the pier will have to be dismantled and reconstructed, authorities said. Because the pier was soaked with the petroleum-based material creosote–used to protect the wood from saltwater — the fire was extremely difficult to contain, Ozzimo said.