Public Pier — No Fishing License Required
There is something almost magical about the ocean at night. For myself, that sense of magic is heightened when I'm on a pier at night. Such was the case one evening in Ventura. Just two hours previously I had been at Port Hueneme, the wind was howling, and I was shivering. In fact, I was downright cold. But now the wind had disappeared and it was the kind of night that attracts visitors to southern California. A huge orange ball seemed to sink into the Pacific and, as the lights gained control, schools of fish could be seen slashing their way through the phosphorescent water. It was July of 1994, and it was my first visit to the new, actually reconstructed, 1,958-foot-long Ventura Pier, a pier that had seen off-and-on damage and repair since the terrible El Niño storms of 1983.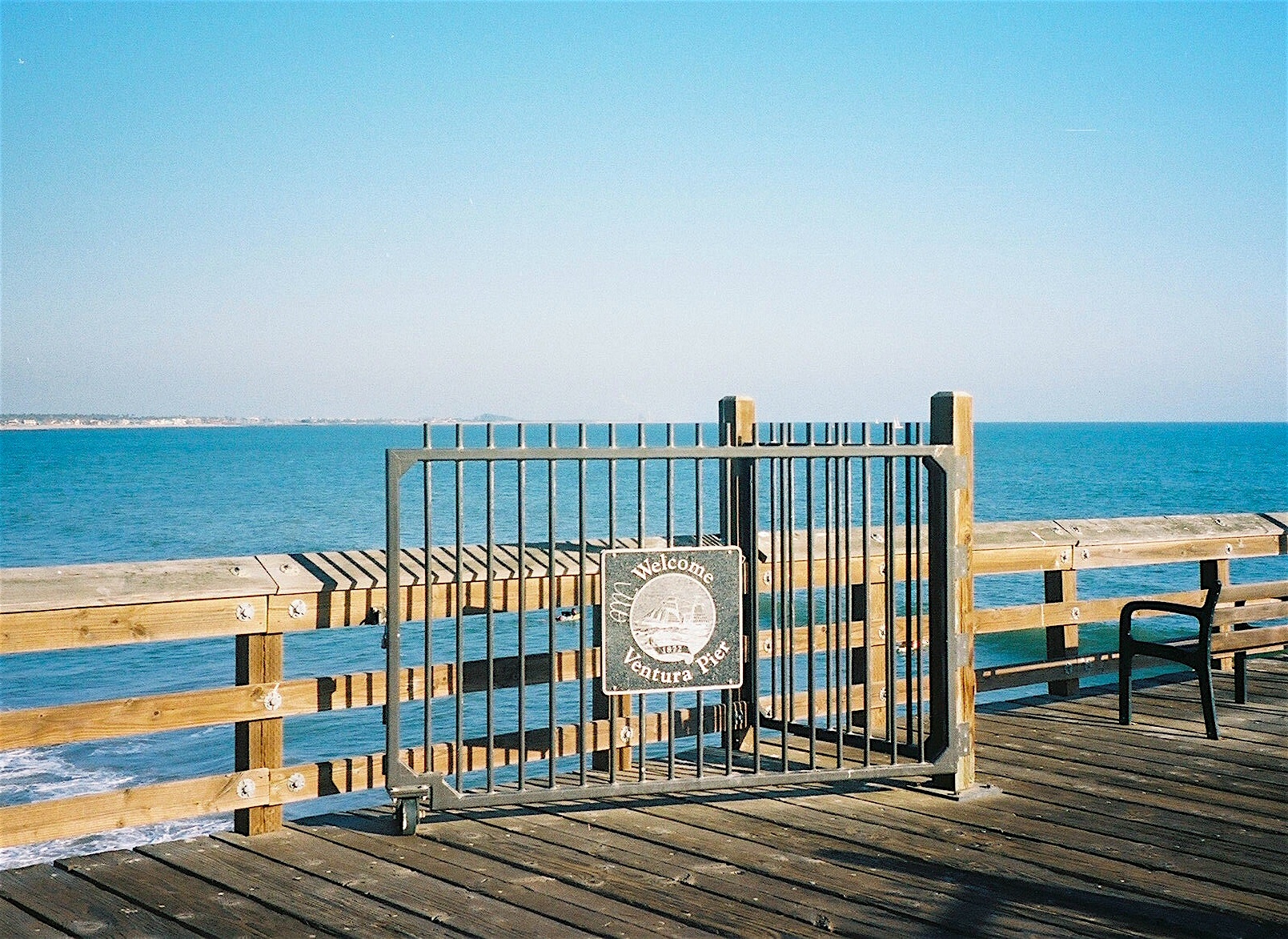 I caught a lot of fish that night and saw a lot of fish caught. Mackerel, queenfish, white croaker, bass, perch, thornbacks, gray sharks and bat ray; all were caught that night. But the fishing was almost secondary in importance. More important, at least to me, were the scenes of a young father teaching his young son how to fish, an elderly lady of Asian descent sharing stories of her youth with her granddaughter (or perhaps great granddaughter), and teenagers evidently out on a date at the pier. Nights, and scenes like those, sometimes give me hope that we may still yet find answers to our society's problems (opportunities).
Environment and Fish. The pier sits on the same spot and beach as the original Ventura Wharf, a pier dating back to 1872. That original wharf was a private wharf sitting on private land but since 1949 the pier has belonged to the state. Today, the sandy-shore beach and pier are part of the San Buenaventura State Beach.
Most of the bottom around the pier is sand, pilings have a good growth of mussels, and at times, usually late summer to fall, there can be considerable kelp and seaweed toward the end of the pier. As expected, sand-frequenting species dominate the action.
Inshore, in the intertidal or littoral zone, barred surfperch are the number one fish followed by lesser numbers of croakers (primarily yellowfins), sharks (primarily leopards) and rays (primarily thornback rays).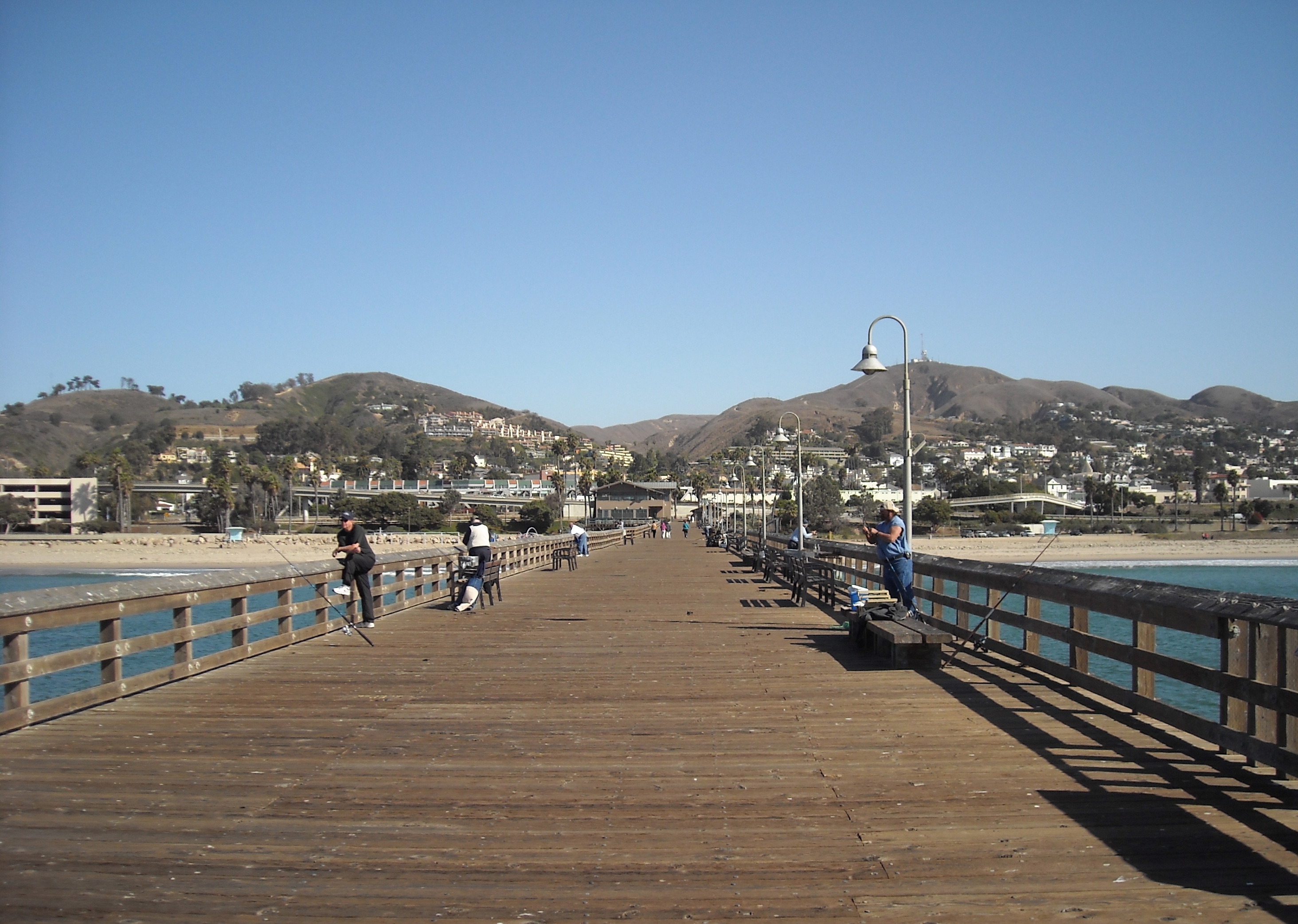 Mid-pier sees a larger variety of fish: white croaker (called tomcod in SoCal and kingfish in CenCal but usually called roncador or ronkie in Ventura); queenfish (a small croaker called herring in most of So Cal but here often called seatrout); halibut (that love to much on small croaker); kelp bass (aka calico bass); salema; butterfish; and additional sharays—sharks and rays (more leopard sharks and  shovelnose sharks (guitarfish)  along with an increasing number of bat rays).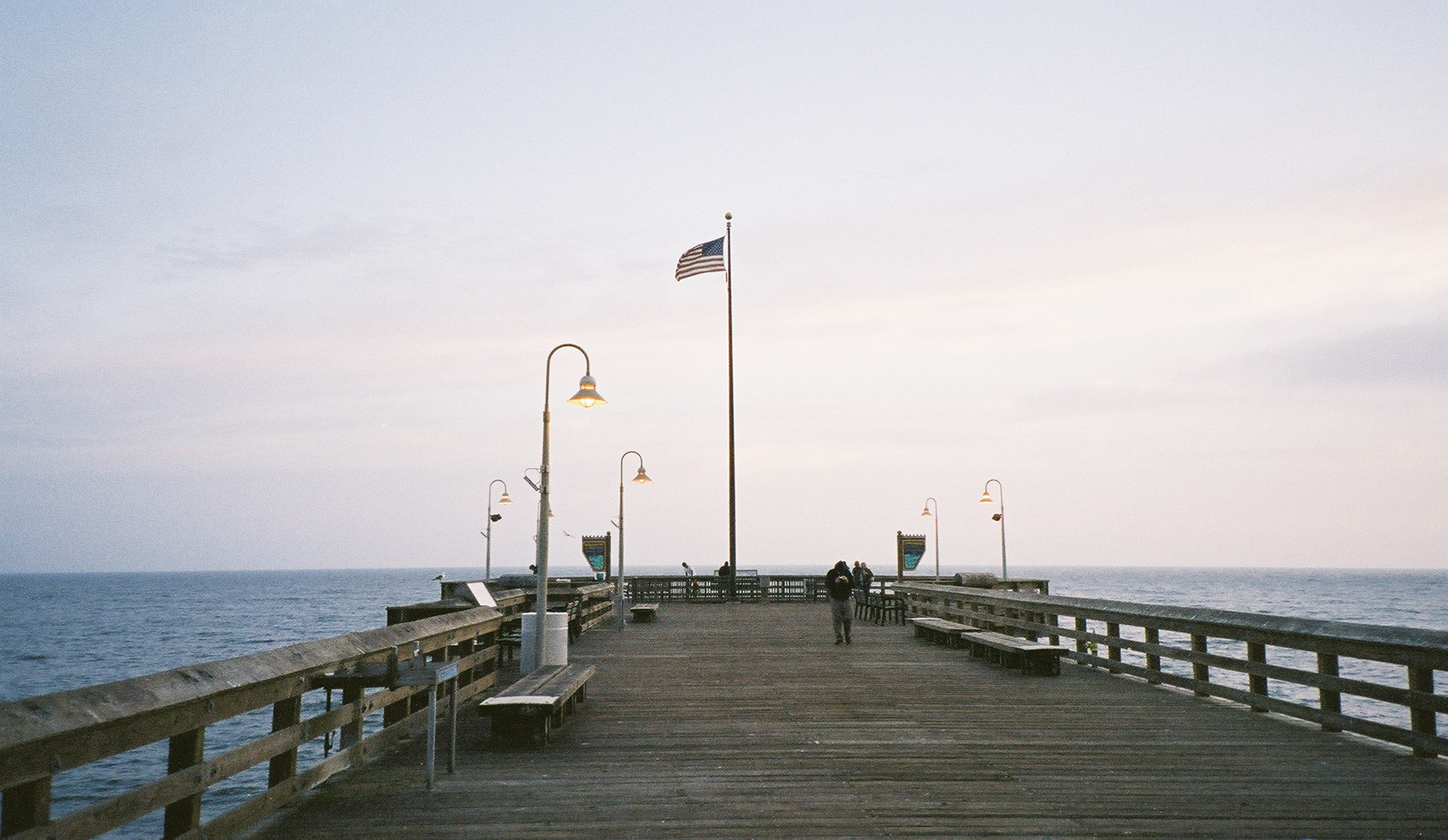 The end area is the main area for big sharks and rays (leopard sharks, spiny dogfish, soupfin sharks, thresher sharks, 7-gill sharks and big bat rays. It's also usually the best area for the pelagics (mackerel, jack mackerel, bonito and barracuda). Although the pier sometimes sees good action on mackerel, it rarely sees bonito although enough will show up in warm-water years to keep things interesting.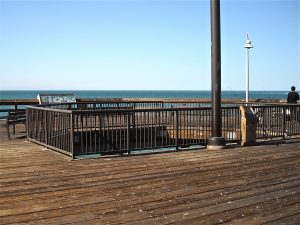 One of the unique features is the large, cutout section of the pier out toward the end. Not just a fish well but a hole probably 20 by 30 feet that allows anglers to fish down among the pilings. AND, it is lit up with strong searchlights at night, lights that attract baitfish and the inevitable larger species attracted by the baitfish. During most months it can be a great place to fish, especially at night. (It reminds me of the now non-existent Aliso Pier although that pier never had strong lights to attract the fish at night.)
Another unique feature is the ability to plug in electrical lines to the light poles. Families can hook up lights to help in the fishing, hook up electrical heaters to keep warm, or simply hook up radios for a little music. (And this was a feature that the Belmont Pier in Long Beach USED to have.) Seems the folks at Ventura took a few good notes and have incorporated these now unique and excellent features in their pier.
Like most piers, Ventura occasionally sees species uncommon to southern California waters. Such was the case in January of '99 when a pair of baby hammerhead sharks was reported from the pier.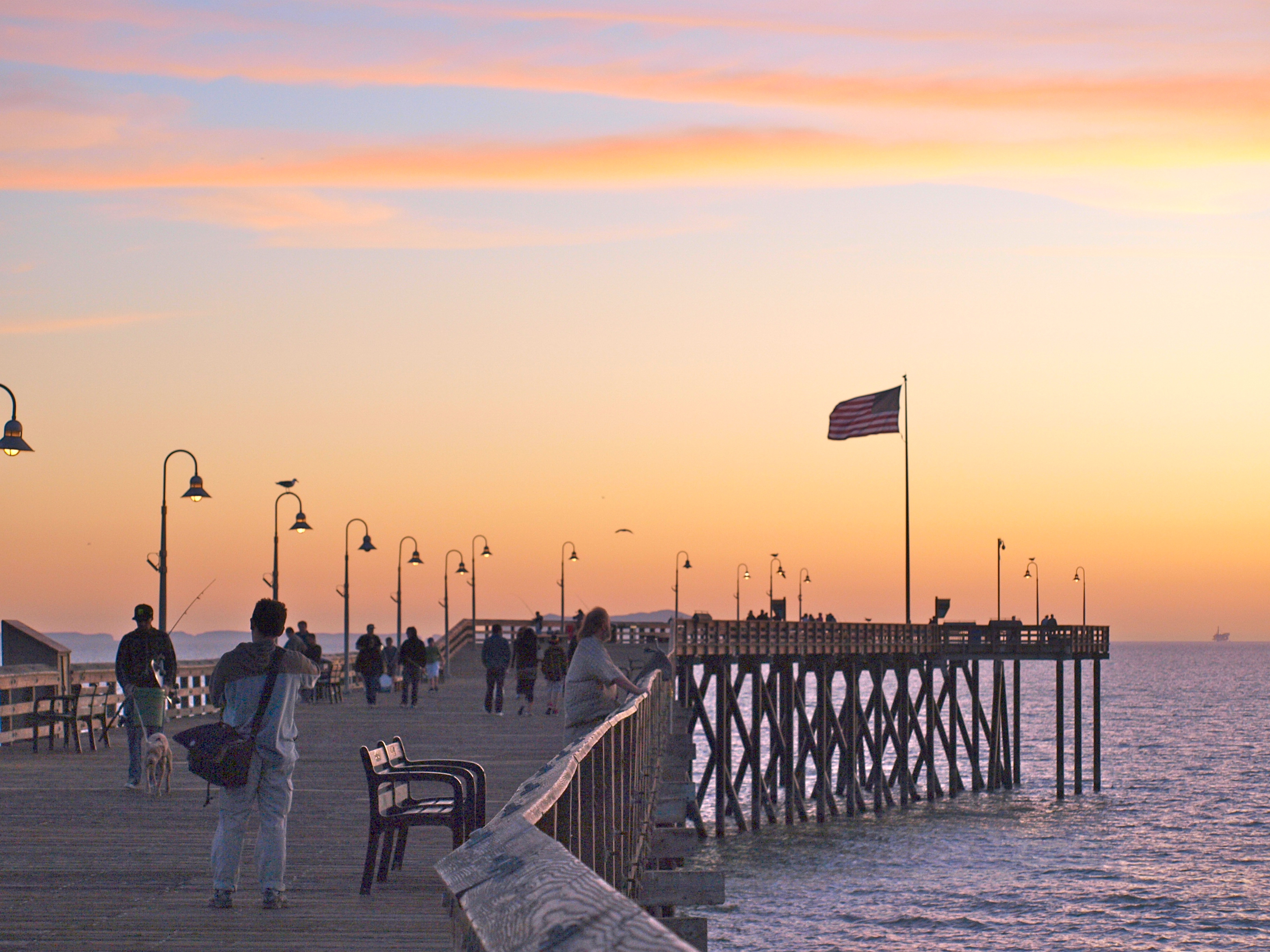 Another unusual (although becoming more usual) catch was the reported capture of a 181-pound black sea bass in 2000. Supposedly the fish wound up in the back end of a pick-up truck after a two-hour fight on the pier. Not too smart since the anglers were risking a hefty (potentially multi-thousand dollar) fine. Another knucklehead caught a baby giant sea bass from the pier in May of '06. He brought the fish up to the pier, paraded it around while taking selfies of himself holding the fish, and then dumped the fish over the side (at least he knew it was an illegal fish that needed to be returned to the sea). The film was quickly posted on Instagram and almost as quickly incurred the wrath of much of the public. It's recorded on — https://www.instagram.com/p/BIbEYq6jRgQ/ What you are supposed to do if you hook a great (black) sea bass is to cut your line and leave the fish in the water. The hook should fairly quickly rust away with little harm to the fish.
An even more unusual (and suspect) story concerned the report of a 2-3 foot-long albacore feeding near the end of the pier in the winter of 2000. The time of the year is wrong, and rarely do albies venture close to shore, but strange things do happen. Anglers, by the way, reportedly cast out their lures to attract the longfin, all to no avail.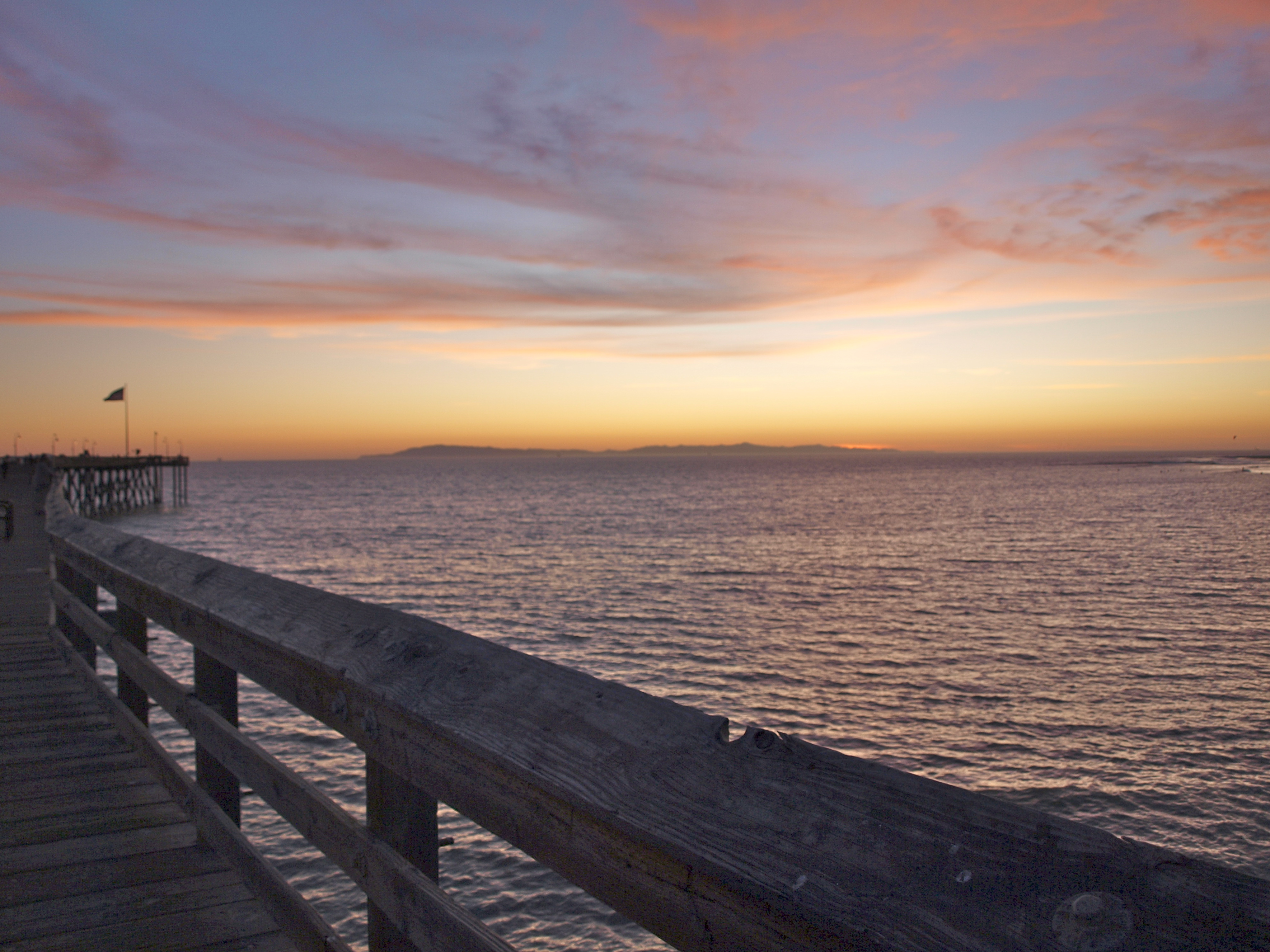 Due to its long length and 27-56 foot-wide widths, the pier rarely feels crowded. Nevertheless, summertime weekends can see crowds from Friday till Sunday and quite often late into the night. Weekdays are of course far less crowded.
One final ingredient in the environment is a Steinbeck-like group of locals who hang out at the pier most of the day and night and give it a little color and flavor. While liquor is not allowed on the pier, and the Ventura Sheriff's Department patrols the pier on bicycle, it's a little hard to enforce such a rule 24 hours a day on a pier this size. Good thing because inebriation is a frequent visitor. But the impecunious gang is a usually friendly bunch and will treat you with respect if you show them the same. But do be prepared to share—if you wish.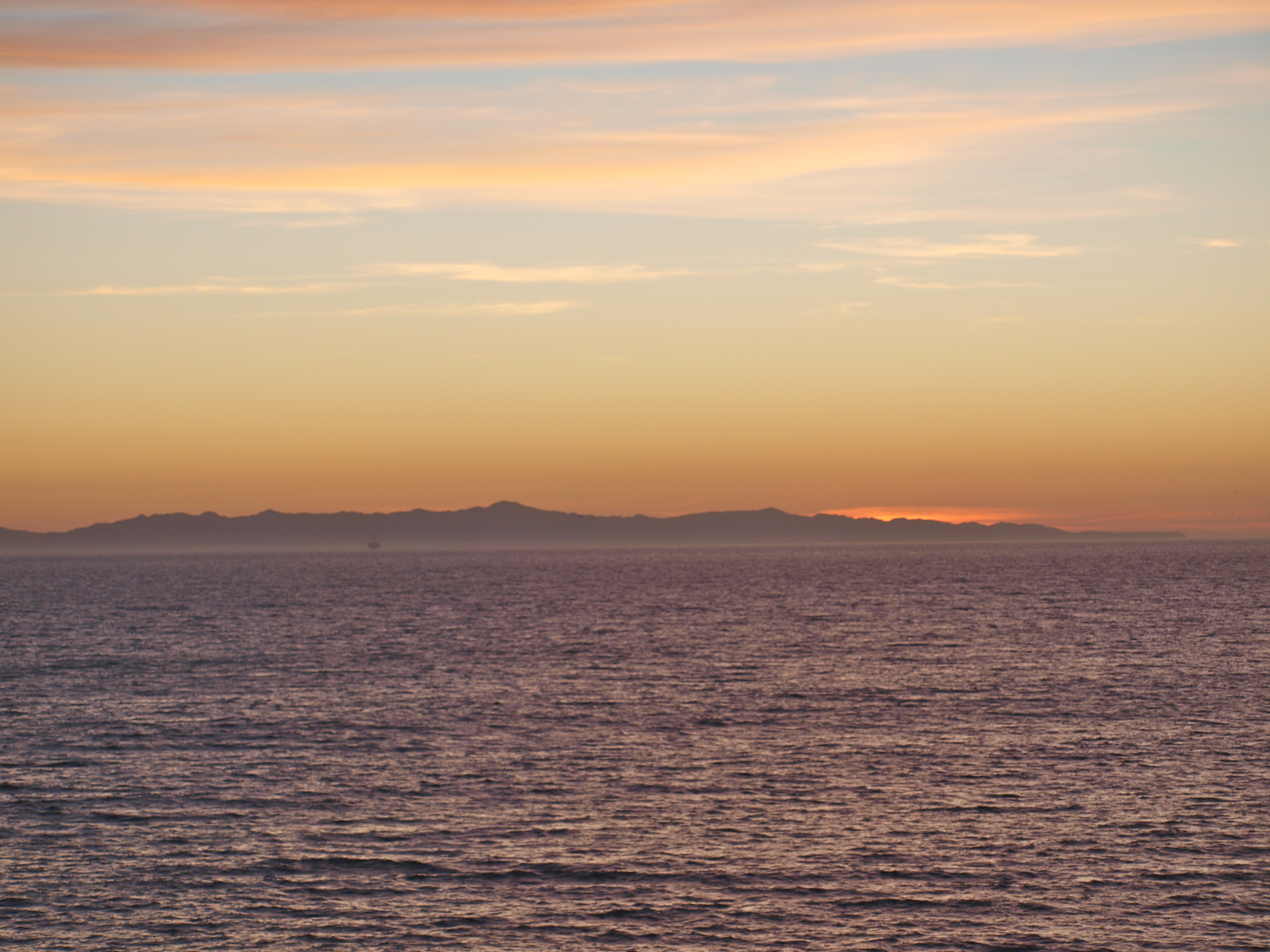 A chilly night in April of 2009 saw me catching a few fish just up the pier from the hugger-mugger tent and their rusty carts, aged bicycles, and motley collection of rods and reels that perhaps best represented the group's weltanschauung. Most members were asleep in the tent.
However, one guy was awake and fishing and soon approached me, "Hey bro, what ya catching? You know there's a lot of fish out at the hole at the end. Shoot, I even got me a 35-pound lobster there one night. But you know what really works is those Sabikis. Got an extra Sabiki you could spare?" I'd heard it all before but also knew I had more than enough bait rigs in my tackle box. I soon fished a Sabiki out of my box, handed it to him, and watched him head out to the end of the pier. A short time later I joined him and we proceeded to catch a mess of fish while he continued his non-stop discourse about the pier and a hundred and one other sometimes interesting topics. Personally, I like to see a few such characters on a pier, just as long as they're safe and not too pushy (and yes, perhaps sometimes they can be just a little pushy).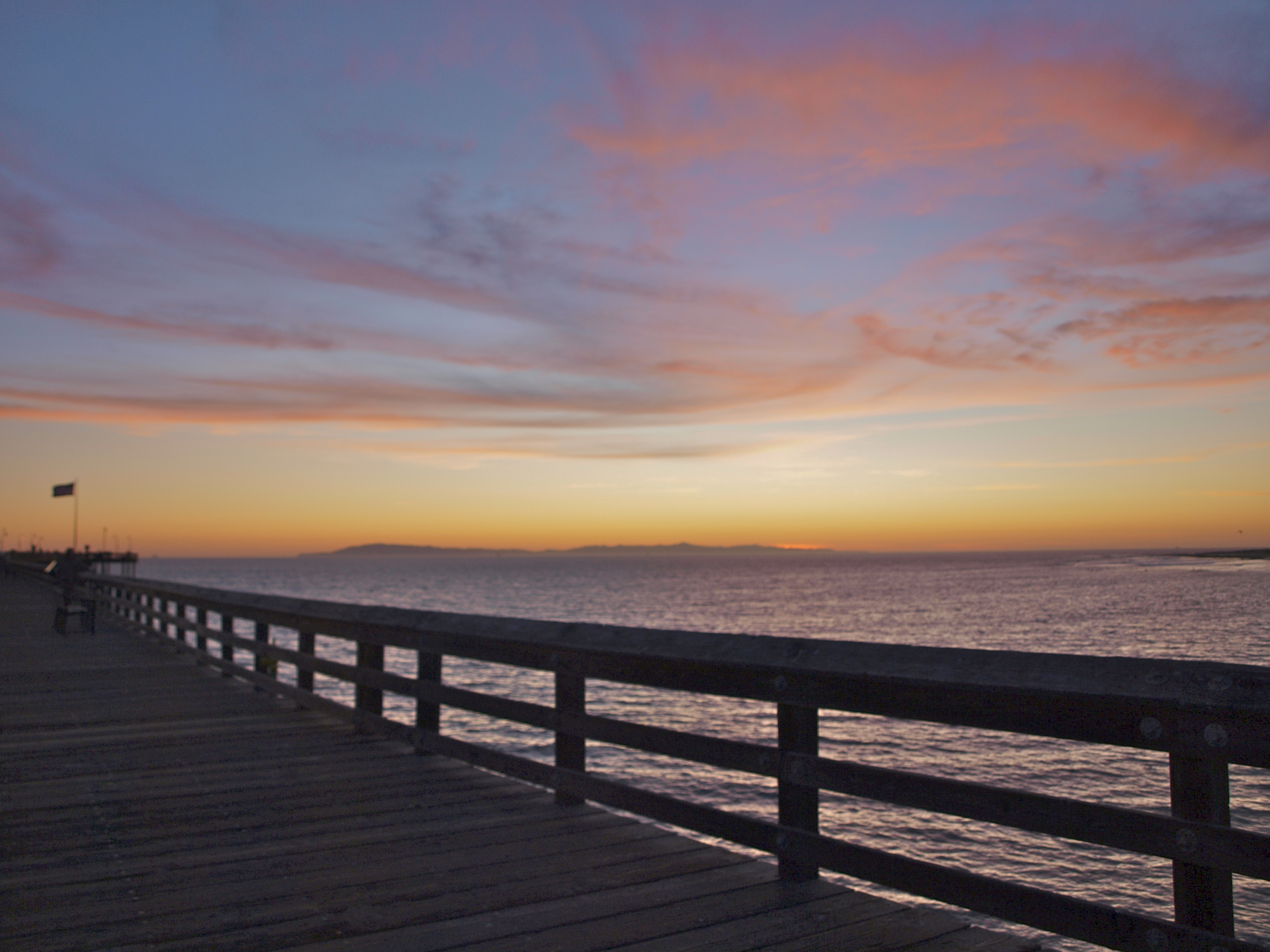 Both the larger Santa Cruz Island and smaller Anacapa Island sit off in the distance from the pier and are readily visible most days.
Fishing Tips. Since bottom here is essentially sand and fishermen should fish accordingly. Inshore, expect to see barred surfperch much of the year with the largest concentrations, and largest fish, in the winter and early spring. Most of the barreds will fall to sand crabs, fresh mussels, bloodworms or clams fished on the bottom. Use a light or medium outfit equipped with number 6 or 4 hooks and just use enough weight to hold bottom. Artificials, including grubs (root beer and motor oil color), Gulp! plastics and swim baits will work. The same surf area will yield yellowfin croaker, corbina, and perhaps a few spotfin croaker, primarily in the late summer and fall months.
Inshore is also typically home to yellowfin croaker and spotfin croaker with high/lows rigs baited with fresh mussels, bloodworms, lug worms or pieces of shrimp accounting for most of the croaker.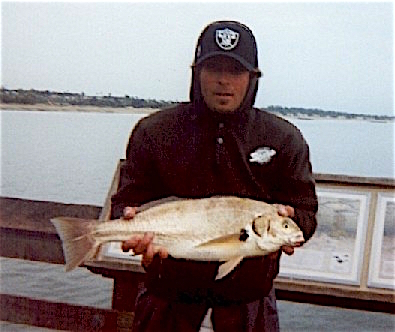 A nice spotfin croaker from the pier — 2002
Anglers fishing the surf area, or just past it out to the mid-pier area can also catch rays and sharks. For these, use cut anchovies, mackerel or squid. Species encountered include pinback rays (thornback rays), shovelnose sharks (shovelnose guitarfish), bat rays and some skates. For these guys use a little heavier outfit with hooks up to 4/0 size.
Late spring to late summer is the prime time for California halibut and these good eating fish will hit best just past the surf area to the middle area of the pier. Live bait on the bottom is the key here but you will need to snag some bait—small queenfish, white croakers or smelt. Use a live bait leader and remember to check and change the bait as needed.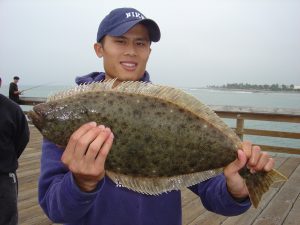 California Halibut — 2003
Mid-pier to the end, use one of the various bait rigs (Sabiki/Lucky Lura) with small hooks for jacksmelt, walleye surfperch, and queenfish. Many times these small fish will school around the pilings or in the depressions between the pilings. The same areas may also yield a few kelp bass and sand bass with most of these landed on anchovies. Anglers who try fresh mussels or bloodworms around the pilings may also be rewarded with salema, pompano (butterfish), a few blackperch, and rubberlip seaperch!
Since the bottom is primarily sand few rockfish have been reported from the pier. However, an unusual 8-inch grass rockfish was caught in August of '08. Cabezon are also a possibility with most of the cabbies being taken right next to the pilings on the bottom.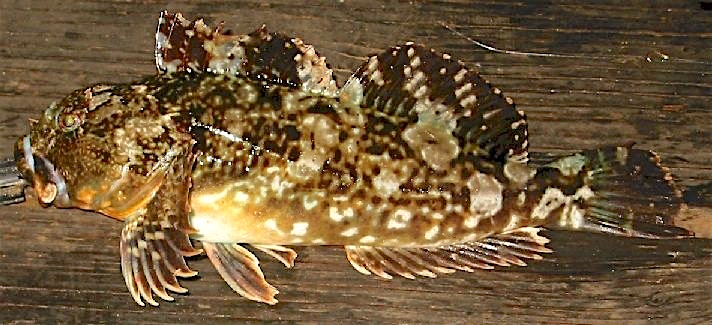 Cabezon
The summer months, July through September, are generally also the best time for several other species including Pacific mackerel, jack mackerel, and increasingly, Pacific sardines. These can be caught almost anywhere around the pier using multi-hook bait rigs, although the mackerel are often caught with a strip of squid or anchovy under a split shot sinker. If you use one of the Lucky Lura-type bait leaders, use size 6 or 4 hooks and don't hesitate to put small pieces of mackerel on a couple of the hooks to attract their cannibalistic brethren.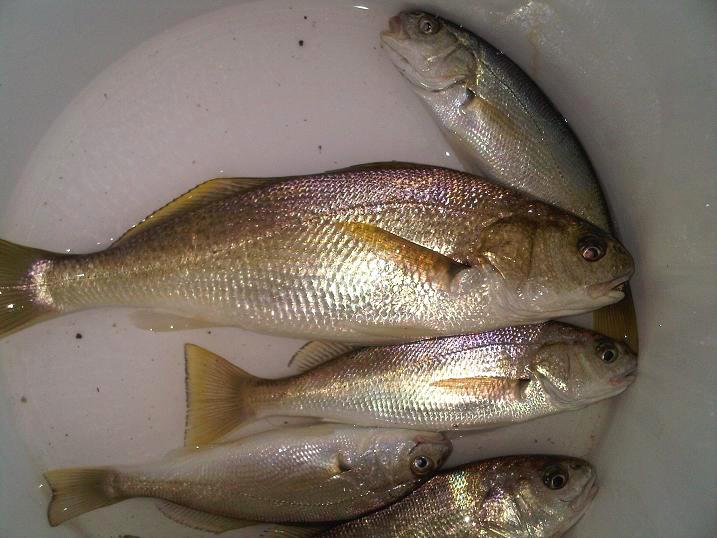 White croaker aka roncador aka tomcod aka kingfish
Casting out, away from the pier with a high/low leader baited with cut anchovy will yield white croaker, the multi-named fish (roncador, ronkie, tomcod, kingfish) most of the year. Late fall is generally the key time for bonito to show up (if they show up) and most years will also see a few toothy barracuda surprising anglers in September or October, especially in the evening hours. Both the boneheads and barries seem to prefer artificial lures; the bonies will hit on a feather trailing a Cast-a-Bubble while the barries like gold or silver spoons. Neither is all that plentiful but both show up just often enough to keep the hopes of anglers high.
Fishing in the cut out section can yield almost any species but at night it can be good for both jigging up some bait and catching the big 'uns waiting under the bait. Use bait rigs weighted with a one-ounce shiny torpedo sinker or use a lure—a Kastmaster, a Dart, or even a small diamond jig—to snare herring (queenfish), roncador (white croaker), smelt, sardines or mackerel. Then use some of the live bait to fish for larger species. White seabass will sometimes be found in this area, especially early in the morning, while halibut will often be found in the depressions between the various pilings. Do be sure to use line heavy enough to keep the fish from reaching the pilings.