Public Pier — No Fishing License Required
Piers are one of the most romantic spots on earth! If you don't believe me, tag along on a visit to Balboa Pier on almost any summer night. By 10 P.M., darkness has enveloped the pier. But while most fishermen have returned home, life continues on the pier. A slight breeze ruffles the flags, fires burn along the beach, and couples continue to stroll, hand in hand, out to the end of the pier where they might just sneak a quick kiss or two. Such behavior is expected. At the end of the pier, the red neon lights of Ruby's Diner light the sky, calling like a beacon to the lovers of the night.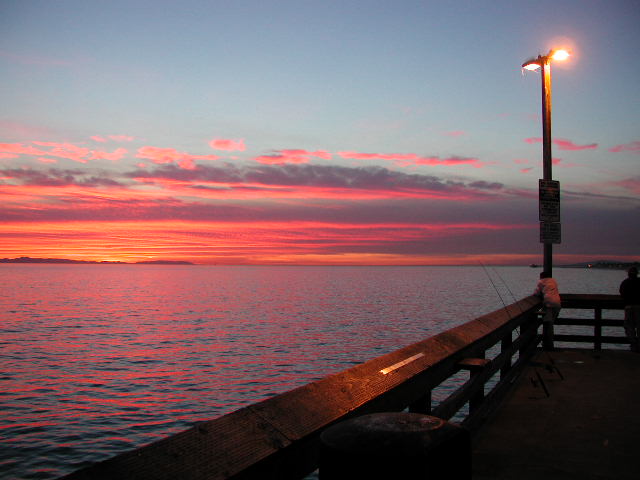 Unfortunately, I wrote that before the city in all its infinite wisdom decided to close the pier each night at 10 P. M. Today those lovers of the night would have to be onshore looking out at the pier. But, it still might be true, just at an earlier hour.
Nearshore strollers looking up Main Street see another set of lights. The Balboa Pavilion and its famous cupola are bedecked in a Christmas-like celebration of light. It suggests an earlier age, that of the early 1900s, a time when every large pier in California seemed to be built with a nearby pavilion. Pleasure at the beach mandated both a fishing pier and a pavilion.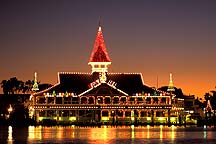 Balboa Pavilion
In Newport that meant the Balboa Pier and its sister attraction, the Scandinavian-looking Balboa Pavilion. Both were built in 1906 and both were designed to attract land buyers (and visitors) to the area. The pavilion (whose original design included boathouse and bath house) would serve as the southern terminus for the famous electric Red Car line of Henry Huntington. Riders, if they were so inclined, could get off the rail cars and proceed directly down Main Street to the pier. If they wished, they could stay at the Balboa Hotel, built in just ten days to coincide with the arrival of the "Red Cars." Today, while the railroad is history and there is little if any land left to buy, both the pavilion and pier remain historical reminders of that more innocent and magical time.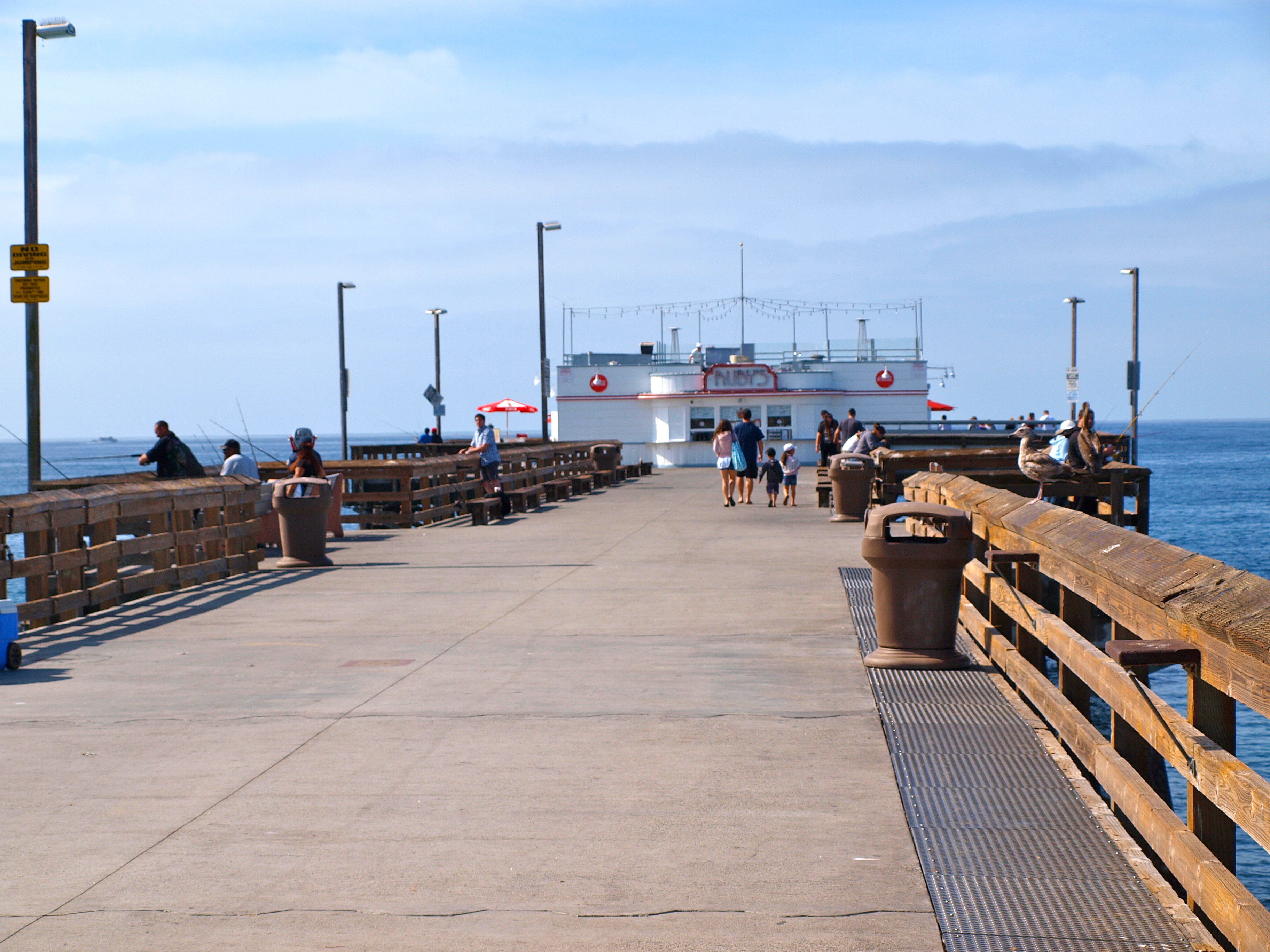 Although just down the peninsula from the Newport Pier, this area has a very different feeling to it dating perhaps back to those early days. The Newport Pier is primarily an angler's pier while at Balboa, fishing is at times simply one small part of the life on the pier. Here, there are usually less anglers and the fishing seems less intense. But life is no less intense. Up Main Street are the activities and businesses by the Pavilion. At the foot of the pier sits Peninsula Park with its lawns, palm trees, baseball field, and bandstand where concerts are held during the summer.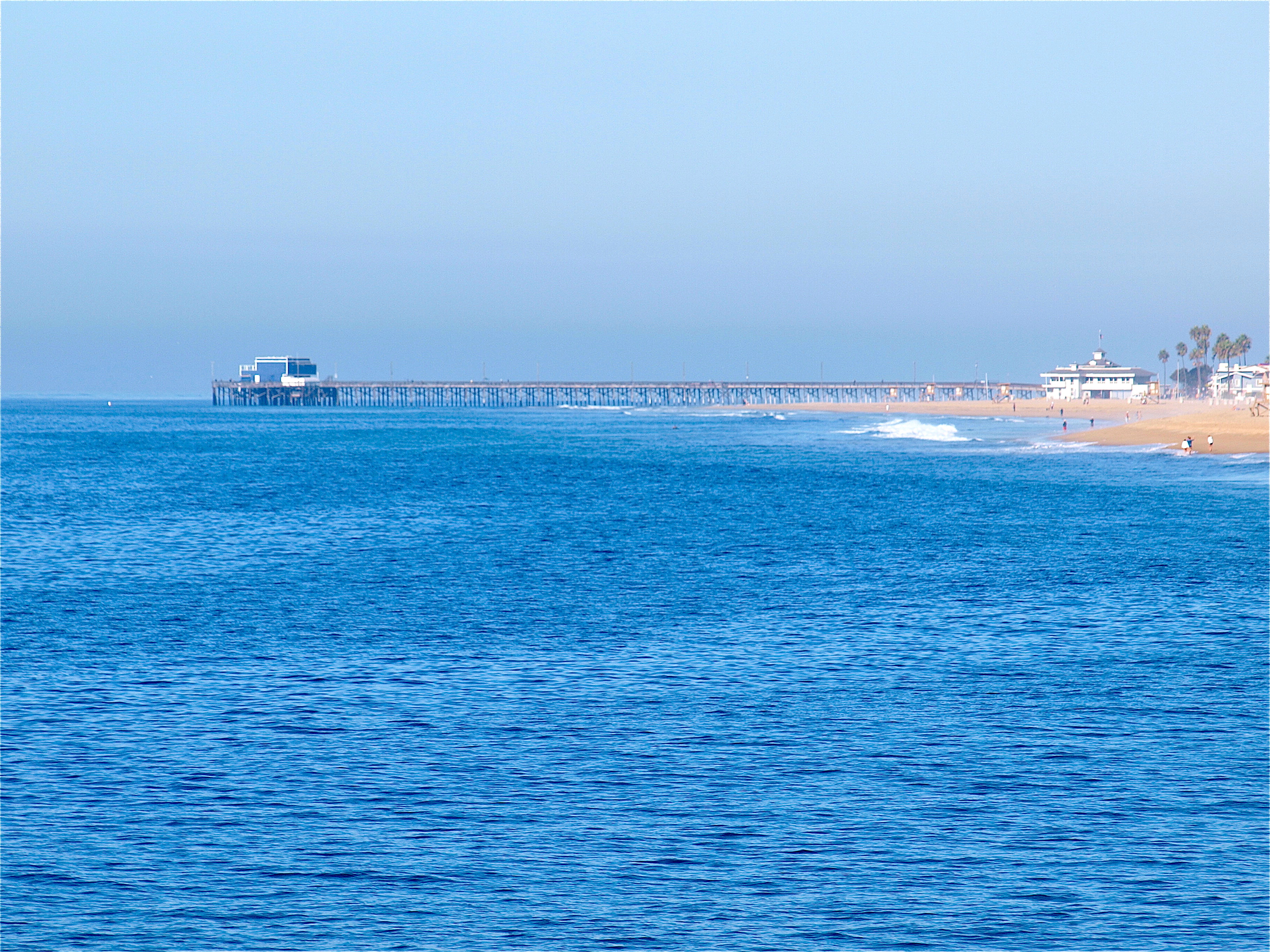 Newport Pier sits a short distance to the north of the Balboa Pier
In addition there are the boats. A look to the south reveals the Newport Jetty and the entrance to Newport Bay, one of the West Coast's major yacht harbors (with an estimated 10,000 boats). Some days there are only a few boats to be seen from the pier, other days will see a virtual flotilla emerging from the bay's portal: a diverse assemblage of commercial fishing boats, Sportfishing boats, cabin cruisers, sailboats and yachts of almost every size, hue, shape and—cost. Increasingly you may also see a few kayaks, canoes and other cockleshells braving the mighty Pacific. The number of boats can be amazing! Although I've never counted them, I would be willing to bet that during holiday weekends there are more boats (ships) in Newport's navy than there were in King Philip II's "Invincible Armada" when it sailed against England (I believe his navy was about 130 strong).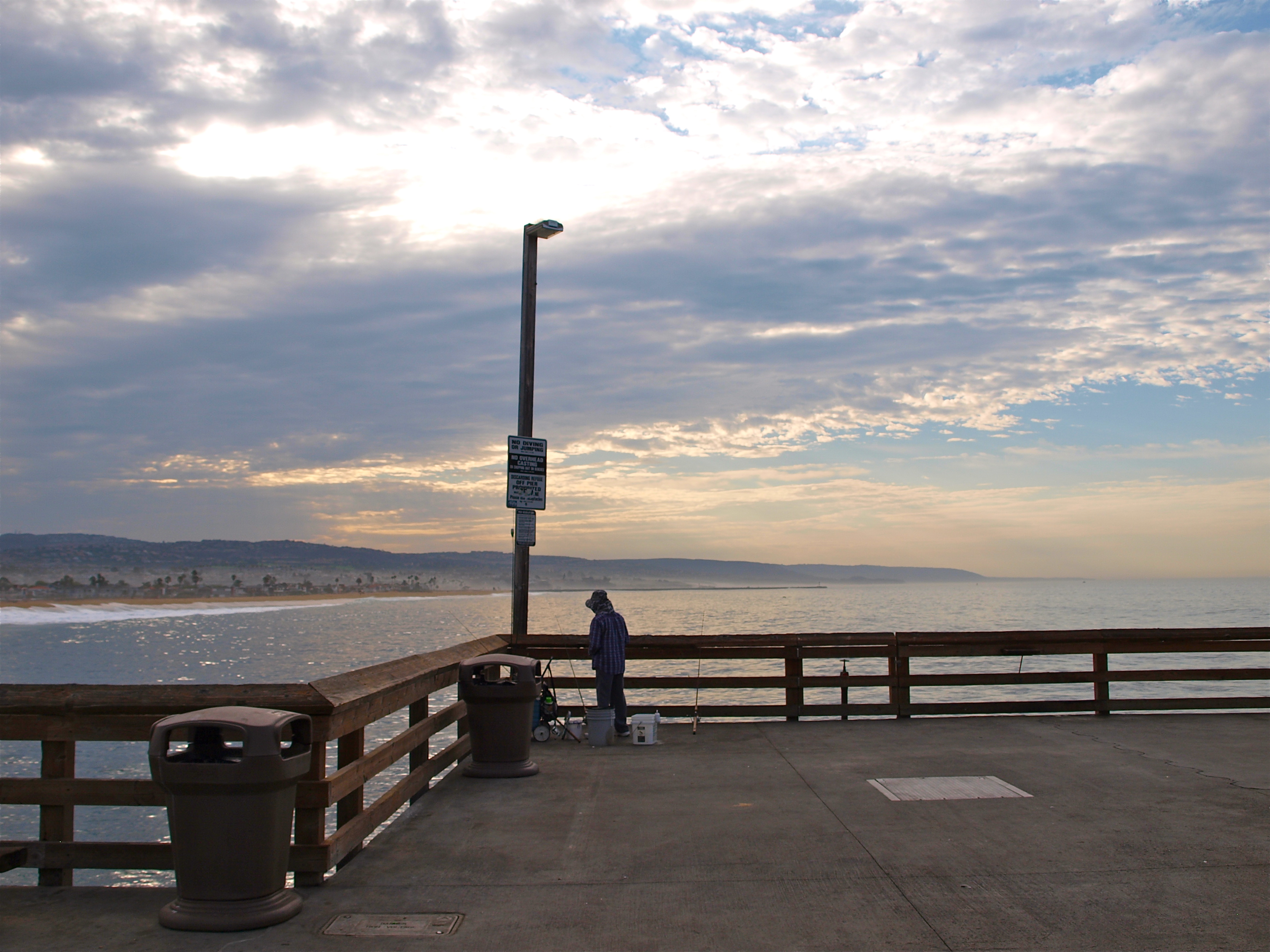 Looking south down the coast at dusk
Although fishing may at times be a secondary preoccupation at the pier, that's O.K. It gives the fishermen who are present more room to fish. Surprisingly, the fishing can be quite good. In fact, although I hate to admit it, the fishing can be just as good (or better) as that at the nearby Newport Pier, the pier where I first began to fish.
Environment and the Fish. Like its sister pier that sits just down the beach, Balboa is fairly close to the Newport Submarine Canyon. But though the beach itself, Balboa Beach, seems even more sharply inclined here than at the Newport Pier, the water is not quite as deep. Still, it is deep enough that you will occasionally see deep-water fish. On a visit to the pier in 1990 I watched in amazement as a long, ribbon-shaped fish swam among the pilings out at the end of the pier. The fish refused to accept my bait even though it had been blessed and a few prayers had been said. I'm not sure what the fish was, perhaps a ribbonfish (Desmodema polysticta) or perhaps, more likely, a king-of-the-salmon (Trachipterus altivelis), since it seemed at least eight feet long. Whatever the fish, it provided 20 minutes of entertainment—and eventually frustration. The dual proximity to both a deep-water canyon and the nearby Newport Bay almost guarantees an interesting mix of fish.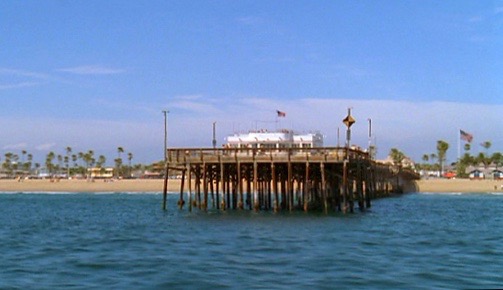 Several unusual fish have been reported by Snookie, our web site reporter who primarily fishes the shallower inshore to mid-pier area (and I probably could have called this the "The Snookie Pier"). Included in the '97-'99 El Niño years were her catch of a midling thread herring (Opisthonema medirastre, normally found from Redondo Beach to Peru), a 2 1/2-pound tripletail (Lobotes pacificus, normally found from Petacalco Bay, Mexico to Panama), and a 4-pound baby giant (black) sea bass, a species hopefully making a comeback now that it's protected. She also caught a large, 2-pound female rock wrasse and a small fish that she couldn't identify even though she has several identification books. (Scientific papers now indicate that the '97 midling thread herring may instead have been a deepbody thread herring Opistlzonemu libertute.) She caught a Cortex bonefish (Albula gilberti) in the surf area (on bloodworms) in February of '99 and saw several Pacific cutlassfish (Trichiurus nitens, normally found from San Pedro to Paita, Peru in deep water).
In September of 2003 Snookie caught her second baby giant (black) sea bass at the pier, this time a 10-inch-long youngster. In February of '05 she caught a sand sole (Psettichthys melanostictus) a northern species normally found from Port Hueneme (or Redondo Beach depending upon the reference book you use) to Alaska. She also managed to catch a 29-inch, 10-pound king salmon while fishing the inshore surf area one day. (Another distaff member of the fishing fraternity, Michelle Flannigan, landed a five-pound king salmon in 2008—on a Sabiki no less, while a 30+inch silver or Coho salmon was reported in October '09.) In August 2012 Snookie spotted a bluefin tuna she estimated at 35 pounds inshore near the surfline but no one hooked it.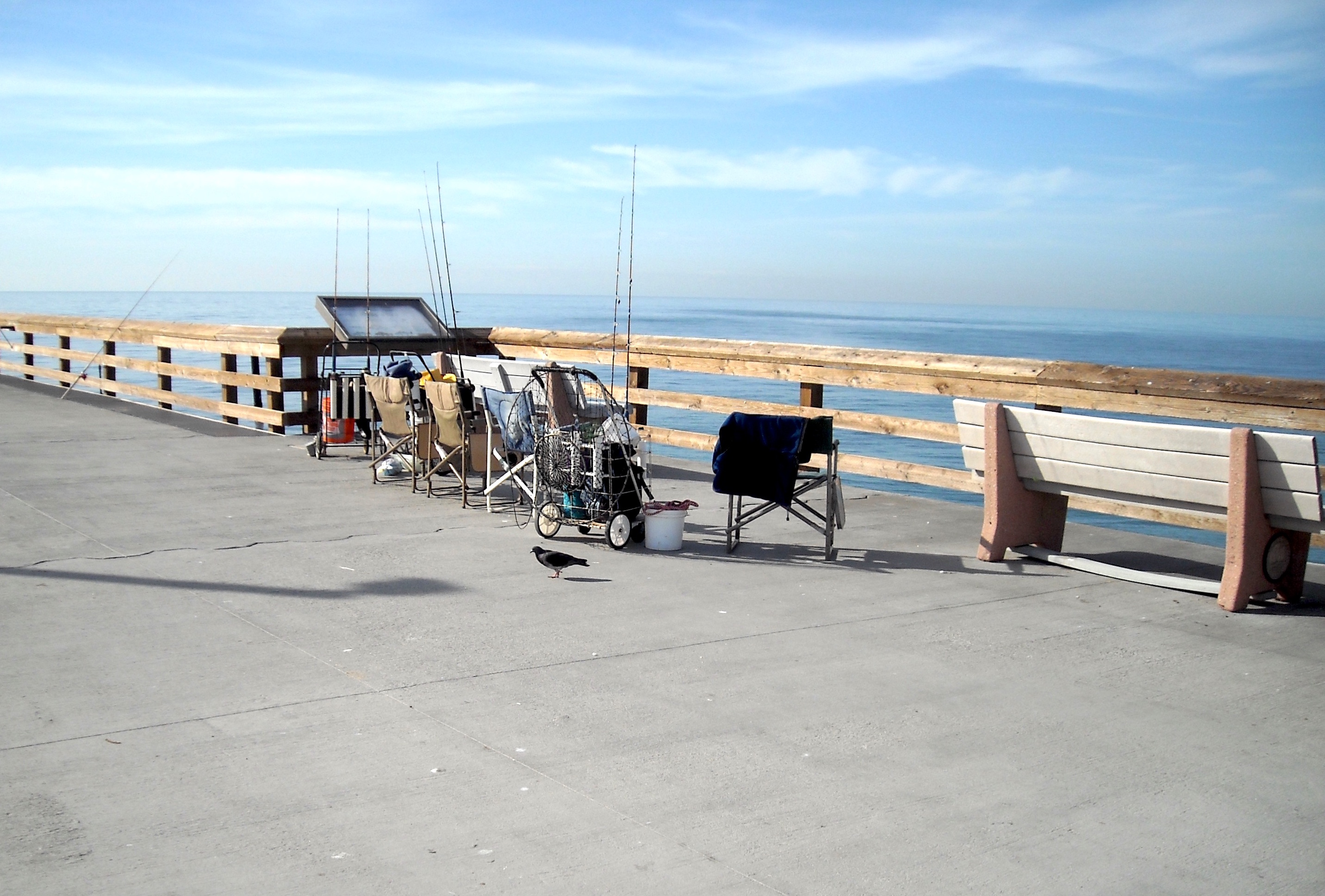 Everything appears ready for the fishing but where's the "pier rats?"
Several years ago Snookie witnessed the capture of a 12-inch green jack (Caranx caballus, normally found from Santa Cruz Island to Peru) and two sarcastic fringeheads out at the end of the pier, fish common to southern California but fish rarely seen at such oceanfront piers. In April of '08 a big skate, nearly 6-foot in length was taken out at the end of the pier. The species, although recorded down to Baja, is rarely taken south of Point Conception. A common species, but one that is rarely taken unless snagged, is ocean sunfish and a fish estimated at 50-pounds was taken in May of 2003.
In June 2017 PFIC received reports of a 50-pound white sea bass taken at the pier. It turned out to be a 41-pound fish that was "snagged" by one of the snaggers who unfortunately infest the Balboa and Newport Pier.
Whatever the reasons the pier offers a very interesting and diverse mix of fish. Pilings, by the way, are heavily covered with mussels but rarely is there much kelp or seaweed around the pier.
To be honest though, most of the fish you will see day to day are the same as those seen at other southland piers. The inshore area, along the beach, will produce surfperch, small rays, and an occasional croaker or corbina. Midway out is best for halibut, white croaker, queenfish, sargo, topsmelt and jacksmelt, sardines, sculpin (scorpionfish), shovelnose guitarfish, and a few bass and barracuda (generally late summer to fall). The far end is best for the pelagics—Pacific mackerel and Spanish jacks (jack mackerel), as well as bonito (some years).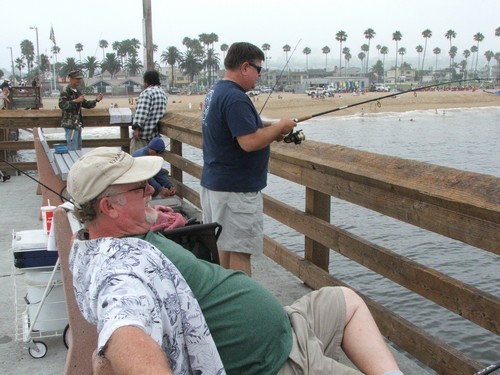 Fishing with my friend Boyd Grant (Pierhead)
Most years will also see a few yellowtail swimming through the end area in the fall. Occasionally you'll also latch onto a few sanddabs if fishing on the bottom. Not necessarily a desirable species, but one that is quite often caught during cold-water years, is California lizardfish. When the lizzies are present they can be an irritating nuisance. The end area is also best for the larger sharks and rays. Tackle and techniques are the same as that at Newport Pier.
The human environment found here is also worth mentioning. As Orange County has grown, so too has its ethnic mix. Significant populations of many different groups are found within a short drive of the pier. The population of anglers on this pier and other Orange County piers reflects this mix. Contrary to the views of some of my fellow anglers, I find this mix interesting. I also find that people are people, some are good-natured, some are not. Two experiences from this pier highlight those feelings.
One incident involved an elderly Japanese gentleman. I was fishing one morning when the mackerel were on one of their patented "mac attacks," and I was catching more of the greenbacks than I wanted to keep for bait. Did anyone want some of the mackerel? An angler pointed to a thin little man and said, "give them to him, give them to the Chinaman." I yelled over to ask if he wanted the fish. No response! Then the angler mentioned that the man was deaf. So, with a little bit of speech, and an attempt at sign language, I asked if the man wanted the mackerel. His face lit up and he accepted the fish. "Thank you, thank you" and he gave a courteous bow. After each new fish would come a similar thank you and a bow. My thoughts were simple: it was nice to see someone appreciate such a small gift and secondly, wouldn't it be nice if our culture taught such simple signs of courtesy. It was also obvious that the man was Japanese and that he wasn't deaf, he simply tended to keep to himself.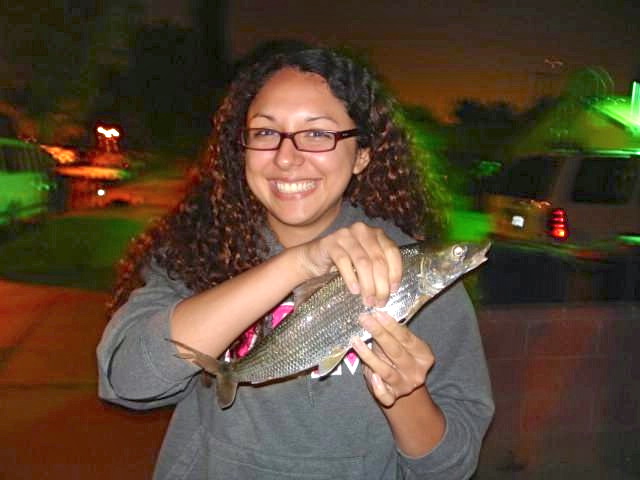 A bonefish caught inshore in 2007; they're fairly rare at the pier
A second incident involved a group of three Asian teenagers who were having dismal results one morning out on the pier. They had limited tackle and the wrong bait, yet they were working harder to catch fish than any of the other fishermen present. I was doing a little better; I had a couple of bonito, a nice sand bass, two scorpionfish (sculpin) and once again far too many mackerel. The boys finally came over, although somewhat timidly, and asked for some advice. In the next couple of hours I taught them a little about pier fishing and they told me a story I will never forget. A story about how their family escaped from Vietnam and finally made it to the United States. All three of the young men worked, all helped support their family, and all three loved to fish. They were courteous, friendly and respectful, and gave me much more in our short time together than I was able to give them.
A fixture in the pier's environment for many years has been a special group of "pier rats" that I've had the pleasure to get to know. The group is headed by "Snookie," (correct spelling) who was mentioned above and has become a friend and the reporter for the Pier Fishing in California web site for nearly 20 years. The following newspaper stories are about her and her gang of "pier rats" a gang which, unfortunately, is getting a little smaller over the years.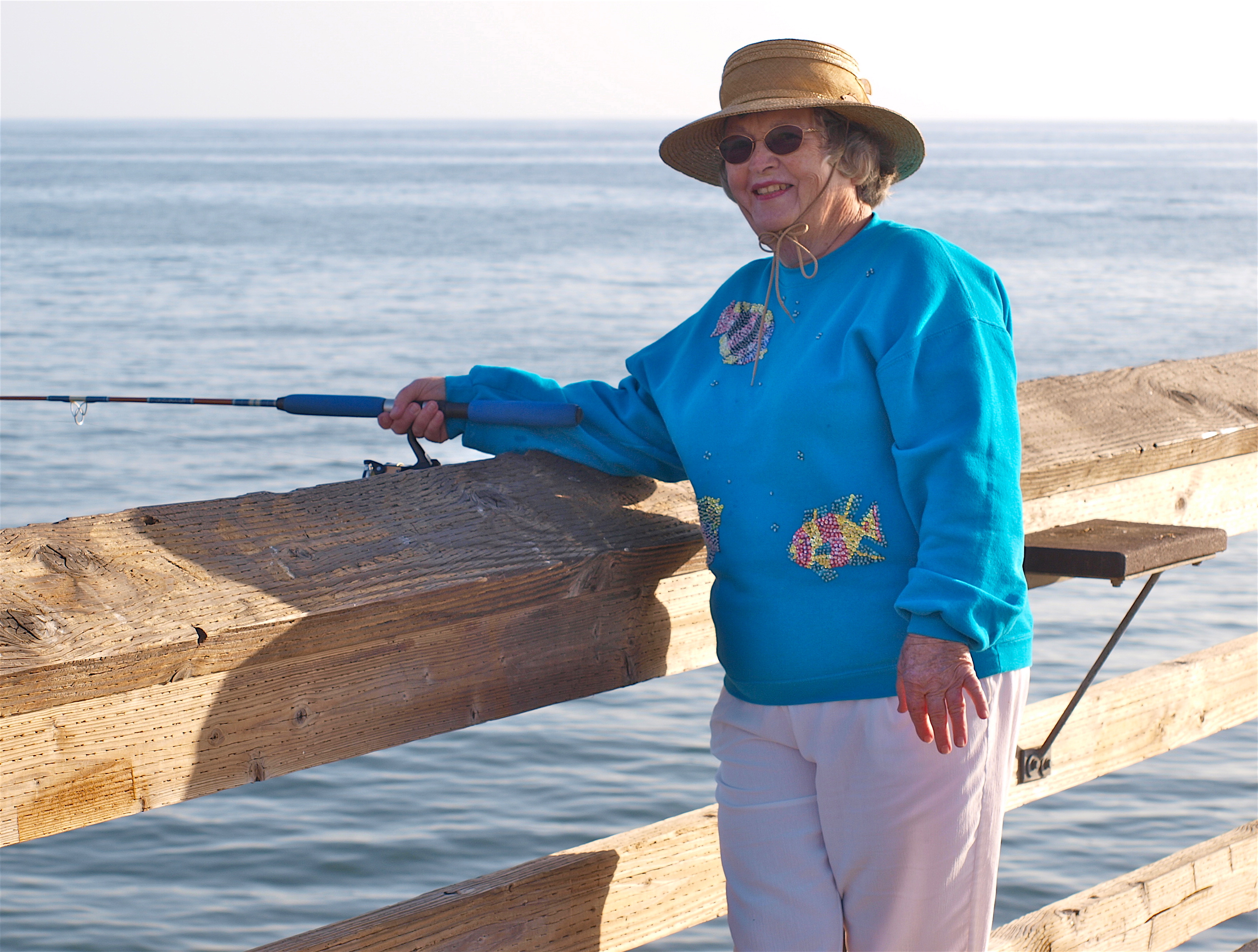 Snookie — 2012
These Folks Fish for the Halibut
Vernona (Snooky) Fath has been fishing off the Balboa Pier since 1945, when she was 9 years old, dropping her line from the pier two to seven days a week in pursuit of her favorite, halibut.
Fath was taught to fish by her mother, Sunny, who is now 76 but still never misses an outing. They are both a part of the regular Balboa bunch, a cooperative crowd that works together in keeping the bait buckets filled and netting their neighbor's catch.
"Our group tends to share," Fath says. There are about two dozen regulars on the pier, folks who, like Fath, have been fishing there much of their lives. "We have a terrific camaraderie," she says.
It's been a tough year for halibut, largely because of the cool weather and rough waters, and Fath has yet to catch a halibut legally big enough to keep (at least 22 inches) this season. But her mother caught a 12-pound keeper last week. Fath might catch three legal halibut in a typical season, although she can bring in as many as 15 undersized halibut in a single outing.
"Here in recent years," legal halibut "come few and far between," says Ed Dillon of Baldy's Tackle Shop at the foot of the Newport Pier.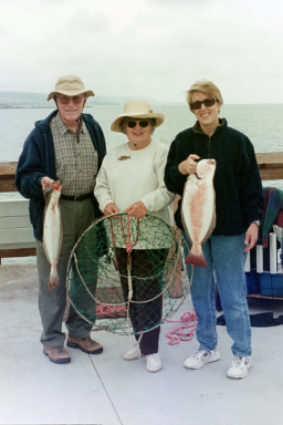 Snookie, Bob, her daughter and a couple of Snookie's favorite fish—halibut, 2003
Besides halibut, fish caught from local piers can include mackerel, bonito, sand shark, sculpin, surf perch, corbina, herring and jacksmelt, and a few rarities such as barracuda, yellowtail and even salmon. Some fish appear only seasonally.
These days, many people on the piers are lower-income families fishing for food rather than sport. They tend to go after such plentiful fish as mackerel and herring.
Dillon said a good basic outfit might include a medium-weight rod ("You do have to lift the fish 15 to 20 feet up out of the water"), 20-pound test line, and a shrimp fly for most of the common fish. The equipment can be rented at tackle shops. At Baldy's, rental for a rod, reel, line, hook and weight runs $2 an hour, $7.50 for the day.
Fath has her own recommendations, which include a lighter line (12-pound) and live bait such as sardines, which she catches herself with a "snag line," a line with a series of small hooks that is bobbed up and down in the water.
—Rick Vanderknyff, Los Angeles Times, June 27, 1991
Reeling in the years
You should have been at the pier the day Warren hooked a near-keeper halibut. Oh, Warren has hooked plenty of keepers in his time, but he'll tell you fishing isn't about what you take, it's about what keeps you coming back.
Anyway: This one halibut a couple of weeks ago–turned out to be 20 inches, two short of legal limit–had Warren moving. Bad hip and all, dang thing, he raced that halibut, staying just ahead of the hooked fish's efforts to reach the pylons and wrap itself to freedom. Thirty feet below Warren's bowed fishing rod, the young feisty halibut with the white belly challenged the 81-year-old fisherman, tanned like leather from so many long days in a sun that precocious halibut wouldn't survive a minute.
Noble had a line dropped several feet up the pier (toward Ruby's) and had to hustle to raise his rig to let Warren and the halibut scamper underneath. Snooky abandoned her reel and went for the drop met. She lowered the net in sync with Warren raising the halibut. Reeling, lowering, reeling, lowering until the flopping captive popped from the water and into the wide, circular net fixed to a thick rope, Snooky's good with the net. Snooky's good with everything out here.
Out came the measure, up-short came the halibut, over the edge went the 20-incher and back for more bait went Warren, his old, small face lit as if a boy again.
Milton was there that day. Cass might have been. Bob wasn't though; he's off fishing his way toward Washington or something. And Sunny. Well, she's not out much this summer. Came out a lot last year and fished from her wheelchair, but even the Queen of the Halibuts has to give it up at some point, and this may be the summer—her 82nd—marked as Sunny's retirement.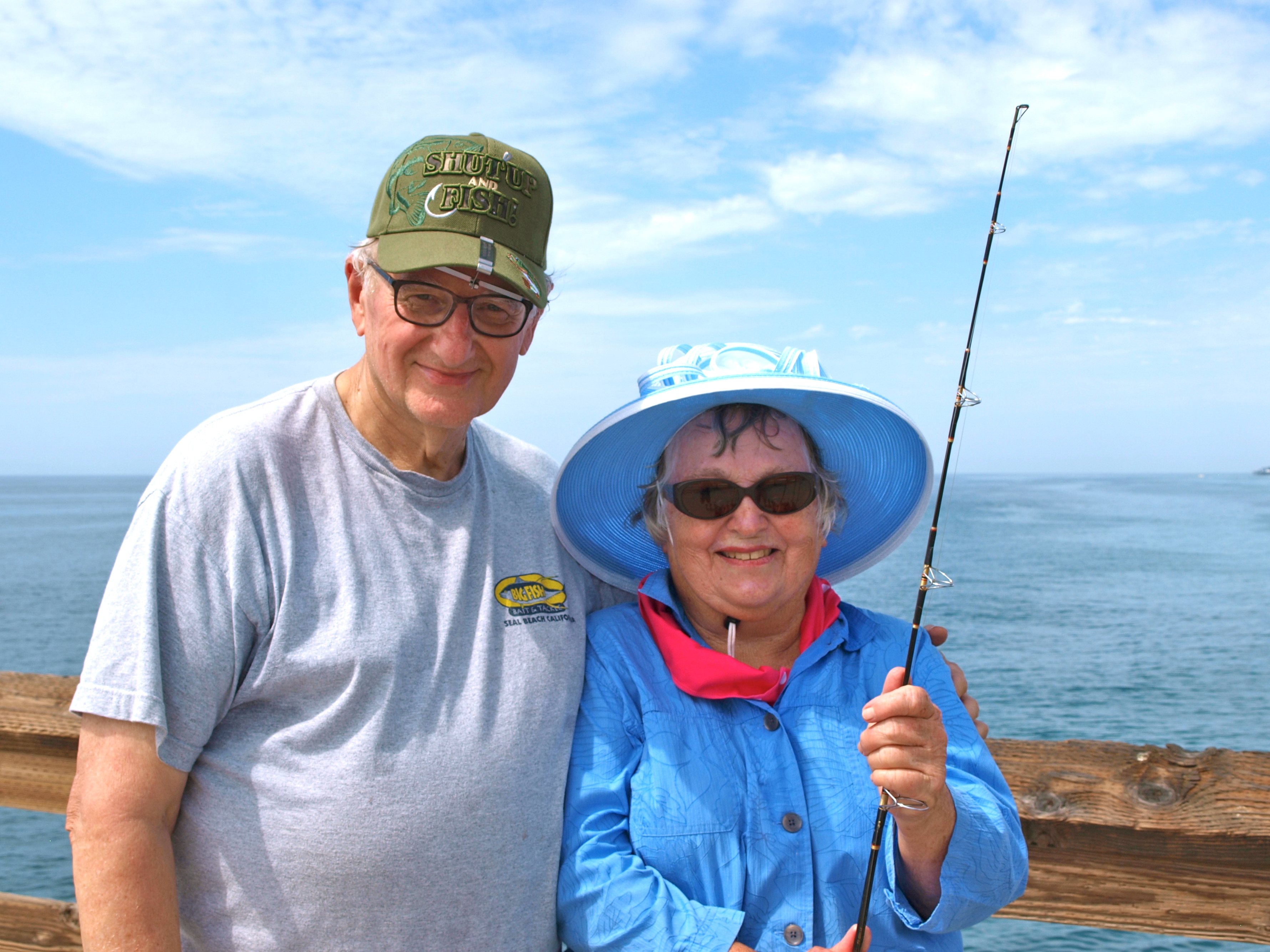 Snookie and my fishing buddy Mike Granat
If it is Tuesday or Thursday, and if the Balboa Pier is standing, this bunch will be on it. Usually gathered near the second "T" with carts and coolers and buckets and memories that go way back, to the days, even, before sardines got fished out; back to when barges were anchored three miles out and a water taxi would take you to them for two bits and you could catch barracuda so big they called them logs. Oh, yeah.
This summer there are about five or six regulars: Snooky, Noble, Warren, Milton, Cass. They all have last names. But not out here. Snooky's thick photo book shows the whole gang that has grown over the years to about 20, sometimes—if the scene of past Christmas parties is accurate. And, being that it's Snooky's book, you can bet it is.
She's got another book, without photos but with as many memories. It's the record book she keeps— the one that cost $12.95 but is worth it because it has tide information for each day of the year. Even shows what time of day is best for fishing, although as Warren says: "I've never seen a halibut wearing a wristwatch."
Every summer, Snooky records each halibut caught by her pier peers, and at the end of the season, the person who has caught the most keepers gets…nothing. Midway into the summer Warren and Snooky have four apiece; Cass, two, Noble, three. Milton mostly comes to visit.
Snooky, Sunny's daughter is the baby of the bunch. She's 60. Warren, you know, is 81. Milton is 80. Noble is 71.
Most are retired: from real estate, insurance, nursery management. They get here about 10 A.M., break for their lunch precisely (well, as precisely as retired fishermen) at noon, stay sometimes till late afternoon. This is not a hobby for any of them. Hobby? No. Something else. Something more life giving. Or so it seems.
"The camaraderie," Snooky says she comes for. Which is something, considering how much she likes fishing and how good she is at it. Can't remember a time when she didn't fish. Goes to Vegas for international fishing conventions. Said Milton: "I come down to see the gang as much as anything." Among the gang there are about 300 years of fishing experience, gathered on piers from Belmont Shore to here at Balboa, where they are a well-known sight. After all these years, a pool of anchovies can still excite them. Like last week, when the waters near the pier were darkened with thousands of the smelly baitfish.
Milton and Noble and Warren and Snooky left their main rigs propped on the pier railing and gathered their bait-catching lines, aiming leaded monofilament laced with tiny hooks into the school and yanking up cigar-shaped silver that shot sharp reflections at the midday sun.
See, game fish like anchovies best, it seems. Better than smelt, anyway. Maybe, Snooky figures, because anchovies have a softer scale. So, when the anchovies come through, the excitement of getting bait is nearly as good as the thrill of a keeper catch. Nearly.
You need a lot of bait out here. Not that it's anything like it was 50 years ago, mind you, but a person who knows what he's doing can keep busy, This pier fishing is not as passive as you might think. There's bait to be caught, leaders to be strung, territory to be guarded against the occasional fisherman who wanders out here not knowing that the second "T" is the crowd's unofficial squat.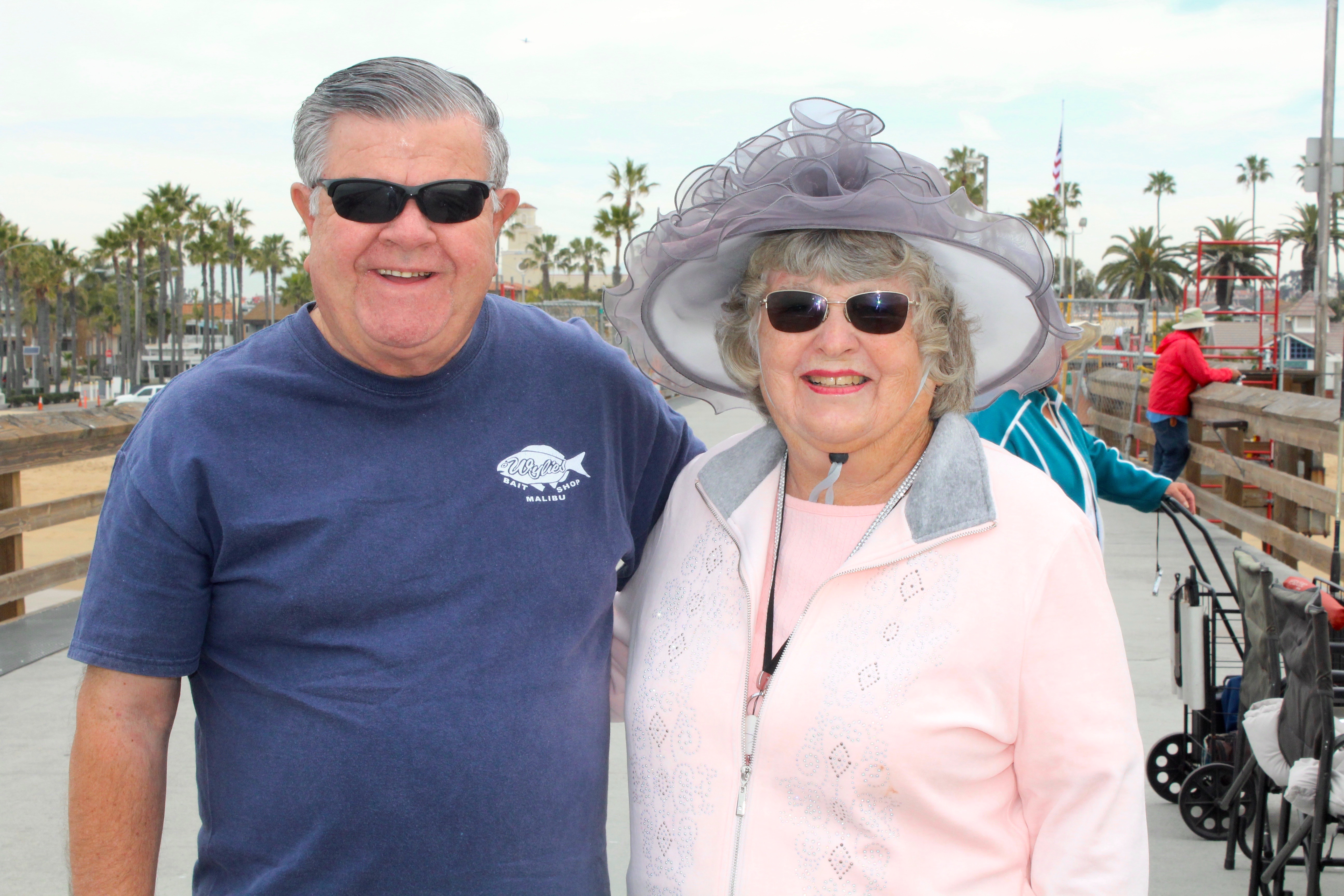 Snookie and myself — 2018
"If you want nuts," Warren says, "come to the pier." The deranged come here, the drugged, the street preachers claiming to be fishers of men. The ill and ill-intentioned and the ill-conceit of the well-intentioned mix with those who fish for fun and those who fish for food and those who fish because it's what they've always done.
They watch after one another in this group. A few years ago, Snooky says, it got so that if you didn't keep an eye on your equipment, it would disappear. So now, they all look out for one another and take lunch at the same time so they can watch their gear while they eat.
Things change. Things don't. Warren's been fishing these waters 72 years and says the thrill at 81 is the same as when he was 9. The same it'll be at 90.
He's seen a lot out here. Still, he dreams. "It's always been a dream of mine to go to the Florida Keys and fish for those big tuna," he says. "Man, to get ahold of one of those big things, boy, oh boy…" Man, Boy oh boy.
Warren says he wants to die fishing. Almost did. In 1993, he'd just landed a 27-inch halibut, and Snooky was taking a picture when Warren collapsed. Noble and Snooky took him to the hospital. Heart attack. He was back in two weeks, more convinced of how he wants to go out. "I want to die with a 100-pound fish at the end of the line," Warren says. "For a fisherman, that's the way to go out…But I'd be happy to get a 10-pound bonito out here."
Fishing, fishing, fishing. Tuesday, Thursday. Tuesday, Thursday. Toss, reel, bait, clean, eat. Visit. Keepers.
—John Hughes, Subculture, The Orange County Register, August 2, 1997
Snookie says most of the group has been together for over thirty years, although some members have known each other for 55 years. Sunny, Snookie's mother, was the matriarch of the group (until she died in 2001) and fished on both the Balboa and Newport piers before Snookie was born, a time when you "had to have a license just for catching yellowfin croaker." Snookie's daughter also grew up on the piers. "When she was in a stroller on Newport Pier, Grandma Sunny would make her play with live anchovies so she wouldn't be afraid of them later," said Snookie. Although all had fished the local piers, they more closely banded together back in the '80s when thievery was at its height on the piers. Today, as seen in the article, the group is sort of a nurturing, extended family whose togetherness exemplifies what I sometimes affectionately call the Loyal Fraternity of Pier Rats. Their group should serve as a good example for other piers.
By the way, my first day of fishing with the group, in June of '99, highlighted several points that have been mentioned before but bear repeating. When Snookie arrived around 10 A.M. she brought with her the nets, live bait buckets, and other materials necessary to be a successful halibut angler these days. Soon Snookie had made some bait—lively small smelt—and the group was fishing. Snookie quickly caught a sub-legal halibut, which was returned to the mighty Pacific. A few minutes later a second halibut was caught, and then a third, while I was still fishless and hoping I wouldn't be embarrassed.
But then my bait, which was patiently swimming in the depression down between some pilings, began to act up, followed by the characteristic strike from a toothy halibut. I hooked the flattie, quickly realized it was a good fish, and asked Snookie to get the net ready. Soon the fish was headed toward a waiting net, it made a final run after spotting the net, and then it was guided into the net. Within a couple of minutes a beautiful, 27-inch keeper halibut was sitting under a wet towel on the pier.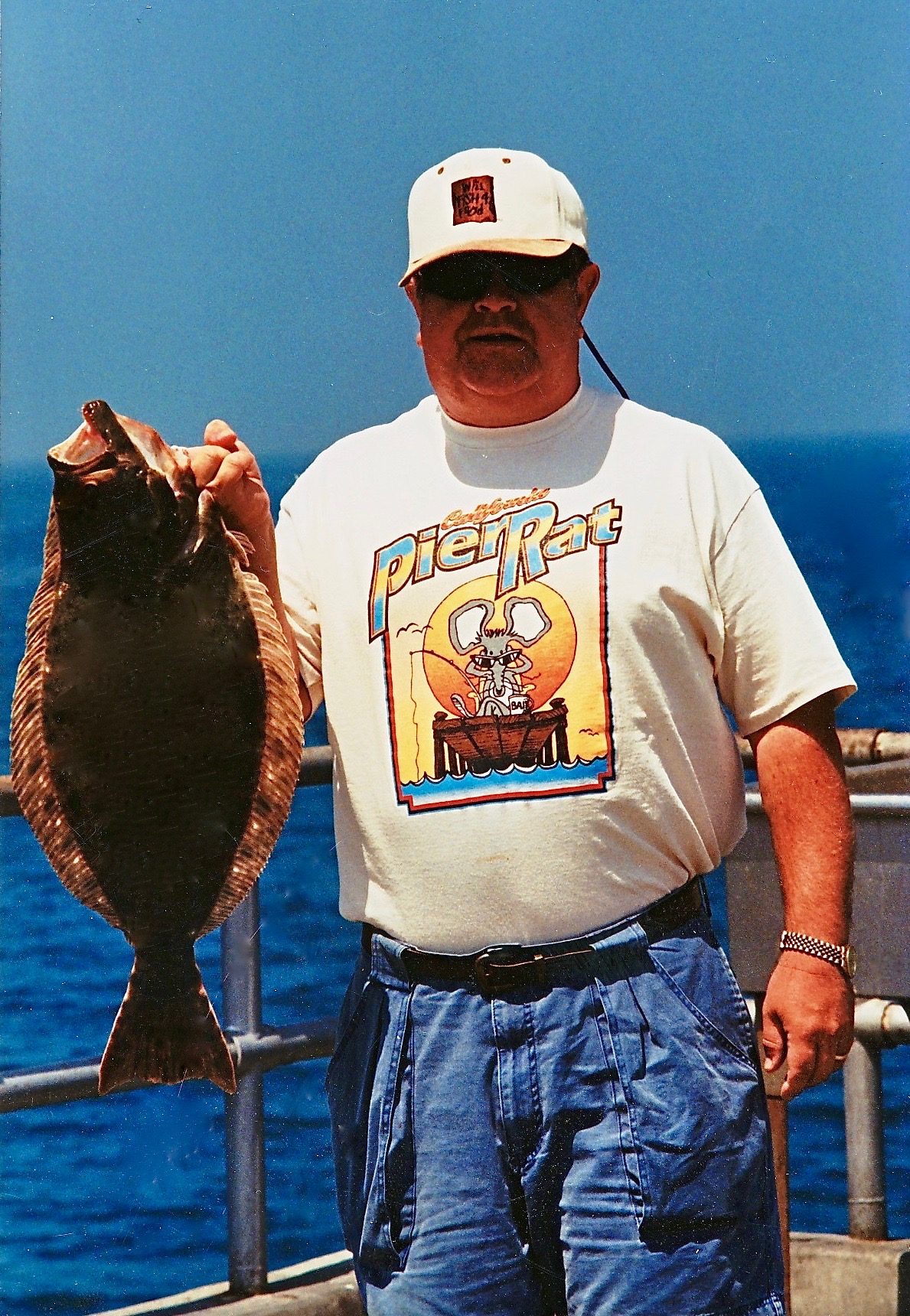 I got me a little halibut that day — with Snookie's help
Point one was to always have someone present who knows how to correctly use a net or pier gaff to get the bigger fish, and Snookie was an expert at the task. The second point was the great advantage of using live bait. Within a three-hour time span the group of six people caught 10 or 11 halibut (including two by this lucky angler). I didn't see another angler using live bait, nor did I see another halibut caught. Point three was the simple fact that looks can be deceiving. Most of the halibut were 12-17 inches long and all were returned to the water with the exception of my fish described above.
Many anglers looked into our buckets as they headed out toward the end. Since they didn't see any fish they assumed we hadn't had much luck. However, nearly everyone in the group had caught at least one halibut, which brings up points four and five. Point four is that regulars like these know how to catch the fish and do so on a regular basis.
Point five is that the mid-pier area of the pier, the area where Snookie's group always fishes, is usually the best area for halibut. It may not produce as many pelagic species as the end areas but it definitely is the best area for the elusive, good-tasting and most-prized flatfish.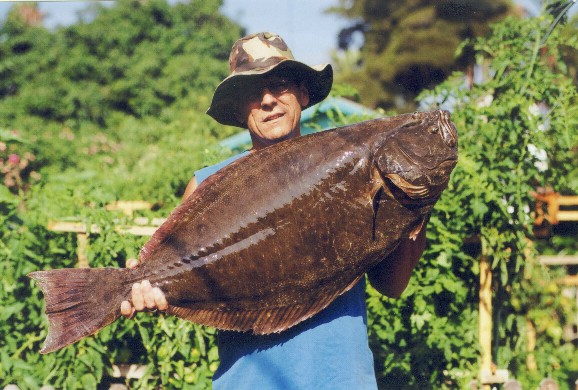 Halibut caught by pier regular Gary Evans in 2004
A point I should repeat is to make sure you have a net (or pier gaff) with you in case you do hook a big fish. Earlier on the same morning that I met Snookie's group, I had tried fishing the end area. Not too much was going on except for an occasional mackerel. One of the meat fishermen out at the end seeking mackerel was tossing out a multi-hook outfit that had a heavy line and about eight-ten size 2 hooks. On the bottom was a 3 or 4-ounce sinker and a couple of feet above the top hook was a heavy float that kept the rigging floating near the top of the water. The fish (mainly mackerel and a few lizardfish) would hit the bait, his float would disappear under the water, and he would pull in the fish. Since he was using a fairly heavy rod there usually wasn't much of a fight. However, that would change.
One hit yielded resistance that he hadn't previously seen and it took several minutes before his rig was near the top of the water and the fish could be seen. Imagine his (and my) surprise to see two mackerel together with a beautiful salmon that I estimated to weigh 10-12 pounds. Unfortunately, a net wasn't present and he tried to hand line the fish to the top of the pier. About half way up to the pier the fish gave a shrug and the line broke. Fish: one, angler: zero. With a net he would have had a rare and distinguished prize for a southern California pier (although I'm not too sure if it would have been a legally caught salmon). As it was, he was left only with the memory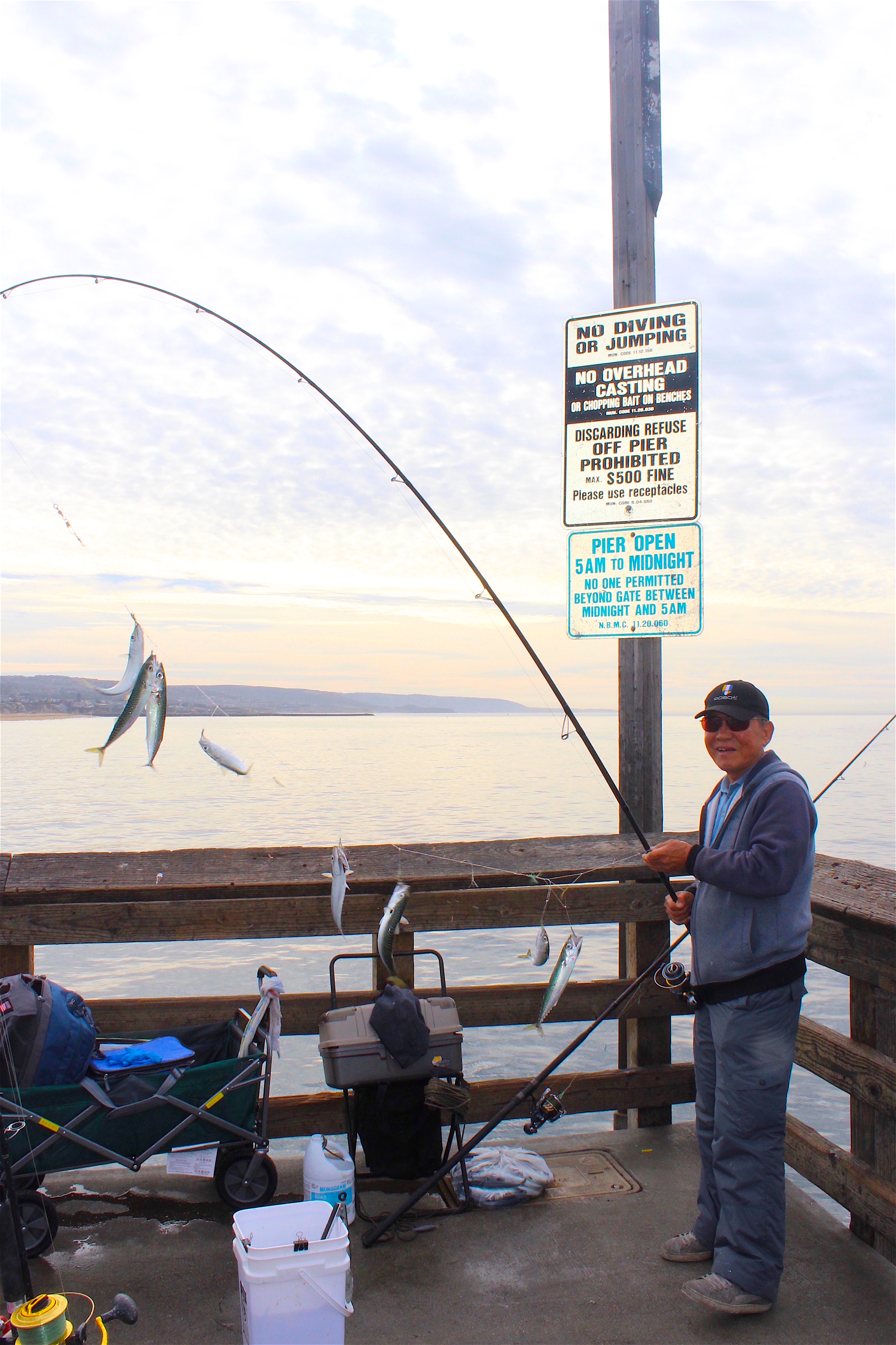 A plethora of mackerel caught on a Sabiki bait-rig; I am not a fan of using the Sabiki's for mackerel but I seem to be in the minority
Fishing Tips. Check out the far end of this 920-foot-long pier when you begin to fish. As mentioned, because of the water depth, this can be an excellent pier for the pelagics—Pacific mackerel, jack mackerel and bonito. Most of the mackerel are landed on Sabiki/Lucky Lura-type bait rigs or on strips of squid (or pieces of mackerel) fished under a float.
Most bonito fall to feathers trailing a cast-a-bubble or similar float. This deepest water is also typically the best spot to pick up Pacific and longfin sanddabs if they enter the catch.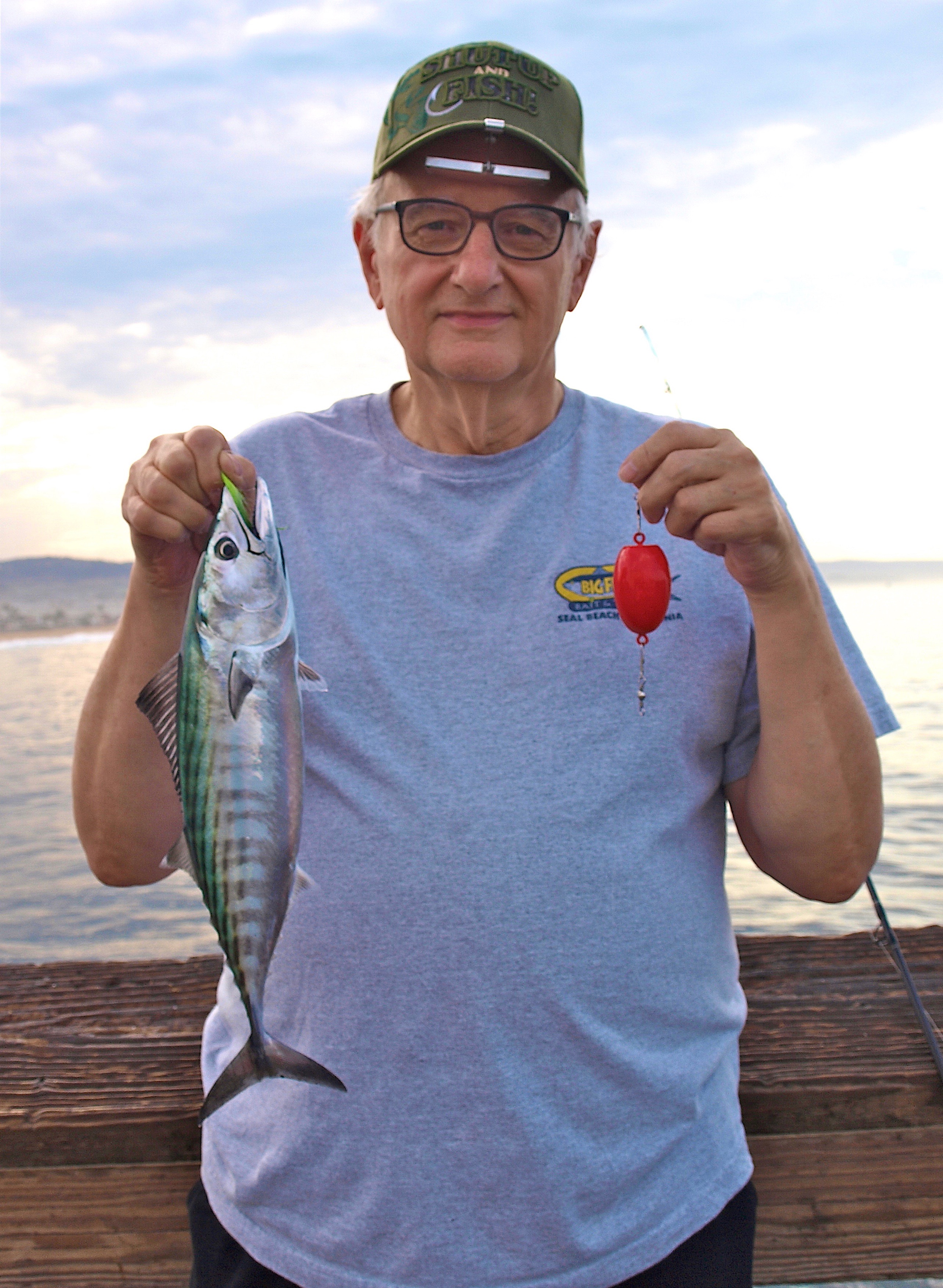 Bonito caught by Mike Granat who made and sold the red "bonito balls"
The far end is also the best area for the larger sharks and rays and many good-sized shovelnose sharks (guitarfish) and bat rays are landed at the pier. In addition, this is where you'll occasionally encounter the pelagic species of sharks, species like thresher sharks and blue sharks. Although the threshers may show up at almost anytime, late spring seems best. May of 2009 saw quite a few of the tail thumpers landed with the largest at around 8-foot in length and 80 pounds. Several much bigger threshers, some estimated at 150-200 pounds were hooked but not landed that year; most were lost at the pier, which is often the case with big fish. The standard rigging was a live mackerel on a slider.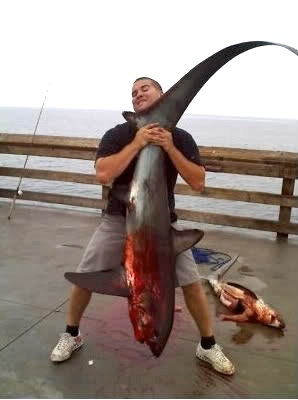 Thresher shark — 2009
I've never personally seen any of the larger sharks caught at the pier but Snookie has caught threshers to 36 pounds and witnessed several LARGE sharks swimming by the pier. Most impressive were a 30-foot-long basking shark that leisurely cruised along the pilings one day, a great white estimated at 20-feet, and a pair of hammerheads, one 8-foot-long, the other estimated at 10-foot-long, that also checked out the Balboa action. All sound pretty interesting.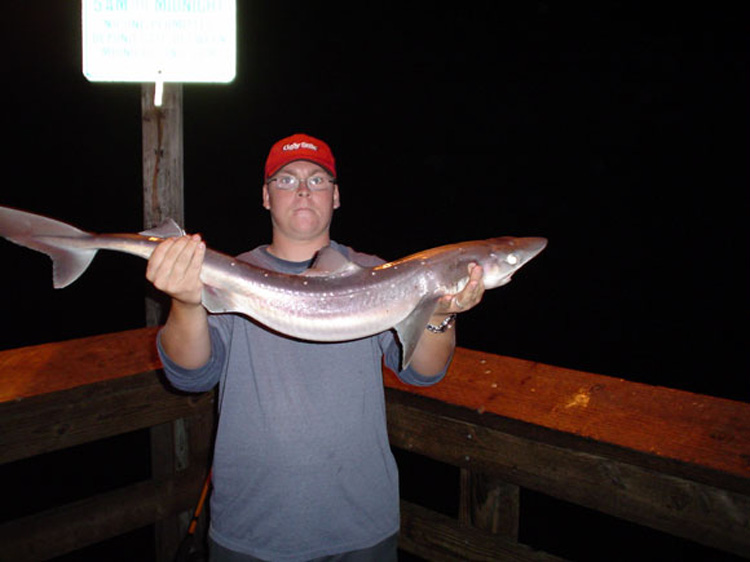 Spiny Dogfish are an occasional catch
Probably the most famous (and perhaps controversial) shark at Balboa was a fish that wasn't actually caught from the pier although it was close—approximately 100 yards out from the end of the pier. Ted Phegley, a local commercial fisherman fishing from his 16-foot dory boat, took the shark, an estimated 12-foot-long, 1,400-pound great white, on January 29, 1960. Although Phegley was fishing for white sea bass, he managed to net and capture the huge great white which, at the time, was considered one of the largest "whites" ever taken along the Pacific Coast. It was soon hauled into shore and hung up on block and tackle near the Crab Cooker Restaurant in Newport Beach.
That weekend, crowds estimated at 20-50 thousand people swarmed to Newport Beach to see the "man-eater." I say controversial simply because part of what you just read may not be true. It is based upon newspaper accounts that appeared at the time of the capture (and which are posted on the wall at the Crab Cooker). When I asked "Snookie," our local Orange County expert to review the section on Balboa Pier she sent me the following: "Ted Phegley's shark was actually 11 feet, 2 inches long and weighed 775 pounds. He was assisted in the landing by the 40-foot commercial fishing boat Crusader who passed by, hove to and helped Phegley land the shark. They used a winch to get the shark to the top of the water and then looped a rope over its tail to make it immovable. It was taken to McCarthy's Dock in Newport and hoisted and weighed still alive. It almost snapped a 4 x 6 dock rail in two with its teeth in a last effort to escape.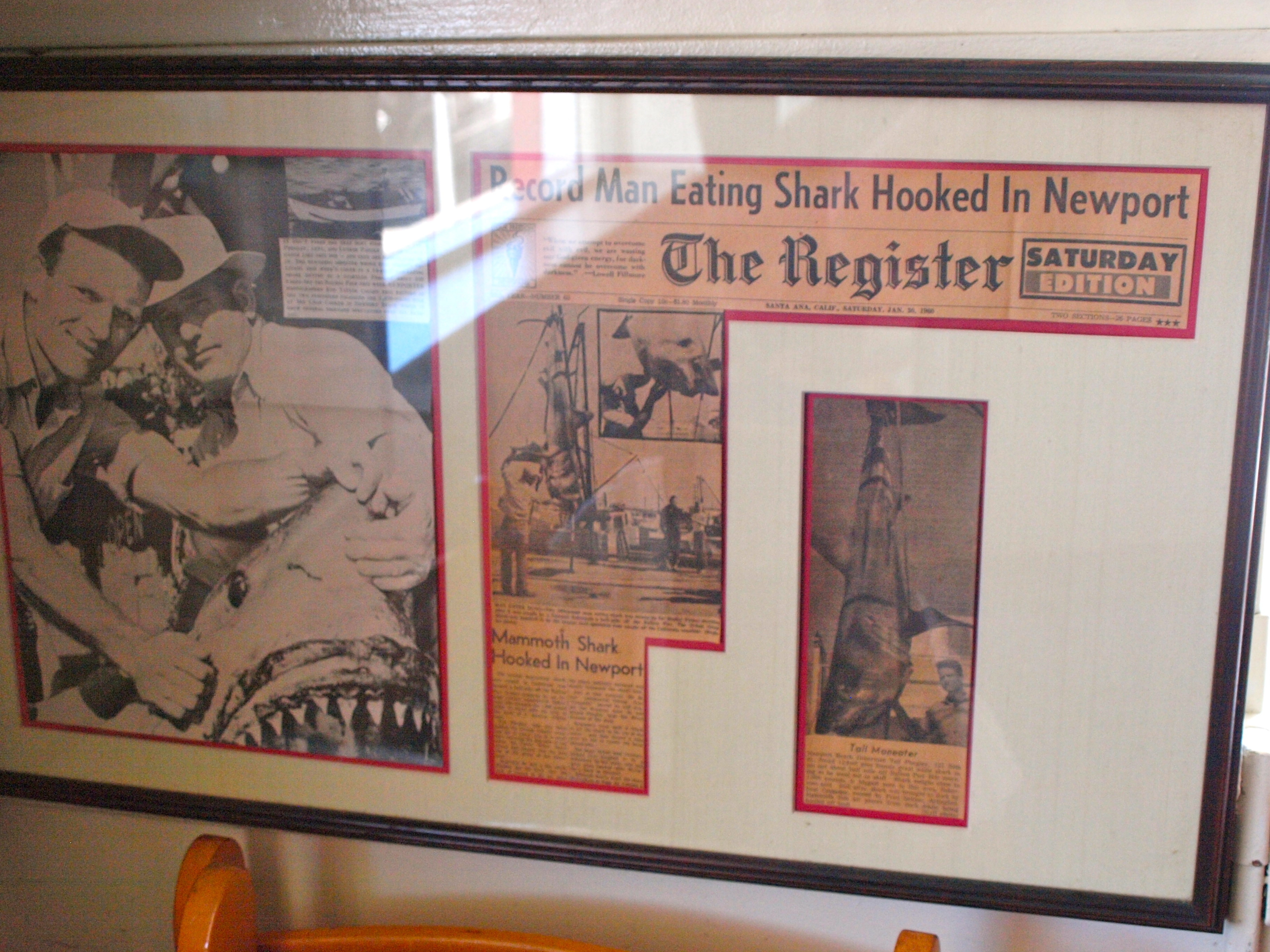 This was the second great white for Phegley. The July before he hauled in a smaller one in approximately the same location." Now I know that some of you good readers think that newspapers are always accurate and filled with stimulating, factual information (which is, of course, never biased) but I have a lot of faith in "Snookie." Whatever the size of the fish, (and there's quite a measurable mathematical difference between 775 and 1,400 pounds) there is no disagreement that the fish was huge.
Today the fish is stuffed and hangs in the main dining room at the Crab Cooker. Sort of a stuffed fish watching human's stuff themselves on fish. If you visit the restaurant do make sure you view the fish and also look inside the mouth at the rows of teeth. Behind the main row of teeth are several other rows of teeth ready to slip down and replace teeth that the white has lost for whatever reason.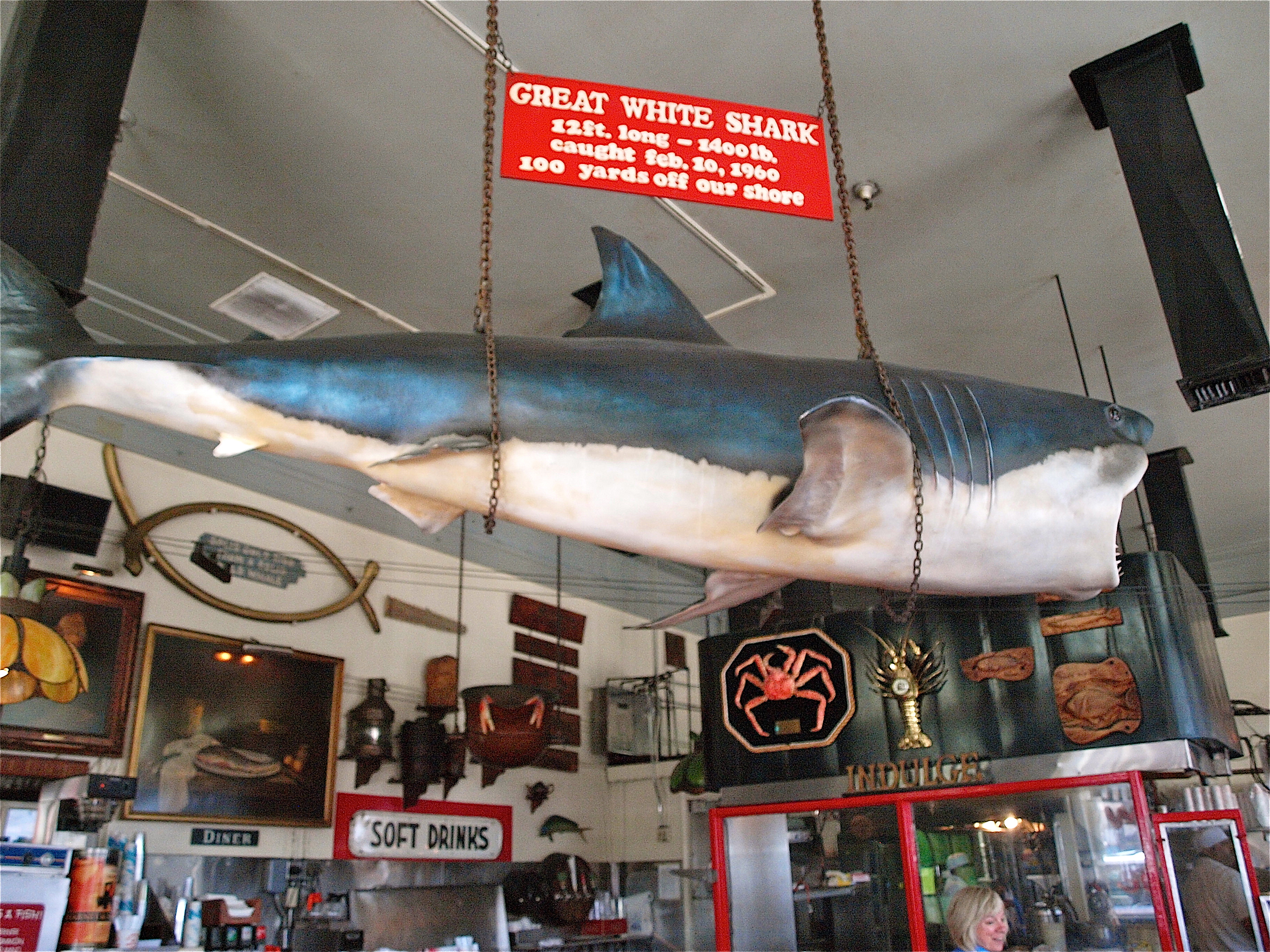 Back to fishing! A few bass will also enter the catch, both sand bass and kelp bass (calico bass), and most of these will be taken from the mid-pier area to the end. Live bait on the bottom is the best bait for the bass but they will also hit on cut anchovies, strips of squid, and occasionally on lures.
Gray smoothhound sharks can be taken from the inshore area to the end while leopard sharks are more common from the mid-pier area to the end. However, neither species is really that common at the pier. Horn sharks are also uncommon although a 32-inch-long horn shark was reported in January of 2004. What are sometimes too common are thornback rays, a fish that has kept many an angler from being skunked. The inshore waters may also yield some round stingrays and an occasional butterfly ray but both are far less common than the throw-'em-backs (which do not contain enough meat to save).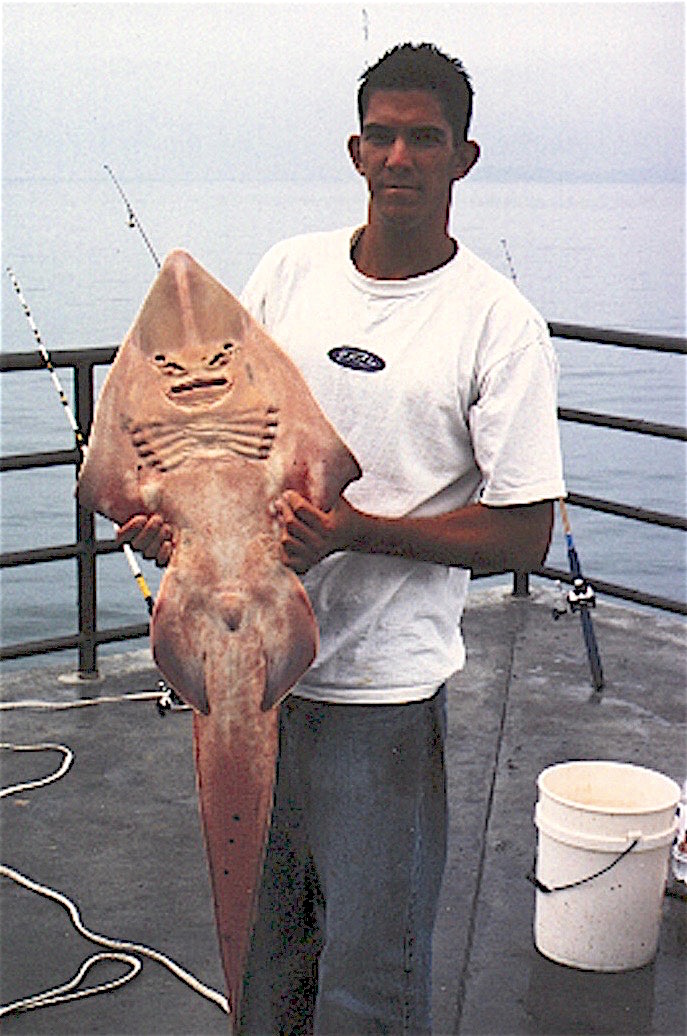 Shovelnose Sharks (Guitarfish) are common
For many anglers, especially some of the "regulars," the mid-pier area is Shangri-La. Disinterested in mackerel, this group is primarily after halibut and this area offers the best chance for the tasty flatfish. The best rigging is a typical halibut rigging, a Carolina-type sliding leader baited with a live smelt, grunion, anchovy (if you can net some), or small queenfish. If you can't get live bait, use frozen or salted anchovy. Use a whole (small) anchovy, or cut anchovy if the bait is large. Hook the bait through the rear portion of the bait and be prepared to let the halibut mouth the bait a while before striking. While the majority of the halibut that are caught are too small to keep, legal fish (some over 20 pounds) do enter the mix. Some extra large, "barndooor-size" fish have also been seen—but few have been landed.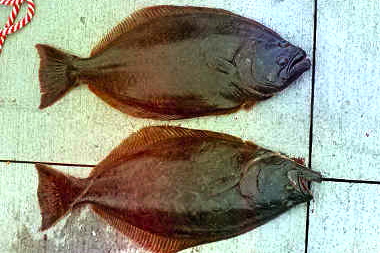 An unusual catch of both a right-eyed and left-eyed California halibut
Artificial lures can also produce some hallies although they are best used when the pier isn't too crowded. Regulars use a variety of swim-bait-type lures and while Scroungers once were favored many have switched to Big Hammer and other varieties. I've been told that the larger-size lures, especially the bright green colored ones, can be deadly on winter halibut, the fish that are often the largest of the year.
The same mid-pier area and the same live baits (especially small queenfish) can at times also yield white sea bass but unfortunately most that are caught are (just like the halibut) too small to keep.
This mid-pier area is also usually the best area for the smaller croakers, sculpin and perch. For medium-sized tomcod (white croaker) and the larger herring (queenfish), use a high/low leader with size 4 hooks, and small strips of anchovy as bait. The same rigging can be used for sculpin (California scorpionfish), but squid is better bait for these good eating fish. Records, by the way, show that the best time to catch the sculpin is at night, and that the winter through spring months offer the best fishery for these fish. Balboa is one of the best piers to catch these scorpionfish.
Use small snag lines (self-made) or the Sabiki/Lucky Lura/Lucky Joe-type bait rigs for the smaller queenfish, walleye surfperch, pompano (Pacific butterfish), topsmelt and jacksmelt. Schools of the larger jacksmelt typically show up October through February and when they do many anglers will specifically fish for the hard fightin' and good eatin' "horse smelt." In addition, reports indicate some halfmoon (aka Catalina blue perch may occasionally show up, usually in the summer, and they too will be taken on the bait rigs. Ditto zebraperch; Snookie reported getting a 12-inch zebraperch in August of 2002.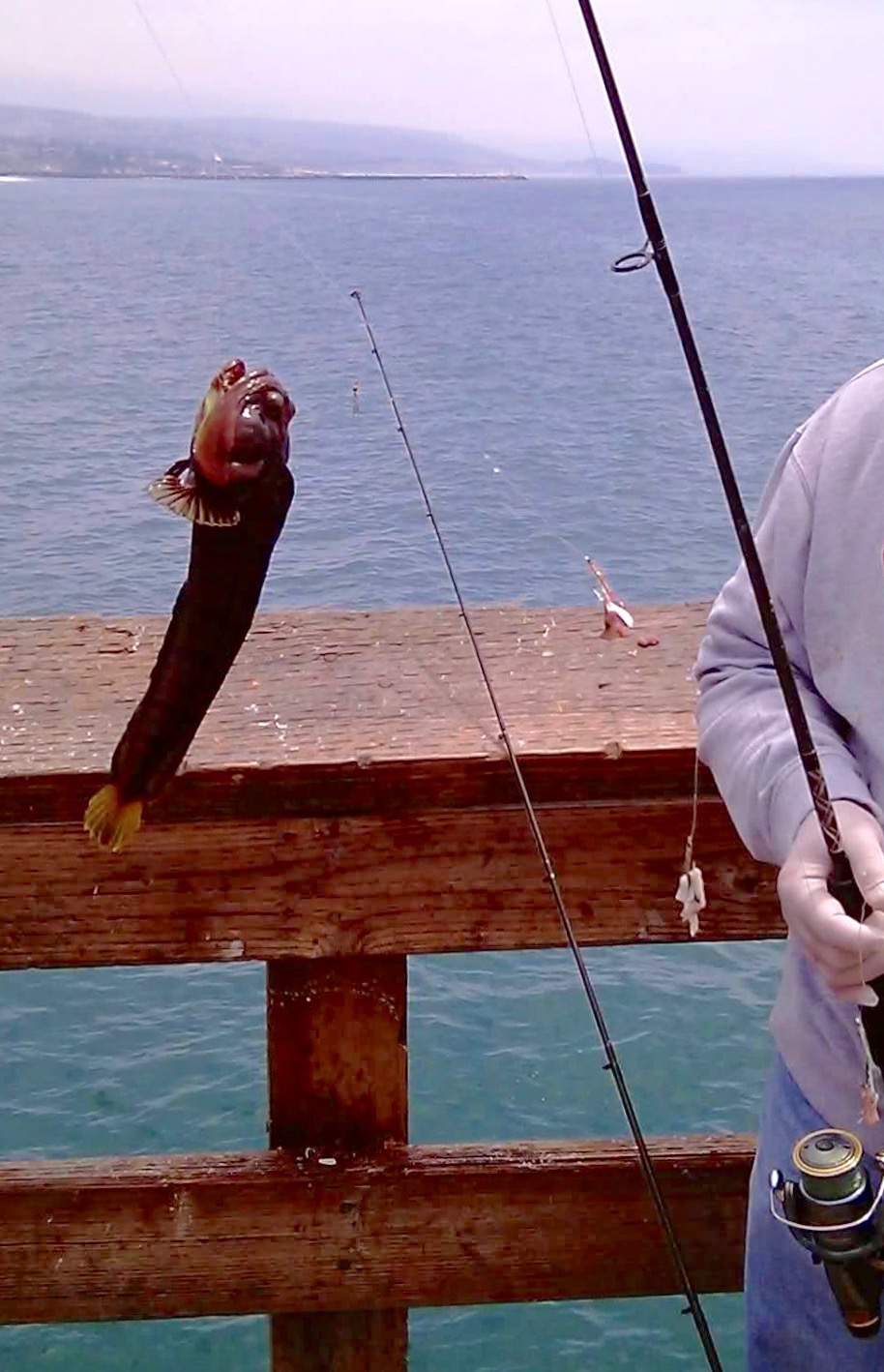 Sarcastic fringehead are much more common in the bay
This is a also a pier where you may occasionally encounter small, juvenile rockfish, especially if you're using a bait rig set-up and make the mistake of letting it get down near the bottom in the deeper water. In fact, I even caught some baby bocaccio here back in 1974. Although I only caught a couple of the small fish, they were the same fish that (in those years) invaded the waters around central California piers each year and provided hours of fun for the "snapper" fishermen. With the drastic decrease in the number of bocaccio along the coast, they are much less common at piers today (although I did catch two bocaccio at the nearby Newport Pier in June of '99.) Balboa Pier is, by the way, the southern limit for my pier-caught bocaccio. Citizen's Dock in Crescent City, up near the Oregon Border, and nearly 900 miles away, is the northern limit. A larger rockfish, a grass rockfish, was landed by Snookie in July 2003.
Inshore, try for croakers and perch. I've caught quite a few yellowfin croakers and corbina here on fresh mussels and bloodworms, and seen some nice barred surfperch caught by anglers using similar bait or live sand crabs. I've also been told that quite a few good-sized spotfin croakers are captured, not surprising considering the fact that the nearby Newport Bay is one of the best areas in California for the large croakers. Unfortunately more of the large spotfins are snagged by the "unlicensed commercial" fisherman at the pier than by anglers. Sargo are another fish commonly caught inshore to mid-pier and some are big as seen in a 17-inch, 3-pound, 14-ounce fish in July of '99.
Another fish you may see cruising the shallows is mullet and when the schools of 2-3-foot-long fish show up anglers will toss a variety of baits and lures at them, generally with little luck. They're not impossible to catch on a line and hook, but about as close as you will probably come. They're vegetarians, primarily subsisting on algae and tiny bits of food they strain from the mud and sand, and about the only thing that will occasionally attract them are doughballs on tiny, size 12 or 10, hooks. Raymond Cannon in his excellent book How to Fish the Pacific Coast recommended making doughballs with cotton, flour and bananas and even suggested adding some garlic. I'm not to sure if these fish are Epicurean enough to require garlic but that old doughball recipe does work on some fish. More common is to see the snaggers snagging them with large treble hooks, a feat that is legal but not exactly sporting.
At night, fish the inshore area using squid, mackerel or anchovies for better-than-average action on thornback rays and occasionally a bat ray or shovelnose guitarfish. Schools of fifty or more small bat rays are occasionally seen in the inshore area, generally in the fall.
Like the Newport Pier, Balboa will also see runs of squid every so often, both market squid and their larger Humboldt cousins. Snookie sent in the following report in September of 2002, "The Humboldt or Jumbo squid have been making nightly appearances for several weeks now, but are almost gone. It was a show in itself to watch as the pier was lined with elbow-to-elbow fishermen waiting for that magic hour when the squid would appear. They ran all the way to the surf following the grunion and other baits farther out. Those were happy people while the squid were there." Another run of the Humboldt squid started on Memorial Day in 2007 and lasted for several weeks (see below) while a third run occurred in 2011.
The Pier Rats Speak
Date: January 15, 1998; To: Ken Jones; From: Ben Acker; Subject: Balboa Pier
"I visited the pier mid-month and it was a virtual Mac-attack. On four-pound test and a trout rod, it was a good time…"
Date: January 1999; To: Ken—Pier Fishing in California Message Board; From: Snookie; Subject: Top piers for halibut
The message board left out the Balboa Pier [on the list of top piers for halibut]. Balboa is an excellent halibut fishing pier. My halibut fishing friends and I catch many keepers every year, and we have over 50 years of experience fishing that pier regularly all year long. Remember to always watch the food supply in the water. If there are baitfish, chances are the halibut have moved in. By the way, we all fish the middle of pier to the surf. That is where the halibut congregate. As to baitfish, don't forget the sardines as well. Unfortunately the best bait is a live grunion. DFG frowns on that bait. Remember the bigger the bait, the bigger the fish. I carry a 48-inch in diameter net for landing the big ones, and we use it. Snookie
Date: July 5, 1999; To: PFIC Message Board; From: Ken Jones; Subject: Balboa Pier
Finally got the chance to meet Snookie, "the gang," and Mark Jackson at the Balboa Pier on the morning of the 29th.
Out at the end of the pier anglers were catching mackerel but I only caught one. Saw an angler hook a 10-12 pound salmon on his multi-hook mackerel rig. He got it up to the pier but tried to bring it up by hand and it broke his line. Remember to have a net!!!
When I joined Snookie at the middle of the pier she quickly made some bait (small smelt) and we were soon fishing just for the halibut. Snookie paved the way with the first fish and Mark soon duplicated her feat. Soon after, another member of the gang caught a flattie and I was beginning to worry. But I was next and caught a pretty nice-sized fish. We took turns catching fish for a couple of hours. The net haul of halibut was 10-11 fish for the 5 (eventually 6) anglers.
Snookie proved to be a very hospitable host (as well as an obviously great angler), the gang was a great group of people, and I'm ready to go back to Balboa.
Posted by Snookie
Dear Ken, The rest of the pier rats would be proud to have you fish with them. It was a great day, and it is something for them to look forward to. That halibut you caught wasn't just a halibut but a beautiful 27-inch halibut. You left our group very envious that day. You did well. You are welcome back to Balboa Pier anytime.
Date: September 22, 1999; To: PFIC Message Board; From: Snookie; Subject: Yellowtail
Take note that the small Spanish mackerel are in at the pier en masse. A regular snagline will get them. This can mean that the yellowtail will be behind them shortly. The water temperature is on the cool side, but may not make too much difference. For those of you that are going to try for yellowtail, use a slider rig. Cast out first with just a heavy sinker. Put a snap swivel on a 3-foot leader, add the Spanish mackerel (hook in the "nose" area), and snap the swivel to the line and let it drop into the water. Even if the yellowtail don't show up there are other fish that will like this method such as halibut, sharks (bigger ones). Snookie
Posted by fongster
Hey Snookie—are there many YT (yellowtail) caught off piers? I heard that many, many years ago it was common practice to land many, probably three decades ago. I would think if there were any size to them it would be near impossible due their nature of running for structure such as the pilings. If people are catching and keeping those 2-3 pound ones, shame on them! Those are the ones that shouldn't be taken till they're at least 7-8 pounds or even bigger. Last year and the year prior it was a problem on the private boats too. Manly men saying they slayed the yellowtail when in actuality they only found and caught juveniles. What a waste.
Posted by Snookie
Yes, there are yellowtails off the Balboa Pier at times. For about 12 years now we have had them show up in September and October if the jack mackerel show up first in quantity. We don't get them every year, but it has been often enough that have learned to expect them under these conditions. The conditions are right. Going to check again tomorrow. Yes, a lot of them are the firecracker sizes, but with all the fight the bigger ones have. My biggest has been about 15 pounds. My smallest were about 5 pounds. Believe me they are a real challenge for the fishermen. As to Balboa Pier we have always gotten ours from about midway out to Ruby's. They have always been on the sides—either side. Something to look forward to. I hope! Snookie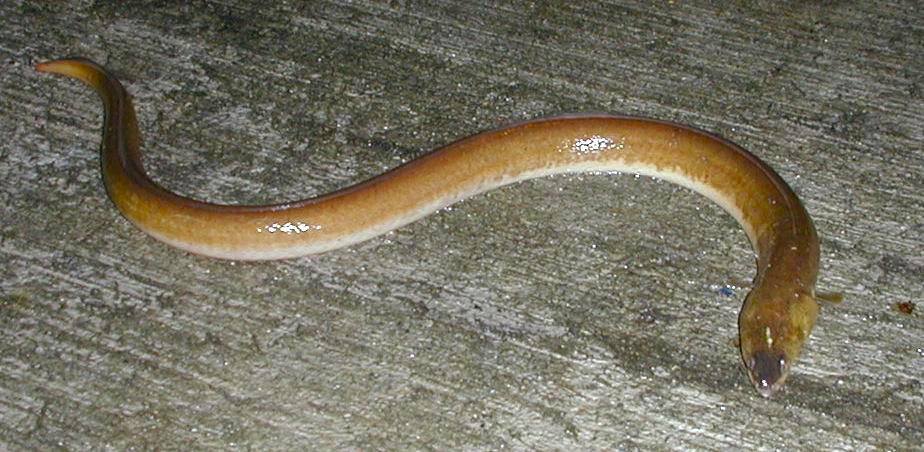 Yellow Snake Eels have been caught at both the Balboa and Newport piers
Date: September 21, 1999; To: PFIC Message Board; From: Steve; Subject: (In reply to any giant squid on Balboa Pier)
There were some giant squid off Balboa Pier tonight. They started biting around 8:30. I saw about 20-25 caught. My girlfriend caught three that were about 2-feet long. There were less squid caught compared to last night and they were about 1 to 2 feet smaller than the ones caught last night. The squid jig worked like a charm. At about 11:30 Bat rays started biting. Two were hooked as I left each w/ a 2-foot wingspan. A huge one that was hooked and lost was swimming on the surface. It had a 4-foot wingspan. Steve
Date: September 27, 1999; To: PFIC Message Board; From: Steak; Subject: Balboa Pier Report – Saturday
Hi all, Fished Balboa pier with the kids 11am to 6pm on Saturday, second "T" on the left. No rays, lots of crabs eating bait. Saw NO bait until around 3pm when the sun came out. Four-year-old daughter got a few bait balls going with bread. THREE YELLOWTAIL started cruising past repeatedly, yes YELLOWTAIL (first time I have EVER saw them off a pier). Got daughter throwing bread and catching small mackerels on Lucky Lura. She'd bring me the macks and I'd put them on son's line. Meanwhile I was tossing every jig I had…yo-yo iron, surface iron, and Fish Traps. Got maybe one head turn from the passing yellows and the tail bitten off one of the macks (smallish bite radius, maybe a halibut?) but that's it. What I would have given for a nice lively flylined anchovy! Anyway nothing but small macks, most released and a couple chunked for ray bait. Enough action to keep two small kids busy for 6-7 hours so not too bad at all
Posted by Snookie
Dear Mark, If you return to Balboa Pier, go to the phone area out by Ruby's. Fish for your bait there. You want the Spanish or Jack Mackerel for the yellowtail. After you have some go back to where you were, but try both sides of the pier.
Use a slider for yellowtail. The sliding rig I am referring to is simple. Just attach a heavy enough sinker to give you a good cast. Now cast just the sinker on the line out as far as you can. Use a 3-foot leader with a snap swivel attached to the loop end. Now put your bait on the hook, and then attach the swivel snap to the line near the tip of the rod. Let it slide down to the water. It will stay on the surface indefinitely, and then gradually sink to the bottom. If nothing hits it on the top, it might wake up a halibut on the bottom when it gets there or as it is getting there. Check to see which way the wind is blowing, as your leader won't slide well against the wind. Good luck. Snookie
Date: April 14, 2000; To: PFIC Message Board; From: Bent Rod; Subject: A question to all Pier Rats
I remember as a kid fishing with my parents off of Balboa Pier and would see tons of big piling perch feeding on the mussels. Over many years every time I go onto a pier I always check to see if I can spot any more of these beautiful fish. But it seems they have vanished, has any seen these fish lately or have they gone along the wayside…
Posted by Snookie
As to Balboa Pier, yes, years ago and not that many years we had beautiful piling perch. If you will notice the pilings have been wrapped to keep the growth down. That was and is a food supply area for all the fish. Also not too many people use the proper baits for those fish. We used the little crabs from the bay, and fresh mussels. None of this squid and dead anchovy stuff. We still have some large sargo around. They also eat the same things that the piling perch do, but they are closer to shore. The pilings close to shore are not wrapped, so they still have a feeding area. The rest of the fish such as the bonito, halibut, etc., will be back. They are here and gone in cycles for whatever reason they cycle. As Songslinger put it there is weather, toxins in an area, no food source, etc., but they WILL by back. Each year has always been different, and each year will continue to be different. That is the wonder of the ocean.
Date: June 21, 2000; To: Pier Fishing in California Message Board; From: Ken Jones; Subject: Fish Report
Fished Balboa most of Tuesday morning and afternoon. Bright and early tried out at the end; nothing but jacksmelt was around. Didn't see a single mackerel, or other fish for that matter. Joined Snookie and her charming group about 9:30 and had a delightful time listening to stories and the wisdom accumulated by a group of true experts over many, many years. Also managed to catch five halibut and one queenfish using the small smelt that Snookie provided. Saw one small blacksmith perch, an unusual crab, and a sickly barracuda (dark colored and estimated by myself at 4-5 pounds) that was hanging around the surf area until someone finally snagged it. After looking at the fish, the angler decided to return it to the water where it continued to patrol the shallow water for the next several hours. Thanks again to Snookie and the "gang" at Balboa for a great day.
Date: September 22, 2000; To: PFIC Message Board; From: Snookie; Subject: (In reply to: Hammerhead sharks off piers?
Although we haven't had any hammerhead sightings in a few years we used to get them regularly at Balboa Pier. The biggest was about 10 feet with a smaller companion hammerhead. We have had many small ones (about 4 or 5 feet). They never bothered anyone, and there were times they would come into the surf area around late afternoon. There were swimmers in the water, but the sharks were not interested in them. Most of the time they are looking for a fish menu. These times have been in either spring or fall not summer. Snookie
Date: March 14, 2001; To: PDFIC Message Board; From: Snookie; Subject: Tuesday Balboa Pier
Finally, a nice day was had Tuesday on Balboa Pier. The bait were there and no problem to catch. I did catch a Cabezon (only about 10 inches) and lost a good-sized croaker in the surf area, which is where I fished all day. The end fishermen were doing nicely on mackerel at last.
Early afternoon we had a full-grown gray whale come to us in the surf. It stayed for about 30 minutes. He or she was right against the pier. What a sight! We had spyhopping, flukes in the air, and pectorals in the air. We also had about 100 or so people watching. If any of you have this happen near you, have everyone speak only in whispers. If they are quiet, the whale will usually stay happily. (Can you imagine 100 people being quiet? They were, and the whale stayed). Sights like this make me glad that I carry a camera. I am taking the roll of film into the processor today. A beautiful day, some fish, lots of bait and whales to watch—what more can you ask for? Snookie.
Date: April 18, 2002; To: PFIC Message Board; From: Sniookie; Subject: Balboa Pier Big Halibut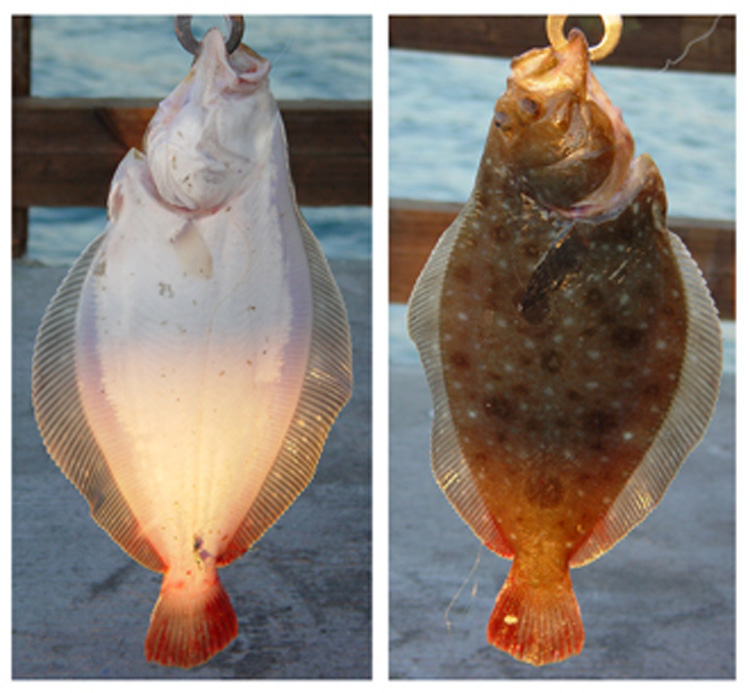 It was a wonderful day today! I broke my pier record for halibut size and caught a 37-inch halibut on a nice sized smelt. That fish should weigh about 20 pounds. My friend Bob was with me and it was a good thing he was because I handed the rod to him so that I could net my fish. He is excellent with a rod and I trusted him. About 25 minutes later we had the fish in the net. Do you have any idea how hard it is to get a 37-inch fish into a 28 inch in diameter net? We were exhausted after that. I lost another big halibut under the pier plus got some smaller ones. My other friend lost a big one under the pier as well, but also got some smaller ones, plus my friend Bob got smaller ones up to 20 1/2 inches. We had so much bait we threw out bait when we left. As we were leaving there were three sets of two whales each set came by us in the surf. They were cows with babies. What a sight to see. Yes, it was a great day for us!!!! Snookie
Flatfish include halibut, sole, turbot and sanddab
Date: July 30, 2002; To: PFIC Message Board; From: Steve; Subject: Jumbo Squid
I hate to spoil it for all of you who like to keep secrets but. The Jumbo Squid were back in full force last night. Got out to Balboa at about 8pm. By about 8:45 the first squid was caught. Between me and my brothers and sisters boyfriend of us we must of caught about 30 squid. It was very different compared to a couple years ago. The squid were a little smaller and much more aggressive. They were schooling about 1-4 feet below the surface. You did not even need to yo yo your jig or anything once you dropped your jig in the water they hit. They were following large schools of smelt. This went on in waves till about 11pm. Good luck finding a spot on the Pier tonight.
Date: August 17, 2002; To: PFIC Message Board; From: Josh; Subject: Giant Squid-Balboa
Well, I'm back from Balboa pier. I'll make it short because I'm tired. The Squid are back at Balboa, and I got there when they arrived at about eight. I used a squid jig on the 10' Ugly Stick Johny kindly gave me with 17# line on a Shakespeare Tidewater reel. The result: about 27 LARGE squid packed in neat layers in between layers of ice in the laundry room sink, since they won't fit in the freezer. At about 9:30 the squid largely took off to parts unknown and I moved just outside the surf zone… anybody with some calamari recipes (especially how to fry them) please let me know. I sure hope the neighbors like squid lol.
Posted by youngmanandthesea
Greetings, Balboa Pier was a mess last night. I arrived at 8pm and saw rods bending — over all around me. There were people everywhere as the squid made a strong showing. I saw piles and piles of squid lining the pier. Boy I'd hate to be the dude responsible for cleaning up that mess!! Anyhow, got set up with my egg sinker/squid jig set-up and joined in on the party. People were hooting and hollering all around me. It was a festive event. Lots of kids, and old people having fun. Amazingly, I remained pretty clean after the ordeal. Well, except for one squirt on the head. I caught about 20, but could have caught many more if I had the appetite, and the strength to carry those suckers back. On a different note, I lost my rod in the melee that resulted after the squids moved in. I was bummed out!! But then, I saw an old friend and we started talking. As we were talking, a gentleman came up and asked if I was the dude that lost the rod. (You're a true gentlemen Rod…Thanks!!) Got my rod back. Thanks for all the useful tips guys. I had a blast last night!
Date: July 13, 2003; To: PFIC Message Board; From: Snookie; Subject: (In reply to: Anyone ever catch Salmon in the surf? posted by hoho)
My king salmon was caught in the surf area of the Balboa Pier on a 6-inch live smelt on a sunny day in the latter part of August. The smelt is the only part that makes any sense. The rest is out of the ordinary, but it happened nonetheless. It was 29 inches and 10 pounds and oh so beautiful. I could have cast from shore and found that salmon, but I just so happened to be on the pier. Keep trying. Strange things do happen. Snookie
Date: October 17, 2003; To: PFIC Message Board; From: tunanator; Subject: Too many "meat" fisherman at Balboa
Man, I don't mean to sound like a total jerk or something, but MAN these 6 at a time bonie/mackeral fisherman are getting out of hand. They are flocking like vultures and seem to be multiplying. There were NO spots at the back rail today and EACH guy was fishing a cheap heavy spinning rod with 30 or 40#, 6-10 hook Sabikis with jigs at the bottom, and catching 3-6 bonies at a time. Half of them don't cast straight, DONT look behind them when they cast or bounce fish, and are tangling lines. One even hooked a buddy in the leg with a jig, PAST THE BARB, 2 POINTS OF THE HOOK. They care about ONE thing, catching as many fish as they can until they fill their COOLERS (not just buckets). There seems to be little or no regard for common courtesy, safety, avoiding tangles, or let alone that hooks are sharp.
Catch a limit and let someone else in please… when bonies are around, try ONE jig, not a meat hook Sabiki. But I guess they aren't there for the fun of it. I was only able to get ONE bonie during wide-open flurries because they were literally catching most of the school by the time they got to my side of the pier. And the only one I did manage to catch was when one guy left a spot open and I got a jig back there. The guy who got hooked in the leg by the jig didn't even get to catch any bonies. And the meat fisherman didn't leave until the bonie bite stopped and turned to straight mackerel, and even then they didn't leave till they were full of mackerel. What do they do with all of those? They seem to do it a few times a week if not daily.
Sorry for the rant, but this was WORSE than a 1/2 day boat on a Sunday in July, at least on the boats most people respect limits, and they DONT leave a bunch of trash, rubber gloves, rags, chopped up fish, you know what I'm talking about… the same reason OC piers close at midnight now.
Next time that happens I'm over it, just gonna fill a bucket with dines from the Sabiki, go closer to shore, and try for halibut…
Again I'm sorry, but I had to say something now that I experienced how bad it can get, and this was a weekday, and heard it gets worse.
Date: September 6, 2004; To: PFIC Message Board; From: Gary Evans; Subject: Balboa Labor Day Nightmare
Fished Balboa today from 8 am to around 4pm. Saw some of the regular rats out today, was hard to pick them out from the mass of people who showed up today. I heard it was like a race when the gates opened, people pushing through the gate and running to the end. Just to get a chance at a Bonita. Are they really that good to eat?
I fished between the two tees, as there was no room from the second tee out to the end. Where I was fishing there was not much going on. So since the fish weren't biting, I spent a lot of time picking up trash and dead fish others had left on the ground. I don't understand how they cannot get to the trashcans. I have not seen the pier this messy for a long time. There were a few bonito being caught out on the end, and around 3pm the water started to boil with bait being driven to the surface. Some bonito were being caught when I left. I only managed one leopard shark around 3 feet, broke him off before lifting to the pier. Too many people were rushing up to ask what I was going to do with it. So I pulled hard and broke the leader. Frustrates me when people want your fish before you have even got it up to the pier.
Seals were around in force, but were not bothering the fisherman. Saw a few YFC caught, some thornbacks, one hali about 18″. Lots of bait still around the pier. Dines, smelt, and small macks. All in all it was a frustrating day with people crowding in and tangling lines. I forgot how bad it can get when the news is out about good fishing. I think I will wait until the bonies leave before I come back out hali hunting. I think the crowds will leave once the bonies leave. Gary Evans
Posted by fishy
The meat fishermen at Balboa sell their fish. That is why sometimes when the fishes are biting these fishermen come in droves. They sell a lot of the fish to fish market and friends.
<*))>< "Something is FishY here"
Date: November 17, 2004; To: PFIC Message Board; From: bendopolo2004; Subject: O.C. Micronita Balboa Pier
Hit Balboa Pier again. Went out to the end and for the first time I couldn't make any bait. The Dinos' were there but just wouldn't eat the Sabiki. The couple of small baits I did snag were instant Bonies. Finally I was ready to quit, and as I walked back down the pier, I noticed the bait getting thicker. Mostly smelt, some grunion, and micro-mackies. Bait was easy to snag and the small macks would eat sometimes. The surf was loaded with Bonies and I ended up giving fish to some of the more needy anglers. They watched me catch bait, and flyline it. They watched me nail Bonie after Bonie, and yet they sat there on their "arses" and fished with chunks of dead fish or mussel, or squid. If you really want to improve your fishing odds, try new things, be creative, do what the local hot sticks are doing! We are out there to catch fish; this is not a spectator sport. Except for all those cute gals walking around, now they can spectate all they want!
P.S. The Fluorocarbon leader made all the difference today. Three feet of 15 pound tied on with a blood knot and a Number one Mustad 9174 on the Flyline. Go get 'em guys, Jim
Date: January 1, 2005; To: PFIC Message Board; From: Posted by hoozdragging; Subject: Bonito
Hello, my name is Angie. I am ten years old and I am a 5th grader. Every night I read this site's message with my Dad (hoozdragging). I like to report myself today because I caught the baitfish and the big fish (Bonitos). When I got out of Barnes & Nobles, the sky was clear. It was blue with white clouds. So I asked my Dad to go bonito fishing. I arrived at the pier at 1:30PM. No baitfish. Just a few smelt near the sand. After spending sometime I got two little sardines. Right after I wetted the sardine, I got hooked-up. Suddenly, KABOOM! Out of the blue my fishing rod bended big. I started to reel it in very, very carefully because I use a circle hook. Just below the pier the bonito swam around the piling. I relaxed the line and the fish turned around. While I was reeling up the fish, it was flipping in the air and it felt very heavy. I thought it was monster! But on the pier it was measured 18". About an hour later I got another bonito bite. This one was 17". This time it was easy. Later in the afternoon until sundown I caught lots of mackerels that I cut up and fed to seagulls. Lots of travelers saw my bonitos and asked a lot of questions to me. If it does not rain tomorrow, I would like to try again. Happy New Year and Happy fishing, Angie."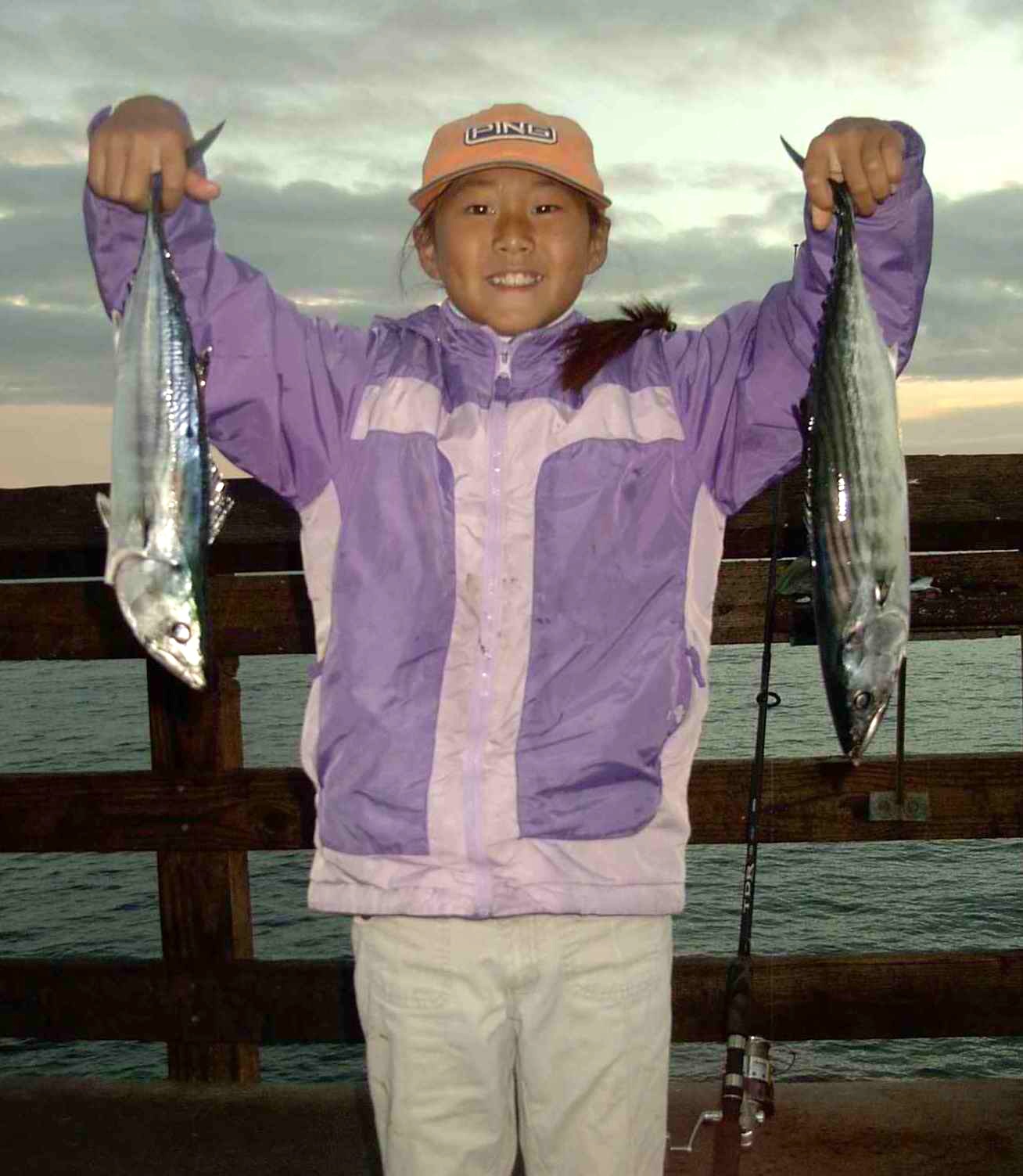 Angie and her bonito
Date: June 14, 2006; To: PFIC Message Board; From: Snookie; Subject: Balboa Pier
Yesterday was the day of days for catching halibut. My keeper was 22 1/2 inches long and delicious for dinner. It was the only keeper caught, but the halibut went crazy all day. We caught somewhere between 50 and 100 halibut for the four of us. Each bait got a fish or a lost fish. It was hard to keep the bait buckets going so we just caught our bait as needed. Two of us were always manning the bait lines it seemed. I myself caught well over 30 halibut. We also caught some nice yellowfin croakers and a corbina. Had some sardines for bait part of the time. Couldn't hook what was taking them, but it was either barries or white sea bass. There was one big white seabass early on. The wind was terrible all day, but we fished the leeward side most of the day. It was a day that the bonito should have shown, but they didn't. The mackerel were everywhere. Hope tomorrow is as good or better. Snookie
Date: April 25, 2007; To: PFIC Message Board; From: dompfa ben ; Subject: My favorite of all time (pier-related!)
…took place on Balboa pier when I was in High School. A fellow in a wheelchair was pushing himself along down the pier, a gas-can in his lap. After stopping at several fishing groups along the rail, he finally covered to distance to my location, and began his tale of woe.
Apparently, his van was out of gas over in the parking lot at the base of the pier, and his wife and kids were in there. None of them had eaten since yesterday, and he needed a little money for gas and food.
Maybe it was the wheelchair, maybe it was the possibility that there MIGHT actually be hungry kids over there. Somehow, he piqued my compassion, and I pulled out the three bucks I had crumpled up in my pocket (change from a Super Big Gulp, I imagine…)
Somehow in the transfer, the money left my grasp before it reached his, and with the early afternoon breeze, the half-crumpled bills started blowing towards the opposite side of the pier.
Immediately, the man jumped up from his wheelchair, sprinted towards the rolling ball of money, and stomped it into the pier surface with a well-placed foot. Leaning down like the otherwise healthy fellow he was, he lifted the few bucks, and quickly squirreled it away in the gas can! Replacing the cap on the red plastic container, he returned to his seat in the wheelchair, finished his sweep around Ruby's (no one seemed to want to give him much after his miraculous episode of temporary walking faculties), and wheeled down towards the base of the pier.
I would have been angry if it had not been so funny. Still, I couldn't help but feel a little taken, and perhaps, a little wiser. And no, he didn't turn into the parking lot.
Date: April 18, 2008; To: PFIC Message Board; From: Snookie; Subject: Big Skate—More Balboa Pier Keepers
Yesterday Randy caught a 29-inch halibut about mid-way out. It was so fat and nice. It looked like the same size I lost last week in the surf when it jumped out of the net after it was well netted. We did discover an interesting way of filleting the halibut at ease. I am left handed and he is right handed so I filleted the part that is meant for left handers, and he filleted the parts meant for right handers. That works very well. Yes, he shared some fillets lucky for us. He caught that halibut on a shinerperch. We were able to get bait all day, but the other halibut we caught were small. The big thing of the day was a fish called a BIG SKATE. We had never seen one. This one was about 6 feet across and very spotted. It had an extremely pointed nose like most skates. A fellow on the end had hooked him in the wing. That fish was beautiful. Other than that we saw a lot of mackerel. Snookie
Date: January 6, 2010; To: PFIC Message Board; From: Snookie; Subject: Black Seabass at Balboa Pier
Saturday a big Black Seabass was caught on the end of the pier. My friends at Ruby's couldn't wait to see me when I arrived on Tuesday, to tell me the story. I don't know what the fellow used for bait, but the fish liked it. He had quite a tug from the weight of it, but he got it to the surface. Someone tried to gaff it with a grappling hook, but couldn't lift it. Of course that is very illegal because of it being a black seabass and they are illegal to land. A boater came along and helped get the fish to the shore area. By that time enough people had gathered that someone in the crowd knew about black seabass being illegal to keep and apparently called someone of authority to let the person know that he'd better release that fish. Well the person with the fish recognized that he was going to have a problem with keeping this fish so he did release it and with help it swam back to deep water. As to the size of this fish, they say it was over 5 feet long with a large gerth. Would love to see a picture of it. With all those people around surely someone got a picture.
Posted by Moonbeam: Think you're gonna wish you hadn't seen this.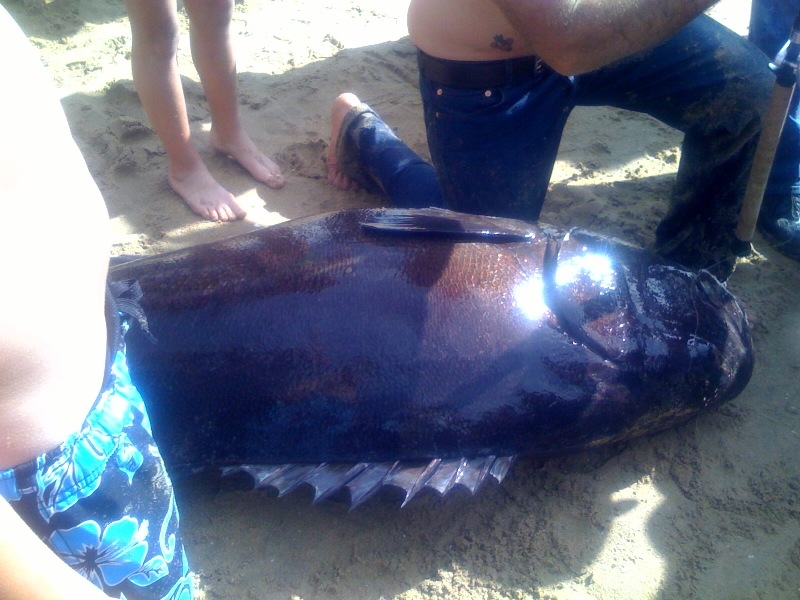 Fisherman at Balboa Pier hooks beast from the deep
A reader sent me this photo of a behemoth fish someone caught off Balboa Pier on Sunday. If anyone knows the details, I'd love to hear the story… Here's what reader Kathleen Jackson, who took the picture, had to say about it: "The fish was about 5-6 feet long weighting about 150 lb. I was told it was a Black Sea Bass (something you don't see very often). The guy in the picture kneeling is the one who caught. He said he fought with it for about 30 mins. Once it hit the surface no one could bring it up, so the crowd flagged down a passing speed boat and they towed it to shore."
—Brianna Bailey, All Things Newport Beach, Daily Pilot, January 5, 2010
Eventually the angler was prosecuted by the California Department of Fish and Game.

Date: August 11, 2015; To: Ken Jones; From: Snookie; Subject: Halibut & Yellowtail
Thought I would tell you about Sunday and Tuesday fishing. Sunday on my last bait I caught a halibut at least 30 pounds. Because I didn't have my usual netters with me I had to rely on some guys on the pier. Although I knew them they were not good netters. In hindsight I should have given them the pole and I should have netted the fish. Oh well, she was so beautiful!!!. I had complete control of her until one of them touched the tip of my rod. Why? Who knows? By the way, my brother caught the big halibut today, but he had his hook and leader break. We did get to see her though. Today, Tuesday, I caught a 15 pound yellowtail in the surf area on a sardine. He had almost spooled me when I saw what was happening. I got him back to the tee and he went into the surf where we could see him very well. That is where I lost him. Both fish were on my small rod and reel. I am going to take the bigger ones Thursday. Didn't I tell you with all those Spanish jacks that we could have yellowtail this year. I just didn't expect them to be that big. Needless to say I am having a great time!!!
Date: September 1, 2015; To: PFIC Message Board; From: Snookie; Subject: Yellowtail off Balboa Pier
Today we caught some yellowtail. Mine was about 5 pounds. My brother's yellowtail was about 10 pounds. There were about 3 other yellowtail off the end. We were in the surf. We had some other strikes too, but they didn't stay on. We were using live sardines and Spanish jacks. It was fun!
Date: September 4, 2015; To: PFIC Message Board; From: Snookie; Subject: Striped Bass at Balboa Pier Today
Randy got a beautiful striped Bass this morning on a sardine. It probably weighed about 6 pounds. I caught about a 35-inch barrie, but as Randy was netting him he came unhooked. I did get a nice yellowfin croaker, but I was already having fresh striped bass for supper thanks to Randy's generosity. Both of us had a strike on every bait. We caught so many halibut, even if they were undersized, that we lost track of how many we did catch. No one was fishing with us in the surf area. We had it all to ourselves. What a day!! Yesterday on the other side of the tee a man and son caught a nice bonefish. Hadn't seen one here since 1983. Caught it on a dead anchovy. It's beginning to sound like a potential El Nino for sure now.
Date: November 7, 2017; To: PFIC Message Board; From: Snookie; Subject: Influx of small bat rays
In the surf area there was an influx of small bat rays that probably exceeded hundreds of them on both sides of the pier. Since I have spent my whole life down there, I have never seen anything like it before. This week we have had a young whale with unusual markings and a medium size turtle in the surf. What is next?
Date: October 12, 2018; To: PFIC Message Board; From: Sbookie; Subject: Bonito Run to Beat All Previous runs at Balboa Pier Yesterday
Yesterday it was fantastic! There were bonito from the end to the surf all day! All were big. They all ran from 5 to 10 pounds. Some of them had to be netted if the line was to light to lift them. There were six of us doing the majority of the catching and retrieving so we had three people also doing the netting and the getting of more lures when needed. It was chaos a lot of the time, but oh so much fun. I hadn't seen this in almost 40 years. Today there were only a few big ones caught, and the wind picked up to about 17 knots. Tomorrow it is supposed to rain and have thunderstorms. We"ll see.
Posted by Angler 67
No Doubt Snookie, I just came out on a whim yesterday and that size & quantity of fish I haven't seen since my teens (1980's) LOL my hands are all cut up hand lining up (sometimes with sea lions attached). Those brutes… Can't believe the stark turnaround today.
Posted by Rusty
I was there too! But not expecting anything like what we saw, those huge boneheads attacking jigs like they did, its been a long time since I've seen a bite like this on the pier. Amazing to see these giants landed, they fight like crazy! I landed 1 out of 8 hookups, lost 3 to sea lions, pulled hook on the rest, my Kroc was way too small! But plenty happy! The previous Sunday I was out there and the ones I was catching were a lot of smaller, 2-3 lb. Planning to go out there tomorrow, hopefully they are still Around.
Potpourri — Possibly more than you may want to know about the Balboa Pier
<*}}}}}}}}}>< — Fish counts done at the pier by the California Department of Fish and Game from 2004 to 2009 showed that just like the counts at the nearby Newport Pier, Pacific mackerel dominated the catch. Here the species count was 19 with the leading fish being Pacific mackerel with 1467 fish. Pacific sardine came in second at 397 fish while 193 Pacific bonito were counted. All three leading species are pelagic in nature, often traveling in large schools, and species that, when present, will typically see large numbers of fish caught. Pacific mackerel were available all five years while the bonito only showed in 2004 and the sardines only in 2004 and 2005. They were followed (numerically) by jacksmelt, walleye surfperch, white croaker, topsmelt, shiner perch, jack mackerel, queenfish, barred surfperch, California lizardfish, yellowfin croaker, northern anchovy, white seaperch, spotfin croaker, California corbina, barred sand bass and sargo
<*}}}}}}}}}>< — Cass, a friend of Snookies, caught a 10-pound, 29-inch striped bass off this pier in 1991. It was the first striped bass reported caught on an Orange County pier even though stripers have been planted in Newport Bay since the late 1960s. Snookie says the bass was caught on a live smelt. "I was standing beside him when that fish hit. It was a beautiful sight to see it jumping. I netted the fish, measured him, photographed them and sold the article and picture to California Angler when they were still in business," said Snookie. Several striped bass were recorded from Orange County piers in 1998, the year when the normally elusive linesides invaded southern California waters.
<*}}}}}}}}}>< — Whenever the big Humboldt squid make an appearance, and the word gets around, there is a crowded, chaotic atmosphere at the pier. Squid jigs will be a flyin' and people hoppin' out of the way of the splattering ink that's spewed by the gnarly creatures as they are brought over the railings. In May of 2007 Ben (dompfa ben) and his brother Bryan visited the pier and experienced just such an event. Shortly after, on May 29, they posted a report on their visit together with pictures. On May 31, Ben posted a follow-up, tongue-in-cheek story on the collapse of the pier due to the number of fishermen. The story became an immediate "Classic" on the PFIC board. The only problem was that it alarmed some readers who thought the story was real. It reminded me of the uproar over the infamous "War of the Worlds" radio broadcast by Orson Welles back in 1938 (on a much, much smaller scale).
Date: May 29, 2007; To: PFIC Message Board; From: dompha ben; Subject: Jumbo Squid Invasion at Balboa! (pictures)
Around 3:30, we… drove around to Balboa Pier. When we arrived, there were only a few families at the end, enjoying a wide-open mackerel bite. I split-shotted a small piece of mackerel and kept a few of the cannibals for bait. Almost all were released; those that didn't look like they would make it (eye injuries, etc.) were given away to folks.
As the afternoon turned to evening, more and more people showed up at the end of the pier. By the time the sun was setting, it was shoulder to shoulder, with people wrapping all the way around Ruby's.
As dusk fell, I saw the first squid cruise under the lights. At first, I thought it was a baby seal, but I noted the erratic pulsing movement, and realized what it was. Soon, there were hundreds of the huge critters flashing in the water. Bryan and I tossed out squid jigs, and immediately hooked up. Everyone on the end of the pier was bendo…it was incredible! I haven't seen that much excitement on a pier for a long time.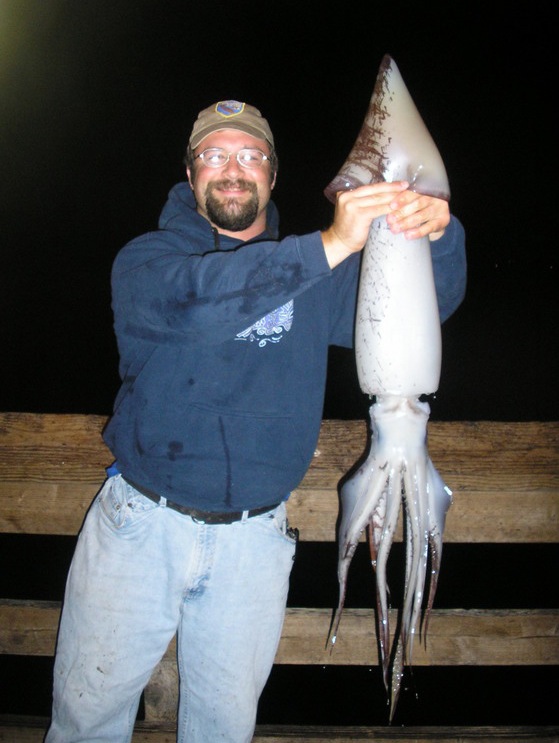 DOMPFA Ben with a jumbo squid caught from Balboa Pier — Don't forget to bring a landing net for reference, I'm 6'3″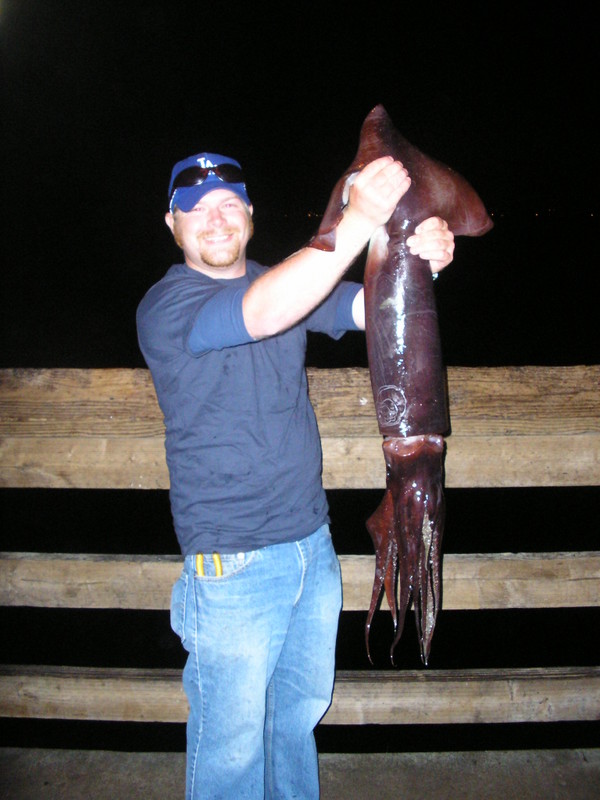 Calstar Bryan poses with an angry squid at Balboa Pier
If you do catch a big squid, stay clear of the tentacles and the sharp beak. They can do damage to your flesh, and give you a painful experience!
After a solid 40 minutes of wide-open squidding, they seemed to vanish just as quickly as they had arrived. I didn't keep any of the beasts, as I have a few slabs of calamari in my freezer from a squid my brother Dan gave me a few weeks ago. Instead, the squid we caught are going home with some of the nice families with whom we fished tonight, including a couple of people that didn't manage to land any squid of their own. I don't like to give away my catch as a rule, but in the case of squid, which don't release well, I didn't mind.
All told, the pier probably landed around 50 squid by 9:15, with over 100 lost due to light line, pulled jigs, inexperience, and unpreparedness. I had one of only three nets at the end of the pier, and it was being passed around like community property… I didn't mind, actually, and stopped catching squid for a while so I could help people net theirs.
My hoop net was in high demand tonight…Did I mention…BRING A NET!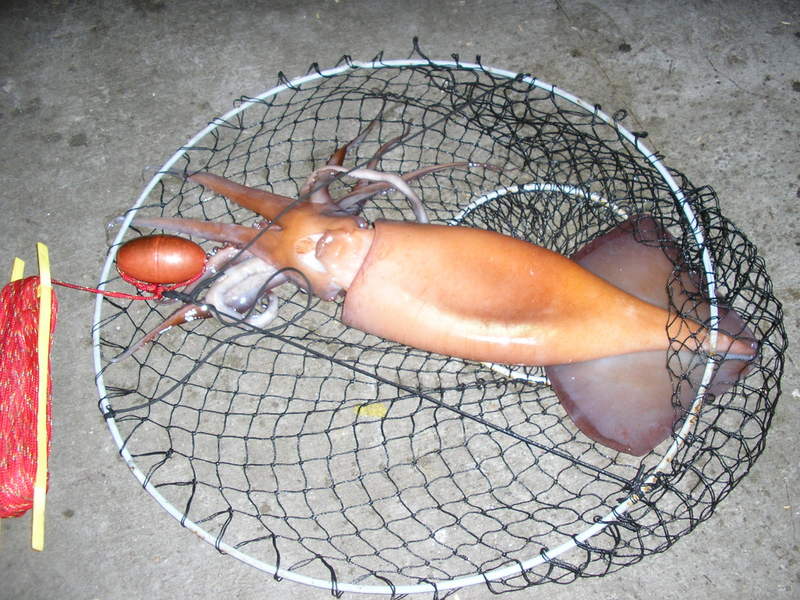 Everyone was appreciative, and no one fought, complained, or acted too greedy. I can see why people think Balboa is the "friendliest" pier in SoCal.
Word has it the last few nights have had similar showings of the big squid at Huntington, Newport, Balboa, Oceanside, and Dana Point. Don't forget a landing net… these squid are BIG. By the way, I'm not blowing up the spot. It's already blown up, and the number of people using cell phones to call in their buddies tonight was almost comical. As we walked down the pier leaving, there were hoards of people coming in with coolers and buckets. I hope the squid came back to give them a repeat performance…because they were gone when we left. Happy hunting…
Posted by Calstar Bryan
Hi Everybody- Thanks for all the kind responses. The squid were (no pun intended) a blast to catch. As for rod and reel combos, I was using an 8ft. jig stick coupled with a Daiwa Sealine 30 tossing 30lb. test and they were still ripping drag and putting tons of bend-o in the rod.
Ben seemed to take top honors in "Fight of the Night" fishing an Abu 6500 on an 8ft. 15lb. rod with 50lb. Power Pro. I can't tell you how jealous sick I was watching him fight those freight trains on that light gear.
As for jigs, Ben was rigged pretty traditional for squirts, working a plastic squid jig 12 inches above a four-ounce torpedo sinker. I threw a painted glow-in-the-dark torpedo sinker with squid hooks and that seemed to work well too. Anglers fishing neon glow sticks (green or purple) were hooking up pretty consistently. Unfortunately, as Ben mentioned, some squid unbuttoned due to pulling the jig, inexperience and/or too light of line. It was kinda' entertaining though seeing some of the broken-off glow sticks breeze through the water then disappear into the depths.
I've never seen such excitement on a pier in all my life. People were cheering and high-fiving while others patiently played out the big cephalopods waiting for a landing net to be lowered. Complete strangers encouraged their fellow anglers on throughout their fights as fresh ones were being hooked up around the entire end of the pier. Oh to be a patron of Ruby's, witnessing all this from a booth, must have amazing. The experience was truly awesome. If my brother reads this…Brady sorry I inked up your jeans.
The following spoof generating quite a bit of comment!
Pier Collapse Prompts Investigation
by B. Russell Acker, Staff Writer, May 31, 2007
NEWPORT BEACH– In what is being called a freak accident, the Balboa Pier collapsed under the incredible weight of a large crowd of fishermen, and plunged into the roiling surf, late Wednesday night. While no one was killed in the incident, scores were hurt, and hundreds have already filed claims against the city for their injuries and loss of fishing gear.
Nick Tripodes, a local merchant, witnessed the ordeal.
"I heard a loud snap, followed by screams and a tremendous splash," recounts Tripodes. "You could hear all those people swimming for shore in the dark. It was awful."
Newport Beach Police Sgt. Raymond Devonian cites eyewitness accounts that suggest the pier collapse was caused by giant cephalopods.
"When the giant squid come in, the pier loads up with [anglers]," stated Devonian. An avid angler himself, Devonian empathized with the calamari-crazed fishermen. Still, he encourages anglers to be safe.
"It's just not designed to support that many people," Devonian said about the pier, now little more than a concrete and wood jetty jutting out from the shoreline at a right angle. "What we're going to do with the tons of squid jigs that are washing up on the beach I really have no idea," said Devonian.
Initial reports from the Army Corps of Engineers suggest that over 17,000 people were on the pier Wednesday night at the time of collapse.
"That's astronomical," said Ken Jones, author of Pier Fishing in California. "It's not the kind of thing we [pier anglers] take lightly. When this sort of thing takes place, there's really only one question: Where's the tartar sauce?"
Jones' comments were merited by how rare it is for the tasty cephalopods to swim en masse this close to a pier.
It is unclear at this time if last winter's cold weather spared enough of California's lemon crop to meet the demand of calamari anglers. "Let's just hope the price of lemons makes these eight squid I caught last night worth it," stated one soaked angler. He did not wish to be identified, but added, "Balboa is still the friendliest pier in California. I'll be back."
Several organizations are calling for a probe into Wednesday's catastrophe. Governor Arnold Schwarzenegger (R-CA) exercised his executive powers early Thursday morning, declaring a state of emergency, which makes many anglers eligible to apply for federal aid to replace lost fishing gear.
At a press conference, Schwarzenegger's comments were short, but hit a sour note among California's pier anglers.
"You are mine now! You belong to me!" exclaimed Schwarzenegger. It was not clear if Schwarzenegger was speaking about the Balboa pier collapse, or if he was simply quoting lines from the 1990 film, Kindergarten Cop.
What is clear is that the Governor has called for the immediate closure of all piers in the state, until such time as they can be inspected and deemed safe.
When asked when the piers might be reopened, Schwarzenegger only stated, "You forgot the second rule in a crisis situation…"
He did not comment further, leaving many pier anglers and residents of the quiet Newport Beach community to wonder about their beloved pier.
Another run of Humboldt Squid occurred in 2011.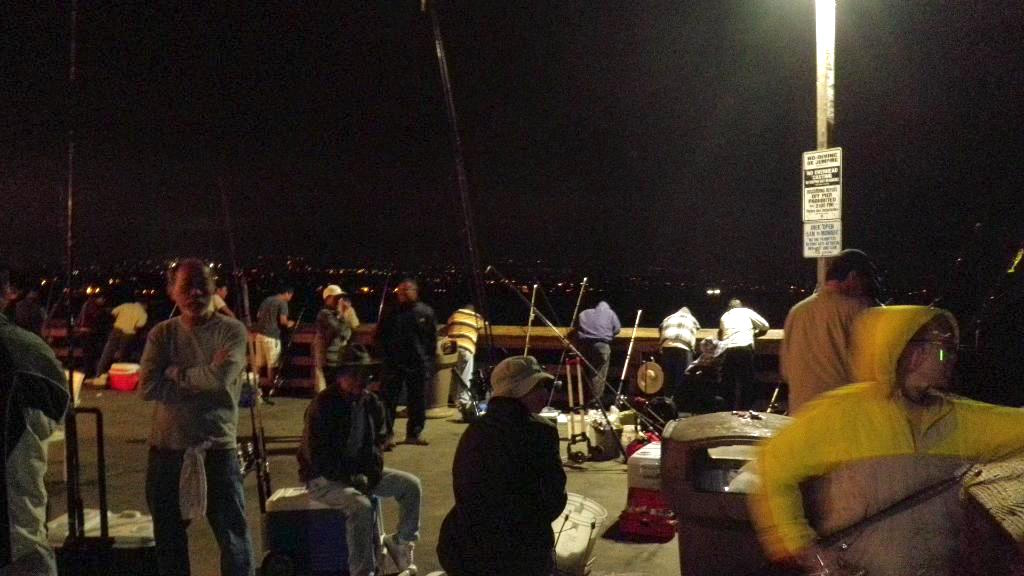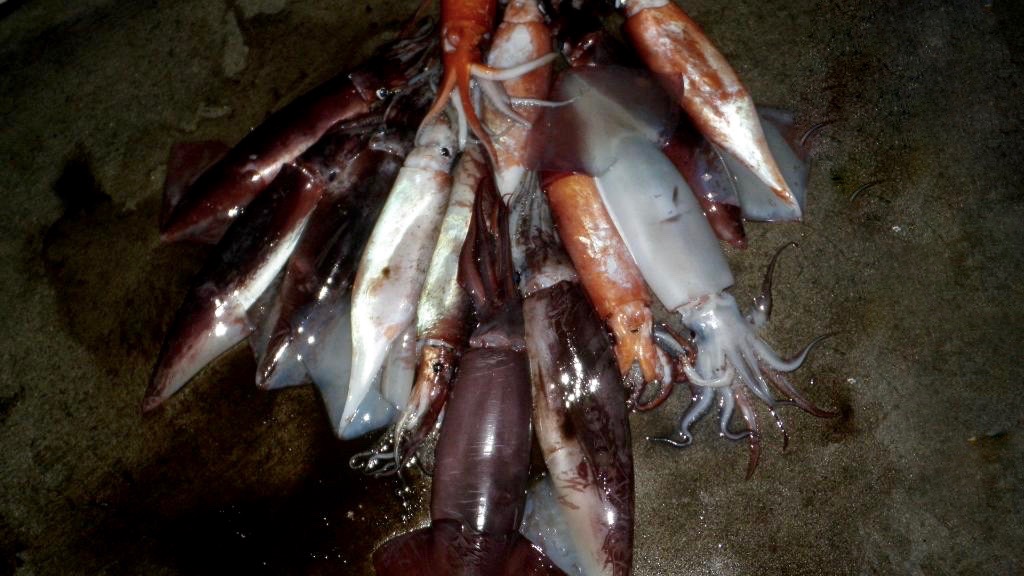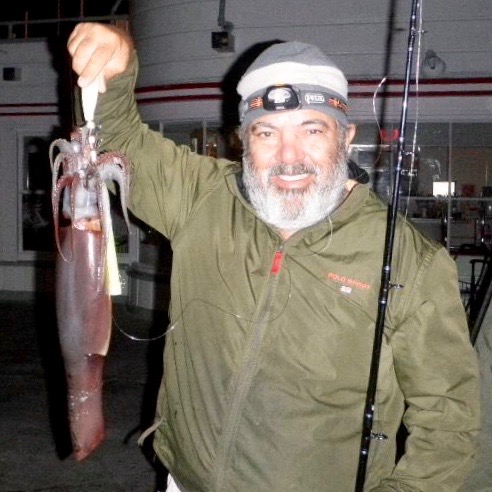 Mahigeer (Hashem Nahid) and a jumbo squid
<*}}}}}}}}}>< — During the 1930s and its big band era, the Balboa Pavilion became a favorite stopping spot for bands such as the Benny Goodman orchestra, Count Basie, The Dorsey Brothers, and Phil Harris. It also saw its share of marathon dances during that crazy period. One dance step called the "Balboa," the "Balboa Hop," or the "Balboa Shuffle," originated at the pavilion and apparently swept across the country for a short period of time.
<*}}}}}}}}}>< — It's always nice to have a restaurant or snack bar on a pier where you can get a bite to eat without walking off the pier. Ruby's Diner at the Balboa Pier is special given its status as the first Ruby's and the fact that it replaced the old bait and tackle shop out at the end of the pier.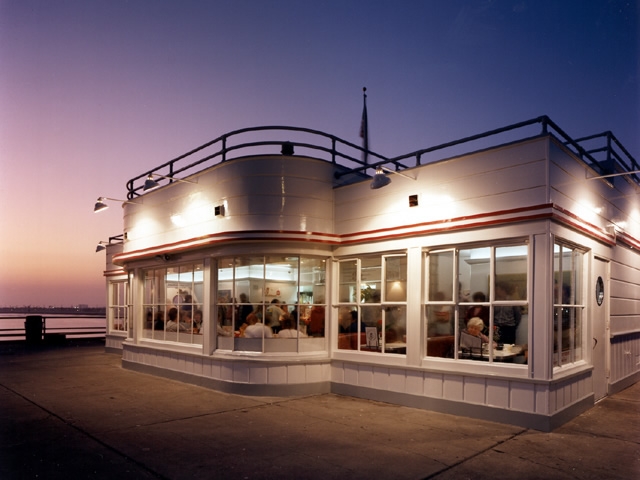 CATCHING UP WITH …
NEWPORT BEACH — During Doug Cavanaugh's 18 years as a Balboa Island resident, he spent a lot of his time exploring the area. He frequented the beach and took long runs along the shoreline. Little did he know that his love affair with a dilapidated, abandoned structure at the end of the Balboa Pier in 1980 would later house the first diner in the Southland phenomenon known as Ruby's Diner.
At 26 years old, Cavanaugh convinced longtime high school friend Ralph Kosmides to venture into a new dining experience that focused on good food at low prices in a 1940s setting. In 1982, Cavanaugh convinced the city of Newport Beach to allow him to build a diner from the existing 1940s bait shop. The terribly neglected facility had been vacant since 1977.
Costs associated with the building's rehabilitation would leave Cavanaugh and Kosmides penniless. Prior to the diner's grand opening, the two business partners nervously wondered if they had made a mistake. The smiles from curious passersby would later ease their minds. "It was the first indication that we had a success on our hands," said Cavanaugh, now the president of Ruby's. "People were looking for a simpler time."
And they found it in Ruby's, Cavanaugh said. Cavanaugh named the diner after his mom, Ruby Cavanaugh. Ruby, who lives in Tustin, resisted when Cavanaugh first told her he would be naming the diner after her. Ruby's love of the 1940s era was the inspiration for the restaurant. She gradually became comfortable with the idea. "She really likes seeing her name in lights," Cavanaugh said. He said his mom never hesitates to sign a place mat in crayon for a child. The black-haired woman adorning the menus is a carbon copy of a youthful Ruby.
Today, there are more than 30 Ruby's restaurants nationwide. Diners can also find a RubyBurger in Terminal Six at Los Angeles International Airport or Terminal D at the airport in Las Vegas. Changes coming in 2000 include new breakfast and dinner items.
Ruby's will be temporarily closed for three weeks starting in November while the city replaces some of the wood pilings holding up the pier. Many of those pilings went up in 1940 after storms in the late 1930s destroyed the original Balboa Pier.
When Newport Beach Chamber of Commerce president Richard Luehrs joined the chamber in 1982, he said one of his first duties was to welcome the new business team of Cavanaugh and Kosmides. "I have watched them grow up over the years," said Luehrs. "And I have had more than my fair share of RubyBurgers." Luehrs said the management at Ruby's has been very proactive and supportive of the Newport Beach community. Cavanaugh said the secret to success for Ruby's is the food. "Why do people go out to dinner?," Cavanaugh said. "They go to get a good meal." Cavanaugh said a lot of restaurants go out of business because they rely too heavily on environment and entertainment. Both are important qualities, Cavanaugh acknowledged, but if the restaurant is not focused on food and service, it won't make it.
The Newport Center-based company plans to open several more Ruby's locations nationwide in the future. And what is Ruby's favorite item at Ruby's? "Just a good old-fashioned RubyBurger," Cavanaugh said.
—Amy R. Spurgeon, Newport Beach/Costa Mesa Daily Pilot, November 17, 1999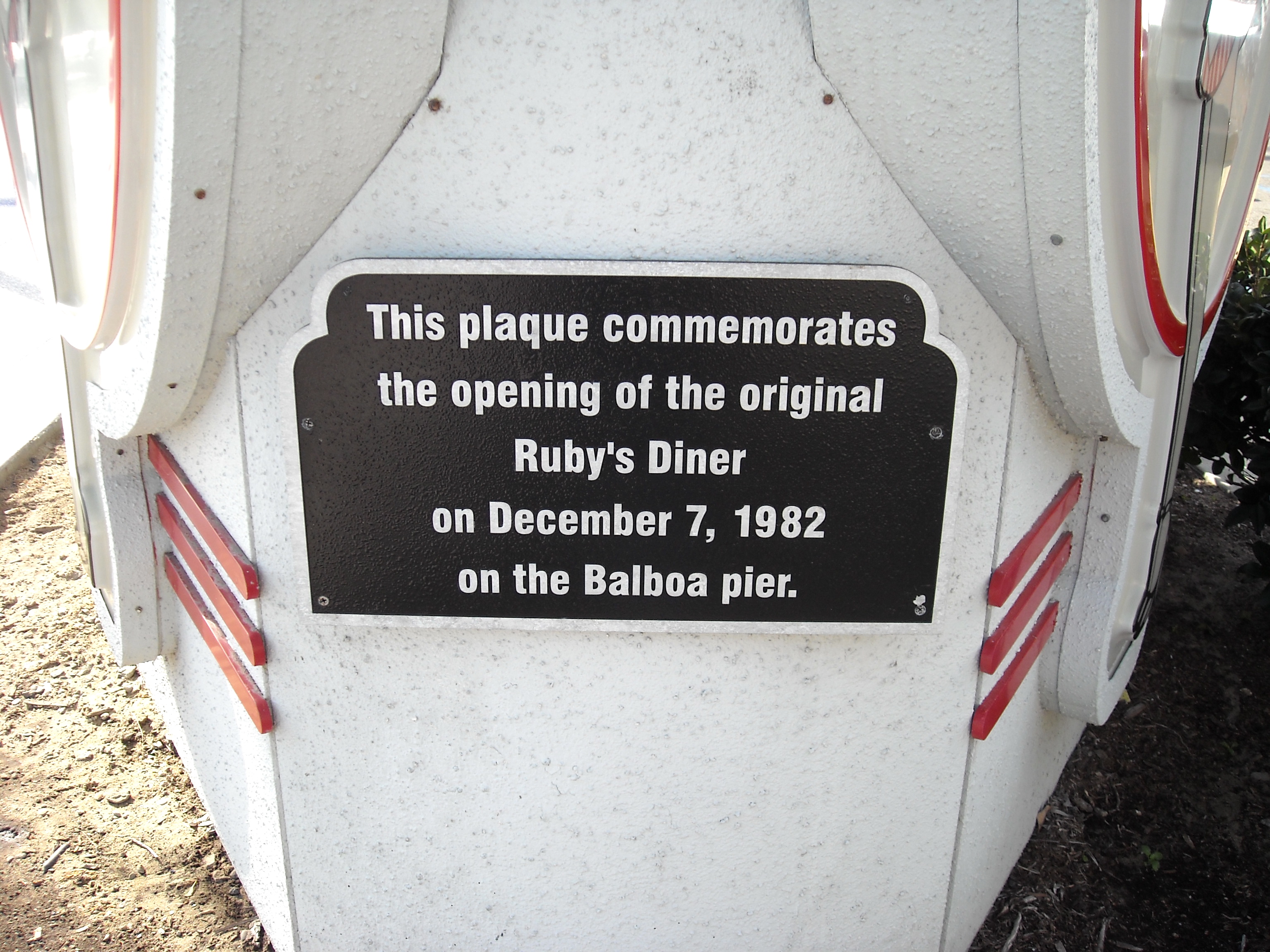 <*}}}}}}}}}>< — When this 35-pound yellowtail were reported to the PFIC Message Board in 2003 the report generated quite a bit of comment since the angler had falsely reported previous catches (including this report of catching an albacore tuna in Newport Bay). Although the catch was verified it did turn out more than one angler had fought and caught the fish. Still, it was an excellent catch.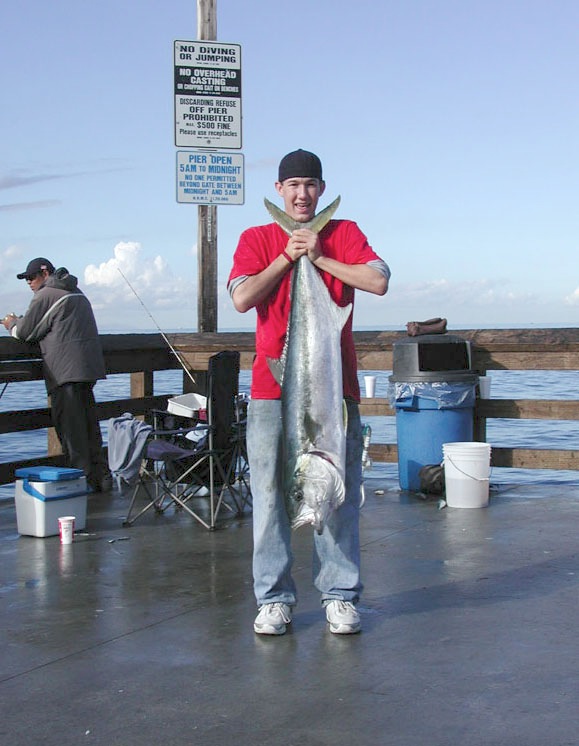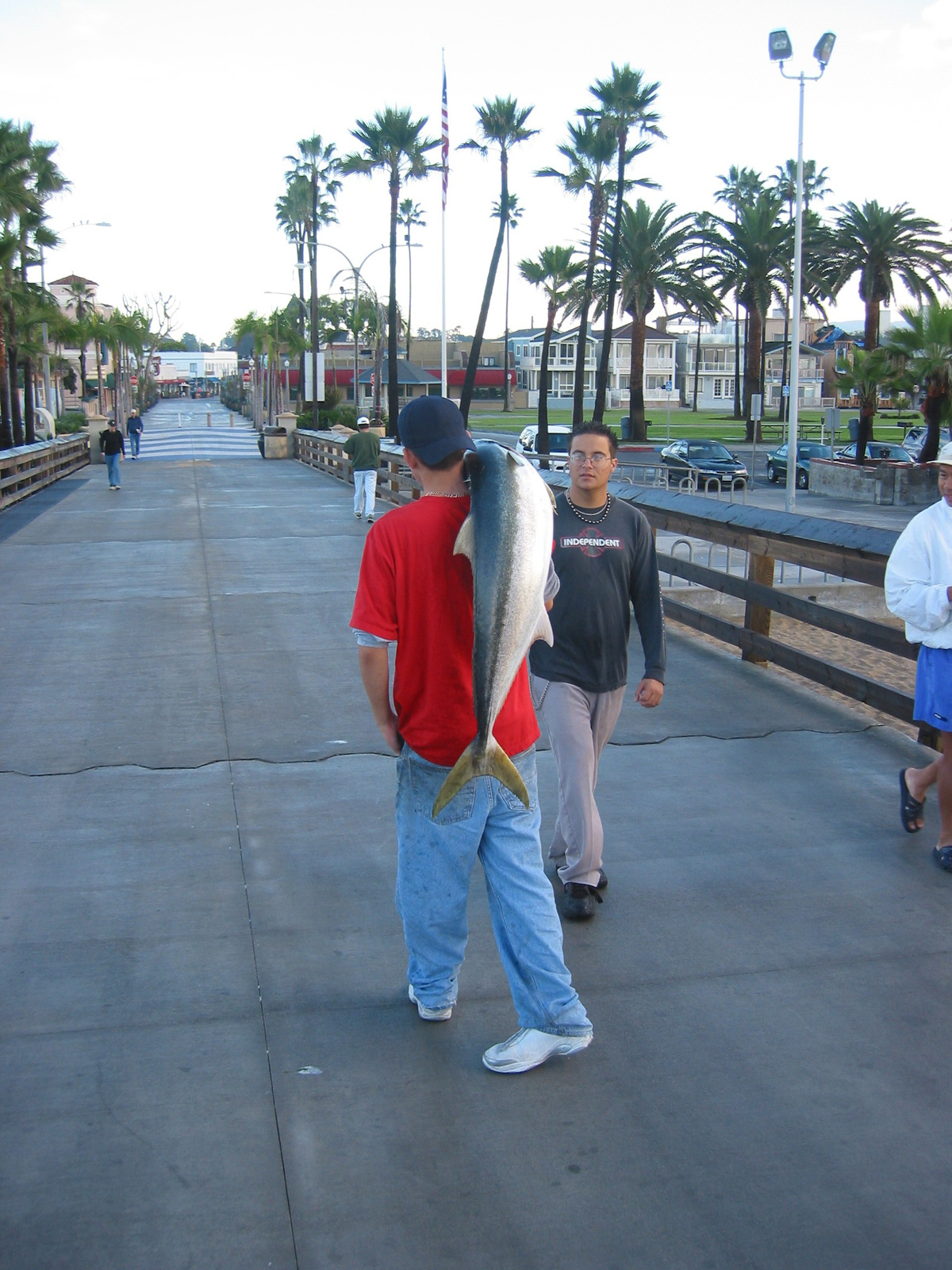 <*}}}}}}}}}>< — When I discuss the species of fish found at individual piers I use my own anecdotal records going back to 1962, traditionally published reports (DF&G or newspapers), and, most recently, reports submitted to the Pier Fishing in California (PFIC) website. I feel my information is fairly extensive and accurate. Nevertheless, it cannot be as complete as information that is compiled by a person or group who visits a pier on a weekly visit—especially if the visits have taken place as long as mine—nearly five decades. In the case of Balboa and Newport we do have such a record.
Snookie and Bob Anderson, who is part of her group, are both naturalists that, like me, keep detailed records of the fish they catch and see. In 2007 Bob was kind enough to share with me a list of the fish that he and Snookie had seen at the Newport and Balboa piers. The list includes (1) species that he or Snookie personally caught, (2) fish that were caught in the bait nets they use to capture their halibut bait, (3) and fish they have seen others catch. Many times Snookie has had to identify pier-caught fish and by use of her well-thumbed Peterson Guide to Pacific Coast Fishes she's been able to identify what might be an uncommon or even fairly rare species.
As for the list itself, I think it reflects the fairly unique fauna of the area, one influenced by both the nearby Newport Bay and the deep-water Newport Canyon. Bob's list includes 87 species. However, a new species as noted on PFIC was caught from the pier in April of '08, a big skate (Raja binoculata). In addition, there are several species that I have caught at the Newport Pier that are not on the list. KJ species—calico rockfish/1976 & 1977 (Sebastes dallii), olive rockfish/1976 & 1977 (Sebastes serranoides), starry flounder/1962 (Platichthys stellatus), longjaw goby or mudsucker/1962 (Gillichthys mirabilis), silver surfperch/1962 (Hyperprosopon ellipticum), and basketweave cusk-eel/1962 & 2002 (Otophidium scrippsi). Taken together, the total number of species would now be 94.
Lastly, I note with interest the recent change to the listed southern range of sand sole. According to the Resource Inventory of Marine and Estuarine Fish of the West Coast and Alaska (Love, Mecklenburg, Mecklenburg and Thorsteinson, 2005), the southern range for sand sole is the Balboa Pier. This is in contrast to most (older) guides that list the southern range as either Port Hueneme or Redondo Beach. It my belief that the change is due to a 15-inch-long sand sole caught at the Balboa Pier by Snookie on February 3, 2005. She reported the catch later that night to the Pier Fishing in California Message Board and I believe that report led to the change to the southern limit.
Balboa and Newport Pier Fish (From Bob Anderson)
Class Elasmobranchii: Sharks, Rays, and Chimeras
Order Squaliformes
Family Squalidae: Dogfish Sharks
1, Spiny Dogfish—Squalus acanthias
Order Lamniformes
Family Alopiidae: Thresher Sharks
Common Thresher—Alopias vulpinus
Order Carcharhiniformes
Family Triakidae: Houndsharks
Gray Smoothhound—Mustelus californicus
Brown Smoothhound—Mustelus henlei
Leopard Shark—Triakis semifasciata
Family Carcharhinidae: Requiem Sharks
Blue Sharks—Prionace glauca
Order Squatiniformes
Family Squatinidae: Angel Sharks
Pacific Angel Shark—squatina californica
Order Rhinobatiformes
Family Rhinobatidae: Guitarfishes
8 Shovelnose Guitarfish—Rhinobatus productus
Order Rajiformes
Family Rajidae: Skates
California Skate—Raja inorata
Family Platyrhynidae: Thornbacks
Thornback Ray—Platyrhinoidis triseriata
Order Myliobatidiformes
Family Dasyatididae: Stingrays
Diamond Stingray—Dasyatis brevis
Family Urolophidae: Round Stingrays
Round Stingray—Urolophis halleri
Family Gymnuridae: Butterfly Rays
California Butterfly Ray—Gymnura marmorata
Family Myliobatididae: Eagle Rays
Bat Ray—Myliobatis californica
Class Osteoichthys: Bony Fishes
Order Elopiformes
Family Albulidae: Bonefishes
Bonefish—Albula vulpes
Order Clupeiformes
Family Clupeidae: Herrings
Threadfin Shad—Alosa sapidissima
Pacific Sardine—Sardinops sagax
Family Engraulidiae: Anchovies
Deepbody Anchovy—Anchoa compressa
Slough Anchovy—Anchoa delicatissima
Northern Anchovy—Engraulis mordax
Order Salmoniformes
Family Salmonidae: Salmons, Trouts, and Chars
Silver Salmon—Oncorynchus kisutch
King Salmon—Oncorhynchus tshawytscha
Steelhead—Oncorhynchus mykiss
Order Myctophiformes
Family Synodontidae: Lizardfishes
California Lizardfish—Synodus lucioceps
Order Gadiformes
Family Merlucciidae: Merluciid Hakes and relatives
Pacific Hake—Merluccius productus
Order Batrachoidiformes
Family Batrachoididae: Toadfishes
Speckled Midshipman—Porichthys notatus
Order Atheriniformes
Family Belonidae: Needlefish
California needlefish—Strongylura exilis
Family Atherinopsidae: New World Silversides
Topsmelt—Atherinops affinis
Jacksmelt—Atherinopsis californiensis
Grunion—Leuresthes tenuis
Order Gasterosteiformes
Family Sygnathidar: Pipefishes and Seahorses
Bay Pipefish—Syngnathus leptorhynchus
Order Scorpaeniformes
Family Scorpaenidae: Scorpionfishes and Rockfishes
California Scorpionfish—Scorpaena guttata
Chilipepper Rockfish—Sebastes goodei
Bocaccio—Sebastes paucispinis
Treefish—Sebastes serriceps
Family Anoplopomatidae: Sablefish and Skillfishes
Sablefish—Anoploma fimbria
Family Cottidae: Sculpins
Pacific Staghorn Sculpin—Leptocottus armatus
Cabezon—Scorpaenichthys marmoratus
Order Perciformes
Family Moronidae: Striped Bass and Relatives
Striped Bass—Morone saxatilis
Family Polyprinidae: Wreckfishes
Giant (Black) Sea Bass—Stereolepsis gigas
Family Serranidae: Sea Basses and Groupers
Kelp Bass—Paralabrax clathratus
Spotted Sand Bass—Paralabrax maculatofasciatus
Barred Sand Bass—Paralabrax nebulifer
Family Carangidae: Jacks, Amberjacks, and Pompanos
Green Jack—Caranx caballus
Yellowtail—Seriola lalandi
Jack Mackerel—Trachurus symmetricus
Family Haemulidae: Grunts
Sargo—Anisotremus davidsonii
Salema—Xenistius californiensis
Family Sciaenidae: Croakers
White Seabass—Attractoscion nobilis
Black Croaker—Cheilotrema saturnum
White Croaker—Genyonemis lineatus
California Corbina—Menticirrhus undulatus
Spotfin Croaker—Roncador stearnsi
Queenfish—Seriphus politus
Yellowfin Croaker—Umbrina roncador
Family Kyphosidae: Sea Chubs
Opaleye—Girella nigricans
Zebraperch—Hermosilla azurea
Halfmoon—Medialuna californiensis
Family Embiotocidae: Surfperches
Barred Surfperch—Amphisticus argenteus
Shiner Surfperch—Cymatogaster aggregata
Pile Perch—Damalichthys vacca
Black Perch—Embiotica jacksoni
Walleye Surfperch—Hyperprosopon argenteum
Rubberlip Perch—Rhacochilus toxotes
Family Pomocentridae: Damselfishes
Blacksmith—Chromis punctipinnis
Garibaldi—Hypsypops rubicundus
Family Mugilidae: Mullets
Striped Mullet—Mugil cephalus
Family Sphyraenidae: Barracudas
California Barracuda—Sphryaena argentea
Family Labridae: Wrasses
Rock Wrasse—Halichoeres semicinctus
Senorita—Oxyjulis californica
California Sheephead—Semicossyphus pulcher
Family Clinidae: Kelpfishes, Fringeheads, and other Clinids
Sarcastic Fringehead—Neoclinus blanchardi
Family Stichaeidae: Pricklebacks
Monkeyface Prickleback—Cebidichthys violaceus
Family Scombridae: Mackerels and Tunas
Pacific Bonito—Sarda chiliensis
Pacific Mackerel——Scomber japonicus
Family Stromateidae: Butterfishes
California Butterfish—Peprilus simillimus
Family Lobotidae: Tripletails
Tripletail—Lobotes surinnamensis
Order Pleuronectiformes
Family Bothidae: Lefteye Flounders
Pacific Sanddab—Citharichthys sordidus
Speckled Sanddab—Citharichthys stigmaeus
Longfin Sanddab—Citharichthys xanthostigma
Bigmouth Sole—Hippoglossina stomata
California Halibut—Paralichthys californicus
Family Pleuronectidae: Righteye Flounders
Diamond Turbot—Hypsosetta guttulata
C-O Turbot—Pleuronichthys coenosus
Sand Sole—Psettichthys melanostictus
Family Cynoglossidae: Tonguefishes
California Tonguefish—Symphurus atricauda
Order Tetraodentiformes
Family Molidae: Molas
Ocean Sunfish—Mola mola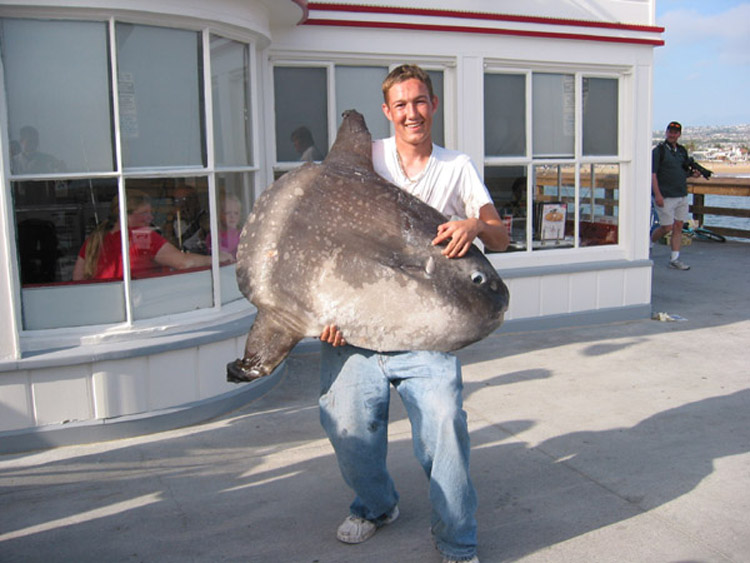 Mola Mola are occasionally seen from the pier and sometimes snagged. Since they are basically inedible there's no reason to hook one.
Snookie's Pier Fishing In California Fish Reports —
February 1999 — We've got a new reporter for the pier, Snookie, who says, in her own words, "I fish Balboa two times a week, every week of the year. I have done so for 55 years. Yes, I'm a fishing addict." Welcome aboard Snookie! Her first report, on January 19th, said, "today was awful. It's typical a January. There's not much in the way of live bait. The fish being caught are small mackerel and sardines. One thornback and one barred surfperch were the catches today. At least the city is replacing the missing pilings from last spring. Once that is done, we will have peace on the pier again. Balboa Pier is one of the best whale watching piers. It has deep surf and they come in to shore regularly. If the fishing isn't good, the whale watching is." A later report said much the same—"as to a report from the Balboa Pier this month, it is not going to be encouraging. There have been the usual mackerel and big sardines, but the halibut and the surf fish have been far and few between. If you like thornbacks, there are plenty of those. It's just that time of year. The live bait situation has been terrible. There have been some smelt in the surf area. They were small schools of a dozen to two dozen. Hard to get them excited about the chum to get them into the net."
March 1999 — Our reporter, Snookie, filed two reports this month. On the 23rd, she reported that the fishing was "the best since the first of the year. The live bait (smelt) has returned en mass. There are all sizes as well. They were very near shore. All that was caught though was a 20 1/2 inch halibut by Noble, but at least there's now a chance with the good bait. To have the bait return certainly lifts the spirit and the possibility of catching something. We were graced with the presence of a bat ray that was well over a hundred pounds. He was in about three feet of water just paralleling the shore. What a beautiful sight! A couple weeks ago one fellow caught a bucket of small yellowfin croaker using mussels… We have been getting the small yellowfin croakers too, plus some nice big barred surfperch. Those were hitting the bloodworms. We are seeing lots of corbina in the surf, but we are not having any luck catching them. The 'snaggers' caught some when the water was clear enough to see them. We are still watching the whales coming north now. We had a small pod of common dolphins through today with one very small baby. That was very interesting as they stayed around long enough for us to observe the baby. The mackerel fishermen have not been doing well on the end. This will improve soon. I hope by next month I'll have an interesting report for everyone. March can be an exciting month. With the water the coldest in at least five years we'll see what happens." Very interesting was Snookie's second report where she said, "Here's one for the books. Thursday, February 18, I caught a bonefish at the Balboa Pier. I was fishing the surf area with bloodworms when I caught him. He is definitely a bonefish (Albula vulpes)… I have the fish in my freezer. None of my fishing friends ever remember a bonefish being caught locally. According to the books they only grow to one and a half feet here." It was the first bonefish I (KJ) have heard of from the pier and the first she has caught after fishing the pier for 55 years
April 1999 — Our reporter, Snookie, says, "things are beginning to pick up a little—finally. Our bait situation is sometimes iffy, but most of the time we are getting some smelt. My group is spending our time in the surf area because of the grunion being there. Naturally the halibut come to where the good food is. We are getting some undersized halibut fairly regularly but not in any quantity. On the 18th I caught two keepers that were seen by all. Each one won its freedom. One shook the hook loose, and the other shot out of the water and up the pier and around a piling before I could catch up with him. That did let us know that the halibut are here and almost ready to be ours. Our biggest thrill that day was because of the clear water we saw a 'barndoor' halibut swim out from under the pier. She must have weighed around thirty or more pounds. She was in about two feet of water just paralleling the shore. We all have plans for her even if she did thumb her nose at us. We know they are territorial, and that she lives here. I and one other person in my group have each hooked her in the last year or two. There are lots of corbina in the surf in the spawning mode but not the biting mode. One morning when I was getting my bait there was a Pacific cutlassfish swimming just under them. I was helping him catch his breakfast. They are a beautiful fish to watch, especially if the sun is shining on them. The weather is still giving us some problems. None of us are crazy about fishing in the winter rains. Apparently the mackerel fishermen aren't either. They are not doing well with the mackerel as yet."
August 1999 — Our reporter Snookie, says "up until this week, we had warmer water which was helping the fishing. The small queenfish arrived and the halibut loved it. Of my group I was the only one to catch a keeper (26 inches). Ken, the one you caught while visiting us on the 29th was 27 inches. Another fellow caught a 29-inch halibut last week, and his friend caught a 26-incher July 5th. The smelt for bait have been sporadic. At least when they weren't here, we could catch queenfish. Today a few sardines showed up. We have also been using walleye perch and shiner perch and deep bodied anchovies. The oddball fish was my 4-pound giant sea bass on a live queenfish. I also caught a 48-inch shovelnose guitarfish. The interesting fish being caught are the sargo with some size to them. Also some beautiful big barred surf perch and corbina. All of these were on mussels and sand crabs. Of course we are catching lots and lots of small halibut up to 21 inches As of Sunday, we have a red tide condition. We had the warm water then it dropped almost 10 degrees. That certainly will contribute to red tide conditions. At least it is still mild. We also lost a piling (shore corner from the sink). No one knows what happened, but it is obvious it was literally ripped out. It had to have been a boat."
June 2000 — Snookie reports, "We are still having trouble getting this season started. The halibut are there when you can get live bait. The live bait is being elusive most of the time this month, but if you work real hard up by the telephone, it is possible to get some. Don't throw back the very large ones because the BIG halibut will try for them. I know as I had the use of some 10-inch smelt under the pier close to the surf, and both were hit quite hard. It was a lazy fish, and she didn't finish her meal. I pulled up shredded smelt. I have had some undersized halibut though. The surfperch, especially walleyes (that are very tasty), are now available. The baits for them are mussel, ghost shrimp, and bloodworms. The yellowfin are there too with the same menu. So far even though the corbina are around and easy to spot, they are not cooperating. I am seeing some baby leopard sharks being caught on the surf rigs, and the large leopards have made their appearances in the surf. Did you know that those 5-foot leopards chase and probably eat corbina? Interesting to watch. This past week we had numerous jellyfish come by in all sizes. Sounds as though we are going to have cold water for a while longer, which by the way is staying around 57 to 59 degrees. Yes, we are still seeing a few Grey whales heading north. The mackerel catching still seems to be on the slow side, but I am not there at night to see if it is better then."
Date: June 21, 2000; To: Pier Fishing in California Message Board; From: Ken Jones; Subject: Fish Report
I fished Balboa most of Tuesday morning and afternoon. Bright and early tried out at the end; nothing but jacksmelt were around. Didn't see a single mackerel, or other fish for that matter. Joined Snookie and her charming group about 9:30 and had a delightful time listening to stories and the wisdom accumulated by a group of true experts over many, many years. Also managed to catch five halibut and one queenfish using the small smelt that Snookie provided. Saw one small blacksmith perch, an unusual crab, and a sickly barracuda (dark colored and estimated by myself at 4-5 pounds) that was hanging around the surf area until someone finally snagged it. After looking at the fish, the angler decided to return it to the water where it continued to patrol the shallow water for the next several hours. Thanks again to Snookie and the "gang" at Balboa for a great day.
October 2000 — Snookie reports "it has been a good month at the pier with quite a few keeper halibut caught. The bonito have been showing quite regularly although they are on the small side. I have seen some beautiful sargo near the surf being caught on fresh mussels. I myself have two keeper halibut this month. I released a 20-inch white seabass last week. Have also caught several calicos (kelp bass) near the surf all of which were legals. I did release the calicos. They were not on my menu for that night. Have also caught several shovelnose guitarfish with good size to them. Have seen some very small ones as well. There have been some bigger fish on the surface a few evenings for those that fish the surface on the end. For some reason they were lost bringing them in, but those fishermen who had them are some of the better fishermen, and they said they were on the large size for whatever they were. A few days this month have been very hot at the pier to the point of almost not being bearable. Other times have been much better than inland. For the surface fishing it has been important to have a southeast breeze or wind blowing. We have also had some "big" water conditions from the storms off Baja. That does not help the halibut fishing, but the other fish don't mind. As of the last two days the yellowfin tuna and the Dorado have been only 3 miles out. Could this be a year they would dare to wander close to our piers? There is certainly a large amount of bait around the pier, and as of yesterday there are sardines as well as little Spanish Jacks.
March 2001 — Snookie reports "The few times I have been fishing I used bloodworms—fresh and old. I am beginning to catch more barred surfperch with some nice sizes to them. There are birds close to shore diving for bait including the pelicans, but the water is so murky that I can't see the bait. I am not getting any live bait either. The end of the pier is on again/off again. Nothing is cooperating, especially the weather. With the cold water (down to 52 and 53) we should see the salmon come in. Of course the season does NOT start until April 14th. That will be a Saturday. With March coming up this week we should soon see a good change in our fishing. Now if the weather will allow us to fish. A week ago after a strong wind/storm we had an episode of lots of shells appearing on the beach. They must have covered an area 10 or more feet wide as far up and down the beach as one could see. There were all sizes including some Pismo's, sand dollars, and scallops, etc. It was spectacular. However, with good things come bad things. The tiny midges came with the empty shells. We have never had a bug infestation like that, that I can remember. They were there the next time I went down too. That was a time a wind was a welcome happening. It blew them away for a while. We found out—THEY BITE!"
September 2001 — Snookie reports "Well, I am back to fishing the pier again. I feel like I have come home. This month has been good for the mackerel fishermen although it is an off and on thing, but that's the way fishing is. There has been some quite large mackerel in amongst the medium ones. The halibut are there en masse, but they are undersized. For fun they are great though. What little fighters they are. One of my friends, Noble, caught a 26-inch halibut this month in the middle of the pier on a smelt. Another friend, Randy caught a silver salmon about 12 pounds, but he knew better than to land it. He also caught a green jack about 14 inches long. They are not common to the pier, but we occasionally see one. There has been lots of bait, but it has not been easy to catch. They won't take the snag-line easily, but they have been nettable. There have been afternoons that the sardines have come in thick. Those were easy to catch on the snag-lines. There are also some queenfish of all sizes plus some very small mackerel. Those have all been good baits for those little halibut. I know that there was another large shovelnose caught, but I have not seen any other rays, although my friend Randy had a large ray on last week. He just tightened the line too snap it because it was heading out to sea and he was being too lazy to complete the process of bringing it to the pier. The snaggers have been there regularly and catching some fish. The days have been great on the pier plus the water has been very cooperative with no strong currents. There are still a few jellyfish passing by. This is the time of the year fishing improves."
August 2002 — Our reporter, Snookie, reports "I have been taking my grandkids to the pier to learn more about fish and fishing. They love to catch bait, and they are good at it. The bait situation has been very good as far as being there to catch but catching them is not always easy… As to the bait we have had queenfish, anchovies of all sizes, sardines, small mackerel, smelt and grunion, and small walleyed perch and Spanish Jacks. What more could you ask for in bait? As to fish well, I think they are full of bait. Strikes are hard to come by unless you are fishing mackerel farther out. I did get a 12-inch Zebraperch on the snag-line. The halibut have been small although some keepers have been lost. I have seen some thornbacks caught and some yellowfin croaker. One early evening we had a time with the barracuda hitting our bait, but they were also a little undersized, but fat. The jumbo or Humboldt squid were here for a while. Although some were caught off the pier, some were also picked up on the shore while walking. As long as the grunion are still here the squid will most likely keep making appearances. A squid jig is a necessity. These squid are delicious to eat and they make good bait as well. They must be prepared soon after catching to be good. Don't overcook them or they become tough."
September 2002 — Our reporter, Snookie, reports, "This month has not been very good. Even the smaller halibut have been tough to come by for me at least. I do know of a few keepers being caught. There have been some good-sized shovelnose guitarfish caught. The yellowfin croakers are the big thing right now. Today there were lots of them in the surf area. Most of them were caught on squid. The squid bait was from the squid catches of the past few weeks. The Humboldt or Jumbo squid have been making nightly appearances for several weeks now, but are almost gone. It was a show in itself to watch as the pier was lined with elbow-to-elbow fishermen waiting for that magic hour when the squid would appear. They ran all the way to the surf following the grunion and other baits farther out. Those were happy people while the squid were there. The mackerel are around but not necessarily plentiful. Perch have been showing in the surf area. Oh yes, the mighty California Lizardfish has made an occasional appearance. The weather has been comfortable even with some big swells showing now. Just remember to not fish under the pier when the swells are big."
May 2003 — Our reporter Snookie says "Not too much to report this month. The weather has not cooperated at all. Have heard of some keepers being caught. There are some mackerel and some sardines as big as the mackerel. Also saw the lowly lizardfish make its way back into the catches. Guess that is what happens when the water gets cold. The water is consistently the coldest this month that it has been for over nine years (have kept my weather diary that long). The biggy now is the influx of Velella velella a beautiful blue 4-inch hydroid with a sail that is all around the pier area now. It has also been seen in Crystal Cove today. Back in the late 50's there was a major invasion of these creatures to the extent that you could see them as far as your eyesight would allow you to see. Some old fishermen used to say these meant good fishing ahead. Hope they are right."
June 2004 — Our reporter Snookie says, "it has been fun this month. We've had so many white seabass it has been unreal. Wish they had been bigger though. They did run up to 24 inches. It has been windy and cool but nice to fish. The water is up to the high 60's, which is warmer than it has been for quite a few years for this time of the year. We are getting keeper halibut now at a fairly consistent rate. Of course we have to weed through the smaller ones first. We've had some leopard sharks from babies up to 5 feet. There has been some nice sized bat rays and very large shovelnose guitarfish. The bait has been cooperating most of the time with a catch of smelt, sardines, Spanish jacks, queenfish and perch. The crowds are picking up with Memorial Day and summer coming soon, but there is plenty of room to fish. The tourists that see us catch fish immediately ask where they rent a rod and reel so they can do that too. Sounds easy doesn't it."
August 2004 — Our reporter Snookie says "this month at Balboa Pier has been getting more exciting by the day. We have had a run of tiny bonito. The problem with that is that people can't seem to remember that five is the number of legals when they are under 24 inches fork length. The halibut have been around with some of them quite large such as a 26-pounder and the rumor of a 35-pounder off the end. The yellowfin croakers have been around to participate in our catches. Those are good eating fish. This past week we have had some legal barracudas upward of over 30 inches. They have been running all the way into the surf as well as the little bonito. There were some 1 1/2 pound bonito and a 2 pounder caught last week. The bait has been unbelievable in quantity. We have had smelt of all sizes, a few Spanish jacks, a lot of queenfish and small mackerel. It seems every day about noon the sardines come in all the way to the surf and hug the pier for protection. You really don't need a bucket. A snag-line on a small rod and your rod to transfer the bait to is about it they are so thick. It is very busy right now because of the summer season and the nice days and as a result it is very noisy as well. It would be nice if the yellowtail would come in, and right now it is a strong possibility. It is fun fishing right now."
September 2004 — Our reporter Snookie says "It has been repeatedly bonito, bonito, bonito for over a month now. At least they are growing bigger. The biggest so far have been around 24 inches. The water is full of bait being sardines, smelt, small mackerel, and Spanish jacks. You could say that the water is literally alive with fish all around the pier. We have four resident pinnipeds that included a bull sea lion, a pup sea lion and a female plus one harbor seal. They are eating their share of the bait as well, although we don't have too much trouble with them so far. There are no halibut because of the bonito around. With an increase in the small Spanish jacks we could see the yellowtail come into the pier in the next month. Oh but that would be fun again."
October 2004 — Our reporter Snookie says "what a warm month this has been in Balboa. The fishing has been great if you are after bonito. As to the bait there has been an abundance of everything including sardines of various sizes, small mackerel, smelt of various sizes, queenfish occasionally, walleyed perch, and lots of grunion about 8 to 10 inches long and Spanish jacks. The bonito have been hitting almost anything that moves. They are all the way into the surf all day long. This makes it difficult to get the halibut to strike. They don't like those juvenile acting fish bothering them. There have been quite a few shovelnose guitarfish and thornbacks caught. For a few nights there were Humboldt squid caught. One person caught as many as 14. It does help to know that they squirt ink when you bring them onto the pier. If you aren't ready, you will look a mess when they get through squirting you."
June 2005 — Our reporter Snookie reports, "Fishing has picked up considerably this month. We are catching lots of halibut and some keepers. The bait situation has been good and bad, but at least we can always get a few baitfish. Most of the bait is smelt, but I have seen some nice Spanish jacks for bait. The halibut have been caught on the end as well as the surf areas. There are lots of mackerel and wall-eyed perch. There has been several nice shovelnose guitarfish caught and lots of thornbacks. There was a nice legal leopard shark caught on the end and a baby leopard shark caught in the surf area. An unusual catch in the bait net last week was a pipefish about eight inches long."
September 2005 — Our reporter Snookie reports, "It's been an interesting month. We've had the "black" jellies and the purple-striped jellies along with the red tide. At least the fish didn't quit entirely. We've had some keeper halibut and a lot of undersized halibut. The mackerel have been around a lot. The yellowfin croakers and the corbina have made a good showing as well as the barred surfperch and wall-eyes. A friend caught six barracudas off the end, but they were only about 20 inches each. The bait has been good most of the time with queenfish being the easiest to get and next is smelt, but the sardines came in again last week along with a few anchovies."
May 2008 — Our reporter Snookie reports, "At least this month is better, and it keeps getting better. Our bait situation is not always good. We have to work to get bait almost every time. We are persistent, and it pays off in small amounts of smelt. Sometimes there has been a sardine or two. Each one of us has gotten a keeper halibut up to 29 inches, so that is encouraging. We have also gotten quite a few small halibut. The interesting part of this month was the Big Skate that was caught. It was about 6 feet in diameter and very spotted. That was a first to see for all of us. That is a beautiful fish. It was released. There are a few mackerel around at the end and a large shovelnose guitarfish was caught but not landed. It took a big live bait. The walleyed perch are appearing in larger amounts now. They are small, but they are good eating. The red tide has been coming and going a lot as well this month. There are some jellies and lots of kelp going by. Had another first last week. A Jelly called Polyorchis haplus which is a small unusual jelly that was caught on the snag-line. It was only about 2 1/2 by 1 1/2 inches. The ocean is coming to life."
July 2008 — Our reporter Snookie says, "The ocean is still unsettled, but the temperatures have risen to 72 degrees. Lots of kelp is passing through every day. There is lots of bait to be had. Most of the bait is from the middle tee to the end. It is smelt of all sizes and some Spanish jacks. We are catching quite a few undersized halibut, shovelnose guitarfish and nice-sized yellowfin croaker. Some of the shovelnose guitarfish have been almost 60 inches in length. There were two keeper halibut caught today by one person in the middle of the pier. There have been several white sea bass caught, but of course all undersized. There has been little "pencil" barries caught on our snag-lines but no legals yet. The halfmoons (blue perch) were there today in various sizes and very hungry for the snag-lines.
June 2009 — Our reporter Snookie says, "It has been better this month although some of the days brought us nothing like halibut. There has been lots of bait lately such as sardines, queenfish of a decent size, and Spanish jacks plus smelt and a few anchovies. Can't ask for much more with those baits. The interesting thing this last week has been the thresher sharks. The boys on the end of the pier have been hooking up with some nice-sized ones although the one they did land was 80 pounds and 8 feet long. The others were bigger at about 200 pounds they say. Landing them was the problem, but they finally got a good gaff rig to successfully do it. It took live mackerel on sliders to attract the sharks. They are beautiful to watch jump. There has been several keeper halibut caught and lots of undersized ones as well. One lobster was caught in the surf area on a dead anchovy, and several legal-sized calicos have been caught all over the pier.
October 2009 — Our reporter Snookie says, "This month hasn't been too bad. Although we haven't seen a lot of keeper halibut, we have seen a lot of 21 inchers and smaller. They have been healthy looking too. Of course there are lots of mackerel. Bonito have been showing with the catches being on splashers mostly. The bonito haven't been large just nice-sized. There are a lot of shovelnose guitarfish in the surf area. Most are young ones but fun to catch. Have been some leopard sharks too. The water has been nice and the bait has been great everywhere. There are a lot of jacksmelt around as well. Oh yes, and that dreaded thing the lizardfish is here too. We had a young whale visit us last week. He is quite late going north, but I think he had an injury that may have detained him. His flukes had met up with a prop or a great white. He's moving now though. The snaggers have been getting a lot of mullet this past week. At least I haven't seen any corbina caught by them lately. Although there aren't a lot of people around now, watch your equipment because we have spotted couple young men that are trying to steal our stuff. At least we caught them in the act of trying last week, so we all know what they look like.
August 2010 — Our reporter Snookie says, "This month is better. Have had some halibut, shovelnose guitarfish, yellowfin croaker, corbina, perch (barred and walleyed), a bonito, some small barries, and of course mackerel…We have gotten good bait most of the month. We even had anchovies one day with a school hanging out around the surf area of the pier. The sardines, smelt, Spanish Jacks and queenfish are showing regularly. You just have to figure out what the favorite is for the fish that day. Have had a variety of jellyfish coming through. The nettle jelly has shown up several times lately. There are about three others that I couldn't identify except for one. It was the Fried Egg Jellyfish. That is a definite id. Easy! All those were observed near the shore, so be careful those of you in the water."
October 2011— Our reporter Snookie says "Although this month hasn't been the greatest the past two days have made up for it. Humboldt Squid arrived en masse. They were chasing our big bait schools of sardines and little mackerel. Thursday we started getting the squid about mid pier. Just my group was getting them. We did have our squid jigs with us, which made it easier to get them. They started out smaller at about 2 to 2 1/2 feet, and then they got bigger up to about 4 feet. Of course you have to remember those tentacles stretch out quite a ways. Thursday I got four of them in the time I was there. Came back Friday morning about mid-morning and got four more plus I got two small market size squid. Finally the sun came out and that ended the bite plus it got too hot to stay. I did get squirted in the back by the squid caught by the man next to me. What a shock, but it at least didn't have ink in the squirt. We did get a good laugh out of that happening. Friday morning the pier was a mess. There was ink everywhere even down to the surf. We need a good rain now. The people needed big bags so all the bags were missing from the trash cans on the pier. The night was of course the best time to catch the squid, and hundreds went to new homes. My friends and I haven't had that much fun in a long time with "catching." Oh, and my calamari dinner was excellent if I do say so."
June 2012 — Our reporter Snookie says, "It has been awful this month unless you wanted more sardines or mackerel. I did see a lot of small walleyed perch being caught. Those that are catching them aren't paying attention to the amounts they can keep. Fish and Game is going to have a blast when they come out to see what everyone is catching and the amounts they are keeping. Sardines and mackerel don't have a legal amount, but perch do. There are some thornbacks being caught and a very few shovelnose guitarfish. Last week a snagger caught a 28-inch halibut in the surf area. The next day we saw four more big halibut, a big shovelnose, a very large white sea bass and a large school of spotfin croaker all in the surf. Nothing would take live bait. We have had lots of bait, mainly smelt of all sizes and baby walleyes. The young queenfish are starting to show up the past few days too. The water is much warmer now at 64 to 66 degrees. Hopefully soon!"
August 2012 — Our reporter Snookie says, "There were two keeper halibut caught this month. One was 31 inches and the other was 23 inches. The bigger one was caught on a small lizardfish. At least we found out that they do work for live bait. There have been a lot of walleyed perch caught of all sizes, some yellowfin croaker and some undersized white sea bass. The live baits have been sardines, smelt, Spanish jacks, and a very few queenfish. The water temperatures are up to 68 degrees at times. Those that have gotten some sand crabs have caught some nice corbina lately. There have been some big strikes in the surf with live bait such as sardines, but they got away. They probably were big leopard sharks. I saw one bluefin tuna about 35 pounds in the surf area. He was healthy but lost. Most unusual! Have seen a lot of Salps in the past two weeks. Also close to the biggest Black Sea Nettle jellyfish came by. Don't need a lot of those. The Salps are fine though."
September 2012 — Our reporter Snookie says, "I've seen a couple keeper halibut caught this month, but the snagger got the biggest, which was about 25 inches. Another snagger has been getting some corbina, mullet, and spotfin croakers. We haven't been getting much… [KJ — Perhaps due to the snaggers?]
.April 2013 — Our reporter Snookie says, "If you like sardines, it was a great month for them. There were thousands if not millions of sardines caught. All were down at the surf area. We are now also getting smelt of all sizes. Some are jacksmelt. We want the smaller smelt for halibut live bait. Are we getting halibut-NO, but we are still trying. There are some mackerel being caught in with the sardines, but they aren't big. We are seeing quite a few whales heading north. The sea lions are chasing the bait all day long. The sardines that are being brought in on the snag-lines are being chased by the sea lions. That is a humorous thing to watch. Perhaps it is a good thing we are not getting a decent halibut with those sea lions around. Animal control picked up a baby sea lion resting on the beach last week. Right after she left with the baby, the mother sea lion came up to the shore and was looking for the baby. I think animal control needs to learn more about the habits of these creatures.
August 2013 — Our reporter Snookie says, "Things are better at the pier now. We have been getting lots of halibut although they are undersized. At least they are around and there should be some mothers and grandmothers in amongst them. My fishing buddy and I each have two keepers since the first of the year, and we expect more keepers. The bait is there for them as well. There has been some large yellowfin croakers caught up to 4 pounds. The white sea bass are around, but their sizes aren't big enough. There was a 38-1/2 inch one caught in the surf by a snagger. We have seen some larger ones go through. Don't know how we would land those that looked like 60 pounders. The mackerel are there towards the end of the pier. Saw one small bonito. The snaggers have gotten some corbina off and on. The water has been nice most of the time with 68 to 70 degree water.
November 2013 — Our reporter Snookie says, "Part of the time this month was okay, and part of the time it was awful. We had lots of smelt of all sizes most of the time, but the fish just didn't want to eat. I did get 4 halibut and 2 another day, but no keepers. There were thornbacks, stingrays, and yellowfin croakers. Of coarse there were mackerel that were small and we did have a few small bonito. There was an 18-pound spotfin croaker caught in the surf area. Yes! I said 18 pounds!" [KJ — We are checking on how the fish was weighed and have asked for a picture since the state record fish was only 14 pounds.]
January 2014 — Our reporter Snookie says, "We have been getting quite a few jacksmelt for the past few weeks. I have been eating them and do enjoy them. They are so mild, and easy to clean. I fillet them. They are good smoked as well. We have had some good sardines for bait, but nothing really wants to eat them other than crabs. Well, after all it is winter, and we really can't expect too much. There are some thornbacks around. The water has been crystal clear for several weeks now. Makes it interesting to watch the bottom for future reference as to snag areas. This week we watched several blue whales spout and show their backs. They were out a ways, but it was a very calm day water wise and wind wise, so we could see those extremely high spouts at a distance and the sun shining on their backs. Friday we had a large mola mola come into the pier by the pilings and stay about an hour. It was about 10 feet long and probably about 500 pounds. That was the biggest one we have ever seen. With the water as clear as it was it made viewing the mola mola very interesting. Our water is staying at 60 degrees which it normal for this time of year. There are lots of tourists from everywhere coming out on the pier. It is fun to hear their comments. They thought the mola mola was a manta ray… Oh, by the way, you may not have known him personally, but we lost an important person in the fish world last week. It was Art Mello. He had the bait boats for years here, such as the Mona Lisa, Mello Boy, Mello 2, and several others. He delivered bait to Newport Pier when I fished it and before. I know his son, Sam, from Dana Harbor. I attended the funeral yesterday at Pacific View. On his casket there were fish at each corner of the casket. I now plan to have four halibut on mine. (no hurry!) How about you?" [KJ — Hmm?]
September 2014 — Our reporter Snookie says, "Interesting past two weeks. Had big water last week and lots of big water this week. The white sea bass liked it although they were far from big enough. Saw a couple of BIG halibut following the small halibut that were caught. We now know there are some biggies there when they are ready to bite. There have been quite a few bonito in the mornings early. They have been decent sizes. Also, there are a lot of mackerel too all day. The bait situation is great with small mackerel, Spanish jacks, and smelt of all sizes. Unfortunately the lizardfish have been quite prevalent with an appetite for all the baitfish. A couple of very large white sea bass were seen in the surf last week. These were 60 pounders. Oh, that would be quite the excitement to get one of those. We had to fish out towards the end of the pier because of the big waves. At least they weren't as big as a few years ago when they broke over the pier in the surf area. That ocean gets out of control at times.
November 2014 — Our reporter Snookie says, "It's been a better month. We have had more bait than we can use. The bait consists of smelt of all sizes, sardines, Spanish jacks, Pacific mackerel and grunion. A 10-inch grunion got a 39-inch white sea bass in the surf last week. We have been catching lots of undersized halibut with a 24-1/2 inch halibut in the surf on a smelt. There are lots of bonito around after the bait. They are not hard to catch even all the way into the surf. They are getting bigger too. Someone caught a very small yellowtail as well. Of course the mackerel are there too. We are having a good time now. It would be nice if the bonito fishermen would follow the DFG rules and only keep the legal five bonito instead of a bucket full."
July 2015 — Our reporter Snookie says, "This month is better, but we are still looking for a big halibut. The small bonito were around a lot off and on. A lot of people don't pay attention to the law that says you can only keep five of those small ones. I did get one on my snag-line yesterday. I took him home for my supper. The small Spanish mackerel are around which is a good sign for yellowtail if the Spanish mackerel stay another month. Right now the white sea bass and halibut love them and there are lots of them. I've seen quite a few nice spotfin croakers snagged in the surf, and some corbina too.
September 2015 — Our reporter Snookie says, "This month at the pier has been quite interesting. I told you about my 30 pound halibut that was lost in netting it. Two days later my brother had her on briefly, so she is still there. That day I caught a 15-pound yellowtail in the surf in that 72-degree water. His teeth cut the line in the little waves he got into. Lucky him! We have had bonito en masse off and on for several weeks now, but Tuesday and Wednesday this week they were everywhere from the end to the edge of the surf. Needless to say I did enjoy one meal Tuesday night of fresh bonito. Wednesday we had an 8 ½-foot hammerhead shark show up in the surf. One of my friends yelled to the lifeguard that he might want to keep an eye on it, but the lifeguard thought he was just being friendly and ignored him. Then the swimmers saw the shark and hightailed it out of the water. They told the lifeguard about it and he promptly closed the beach. We used to have quite a few hammerheads around years ago, but we just haven't seen any for a while. They usually came in small schools, so that shark probably had a few friends with him. So far they have never attacked anyone at Balboa. There has been a few threshers seen off the end, but no one has managed to catch one yet. The bait has been excellent. We have had many sardines, Spanish jacks, smelt of all sizes, a few grunion and small macks. Thursday the bonito disappeared. They knew to get out of there before they became a meal for that shark. Last Tuesday we had a humpback whale about a half-mile out that breached three times before it went for its deep dive. That was exciting."
November 2015 — Our reporter Snookie says, "It has been a great month. We have had lots of yellowtail and bonito in the surf area as well as around the pier. We are using small grunion, and that is what they want. The yellowtail are smaller lately, but some are decent size. There was a beautiful 7-pound striped bass caught last week. There are lots of small halibut, shovelnose guitarfish, butterfly rays, thornbacks and stingrays. Out farther there were five turtles seen, two of which were caught and released. The biggest was a 6-footer, which we think because of its head size that it was a loggerhead. There are still lots of humpback whales around. Guess there is a lot for them to eat. The bait situation is fantastic everywhere. I have been going down everyday for the morning hours. Yes, we are eating a lot of good fish. Keep El Nino coming!"
January 2016 — Our reporter Snookie says, "Fishing has slowed again now that the water has cooled. It is 60 degrees now and the water is crystal clear. The only fish lately have been small mackerel on the end of pier and nice-sized jacksmelt in the surf area. The jacksmelt are there just off and on, but they are easy to see since the water is so clear. Bait is a problem, but we have gotten some. That is when Gulp comes in handy. Yesterday we observed an 8 to 9-foot great white shark about 10 feet from shore on the west side of the pier. What a beauty!! We also have sene a few humpbacks out about a mile. They love to jump and show their pectorals. One gray went by last week heading south.
June 2016 — Our reporter Snookie says, "It is slowly getting better, but very slowly. Bait has been our big problem. Now its is coming, but it is 2-inch smelt and anchovies. You have to use at least two of them at a time. As of last week we are beginning to get a few herring (queenfish), but so far no takers. The mackerel are still going strong farther out. The red crabs are swimming about everyday now with lots on the beach. It was quiet yesterday for the fishermen on the pier as the shark attack in Corana Del Mar kept all the swimmers out of the water from Crystal Cove to Balboa Pier."
July 2016 — Our reporter Snookie says, "It is finally beginning to pick up. We have had big water for over a week now, but we are making do even in the surf area. We have been catching lots of nice yellowfin croaker, kelp bass, and halibut although the bass and the halibut are small. We have been using extremely small live baits such as anchovies and smelt. Once in a while we get a queenfish some of which are big, and some are very small. Randy got a 22-inch white sea bass today on a regular-sized smelt. My kelp bass was only 13-1/2 inches. Getting close. We have been eating a lot of yellowfin croaker this week. There are lots of small mackerel. The big story this week is that the bonito have returned. They aren't big, but they are bigger than some of the mackerel. Yesterday there was a mola mola right under us. He was close to 500 pounds. He was at least 6 feet long.
August 2016 — Our reporter Snookie says, "It is getting more interesting at the pier lately. We are getting lots of good bait. There are smelt of all sizes, Spanish jacks, little mackerel, some queenfish, and an occasional grunion. There were thousands of sardines one day, and joining them was a 10- foot salmon shark in the surf area. He has teeth like the great white, so the lifeguards closed the beaches for a while. Those people in the water weren't sardines, so he [the shark] wasn't really interested. There was a yellowtail caught in the surf a few days ago that was decent-sized. Maybe we'll have them again this year. There were several bonito caught off the end on snag-line outfits. Those bonito were about 2 pounders. I got two halibut last week an hour apart. One was 22-1/2 inches and the other was 29-inches. Both were caught on smelt. Delicious!! Haven't seen any other keepers since, but they are there.
October 2016 — Our reporter Snookie says "the water is cooler than last year at this time. It is running about 66 to 69 degrees. I think the fish want it warmer. We do have a lot of bait all around the pier, which includes smelt, sardines, Spanish Jacks, anchovies (pinheads). We have had a lot of bonito this month. Some have been nice-sized, but right now they tend to be smaller. There are lots of mackerel as well. The halibut have been very small, but easy to catch in the surf. Out about midway there have been some thresher sharks, which are always fun to catch. One day about a week ago the bonito came in fast and furious. We were fishing the middle tee. All you had to do was put bait in the water and the bonito were there instantly. They are more selective at the moment. Yesterday I caught a 14-inch Spanish jack on my snag-line. He went home for supper with me.
November 2016 — Our reporter Snookie says, "Fishing has not been great at all. We still have lots of bait. There are lots of very small halibut in the surf area on small baits. I did catch a 21-inch halibut, and some smaller but good sizes. Then there was the hand-size ones which I caught a lot of. There were three stripers caught within 24 hours. One was caught on a blue and silver Krocodile lure. Another was snagged, and the third one was caught on a plastic. They were all about the same size from 29 to 30 inches. The bonito are still around, but there aren't as many. Of course there are mackerel, sometimes into the surf. The jacksmelt have shown up now in the surf area. The snaggers are getting mullet, but they aren't big.
Special Recommendation. This pier, like the Newport Pier, was targeted for closing unless anglers did a better job keeping the pier clean. Today it is posted as a "Litter Free Zone" and signs indicate a $500 fine for discarding refuse onto or from the pier. PLEASE help the local anglers keep the pier clean by doing the same yourself!
"The Golden Years" It's always interesting reading how fishing was in the good old days at the pier
The many charms of the seaside resorts of Orange county are attracting widespread attention. One of the greatest of these is the fishing, and yesterday this was especially good at Balboa and Newport. Herrings were caught by the hundred from the Balboa pier, and good catches of yellowtail were made from the Newport wharf.
—Santa Ana Register, June 10, 1907
Some good catches have been made off the pier this week both at Newport and Balboa. One little boy got a 26-pound yellowtail from the Balboa pier Thursday.
—Santa Ana Register, August 2, 1907
Fishermen from all parts of California are giving glowing accounts of their success at Balboa. Surf fishing and pier fishing for yellowtail and bass are becoming increasingly popular.
—Santa Ana Register, July 24, 1908
Several good catches of fish were reported from Balboa yesterday by F. W. Beckwith, among them being two oil sharks, which were caught off the pier by Jack Bergiran. Each of them weighed about seventy-five pounds. G. B. Rennard caught a seven-pound halibut.
—Los Angeles Herald, July 29, 1908
Leon A. Atwood of this city took the fishing honors off the pier at Balboa Saturday by landing a yellowtail weighing 16 ½ pounds. It required half an hour's skillful angling to bring the game fish to the pier. Not expecting a strike from so worthy an antagonist as the yellowtail, Atwood was casting for surf fish and his reel not being equipped with the drag used in game fishing it was impossible to stop the yellowtail until several hundred feet of his line had been taken out. By degrees he was able to bring in his catch which proved quite a sensation on the pier.
—San Bernardino County Sun, August 12, 1913
Barracuda and halibut were caught yesterday off both the Newport and Balboa piers. "Shiny" sinkers were used with successful results.
—Santa Ana Register, April 24, 1922
Pier fisherman report excellent fishing off the pier and have brought the following catches: Sebastian Sounus, 63 corbina caught from the pier; mackerel: T. J. Hobbs, Charles Plummer, E. C. Condon, C. M. Martin, R. P. Capel, E. Cannon, J. P. Connors, C. Brounback, P. J. Waters and J. C. Johnstone; corbina: Sebastian Sounus, E. C. Condon, T. N. Butterworth, Phil Armstrong, Fred Jackson and C. R. Watson; bass and halibut, A. Burris; albacore, George Baker; yellow-fin croakers, C. Peterson and A. Burns.
—Santa Ana Register, August 7, 1922
Sebastian Simonds again caught 30 corbina off the pier. Mackerel fishing is only fair and the yellow fin are biting fairly well.
—Santa Ana Register, August 22, 1922
Several yellow-tail hooked from the pier Saturday. The corbina are good in the surf and in the bay spot-fin croaker are very good. A few sea trout and plenty of small halibut are caught.
—Santa Ana Register, September 8, 1922
Good fishing, both at the pier and offshore, is attracting anglers from all parts of Southern California, and not a few from as far north as San Francisco, it was learned today… The water around the pier is literally alive with schools of herring, which makes snagging the favored mode of fishing. Creating quite an excitement of the pier was the hooking of a fine specimen of jewfish, weighing ninety-eight pounds, which, after a protracted struggle, was brought to gaff and landed on the pier.
—Santa Ana Register, September 11, 1924
Sea bass, barracuda and halibut have been caught off the piers at Balboa, Newport and Huntington Beach. Fishermen have been getting sea bass on barracuda poles by jigging for them… Frank Phillips and Porter Edmunds got their share of sea bass of the Balboa pier last Sunday.
—Santa Ana Register, July 22, 1925
R. Russell, who recently opened a bait stand on the end of the pier, also declares the fishing at Balboa is much better. Russell has one of the most unique bait houses on the Pacific coast. Instead of the conventional barrel in which to keep his bait, Russell has built a large zinc lined trough and the fish are placed in this and the water changed every half hour. The constant change of water keeps the bait full of life and, according to Russell, gives the fishermen what is called "hot bait."
—Santa Ana Register, April 24, 1926
Sea trout, or white sea bass, are rising to spoons or to live bait cast from the Balboa pier. Halibut, yellowtail, occasional barracuda, spotfin croakers and jewfish are making the late season angler happy and providing unusually good fishing for this season. With the south wind Friday, came a big school of bonito and, as long as the bait lasted, the pier was well covered with the finny prizes, but only the live sardines will attract these gamey fish. Live bait has been hard to get, but when it is plentiful, fishing is good at all points along the coast,
—Santa Ana Register, October 2, 1926
From the piers at Newport Beach and Balboa fishermen are enjoying the greatest run of bonito in five years, according to old timers. Fifty to one hundred fish a day per fisherman is about the average catch. Yellowtail, mackerel and sea trout are also being taken in generous numbers from the piers but they are not nearly so plentiful as the bonito. The big bonito run started three weeks ago and the opinion of the local fishermen is that it will continue through October and November. Live sardines are the best bait.
—Santa Ana Register, October 15, 1926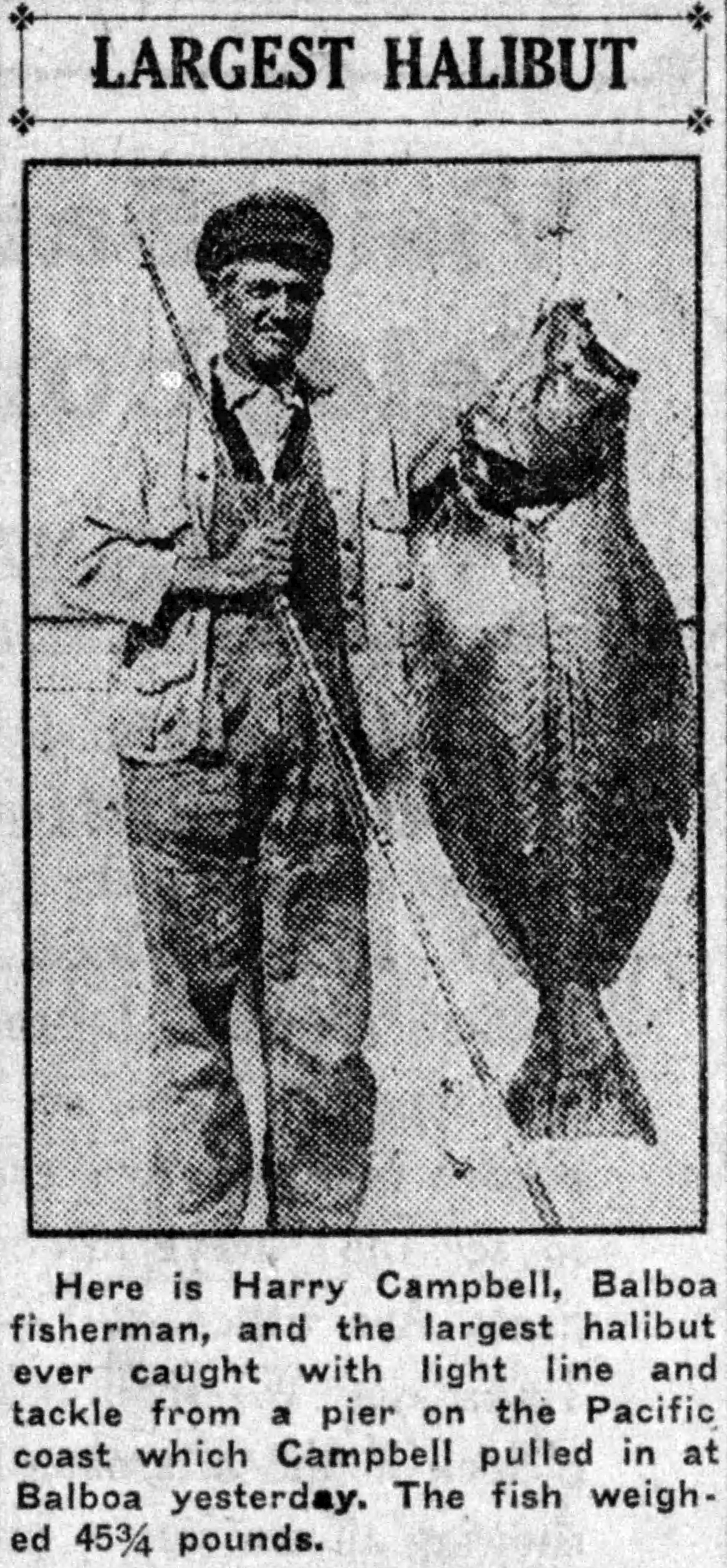 Record Weight Halibut Taken By Balboa Man — The largest halibut ever caught with a light line and tackle from a pier on the Pacific coast was hauled in at Balboa late yesterday by Harry Campbell, Balboa fisherman and a member of the Balboa Angling Club. The fish weighed 45 ¾ pounds.
Large halibut are being brought in regularly along the beach at Balboa and Newport Beach, but the one captured by Campbell is the largest ever caught in the vicinity. H. T. Petty, of Long Beach, landed a 22-pound halibut on the Newport Pier and Fred Gale, of Brea, got a 11 ¾-pound halibut at the same place earlier in the week.
Fishermen are elated over the catches of halibut and are further buoyed up over the report that a large school of barracuda is reported to be coming up the coast from Laguna Beach. Other varieties of fish are also being caught in abundance from the two piers.
—Santa Ana Register, May 21, 1927
Record Fish Landed—Newport Beach, May 13.—Carl Sandino, one of the operators of a live bait stand on Balboa pier, hooked and landed the biggest fish of any kind ever caught off that pier yesterday. Sandino's catch was a giant black sea bass, which tipped the scales at 452 pounds. The head weighed 70 pounds.
—Santa Ana Register, May 13, 1930
At the Balboa Pier a five-pound corbina was brought out of the water, a two-pound yellowfin, and a small boy caught a pound-and-a-half jewfish.
—Corona Daily Independent, June 26, 1930
Good Fishing Reported For Newport Area—Newport Beach, March 16.—Unusually good fishing for this time of the year off Newport and Balboa indicates that last year's record-breaking fishing season will be duplicated during the coming summer, according to gossip among the angling fraternity… Many halibut and bonita are being caught by trolling boat fishermen and off the Newport and Balboa piers… Scientists have said the warm Japanese current ran closer to the shore than usual last summer, and that this condition is likely to last for from three to five years.
—Santa Ana Register, March 16, 1932
Big Fish Contest At Newport Beach Ended
Newport Beach, July 8.—Lew Williams of Arcadia and Balboa, carried off honors in the big fish contests run by the Newport Harbor Chamber of Commerce ending last night, when he snagged a 310-pound sea bass (Jewfish) on Sunday, June 25, the very first day of the contest, at the Balboa pier. Prizes were offered for the largest fish caught at both the Newport and Balboa ocean piers. Francis N. Edmunds of the Southern California Edison company at Santa Ana won the prize at the Newport pier, catching a 24-pound sea bass.
—Santa Ana Daily Register, July 5, 1933
Big Catches Draw Anglers To Beach—Newport Beach, May 31.—Attracted by word of big catches off Newport Beach, fishermen in increasing numbers are flocking here. Several large white sea bass were caught from the Balboa pier recently, among the lucky anglers being Chase Gates, of Balboa, and Valdemar Sorenson, local wharfinger. Large halibut are running now, with several tipping the beams at close to 25 or 30 pounds being pulled in from both piers. Mrs. Maybelle Davis, Balboa, hooked one of the flat fish that weighed 30 pounds.
—Santa Ana Register, May 21, 1934
The lobster season opened Oct. 1 and many anglers are out after the hard-shelled redheads. Smelt fishing from the Newport and Balboa piers is beginning to show signs of action while pierists here have done well with mackerel in the morning hours.
—Santa Ana Register, October 10, 1937
With the dedication of the Balboa Pier last weekend the city had the roomiest pier fishing facilities on the entire coastline. Two full-size ocean piers a little over a mile apart insured plenty of elbow room for all pier fishing enthusiasts. Both the Newport and Balboa piers are getting good crowds, as Southland enthusiasts tried out the two new structures.
—Santa Ana Register, June 26, 1940
History Note. The Balboa subdivision was developed by the Newport Bay Investment Company in 1905 and named by E.J. Louis, Peruvian consul in Los Angeles, in honor of Vasco Nunez de Balboa, discoverer of the Pacific Ocean in 1513. To lure prospective buyers to what was basically a sandspit, the developers in 1906 built the Balboa Pier together with the nearby Balboa Pavilion. When built, the Pacific Electric "Red Cars" of Henry Huntington could bring passengers almost directly to the foot of the pier.
Almost immediately the Balboa area became a tourist destination and fishing was a favorite sport—inside the bay, on the beaches, and at the pier. However, like most early piers, it saw frequent damage from storms and high waves.
In 1908, part of the pier was lost:
Heavy Seas Along the Coast Remove Part of the Balboa Pier—Newport Beach, June 24.—The seas have been quite heavy of late and as a result a portion of the Balboa pier was carried away Sunday, the pilings being broken off at the sand.
—Santa Ana Register, July 24, 1908
It was much of the same in 1911:
Balboa Pier Shaky—Newport News: The end of the Balboa pier is barely hanging on and the heavy ground swell running is apt to demolish the rest of it at any time. Friday night the breakers beat against the coast at East and West Newport so hard that the buildings were shaken as by an earthquake.
—Santa Ana Register, June 6, 1911
Finally, in 1915, the county grand jury took a look at all the piers in Orange County:
Grand Jury Report Filed — Piers — We investigated and examined all piers in Orange County, and we find them generally in good condition, except the following: At Laguna, found the pier in dangerous condition, and should be torn down and rebuilt. At Balboa, bad condition. Newport should have new piles. Corona Del Mar should be strengthened by placing stringers under the walk.
—Santa Ana Register, January 23, 1915
Although repairs were made and the pier reopened, it was eventually decided that a new pier was needed and in October 1921 it was announced that bids had been accepted for a reconstruction and extension of the 1,100-foot-long Balboa Pier. W. M. Ledbetter, a contractor from Los Angeles, won the bidding war with a bid of $17,600 and construction began in the early months of 1922.
In July of 1925 bids were awarded for the construction of a landing platform out at the end of the pier similar to the one on the Newport Pier. It was hoped that boats out to the local fishing barges would be available from the landing.
However, one problem persisted and that was that the pier rarely duplicated the fishing success of the nearby Newport Pier. Water depth was seen as the problem and by August of 1925 some of the local residents were calling for a 500-foot extension out into water of the "channel current" that would be 65-feet deep. Soon, some residents called for a 1,000 foot extension.
Unfortunately for the anglers, a vote on the needed bonds for an extension was held in February 1926 and defeated by a 142-89 vote. The pier would stay the length it was.
In 1928 a three-year lease on the bait concession on the pier was awarded to John Law for the sum of $5 a year. As part of the concession he would also serve as "wharf tender."
That same year saw a change to the "Balboa Tackle Shop" that was located near the pier when Clifford Von Kennel, "well known local merchant and sportsman," bought out his partner H. V. Smith.
In November of 1929 papers reported the death of John Schilling, one of the "pioneers of this city" and a man "well known here as he conducted a fishing tackle shop near the end of the Balboa Pier."
Big new in 1934 was the possibility of the a new barge being placed off of the Balboa Pier:
Hermosa Man May Place 'Olympian' Off Balboa Pier—Newport Beach, June 15.—Possibility of the anchoring of a new fishing barge just outside of Balboa was seen today with the application of Capt. J. M. Anderson, well known fisherman of Hermosa Beach, for a permit to anchor his barge "Olympian" off the Balboa pier. Some arrangements will have to be made with holders of the present barge concession, it was said, before the new barge can brought.
—Santa Ana Register, June 15, 1934
Just a few months later, newspapers reported on a request to sell dead bait as well as live bait. Apparently selling "dead" bait on the pier would conflict with those stores (including tackle stores) that sold "dead" bait off the pier:
Valdemar Sorensen, wharfinger in charge of the municipal pier at Balboa, was heard in a request to the council to have his contract with the city changed to allow him to sell dead as well as live bait. Sorensen contended it would be impossible for him to continue caring for the Balboa pier if allowed to sell only live bait. The case was carried over until the next meeting in order to allow an investigation of the matter, and a report from Balboa merchants selling dead bait.
—Santa Ana Register, September 4, 1934
These news items paled in comparison to what took place in 1939. In September of that year the pier (including the T-shaped end) was virtually destroyed by a Mexican chubasco (hurricane) that hit Southern California. Soon after on October 23 a special meeting of the city council was held regarding the rebuilding and financing of both the Newport and Balboa piers. A petition representing 643 signatures was given to the board. On December 4 voters went to the ballot booth to vote on a bond issue allowing $130,000 for the construction of the two piers. The next day newspapers announced the results.
$130,000 Pier Bonds Voted By Harbor Area On Tuesday—Newport Beach, Dec. 6—A bond issue of $130,000 was voted Tuesday by harbor area residents for the reconstruction of the Newport Beach and Balboa piers destroyed by the forceful storm of last September. Ballots totaled 1,707 with 1,198 yes and 509 no votes cast. The two-thirds majority necessary for the success of the bond issue was attained by but 60 votes. Twenty-three absentee ballots are yet to be received… Officials will begin immediately preparation for advertising of the bonds and for bids for the work, which may run concurrently. It is expected construction will begin in late February or early March with the piers ready for the use by the summer season. Preliminary plans for the Balboa project show a structure 920 feet long to start at a point 233 feet southerly of the Ocean Front walk. The end of the pier, which will cost approximately $64,700 would extend to a depth of 30 feet of water at low tide. Estimated cost of the Newport wharf is $64,200 with $1,100 added by the city council for the construction of a bait house. Preliminary plans cover a pier, which will be 1,083 feet in length extending to 30 feet of water at low tide.
—Santa Ana Register, December 6, 1939
In addition, both piers would also see improvements to the approaches to the piers including upgraded street and curbs, benches, additional lights, and additional palm trees. The additional work brought the contract price to $124,370, an increase over the originally contract of $124,370 but still under the original $130,000 bond.
Work was soon under way and by June the papers were ready to announce the dedication of the Balboa Pier—June 23, 1940. The papers said it would be a "gigantic" celebration with a variety of events including a fishing contest and "thrilling" kayak races.
The Santa Ana Register on June 24 announced "Thousands Attend Balboa Pier Opening"—
"As thousands of visitors jammed the oceanfront, beautiful girls representing the 20 cities aided in dedicating a "Court of Friendship" which fronts the new structure. Twenty palm trees were placed around the court…as more trees are added to the court, additional cities will be honored."
"Opening the program was a marine fashion show, in which a number of Balboa's most beautiful girls exhibited the latest styles for beach, yachting and general sports wear."
"A fishing round-up was conducted all day at the pier, with prizes awarded for the largest fish of any kind caught, for the largest halibut, smallest fish, largest variety of fish, oldest fisherman and youngest fisherman."
"Another attraction which brought scores of visitors here was an amateur photography contest, with camera experts offering a large number of prizes."
It sounded like a fun time but I am not too sure today's reporters would report things in quite the same manner.
Although the Balboa Pier never experienced problems as severe as those seen at the Newport Pier, it falls under the same city jurisdiction and unfortunately suffered the same fate as its sister pier when hours were cut back by the city in 1996 (a story outlined in more depth in the article on Newport Pier).
Council Scheduled to Vote on Plan to Limit Pier Hours
A proposal to close the city's Newport and Balboa piers from midnight to 5 a.m. is scheduled for a vote at Monday's City Council meeting.
The council last year gave City Manager Kevin J. Murphy the authority to close the piers if complaints persisted about debris left by anglers.
Murphy's office is also recommending the installation of video cameras to monitor illegal activity, working closely with the piers' concession owners to ensure maintenance and stepping up police enforcement.
"For some community groups, the recommendations will not be enough to completely and thoroughly achieve their goals," Murphy said in his report to the council. For fishermen, he said, the recommendations may seem "too restrictive and unfair."
For two years, merchants and homeowners in the area have been at odds with Newport Pier anglers over how to keep people from cleaning fish on the benches and casting their lines overhead.
"I feel they are trying to railroad the poor guys out of the city," said Joe Imbriano, a fishing enthusiast and activist.
Others, such as Ted Post, an Orange resident who has been fishing in Newport Beach for 45 years, said the recommendations are sound. "Everything was fine for 43 years until the policing was reduced," he said. "We've been asking to bring it back to normal. This will help keep the drunks off the pier at night."
—Enrique Lavin, Los Angeles Times, February 24, 1996
Balboa Pier Will Now Be Closed at Midnight
Beginning today, the city will close Balboa Pier from midnight to 5 a.m., imposing the same curfew set in June for Newport Pier.
The city's goal is to curb crime and reduce litter, City Manager Kevin J. Murphy said in a written statement.
Though adopted in February, the curfew had not been enforced at Balboa Pier because signs and a gate had not been installed. Now that is done, officials said.
When the Newport Pier curfew took effect, it drew a mixed response from anglers. But city officials say the new policy has yielded positive results.
Since the Newport Pier closure, Murphy said, "there has been a significant drop in vandalism." The city expects the same results at Balboa Pier, he said.
Anglers had feared that they would be banished from two of the best fishing spots in the state during prime hours.
A group of fishing enthusiasts organized a campaign to urge other anglers to clean up after themselves to thwart city action but were unsuccessful.
City officials sided with pier-area merchants and residents, who complained that fish bait and remains left behind by anglers were unsightly and discouraged tourism.
Officials had also said there was a growing problem with graffiti, other kinds of vandalism and public drunkenness.
After a several months of study by the city staff, policy-makers decided in February to reduce fishing hours.
City crews now clean up the Newport Beach piers while they are closed during the early morning hours, a policy similar to that in San Clemente, where the pier is closed from midnight to 4 a.m.
—Enrique Lavin, Los Angeles Times, August 9, 1996
As at all piers, occasional damage seems to almost be a byproduct of winter storm (especially the warm-water El Niño storms). Same here as seen in 1998 when one corner partially collapsed following damage to a piling. The damage was quickly fixed but given the nearly 60 years since the 1939 construction, the city decided to take a look at both the Balboa and Newport piers. The result was fairly major repairs in 2001.
Shoring Up Two Landmarks Along the O.C. Coastline
Beaches: To ensure the stability of Newport and Balboa piers for 20 years, $3 million will be used to replace decks, pilings
Newport Beach's two landmark piers are about to get their most extensive face-lifts in 60 years, as workers replace both decks in hopes of protecting the structures against pounding waves that proved too tough for some neighboring piers.
The Newport and Balboa piers have been battered by decades of heavy surf, to the point that engineers said both structures could suffer fatal blows in the event of a major storm. While the piers are still safe for public use, officials said immediate repairs are needed to protect the structures for the next 20 years.
The city will spend nearly $3 million to replace the boardwalks of each pier, painstakingly removing battered concrete and weathered wood. Some eroded piling also will be replaced.
Each pier will be closed for about a month during the most intense phases of construction. The Balboa Pier will be closed for much of January and Newport Pier will be closed in February.
The piers are "suffering big time," said Lloyd Dalton, design engineer for the city who is supervising the work. "With all the deterioration and pounding from the ocean they have taken over the years, they're not nearly as strong as they were in 1940."
Waves are not the only thing threatening the piers. Ship worms and limnoria, wood-eating insects, have found their way into the timber. Trucks driving across the boardwalk to deliver food and supplies to restaurants at the piers' ends are also undermining the wood-and-concrete supports.
Both piers were built in 1940. The current Newport Pier replaced the famed McFadden's Wharf, a center of pre-World War II commerce that was bisected by trolley-car tracks. The area around the pier was a top fishing spot, and the trolley brought produce, food and other goods.
The wharf was destroyed on Sept. 24, 1939, when a tropical storm with 60-mph winds and 30-foot waves smashed through.
The old Balboa Pier—built in 1906 to lure residents to the then-deserted spot–was also destroyed by the same storm.
They've stood up to much pounding since 1940, faring better than others along the coast.
The Seal Beach Pier was severely damaged during the 1983 El Nino storms and had to be rebuilt. A 1998 storm destabilized the Aliso Pier in South Laguna Beach. County officials demolished the pier but said there wasn't enough money to rebuild it.
"Typically, when these piers are damaged, the wave heights exceed the design waves and they start hitting the main structure of the pier as opposed to the piles," said McCarthy, an engineer with Moffatt & Nichol Engineers, a national firm that specializes in waterfront structures.
Both piers have wood superstructures, which support cement decks. The decks are cracking and will be pulled out. Workers will also replace the eroded wood bracing and metal bolts that connect the decks to the structures.
The city will use its portion of the settlement from the 1990 American Trader oil spill to pay for the repairs.
When the work is complete, the city will take steps to protect from further damage. Trucks heavier than 3.8 tons will be prohibited from using the piers to deliver goods to the restaurants. Currently, trucks up to 5 tons are allowed to use the deck for deliveries.
—Stanley Allison, Los Angeles Times, October 22, 2001
Balboa reopened in the spring of 2002 with new railings, a new concrete deck, reinforced pilings, and new restrooms near the front of the pier.
Unexpected damage from a different source occurred in 2013 when a 55-foot-long private boat lost power and drifted into the pier's piling. The pier was closed for a short period of time but reopened after the city engineers declared the pier was structurally safe.
Today the pier seems in great shape—and it looks beautiful.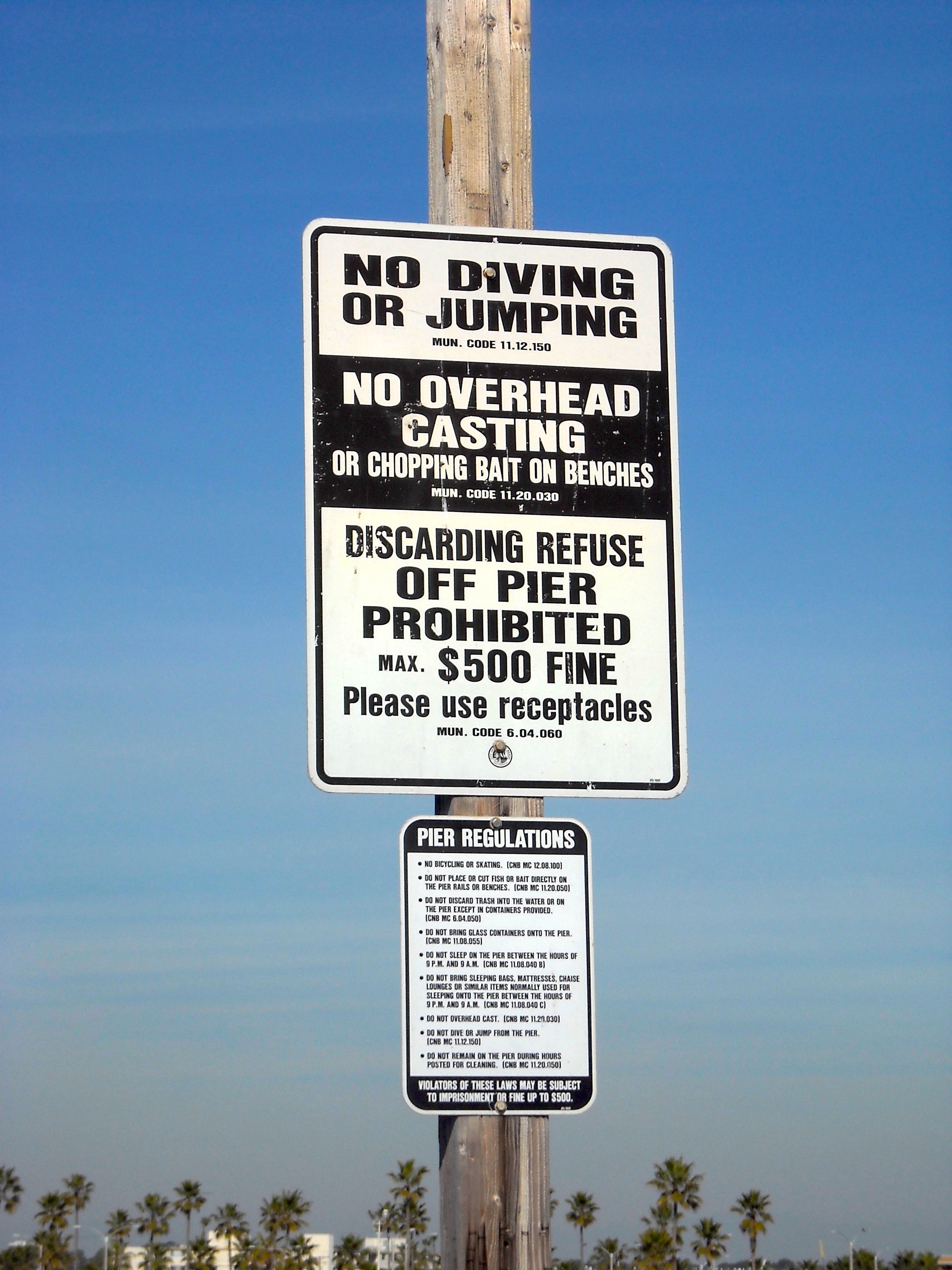 Balboa Pier Facts
Hours: Open from 5 A.M. till midnight.
Facilities: Restrooms are located near the entrance to the pier. There are lights, some benches, and fish-cleaning stations on the pier. There's a Ruby's Diner restaurant at the end with its candy-striper waitresses and '50s decor. Ruby's restaurant sits out at the end of the pier. There is currently no bait and tackle facilities. Parking spaces can be nearly impossible to find so I recommend the parking lot adjacent to the pier even though the cost is $1.50 an hour (with a maximum of $7). If the kids are seeking entertainment they can find it nearby at the Balboa Fun Zone near the Pavilion. They'll find a small Ferris Wheel and some arcade games.
Handicapped Facilities: Handicapped restrooms. The pier surface is concrete with a rail height of 36 inches. Posted for handicapped.
Location: 33.59925013477555 N. Latitude, 117.90061712265014 W. Longitude
How To Get There: From the Pacific Coast Highway take Newport Blvd. which will turn into Balboa Blvd., follow it west to Palm Street. Turn right and follow it to the pier and an adjacent parking lot.
Management: City of Newport Beach