Date: June 21, 2000; To: Pier Fishing in California Message Board; From: Ken Jones; Subject: Fish Report
Fished Balboa most of Tuesday morning and afternoon. Bright and early tried out at the end; nothing but jacksmelt was around. Didn't see a single mackerel, or other fish for that matter. Joined Snookie and her charming group about 9:30 and had a delightful time listening to stories and the wisdom accumulated by a group of true experts over many, many years. Also managed to catch five halibut and one queenfish using the small smelt that Snookie provided. Saw one small blacksmith perch, an unusual crab, and a sickly barracuda (dark colored and estimated by myself at 4-5 pounds) that was hanging around the surf area until someone finally snagged it. After looking at the fish, the angler decided to return it to the water where it continued to patrol the shallow water for the next several hours. Thanks again to Snookie and the "gang" at Balboa for a great day.
Date: September 22, 2000; To: PFIC Message Board; From: Snookie; Subject: (In reply to: Hammerhead sharks off piers?
 Although we haven't had any hammerhead sightings in a few years we used to get them regularly at Balboa Pier. The biggest was about 10 feet with a smaller companion hammerhead. We have had many small ones (about 4 or 5 feet). They never bothered anyone, and there were times they would come into the surf area around late afternoon. There were swimmers in the water, but the sharks were not interested in them. Most of the time they are looking for a fish menu. These times have been in either spring or fall not summer. Snookie
Date: March 14, 2001; To: PDFIC Message Board; From: Snookie; Subject: Tuesday Balboa Pier
 Finally, a nice day was had Tuesday on Balboa Pier. The bait were there and no problem to catch. I did catch a Cabezon (only about 10 inches) and lost a good-sized croaker in the surf area, which is where I fished all day. The end fishermen were doing nicely on mackerel at last.
Early afternoon we had a full-grown gray whale come to us in the surf. It stayed for about 30 minutes. He or she was right against the pier. What a sight! We had spyhopping, flukes in the air, and pectorals in the air. We also had about 100 or so people watching. If any of you have this happen near you, have everyone speak only in whispers. If they are quiet, the whale will usually stay happily. (Can you imagine 100 people being quiet? They were, and the whale stayed). Sights like this make me glad that I carry a camera. I am taking the roll of film into the processor today. A beautiful day, some fish, lots of bait and whales to watch—what more can you ask for? Snookie.
Date: April 18, 2002; To: PFIC Message Board; From: Sniookie; Subject: Balboa Pier Big Halibut
It was a wonderful day today! I broke my pier record for halibut size and caught a 37-inch halibut on a nice sized smelt. That fish should weigh about 20 pounds. My friend Bob was with me and it was a good thing he was because I handed the rod to him so that I could net my fish. He is excellent with a rod and I trusted him. About 25 minutes later we had the fish in the net. Do you have any idea how hard it is to get a 37-inch fish into a 28 inch in diameter net? We were exhausted after that. I lost another big halibut under the pier plus got some smaller ones. My other friend lost a big one under the pier as well, but also got some smaller ones, plus my friend Bob got smaller ones up to 20 1/2 inches. We had so much bait we threw out bait when we left. As we were leaving there were three sets of two whales each set came by us in the surf. They were cows with babies. What a sight to see. Yes, it was a great day for us!!!! Snookie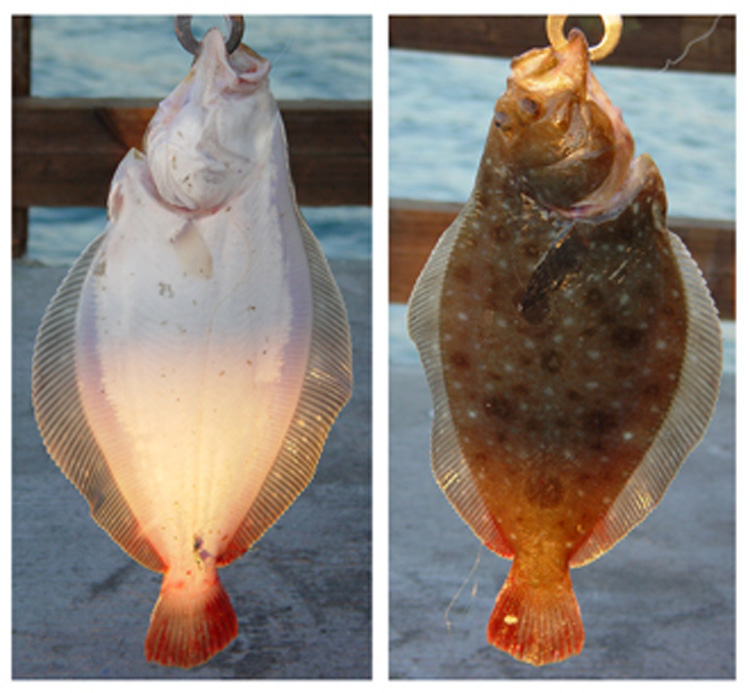 Flatfish include halibut, sole, turbot and sanddab
Date: July 30, 2002; To: PFIC Message Board; From: Steve; Subject: Jumbo Squid
I hate to spoil it for all of you who like to keep secrets but. The Jumbo Squid were back in full force last night. Got out to Balboa at about 8pm. By about 8:45 the first squid was caught. Between me and my brothers and sisters boyfriend of us we must of caught about 30 squid. It was very different compared to a couple years ago. The squid were a little smaller and much more aggressive. They were schooling about 1-4 feet below the surface. You did not even need to yo yo your jig or anything once you dropped your jig in the water they hit. They were following large schools of smelt. This went on in waves till about 11pm. Good luck finding a spot on the Pier tonight.
Date: August 17, 2002; To: PFIC Message Board; From: Josh; Subject: Giant Squid-Balboa
 Well, I'm back from Balboa pier. I'll make it short because I'm tired. The Squid are back at Balboa, and I got there when they arrived at about eight. I used a squid jig on the 10' Ugly Stick Johny kindly gave me with 17# line on a Shakespeare Tidewater reel. The result: about 27 LARGE squid packed in neat layers in between layers of ice in the laundry room sink, since they won't fit in the freezer. At about 9:30 the squid largely took off to parts unknown and I moved just outside the surf zone… anybody with some calamari recipes (especially how to fry them) please let me know. I sure hope the neighbors like squid lol.
Posted by youngmanandthesea
Greetings, Balboa Pier was a mess last night. I arrived at 8pm and saw rods bending — over all around me. There were people everywhere as the squid made a strong showing. I saw piles and piles of squid lining the pier. Boy I'd hate to be the dude responsible for cleaning up that mess!! Anyhow, got set up with my egg sinker/squid jig set-up and joined in on the party. People were hooting and hollering all around me. It was a festive event. Lots of kids, and old people having fun. Amazingly, I remained pretty clean after the ordeal. Well, except for one squirt on the head. I caught about 20, but could have caught many more if I had the appetite, and the strength to carry those suckers back. On a different note, I lost my rod in the melee that resulted after the squids moved in. I was bummed out!! But then, I saw an old friend and we started talking. As we were talking, a gentleman came up and asked if I was the dude that lost the rod. (You're a true gentlemen Rod…Thanks!!) Got my rod back. Thanks for all the useful tips guys. I had a blast last night!
Date: July 13, 2003; To: PFIC Message Board; From: Snookie; Subject: (In reply to: Anyone ever catch Salmon in the surf? posted by hoho)
My king salmon was caught in the surf area of the Balboa Pier on a 6-inch live smelt on a sunny day in the latter part of August. The smelt is the only part that makes any sense. The rest is out of the ordinary, but it happened nonetheless. It was 29 inches and 10 pounds and oh so beautiful. I could have cast from shore and found that salmon, but I just so happened to be on the pier. Keep trying. Strange things do happen. Snookie
Date: October 17, 2003; To: PFIC Message Board; From: tunanator; Subject: Too many "meat" fisherman at Balboa
Man, I don't mean to sound like a total jerk or something, but MAN these 6 at a time bonie/mackeral fisherman are getting out of hand. They are flocking like vultures and seem to be multiplying. There were NO spots at the back rail today and EACH guy was fishing a cheap heavy spinning rod with 30 or 40#, 6-10 hook Sabikis with jigs at the bottom, and catching 3-6 bonies at a time. Half of them don't cast straight, DONT look behind them when they cast or bounce fish, and are tangling lines. One even hooked a buddy in the leg with a jig, PAST THE BARB, 2 POINTS OF THE HOOK. They care about ONE thing, catching as many fish as they can until they fill their COOLERS (not just buckets). There seems to be little or no regard for common courtesy, safety, avoiding tangles, or let alone that hooks are sharp.
Catch a limit and let someone else in please… when bonies are around, try ONE jig, not a meat hook Sabiki. But I guess they aren't there for the fun of it. I was only able to get ONE bonie during wide-open flurries because they were literally catching most of the school by the time they got to my side of the pier. And the only one I did manage to catch was when one guy left a spot open and I got a jig back there. The guy who got hooked in the leg by the jig didn't even get to catch any bonies. And the meat fisherman didn't leave until the bonie bite stopped and turned to straight mackerel, and even then they didn't leave till they were full of mackerel. What do they do with all of those? They seem to do it a few times a week if not daily.
Sorry for the rant, but this was WORSE than a 1/2 day boat on a Sunday in July, at least on the boats most people respect limits, and they DONT leave a bunch of trash, rubber gloves, rags, chopped up fish, you know what I'm talking about… the same reason OC piers close at midnight now.
Next time that happens I'm over it, just gonna fill a bucket with dines from the Sabiki, go closer to shore, and try for halibut…
Again I'm sorry, but I had to say something now that I experienced how bad it can get, and this was a weekday, and heard it gets worse.
Date: September 6, 2004; To: PFIC Message Board; From: Gary Evans; Subject: Balboa Labor Day Nightmare
Fished Balboa today from 8 am to around 4pm. Saw some of the regular rats out today, was hard to pick them out from the mass of people who showed up today. I heard it was like a race when the gates opened, people pushing through the gate and running to the end. Just to get a chance at a Bonita. Are they really that good to eat?
I fished between the two tees, as there was no room from the second tee out to the end. Where I was fishing there was not much going on. So since the fish weren't biting, I spent a lot of time picking up trash and dead fish others had left on the ground. I don't understand how they cannot get to the trashcans. I have not seen the pier this messy for a long time. There were a few bonito being caught out on the end, and around 3pm the water started to boil with bait being driven to the surface. Some bonito were being caught when I left. I only managed one leopard shark around 3 feet, broke him off before lifting to the pier. Too many people were rushing up to ask what I was going to do with it. So I pulled hard and broke the leader. Frustrates me when people want your fish before you have even got it up to the pier.
Seals were around in force, but were not bothering the fisherman. Saw a few YFC caught, some thornbacks, one hali about 18″. Lots of bait still around the pier. Dines, smelt, and small macks. All in all it was a frustrating day with people crowding in and tangling lines. I forgot how bad it can get when the news is out about good fishing. I think I will wait until the bonies leave before I come back out hali hunting. I think the crowds will leave once the bonies leave. Gary Evans