Posted by fishy
The meat fishermen at Balboa sell their fish. That is why sometimes when the fishes are biting these fishermen come in droves. They sell a lot of the fish to fish market and friends.
<*))>< "Something is FishY here"
Date: November 17, 2004; To: PFIC Message Board; From: bendopolo2004;  Subject: O.C. Micronita Balboa Pier
Hit Balboa Pier again. Went out to the end and for the first time I couldn't make any bait. The Dinos' were there but just wouldn't eat the Sabiki. The couple of small baits I did snag were instant Bonies. Finally I was ready to quit, and as I walked back down the pier, I noticed the bait getting thicker. Mostly smelt, some grunion, and micro-mackies. Bait was easy to snag and the small macks would eat sometimes. The surf was loaded with Bonies and I ended up giving fish to some of the more needy anglers. They watched me catch bait, and flyline it. They watched me nail Bonie after Bonie, and yet they sat there on their "arses" and fished with chunks of dead fish or mussel, or squid. If you really want to improve your fishing odds, try new things, be creative, do what the local hot sticks are doing! We are out there to catch fish; this is not a spectator sport. Except for all those cute gals walking around, now they can spectate all they want!
P.S. The Fluorocarbon leader made all the difference today. Three feet of 15 pound tied on with a blood knot and a Number one Mustad 9174 on the Flyline. Go get 'em guys, Jim
Date: January 1, 2005; To: PFIC Message Board; From: Posted by hoozdragging; Subject: Bonito
Hello, my name is Angie. I am ten years old and I am a 5th grader. Every night I read this site's message with my Dad (hoozdragging). I like to report myself today because I caught the baitfish and the big fish (Bonitos). When I got out of Barnes & Nobles, the sky was clear. It was blue with white clouds. So I asked my Dad to go bonito fishing. I arrived at the pier at 1:30PM. No baitfish. Just a few smelt near the sand. After spending sometime I got two little sardines. Right after I wetted the sardine, I got hooked-up. Suddenly, KABOOM! Out of the blue my fishing rod bended big. I started to reel it in very, very carefully because I use a circle hook. Just below the pier the bonito swam around the piling. I relaxed the line and the fish turned around. While I was reeling up the fish, it was flipping in the air and it felt very heavy. I thought it was monster! But on the pier it was measured 18". About an hour later I got another bonito bite. This one was 17". This time it was easy. Later in the afternoon until sundown I caught lots of mackerels that I cut up and fed to seagulls. Lots of travelers saw my bonitos and asked a lot of questions to me. If it does not rain tomorrow, I would like to try again. Happy New Year and Happy fishing, Angie."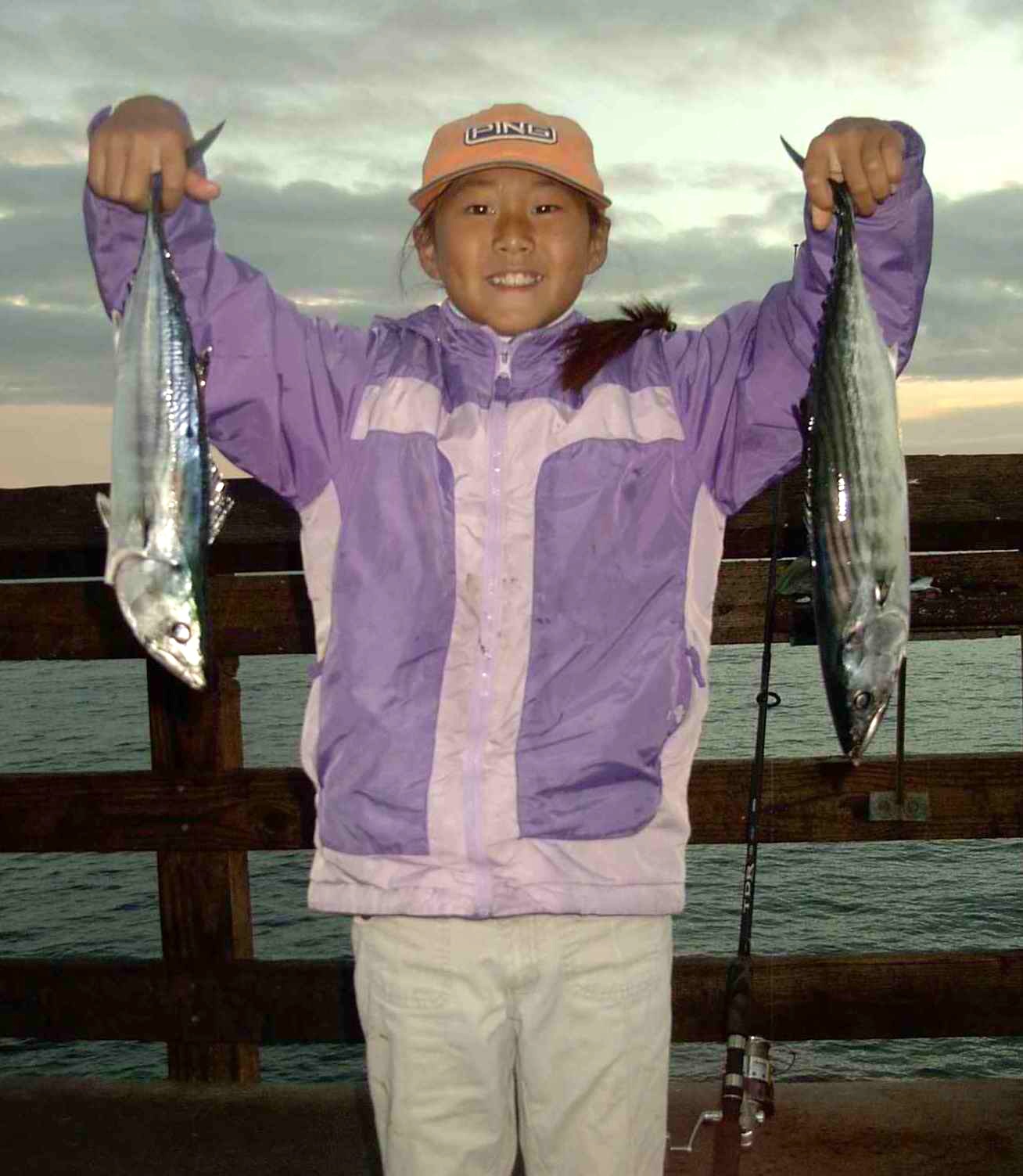 Angie and her bonito
Date: June 14, 2006; To: PFIC Message Board; From: Snookie; Subject: Balboa Pier
 Yesterday was the day of days for catching halibut. My keeper was 22 1/2 inches long and delicious for dinner. It was the only keeper caught, but the halibut went crazy all day. We caught somewhere between 50 and 100 halibut for the four of us. Each bait got a fish or a lost fish. It was hard to keep the bait buckets going so we just caught our bait as needed. Two of us were always manning the bait lines it seemed. I myself caught well over 30 halibut. We also caught some nice yellowfin croakers and a corbina. Had some sardines for bait part of the time. Couldn't hook what was taking them, but it was either barries or white sea bass. There was one big white seabass early on. The wind was terrible all day, but we fished the leeward side most of the day. It was a day that the bonito should have shown, but they didn't. The mackerel were everywhere. Hope tomorrow is as good or better. Snookie
Date: April 25, 2007; To: PFIC Message Board; From: dompfa ben ; Subject: My favorite of all time (pier-related!)
…took place on Balboa pier when I was in High School. A fellow in a wheelchair was pushing himself along down the pier, a gas-can in his lap. After stopping at several fishing groups along the rail, he finally covered to distance to my location, and began his tale of woe.
Apparently, his van was out of gas over in the parking lot at the base of the pier, and his wife and kids were in there. None of them had eaten since yesterday, and he needed a little money for gas and food.
Maybe it was the wheelchair, maybe it was the possibility that there MIGHT actually be hungry kids over there. Somehow, he piqued my compassion, and I pulled out the three bucks I had crumpled up in my pocket (change from a Super Big Gulp, I imagine…)
Somehow in the transfer, the money left my grasp before it reached his, and with the early afternoon breeze, the half-crumpled bills started blowing towards the opposite side of the pier.
Immediately, the man jumped up from his wheelchair, sprinted towards the rolling ball of money, and stomped it into the pier surface with a well-placed foot. Leaning down like the otherwise healthy fellow he was, he lifted the few bucks, and quickly squirreled it away in the gas can! Replacing the cap on the red plastic container, he returned to his seat in the wheelchair, finished his sweep around Ruby's (no one seemed to want to give him much after his miraculous episode of temporary walking faculties), and wheeled down towards the base of the pier.
I would have been angry if it had not been so funny. Still, I couldn't help but feel a little taken, and perhaps, a little wiser. And no, he didn't turn into the parking lot.
Date: April 18, 2008; To: PFIC Message Board; From: Snookie; Subject: Big Skate—More Balboa Pier Keepers  
 Yesterday Randy caught a 29-inch halibut about mid-way out. It was so fat and nice. It looked like the same size I lost last week in the surf when it jumped out of the net after it was well netted. We did discover an interesting way of filleting the halibut at ease. I am left handed and he is right handed so I filleted the part that is meant for left handers, and he filleted the parts meant for right handers. That works very well. Yes, he shared some fillets lucky for us. He caught that halibut on a shinerperch. We were able to get bait all day, but the other halibut we caught were small. The big thing of the day was a fish called a BIG SKATE. We had never seen one. This one was about 6 feet across and very spotted. It had an extremely pointed nose like most skates. A fellow on the end had hooked him in the wing. That fish was beautiful. Other than that we saw a lot of mackerel. Snookie
Date: January 6, 2010; To: PFIC Message Board; From: Snookie; Subject: Black Seabass at Balboa Pier  
Saturday a big Black Seabass was caught on the end of the pier. My friends at Ruby's couldn't wait to see me when I arrived on Tuesday, to tell me the story. I don't know what the fellow used for bait, but the fish liked it. He had quite a tug from the weight of it, but he got it to the surface. Someone tried to gaff it with a grappling hook, but couldn't lift it. Of course that is very illegal because of it being a black seabass and they are illegal to land. A boater came along and helped get the fish to the shore area. By that time enough people had gathered that someone in the crowd knew about black seabass being illegal to keep and apparently called someone of authority to let the person know that he'd better release that fish. Well the person with the fish recognized that he was going to have a problem with keeping this fish so he did release it and with help it swam back to deep water. As to the size of this fish, they say it was over 5 feet long with a large gerth. Would love to see a picture of it. With all those people around surely someone got a picture.
Posted by Moonbeam: Think you're gonna wish you hadn't seen this.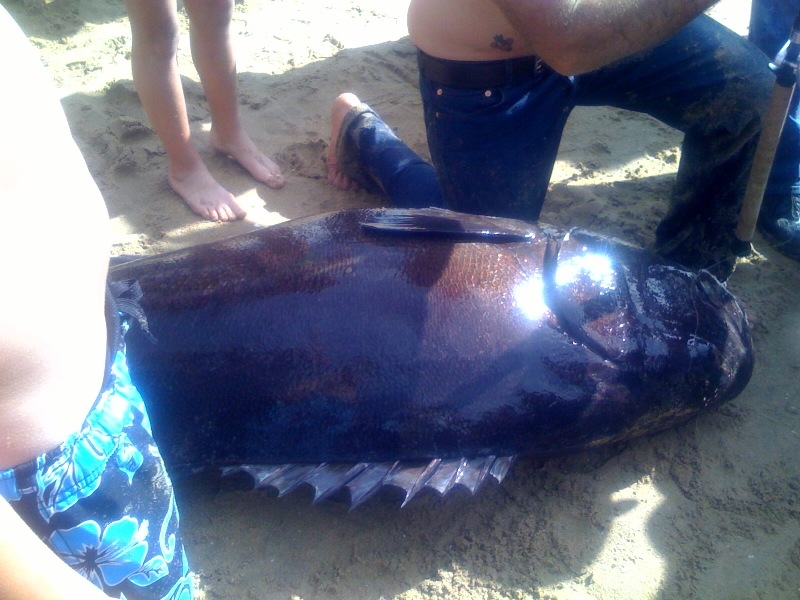 Fisherman at Balboa Pier hooks beast from the deep
A reader sent me this photo of a behemoth fish someone caught off Balboa Pier on Sunday. If anyone knows the details, I'd love to hear the story… Here's what reader Kathleen Jackson, who took the picture, had to say about it: "The fish was about 5-6 feet long weighting about 150 lb. I was told it was a Black Sea Bass (something you don't see very often). The guy in the picture kneeling is the one who caught. He said he fought with it for about 30 mins. Once it hit the surface no one could bring it up, so the crowd flagged down a passing speed boat and they towed it to shore."
—Brianna Bailey, All Things Newport Beach, Daily Pilot, January 5, 2010
Eventually the angler was prosecuted by the California Department of Fish and Game.

Date: August 11, 2015; To: Ken Jones; From: Snookie; Subject: Halibut & Yellowtail
Thought I would tell you about Sunday and Tuesday fishing. Sunday on my last bait I caught a halibut at least 30 pounds. Because I didn't have my usual netters with me I had to rely on some guys on the pier. Although I knew them they were not good netters. In hindsight I should have given them the pole and I should have netted the fish. Oh well, she was so beautiful!!!. I had complete control of her until one of them touched the tip of my rod. Why? Who knows? By the way, my brother caught the big halibut today, but he had his hook and leader break. We did get to see her though. Today, Tuesday, I caught a 15 pound yellowtail in the surf area on a sardine. He had almost spooled me when I saw what was happening. I got him back to the tee and he went into the surf where we could see him very well. That is where I lost him. Both fish were on my small rod and reel. I am going to take the bigger ones Thursday. Didn't I tell you with all those Spanish jacks that we could have yellowtail this year. I just didn't expect them to be that big. Needless to say I am having a great time!!!
Date: September 1, 2015; To: PFIC Message Board; From: Snookie; Subject: Yellowtail off Balboa Pier
 Today we caught some yellowtail. Mine was about 5 pounds. My brother's yellowtail was about 10 pounds. There were about 3 other yellowtail off the end. We were in the surf. We had some other strikes too, but they didn't stay on. We were using live sardines and Spanish jacks. It was fun!
Date: September 4, 2015; To: PFIC Message Board; From: Snookie; Subject: Striped Bass at Balboa Pier Today
 Randy got a beautiful striped Bass this morning on a sardine. It probably weighed about 6 pounds. I caught about a 35-inch barrie, but as Randy was netting him he came unhooked. I did get a nice yellowfin croaker, but I was already having fresh striped bass for supper thanks to Randy's generosity. Both of us had a strike on every bait. We caught so many halibut, even if they were undersized, that we lost track of how many we did catch. No one was fishing with us in the surf area. We had it all to ourselves. What a day!! Yesterday on the other side of the tee a man and son caught a nice bonefish. Hadn't seen one here since 1983. Caught it on a dead anchovy. It's beginning to sound like a potential El Nino for sure now.