Good advice here. I would suggest one change though, regarding the line. When looking at the money you'll spend for everything you need, saving just a few dollars on line is not worth it. Get some decent stuff and give yourself some peace of mind. When you can get something like Berkeley Big Game for about $6 or less, it doesn't make much of a dent in your budget over some crappy $2.99 stuff.  Ed
Date: October 7, 2004; To: PFIC Message Board; From: FakeFisherman; Subject: Dumbarton pier shark fishing
Fished the Dumbarton pier this morning (10/7) for a few hours. Not much action for about an hour, then I caught and released a small sevengill. 30 mins later, about an hour and a half before high tide, BOOM, my pole bends. I had the drag set tighter than normal and I could've sworn it was a bat ray taking off since there was no bite at all before the hook up. Well I'm reeling this thing in as it's working my drag, still thinking it's a big ray, but when I get it close to the pier it's a big leopard! It tried to run under the pier and I was praying it wouldn't wrap around a piling but I was able to get it back in front of me. Got it up with my crab net (I always bring it "just in case" I hook into that big one). Measured it at 46", weighed it at just over 14# on my digital scale and took some pics. I was gonna release it but I asked the other guy who was there if he wanted it and he did. I've seen him keep leopards before and he doesn't even bleed them, but says they still taste good on the bbq. Hmmm.
Caught and released only one more small sevengill but that big leopard made my day. My biggest one yet! I was using my cheap 9′ Alpha rod (those $19 ones), 50# braided line, a 6/0 sturgeon rig and big chunks of mackerel. Some other guys who showed up only caught a couple small sevengills. All in all it was a fun day.
Date: January 16, 2005; To: PFIC Message Board; From: tranbaby2; Subject: Dumbarton pier perching
Headed out to Dumbarton after work today. Headed to the end platform to try for some pile and grass shrimp. Hardly a handful for the hour and a half I tried and nobody was catching fish. Got a call from FakeFisherman saying he's at the base of the pier and waiting for me. Met him there and cast out hi/lo's w/shrimp pieces. Had a few hard bites but none stuck. A few guys already had 2-3 on stringers. One guy next to us gets a bat ray type of pull and his rod is shaking. Pulls it up and it's a nice 12" barred perch. Fakefisherman got the next one, a good looking barred as well. Nothing for a while and then I get a nice big hit, turns out to be an 10 3/4 inch barred. Kinda chubby too. After a while of on and off bites w/ no hook-sets, I get another nice hard hit. This one is nice also, 10 ¼" and looks real shiny. Wanted to get a 3rd before I left but only managed another nibble. Left at 5 pm. Nice weather and sunset to go along with the day.
Date: October 8, 2006; To: PFIC Message Board; From: vinyl; Subject: Dumbarton Pier
Fished on Saturday from 7:40 AM to 6:00 PM. Tide was extremely low when we arrived, but there was water near the end of the pier. A large fishing event took place from 7 to 12 but of the near 80 people on the pier, not a single fish was caught. As tides started to rise, currents began to pick up. We swapped our 2 oz sinkers to 5 oz pyramids, but couldn't keep the lines out (we fished parallel to the pier due to the crowding) The current combined with the massive flow of seaweed made fishing with hi-lo rigs near impossible and was sure to give the learners trouble as well. By noon the pier was nearly deserted, and we claimed the turret near the end of the pier. Using shrimp on a sliding rig we caught a 14-in striper (released of course) and four undersized leopards. Also fished a Bucktail/Kastmaster with steady retrieve across the pier near the pilings. I could see striper chase it to the surface then dash downwards as it neared the top–yeah there are striperw here alright. A couple anglers around us caught rays and smoothounds on cut anchovies; one guy landed a large smelt further up the pier. Lost a jig + some sinkers and came home empty-handed … but we'll be ready next time.
Some tips:
– 2 rods per person
– There are pre-drilled rodholder holes on the sides near the end of the pier and on the turret extension of the pier
– Overhead casting OK
– Forget Sabikis, flapper rigs, boom extension rigs
– You will need a landing net if using semi-light tackle (our rods are 6″-7″ spooled with 10# line)
– Most people's lines will be moved to face outwards from the pier when the current is strong
– Not many perch/staghorn to use as live bait, but if you throw a fine mesh net under the pier during the current you'll find shrimp
– Careful to keep the jig off the ground when jigging near the pilings–the bottom is muddy but there's stuff there
– Bring a sweater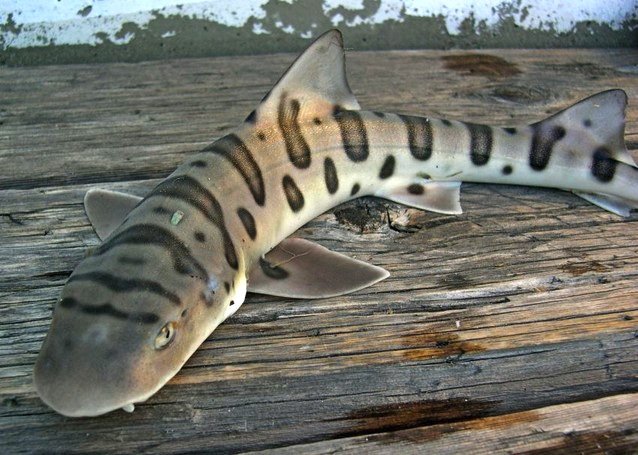 Leopard Shark
Date: January 1, 2008; To: PFIC Message Board; From: red fish; Subject: Dumbarton Pier
Went to Dumbarton Pier yesterday as a 'last-ditch-effort' for sturgeon of 2007 before the New Year…. Sturgeon has been a difficult proposition from shore this last year. It has been more difficult than I have ever experienced since I started fishing in the winter and not just hanging up my pole in the cold as I used to do about (10) years ago around this time until spring begun. I have been hitting a (few) areas over the months since the sturgeon punch-card was put into effect this past March, and I have really one hooked and one measured 42′ for my release box. I had one shaker to start off '07 before the card came about, and the one good one of 64.5 last Dec. 3… So, on the bright-side, fellas, I have been doing my share to preserve the fishery, LOL 😉 I was going to fish in San Pablo Bay at Pt. Pinole or at Eckley's, but something told me to get up off my bass, and make the trip to Dumbarton where the boaters have been gettin' 'em (a few) nearby at the train-bridge and the power-lines. I had a nice drive and a late afternoon of serenity. A couple anglers were leaving (skunked) upon my arrival at around 2:30p to get an early start on New Year's Eve. I get to the end of the pier (the only place there was water at that time) to see a couple guys fishing. I was joined by another guy that arrived maybe 20 seconds behind me that I shared the lower right hand deck of the pier with. We all fished hard with whatever baits you can think of for sturgeon (minus herring) and traditional rigs, cast far, the whole-ball-of-wax, with a couple nibbles and a big slice of skunk for all…. I was the last to walk off before the gate closed at 6pm. Matty, I think I will try for my 7-Gill which (seems like it has got to be a whole lot easier than sturgeon at this moment). I have decided that, or 1.) take up fresh-water fishing 2.) sell my gear and take up golf 😉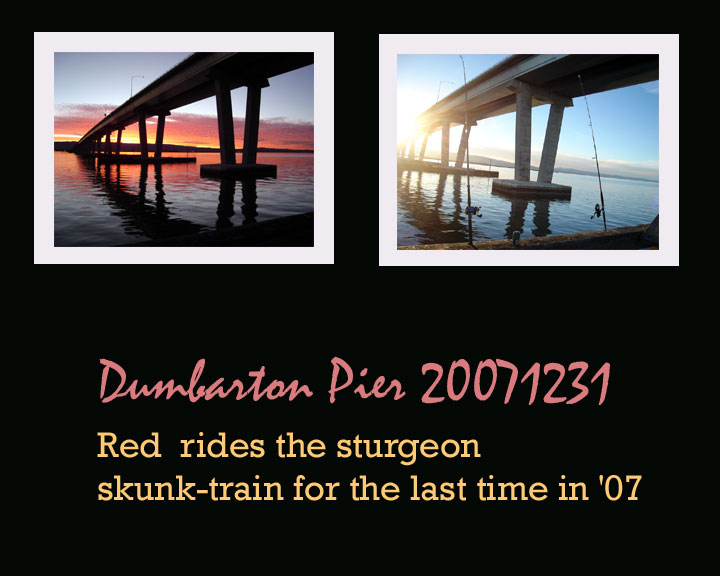 Date: March 14, 2008; To: PFIC Message Board; From: pierrat80; Subject: Dumbarton Pier
I fished from 6:30am to about 3:00pm with ghost shrimp for one small Leo @ 24″ or so. I had a couple more bites through out the day, most likely sharks. People been telling me that at least a sturgeon a day has been caught out there for the last few weeks, but I have yet to hook in to one. Bad luck or something. Oh, about 9:00am I looked over the railing of the pier, and there were millions of red things swimming in the water; I figured it was some type of shrimp. I dropped my net down to see what they were and it was a swarm of small bloodworms.  Bloodworms for sure 'cuz one of the little buggers bit me. It was crazy, never seen or heard of anything like it. Riding the current in little bait ball style. Well it lasted for about an hour. I just have to say, the pier in the morning is great. Everybody out there is very respectful, and polite. No one really crowds you or fishes on top of you. Afternoons… a whole different story.
<*}}}}}}}}}>< — As expected, fish surveys conducted by the California Department of Fish and Game between 2004 and 2009 did not show as many different species as some piers but they did show a couple of interesting stats. The fish (numerically) — barred surfperch, white croaker (kingfish), leopard shark, bat ray, seven gill shark, striped bass, white sturgeon, brown smoothhound shark, black perch, diamond turbot and starry flounder. Interesting that this south San Francisco Bay pier  showed barred surfperch as the greatest number of fish but no calico or redtail surfperch were recorded. Some piers in the northern part of San Francisco Bay show calico and redtail surfperch but no barred surfperch. Interesting too was the high number of seven gill sharks, the highest recorded at any pier.
<*}}}}}}}}}>< —  Another interesting list of local fish was seen in a newspaper editorial in 1969.
Voice of the People
Editor: Some of your readers may be interested in learning of the different species of fish that inhabit south San Francisco Bay. The state Department of Fish and Game issued a report based on sample collections of fish caught in the Bay during the years from 1953 through 1966.
The report states that the following fish were caught in the vicinity of the Dumbarton Bridge: anchovy, striped bass, croaker, flounder, goby, herring, lamprey, midshipman, perch (no rubberlip perch however), pipefish, ray, rockfish, sanddab, sculpin, shad, shark (brown smoothhound, leopard, sevengill and spiny dogfish), skate, smelt, sole, stickleback, tomcod and tonguefish.
The four most common fish caught in 1966, in order of size of catch, were the anchovy, perch, smelt and herring. The report notes, "On April 24, 1964, feeding schools of anchovies south of the Dumbarton Bridge were estimated to contain several tons of fish. Several times an anchovy haul was over 1,000 pounds, and could not be hauled aboard the trawler.
It was also noted that a small run of steelhead passes through this area to San Francisquito Creek in Palo Alto, and also, in each of the four years this area produced more fish than the Bay opposite Oakland Airport and south of the San Mateo Bridge.
—Fremont Argus, November 20, 1969
<*}}}}}}}}}>< — Special Bay Area Regulations:
A perch closure exits in San Francisco and San Pablo Bay from April 1 to July 31. No perch may be kept other than shinerperch (20).
In San Francisco and San Pablo Bay a fishing line may not contain more than three hooks.
Sturgeon Regulations:
A sturgeon report card and tags are required for anyone fishing for or taking sturgeon. (a) The card must be in the angler's possession; (b) a tag must be used for any sturgeon retained by the angler; (c) the angler must record information on the Sturgeon Report Card immediately after catching and   keeping or releasing the sturgeon.
White sturgeon can only be kept from 40-60 inches; larger and smaller sturgeon must be released.
Green sturgeon may not be taken or possessed.
History Note. This area has an interesting history. The name Dumbarton Point itself apparently dates to 1876 when it was named after the town Dumbarton, Scotland. About the same time, Origin Mowry established a successful landing on the deep slough just south of Dumbarton Point.