Date: May 18, 2003; To: PFIC Message Board; From: Nufo; Subject: Dumbarton Pier 5/17/03
Caught the shuttle at 12:30pm. Me and my Nephew got to the end of the pier to find we had the pier all to ourselves. Baited up my two big rods with whole herring and 12/0 circle hooks and cast them out to the middle of the channel. Let my nephew fish my steelhead rod with a hi/low and squid strips. With in minutes my nephew nails a nice 30" leopard shark. 20 minutes later my nephew's rod doubles over again. Another leopard this time about 26"s. Then he goes on to nail two bat rays around 10-15 lbs and two seven gills around 14". I ended up catching a 35" seven gill and then another one around 12". Both on squid and 12/0 circle hooks. I also lost a nice leopard at the pier after which I sharpened my circle hooks and caught the two seven gills. It was a great day in the sun despite the wind. We had the pier to ourselves and the only person we came across out there was Barry the ranger who was very friendly, as he made sure my nephew was handling his own rod. Nothings better than seeing the eyes of a 7 year old light up as his rod doubles over. I don't even mind the fact that he out fished me 3 to 1. It just goes to show my teaching skills. Nufo
Date: September 12, 2003; To: PFIC Message Board; From: Rock Hopper; Subject: Dumbarton Pier 9-11
Fished the pier yesterday afternoon from about 3:00PM 'til 5:00PM. Weather was beautiful, with very little wind. I wished I wore shorts! Fished about 20 yards from the platform on the south side of the pier. Squid on sliding sinkers yielded two nice bites, but no hook ups. Saw 5 or 6 little leopards landed from the platform, and one little one landed by a gentleman fishing the very beginning of the pier on the north side. The cats down on the platform said they had caught a 3' 7-gill and 3 or 4 little ones… the most 7-gills they had seen in one day, and you could tell these dudes were regulars. They released the 7-gill in hopes that the fish gods would reward them with a sturgee this year…. which by the way we all saw a HUGE one jump out in the middle of the channel. Fished the platform for about twenty minutes, but the tide was rippin' out of there and I had to use two 4-oz banana sinkers to barely hold bottom. Next time I'll bring some 6-oz pyramids.          RöćK HòppéR – Thë Jẽ††Ỹ Jùnký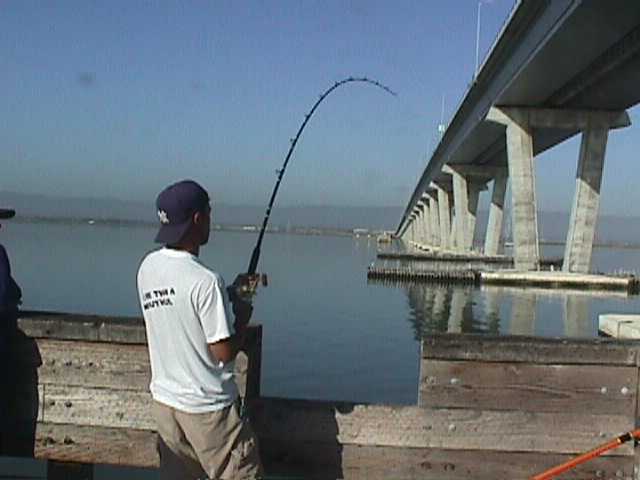 Fighting a sturgeon
Date: January 27, 2004; To: PFIC Message Board; From: jason chin; Subject: More sturgeon fun!
 Hey guys…Checking in. Here's some more stuff that might help.
1) Keep it simple. I use a slider/bead/swivel and attach a 14" leader of 50-lb. mono w/two stationary hooks. Simple. No egg weights, no colored bead art project, no extra crap. Nothing. Keep it simple.
2) Good bait you change often. Get your bait and spend the money for the good stuff. If you don't have the money don't fish and expect to be successful. CHANGE OFTEN. Check your line, don't get lazy. If there are crabs, around every 5 minutes I change it. 3 or 4 oz. shrimp or 1 lb. just for myself is not unheard of when crabs or junkfish are thick.
3) Put your time in. Yup I'm sure you heard it before. You know how much I've sacrificed to do what I do. Lost quite a few girlfriends, quite a few dollars, but that's what I do, and what I choose to do. You won't catch me putting them back at the bar (like most of my other buddies) till 2AM, most likely I'll be leaving w/rod and reel at 2AM. Sacrifice… this isn't an easy thing. And yes I did this employed, but fishing before and after work with no sleep was a normal thing. Fishing is WORK if you want to be successful. If you don't have time sturgeon fishing is not recommended. Trout fishing can be exciting;)
4) The big hint. You guys want a sturgeon? Go to Dumbarton Pier. It's loaded w/sturgeon right now. I'm catching fish this past week out of that same side of the channel that runs right by the pier. THE SAME TRAVELLING LANE. and have been for the past 4 weeks now and know that region well enough to know they're coming by the pier. If you're not seeing any caught you guys are not fishing it correctly. Don't want to use Crew and crew (U know I love all you guys, constructive criticism) as an example but check it. "Fished Dumbarton too many people in the corner of lower platform so had to fish 20 feet back" Not OK there's two spots to catch sturgeon there and you need to get up EARLY and go get em if you want a fish. Even if the tide isn't good until noon you need to claim the spots so you're in position for the right time. Can't emphasize how crucial this really is. You guys only fished 3 hours, not long enough in my book. Right after you left someone could've grabbed one. That outgo has been very productive. I've posted about the "EXACT" spot you should be casting. GDude even drew a detailed map that's in the archives for both spots the top (which I actually prefer) and the bottom corner. Those are the two spots that give up sturgeon and if you see a sturgeon caught anywhere but those two spots. Blind luck, trust me but I've seen it happen. BTW fillet of herring/grass shrimp combo has been doing it for me. Don't waste a rod using anchovies if you're "targeting" sturgeon. There are fish at this pier year round and am surprised you guys are so turned off by it. I believe one of the most consistent producers in all the bay area. I learned the whole game at this pier, I suggest some of you struggling if you really want to learn do the same.
If you don't have the time or the effort sturgeon fishing isn't for you. Honestly. Hours upon hours like I said sacrifice. If you really want it bad, you make time. And for those of you that think it's silly or extreme I give up all this stuff just for fishing. Don't expect to be successful.
I say again I'm not on anyone's side or picking on anyone. I love you all. Put' em in and get one. Hope this helps. Can't fish today so I guess I gotta talk about it. See what I mean?  Jason "bayrunner"
Date: February 29, 2004; To: PFIC Message Board; From: ben; Subject: (In reply to: Newbie Needs Advice – Dumbarton Pier posted by peilien on Feb-29-04)
I used to fish Dumbarton almost 3 to 4 days a week in 2001… the regulars there use mostly braided line.. 80 to 100 lb..main line and 100-150 leader. We mostly used the Kahle hooks in a 4/0 5/0 variety but i stuck with Gamakatsu 8/0 octopus. 2-3 foot leader and 8-10 oz pyramids. I used to go to San Jose and buy at least a dozen ghost shrimp (wrap with magic string) and a tray of quality herring (when putting the herring on we would mostly fillet it then thread it on the hook and hold it down with magic string). I used a 13-foot Kencor with a Stella 16000 (first series) loaded with 100-lb Berkeley whiplash and a 11-foot Kencor with a Fin Nor Ahab 20 loaded with 65-lb braid… the 65-lb held better with 8-oz more than the 100-lb with 10 oz. when the current rips through there is one of the best times to fish it but I have seen them catch when there is little or no movement. I caught my first sturgie there after a year of trying… so be patient… hope it helps
Posted by gyozadude
 Good advice, here too, but…I'd probably go with a beefy 7 ft. rod to start with. Pilings aren't as big a problem at Dumbarton as is the current. More leverage to fight the fish is well worth the extra 3 ft. of rod tip length to try to feebly keep it away from the pilings. The trick is to play out the fish before letting come close. I've seen pros like 'Slinger and Eelmaster lose fish at the MMD with longer rods. I wouldn't take the long rod advice to heart.
Carry 8-oz spider or pyramid weights with you, 6/0 hooks for rays, sharks, sturgeon. The smaller hooks let you keep smallish sharks.
Check UPSAC pier survey URL for bait/species list. Ken's pier archive has a more definitive list as does his book. I stopped bringing anchovies to Dumbarton.
Again, check out the UPSAC Pier Survey form for Dumbarton, It lists Bob's Liquor as the closest. You can call Bob ahead of time to check his bait availability. It's about 1 hour closer during commute hours on I-880.
Dumbarton is concrete with wood railings, even the lower end section. See photo. BTW, you don't need to fish that section only, just near the end. Again, if folks can check the msgboard archives, this will provide more accurate information on Dumbarton.
I'd like to emphasize that information may be plenty and folks may want to be helpful, but it doesn't serve the self-reliant angler much to get information of a debatable nature when only you know what you may or may not like. I assume you intend to actually catch fish at Dumbarton :-). Otherwise, apologies for getting you to read all this.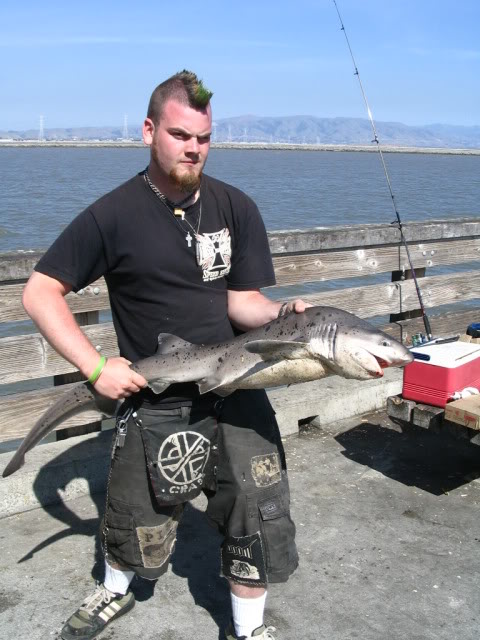 Sevengill Shark – 2014
Posted by Dude Where's My Fish
Welcome to the Board—
Any Surf Rod that is 10ft and above gives you an advantage when fishing piers because you have more leverage over the fish when the fish gets near the piling. Boat rods rated over 50lbs is not a good choice. Freshwater rods will work if you target smaller fish. You should start out with a spinning reel, and put some mono line on there, the cheapest you can find, I recommend you don't buy line that is rated over 30lbs. The spinning reel should at least have 75 yards of line on it.
Dumbarton has swift moving currents so you want weights over 5oz and you can get sinkers with tail ends that you can bend so the weight will stay on the bottom longer. For hooks 3/0 is a standard size and will accommodate almost all pier species, eagle claw snelled hooks are best when you don't want to tie your own hooks.
A two-ring hoop net around 36inches in diameter with at least 25ft of rope is best for hauling up fish that are too big to pull up by hand.
A small towel to wipe your hands with, bar of soup to remove bait smell, and a tackle box and fill it with extra hooks, terminal tackle like swivels and a spool of extra line.
Anchovy is the universal bait, almost anything will bite anchovy. Frozen anchovy you can cut into chunks and stick them on your hook.
Walmart is an excellent place to buy gear, they have quality gear at excellent prices. If you can find what your looking for you can either shop online or go to discount tackle shops in your area, the cheapest place I know in the bay area is Fishery Supply in San Jose on Story Rd.
If you're located near Dumbarton TNT in Hayward has a wide selection of frozen and live baits, if your old enough to drive a trip to Fishery Supply is well worth it.
Dumbarton is a very long pier so you shouldn't have any problems getting a spot to fish from. The wooden section at the end of the pier is crowded on weekends so if you want a place at the wooden section come early or fish weekdays when people usually have to work.
Posted by pescare