Date: September 10, 1999; To: PFIC Message Board; From: carlos; Subject: Dumbarton Pier
I've been going to Dumbarton Pier the past couple of days and the sturgeon bite has been fair. I saw a guy hook a sturgeon and with one jump snap the line. A lot of big leopard sharks have been caught on herring, anchovies and squid. I saw a big sevengill shark caught on a whole squid and a couple of stripers have been caught. In about 1 to 2 weeks they (stripers) will be in and when the rain comes the sturgeon bite will take off. Use herring for the sturgeon, use squid and anchovies for stingrays and sharks, and use pieces of anchovies and shrimp for the stripers,
Posted by vee
I've fished this pier for over 10 years. The end is best for shark and sturgeon. Closer to shore is good for perch, stripers, and stingrays. I fished at the end today
Date: September 12, 1999; To: PFIC Message Board; From: Vee; Subject: (In reply to: Dumbarton stripers? posted by Hung on Sep-10-99)  
Stripers do go all the way down to Dumbarton, but they are a rare catch there. Best month here is mid-October. The pier covers a lot of water, and I've seen and caught stripers near shore, in the middle, and a few on the end. Most stripers are caught from shore to midway out. Use grass shrimp or anchovies. Bullheads work okay too. It isn't crazy like Pacifica at all and the Fish and Game frequent here a lot since it's easy for them to drive their truck on the pier. I've seen a lot of people busted here (they actually sit on Dumbarton Bridge with binoculars on their atv's.) DO NOT FISH WITH MORE THAN TWO POLES OR KEEP UNDERSIZED FISH. All the stripers I HAVE caught here have been on the bottom. Use a slider or a high low rig but they hit the bottom hook 90% of the time. I fish here a lot because I live really close by, but I wouldn't recommend this pier to some who live far away. Some days can be VERY SLOW and all you catch are baby sharks.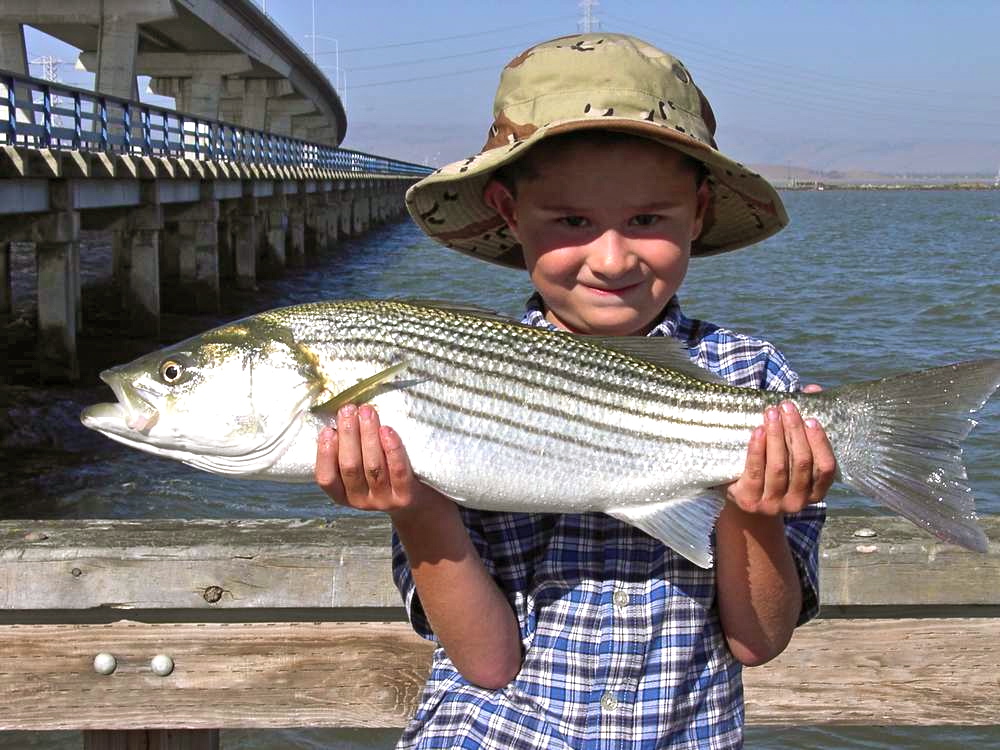 Striped Bass — Thomas Orozco — 2005
Date: October 24, 1999; To: PFIC Message Board; From: carlos; Subject: Dumbarton sturgeon
I went fishing at Dumbarton yesterday, Saturday 10/23. Got there around seven thirty, fished at the end of the pier with my friends. We were casting into the channel. We caught a spiny dogfish shark then an Asian man came and fished in our spot. His pole tapped then wham he sat the hook on a 64-inch sturgeon. It was jumping all over the place. It was a good sight then about a half hour later he hooked another. It was a monster. His pole was almost going to snap then it started pulling him; he got pulled so hard it pulled him into the railing. I thought it was going to pull him into the water. He was fighting for about a minute when it snapped. He was using one hundred pound test. Then another Asian man, a regular to the pier, hooked a sturgeon 55 inches. A little one but that one did not want to be caught. He kept taking runs until the guy brought it up and snared it. After that the action calmed down. They were still hitting but they were not setting the hook. It was a great day for sturgeon at Dumbarton. Tight lines carlos
Date: December 20, 1999; To: Ken Jones; From: Officer Barry Tarbet, Don Edwards NWR;     Subject: Pier Fishing
Ken, I read your report of the [Dumbarton] pier and I find that it is well written and above all factual.  I have been checking the pier for 14 years. The Ravenswood Pier was closed because of its costly maintenance and criminal activity in the parking lot and on the pier.  I would ask that the angler's remember to pick up after themselves so that we do not over burden the maintenance staff. Especially those that eat peanuts or sunflower seeds and discard the shells on the pier. These are really hard to clean up and consume a lot of the maintenance person's time. As far as the aluminum cans, "crush them" and place them near the trash can, so that collectors can retrieve them and not run the risk of HEALTH PROBLEMS associated in reaching into garbage cans. I have found that the anglers have been a stand up group and I have been grateful to be of service
Date: December 24, 1999; To: PFIC Message Board; From: stan; Subject: Lost Dumbarton sturgeon
Went fishing at Dumbarton Pier on 12-23 between 9:am to 4:pm, I hooked up a 50-55-inch white sturgeon but could not get it up to the pier since no one had a proper snare. Tried using clothesline-style, as a snare but the loop did not hold up. I will go back next week with a snare. Never depend on others with landing equipment. This was my only second day of sturgeon fishing and would have been my first sturgeon. It took ghost shrimp.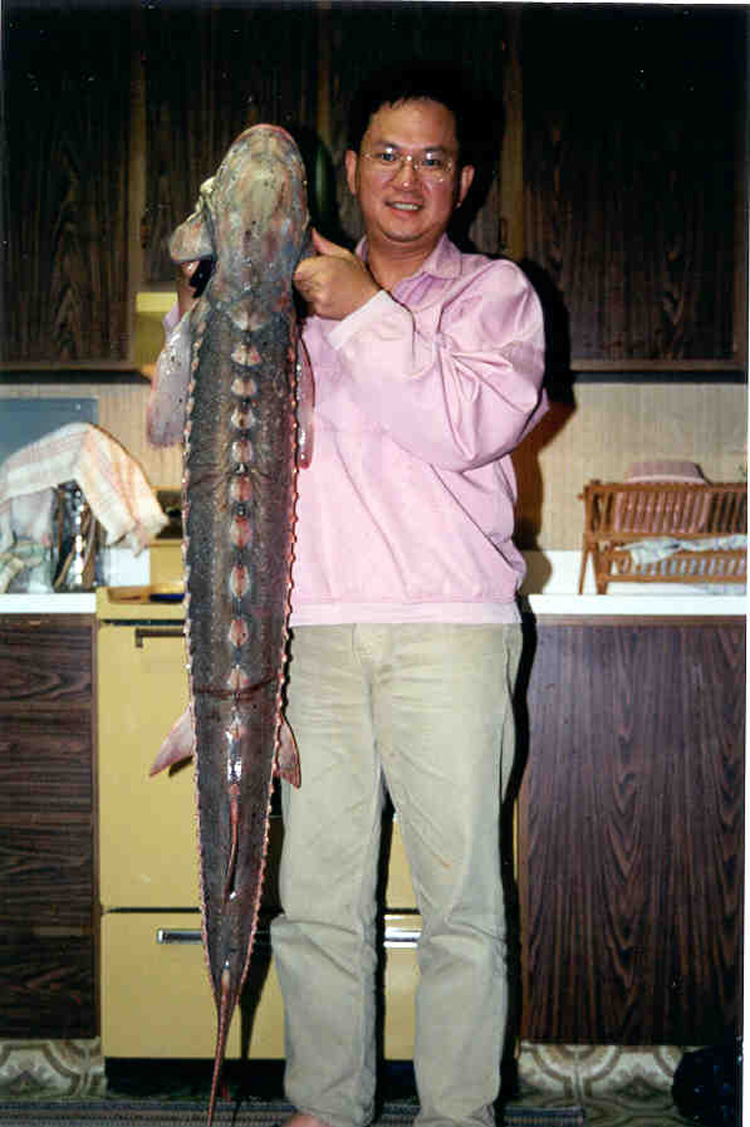 White Sturgeon — 2000
Date: January 11, 2000; To: PFIC Message Board; From: mud line; Subject: (In reply to: Where to sturgeon fish? posted by yogi on Jan-10-00) 
I know some good spots for sturgeon off piers and off the bank. Dumbarton pier is one of them. Sturgeon however are not easy to take off this pier; if you happen to have one suck up your baits this is just the beginning. The pier is the hardest place to land the mighty sturgeon, if you do not fight right you will lose it. Then after you fight and he's tired the next part of the battle begins, getting the snare around him and pulling it up the pier, this is the fun part. I've seen many people lose them right at the pier due to the snare job. Horrible thing to see once you've gotten this far. The pier is very crowded at this time of the year especially since San Mateo is closed. They list directions on this website. You want to chat about sturgeon, get back to me. This is mainly all I do is chase these guys through the bays and Delta.
Date: May 23, 2000; To: PFIC Message Board; From: see; Subject: (In reply to: STURGEON FISHING posted by CARLOS on May-22-00)
I have fished at Dumbarton Pier for about 14 years now and I have noticed the fellows with 13 to 15-foot rods with a good Penn spinning reel that will hold about 300 yrds of 25-30lb test have done quite well. There is a channel pretty far off and if your rod isn't long enough you won't hit it.
Date: June 15, 2000; To: PFIC Message Board; From: alvin; Subject: DUMBARTON PIER
During the striper season the best places to fish on that pier is the very beginning to the middle.
Date: January 11, 2001; To: PFIC Message Board; From: Dave Mush; Subject: Dumbarton (First Sturgeon)
Woke up and saw that it was cold rainy day so I decided it was not a good day to go to work so I packed up the truck and decided to go see if I can land one these sturgeon everybody was talking about. I first headed to the Lion supermarket to see if they had any grass shrimp but had no luck so I went out the pier hoping my grass shrimp was going to produce for me. I strung up my reel with new 25 lb. test while I soaked my trap hoping for some bait. After I got every thing squared away I pulled up my trap and baited up my first hook. I got a bite 10 minutes later but it looked like a small shark or kingfish. I let the bait sit for about 15 minutes more and decided to check it out; (nada) got me for my bait. I baited up again and threw back out. This time I let it sit, the current and wind had my rod tip bouncing and moving around so it was going to be hard to tell if anything did bite. After 30-45 minutes I got a real hard pump and my line went slack I picked up my rod and then I felt a second pump that just kept going so I pulled the trigger. It felt heavy and right away I knew it was sturgeon. Being that this was my first sturgeon trip and first sturgeon I just wanted to have a look at her so I can say I hooked into to sturgeon fought her for about 15-20 minutes and for a minute their I thought their was no getting her back from under the pier. But she cooperated and came to the top in exhausting defeat. After the guy next to me netted her we quickly got the tape measurer out and put the tape down, she came up short by 1 inch (45 inches). I took one more look at her at set her free to swim another day in the cold brown waters of the south bay. Anyways sorry to bore you guys with a long boring story but she was my first so I thought I'd give you guys a little bit of the story. -Dave
Rig- 4/0 40 lb. steel sturgeon leader; Bait-Live grass shrimp; Weight-8 oz. pyramid; Out going tide
Date: February 21, 2001; To: PFIC Message Board; From: jason chin; Subject: Re: Rare sightings in the South Bay…
Fished down at the Dumbarton on Sunday 2/18, the best day of the three. Got out about 5:15am, water was extremely calm with lots of gloomy cloud cover. There are 2 whales that seemed to have found there way down to the bridge. I believe they are grey whales but I am not sure. They've been down there now for three weeks. They put on a little show for us blowing air and flopping their tales, kinda neat if you're into that kinda stuff. Anyways we bagged a 4' sturgeon on the top of the incoming on mud shrimp. Thing looked like it had been through a war, sore on the side and all bruised up. Then all of a sudden my partners pole goes off, and then a nice starry flounder about 14" long. I have never seen or caught a starry flounder this far down in the south bay, surprised me. Although two years ago a keeper halibut was caught in the flats off the Dumbarton Pier. Strange weather and strange happenings. My friend was fishing on the pier that day and we kept in touch on the cell phones. He managed to hoist up a 58" sturgeon up onto the pier on the outgo. Fish are out there go get em'… I seem to always do good around the new moon. Get wet and get a fish-since it doesn't look like it's going to let up till the weekend.  Jason "bayrunner"