This article was written before closure of the pier so it is written in present tense; however, it is now history. We fought to keep it open but the stars apparently were aligned against us.   
Although the San Mateo Pier is closed, I felt I would make it the Pier of the Month because it needs your help. The pier was closed several years ago when Cal Trans began retrofitting the San Mateo-Hayward Bridge. At the time, Cal Trans said it would be open by 1999 but it is still closed and some in Cal Trans are now saying it may never reopen since repairs are needed to the pier. With the loss in the past few years/months of the Candlestick Point Pier, Warm Water Cove Pier, Agua Vista Pier and Ravenswood Pier, anglers along the peninsula are faced with a shortage of piers. This pier is needed so I urge all you to contact San Mateo County and City authorities as well as the State Representatives and the Wildlife Conservation Board in Sacramento to support whatever is needed to repair and reopen this pier!
San Mateo Pier
One of the best places to catch sharks in San Francisco Bay is this pier (which is really in Foster City and is sometimes called the Foster City pier). It was originally part of the old San Mateo-Hayward drawbridge, a bridge which when opened in 1929 was the world's longest bridge (nearly 8 miles long). However, it had become too small for the increased traffic of the late 1960s. Instead of simply tearing down the entire bridge, part was turned into a fishing pier. Since opening in 1972, this pier has become one of the most heavily visited piers in the area and one that yields a lot of sharks, rays, and miscellaneous fish.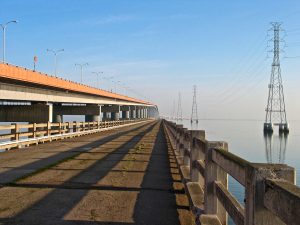 Environment. At 4,135 feet, this is the not only the longest pier in the bay but also the longest pier in California. Due to its length, anglers can try for several different species. Inshore, around the shoreline, a few perch will be caught seasonally as well as jacksmelt. Further out, the middle area can be decent for such species as starry flounder and white croaker (kingfish) as well as an occasional striped bass, shark or ray. The far end sits in water nearly 40-feet-deep. This is the prime area for leopard sharks, brown smoothhound sharks, bat rays, skates, and sturgeon. The bottom here is mud and sand and there is little growth on either the pilings or the nearby bridge supports. Inshore waters are shallow and there are only a few rocks (and half-buried debris such as shopping carts) so fishing tends to be spotty. Either schools of fish are present, or they are absent. When absent, you may have a rather boring time sitting or standing in this usually windy area. However, when schooling fish like jacksmelt are present, it is often easy to catch a bucketful. Pileperch, black seaperch and a few rubberlip seaperch visit in winter and spring, but they are replaced by walleye and silver surfperch later in the year. Winter and spring will see the arrival of white sturgeon and perhaps a few green sturgeon; they usually seem to show up about the same time as the first rains and accompanying runoff enter into the South Bay. When herring move this far south into the bay to spawn, and it doesn't happen every year, local waters will be thick with the large fish. Up above the fish, in boats or on the pier, will be eager anglers hoping to take a chance at these ancient critters, the nearest thing to big game species that most anglers will catch (although striped bass, salmon, halibut and large sharks aren't too bad). At times more than forty sturgeon have been landed from this pier in a single day. In the spring striped bass begin to make their appearance and generally stripers will hang around until the fall months when they return to inland waters. Although sharks will be caught year-round, summertime into the fall is the peak season.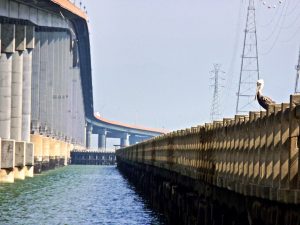 Fishing Tips. As mentioned, this is one of the best places to go shark fishing. Bat rays in excess of 100 pounds and large leopard sharks are caught every year. Infrequent, but seasonally a possibility, are sevengill sharks and soupfin sharks (and theoretically I suppose you could even see a sixgill shark although you have about the same chance to win the lottery). If you try for any of these large toothy critters, make sure you use the appropriate tackle (including wire leaders) and have a treble-hook gaff and a friend along to help. The larger sharks seem to bite best on live bait so use midshipmen or mudsuckers (longjaw goby). Next best is squid or an oily fish such as mackerel or sardine. The bat rays seem to prefer squid. For all of these, the best fishing occurs in the late afternoon and evening hours when fishing from the mid-pier area out to the end. It shouldn't be necessary to say, but do watch out for the teeth on the sharks and the stinger on the bat rays. Also, bleed your sharks and rays soon after capture if you plan to take them home for food. Striped bass are one of the most sought after species here and most years will see a few fish approaching, or even exceeding, the 30-pound mark (and I was told by one angler that a fifty-pound striper had been landed here). Most anglers use cut anchovies or live bullheads (staghorn sculpin) but a few fish will be caught on pile worms, grass shrimp and artificial lures like Hair Raisers.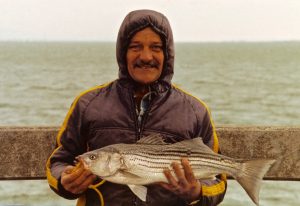 Inshore, try for jacksmelt and seaperch using pile worms or, if available, grass shrimp (for the perch). Use a high/low leader on the bottom for the perch, a multi-hook rigging under a float for the jacksmelt. In the summer, it is common for kingfish (white croakers) to show up and, at times, Pacific tomcod, sand sole, flounder and even halibut. For most of the smaller species, a high/low leader baited with cut anchovies or pile worms will work well. For the halibut, try a live shiner using a flounder-sturgeon rigging on the bottom. For sturgeon, and sturgeon exceeding 120 pounds have been landed here, try ghost shrimp or mud shrimp and make sure you have a good net. If herring are spawning locally be sure to bring along some herring or herring eggs. One pest which you are stuck with is staghorn sculpin. During summer months, these small sculpin can be hard to keep off your hooks.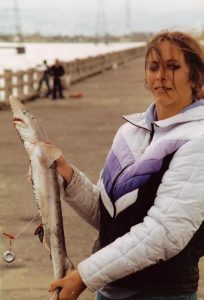 Special Tip. It's a long way out to the end of the pier, especially if you are carrying much tackle (and some of the "shark specialists" bring some heavy gear). Local anglers (illegally, I might add) have made a habit of bringing shopping carts to the pier and leaving them there when they are done. Most days you will find a few unused carts at the shore end of the pier. Feel free to use a cart to haul your tackle out to the end. When you arrive at the far end of the pier you will probably find most of the already present anglers with a cart of their own. It's a tradition!
Author's Note. Winds can be strong in this area. In March of '97, about the same time sturgeon were feasting on herring eggs by the pier, and anglers were taking two to three dozen sturgeon a day off the pier, a boat capsized near the pier. Three anglers found themselves in the cold and choppy waters of the bay. Forming a human chain, and using the strong ropes they had brought to net the sturgeon, several regulars at the pier were able to pull the three men up to the pier and keep them warm until helicopters could rescue them. True heroes!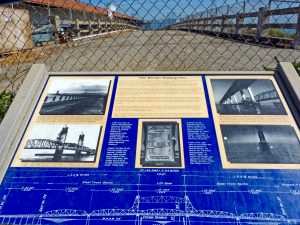 History Note. The area now known as Foster City once consisted of Brewer's Island and several square miles of tidal wetlands. In 1958, developer T. Jack Foster bought and began to reshape the land. He created a 200-acre lagoon and built a city which now encompasses nearly 5,000 homes and 30,000 people. Such is progress in the Golden State.
San Mateo Pier Facts
Hours: Currently Closed.
Facilities: Fairly primitive. Portable restrooms, lights, wind breaks, fish cleaning stations, some benches and water fountains. No bait and tackle.
Handicapped Facilities: None really. The surface is concrete and suitable for wheelchairs and the railing is approximately 44 inches high.
How To Get There: Leave US 101 (Bayshore Freeway) at the Hillsdale exit and drive east along Hillsdale Boulevard and Beach Park Boulevard.
Management: San Mateo County Parks and Recreation Department.