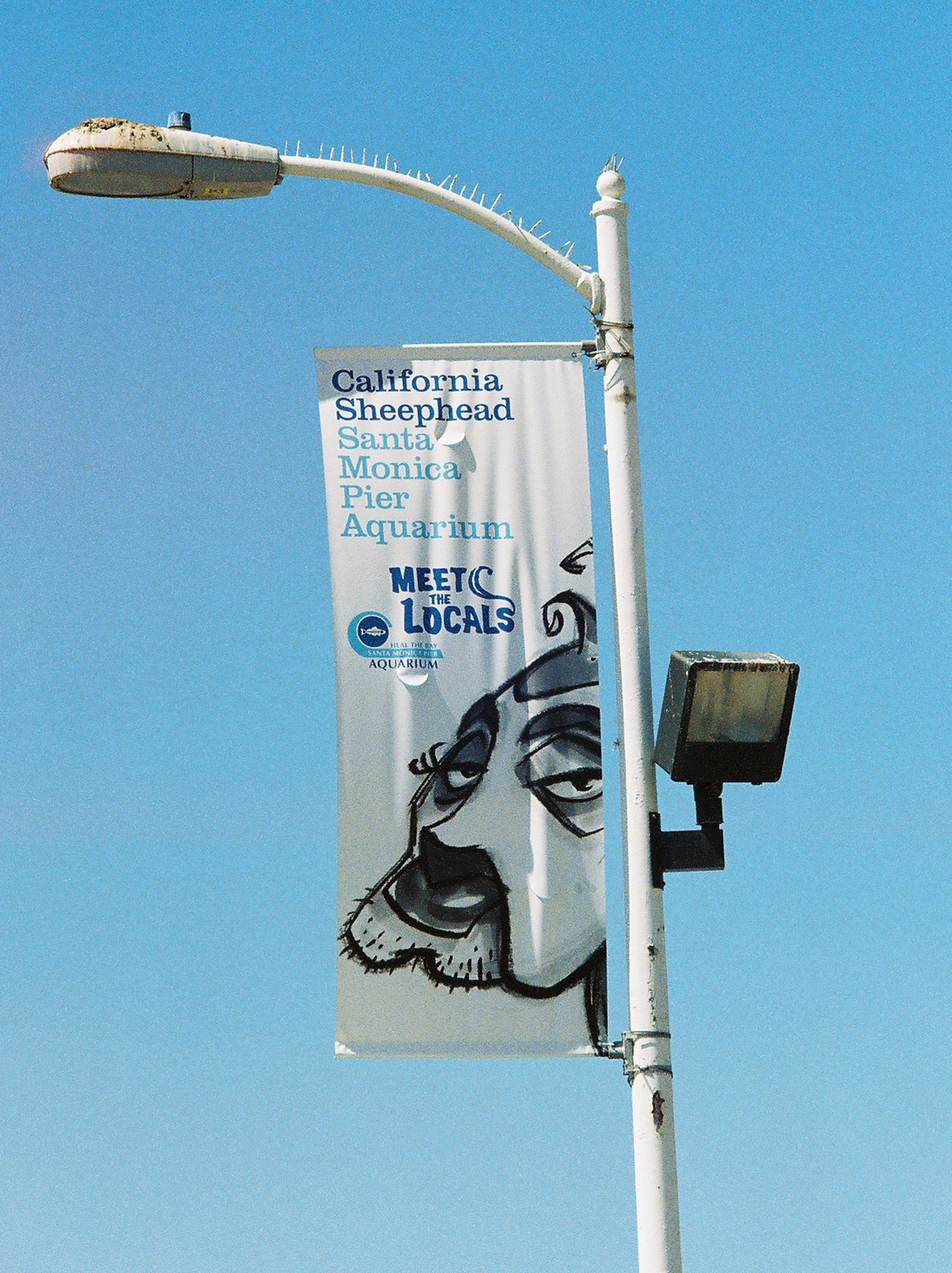 <*}}}}}}}}}>< — An educational place to take the kids sits under the pier. The Santa Monica Pier Aquarium, formerly the UCLA Ocean Discovery Center, is housed on the beach under the carousel. It's operated by Heal The Bay and is open Tuesday through Sunday most of the year. It contains wall displays, inter-active touch tanks, tide pools, shark tanks, and many types of jellyfish.
<*}}}}}}}}}>< — Although the fishing dominates the end of the pier, the inshore and mid-pier areas are dominated by a whole different type of entertainment. Mid-pier sees a return to the Amusement Pier day's of the early 1900s (although updated technology has been used with some of the rides). Pacific Park dominates the view. Included in the park are a fairly-tame roller coaster—the West Coaster, the Pacific Plunge, bumper cars, several kid's rides and even, at times, a live circus show. A nine-story-high, solar-powered Ferris wheel—the Pacific Wheel—used to anchor the park but was sold off and shipped East in 2008. Nearby is the famous 1916 carousel built by Charles I.D. Looff (seen in several movies, including The Sting). Close too is the Playland Arcade that has over 200 attractions, from Skeeball to a pelican kiddie ride and three-passenger merry-go-round.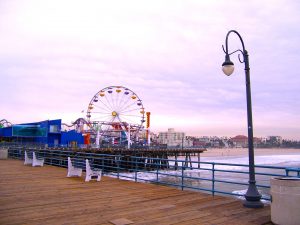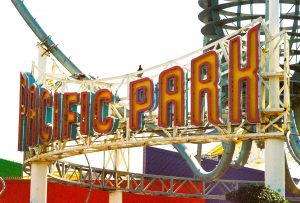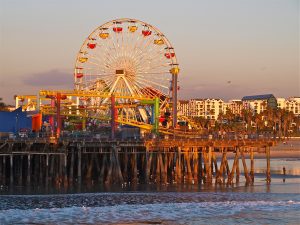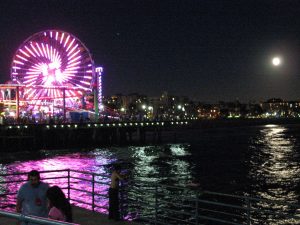 In the summer, the city provides a free concert series every Thursday night (Twilight Dance Series) with some pretty decent bands. It's nice on a summer Thursday night—fishing, watching the bright lights, and listening to the music. Tuesday nights in September sees a different entertainment—free movies—during the Santa Monica Drive-In at the Pier program (see www.santamonicapier.org for ticket information). Oh, and don't forget the cotton candy and saltwater taffy. Not too shabby!
<*}}}}}}}}}>< — Even a pier has to have a little culture, right? So check out the following poem by Bridget O'Mara (Angel's Flight, Vol. 7.2 (1982).
The old carrousel
Looks forlorn
In the early morning gray-lavender light.
Fishermen cast lines out
And wait.
Ancient men in torn sweaters
Look out with sun and age-faded eyes over the ocean
That perhaps once belonged to them.
The morning peace is over
Men with gull-like voices
Shout at each other
As they carry tubs
To the seafood restaurants.
Two young boys in leather jackets
Carry a gigantic radio
The spell is broken.
<*}}}}}}}}}>< — If you can have a poem about a pier, why not a song? Just a little different!
WHEN VERONICA PLAYS THE HARMONICA — (Tommy Mack / Jimmy Mulcay/Mildred Mulcay)
The Mulcays (vocal: Patricia Koren) — 1948 — Kay Kyser's Kampus Kowboys (vocal: Gloria Wood) – 1948
You can sail around the world to see the sights — And even see the famous northern lights, —But strange as it may be — I'm sure you will agree — The greatest sight of all is by the sea
When Veronica plays the harmonica —Down on the pier at Santa Monica — When she gives out with Gershwin and Bach — The perch and barracuda come wigglin' up to the dock — The seals and haddock get aquabatic — When she plays on her chromatic — When she plays boogie woogie, lobsters flippity flop — She even made a submarine blow it's top — When Veronica plays her harmonica — Down on the pier at Santa Monica
When Veronica plays the harmonica — Down on the pier at Santa Monica — She plays mad jive for hepcat fish — She even plays a tune for a tuna that swims with a swish — A big fat turtle whose name was Myrtle — Shook and shivered till she broke her girdle — The whale that swallowed Jonah yelled across the bay — "'ll open up my mouth and let you go today — To hear Veronica play her hamonica — Down on the pier at Santa Monica"
A flying fish from Avalon flew out of sight — For he was smoking seaweed and was high as a kite — When Veronica raised the thermometer — Down on the pier at Santa Monica
An oyster got so stewed at an oyster spa — He stood right up and holler'd "Eat Me Eight To The Bar" — When Veronica played her harmonica — Down on the pier at Santa Monica
A fish was using Lifebuoy soap, she knew how he felt — She never smelled a smelt that smelt like that smelt smelt — So Veronica took her harmonica — And left the pier at Santa Monica
The Pier Rats Speak

Date: February 13, 2004; To: PFIC Message Board; From: kcruise; Subject: Tips and spots… Santa Monica Pier.
I fished Santa Monica Pier for two years, with a year straight every weekend. Where's the sweet spots? Here you go.
When you walk out on the pier, the first temptation is to go to the end. Don't bother. The whole front is a wall of snags from the lobster poachers and they're lines of treble hooks. If you insist to fish out there, go to the very far left on the top and cast out towards Venice. Also, the winds will get you after awhile.
Some of the best fishing is found right before you get to the bathrooms and Harbor Patrol office. The last bench that sits on a section of pier (finger) goes out on the left (not the lower area) sits above an area with no snags. Sand and grass are it. Either side of that are snags from parts of the old pier, so don't fish on the bottom if you can avoid it. The right side of the pier also has snags from about 5 feet out to 25 feet. Past that, you run the chance of getting crossed by someone else's line. On the left, the casting trick is to walk out by the boats, cast out and then walk your rod back to the finger. This will double your casting distance.
If you're looking for halibut, fish close into the pier. I've pulled 30" hallies up around the pilings, and have seen bigger fish caught there as well. Use a 2-3oz slider sinker with a leader and live bait. Frozen anchovies will also work.
Perch can be found all over around the pilings. Use fresh mussels or lug worms. Wylie's Bait at Topanga Canyon has them, and isn't far up the road from the pier to get bait and tackle at. In fact, it's probably one of the better bait shops around.
The trick with the perch is to use a bobber and 4-6′ of line under it. Place a small split shot on the line to get the bait down. Big Sargo are caught right around the area under the restrooms and the restaurant.
Sharks and rays like squid, fished out from the pier. Bottom rigs or sliders will work. Leopards, shovelnose and others are seen from time to time. I've seen soupfin sharks caught out there as well. You can also use live bait, like anchovies, herring or sardines if you catch them.
If you get bored and have a light rod, rig up a Carolina rig with a strip of squid and cast out and retrieve. Something will go after it. You can also use grubs and do a little surf fishing down towards the amusement park. Fish in the surf, behind the breakers.
Catching bait will require a light rod and a small Sabiki rig. I like the ones with a rainbow reflection. The straight white ones don't work as well. Wallmart, Bass Pro Shops, Cabela's and Boating World on Lincoln sell these. If you really get stuck, I can get them here in Bakersfield and can mail them to you. It's easy to spend 4 hours catching more bait than you can imagine. Ask Sinker about 'chovies at Ventura…
Crabbing is another hot item, and April-May are killer for spiders. Use chicken legs and thighs, which can be had for $4 at Vons and other markets. Tie 3-4 pieces into your nets and drop them in the corners. Be careful if the water is moving a lot. One, the crabs will not be there, and Two, the nets will get snagged and you'll loose them. I pulled 30 spiders in one day there, and brought home 6 for about 30-35 lbs of crab. Big males show up from time to time and they go up to 18lbs+. Bring an Igloo cooler and keep the water fresh.
A few words of warning. The Harbor Patrol from time to time will check that regs. are being followed. Don't cast overhead if you can avoid it. And keep an eye on your stuff, since the people count on a summer weekend can hit 100,000 or more. Always fish with someone else out there. SM is a really bad town to get a ticket in, since you will pay the max fine for anything. Also, make sure you don't bug the people selling stuff or performing. Chances are you'll be asked to leave. The wind is also a factor out there. Fishing close to the buildings will cut a lot of it down, making fishing more enjoyable. It will also come up and die down around sunset.
Hope this helps. I've posted cooking suggestions before for spider crab in case you get one and don't know what to do. Feel free to ask any other questions as well. And, if you see Mike Bikehead on the pier, tell him Kel, Cindy and Carrie Cruise say hi.
Kel, Transplanted Pier Rat in Bakersfield, CA
Fathers and kids: Fishing derby nets 40
 The steady crashing of the waves below, the plaintive cry of the sea gulls overhead. The young man looked out to the sea, the morning sun lighting his eyes, the wind brushing against his face. He took it all in silently before looking up to the old man.
"Are you going to catch a shark, daddy?" he asked. When you're a 5-year-old, there isn't anything your dad doesn't know, so on his very first fishing expedition, Blake Condon had plenty of questions for his father Sunday morning as they bent over the ledge of the Santa Monica Pier, poles in hand. "How do we catch it?," he asked. "You have to have patience," said his dad, David Condon. "How do they stick?" he wondered, looking at the bait on the hook. "The fish will eat it, just like in the cartoons," said dad. Condon and his two sons, Blake and his 8-year-old, Zachary, came to the pier Sunday for the third annual Father's Day Fishing Derby, put on by Santa Monica Pier Bait and Tackle.
About 40 people showed up for the daylong event that gave prizes for the biggest fish caught and released and the most fish caught.
"It's a nice experience to come out and not spend the day flicking the TV," said Chris Volaski, co-owner of the bait shop. "It's a nice way to spend quality time with dad on Father's Day." Her husband, Yosh Volaski, has been fishing on the pier since 1961. "I get a kick out of teaching someone how to pick up a fish," he said. "Someone taught me and I'd like to return that."
The art of fishing is the kind of thing fathers have been passing down to their children forever, but Condon had no idea what he was doing and basically was faking his way through it. "I watch everybody else and try not to screw up," said the 39-year-old real estate broker. "I wanted the kids to experience fishing. I used to fish with my grandfather. It's a memory the kids will have."
Mannie Mendelson, co-owner of the small tackle shop at the end of the pier, said fishing is a good way to teach young ones responsibility and respect for nature. "We encourage them to return the fish to the water," he said. "Our biggest prize is for catch and release."
Manuel Lopez brought his family, including his daughter Dayanara from Las Vegas, to fish at the pier. "I like to spend time with my family," he said. "This is nice. I hope the kids enjoy it."…
Condon never did catch his shark, but Zachary managed to snag a croaker that would hardly have fit onto a Ritz cracker. But once he caught it, he didn't want to have anything to do with it. When Mendelson tried to get the brothers to hold up their catch for a picture, the boys squealed, squirmed and could barely be coaxed too touch it. "I like to catch it, but not eat it," Zachary said. "My grandmother throws them back 'cause she don't like to kill fish, but I like to kill them." However, after having a change of heart, he decided to toss it back into the water.
—Josh Grossberg, The Santa Monica Outlook, June 16, 1997
Did You Know? That the Santa Monica Pier is probably the number one pier to appear in movies, television shows and commercials? A partial list includes—Quicksand; Pitfall; Fallen Angel; Mildred Pierce (sound stage re-creation of the Santa Monica Pier); The Big Sleep (same stage for a fog-covered Lido Pier); Night Tide; The Son of Kong (1933); Quicksand (1950); The Glenn Miller Story (1953); Inside Daisy Clover (1965); They Shoot Horses, Don't They (1969); The Sting (1973); Crime & Punishment; USA; Cursed; Elmer Gantry; Crazy/Beautiful; The End of Violence; Blood Beach; Funny Girl (1968); Cannonball Run (1976); Walk Proud (1979); Hot Moves (1985); Nomads (1986); Ruthless People (1986); Miracle Mile (1988); Rescue Me (1993); Beverly Hills Cop III (1994); Clean Slate (1994); Down and Out In Beverly Hills: Forrest Gump (1994); The Net (1995); Species (1995); Day of the Warrior (1996); The End of Violence (1997); Titanic (1997); The Majestic (2001); Abby Singer (2003); Cellular (2004); First Daughter (2004); Thank You for Smoking (2005); Intoxicated Demons (2005); Sueño (2005); Main Street (2005); A Coat of Snow (2006); The Pet (2006); Three Words and a Star (2006); Hannah Montana: The Movie (2008) and My Sister's Keeper (2009).