Striped Bass — Striped bass are one of the two prized fish at the pier and, unlike salmon, seem to be taken in fair to good numbers every year. It shouldn't be surprising given the fame that local waters held for stripers for so many years.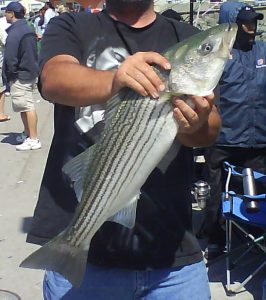 The bible on stripers says they leave the inland streams, move through the Delta, and pass through San Pablo and San Francisco into the Golden Gate and Pacific waters every spring. In the fall they reverse that trek. Thus the normal June to October striped bass season makes logical sense (even if many locals consider July 4 as the kickoff date for Mr. Linesides). When they start to be caught the season is on!
Most are caught on the inner third of the pier, often right in or next to the surf with both bait fishermen and those casting artificial lures welcome (if the pier isn't too crowded).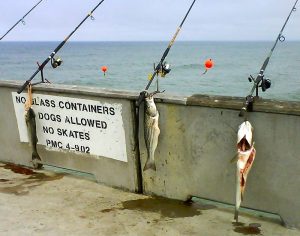 Stripers
Although techniques change over the years, a high/low leader baited with pile worm, ghost shrimp, or whole or cut bait—sardine, anchovy or small perch, is still often the best bait. An alternative is a live bait and usually today that means employing a Carolina-rig with whatever live bait can be procured—shinerperch, small surfperch, small smelt or, if they are running, a sardine (although a pile worm can also be used with the rig).
Use a hook size 2 to 4/0, heavier line (at least 20-pound test), and be sure to have a way to bring the fish up onto the pier since stripers to at least 43 pounds (maybe bigger) have been caught off the pier.
Another approach is to use an artificial lure, most likely a plug or spoon, fish an area away from other anglers (if you can find such a spot) and cast just outside or even into the surf line. During the low tide, check out the inshore area and look for depressions along the surf, these are the places to try first. Unfortunately, it is harder for a pier fisherman to use these lures than an angler fishing from the beach (although Mickey Jigs and Pencil Poppers tend to compensate for heavy wind conditions). If conditions permit (somewhat light winds), you can try lighter spoons and jigs. Krocodile spoons (chrome with a  lime-green strip,) or Hopkins jigs, are the choice of many surfcasting "experts."
Salmon — King salmon are, of course, what made the pier famous and at least a few are usually present most years. If they show up the season can run from June until October or November (although late June to late July is generally the peak time). Hundreds of bobbers/floats will dot the surface of the water when a "run" is on, ranging from the surf area to the end of the pier. The best spots, when you can get them, are at the far end, both the left corner, and the end area that runs to the right corner (an area affectionately known as "Little Manila" or "Manila Town" and populated by the regulars—"The Filipino Mafia."
Most of the salmon are caught by the regulars using the famous Pacifica trolley rigs, modified sliding "trolley" leaders. A heavy saltwater rod and reel, spinning or conventional, equipped with 30-50 pound line is used. At the end of the line a 5-8 ounce spider or sputnik-type weight is attached, size depending upon the current. These weights have four spikes on one end that are set into position by pulling the line in a low position after the cast; if done correctly the spikes will be wedged into the sand.  The trolley leader is then slid down the line via a strong snap swivel. The leader itself has a float (usually a large 3-4" Styrofoam bobber set a couple of feet under the swivel to keep the leader near the top of the water. Some anglers will then attach a reflector (flasher) of some type to attract fish but they're rarely needed. The leader extends another 10-20 feet or so under the bobber depending upon the tide and the depth at which the salmon are feeding. The leader terminates in a hook and bait. The hook should be a barbless circle hook, the legally required hook for salmon in California (although many ignore the rule). Typically the bait is a "popsicle'—a frozen anchovy that has been threaded onto the leader by the use of a bait thread needle.
King salmon — 1998
You've set out your bait and are waiting for a fish. What's next or what's the best approach. A PFIC regular gave some clues: Posted by Calrat, June 30, 2004 — When a salmon bites on the classic Pacifica Trolley rig, I set my drag loose to a point where it can run but not too far. The bobber can go down but usually what happens is you'll see it flying off into some direction. (That's if you're watching the bobber) You'll also notice your rod jerking around… There are so many people out there, when a fish is on, usually the regulars will just start yelling a color of the bobber going this way and that way. As aggressive an environment as it may seem, the Pacifica Pier fishermen help each other out by keeping an eye out on everybody else's line. If you plan to go out this weekend, AND I THINK YOU'RE NUTS, then good luck. You shouldn't have any problems knowing if a fish is on… If you're an honest fisherman, and I hope you are, you'll be using a circle hook with no barbs (as per the guidelines of the DFG). The fish will take your bait and set itself. MAKE SURE YOU DON'T GIVE ANY SLACK EVER DURING THE FIGHT WHEN USING THE CIRCLE HOOK OR IT WILL COME OFF! If you're a crooked fisherman, and you're using a regular hook with barbs, set it when the fish is on even though it's probably set already… that is, just to make sure you have him on good. It's much like a small bat ray fight
Sometimes the salmon come in closer to shore and the anglers mid-pier will use a shortened trolley rig. If baitfish is present, they're usually being caught and that's when the anglers will switch to live bait: a live anchovy or sardine instead of a  "popsicle."
A necessary piece of equipment is a hoop net to bring the large fish up onto the pier. Although most Pacifica salmon will weigh 6-12 pounds, fish over 20 pounds are common, and 30 pounders are seen fairly often. The record appears to be a 51-pound monster that was caught the last week of July 2002.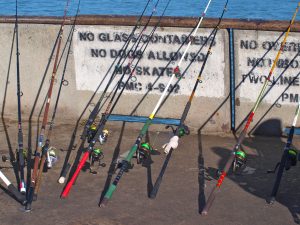 Crabbing rods during the Dungeness season
What probably should be considered an essential piece of equipment are the dual purpose special "Pacifica rod holders" available at local bait shops (and sometimes from people on the pier). It's a welded rod-holder specifically made to fit the pier's railing. Dual purpose? To hold the rod and to claim the territory.
Do make sure you know what you are doing if you decide to join the fray when the salmon "are in." The fishing is serious business to the throngs who invade the pier during the salmon invasion and fools are not suffered lightly. Using improper sinkers that don't hold bottom (resulting in tangled lines), failure to get out of the way of a hooked fish, or barging into someone's space can result in things like cut lines and threats. It's elbow-to-elbow fishing that the more caustic liken to a "combat zone" and be alert if you hear someone yelling "headache" while making an illegal overhead cast.
Read up, ask questions, bring the right equipment, and know what to do when you head out to the pier. You can usually also get some advice from the locals but it will depend upon your already existing knowledge, your willingness to listen, and a little bit of common sense.
In all the years I fished Pacifica I never had a problem but Î have heard stories of some that have. By the way, an early arrival is always good. Depending upon the tide there may only be a small contingent of anglers when you arrive, thus assuring yourself of a good spot. As high tide approaches the numbers start to increase and sometimes they can jump up to 200-300 people.  Soon there's a crowded railing (and three inches of railing space next to you can be considered a free spot). But, it's probably better for them to barge into your space than for you to barge into their space (not fair but better).
One problem that has increased over the years is sea lions, when the salmon show up the sea dogs will not be far behind. Some days may see as many as a third of the salmon ambushed before they reach the nets that have been lowered into the water.
Crabbing Tips. Two types of tackle are used by those seeking out the tasty crustaceans on the pier, the normal old-fashioned crab (hoop) nets and the increasingly more common crab snares. Crabbers seem divided as to what to use and each has its pluses and minuses.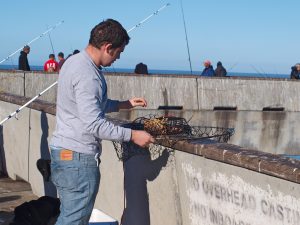 Crab (Hoop) net
The main plus for crab nets is that they don't require much additional equipment other than the crab nets and goodies that come with them (rope and bait box). There are a couple of  negatives for their use at Pacifica: (a) Though they work well during mild conditions the gigantic waves at Pacifica can render the nets almost useless at times and make it hard to keep the nets away from the pilings. Many hoop nets are lost to snags and the loss is costly. (b) Sea lions have learned to search out food in the hoop nets and reports of tug-of-war contest between crabbers and sea dogs are common. Usually the sea lion wins.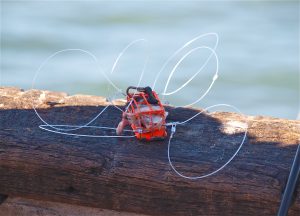 Crab snare
The pluses for crab snares are that they have proven to be effective and they reduce the chance of losing gear. In addition, fairly inexpensive snares can be purchased at local bait shops. In addition, a few entrepreneurial souls make and sell their own snares on the pier (at an even less expensive price). Those people are on the piers most weekends and at least one includes a sinker and a shock-leader with his snares. But snares too have negatives, the main being the need to have an additional item —a fairly heavy rod and a strong saltwater reel to cast out the snare along with sufficient line (30 pound plus).
How do you tell when a crab hits a snare? PFIC regular dsmiths supplies an answer:  "It seems to be typically a long, slow pull followed by a quick sometimes jerky release. You can tell the difference between this and wave action because the waves will move slowly in both directions."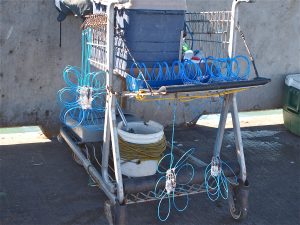 The best bait for both hoop net and crab snare, as always, is squid with sardine, squid with anchovy, and squid with mackerel. The fish supply the oily and/or bloody scent while the squid are tough and survive attack. Use chicken and your gear may be pulled apart by sea lions. Why the pinnipeds favor chicken over fish, no one seems to know but fewer are using it (even though it was once considered the "bait de jour."
Whatever the tackle it's common most days to take at least a few keeper-size crabs from Pacifica and some days will yield limits of the tasty crustaceans.
Just like their cousin "lobster poachers" to the south, "Dungee poachers" can also be a problem at the pier. They like to show up at night armed with multiple snares and a proclivity to keep Dungeness that are out of season, as well as crabs that are too small.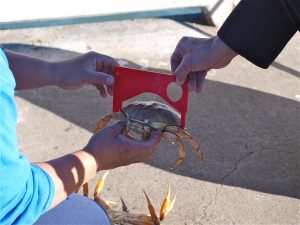 The right way to do it
Fish and crabs at Pacifica, an interesting overlook with some interesting observations, some good and some not so good. But, as one angler mentioned to me, what other California pier allows you a chance to catch both salmon and crabs on the same day, a veritable potpourri of gastronomic delicacies. Makes you kind of want to take along a tablecloth, a bottle of white wine, and some sourdough bread. Of course I'm not too sure where you would stage this Epicurean feast; when fishing is good the pier can be crowded, dirty and, in blunt terms, smelly. Dried blood, bullhead slime, sun-ripened bait, angler urine and sea gull droppings do not exactly lend the proper ambiance for a picnic. I once suggested to my daughter that her wedding would be fairly unique if it took place alfresco, out at the end of the Pacifica Pier. She said, in no uncertain terms, NO THANK YOU and gave me that stare.  That was the end of that conversation.
Potpourri  — Perhaps more than you may want to know about the Pacifica Pier
<*}}}}}}}}}><—  Fish surveys done by the California Department of Fish and Game for the years 2004-2009 show a mix of 27 species of fish at the pier. The species (listed numerically) — white croaker, shiner perch, walleye surfperch, jacksmelt, silver surfperch, northern anchovy, Pacific sanddab, white seaperch,  striped seaperch, Pacific sardine, barred surfperch, sharpnose seaperch, Pacific tomcod, Chinook (king) salmon, kelp greenling, striped bass, spotfin surfperch, rainbow seaperch, pileperch, calico surfperch, redtail surfperch, black perch, rainbow trout (steelhead), starry flounder, sand sole, brown rockfish and leopard shark.