I arrived at the Monterey Wharf #2 shortly after 9 AM and soon after an angler came over and said, "Are you Ken Jones?" It was Madsteelhead and he was at the pier seeking out some pileperch. He gave me a quick rundown on what was happening and asked if I could identify a fish in another angler's ice chest. It was a small sablefish, the first one I had seen in years, and it gave even more hope that it might be an interesting visit. I was soon rigged up with my normal high/low rigging, a one ounce torpedo sinker, and pile worms strung over size 6 hooks; I was ready for some perch.
The only problem was the small fish, specifically juvenile blue rockfish and lizardfish. Those fish just didn't seem to understand that the worms were reserved for the larger perch. Over the years pile worms have become my favorite bait (along with ghost shrimp) but the trouble with worms and small hooks is that smaller fish can also grab them, i.e. the blacksmith and senorita that can make fishing hard at Catalina when you're trying for larger species like opaleye, the shinerperch at Gaviota when you're seeking out the larger rubberlips and buttermouth, and on and on. Worms are great bait but can be too easily sucked in by the smaller fish when you are seeking out something a little larger. When the small fish are around it's good to have a backup bait. Unfortunately I had brought a couple of dozen worms with me as well as some anchovies and squid but had not brought the mussels that were in a bag in my freezer—dumb!
Nevertheless, I continued to fish for my sharpnose perch and about 20 minutes after starting I caught a sharpnose, the only one I would catch during the trip. It justified the trip in my mind but there were several other interesting things that I saw.
The first were the number of lizardfish. In my monthly reports I have been reporting lizardfish from more and more piers, all the way south to San Diego. A few weeks ago during a trip to Santa Barbara they were the main fish caught by the kids in the tournament on Stearns Wharf. On the way back that weekend I had stopped at Port San Luis where they absolutely seemed to cover the bottom of the bay (as in 4-6 every time if you threw out a Sabiki). Here there was a repeat performance. People mid-pier were casting Sabikis and pulling in 4-6 fish at a time and keeping them. Hope they tasted good.
The second concerned a recent post I made on the number of baby cabezon and onespot fringehead showing up at piers. I had recently caught small cabezon at Stearns Wharf, Goleta, Gaviota, Avila, and Port San Luis and once again they were numerous here. As for the onespot fringehead, it was similar, I had caught them at Stearns Wharf, Goleta, Gaviota, and Port San Luis. Soon after starting I caught one and took it over to show Madsteelhead who said he had never seen one before. What gives with this year's explosion of lizardfish, cabezon and onespot fringehead?

Onespot fringehead
As for the pileperch, there was a nice run going on and the locals who knew what they were doing (like Madsteelhead) were loading up on fish that weighed 1+ pounds. It reminded me of when I used to fish the Red Rock Pier in Richmond back in the '70s. The pier would be thick mid-winter with pileperch in the 1-2 pound range and you could fairly easily catch a limit using grass shrimp for bait. The Red Rock Pier is now history and it seems harder to find the larger concentrations of pileperch (although some areas still see good numbers). BTW, Madsteelhead also caught a nice blackperch.
There was also the issue of the sablefish. The only sablefish I have caught from a pier was at the Newport Pier and it was a long, long time ago. One day I caught 47 and one day I caught six; all were caught during very early hours when it was still dark and all were caught on squid (as discussed in Pier Fishing In California). The thinking is that these deep-water fish will come to the surface at night to feed (and young sablefish will sometimes enter shallower water). I wanted a chance at the sablefish so was back at the Wharf Sunday morning at 4 AM using squid for bait. The water was really low, the sablefish did not cooperate, and I did not catch a single one, but at least I tried.
I did have a very interesting discussion with a retired commercial fishermen the next morning, one who lives on his boat in the marina. He said a state record pileperch was caught from the wharf a few days ago, a fish which after being weighed on a couple of different certified scales weighed in at an even 2 pounds. I hadn't checked the records lately but was a little surprised that the fish would be the record since I have seen much larger fish over the years. But, most anglers never bother to have their large fish checked or submitted as a record. He also said the lizardfish only showed up about a week ago and that there was a good bocaccio hatch showing in the water.
As for the cabezon and onespot fringehead, he had no idea, in fact he didn't know what a onespot fringehead even looked like until I showed him a picture. He also mentioned that three sturgeon had been taken from the wharf this year along with several halibut. We had a nice long talk concerning California fishing and changes over the years and it proved a nice diversion since the fishing was a little slow (at least as far as large fish).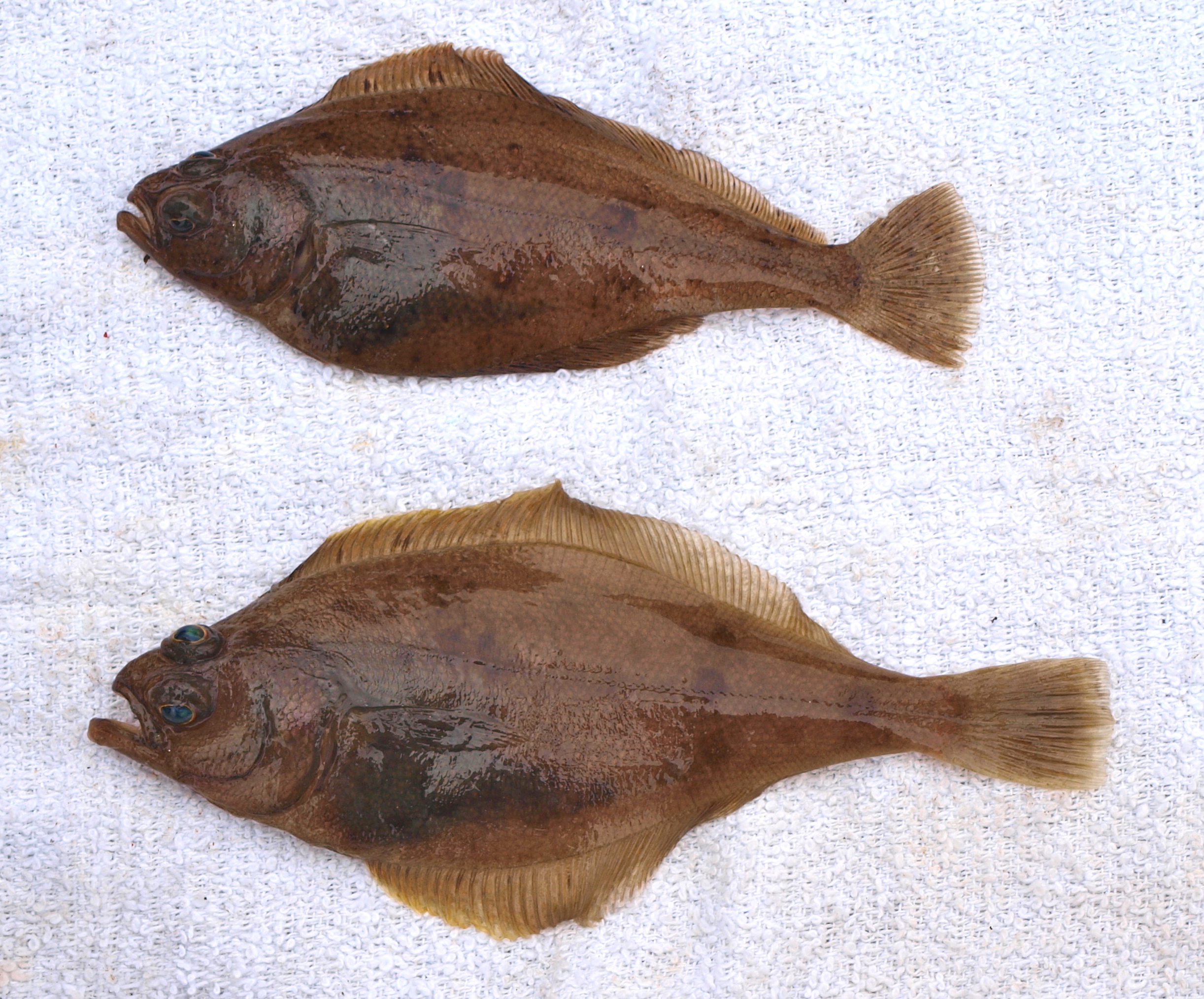 Pacific sanddab
What would prove most interesting was the number of different species that I was able to catch Saturday between two different piers—Wharf #2 and the Coast Guard Pier. Eighteen different species showed up at the two piers that day and when I checked my records when I got home it was the highest total of one day, multi-pier species. Wharf #2 (morning and late afternoon/early evening) saw California Lizardfish, Blue Rockfish, Speckled Sanddab, Pacific Sanddab, Cabezon, Senorita, Pileperch, Sharpnose Seaperch, Onespot Fringehead, Kelp Greenling, Bocaccio and Shinerperch. The Coast Guard Pier (afternoon) saw Gopher Rockfish, Black & Yellow Rockfish, Painted Greenling, Striped Seaperch, Striped Kelpfish, and what I think was a Corraline Sculpin. The 18 different species in one day from the piers was a record for me. Of course the two quite different environments would see different species but still it was a good number of different species.
I headed back Sunday at noon after a quick bowl of chowder at Fisherman's Wharf. Three hours later I was back at Fresno and unloading the car in the middle of a 107-degree day. I think I need to find a job on the coast.
Posted by calaznfisher
Lovely read, thanks for the report from one of my favorite places to fish. Good to see you escaping the heat, and getting some productive fishing time in.
I've actually been keeping an eye out for sablefish ever since I read about your mirabile dictu day at Newport. According to my records, I ran into an angler carrying 3-4 medium-sized sablefish walking off of Newport pier in September of 2012. He said he caught them off of anchovies from the back right corner. No one else had caught any that I saw. Very interesting catch, too bad you didn't see more of them.
 Potpourri — Possibly more than you want to know about Monterey Wharf #2
<*}}}}}}}}}>< — In 1988 papers nationwide carried a picture of a young angler holding a somewhat prehistoric looking fish, one whose most notable feature seemed to be a large mouth full of scary-looking teeth (and its lance-like fangs provide its name). The fish was a Longnose Lancetfish (Alepisaurus ferox, meaning ferocious scaleless lizard), a normally deep-water fish that has been found down to a depth of 6,000 feet. The fish was caught at Wharf #2 and is a reminder that the wharf and these waters are fairly close to the Monterey Submarine Canyon and will occasionally yield deep-water fish.
Fin-tastic catch
What a fish story lucky Christopher Burrell can tell! The 12-year-old sportsman hooked this strange-looking longnose lancet fish off Monterey's Wharf #2 in Monterey, California. His catch weighs 35 pounds and is more than six feet long.
—Weekly World News, May 17, 1988

Of interest is that lancetfish are very skinny and though recorded to 6  5/6 feet in length, the listed maximum weight is 19.84 pounds. Thus the scale used to measure the fish was wrong, it was just an estimated weight, or the weight was accurate and the boy caught himself a record fish (although it does not look like a 35-pound fish).
The boy's catch was at least the third report of the fish along the Monterey Bay shoreline at the time of the catch. A newspaper article from November 2, 1973 (The Daily Review, Hayward, California) reported, "a lancet, the sharp-toothed deep-water fish was found in a surf here recently. Robert Lea, a State Fish and Game Department marine biologist said it was only the second time in 40 years that such a fish had been found on the Monterey Bay shoreline… Lea said the 4 1/2 foot specimen would be added to the fish collection at the California Academy of Science in San Francisco."
Apparently longnose lancetfish are common through much of the Pacific, Indian and Atlantic oceans but typically they're found offshore in deep-waters. They are a favored food of tuna and sharks and often captured on long-line gear used for tuna. They're hermaphrodites containing both male and female reproductive organs, and voracious eaters that will eat just about any fish smaller than them including smaller lancetfish. Given their cannibalistic bent, they will never win a parent of the year award.
<*}}}}}}}}}>< — Perhaps the best example of deep-water fish showing up at a California pier was a run of sablefish that took place at Wharf #2 in 1947. The numbers of both fish and anglers seems unbelievable—but the invasion was well documented!
Sablefish are uncommon to California piers but when they do show up it's typically at piers located next to deepwater submarine canyons—those at Newport Beach, Redondo Beach, Moss Landing and Monterey. I've been lucky enough to catch them at the Newport Pier twice, 47 on September 10, 1962 and six more on October 27, 1962. And though I have caught many whole fishing the deep-water reefs out of Santa Cruz for rockfish, I've only seen one other one at a pier—July 20, 2013 at Monterey's Wharf #2.
Sablefish Run At Monterey Bay
For the first time in history, sablefish (Anoplopoma fimbria) appeared in vast numbers in the vicinity of Monterey and were caught by the thousands from the municipal pier. The run was first discovered on the afternoon of July 11th; word of the bonanza spread rapidly, and the pier was soon crowded with anglers. Men, women, and children stood shoulder to shoulder, with a varied assortment of tackle, all hauling in fish as fast as they could throw in their lines. Boxes, sacks, five-gallon cans, and washtubs were rapidly filled with 12 to 20-inch fish. Slack periods occurred during the morning and again in the afternoons, but they were of short duration usually lasting only half an hour or less; then the fish would be back seemingly in greater numbers than before. Each day the pier would be jammed with crowds of from 2,000 to 3,500 fishermen and spectators, some having driven as far as 200 miles.
On July 26th, the run stopped as abruptly as it had begun, and although over 5,000 fishermen were on hand the next day, only a few fish were caught. During the 15 days of the run, the Bureau of Patrol Division of Fish and Game, estimated that over 110 tons had been landed.
— Keith W. Cox, Bureau of Marine Fisheries, California Division of Fish and Game, September, 1947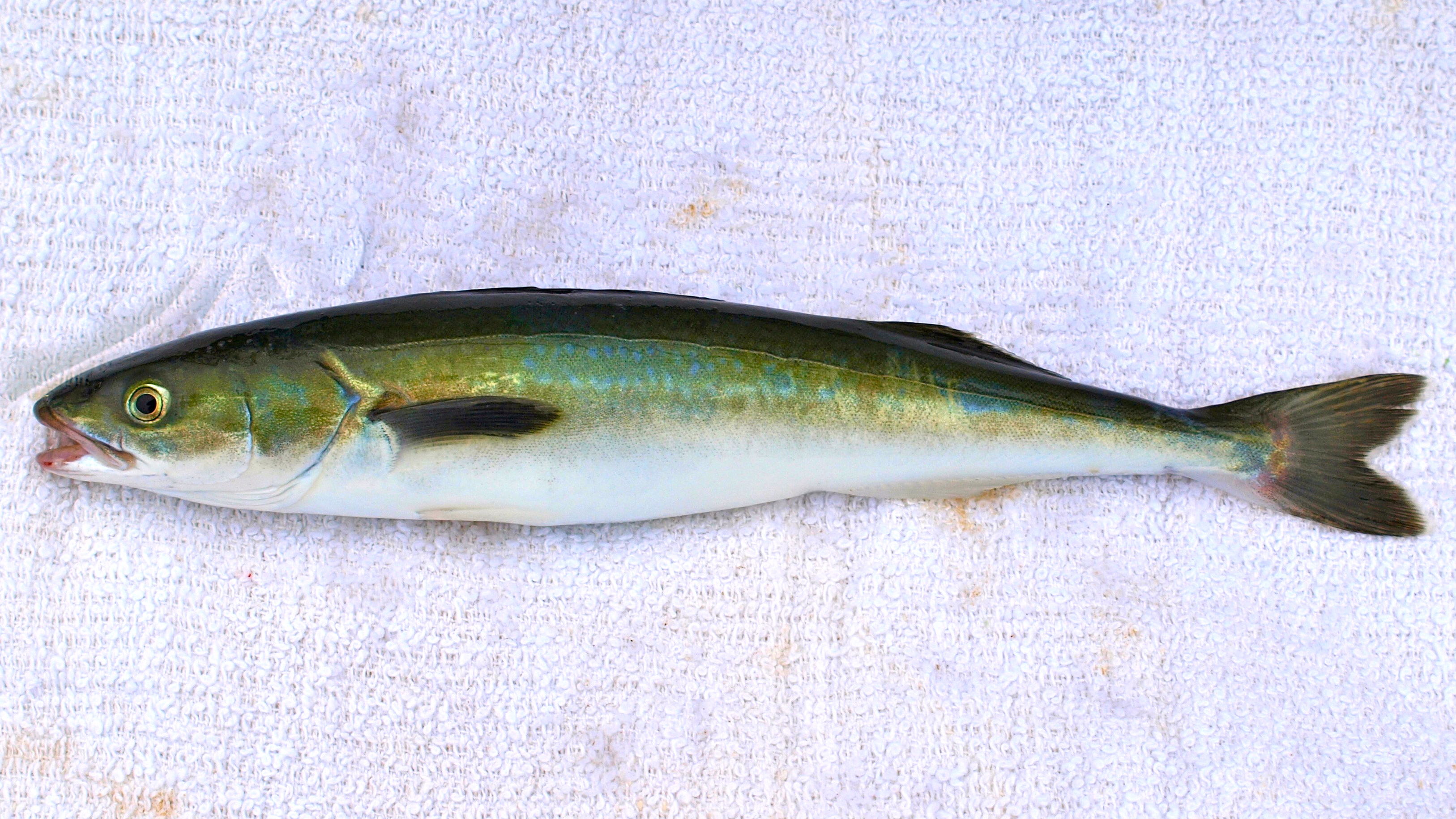 A juvenile sablefish caught in 2013
<*}}}}}}}}}>< — Some interesting old newspaper reports on fishing at Monterey.
Fishermen — From a Mr. Turner, who is stopping at Pacific Grove, two miles from Monterey, it is learned that six salmon were caught in the bay by trolling… The same gentleman reports that bonitas have been unusually plentiful and that baracouta are not infrequently hooked. A few mackerel are also said to have been caught from the wharf at Monterey.
—San Francisco Chronicle, August 7, 1883
Swarming With Fish — Unusually Large Number in Monterey Bay
Pacific Grove.—For several weeks Monterey Bay has been fairly swarming with fish. This bay is noted for its varieties of fish, nut never before have so many been caught. The season of mackerel has been unusually long. Some of the big mackerel have weighed from 200 to 500 pounds. The sardines are so numerous that they can be seen spinning all over the surface of the water and can be caught in bucketfuls from the wharf and along the beach. The pelicans and sea gulls are having great feasts.
— Santa Cruz Sentinel, November 5, 1895
Big Fish Caught at Monterey
Monterey.—Manuel J. Silva, a fisherman of Monterey, harpooned a large tunny (giant mackerel) near the Pacific Coast Steamship Co. wharf Sunday afternoon. The big fish was a fighter and dragged the boat some distance befor it was finally killed. The tunny weighed 310 pounds.
— Santa Cruz Sentinel, December 31, 1896
Run of Fish at Monterey
Monterey,—Horse mackerel are having a great run in Monterey bay, being so plentiful that they are easily caught with grabhooks from the wharf. Fishermen are having an unusually profitable season because of the variety of fish. Large shipments of sea bass, mackerel, pompano and barracouta are daily sent to San Francisco.
—Santa Cruz Sentinel, November 13, 1897
Rare Fish at Monterey
Monterey.—Silver mackerel are beginning to appear among the fish brought in by the fishing boats of this place, and the fact is causing great interest among fishermen hereabouts. It is said by old salts that this beautiful fish appears in California waters only once in every hundred years and always means prosperity to fishermen. It is really a rare fish, and its presence now is exciting considerable interest among the townspeople generally.
—Santa Cruz Sentinel, January 30, 1900
Neal Dow, 13, … pulled a 44-pound halibut onto the new Monterey wharf after a healthy struggle that had the other fishermen cheering.
—Ernest Otto's Waterfront, Santa Cruz Sentinel, September 1, 1939
Holy Mackerel! What Crowds Going After The Mackerel
Biggest crowds in years are jamming the Monterey wharf these days, angling for the easiest mackerel catches in years. The run is practically unprecedented in this section, and fishermen are hauling them in at a great rate. The word has spread to such an extent that a special police detail has been stationed on the pier to keep order and to keep the anglers from doing damage. Crowds are so thick that police report several car windows have been smashed by high-flying sinkers. Both Spanish and horse mackerel are plentiful. Several local fishermen have tried their luck and they say the fish are not only plentiful, but are heavy. The run has been on for a week and shows no signs of slowing up.