Norton thinks the recent increase in numbers of rockfish is due partly to the amount of nutrients along the Central California shore. Places like the Monterey Abalone Co. can play a part, providing the fish an endless buffet and a protected environment in which to grow. Workers at the Abalone Co. also help researchers track the number of fish that make it to shallow water each year… "Something that works out nicely is that when they pull up their cages to clean them and add food, they sometimes trap the little fish, and they save them for me," said Norton. Isaac, of the Fish and Game Department, has also been studying rockfish collected from among the Monterey Abalone Co. barrels for the past three years. After he looked at several areas where he thought the baby fish might be abundant, he finally looked around the pier. "Sure enough, we found a lot of rockfish," said Isaac.
Seavey has faced some criticism for his business, mainly from people who think kelp harvesting destroys sea otters' homes. The Monterey Abalone Co. feeds its 200,000 abalone five tons of kelp from the Monterey Bay a week.
But kelp forests in the Monterey Bay are doing just fine, says one marine biologist. "If you cut the top of kelp, new fronds grow quickly to replace them," said John O'Brien, who helps the Department of Fish and Game survey kelp forests on the California coast each year. Conditions in the Monterey Bay are highly favorable to kelp growth, he said. "You probably can't harvest it fast enough to affect its growth."
The abalone farm has served as a home to other marine creatures over the years. In addition to rockfish, Seavey has seen shrimp, octopuses and lobsters that are far out of their range in the abalone barrels. But Seavey sees so much abalone that he rarely even eats them anymore. "When I go home, the last thing I want to see is an abalone," he said.
—Elisabeth Nadin, Monterey Hearald, February 8, 2003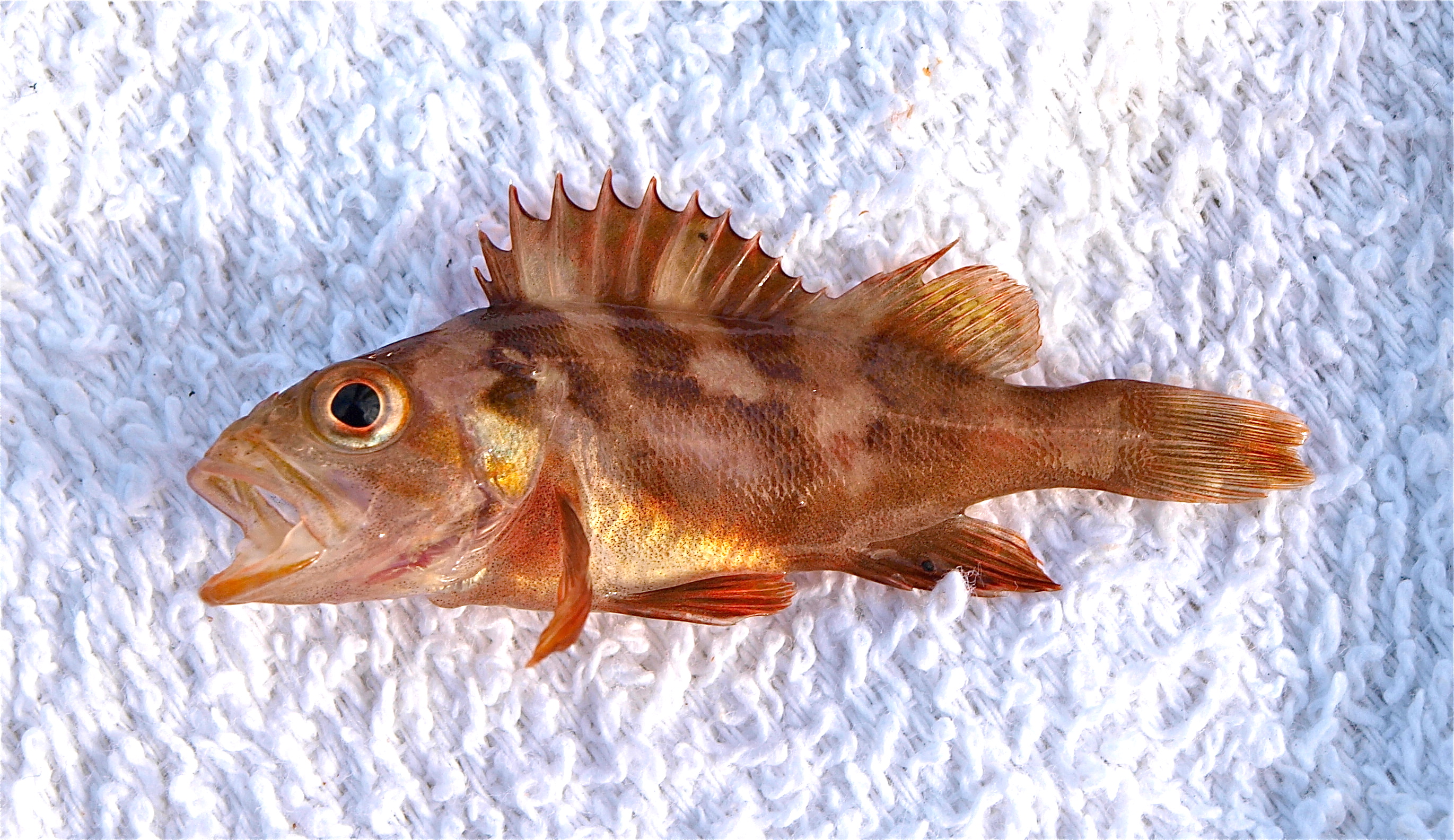 A juvenile copper rockfish taken in 2015
The Pier Rats Speak

Date: March 2, 1999; To: Pier Fishing In California Message Board; From: Calder Deyerle; Subject: Monterey Wharf #2
The things that we are catching at the wharf are a few steelhead and a few jacksmelt. I have also seen a couple of perch.
Date: April 16, 2001; To: PFIC Message Board; From: avidangler; Subject: Monterey Wharf #2
The perch have arrived. Today I saw the first large school of perch under the wharf near the fuel dock (midsection). There were lots of silvers and pileperch, so out came the rod and away I went! The tide was coming up (it was 3:00) and I tied on a 1/3-ounce jighead with a motor oil perch grub. I caught a large rainbow, three rubberlips (one was around 2 lbs), several pileperch, and a few silvers. I had never seen pileperch so aggressively hit artificial grubs like they did today. They swarmed it. My pal James was getting them on a bubble gum pink grub, although not as many. Motor oil was the ticket. Should be many, many perch in the next few months. Those rubberlips are tricky to land on four-pound line near the pilings!
Date: September 30, 2001; To: PFIC Message Board; From: steelhead; Subject: Monterey salmon "on fire"
Hello everyone, this message might be a little late… but I have to post it anyway. The salmon have arrived in large numbers off the Monterey pier. And I mean LARGE NUMBERS. Schools of 30-40 salmon cruising back and forth in front of the pier. Some of the regulars were catching 20-25 salmon a day in just 5 feet of water. Myself, I caught 6 in just two hours. The salmon came in right after the big thunderstorm we had last week. Since then it has been non-stop action. The bad part is that salmon season ends today… so get down there today if you can. Steelhead
Posted by jason chin
Treble hooks with a feather does not count. Jason "bayrunner"
Date: May 4, 2002; To: PFIC Message Board; From: avidangler; Subject: Monterey Wharf #2
James and I fished the pier at around nine this morning for perch. We fished under the pier around midway with pile worms on a 1/32-ounce leadhead and caught and released around 35 or so rainbow seaperch and pile perch on ultra light tackle. There are many silvers also but I only landed one of those, as they were being finicky. Not much else happening pier wise save for a few small smelt here and there. -avidangler
Date: July 25, 2002; To: PFIC Message Board; From: avidangler; Subject: Re: Leapin, what's "lining?"
You all know I'm from Monterey and fish the Wharf #2 regularly. I was not present on this particular day in question because I have bills to pay, so I saw no such incident of snagging with a bare hook. In notsosmart's post, the fish was foul hooked with a bare hook. That is snagging. You must use a lure to catch a game fish, or bait. Period.
Lining is a method in which one uses a long leader and a bead or yarn to hook salmon or other fish in the mouth. Whether it is voluntary or not depends on the fish. Salmon will hit yarn, and they will also hit a bead. The majority of fish hooked on the rivers I have fished while people were using this method were involuntarily hooked, many in the mouth, some in the head, others in the back or tail. The wardens I have talked to say that if the fish swims off with your line and it is mouth hooked it is legal. Period.
Now for avidangler's stance on "lining" and "snagging" at Wharf #2. I will NOT snag fish period! The fine is like a thousand dollars, it is hectic fishing, and frankly I will legally hook many more fish than the average snagging moron. Salmon come to Wharf #2. Why? They are planted in the harbor as fingerlings and allowed to mature to smolt size. They return to the "river" of their origin, which is the harbor. These fish turn dark in saltwater and die. They do not reproduce. We have asked the DFG to extend the season so that less of these fish will be wasted, due to the fact that the return usually peaks after ocean salmon season is closed. Our requests have fallen upon deaf ears.
The DFG is fully aware of last year's snagging problems and many anglers were issued citations as a result. This year we shall see what happens with the snaggers. So far I have seen anglers throwing spoons and lining fish so as far as notsosmart's report of snagging I cannot confirm this.
The DFG is allowing lining of these salmon. You know what I say? Why not? These fish are going to either get eaten by harborbags and sea lions (go there at night and watch the gauntlet!) or die and get picked at by seagulls and crabs. The sole purpose of these fish is to boost sport catch. I would like to see them not go to waste myself. If that means people line rub them, by all means why not. After the sea lions get them all fidgety they will not readily strike bait or artificials, although I know a few tricks (heh heh). Better that people get some sport and some dinner. If the law allows it, that's the bottom line. The practice will continue. There will be some bad apples in every crowd. Avoid them.
Date: September 14, 2002; To: PFIC Message Board; From: avidangler; Subject: Monterey Wharf
The salmon action has been good. My pal Frank hooked a beauty off the beach adjacent to the pier on a #6 Blue Fox spinner this morning. I just finished eating some of that fish a little while ago. Last week the same Frank got a twenty-four ponder on same said spinner, and yesterday my pal Orby nailed a 34 pound, 1 oz fish on pink yarn. No joke. He did well to land that pig!!
Date: October 26, 2006; To: PFIC Message Board; From: pinoy; Subject: Plenty of bat rays in Monterey!
They have been catching bat rays at the wharf for a few nights now. Finally, I had a chance to try it last night. I was using an Eagle Claw "Surf Beast" 10ft rod, Okuma AV80, 80-lb spiderline (25-lb diameter), steel leaders topped with 2/0 hooks, and squid bait. I started fishing at 7pm and first 20 minutes was slow for me although everyone else seems to be catching bat rays left and right. Boredom was followed by some teasing from my pregnant wife. She said that if she's not pregnant and have strength to fight the rays, she would have been catching after a few minutes of casting out. She said I have until this time next year to hold the family record on bat ray catch even if I catch the tiniest one in the bay. She already beat me in the MF eel department. Hehehe!
Anyway, at around 7:30 I felt a tiny tug so I set the hook. Yup! I felt a strong pull trying to peel off out to open water. After reeling a few yards back the ray came straight back and to the side, aiming to go under the wharf. Oh man, I thought I was gonna lose it. I was able to recover line fast enough to keep pressure on the ray and to coax it to follow me towards the end of the railing. With a friend's help lifting the line hand over hand I finally landed it. It was around 30-33" wingspan. I don't know the weight. My friend took it home for soup and I kept the tail. I caught four more (3 released) afterwards ranging from 20-35" with two of them falling into the water just a few feet from the top of the wharf when we tried to lift them up. I based the size of the two that dropped on the comparison of how they were spread between the post of the wharf while we were pulling them up. I also caught a 2′ long skate that did not fight at all.
My co-worker and PFIC member MBRat finally showed up at 9pm. We stayed with him until 11pm. He caught total of 5 bat rays, but was only able to land 1 which was about 30-34" wingspan. The others were lost while trying to lift them up onto the wharf. All in all it was a fun night. Mrs. Pinoy was happily watching and encouraging me. She already said I will be the one watching baby next year while she catches bat rays. Hahaha!
Date: October 27, 2006; To: PFIC Message Board; From: Ken Jones; Subject: Monterey Wharf #2 — macs/jacks in force
Shot down to Monterey this morning at 4 AM to check out the mac action and the mackerel are definitely there. But what's really there is a huge mixed school of Pacific mackerel and jack mackerel (called Spanish mackerel by many people) and they are on both the inside side of the wharf and the outside side.
The jack mackerel are small size to medium size and seem to be hanging above the Pacific mackerel. If you want the jacks use a small size hook Sabiki with a one-ounce torpedo and keep it closer to the top.
The Pacific mackerel are almost all medium sized fish and, as said, seem to hang under the jacks. Use a two-ounce sinker for them and let it sink deeper in the water.
For both, a slow steady retrieve seems all that is needed. Main problem is that you will get 2-5 at a time so I recommend medium tackle if you're going to use a Sabiki for them. If you use a light outfit, and the larger mackerel hit, you're likely to have a tangled mess. But it's only money.
Instead of the Sabiki put a couple of size 6 hooks on your line with a one-ounce torpedo sinker and small pieces of mackerel. You'll have a blast catching the macs. Size 6-8 hook for the jacks. You will not get as many fish as the Sabiki's but I think it's more fun.
Finally, the fish are really thick and it would not be hard to catch 75-100 fish an hour if you know what you're doing. Better is to plan out what you want. I wanted a certain number of macs to save for bait and I wanted a certain number of jacks for dinner. I kept only the fish I needed and released the rest (and if they were injured they went into the keep pile). Don't be greedy but have fun if you head down there. It wasn't crowded this morning but I imagine it will be by this weekend if the macks/jacks hang around. PS., Saw leopard shark fins on wharf so someone was catching them the night before.
Posted by pinoy
I might have a suspect on that leopard shark. I was there Thursday night and this guy holding a leopard shark is walking up and down the wharf asking if people want to buy it. Lots of people are disgusted, and even my friend said that it is illegal for him to sell it. He just walked away. Another guy told him while he was walking away that what he did is a waste. He should have just released it instead of killing it. Again no reply and he just kept walking.
Date: October 21, 2009; To: Ken Jones; From: ……….; Subject: Ref: Monterey Wharf #2 report  
 Believe it or not, there had been a couple of massive WSB run in that area about 3 weeks ago. You would never guess that. When the stripers were pushing the bait to the shores, a big school of WSB was right behind them. One guy hooked up a 40-lb WSB with a Fish Trap from the wharf out of 50 fishing boats and tons of anglers on the wharf according to… There are guys snagging the stripers with 3-oz torpedo weights on treble hooks. The WSB school is still in and out of the bay there, but… does not want to talk about it on the public forum since he's chasing 'em on his kayak. I personally spotted a big school of WSB between Seacliff Pier and New Brighton beach in Capitola about a week ago. Hope it helps!
Date: July 22, 2013; To: PFIC Message Board; From Ken Jones; Subject: A short visit to Monterey and some fish

107 degrees in Fresno and 60 degrees in Monterey; enough said! Actually no, there is quite a bit more to add. Wanting to get away from the Valley heat, and intrigued by mention in a recent post that some sharpnose perch were showing up at the wharf, I decided to make a quick weekend trip over to Monterey. The trip would prove very, very enjoyable, both for the cool marine layer of weather that required a light jacket and for the variety of fish. Nothing learned but a few observations confirmed.