Ross I think you and I were fishing one night when this bozo did this before except without falling over the edge and into the ocean. Wish you could have seen it tonight. Well I may not have got to fish but I must say it was one of the best trips to the pier I have had – Lots of Fun…
Date: November 13, 2002; To: PFIC Message Board; From: Sinker; Subject: Toothy Critters at Ventura Pier 11/13/2002
Fishing Report—Date: Wednesday, November 13, 2002; Time: 8:45pm till 4:00am; Location: Ventura Pier; Conditions: Light Fog Calm; Tide: Low Tide 0.6' at 11:51pm; Set Up: Hi/Lo with #2 Circle Hooks and a Sliding Sinker rig with 3/0 Circle Hook; Bait: Anchovies, Sardines, Squid, Mackerel, Shrimp, Clams, Mussel, Herring and Skip Jack (Cleaned out the Frig and dumped all the old bait); Catch: 1 Spiny Dogfish Shark and 20 Thornback Rays
Comments: Well the water is still very dirty and churned up from last weeks storm. Interesting night none the less. Met up with the jerk who had started all trash cans fire a while back. Lets just say I doubt he will be doing that again and leave it at that (he is very aware of my feelings towards his actions and him). On a brighter note I got to see a very illuminated moon cross the sky and set in an awesome red color, also got to see 3 shooting stars, and an offshore oil rig doing a burn off.
Now if Thornback Rays were anything special to catch I would have rocked, but as it is I did just like their nickname and Throw Um Back…. Saw one other Dog Fish Caught and a 7 Gill Shark. The 7 Gill went 10 ponds on my Boga Grip and was about 3 feet long, a nice and rare catch for the pier. In fact the pier has seen unusual catches this past year, not only all the constant baitfish but, Electric Rays, Horn Sharks, Large Leopards, Swell Sharks, a number of Black Sea Bass, unusually high numbers of Thresher Sharks although small, good sized Spot Fins and even a few Salmon. Not sure what in the heck is going on but I am not complaining.
Date: April 7, 2003; To: PFIC Message Board; From: Sinker; Subject: Ventura Pier — Dodged a Bullet — Barely
Headed out to Ventura Pier tonight for another try at my mystery fish. Worked the center hole and got some nice 6 to 9" Mackerel for bait. Put one on the main hook (Carolina Rigged) and put down another on a slide line. Active little suckers but did not bring out any Sharks or Mystery Fish.
After catching the Mackerel I cut a squid in half and put half on each hook of the high/low I was using to get the Mackerel, had #6 Circle hooks on it. Cast out next to the jumping Mackerel pole (don't know how many passersby told me I was getting a bite, had to let them know it was live bait but I think only about half understood). Poles out and time to talk to the regulars, they had a pretty good day with a 4' Shovelnose (I saw the head as they were using it for crab bait) and they said they tied into 6 Bat Rays with the biggest going 32 pounds.
Right about them my pole with the high/low screams. It is my Seeker rod with a Shimano BaitRunner 4500B. Darn near got spooled and knew it was a Bat Ray from the get go. Man I sure have missed fighting these wonderful creatures. This bad boy was strong and pretty much had his way with me. Got most of my line back and he figured it was his turn again so I watched helplessly as my line went out nonstop till I could again see spool. My turn again and I got him all the way to the pier when he surfaced.
YEAH – I think he might have been the biggest I have ever caught from a pier (my top two are 92#'s and 107#'s), this thing was a beast and a half – HUGE and Beautiful. Also very strong and not tired out or finished with me yet, we saw him, he saw us and took off straight down bye-bye and broke my leader.
Well I re-rigged with a 30-pound leader this time baited up, leaned over the rail to underhand cast, didn't have enough line out and my hook caught under the pier and my wonderful Seeker Rod and Shimano BaitRunner reel went in the drink—jumped right out of my hand. I about cried and couldn't believe I did such a thing. I have never lost a pole like that before. Broke out the pier gaff and started working it to no avail, finally gave up and brought up the gaff; hey, I had caught my line! I pulled and pulled 300 yards of line until I got to the spool. Thank Goodness I tied a good knot onto the spool and pulled my rod and reel up on deck—DODGED A BULLET—got my rod and reel back and was very happy. Washed it off good but had no WD40 to spray on it so will have to tear it down tomorrow and give it a good once over. Crazy night—now I am going to bed…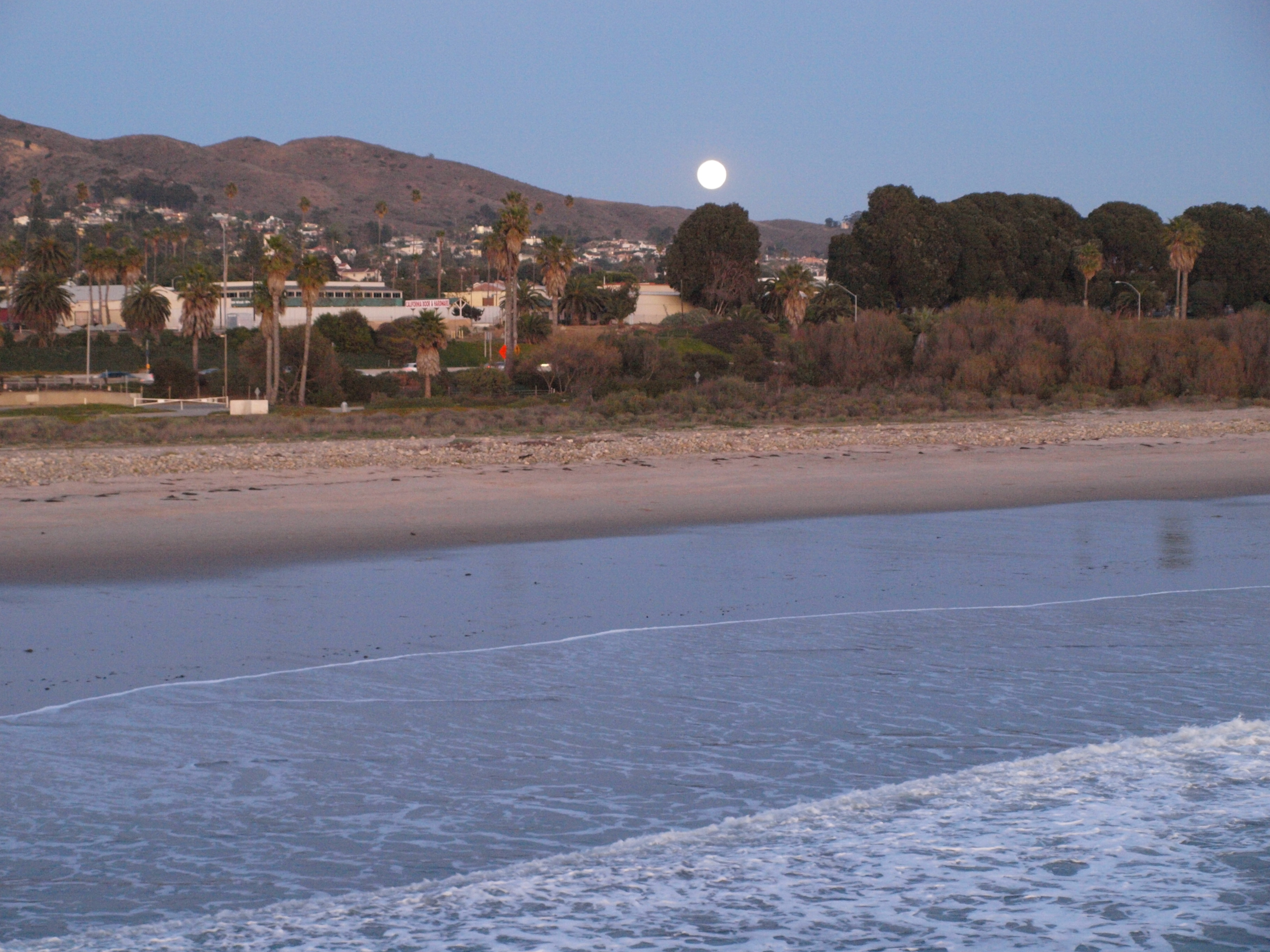 Date: May 14, 2003; To: PFIC Message Board; From: Sinker; Subject: Ventura Pier – For what its worth
When the sharks start to run at Ventura here is what I like to do. I have a couple of PVC pipes that are caped on one end, the end other screws on and has an eyehook in it for attaching it to a rope. I save whatever bait and stuff I have left over and blend it up (yes I have my own blender for this). I like to go ahead and add some fish paste, oils and scents as well and blend it up pretty well.
The PVC pipes have holes drilled in them so when you pour this stuff in it just comes out the holes, I wrap the pipes in Saran Wrap (you know that clear sticky wrap) and tape over it to keep it from leaking out. I then fill them up, screw the tops on and place them in the freezer (the garage freezer which is for my bait and was more expensive than the blender).
When we go out fishing we bring these PVC pipes along and tie a rope to them (after removing the Saran Wrap) and throw them out, they slowly melt away chumming while they do so (this method gives you extended chum time)…
Now for one last important part, tie the rope off to the pier. We have had sharks grab the PVC pipes and run with them; kind of fun to see. I guess the currents could also wash them away. So when you night is over, pull in the rope and you have your PVC chum pipes ready to be re-filled and used again. Not perfect but it's what we do and NO I have no idea if it really helps but I will do about anything to increase my odds.
Date: June 14, 2003; To: PFIC Message Board; From: Sinker; Subject: Shark Fest at Ventura Pier — Wild Night
Fishing Report—Date: Friday, June 13, 2003; Time: 7:45pm till 5:30am; Location: Ventura Pier – South East Corner, End of Pier; Conditions: Great night, nice bright moon, large swells but very manageable; Tide: High Tide 6.9' at 9:04pm, Low Tide -1.7 at 4:31am (6/14/2003)
Set Up: Fenwick Techna AV Rod with Shimano Calcutta 400 TE Reel and Fenwick HMX Rod with Shimano Calcutta 400 CT Reel – Both Rods set up Carolina Rigged with a 3oz egg sinker, Wire leader and 3/0 hooks; Bait: Squid and Mackerel with most every catch on cut Mackerel; Catch: 2 Thorn Back Rays and 23 Pin Back Sharks (Spiny Dogfish) yes 23 of them with the largest going 13 lbs.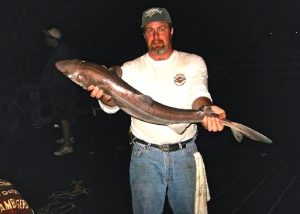 Comments: Oh what a night. Didn't plan on being out all night but when the fishing is this good you have to take it while you can. I caught a couple 4 footers and 2 that went just over 4 ft with the heaviest weighing in at 13 lbs. on the Boga Grips. Also got to use my new temp gauge; top water temp was 62.4˚F. Was just an all round great night as the guys that were out were great and we laughed our asses off from jokes to catching fish, well Sharks.
Only two bummers, (1) a couple of the guys got cited for drinking on the pier and (2) the second to the last shark I caught (which was a double hookup as I had one on both poles at the same time) bites through one of my net ropes so getting the last one up was tough as we tied the rope back together but the net was then lopsided. Hope you guys going tomorrow night have as much luck as we did. We just "GOT BENT" all night long.
Date: June 19, 2003; To: PFC Message Board; From: handryer; Subject: Ventura Pier — 6/18/2003
In the late '40's we called those WSB Tom Cod. Fishing was great off the Ventura Pier in those days. An 'ol fart.
Posted by Sinker
All right then, you probably remember the old Ventura Pier Bait and Tackle Shop. If so I am looking at getting my hands on one of the old shirts. On the front it said Ventura Bait and Tackle on the pocket and on the back it said Home of the "Fighting Ronkie" and had a picture of a White Croaker doing battle with a fisherman. Do you happen to have one of these shirts? If so can we borrow it to get the design and have more made? Hope to meet you sometime.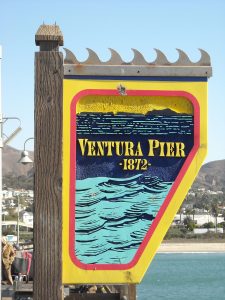 History Note. The May 20, 1871 edition of Ventura's newspaper, the Ventura Signal, asked "Is it possible that the most flourishing town and region of country on the whole coast is to go still another year without a wharf?" Given the fact that the local roads had axel-breaking potholes during the winter, throat-choaking dust in the summer, and two rivers, the Ventura and Santa Clara, that essentially isolated the city between them during times of rain and flood, it was a good question. With railroads a still distant dream for the future, coastal shipping had to be used for cargo and passengers. And the system of lighters then in use was both inefficient and sometimes dangerous.
That same day, at a town meeting of interested citizens, Joseph Wolfson, owner of one of the small "lighter" barges that carried passengers and freight to and from the ships anchored offshore, along with his father-in-law Juan Camarillo, presented a proposal for the construction of a privately-owned wharf near California Street.
Citizens supported the idea and by March 1872 a $45,000 contract to build the wharf was awarded to R.G. Salisbury, the man who would build many of the wharves in the area. "A wharf at San Buenaventura, so long talked of and so badly needed, is now a fixed fact," announced the Ventura Signal in its March 2, 1872 edition. "The schooner 'Free Trade' arrived here with the first installments of pilings on Monday!"
On May 18, 1872, Arcadia Camarillo Wolfson broke a bottle of wine against the pilings and proclaimed: "In the name of the people of Ventura County, I dedicate (the construction of) this wharf to the uses of commerce and to the promotion of the agricultural and material interests of this section of the state." Construction soon began on the 1,200-foot-long wharf, a wharf that reached a water depth of 24 feet, and contained railroad tracks out to the end of the pier. On October 5, 1872 the Ventura Signal proclaimed, "It is a grand improvement upon the old way, and duly appreciated by shippers and travelers." Soon the local farm products—cattle, hogs, sheep, wheat, barley, corn and citrus had a safe method of transport from the wharf, called the Wolfson Wharf by many. By the 1890s oil from west Ventura, Santa Paula and Fillmore had joined the list of exports from the wharf.
In 1874 the wharf was purchased by Captain Robert Sudden, a former sea captain who had helped organize the Pacific Steamboat Company. Just three years later, another newspaper account, dated March 1877, said, "a large portion of the San Buenaventura Wharf was washed away yesterday afternoon." A second report recorded that "about 300 feet of the old part was washed out… It was so badly bored by teredo that it would have been necessary to rebuild it in a short time." This was only the first of many such disasters.
On October 23, 1877, it was reported that 400 feet of wharf had washed away at San Buenaventura; "three unusually large breakers approached the pier… and crushed the wharf in pieces like an egg-shell, the pieces going down like straws before a mower…It seems that if the piles had been of good timber and well driven, the wharf would have withstood the surf. The wharf at Hueneme, although equally exposed, passed through the storm all right." In December of 1878 new damage was reported.
However, Sudden rebuilt after each storm and even improved the wharf by adding a large warehouse for local farmers. His efforts, and later those of this family ensured the continued use by such ships as the S.S. Santa Rosa and S.S. Kalorama and made the wharf a profitable family adventure until 1917.
However it wasn't always easy. In the early 1900s many of the local coastal vessels were replaced by larger steam ships that only stopped at the larger ports. In addition, a more efficient railroad service began giving the shipping industry its first competition.
In 1914 the wharf again was damaged (cut in half) when the SS Coos Bay was pushed into the wharf by large swells. That damage was repaired by 1917 and an additional section, 500-foot-long, was added making the total length 1,700 feet.
During the first part of the '20s the pier flourished (it even had its own Sportfishing barge—the Jane L. Stanford). Then, in 1926 history repeated itself when the pier was attacked by storms and suffered considerable damage.
In 1935 much of the wharf was destroyed by fire. Another storm and accompanying large waves damaged over 1,000 feet of the rebuilt wharf in 1937. This time there would be a different response. The wharf was rebuilt back to its prior length and began a new life as a recreational pier (although WW II saw a submarine station located out on at the end of the pier).
Mother Nature wasn't finished! Storms ravaged the pier in 1949. 1969 saw the end of the pier damaged and in the winter storms of 1977-78 new damage was suffered and part of the pier was closed. Storms hurt the pier in 1983 and then in January of 1986 there was major damage by winter storms and 10-foot waves. Two thirds of the pier was now closed. After partial repairs, the pier was once again opened in 1988 but the outer 500-foot section was closed to anglers.