Now, I have no bait whatsoever…. all of this when the bite appeared to have just turned on… Like a hobo, I started going around and looking in trash cans for some bait (felt VERY embarrassed!), and got a few stares from the 'couples in love' that came to watch the romantic sunrise at the pier. I felt as if I was COMPLETELY ruining their 'moment'…. Desperation I say, desperation! What is a fisherman to do without bait when the bite is on? I packed up and started to leave. I must have looked real 'down' when a couple fishing the surf line asked me how I did. They generously offered me some squid and salted chovies! So I took a squid and 4 'chovies….
WHOOPIE! The fishing continues! As it was getting late (I had to attend a wedding) I only went to mid pier area, and started getting nibbles immediately, but no hookups. I was using a 1/0 and 2/0 hooks, so I thought "something small." I switched to smaller hooks, and ended up catching (and releasing) yellowfin croakers. There seemed to be a good number of them around (they do taste gross… maybe I didn't prepare them right, but they were VERY fishy and foul smelling), so all were released.
Talked to another couple of the pier, and they said that the crabs kept stealing their bait (they were fishing close to the pier). I thought "great! the crabs are back!." On the back to the car, several people were catching and keeping surf perch (walleye looking), however, they were WAY TOO SMALL to be worth keeping (real small), but I guess some didn't think so.
Date: March 28, 2002; To: Ken Jones; From: Tim Durham/Sinker; Subject: Ventura Pier
Ken, There is a good perch bite at the front of the pier on mussels and bloodworms, an occasional sargo has been caught as well. Mid pier is not seeing much action other than some croakers, all juveniles. The end of pier is seeing regular spiny dogfish catches on squid most every night along with thornback rays and bat rays. A Pacific electric ray measuring 34 inches was caught the other night. Smoothhound sharks, shovelnose guitarfish and leopards sharks have not been seen this month. Center hole (end of the pier) plenty of small baitfish with herring chasing them. Herring catches have been good out of the center hole although the average size has only been about 8 inches. Most of these have been taken on Sabiki rigs and/or fly lining strips of anchovies. I had one strong night this month as reported on the board (believe it was the 8th) with the 72-pound bat ray, this was caught on 10 lb. P-Line. P-Line is sending out hats, stickers and line for the catch.
Date: April 4, 2002; To: PFIC Message Board; From: Sinker; Subject: Bait Trials & Ventura Pier 4/3/2002
Fished Ventura Pier from 7 PM till 2 AM. Used Anchovies and Squid. Caught 3 Thornback Rays all on Anchovy (that's a first for me). Nothing else. I usually only catch Rays on Squid but tonight was different. Maybe it's that secret recipe huh PierHead.
Ok here is the story on the bait. Awhile back someone posted about salting mussel to toughen it up. I have been working with different salts and methods of applying it to see what I could do and what would work best. I have found that fresh dead Anchovies or Sardines are best, I had found Salt Powder at a Chinese (I think) market that was the absolute best stuff so far but I have been unable to find it since. Presently I am using the Salt that you would add to your fish tank, it is already very fine and soft, I put it in a bag and vacuum seal it then beat the hell out of it and also use a rolling pin to try and make salt powder. I then roll the fish around in it as if I were breading them. This has also proved to work well and the fish are not turned away from the bait (that is what I caught the Halibut on). It has toughened up all bait I have applied it to and I think it works great, much better than the salted Anchovies you can buy.
Ok, here is what I am trying now – Giving up a secret for the Mud Marlin Derby so pay attention. Actually I do not know if this will work or not but here goes. I have been hitting the docks getting fresh squid when the bait boats come in. I have also been going out to the power plant and digging up clams (one of the Bat Rays favorite food source). Bat Rays can somehow smell the Clams, so I then take the fresh clams, pry them open, dig out the meat and stuff it up into the Squid and then tie off the Squid around the head area with Ghost Cocoon Thread to keep the clams from falling out. Will this work??? I don't know but I figure it is worth a try and has only cost me my time as the boat guys give me some free Squid and I dig up the clams myself, ok I guess the thread costs me a little. Now if the winning Ray is caught on this bait I want HALF…
"Get Bent" "Sinker"
Date: June 11, 2002; To: PFIC Message Board; From: Sinker; Subject: Ventura Pier—Loud is the KEY
At Ventura Pier we are fortunate to have electrical outlets on the light poles, great for coffee makers, space heaters and radios. Many times I have been there when I liked the music that was playing but not the volume it was played at. When I can't hear my clicker go off or talk to my buddies then it is too loud PERIOD.
Lets see, last night it was Bobby Vee, Flash Cadillac & the Continental Kids, Bobby Vinton, Carly Simon, Carpenters and the Little River Band, so not even close to music that one would think would be played that loud.
I just went over and asked then to please turn it down but I also was there with about 10 other guys, so they turned it down without complaining. That would definitely make for a lousy night of fishing if they hadn't though, think I would have to move on out to the sand for some peace.
Date: June 14, 2002; To: PFIC Message Board; From: pierangler 8787; Subject: Ventura Pier, Tuesday 8:30-11:30 AM
Got all my stuff packed, double checked everything and took off to Ventura. Get there, and forget my money!!!!!!! AAAAAAAAARRRRRGGGGGGGGGHHHHHHH! Drive all the way back home, then back again. You know what? Yep, free parking today!!!! I laughed.
Now back to fishing. There's a few people out there, a little more than I expected for morning. My favorite spot is taken, so I move down one bench from it. First cast, it's a shaker. Set the hook. Not much of a fight, just a lot of head shakes. Fish in sight. White croaker. I was surprised at the size of it. Usually just dinks around here. Gets to the surface and splashing everywhere. This is the first time I've actually seen a croaker JUMP!
I let my dad use the Sabiki, There was a HUGE school of what looked like smelt. Most of them were just babies. The rod doubles and he brings up a well over a foot, croaker. I cast out again, and result in another huge croaker. I'm not real proud, since they are just croaker, but this one was big. I'm sure it wasn't a WSB, no, I am positive. Anyways, up the pier I see something being brought up. It was a 19 1/2 inch leopard shark.
Cast out both of my lines. Another croaker steals my bait. I'm getting kind of sick of these things. The second my line gets in, they steal the bait from all the good fish. Finally I bring in a leopard shark.
A class of kids just happened to visit today. They still haven't made it to where I was, taking there time to stop by everybody fishing and looking at the different things. Rod bounces, set the hook and finally get a fight! It's about time! Some sort of ray or skate, no idea as to what it was. Put a good fight too. That's when all the kids crowded around. I like to see all those kids happy. The teachers were doing a good job keeping the kids away from my pole. A couple stepped on it. They were petting it and yelling "STINGRAY! STINGRAY! ITS A STINGRAY!" No, not a stingray. Very curious kids as to what exactly it was. Put him back in. They make it to the end and come back to my spot again. Bring in another, bait stealer. They all crown around again, but back he goes. Then the fishing just stopped, dead stopped.
We move to the end after an hour. Wind has picked up now, despite how calm and peaceful it was at the beginning. Another bait stealer from the center hole, palm-size.
We pack up and leave and 11:30. Bait today was anchovies. All fish were released.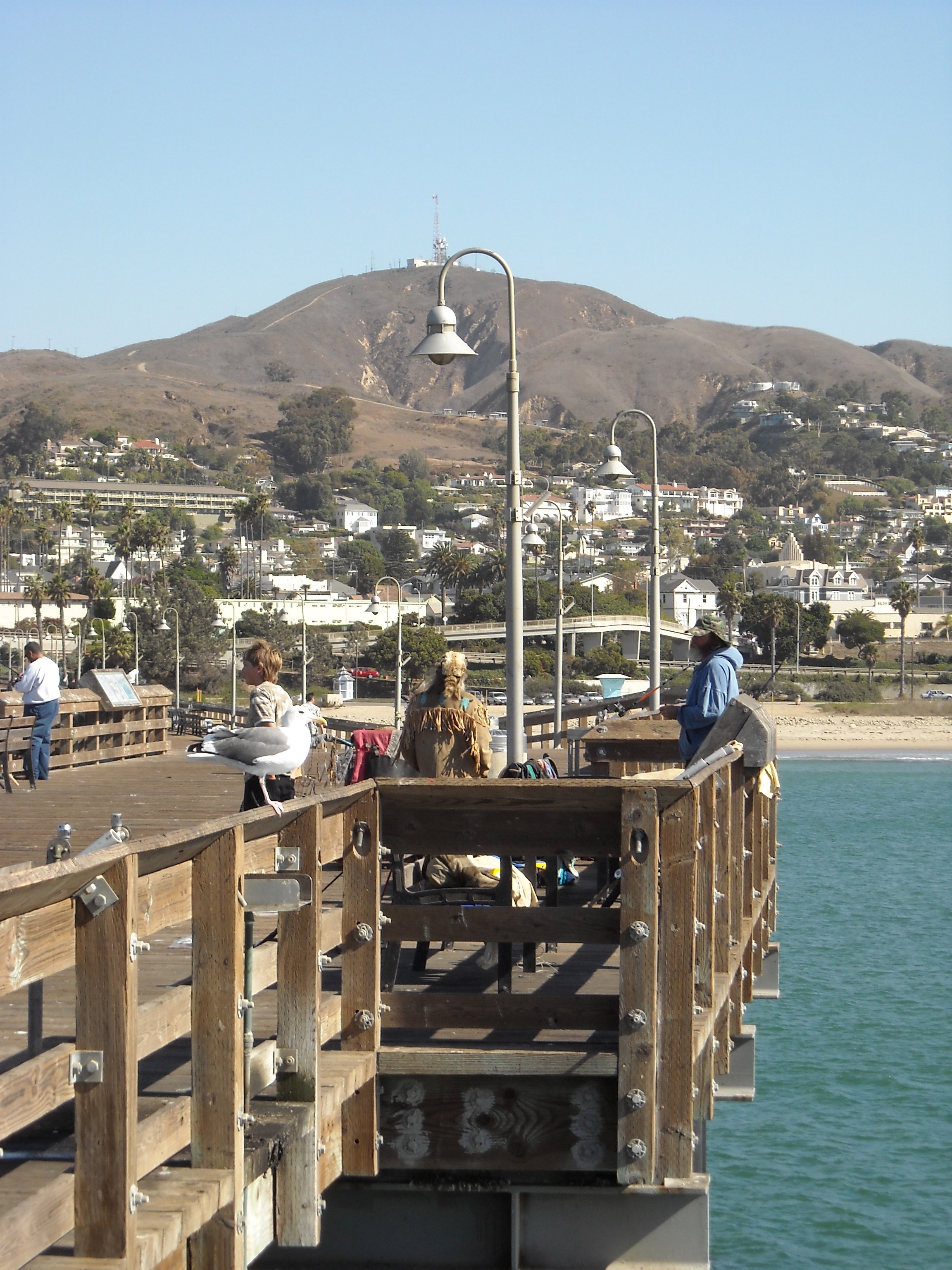 Date: July 25, 2002; To: PFIC Message Board; From: Sinker; Subject: Went Out and GOT BENT (long)
 Got to the Ventura Pier and figured I would go ahead and bring my stuff just in case things looked promising (I need the exercise anyway). While walking up the pier I asked about 6 anglers who were leaving if they had any luck – same response from all of them – NOTHING. Ok so I didn't hold out hope and figured I would see if the baitfish were in the center hole this night.
Got out to the end of the pier and not one regular was there (that I remember anyway as it has been awhile since I have fished the Pier). Well my favorite spot was open so I went ahead and set up shop and proceeded to drown some Anchovies and Squid (even though they were already dead). Got a couple of nibbles but nothing fancy and no hookups. I decided I would leave the 4500 out in the deep water and put a Sabiki on the 3500 for some center hole jigging. Yep, started nailing the Herring and Perch, seemed like one right after the other. Started getting a lot of attention as no one else was catching anything, turns out most were here on vacation and had never fished Salt Water before. Gave out a few Sabikis so they could join in the fun as they were nice folks.
Well on the 4500 I hooked up with three nice sized Spiny Dogfish Sharks (Pin Backs) and I believe a California Skate but not sure, maybe you guys can verify that for me (link to pictures is below). Well it was getting late or early as the case may be 4:30 AM and figured I had better get home. About then I some how tail hooked a Herring, it started to bleed pretty bad so I stuck it on a hook and slide it down my line and waited 5:00AM and NOTHING time to go. Start packing up, get my 3500 in hooks off sinker removed, cart loaded, went and washed down the reel and then came back. Only need to bring in the 4500 and I could go home when ZZZZZZZZZZZZZZZING my line I going out like no tomorrow. I pick up the rod and crank the handle to disengage the Bait Runner, WOW the pole about got ripped from my hands, did the line stop going out now that the Bait Runner was off NO WAY, this thing was pulling drag big time. I'm thinking I nailed a huge Pin Back, suddenly it turns right for me, I reel as fast as I can to gain the slack, finally got the line tight again and gave it a little pull to see if I could get this guy to go back out away from the pier. It was to close and had to much fight left in it. Well the tight line jerk worked, that thing turned around about 10 feet from the pier and broke the surface – YEAH BABY A THRESHER – Oh my blood is boiling now. This bad boy take another leap out of the water and that was all she wrote. 15# line isn't gonna take a Thresher even on one of my good days.
Well you guessed it, I will be out there again for my Thresher. I didn't know they would hit a Herring… Time for some heavy leaders and the big rods and reels.
Sinker went out and Sinker GOT BENT but also got BROKE OFF, damn Sinker loses again. Isn't it about time I win one of these battles. I need too and to get tons of pics so you guys will know I'm not pulling your leg. Pierangler – buddy it is time to hook up…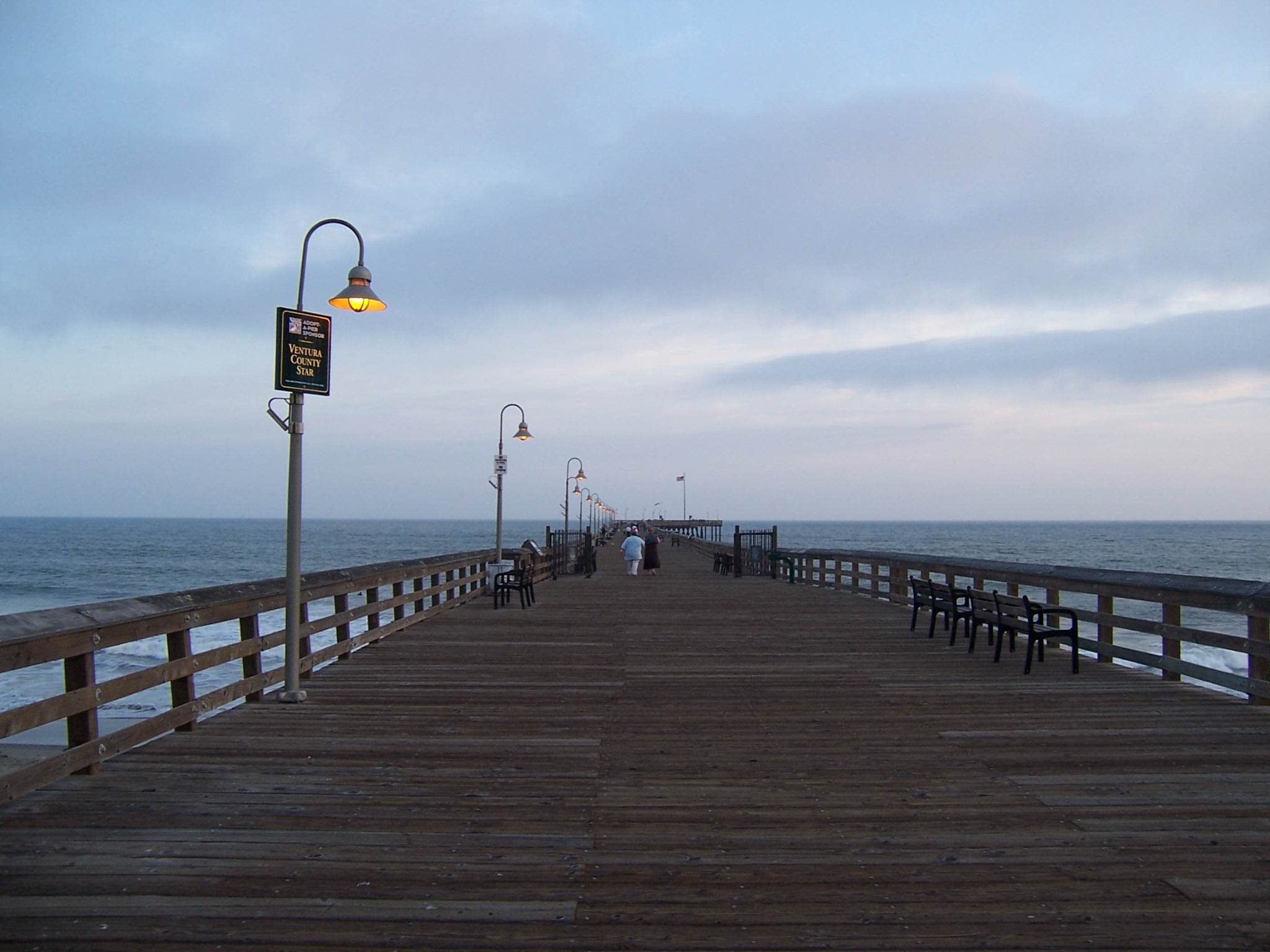 Date: September 4, 2002; To: PFIC Message Board; From: Sinker; Subject: Ventura Pier – My Best Trip Ever & I didn't Fish
OK so I didn't make it to the pier to fish. I did however get to go out and check the action. Three people fishing the entire pier is all and no luck. Did not see any Red Tide but the water is very dirty I assume from being churned up by the heavy surf from Tropical Storm Hernan. Did not see any Kelp but the current was swift, heavy and high. Things did not look inviting.
Now there were a fair number of visitors to the pier, most likely from the restaurant from the front of the pier; Eric Erickson's.
Alright now for the GOOD STUFF: There was this young lady sitting on one of the benches at the end of the pier watching the sunset, nothing unusual here as this is a common sight. I see a jogger coming up the pier (nothing unusual here either as many jog to the end of the pier) but I have seen this guy many times and personally think he is a jerk. Sure enough he follows his routine of showing off for the girls, as he makes the turn around the end of the pier he jumps up and jogs a few steps on the railing—guess he thinks this impresses the girls. What it actually does is upset the fisherman as poles start bouncing around; the women just think he is a joke. Tonight an awful or in my case an awfully beautiful thing happened. Mr. Stud comes jogging up the pier, winks at the young lady and jumps up to jog on the rail OOPPPPPS Superman was jumped a bit to high and went right over the edge and into the ocean. I hate to admit it but I was laughing so damn hard I didn't even check to see if he was alright or offer to help him in any way, well I did go look over the edge at him as he swam to shore (the guy had to be big time embarrassed), what a wonderful sight. I am sure he did not have an easy time as the swells and currents were high and rough but he did make it to shore. I believe both due to the rip tide and his embarrassment he swam south of the pier and then continued walking down the beach—guess he was out of energy to jog anymore.