Plaques that sit near the front of the pier give evidence of the pier's history and resiliency. One says, "Federal Emergency Administration of Public Works, 1938, Project No. Calif. 1723-F." It represents the rebuilding necessitated by the storms and hurricane-related wave damage of 1935.
Unfortunately, one year later would see California's only recorded hurricane, the 1939 chubasco (sometimes called the Long Beach Tropical Storm "El Condonazo" or "The Lash of St. Francis") moved up from Central America to Baja before hitting Southern California. The hurricane ripped the recently finished new pier in half but luckily this time the pier was quickly repaired, at a cost of $110,000. It was just a year later that the pier was reopened. These two repair projects, in 1935-38 and 1939, were just two of many to be seen at the pier—although more than 40 years would see relative peace.
When open, the pier remained a well-used resource by many, especially fishermen. By the 1940s, and continuing for many years, anglers at the pier were offered the choice of pier fishing, fishing from barges, or fishing from live bait boats.
Barracuda Plentiful but Fast and Fighty in Offshore Waters
Piers were crowded with surf anglers yesterday and boats going out from Long Beach and Seal Beach were well loaded. Captain Jack E. Tubbs, Seal Beach pier manager, is putting his live bait barge in service several days earlier than he had planned. The vessel, called the "Homer," a low built schooner, will have its inaugural Saturday. It will be anchored on Seal Beach reef, about a mile and a quarter from Seal Beach pier, docking place for the water taxis which give shuttle service hourly. In addition Captain Tubbs has six live bait boats in operation. —Long Beach Independent, April 9, 1940
New Seal Beach Pier
Three Live Bait Boats And Barge
Boat "Bearcat" Daily 3 A.M. — Boat "Lets Go" Daily 5 A.M.
Boat "Moose II" Daily 7 A.M. — Barge "Homer"
Boats Hourly 9 A.M. to 4 P.M. — Live Bait for Pier Fishing
Café, Fish Market and Tackle Store — Outer End of Pier
For Further Information Call Long Beach 339-76
—Long Beach Independent, April 28, 1940
Halibut on Piers — If you can't find the barracuda, stay on the pier and let 'em come to you. It was that sort of a day Wednesday, when many boaters came home empty handed. Pier fisherman posted some fine scores. On Seal Beach pier, John Kurt of Leisure World checked in a 7-½ pound halibut, Steve Praee one at 6-1/2 pounds, and Reuben Flores, Pico Rivera, a 5 ¼-pound flounder. There were about three dozen flatties spotted on the pier and many barracuda than rab about 2 ½-pounds. —Lew Allison, Ocean Roundup, Long Beach Press Telegram, May 16, 1963
Just Fishin' — Captain Jack Tubbs' island boat from Seal Beach Pier took out a party of Los Angeles newspaper people Wednesday and brought them back happy with good catches of barracuda, yellowtail and sea bass. Continued good halibut fishing was reported from the barge Homer, off Seal Beach… Surf fishing was a trifle slow, corbina and spotfin being the chief catches, and halibut and herring off the piers. —Long Beach Independent, June 28, 1940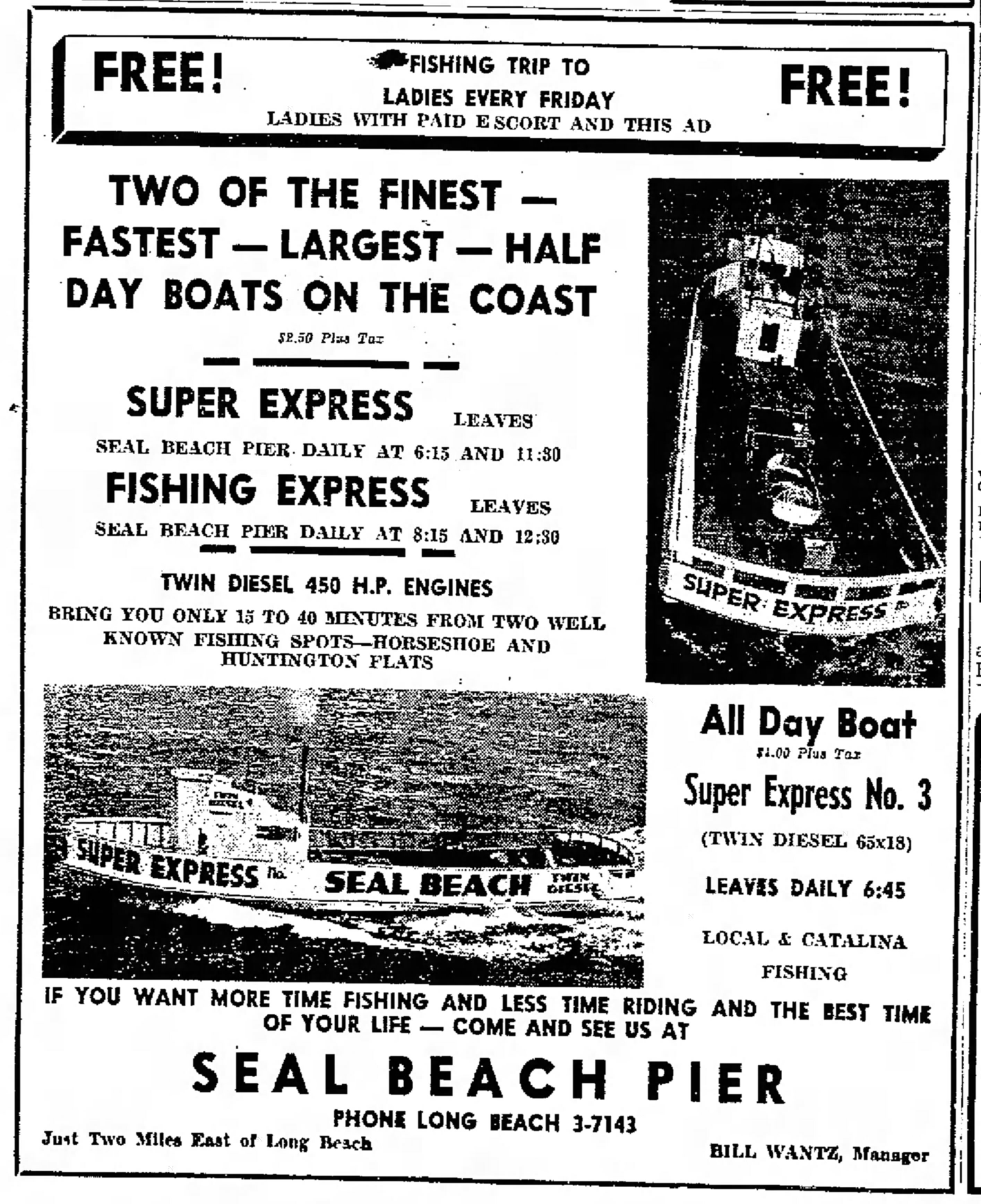 Advertisement in the Long Beach Independent, July 19, 1948
Rod and Reel — Barge fishing is slated to become part of the Seal Beach operation this week as the 300 foot "C-Coaster" will go into commission. The big flatboat will be anchored off the end of the Seal Beach Pier, starting today and before towing it out to its permanent location on the "Omaha" banks, at the edge of the Horseshoe Kelp, open house will be held for all visitors. —Jack Adams, The News (Van Nuys), July 9, 1963
 The killer storms spawned by the 1983 El Niño devastated many California piers and included Seal Beach as one of their victims. Two separate storms in January and March tore away several sections of the pier and initially many questioned if the pier would ever be rebuilt.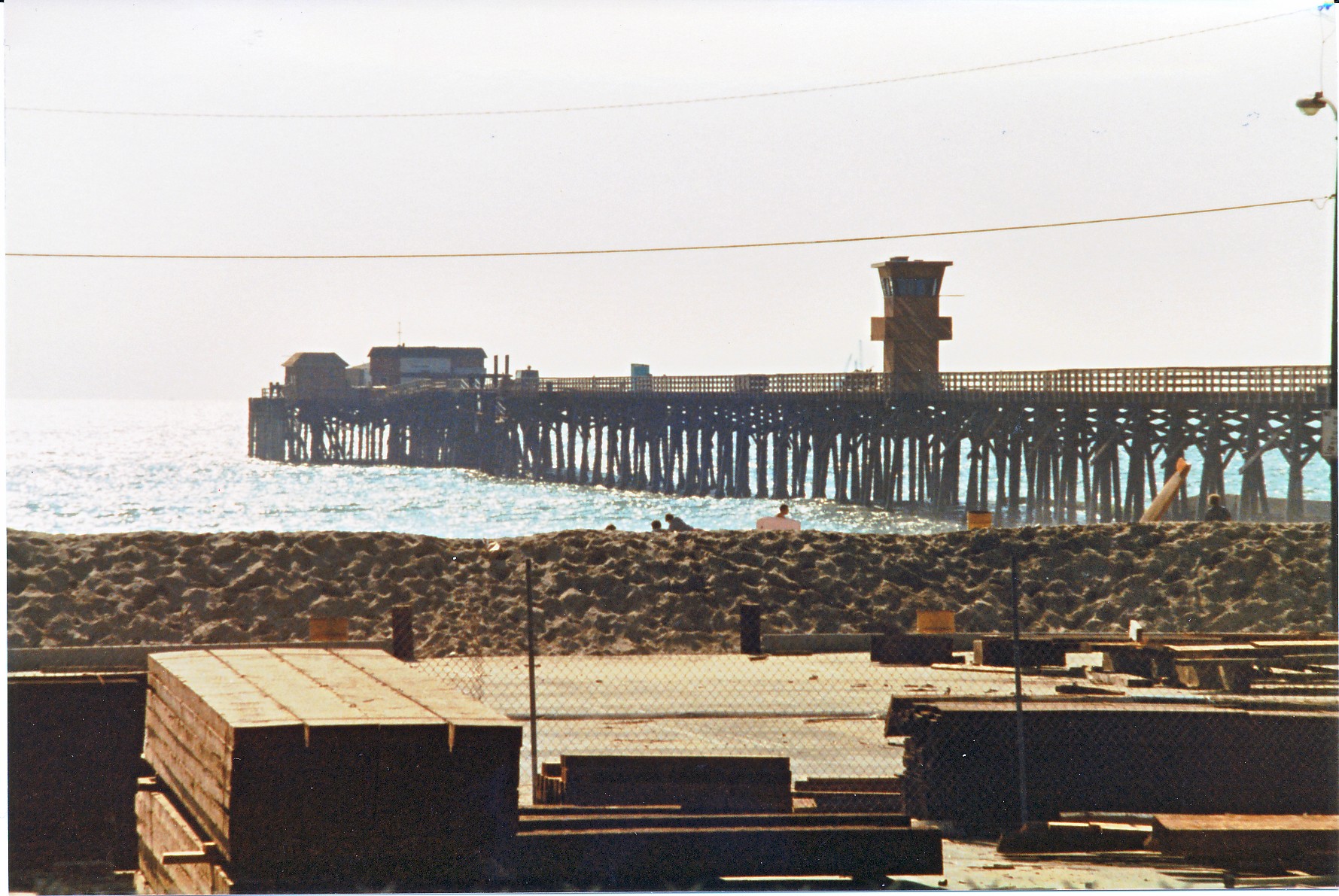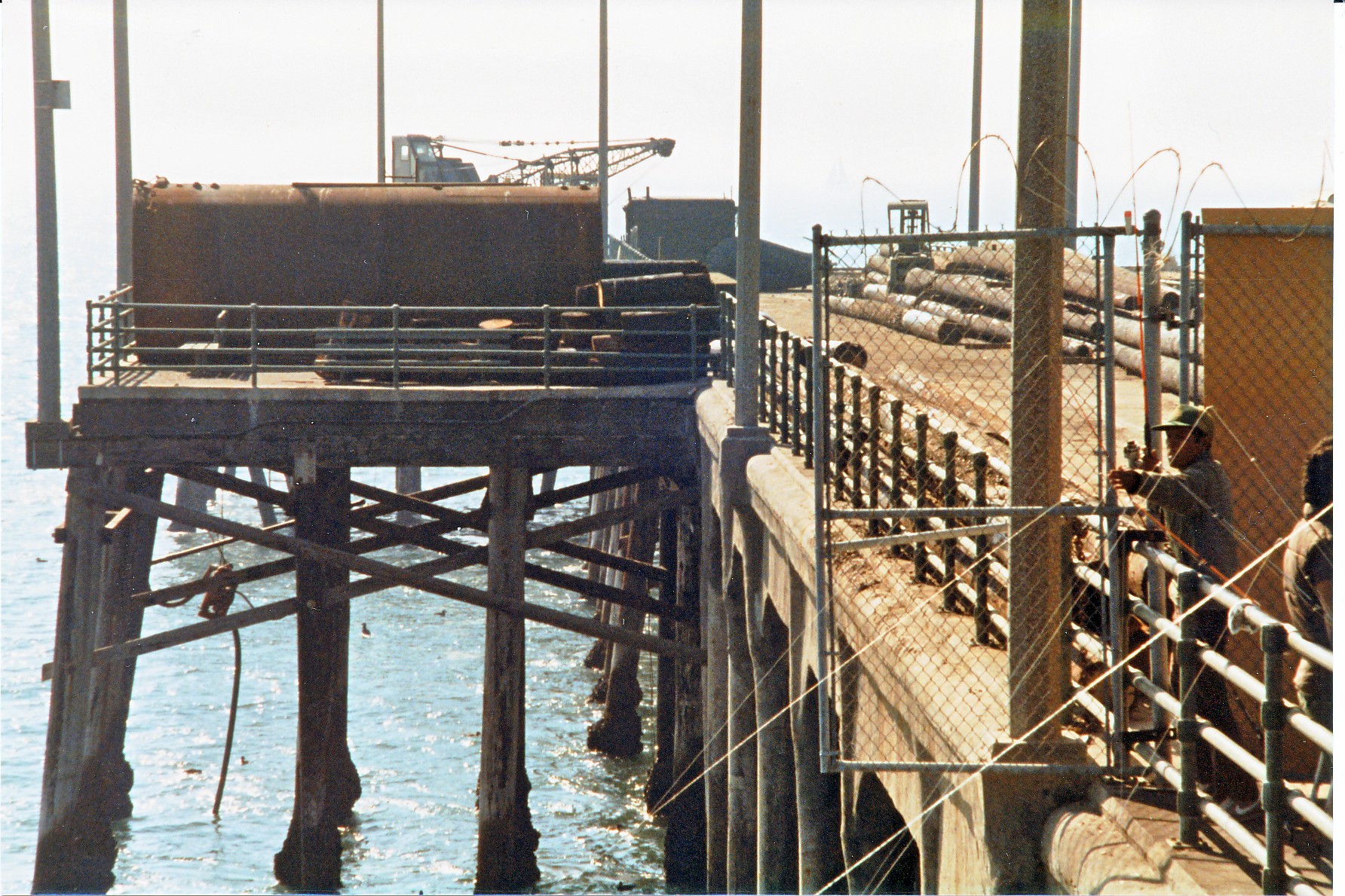 Rebuilding the pier — 1984
No problemo! An energetic band of local citizens soon rallied around a rebuilding project. Forming a "Save Our Pier" group, the members raised money from both private and public sponsors and got their pier rebuilt, at a cost of $2.3 million. The pier reopened in September 1984. Today, plaques honoring Emily Frazier, Daisy Funk and Joyce Risner, the ladies who co-founded the group, as well as various other individuals, businesses and groups that contributed time and money to the effort, are visible on the pier.
The reopening of the pier would also see the reopening of a Sportfishing landing on the pier — Big Fish Sportfishing.  Eventually the pier would also become one of the home bases for one of California's last fishing barges—the Annie B. Used in conjunction with the landing at the Belmont Pier, and sitting inside the breakwater, the barge would provide low-cost fishing into the mid '90s.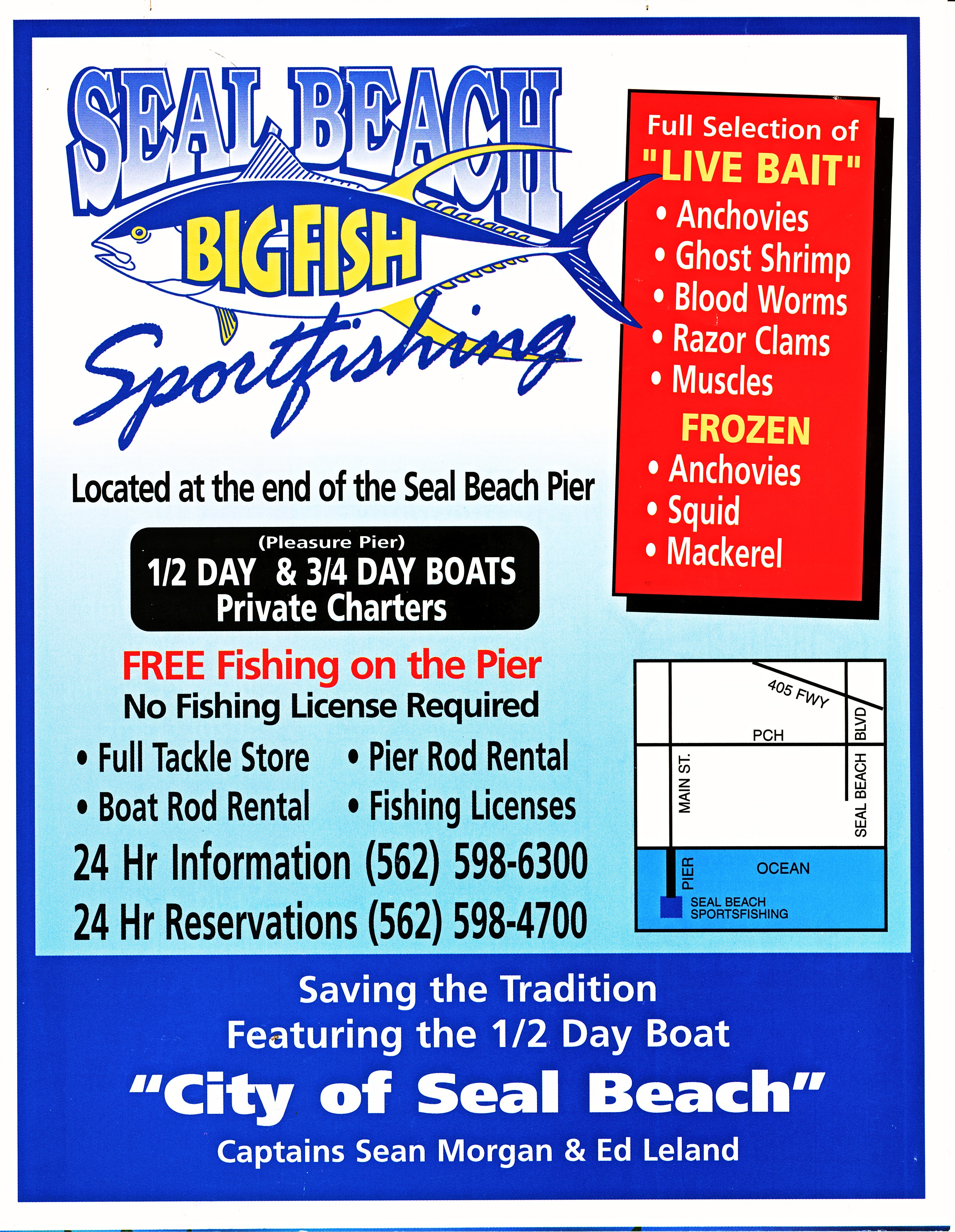 Nevertheless, additional incidents have somewhat routinely closed the pier. On May 15, 1992, the week before Memorial Day, an electrical fire (which started in the lifeguard tower on the pier) destroyed 100 feet of the pier and the lifeguard station. Temporary measures were taken and the pier reopened a week later. A few months later, the Lander's (or Big Bear) earthquake cracked some of the pier's support pilings. Then, on May 21, 1994, falling barbecue coals ignited a natural gas line under the pier. The new blaze blocked the mid-pier section and trapped about 150 people out at the end of the pier. Although a few panicked, many simply continued to drink their coffee and finish their snacks out at Ruby's Diner, and the majority just kept right on fishing, reeling in the mackerel, and listening to the radio tell about the fire at the pier as they watched the smoke bellow inshore from their position. All were soon evacuated.
The pier sat closed for a few months, and then, like the proverbial phoenix, the pier was reopened once again. However, only temporary repairs had been made and so, in May of 1995, the pier was once again closed for a short time to facilitate repairs to the damage caused by the 1992 and 1994 fires and earthquake.  In April of 2000 a small fire eerily reminiscent of the 1994 blaze occurred due, apparently, to a poorly discarded cigarette. The Los Angeles Times reported "Diners Trapped as Small Fire Burns Hole in Seal Beach Pier." A 4-foot-by-4-foot hole was burned through the pier and once again people were trapped at the end. The small fire led to a no-smoking ban on the pier, possibly the first such law at a SoCal pier.
Seal Beach Says No Smoking on Pier — City Council cites fire safety concerns. 'We'd like to keep our historical landmark and please don't burn it down,' mayor says.
Less than a month after a fire trapped dozens of people at the end of the Seal Beach Pier, the City Council this week voted to ban smoking to prevent a similar potential disaster. The smoking prohibition is believed to be the first at an Orange County pier, an unheard-of safety precaution even at Southern California piers that have been devastated by fire in past decades—including the Santa Monica Pier, Redondo Beach Pier and Stearns Wharf in Santa Barbara.
A discarded cigarette smoldering in the Seal Beach Pier's wooden planks is believed to have caused a small blaze that stranded customers at the Ruby's restaurant April 1. The blaze took 30 firefighters and a fireboat a half hour to bring under control, and left a 4-by-4-foot hole in the structure. "It was a no-brainer," Seal Beach Mayor Paul Yost said of the smoking ban. "It's a wooden pier, and it's our landmark and it's almost burned down a couple of times."
The City Council approved the ban 4-0 Tuesday night. No members of the public spoke in opposition. Yost, a doctor, said the ordinance is purely a fire safety issue, not a commentary on the health hazards affiliated with smoking. "We're not making a big political statement about it other than we'd like to keep our historical landmark, and please don't burn it down," Yost said. "Not that cigarette smoking isn't incredibly bad for you."
Until the ban takes full effect in 30 days, smokers who light up will be issued warning citations. Once the 30-day period expires, citations for smoking could cost violators up to $150. Strolling the pier Tuesday, Tom and Julie Fitch said they were happy about the ban. "It's nice to have sea air by itself," Tom Fitch said. Buena Park resident Michael Haye, 25, visits the pier once a week to fish, and was surprised to hear about the ban. His tackle box includes a tiny cache of cigarettes, and Tuesday he said he'll be hard-pressed to leave them behind. "[The ban] is a little drastic," Haye said. "A lot of people come out here to smoke."
Officials in Huntington Beach and Newport Beach said their piers are better protected for fire danger because the structures are coated with concrete. Still, their piers have wooden undercarriages or buildings that could be set ablaze by a discarded cigarette or cigar, they said. While Newport Beach has not considered a smoking ban on its piers, the city might "consider improving our fire safety standards when we complete [planned] resurfacing and improvement," said deputy city manager Dave Kiff. Asphalt and concrete also cover major portions of the Santa Monica Pier, and areas with wooden planks and wooden undercarriage are protected by an elaborate fire sprinkler system, said Assistant Fire Chief Jim Hone of the city fire marshal's office. —Alex Murashko and Phil Willon, Los Angeles Times, April 26, 2000
The pier was again closed for repairs in the spring of 2006 while the pier underwent a $500,000 rehabilitation that included replacement of the boat landing. In 2007 a portion of the wooden planks on the walkway were replaced—at a cost of $262,925. Then, in 2008, the pier was closed for a short time when huge waves knocked two wooden pilings off the boat ramp. It's all part of the life of a pier.
A battered Seal Beach icon burns — yet again
In Seal Beach, residents gather on the pier to sip coffee, watch the surfers, gossip, fish and amble in the sea breeze. On Friday, in a steady south wind, they gathered to watch it burn over a choppy gray sea. An abandoned diner at the end of the pier caught fire around 7:45 a.m. Fire boats from Long Beach, the port of Los Angeles and Orange County raced to douse the flames with high-powered salt water hoses. Orange County fire crews attacked it from land. The fire destroyed the old Ruby's Diner and a bait shack, but firefighters kept the rest of the 610-yard wood pier from igniting… Lauren Allen, a resident since 1983, hopes this might prompt the city to rebuild and reinforce the structure, noting that the end of the pier was already closed off because of damage caused by hurricane-generated waves in August.  "It's pretty rickety." On Thursday, she and her husband took a stroll on the concrete pier in the Belmont Shore area of Long Beach. "We were thinking, we need to do it right, like this." For now, it's not clear when the pier will reopen. "Pier inspectors will look at the integrity of the wood and determine what repairs need to be made in order for it to be safe to the public again," said Orange County fire Capt. Larry Kurtz. —Joe Mozingo, Los Angeles Times, May 20, 2016
The pier soon was reopened although the end of the pier that had contained Ruby's Restaurant remained closed. Work to fix the end section started in 2018 and we are waiting to see when the section will reopened — as well as if a new restaurant will built.
Seal Beach Pier Facts
 Hours: 5 A.M. to 10 P.M.
 Facilities: There are long wooden benches nicely designed for anglers, fish-cleaning stations, restrooms, and lights. There is limited one and two-hour free street parking but most people park at the large beach parking lot adjacent to the pier — $3 for two hours or $10 for the day. Across the street is "The Hangout Restaurant & Bar," a local favorite that serves up really good breakfasts. Unlike some of the more celebrated SoCal beach towns, Seal Beach is a family town with a small-town, friendly, relaxed atmosphere. It's a nice place to visit—or live.
Handicapped Facilities: Although there is handicapped parking, the restrooms are not equipped for the handicapped. The pier surface is wood and cement and the rail height is 43 inches. Posted for handicapped.
Location: 33.737188352323436 N. Latitude, 118.10789823532104 W. Longitude
How To Get There: From the Pacific Coast Highway simply take Main St. west and follow it to the pier.
Management: City of Seal Beach.