Public Pier — No Fishing License Required
Late that night the steamer got to San Pedro, and you may be sure Tom and Retta were up early the next morning. As they came off the boat, there was a crowd of people on the wharf who were pulling in yellow-tail as fast as they dropped their lines. This fine fish is a little like a big salmon, but with golden-yellow fins and tail. Its body is greenish gray, with spots of the prettiest rainbow colors, which grow brighter as the fish dies. These fish bite easily, but as soon as caught begin to rush back and forth, fighting and trying to snap the line.
—Ella M. Sexton, Stories of California, 1903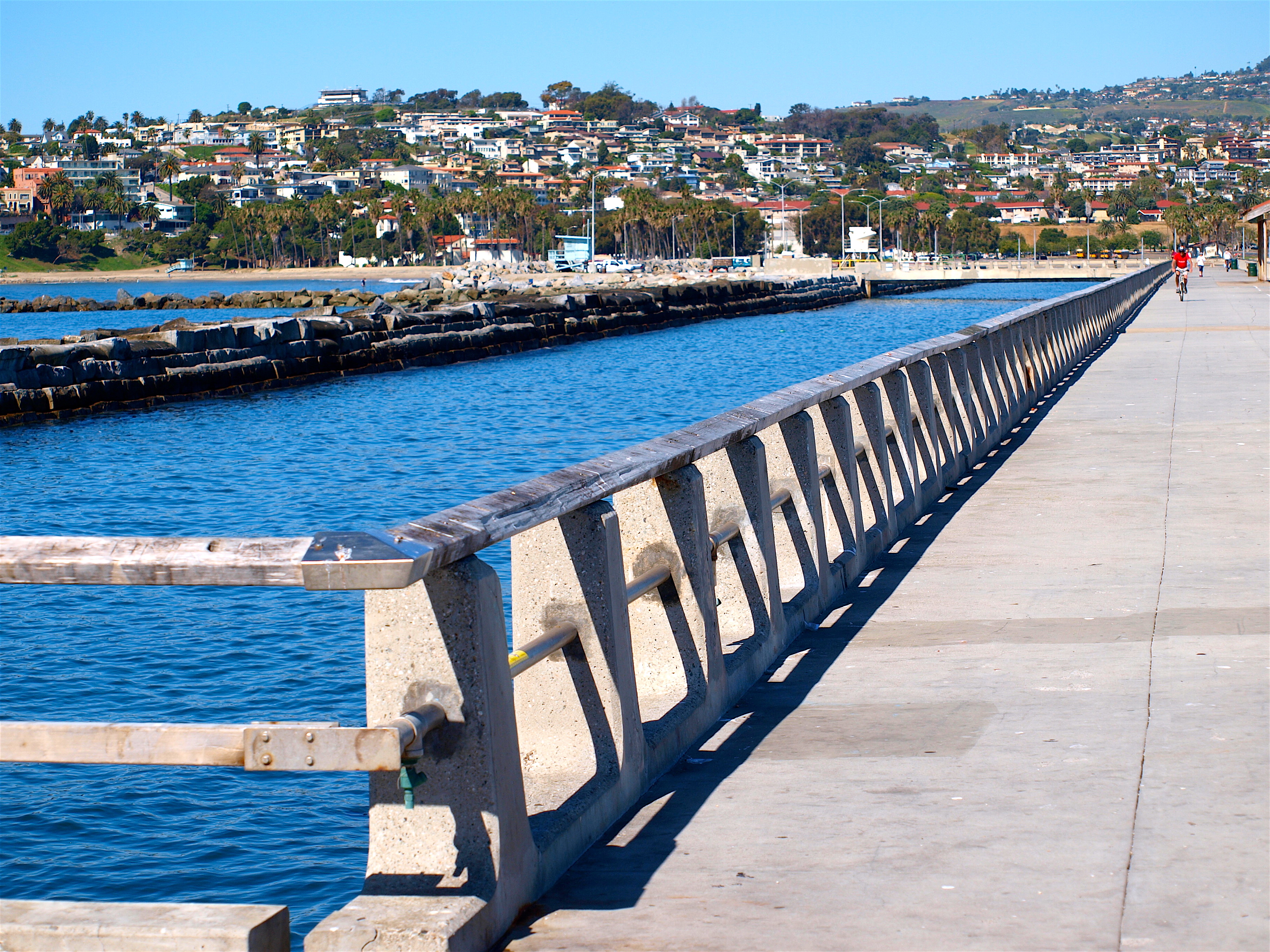 Although the Cabrillo Pier has received considerable vandalism and damage over the years, it seems to once again be a pleasant and reliable pier to visit. The pier was built in 1969 and anglers can almost always expect to catch some mackerel, a few tom cod (white croaker) or maybe even a halibut or two. If they fish the far end of the pier, along the inside waters adjacent to the breakwater, anglers will often catch rock frequenting species. Given the inner-bay location and its nearness to the breakwater, anglers are offered a fairly unique fishery environment.
It is also an interesting area to visit for the family. Cabrillo Park offers non-anglers in the family a tree-shaded park with picnic tables and playground equipment, a beach area, a small store, and a marine museum that has many interesting exhibits.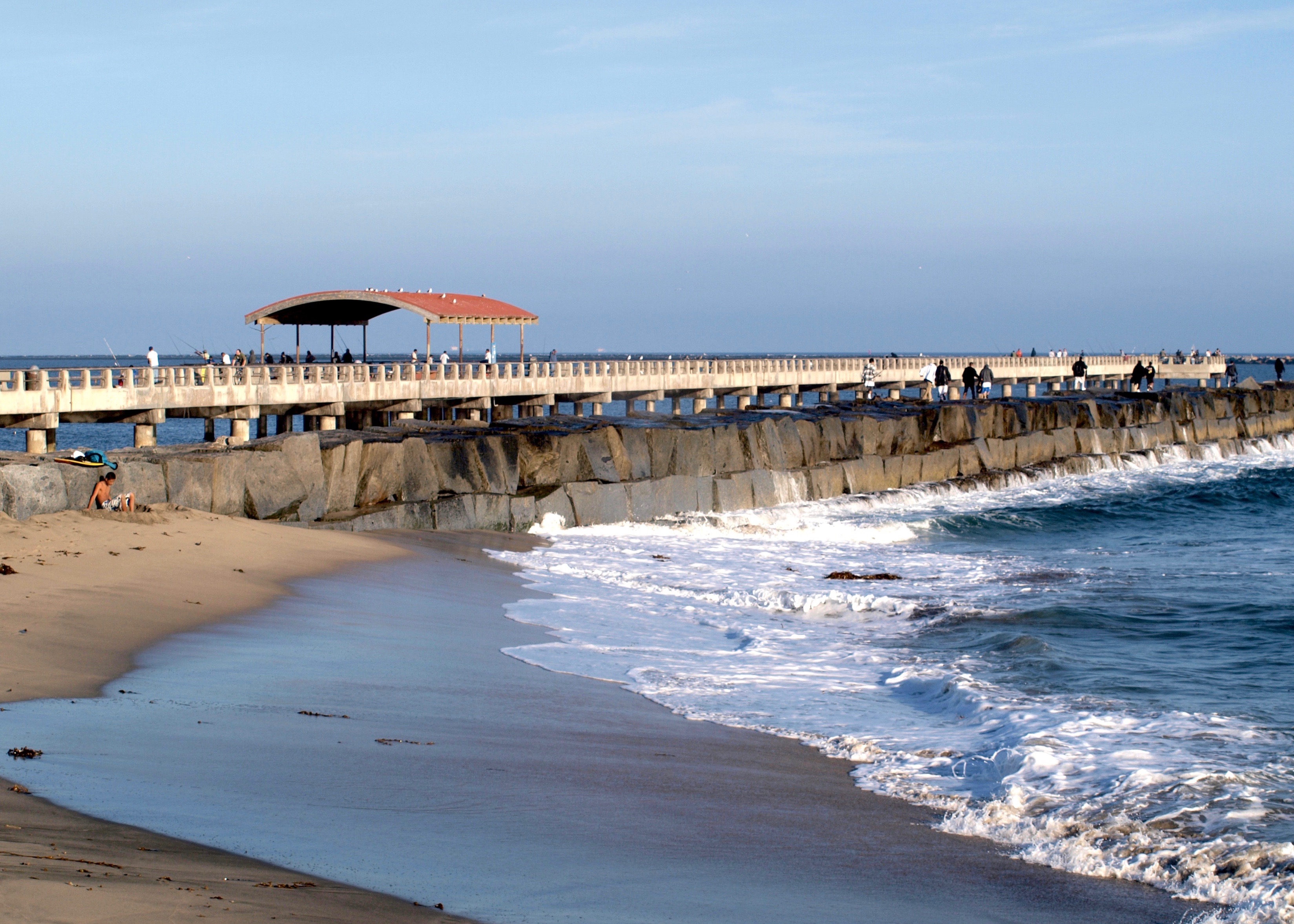 The jetty sits next to the pier
The pier itself has, like most piers, its regulars. One day I was quietly fishing on this pier when I ran across one of these regulars (a.k.a. experts or pier rats) who make pier fishing so special. I had caught a few white croaker and queenfish, and a halibut that was, like most halibut today, a few inches short of being legal size. But on the deck, so to speak, were also some mackerel. I hadn't hooked any of the macs but a few more successful anglers had caught fish that were truly impressive. They were among the largest mackerel I had ever seen caught from a pier. Many were equal to or larger than a typical bonito.
About that time, an elderly angler strolled out and asked if I minded if he fished next to me. As usual, I had no objection, and soon he was setting up his fairly heavy-sized tackle. His terminal tackle was unique. He used two leaders, each of which was about eight-foot-long and contained what I would guess was a no. 2 hook. His line was attached to one eye of a triple swivel and a leader was attached to each other eye of the swivel. Above the swivel he attached a large Styrofoam float. He baited each hook with a large piece of mackerel and proceeded to cast out the entire rigging. He soon started to hook the extra-large mackerel and about that time I decided to give the mackerel a chance.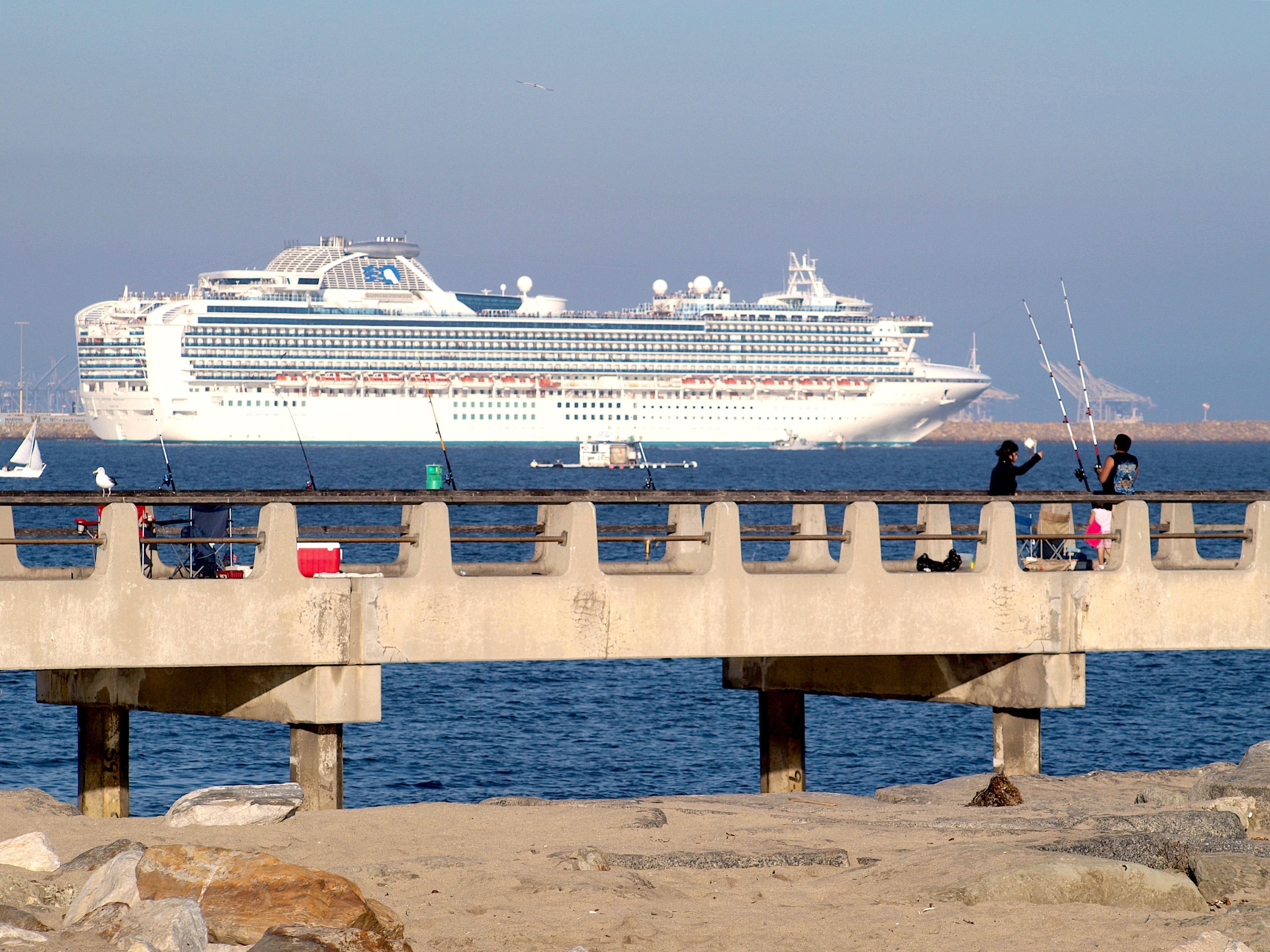 I proceed to catch six mackerel using my light outfit, a single hook, and a float. My neighbor caught at least a couple of dozen fish, sometimes two at a time, and then he stopped. He said he only caught as many fish as he could use and that he had requests from his neighbors for these fish. We talked for a while and it turned out he was a retired commercial fisherman who had fished with his Portuguese friends in his younger days. He now limited his fishing to the pier. He knew that some would view his techniques as non-sporting but said none of his fish were wasted, nor did he return injured fish to the water as did some of the less knowledgeable anglers. He said he fished the pier most days and generally caught fish, although few of the large fish that were caught twenty years ago. But once in a while the larger mackerel or bonito moved in and, when they did, he knew how to catch them.
It was time for me to leave and as I made the drive back to Long Beach through the Terminal Island area I reflected on his views. Although there is a lot of room for anglers who preach the sportsmanship of light tackle and returning all fish to the water, I think there is also a place for fisherman like this, a man who was basically fishing for food and using what he caught productively. My only criticism would be on his judgment for using these fish as food since the Department of Fish & Game has warned against eating fish caught in this area (although mackerel are generally safe to eat).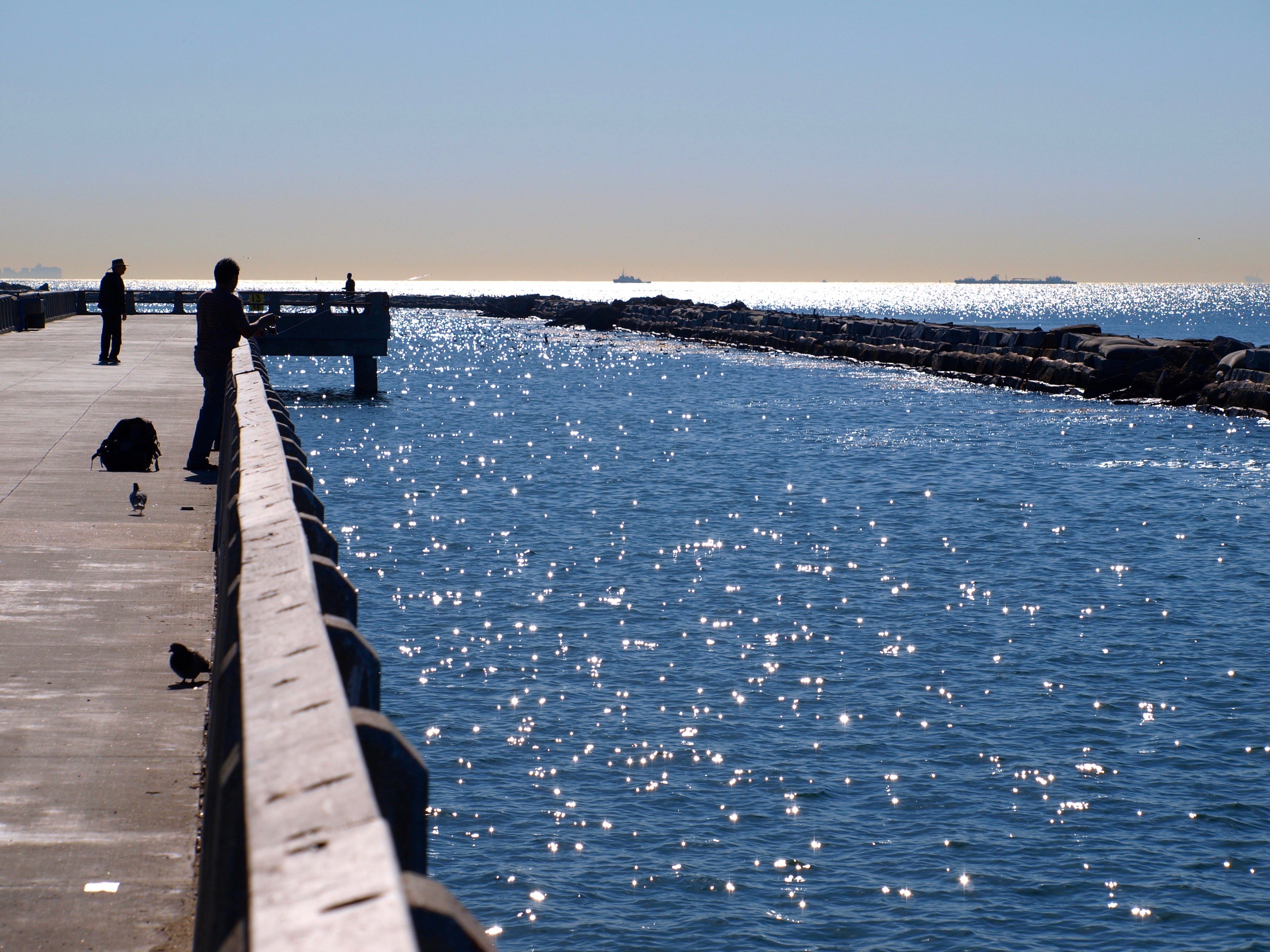 Environment. The pier sits low near the water and extends out 1,200 feet into San Pedro Harbor; it is just inside and parallel to the north end of the Los Angeles breakwater. To me it's an interesting pier because of the so observable contrasts: the adjacent low-lying jetty that separates the pier from the ocean, and the huge, heavily industrialized port that starts not too far out from the pier and covers most of the shoreline areas. The entire area has been changed since the breakwater was constructed in the early 20th century but out there on the pier anglers can enjoy the fresh air, the fish, the sea birds, and of course the companionship of fellow anglers.
The bottom around the pier is primarily sand and soft mud and most of the normal bay and surf species can be caught. Although an artificial reef was constructed in 1973 when 84 automobile tires were scattered around the pilings as an attractant for the fish, most of them are now covered with mud. The pilings do attract some rock-frequenting species but the most common fish are still two of the smaller croakers: white croaker (in part because these fish are the most pollution-tolerant species) and queenfish. Halibut, turbot, sand bass, white seaperch, and sculpin (scorpionfish) comprise most of the rest of the bottom action. Small pompano (Pacific butterfish) are a mid-water species that is most common in the fall. Unusual flatfish have included a 13 ½-inch fantail sole taken in June of 2007 while a tiny, baby bocaccio was taken in September '09.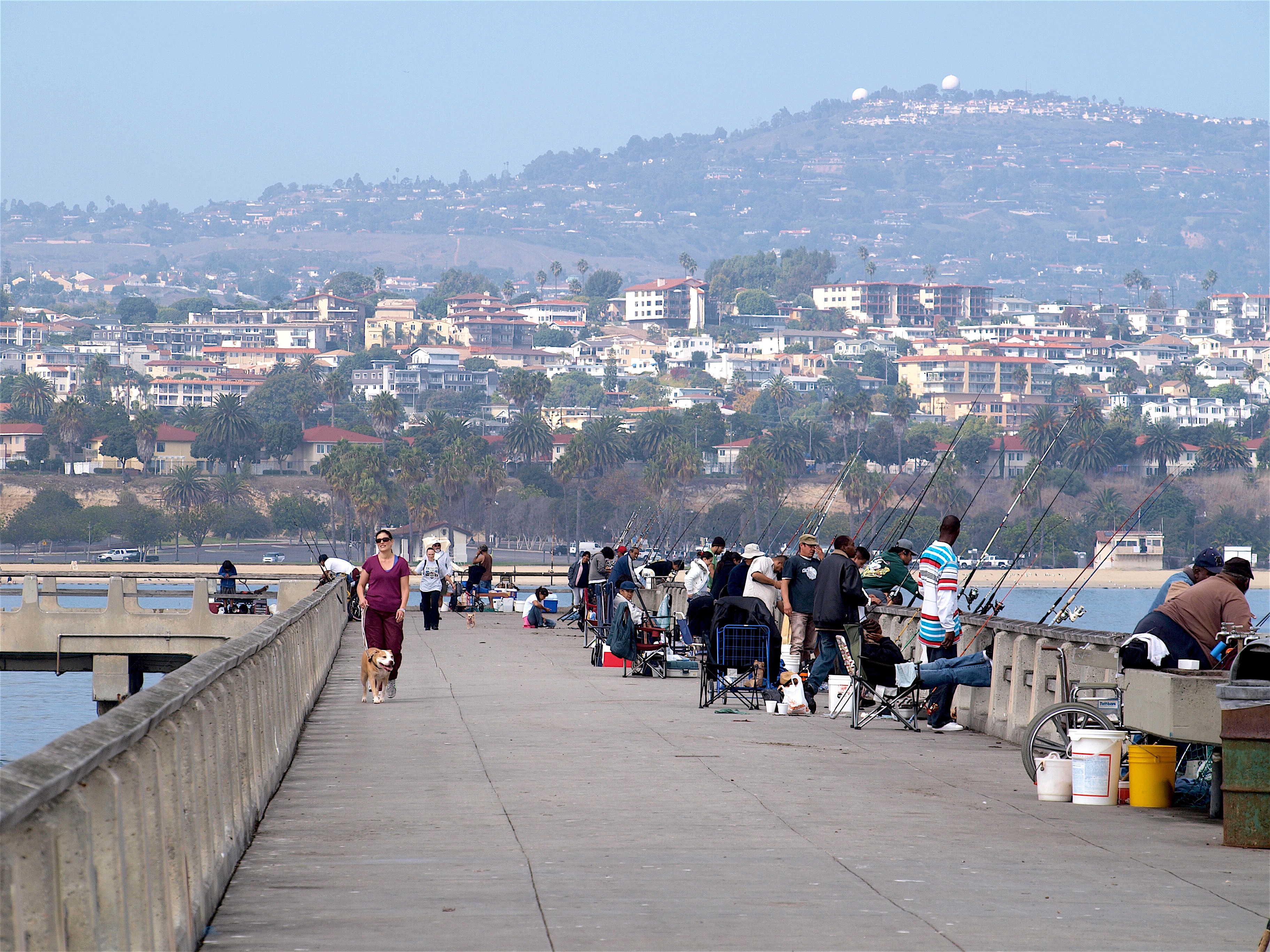 Surface action generally sees Pacific mackerel (this is one of the more reliable piers for mackerel) and Spanish mackerel (jack mackerel), jacksmelt and topsmelt, and, at times, bonito. Barracuda are a fairly common fish but most will be sub-legal size "pencil" barracuda. A live bait barge is located not too far from the pier, a barge that undoubtedly attracts some fish into the area.
The west side of the pier sits within casting distance of the inner side of the breakwater although much of the water on that side is now fairly shallow. In 1991 a sand replenishment project was carried out on the outer beach (outside the breakwater) and ever since then the winter storms sweep more and more sand over the breakwater and under the pier. Thus the inner half of the pier sees mostly sand on the west side. However, as you get into the deeper water out at the end you can see some very decent fishing for several different types of rock and kelp frequenting species—kelp bass, spotted bay bass, sculpin (scorpionfish), cabezon, small kelp rockfish, sargo, and seaperch—black, white, rainbow and rubberlip. Along with these will be an occasional opaleye, halfmoon and sheephead.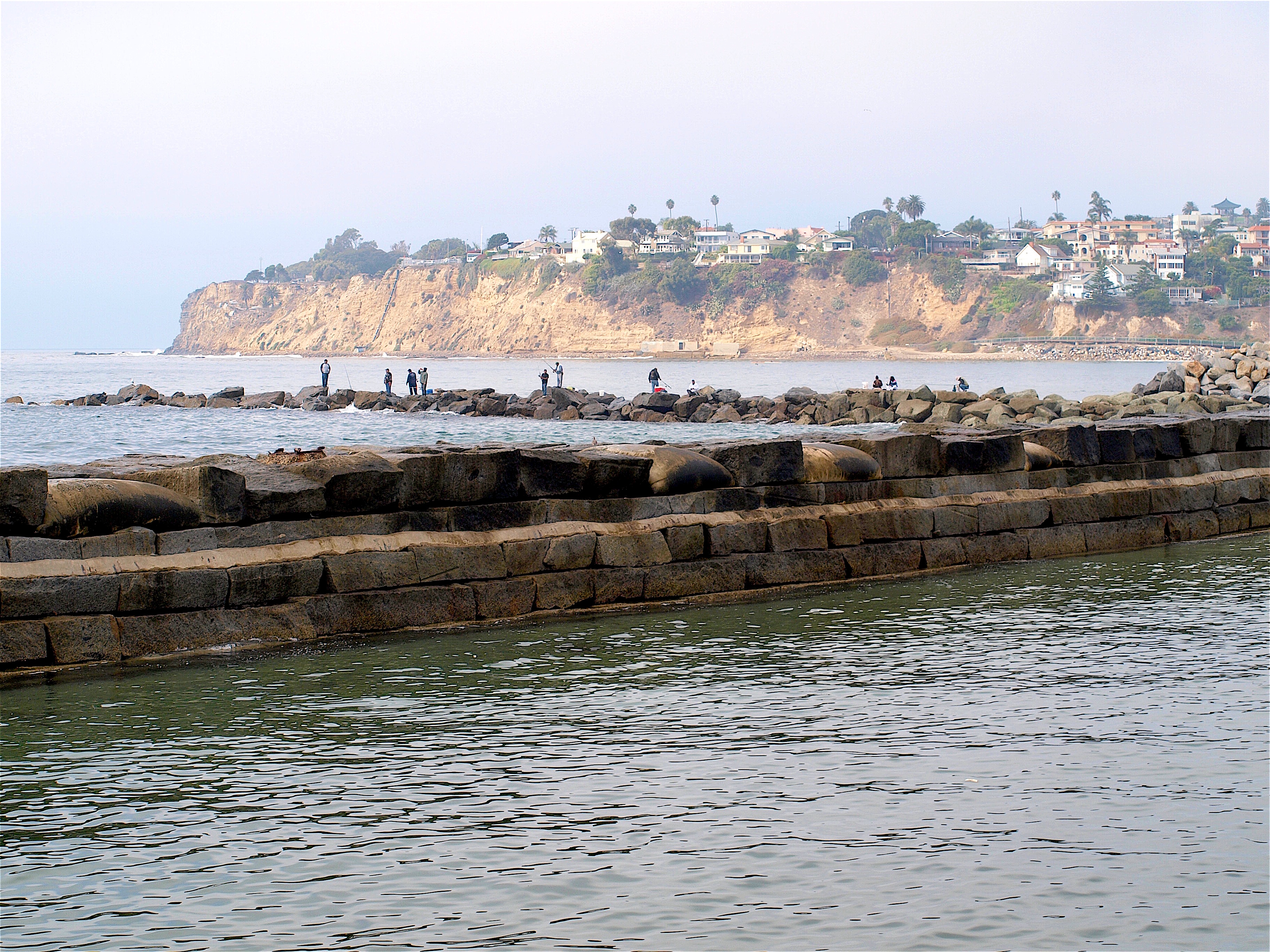 Although I haven't personally seen too many sharks or rays, I'm told by the regulars that some good-sized shovelnose guitarfish have been taken, as well as leopard sharks, gray smoothhounds, thornback rays, round stingrays and bat rays. One day I even observed a small California skate taken by a surprised angler.
Fishing Tips. The best bet is to fish the bay side of the pier on the bottom for small croakers and halibut, or fish the upper portions of the water for mackerel (they're often down about 5-10 feet). If you want tomcod (white croakers), cut the tail end half of a small anchovy, and fish it on a high/low leader with no. 6 or 4 hooks. Remember that the tommies like moving bait and will often strike as the bait is settling to the bottom after the cast. If you don't get a bite, reel in your line very slowly and be constantly alert for a strike. The same rigging and location can yield other croakers—yellowfin, spotfin, China, and a few corbina, but usually those species will hit better on fresh mussels, bloodworms, or ghost shrimp.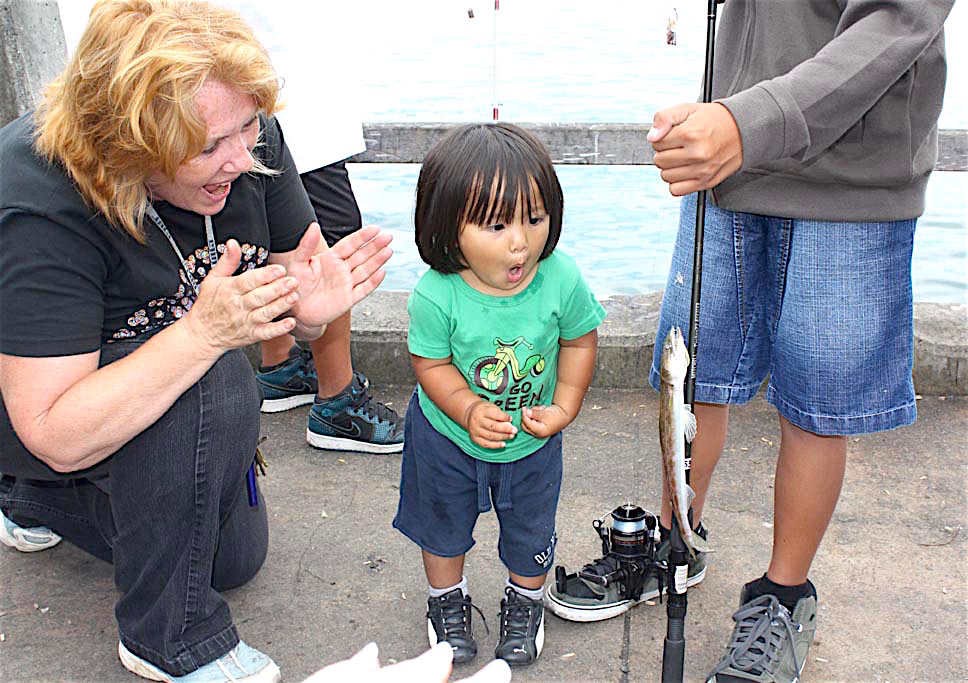 Oh, Oh! A liazardfish!
For the halibut, use a sliding leader and live bait—smelt, small shinerperch or walleyes, brown bait (small queenfish or white croaker), or a baby mackerel if they're around. Artificials can also produce some flatties with locals usually using lures such as Big Hammers, Worm Kings, large white Blams, and green Krocodiles. Live bait for halibut can be especially productive when the schools of shinerperch move in around the pier in early summer. A 41 ½-inch halibut was taken in July of 2010.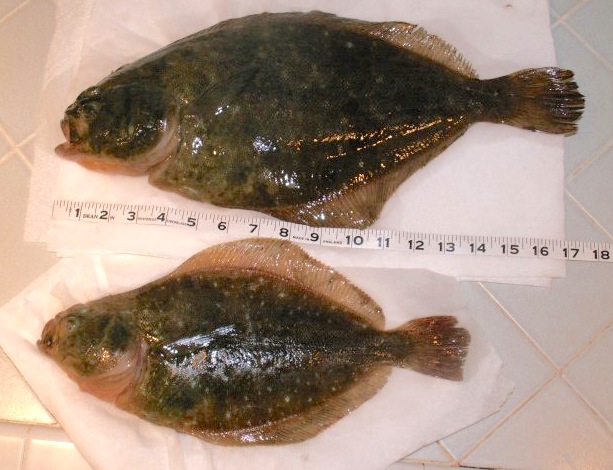 Two (probable) fantail sole
Try on the top or subsurface for mackerel and since water here is normally calm, you can often simply tie a hook directly on the end of your line and fly-line your bait out to where the fish are hitting—or use a small twist-on sinker for weight. Many anglers like to use a bobber with the small sinkers but it usually isn't necessary unless you're trying to fish with two poles at the same time. If you're fishing at the end, where the water is deeper, you can often drop your bait straight down a few feet under the surface of the water and watch the macs and jacksmelt attack your bait.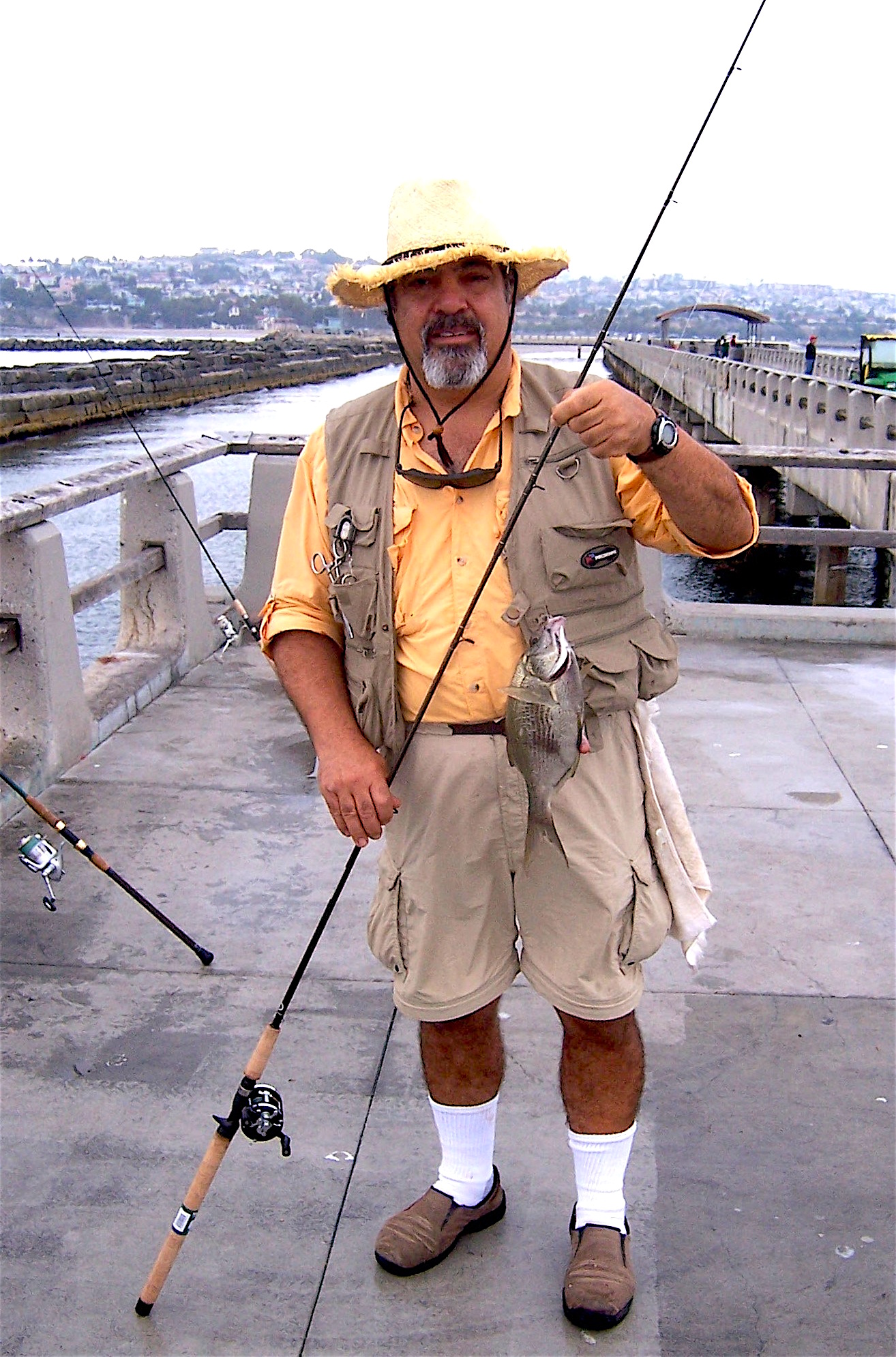 A pileperch caught by Mahigeer (Hashem Nahid)
Another option is to drop your bait down around the pilings. You will be often rewarded with buttermouth perch (blackperch), white seaperch, sand bass, kelp bass, or sculpin (scorpionfish). On one visit while trying for perch I could hardly keep small, baby sculpin off my hooks.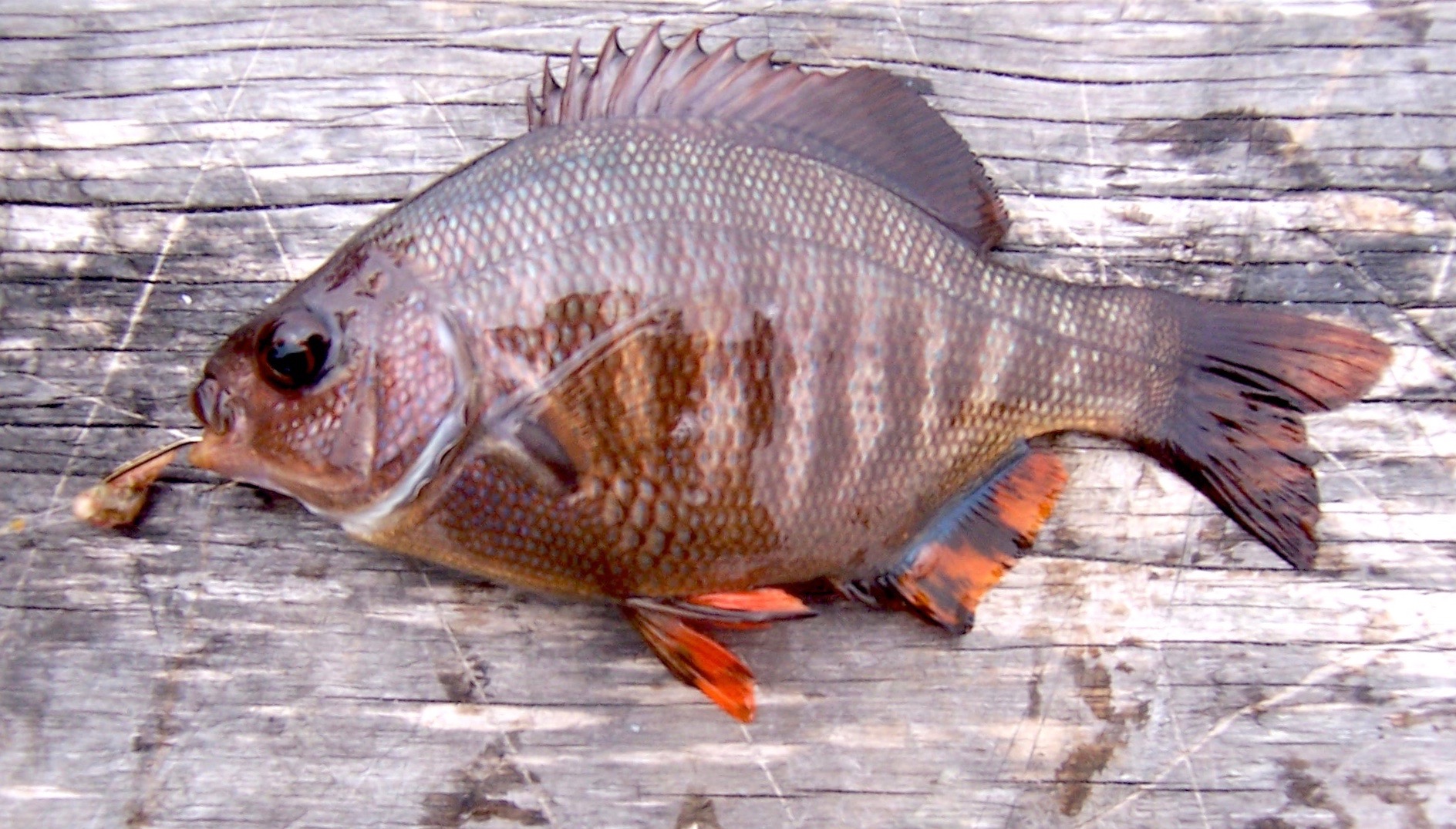 Blackperch aka buttermouth perch
A final option is to cast toward the breakwater rocks using size 6 or 4 hooks, and fresh mussels, bloodworms or ghost shrimp for bait. Rock frequenting species such as opaleye, buttermouth perch (blackperch), Catalina blue perch (halfmoon), sculpin, calico bass (kelp bass), sand bass, and even an infrequent sheephead will sometimes reward an angler with a hit. Anglers fishing winter months will often see quite a few cabezon in this area. If you are a competent caster and can cast without losing your tackle in the rocks, you might want to try a lure. Try Scampi-type lures for bass; try motor oil-colored grubs for perch.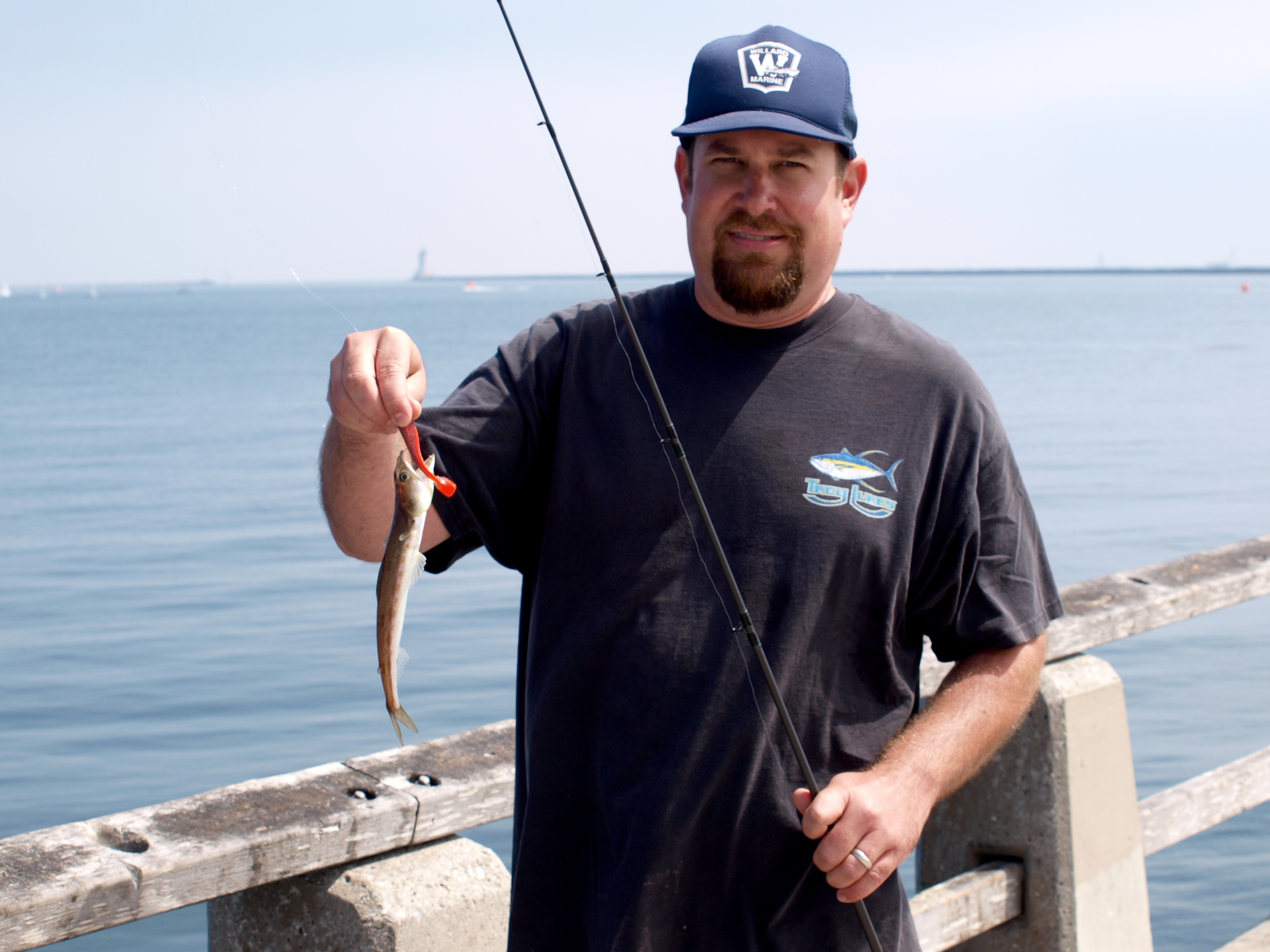 Lures and — lizardfish?
When the bonito make an appearance the standard rigging is a splasher rig—Cast-A-Bubbles with feathers, especially green and yellow feathers. However, MegaBaits, Krocodiles, and Yo-Zuris are alternative lures that can also produce. Bait of course is the other option and a lively sardine or smelt fished under a float can also produce the boneheads.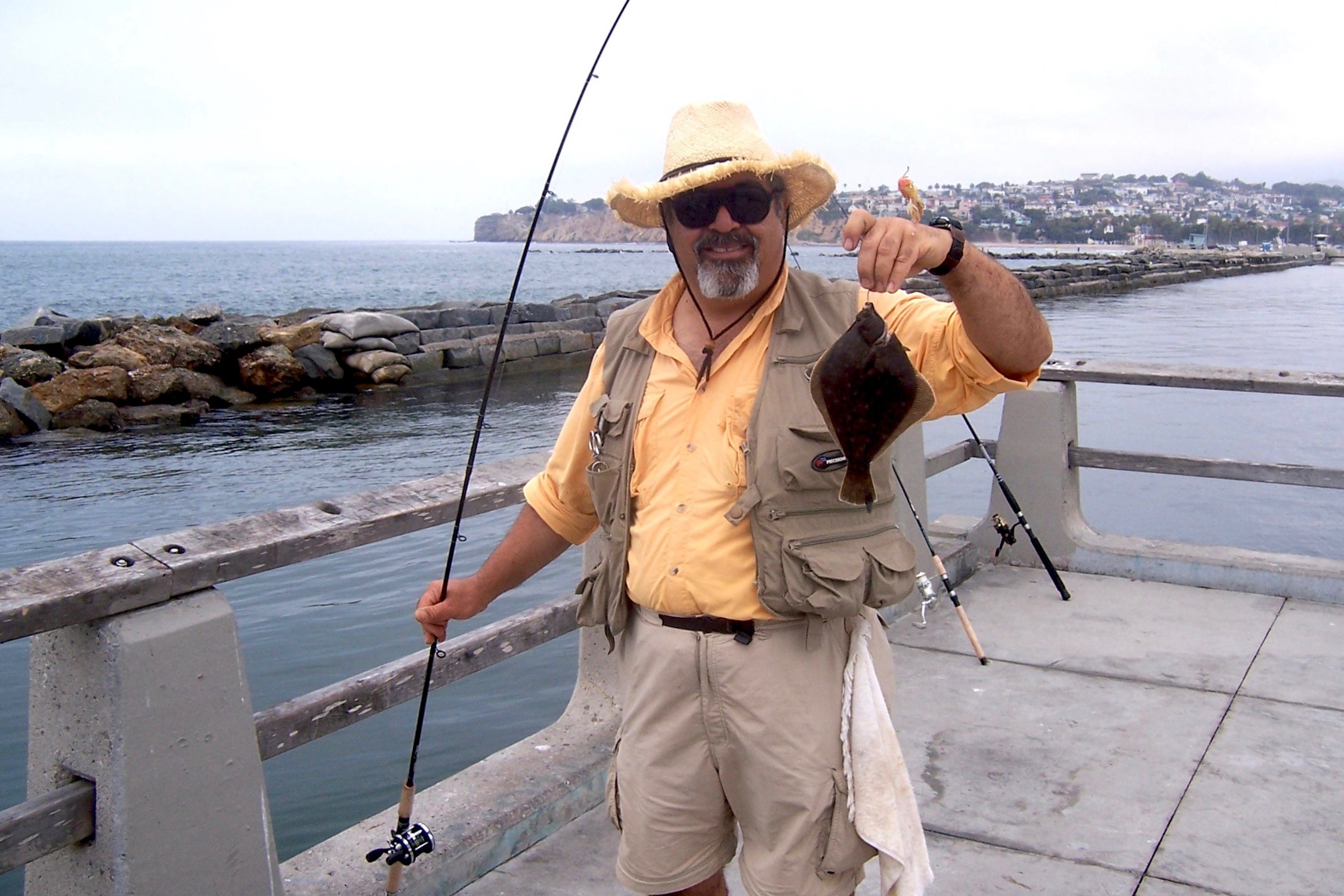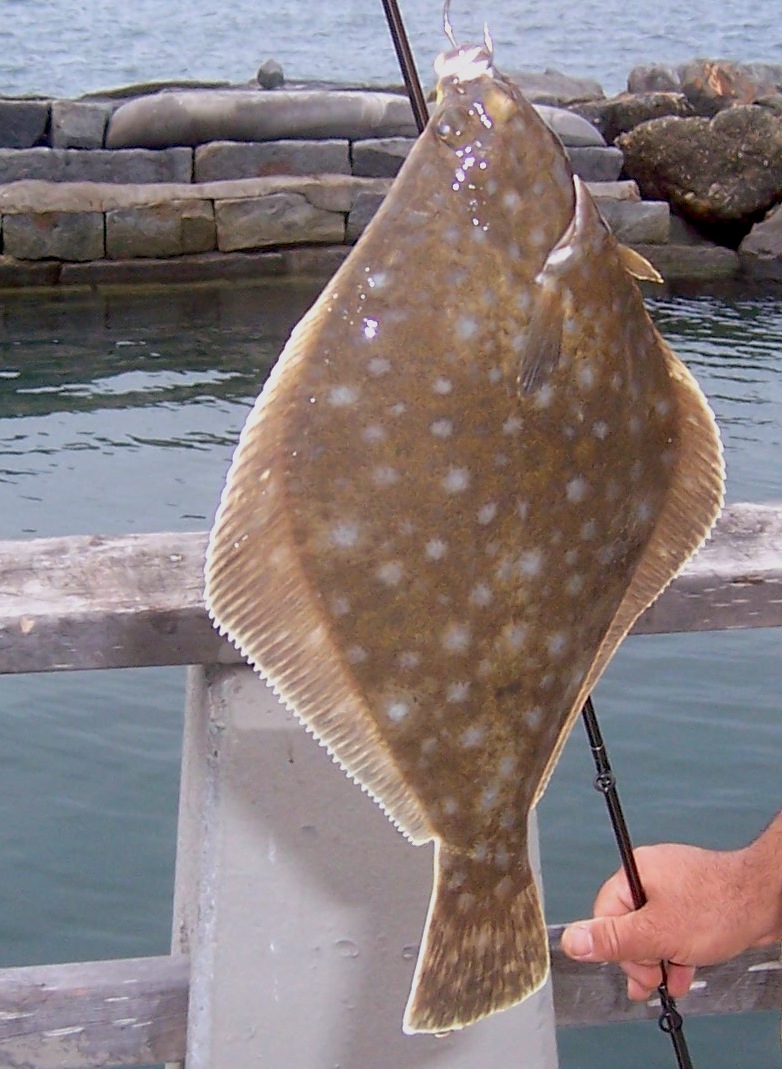 Diamond turbot caught by Mahigeer
The Pier Rats Speak
Date: March 20, 1999; To: Pier Fishing In California Message Board; From: Steve Rothman; Subject: Cabrillo Pier
I fished Cabrillo Pier in the morning on Saturday, March 20, in a light rain, later clearing. There were 10 – 20 anglers, but one guy was catching most of the fish (not me). He was using 1-inch chunks of thawed, previously frozen anchovy. He would cut off the head, then take the next inch chunk and use it, cutting off and discarding the tail section. He hooked a size 4 hook through it twice. He had a high / low leader with a light sinker, and also one snag line with multiple hooks, also with anchovy chunks. He had 5-6 fish that looked to me like white croaker, but maybe it was one of the less toxic close relatives, because he was keeping them alive in a wire basket lowered into the water, probably with the intention of eating them. He also caught a couple of mackerel. All the fish were caught off the bottom, straight down from the side of the pier.
I fished with mussels and couldn't get a bite, so I guess anchovy is the way to go at that pier, or at least was today.Incidentally, I had not been to the pier in a couple of years, and it is fixed up quite a bit. They tore down the old boarded up, graffiti covered building that was not currently used for anything anyway and was a real eyesore. They added a sort of roof over one 35 yard section of the pier. On a rainy day like today, you can bet that's the section all the anglers were at. There are a couple of benches under the roofed section for sitting, tackle boxes, wives, babies or whatever. For some reason, the roof stops about a foot short of the side of the pier, so as you move up to the rail, you get wet. But at least once your lines are in the water, you can step back and stay dry. They also have drilled holes every couple of feet in the rail, so you can stick the butt end of your rod into it as a rod holder. In a few places along the pier, there are sinks with running water.
There's no bait and tackle shop or rest rooms, but all in all the pier is a lot nicer than it was a couple of years ago. Steve Rothman
Date: May 7, 2000; To: PFIC Message Board; From: Dick;  Subject: Cabrillo Beach Pier
Got to the pier early this morning. As time went by and no fish for me. I noticed the pier was very barren. Typically by 9, it's elbow to elbow fishing. By this time, I notice one mackerel caught by man on the deeper end of the pier. I stayed to 11 and caught 2 corbina, 1 kingfish, 4 sand bass (under-sized), approx. 30 small smelt, and no halibut. All fish that I caught were released except for my smelt, which I used for bait and later on released.
I saw one guy caught a 12 inch halibut kept it. Another guy caught 4 calicos, all undersized and kept. Another guy caught 2 sand bass, both undersized and kept. I also noticed that a lot of people fished off the breakwater. It must be hot, but I didn't dare to take a chance of getting knocked off into the water to see what is going on. Tight Lines, Dick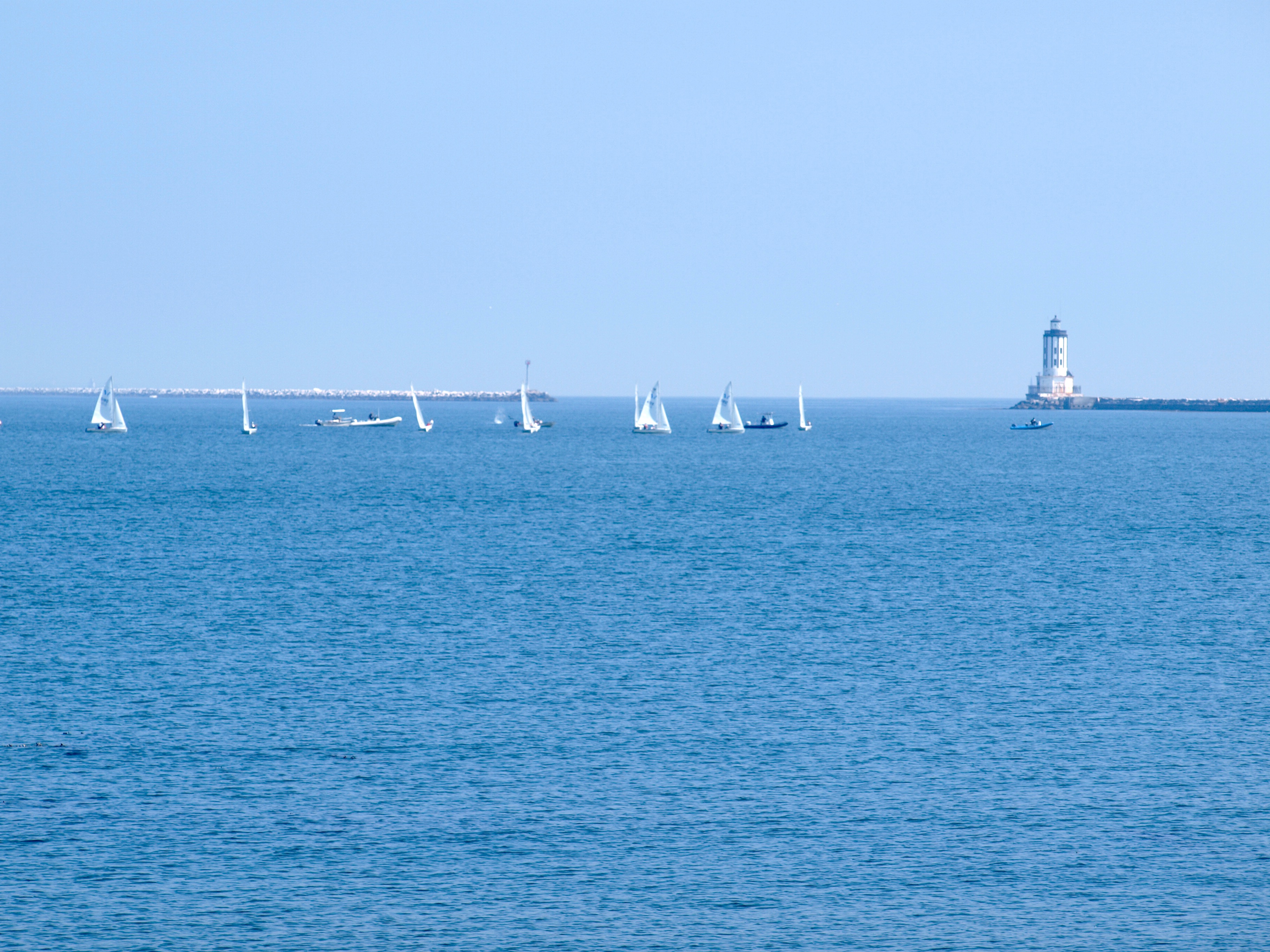 Date: October 26 2007; To: PFIC Message Board; From: Leapin Bass; Subject: Another opah picture

Probably nothing you'll ever see from a pier but man they are weird fish. I was on my cousin's boat yesterday out of Morro Bay and on our first jig strike we picked up two opah. I guess they are extremely rare and to get two of them is unheard of. I even had a third one take my plastic but it didn't stick. If anyone's interested and you can time it right between the storms the big albacore are in close (12 – 18 miles). We got 4 between 35 and 46 pounds and another boat got a 65 pounder. [Plus picture]
Posted by Dion
(In reply to: Another opah picture posted by Leapin Bass). I saw one of these fish caught off of Cabrillo Beach Pier last year.
Posted by Marty Borboa
The Opah is also known as the "Ocean Sunfish."  I saw one caught off the Oceanside Pier about 10 years ago. It went around 15 lbs and looks like the back end of the fish got cut off. Marty B.
Posted by The Fishin Magician
Ocean Sunfish… The ocean sunfish is actually a different fish, usually called a mola mola. Here's a link to some pictures of them: http://www.earthwindow.com/mola2.html Though they look a bit like the opahs, I don't think they're related. Tight lines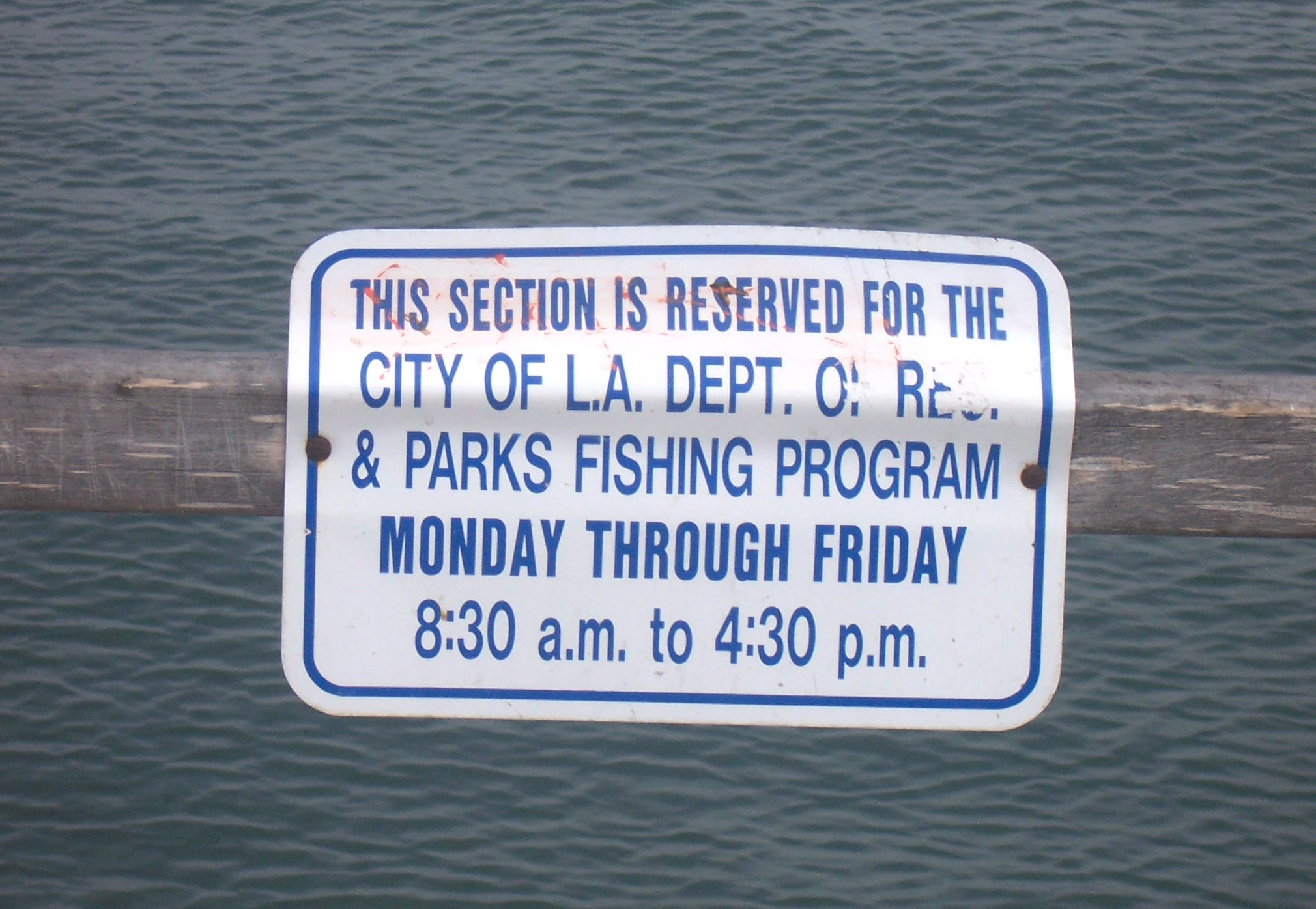 Date: December 16, 2002; To: Pier Fishing In California Message Board; From: Ken Jones; Subject: A Short Little Trip to the Southland

Had a couple of appointments in Los Angeles last week and decided to combine business and pleasure by taking off a few days to go fishing. I didn't expect much due to the time of the year and thus wasn't disappointed when I caught so little — but I did catch some fish..
Cabrillo Pier: 12/11/02 — "Any fish biting" I asked the angler in the parking lot. "A few mackerel and jacksmelt," he replied. Sounded about normal since I've caught a lot of both from this pier. Well, apparently it was an early morning bite since I saw neither species. There were only about 10 anglers on the pier and none seemed to be getting fish when I arrived. However, I set up shop out at the far end (where the water is a little deeper) and cast out a pile worm. First cast and what shows up but a lizardfish of about a foot in length. Assumed there would be more since they typically occur in fairly large schools but didn't see another one.
Cast out cut anchovies and ghost shrimp on the heavier outfit, pile worms on the light outfit. Fished for an hour and a half with limited success – the lizardfish, 3 white seaperch and a speckled sanddab. Tried a few plastics and cast some pile worms up against the rocks near the jetty but no hits.
Finally decided to try the shallow end of the pier. Found some fairly steady action on white seaperch in that area using pile worms. Probably could have caught quite a few more if I had wanted to fish a little longer but wanted to try a new pier.
Fished: 10:15 a.m. – 12:45 — Results: — 10 White Seaperch — 1 California Lizardfish — 1 Speckled Sanddab
Date: January 6, 2003; To: Pier Fishing In California Message Board; From: Jonjon; Subject: Cherry Beach or Cabrillo Beach
We go to Cabrillo a lot. Mostly at night. My buddy lives on the same street that the pier is on. We usually catch a lot of white croaker, small rockfish, and even a few small leopard sharks. We use a small glow stick and squid and cast toward the breakwater side of the pier.It's really shallow and you can almost see the fish hit the bait. Although the croaker catch is pretty good, there are signs everywhere saying not to eat the fish due to contaminants in the water. Good luck, jonjon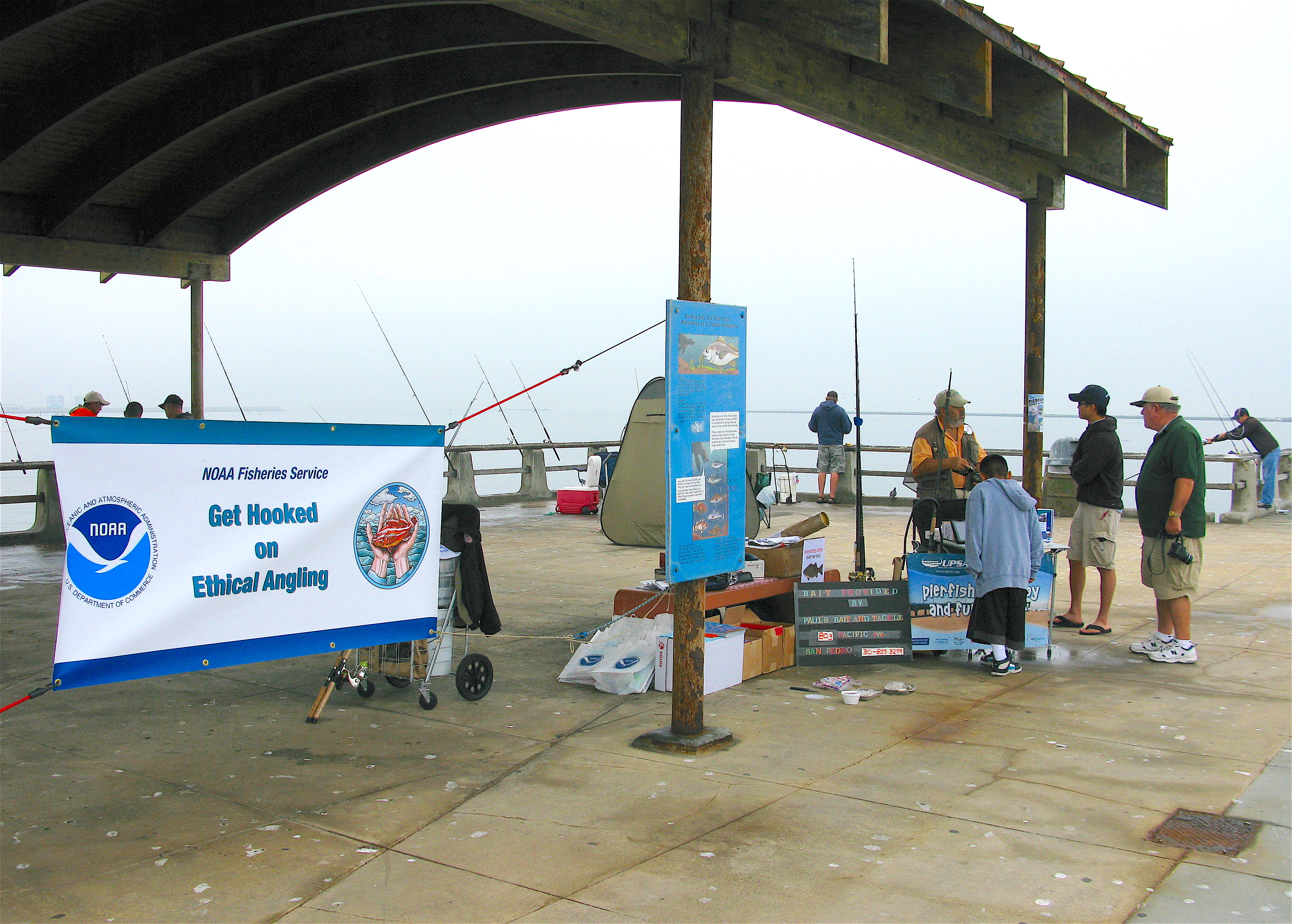 Setting up for the UPSAC Cabrillo Pier Derby in 2010
Date: August 1, 2005; To: Pier Fishing In California Message Board; From: dompfa ben; Subject: (In reply to: Anyone hang lights from piers? posted by tackleholic)
A couple of anecdotes. Several years ago, my brothers and I braved Cabrillo pier after dark. If memory serves, we had just been run out of a favorite PV spot by a guy in a helicopter (but that's another story altogether)…so we were feeling brave.
Upon arrival, we encountered a family that had somehow managed to unscrew one of the light fixtures from the overhead awning, and had pulled about 30 feet of conduit out. They hung the light over the railing, so that it was suspended just a few feet above the surface of the water.
Using fly-lined chunks of bait on Pepsi cans, these anglers were nailing mackerel and pompano on every drop. The bucket behind them was literally overflowing with fish. While I can't say that damaging the pier light was a good idea, it was certainly gutsy and inventive…and it worked.
We also used to take a shop light down to the now-gone Aliso pier, and plug it into any one of the outlets that were on every light pole on the pier. The light attracted plenty of "small, darty things" that, in turn, brought in mackerel and all the toxic tomcod you could ask for.
Incidently, I've seen plenty of fish shy away from a spotlight beam at San Clemente pier, including smelt, needlefish, small barracuda, bat rays, and mackerel. So I suspect it's probably the small plankton that brings the bigger fish in, and not the light.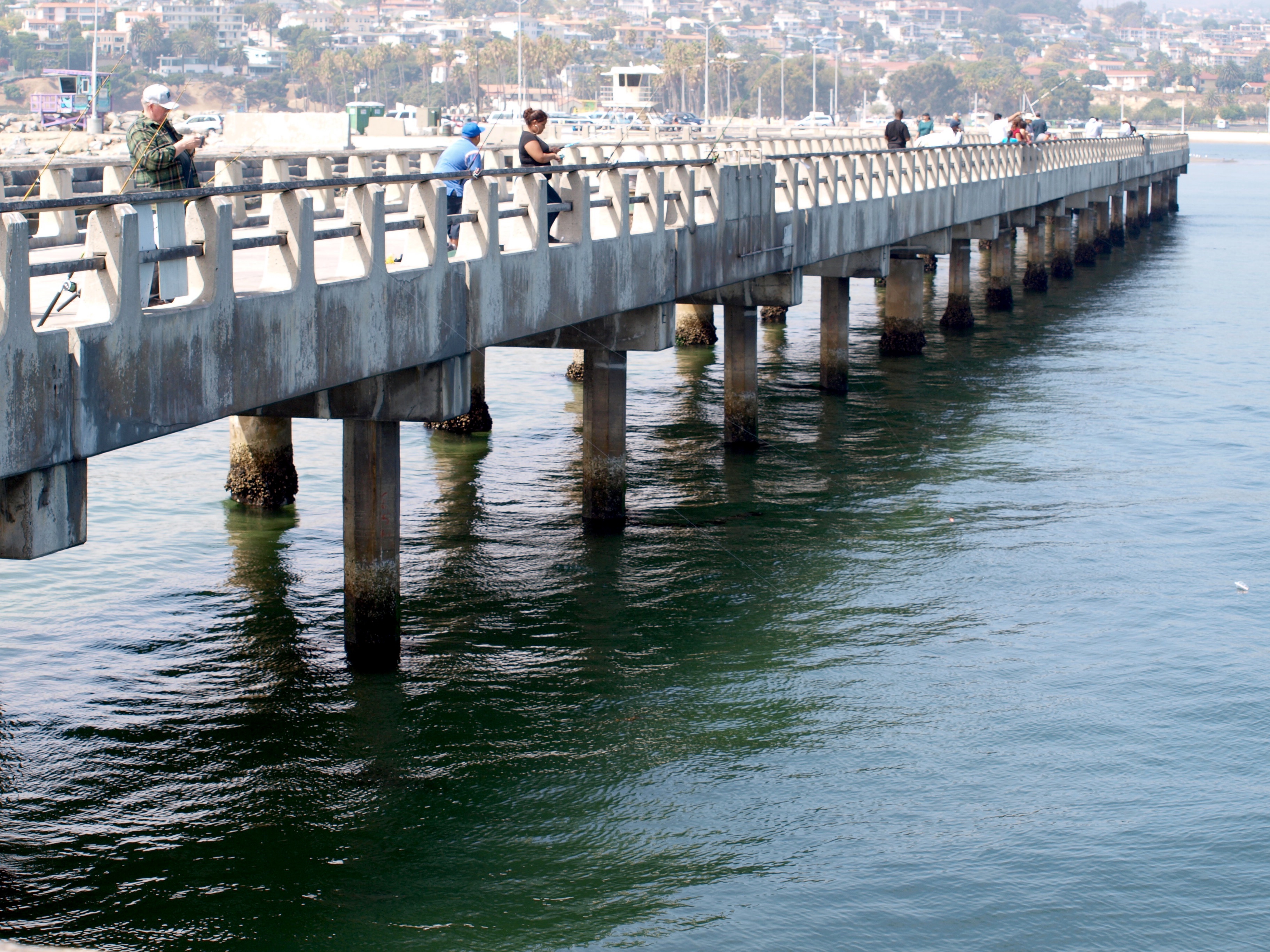 Date: March 24, 2007; To: Pier Fishing In California Message Board; From: lollich; Subject:  Cabrillo Pier (late report)
My son, Daniel, and I went to Cabrillo Pier at 5:25 a.m. We started fishing at around 6:20 a.m. We used ghost shrimp as bait, and we were going for any type of flatfish. Soon we had a "double" going. I caught a lizardfish and he caught a small barred surfperch almost at the exact same time (both released). Then he caught a 14.5″ pile perch. Soon after I caught a 14″ pile perch. Later Daniel caught a monster 15″ 2-lb pile perch! Then he caught a 12″ pile perch. The fishing started to slow down after that, except for my 13″ buffalo sculpin. Later we cut the fish. Found out one pile perch was pregnant, so we gave the babies away as bait. Then left at around 3:00 p.m., so we could be home to watch my beloved UCLA Bruins advance to the Final Four! (or, Daniel's Kansas Jayhawks to advance. — Daniel forced me to say that!)
Total for the day: Mom = 11; Daniel = 8 (this is the first time Mom was able to catch more than Daniel!) 18 fish, including… 5 pile perch (kept 4) — 1 buffalo sculpin (kept) (((((Scorpionfish)))) — 5 shiner surfperch (all released) — 2 lizardfish (both released) — 1 barred surfperch (released) — 1 spider crab (released) — 1 sanddab (released, to small)
Date: May 31, 2007; To: Pier Fishing In California Message Board; From: lollich; Subject:  Cabrillo Pier (late report)
We Started fishing around 6:45 a.m. Bait was live ghost shrimp. We were fishing at the end this time. We started getting bites around 7:00. I caught a 13.5″ sole. Then I caught a 10″ sand bass. Seven minutes later I caught a 7″ perch. And soon after, Mom caught a giant 17″ sole. I caught 2 more perch after that. Then, Mom caught a perch. After that, I caught 3 more perch. And, she caught 2 more perch. Soon after that, I caught a queenfish and a perch. Later, a seagull stole one of the four perch in our bucket. Then we left at 2:15.
Total: 14 fish, Daniel 10, Mom 4 — Sole: 2, both kept — Sand bass: 1, released — perch: 9, 4 kept (1 stolen), 5 released — queenfish: 1, released. Daniel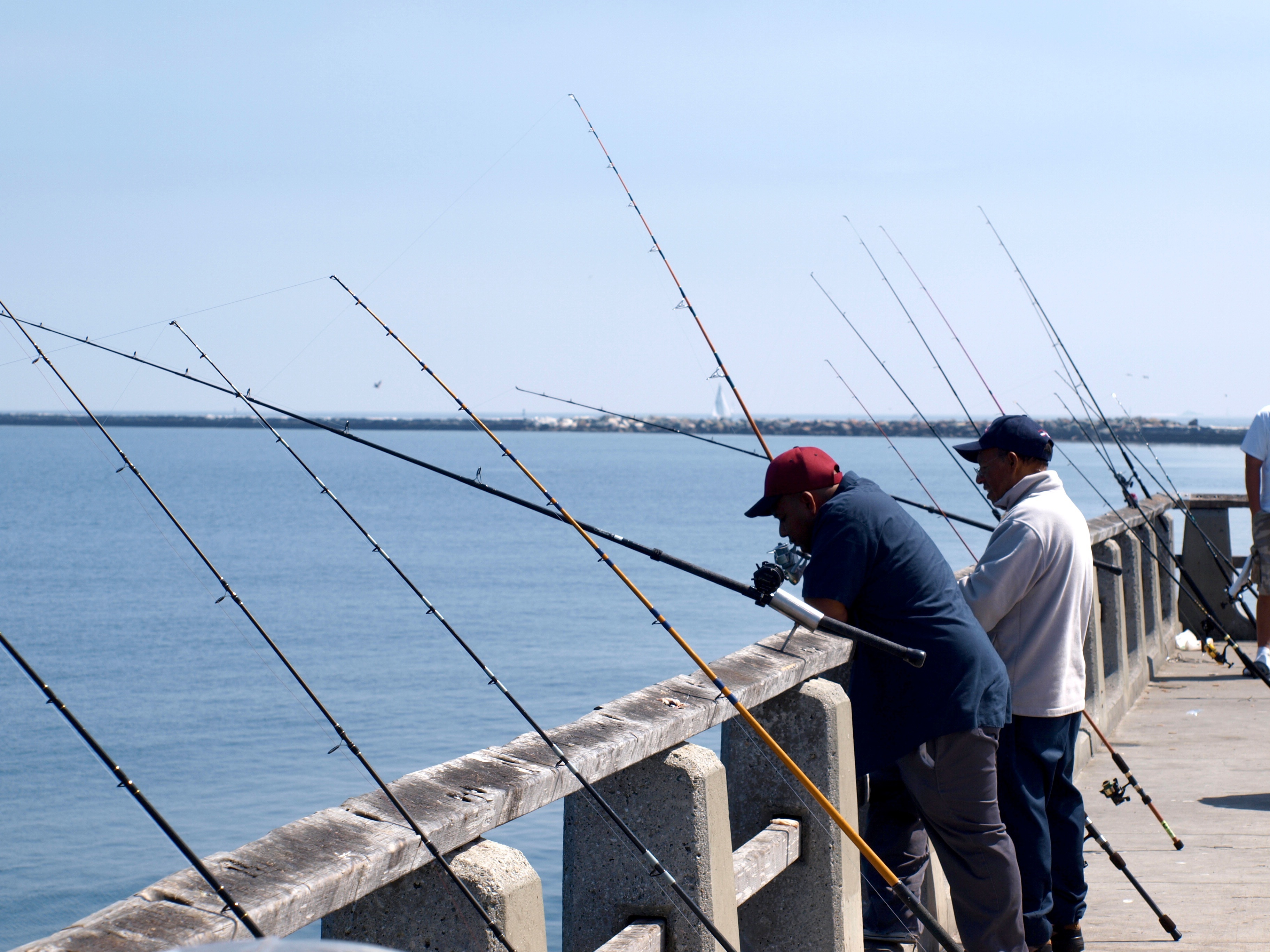 Date: July 19, 2007; To: Pier Fishing In California Message Board; From: lollich; Subject:  Cabrillo Pier & Redondo Muni – Late report 7/13, 7/17
Friday 7/13: We went to Cabrillo Pier. Our bait was frozen shrimp, live ghost shrimp, live anchovies, live grunion, and live topsmelt. I caught a 10″ calico bass, some topsmelt, some tiny anchovies, a grunion, and to top it all off, two halibut 13″ and 16." Mom caught some topsmelt, some grunion and two perch. All were released (except live bait).
Monday 7/17, night: We got to Redondo Muni Pier at 11 p.m., intending to fish for grunion at the grunion run. The grunion were a "no-show", so we fished the pier. Our bait was frozen shrimp, and live topsmelt. I caught a topsmelt and my first ever keeper HALIBUT, at 1:30 a.m.! It was 24″ and 3 lbs. 13 oz. Mom caught three topsmelt. Then we slept for two hours.
Tuesday 7/17, day: We went to Cabrillo Pier. Our bait was frozen shrimp, live ghost shrimp, and live topsmelt. I caught some topsmelt and three perch. Mom caught a 10″ calico bass, a small salmon grouper, and a bunch of topsmelt. All released. Daniel
Date: August 2, 2007; To: Pier Fishing In California Message Board; From: Ken Jones; Subject: Another short trip to the southland piers
Got back last night from a short trip down to San Diego to return my granddaughter to her home. Did manage to fish a few piers, and was able to meet up with Snookie and Hashem, but overall it was a quick whirlwind trip cut short by a need to return home for business reasons.
I did get a chance to visit the Cabrillo Pier. Hashem and I met up in San Pedro where I was scheduled to interview Bill from Paul's Bait and Tackle (I'm doing an article on what it's like to own/run a bait and tackle shop). Hashem and I soon headed out to the Cabrillo Pier to do a little fishing before Bill arrived for the interview. Interestingly, we ran into Jennifer Renzillo, the diver from the Sea Doc Society who is doing their line recycle project. She and two other divers were cleaning the pilings of line/hooks/lures before installing line recycle bins. We had talked several times on the phone, and I had even invited her to an UPSAC meeting which she missed due to illness, but we had never actually met. Now unexpectedly we run into each other out on the pier. It's a small world! As for the fishing, there were quite a few black perch, white perch, and giant kelpfish that weren't so giant. Hashem also managed a diamond turbot but we didn't see any halibut.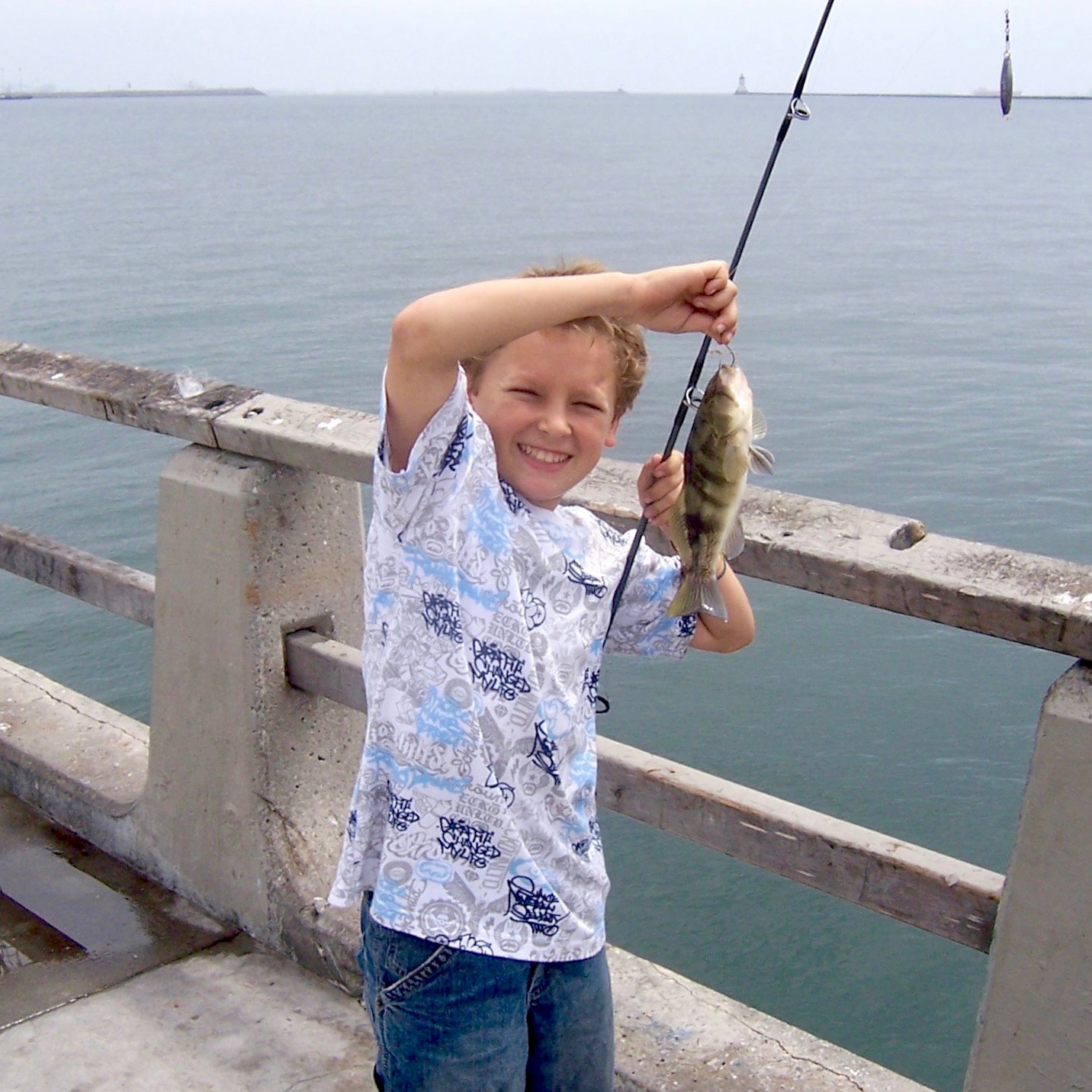 Bill's son with his sand bass
Bill's son managed a sand bass. We did make sure to cast away from the pilings while the divers were doing their thing. It just wouldn't have looked too good for an UPSAC official to hook one of Jennifer's companions. As for myself, it was quite a bit of fishing considering I started at 8PM on Sunday night and stopped at noon Wednesday but with my new sleep machine I wasn't even tired (although the body is sore as well as sunburned). The worst part was the drive home yesterday. The air conditioner in my truck quit working and even with the widows wide open the Valley heat was pretty intense.
Date: August 28, 2007; To: Pier Fishing In California Message Board; From: lollich; Subject:  Cabrillo Pier

We got to Cabrillo at 5:15 a.m. We also brought our new fishing partner. I caught two tiny baitfish that we threw back. Then I switched to my Bonito setup and had a 20″-30″ Barracuda on the line, but it got off. Mom caught a few baitfish that we used, for nada. Mom used ghost shrimp and caught three nice-sized perch. Then at about 10:15, Mom caught here first keeper bass, which was a 13″ Barred Sand Bass! About 15 minutes later, Attila from PFIC showed up with his fishing pal. Attila caught a short halibut and a few white croaker. At about noon, I start setting up ghost shrimp, when Attila said, "Hey you've got one on". So I ran over, set the hook and start reeling in, and found a giant Calico Bass!!!!! Mom helped bring it up with the net. Then, I measured it at 14.5"! It's my first keeper bass. My fishing partner went crazy. After that the fishing became slow and Attila left. We left at 2:00 p.m. Daniel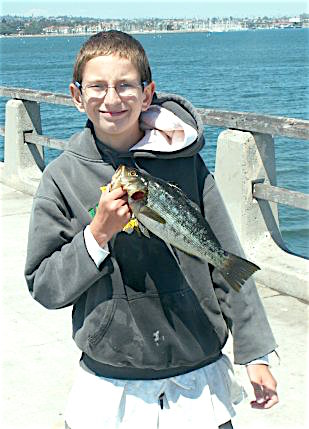 Daniel and his keeper-size kelp bass
Date: Sep[tember 3, 2007; To: Pier Fishing In California Message Board; From: sheldon; Subject:  Cabrillo Pier Late Cabrillo Pier

Took my son and we got there around 9:00am or so and the parking lot had the most cars we've seen in it for the time we've been fishing there….only the lsat 2 months or so. The most cars we've seen is aboit 20 or so, whereas the lot had about 100 cars that day. We had been fishing there on Fridays to avoid any potential crowds since my son was on summer vacation and it's also one of my days off. The pier and the jetty had a higher amount of people as well, but spots were available. We usually walked the length of the pier throwing plastics but ended up staying in one spot due to the number of anglers. Talking to the anglers as we walked to our spot revealed the action was slow. It was slow for me till I fished the side of the pier facing the jetty. I hooked a small 'but pretty quick and would, through the course of the day, catch 8 additional small halibut off that side…..I got two on consecutive casts!! It was neat because the water was shallow enough to be able to see most of the hookups as well as a lot of tailing fish. Nobody prior to my catching the first one was fishing that side of the pier, but soon some anglers moved to that side. I saw two other guys fishing that side nail a small 'but each. One was on a krock and I think the other was on bait.
I caught everything on a 3″ Big Hammer swimbait on 6-lb line. It was a previously used one that was in my box already threaded on a 1/4 oz leadhead. I've definately have gotten my monies worth out of that one and it is still fishable!!! It was a yellowed green colored lure. My son nailed a small 'but, two sand bass (one was 11 1/2″….so close), a lizard fish, and a queenfish on a 3″ Big Hammer swimbait in the Deep Blue color. We did see a few anglers catch other fish….a bareacuda, small bass, and a few macs here and there, but pretty slow for the most part. It was fun to see so many people even if it limited our fishing area. There was a couple sea lions prowling around the pier and a school of dolphins outside the jetty too. It was great out there with a nice onshore breeze to keep things cool.
By the time we left at 2:00pm the lot was pretty much full and upon exiting the park, saw they had closed the entrance off due to the park having reached capacity. There was a lot of traffic as people were looking for street parking in the neighborhood and a lot of people were still walking in with ice chests ready to enjoy the day on the beach.
Potpourri — Perhaps more than you want to know about the Cabrillo Pier
<*}}}}}}}}}>< — Although at first glance the pier would not seem to be too different from most other piers, the proximity to the breakwater does bring in a larger than normal mix of fish. In delving through the pier surveys conducted by the Fish and Game Department, Cabrillo stands out by having one of the larger mix of fish. As example, 2004 saw 34 different species recorded, virtually all the common species as well as a couple uncommon to SoCal piers—copper rockfish and gopher rockfish. Almost every year sees more than 20 species of fish recorded.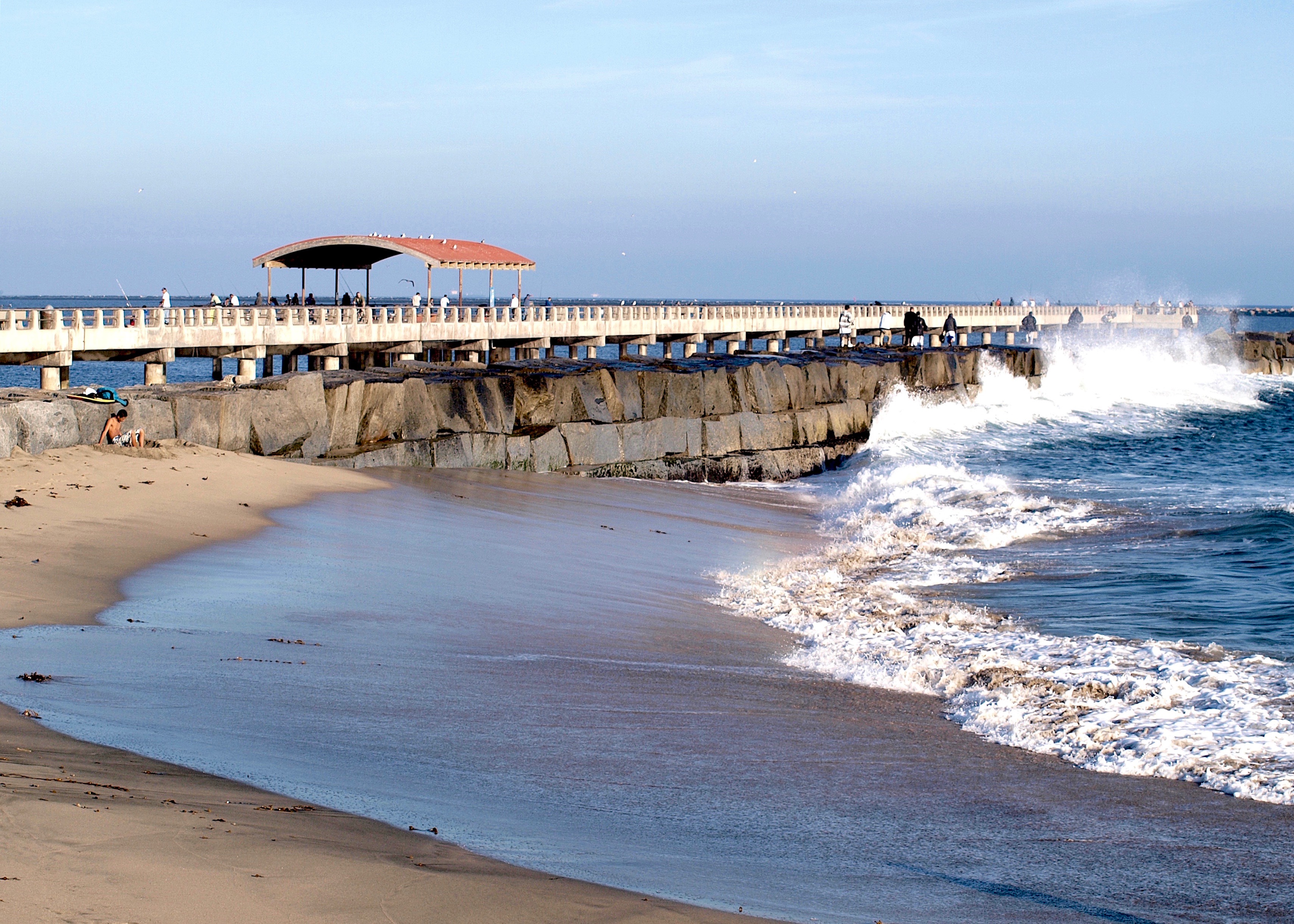 High tide can be dangerous and people occasionally are trapped on the jetty (that can become very wet and slippery). Some do not escape.
<*}}}}}}}}}>< — I've heard reports that the state is going to pump sand onto adjoining beaches. The plan is designed to improve water quality in the area but would probably mean that the ecosystem of the pier would also change. Although the bottom is already primarily sand and mud, it would probably lead to an even shallower environment and possibly lead to the area between the pier and breakwater becoming more of an eelgrass haven. It could help but probably would hurt.
<*}}}}}}}}}>< — Although it pales in comparison to the Aquarium of the Pacific in Long Beach, Cabrillo Park contains its own aquarium—the Cabrillo Marine Aquarium. It's smaller and less techy than its cousin but also quite a bit less expensive and a great place to take the children.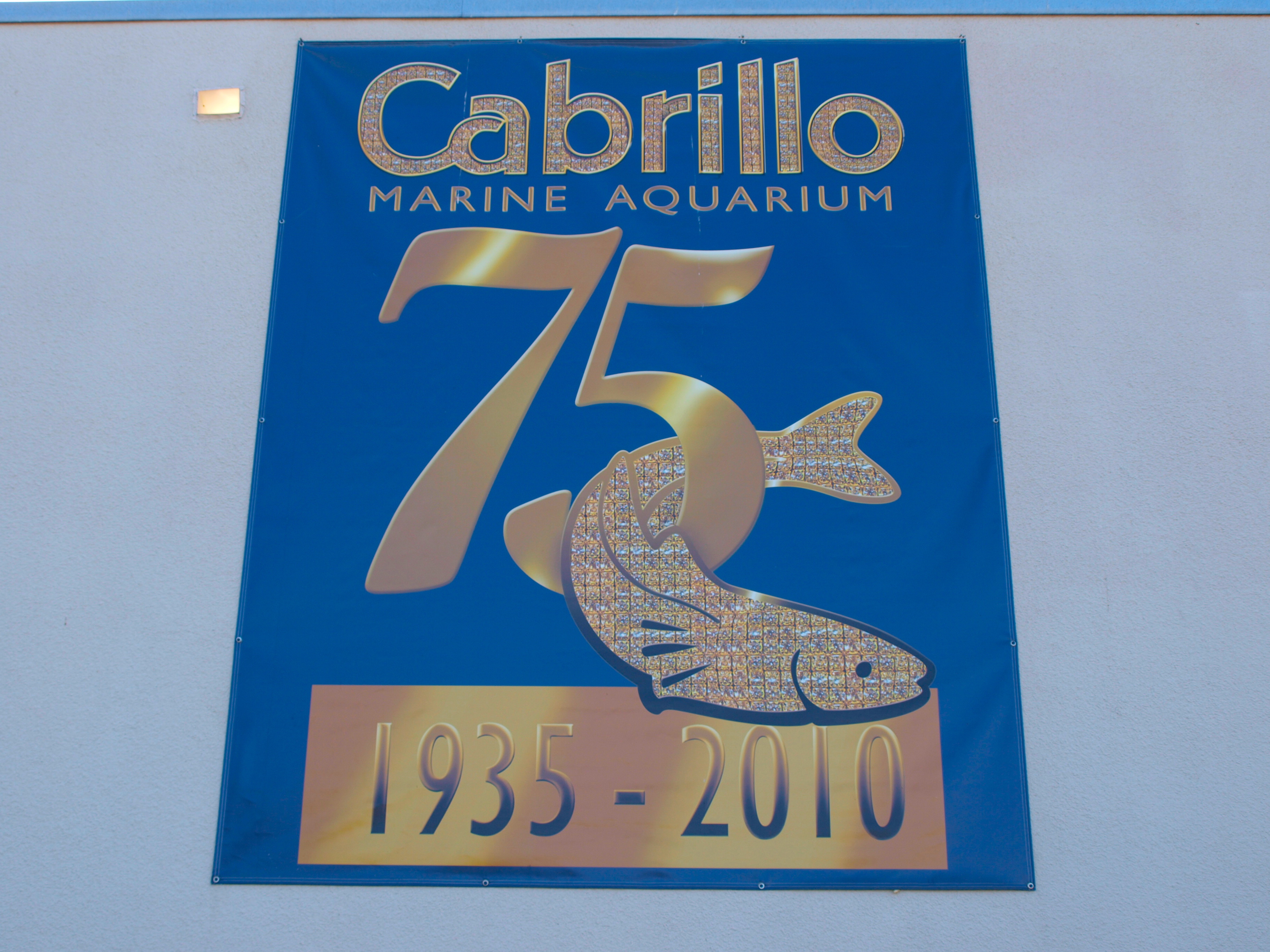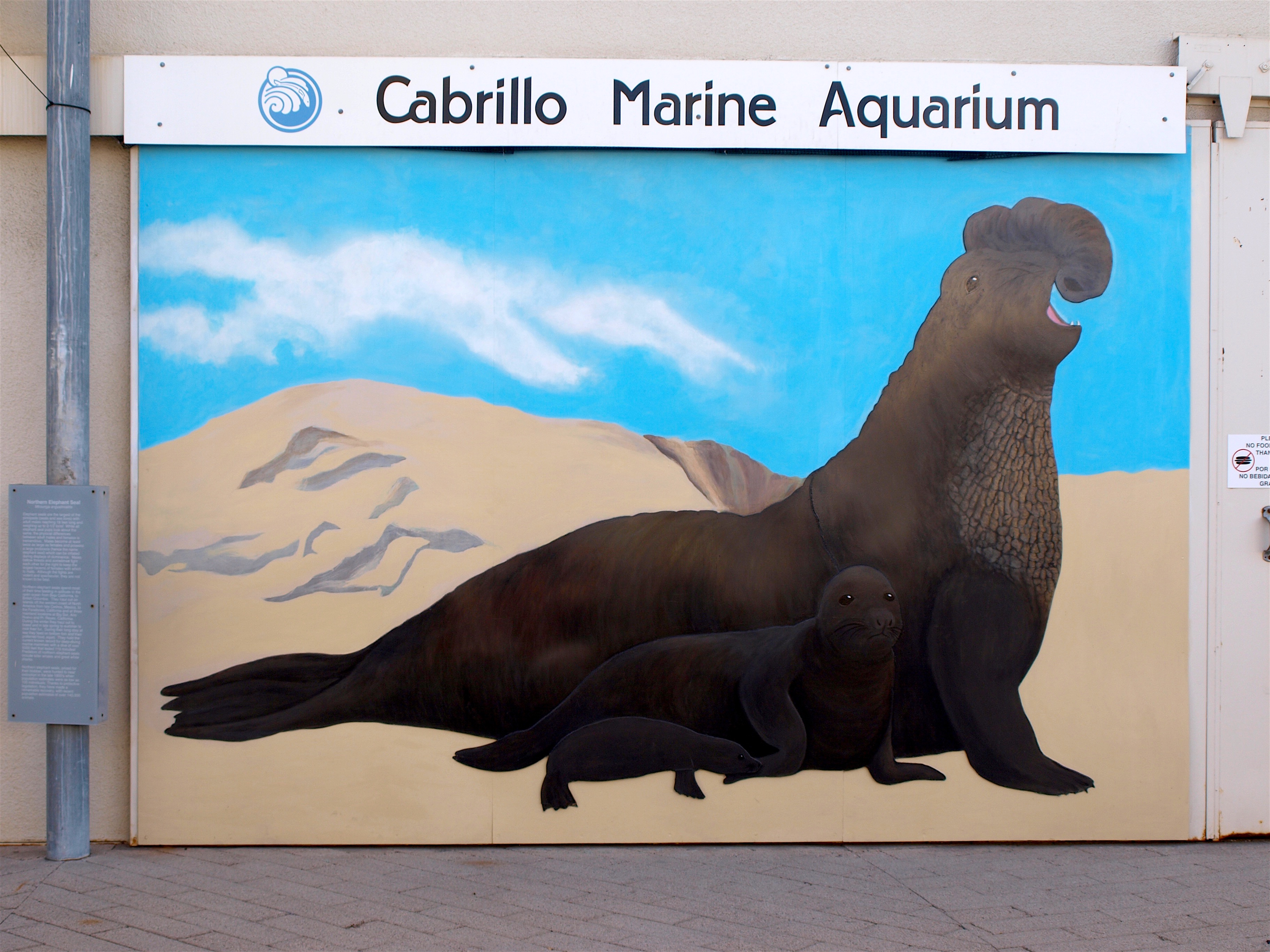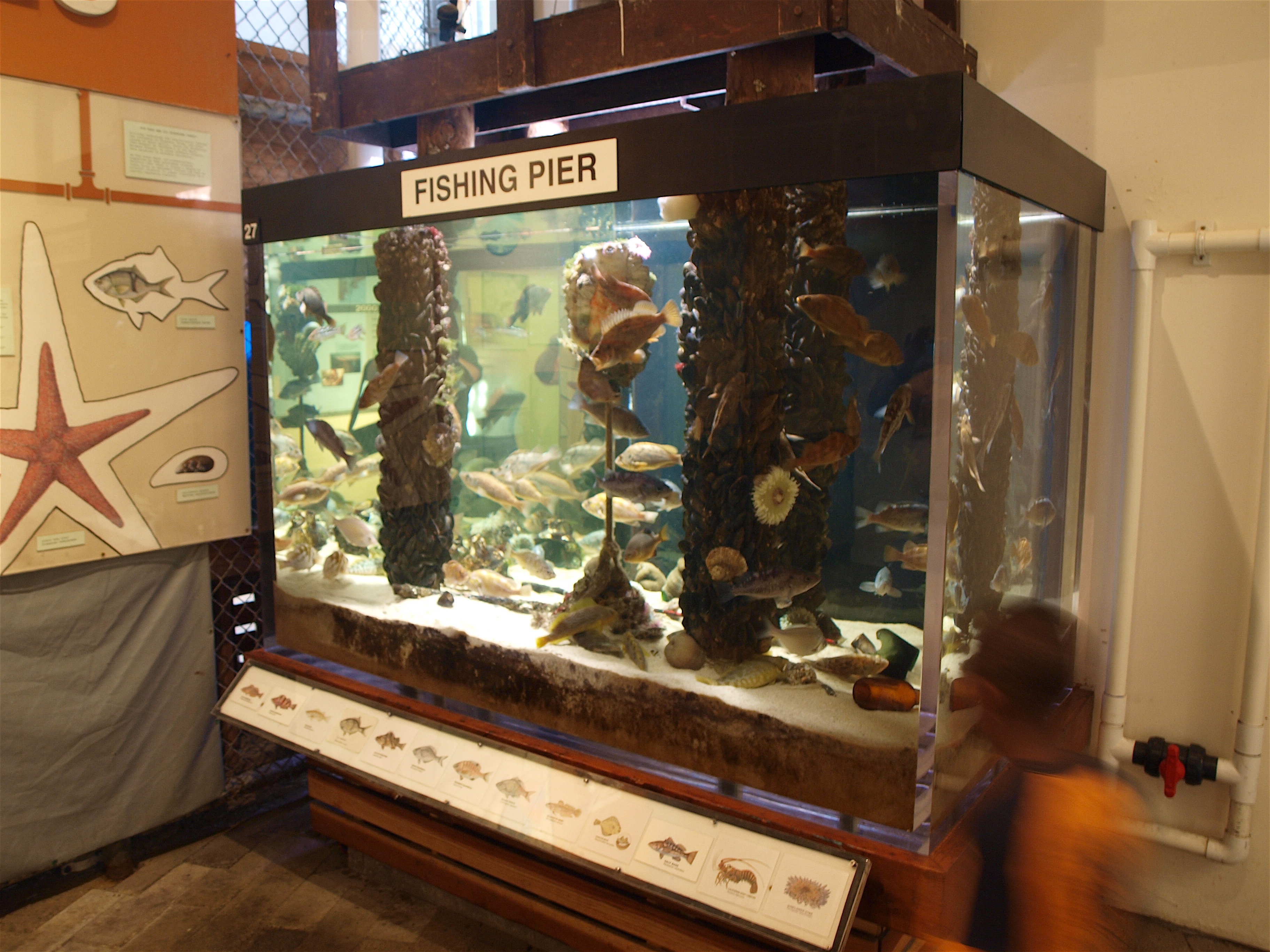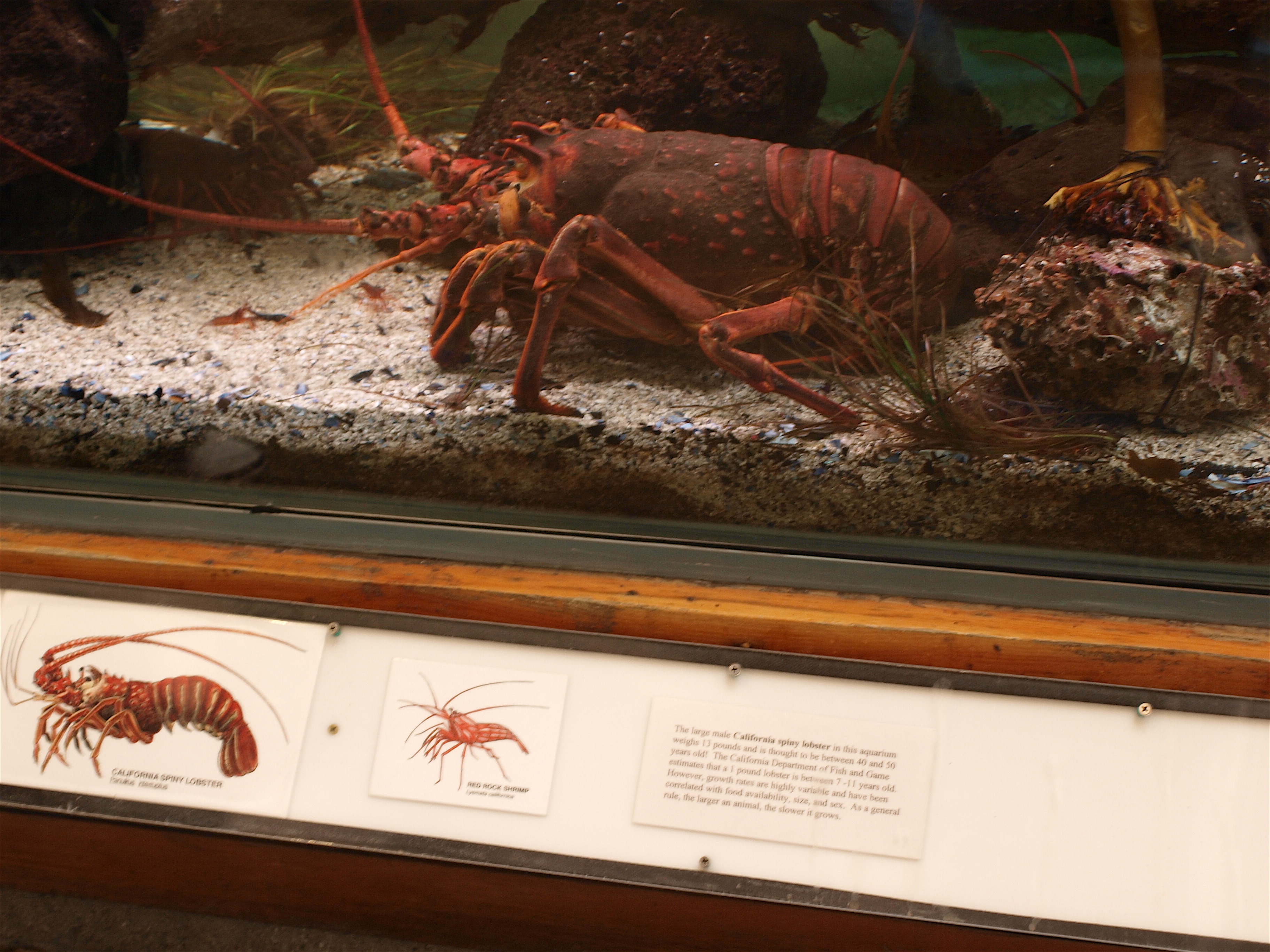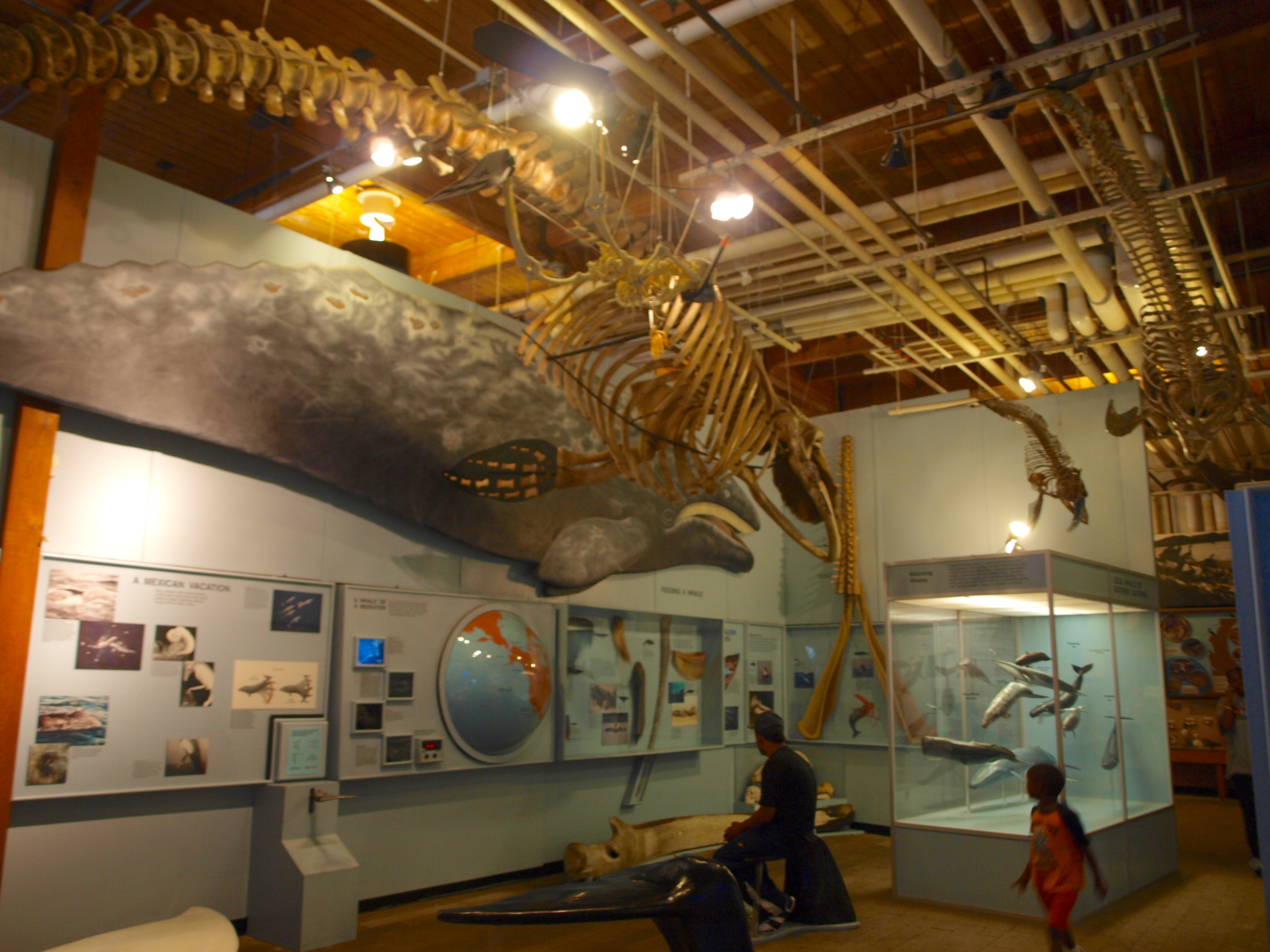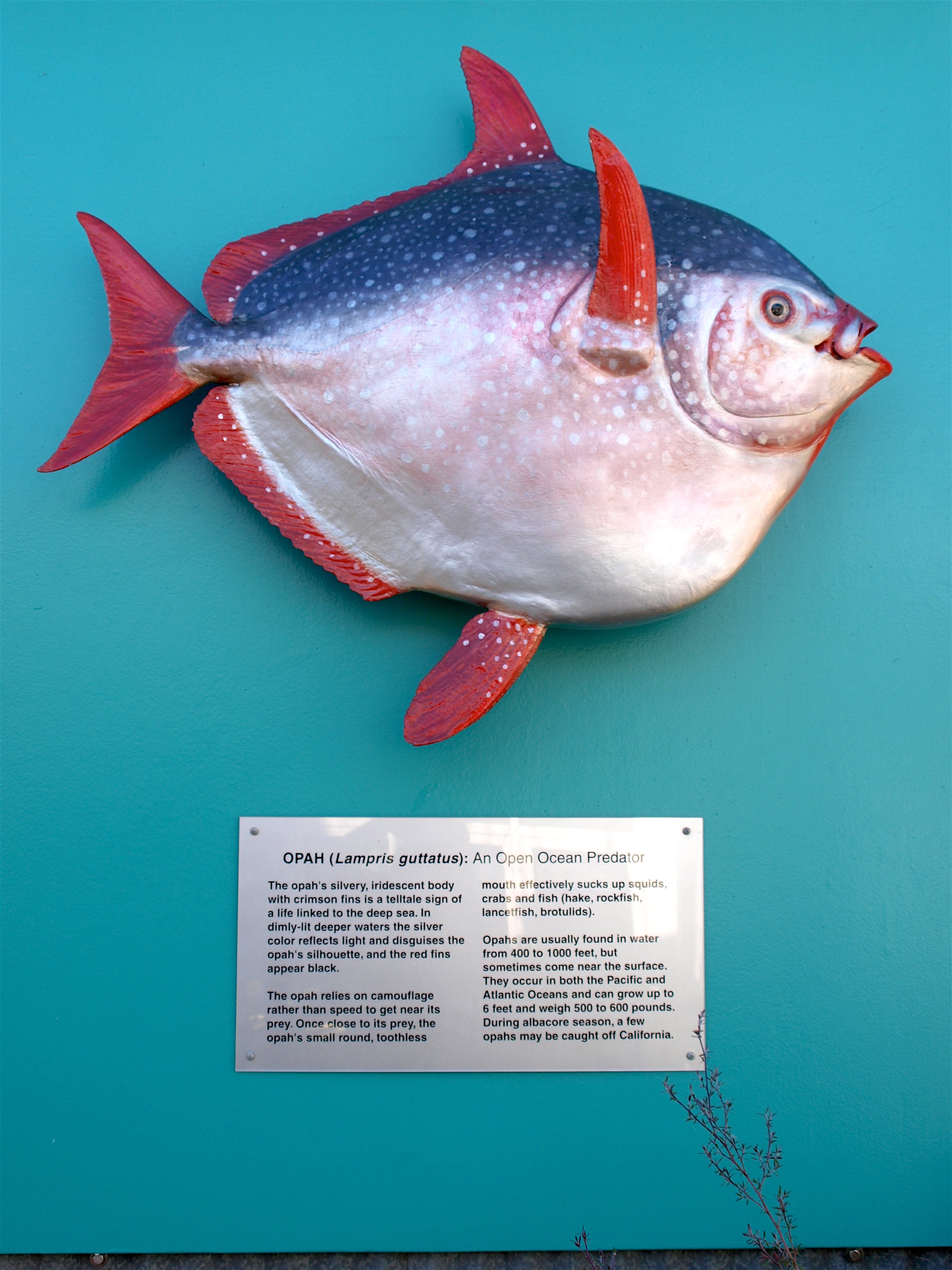 <*}}}}}}}}}>< — Even though have seen relatively few sharks caught at the Cabrillo Pier, that doesn't mean there aren't a lot of sharks in these waters. Even so, the numbers are nowhere the same as described in the following quote—which is talking about the year 1860.
"While some men were digging for treasure, others sought fortune in the deep. Spearing sharks…was an exciting industry at this period; sharks running in large numbers along the coast, and in the waters of San Pedro Bay. In May, Orin Smith of Los Angeles, with the aid of his son, in one day caught one hundred and three sharks, from which he took only the livers; these, when boiled, yielding oil which, burned fairly well, even in its crude state. During the next year, shark-hunting near Rattlesnake Island continued moderately remunerative."
—Harris Newmark, 1916, Sixty Years in Southern California, 1853-1913
<*}}}}}}}}}>< — As part of the Montrose Settlement it was decided to use part of the money to develop artificial reefs adjacent to some of the piers in the Santa Monica-Long Beach area. One pier that was felt could benefit from such a reef was this pier. However, when tests were done on the mud/sand that fronts the pier it was found to be just a little too soft for the rocks that would have been needed for the reef. Test showed that the rocks would simply sink into the super soft bottom and quickly be covered, a fact that sort of puts a damper on a reef.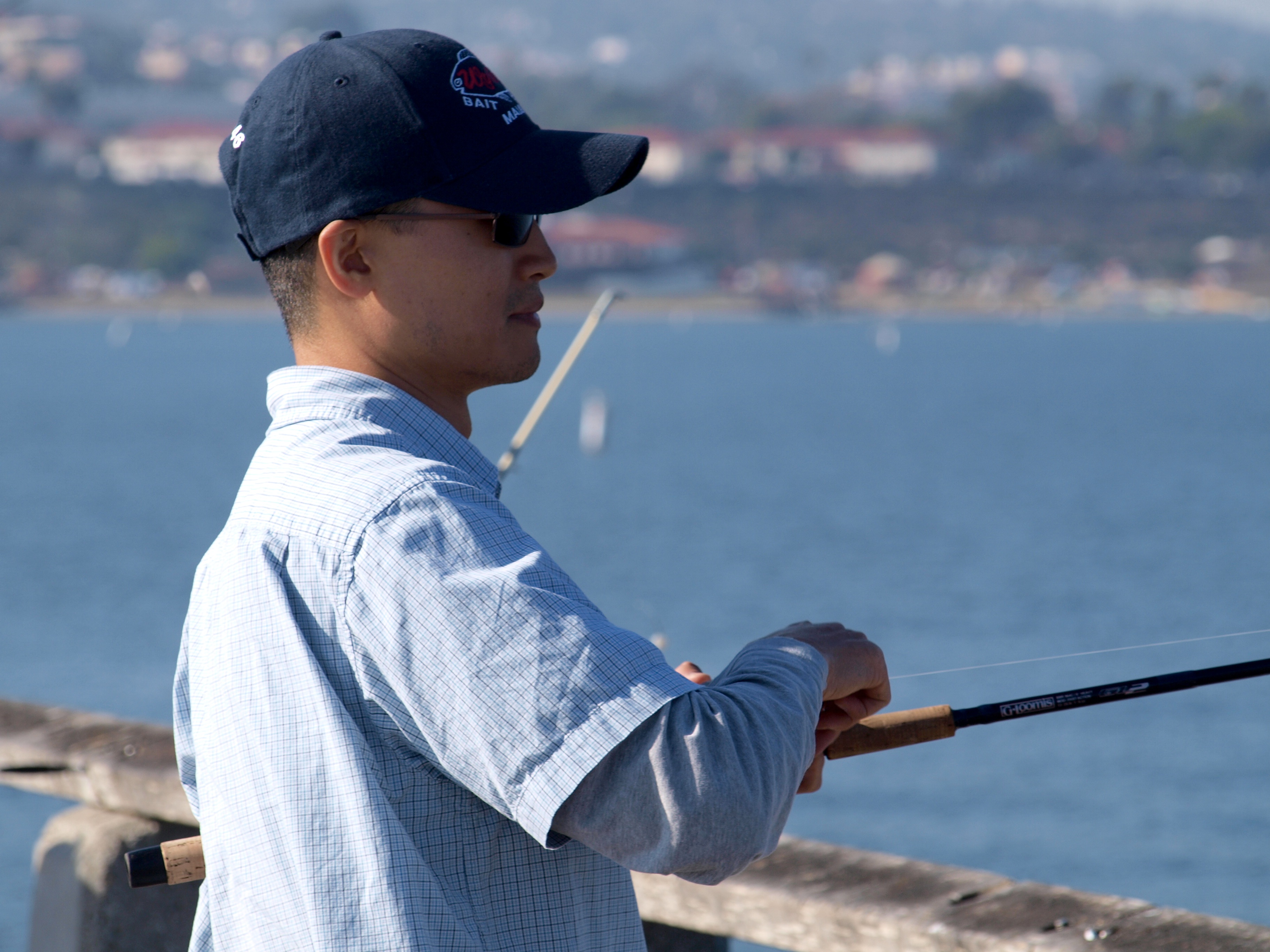 kelpangler  (Eugene Kim)
Did You Know? That the pier has a regular summer Pier Fishing Program? Groups of kids or adults can reserve a time to go to the pier and learn the basics of fishing as well as learn about environmentally responsible fishing and fishing regulations. The program has served up to 1,500 people a summer. The program is sponsored by the Ken Malloy Harbor Regional Park and the City's Recreation and Parks Department.
Did You Know? That the beach on the outside of the breakwater is considered one of the best beaches in the area to see grunion when they make their runs. The small, 5- to 7-inch smelt come ashore at night to spawn, usually four nights in a row after a full moon and a new moon, which is every two weeks. You've got to be there during the two hours of high tide and though the fish can show up from March through August, the season is closed April and May. They can only be caught by hand and those 16 or over need a license.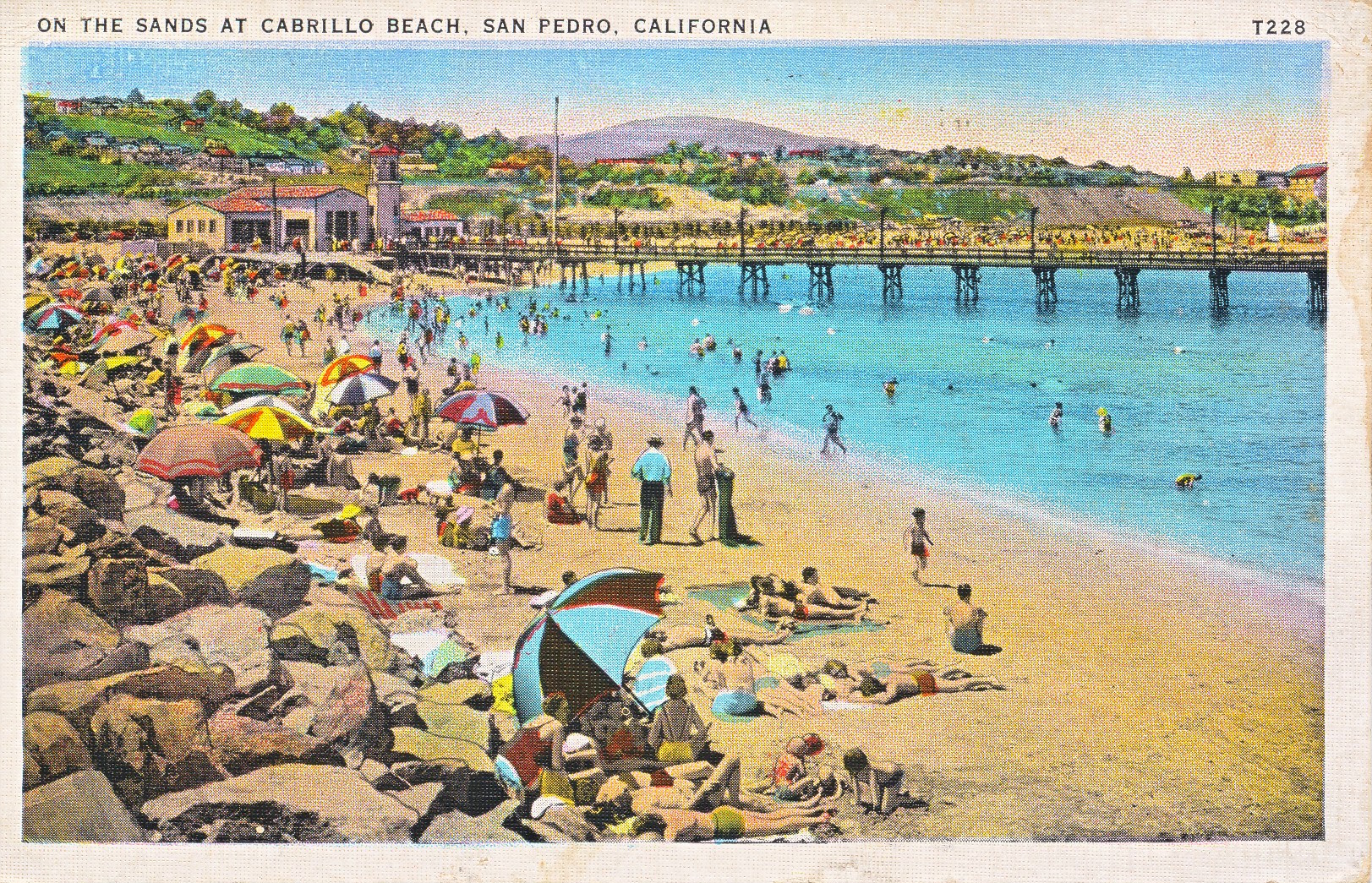 History Note. When one considers the early history of both San Pedro and the Cabrillo Beach area, one is confronted with the tremendous, largely man-made, ecological changes that have taken place. Prior to the construction of the San Pedro Breakwater, the area out near Point Fermin and today's Cabrillo Beach was an oceanfront area, unprotected and open to the whims of winter storms and changing channels. The area to the north and east was largely estuarine (a result of the Los Angeles River) with sandbars, mudflats and salt marshes.
Regardless of possible danger, Sepulveda's Landing, one of California's earliest shipping sites, was located on this point (by 1835). Shortly thereafter, exact date unknown but prior to 1850, the area's first pier, called Tomlinson's Wharf, was built here. Spurred along by the beneficial construction in the 1850s of the Los Angeles and San Pedro Railroad, along with regular stagecoach and wagon service, the area became a major port area.
When a storm in 1858 destroyed most of Tomlinson's Wharf, Phinas Banning decided to move to the better-protected mud flats opposite the old wharf. The spot where he built his new wharf was given the name Wilmington in honor of his birthplace. Deeper water channels were dredged in 1871 and a breakwater was constructed in 1873 between Rattlesnake Island (today's Terminal Island) and Deadman's Island (which no longer exists).
On Rattlesnake Island the small vacation town of Brighton Beach developed and at that town was found one of the earliest pleasure piers in the state.
The construction of the nine-mile-long federal San Pedro Breakwater in 1899 changed forever the nature and ecology of the bay. Today, the Port of Los Angeles and its more than 7,400 acres of land and water (Worldport LA) is one of the largest artificial harbor complexes in the world and is the third-busiest container port in the world (after Singapore and Hong Kong).
Cabrillo Park's beach itself is also largely artificial. It was created in 1929 when dredged material was dumped along the western base of the breakwater. The pier is named in honor of Juan Rodriguez Cabrillo, the Portuguese navigator who, in 1542, was the first to sail up the coast of California and discovered the bay (which he called the Bay of Smokes).
Today's pier was built in 1969 and replaced an older boat pier that had existed near the site for 40 years (and the boathouse from that pier became the Cabrillo Beach Museum). The original pier was built during the Great Depression as a government work project and served many years as a base for sportfishing boats, boat rentals, and fishing barges. The fishing barges Santa Clara, Lighthouse, Bay, Frank Lawrence and Rich Richie were included in the mix.
At Cabrillo Beach — Kids Launch Work On New Fishing Pier
It was a breathless moment. All around, on the brink of a little beach bluff near the lifeguard station, spectators waited. Clay McKinley, 8 years old, of Torrance, gripped the handle of a rusty old shovel. Gene Herrick of Long Beach, project superintendent for Guy. F. Atkinson Co., shuffled a batch of blueprints. He carefully rolled one out.
While the crew watched — hardly daring to breathe — and Clay McKinley stood ready with the shovel, Herrick studied the blueprint, found a mysterious X, then pointed to the earth a yard or so from Clay McKimley's feet, and said: "Dig here!"
"CLANG! SCRAPE!" went the shovel against the gravelly earth. "Ah!" exclaimed the crowd, finally catching a breath.
And that's how the kids — a batch of them, as it happened, from Adams school in Torrance — Tuesday afternoon officially broke ground at Cabrillo Beach, San Pedro, for the million-dollar kids' fishing pier. Well almost a million. Atkinson got the contract from the Los Angeles City Department of Recreation and Parks at $758,133.
And of course, old folks will fish from the pier too, once it's finished a year from now.
Herrick told the young visitors about the pier. "It will be 1,200 feet long. We think it will give fishing space for 1,000 fishermen at a time. We are going to put floodlights under the pier to attract fish.
When the red tape has been cut, the forthcoming pier will have been paid for by city, state and federal funds. It will be the first major recreation construction at Cabrillo Beach since 1930.
San Pedro's chapter of the Izaak Walton League, which has carried the pier fight since first proposing such a pier back in 1963, claims the pier-to-be will provide lucky anglers with herring, anchovies, kingfish, turbot, opal-eye, kelp and rock bass, cabezon, perch, smelt, bonito and other kinds of fish.
The Atkinson Company will start construction of the pier at 7:30 a.m. today by grading a road and installing utility lines. A pile-driver soon will start driving the first of 117 steel-reinforced octagonal concrete pilings 25 feet into the sand. The pier will stand on the sheltered side of the San Pedro Breakwater in water ranging from 15 to 40 feet deep. It will be open to anyone day and night without fee, under city police supervision.
—Dick Emery, Long Beach Press-Telegram, October 9, 1968
 Cabrillo Beach Fishermen Land a Spanking New Pier
 The grownups and children who fish at Cabrillo Beach hooked a really big one Thursday — a brand new $825,000 pier. They didn't throw it back, but reeled it in —all 1,200 feet of the Cabrillo Beach Fishing Pier they'd been dreaming about for five years. There was a formal dedication ceremony at which Los Angeles City Councilman John S. Gibson Jr. presented the pier to retired newspaperman Charles Crawford, who sparked the five-year campaign to have the structure built.
The beaming Crawford thanked Gibson and promptly gave the pier "right back to the people." "The taxes might be pretty high if I kept it," Crawford quipped.
Crawford, president of the Izaak Walton League of San Pedro, turned serious long enough to warn his audience of 300 anglers to keep the 20-fool-wide structure clean and in good repair.
The pier runs parallel to the old San Pedro break- water south of Cabrillo Beach. Raymond N. Nesbit, executive officer of the stale Wildlife Conservation Board, explained why it's inside the breakwater. "There's just one reason —a million dollars. That's how much extra it would have cost to build it to withstand the ocean forces." The $825.000 cost of the pier originally was scheduled lo be divided equally between the City of Los Angeles and the Wildlife Conservation Board. But new federal legislation changes that. Uncle Sam will pay half the price.
After all the words were spoken, and the sounds of the ceremony faded away, the crowd got down to serious business — fishing.
—Long Beach Press-Telegram, October 10, 1969
In 1987 the City of Los Angeles agreed to take back the pier from the financially strapped County of Los Angeles. It was a godsend for the pier; shortly thereafter, in 1988, $180,000 was spent to repair and resurface the deck of the pier. In 1995 an additional $1.5 million reconstruction was approved (which turned out to be $1.8 million).
In 1997 the pier was closed for renovation. The structure was strengthened, new railings were installed, the walkway was resurfaced, a new water system together with drinking fountains was installed, and the fish-cleaning stations were reconnected. The old restroom and snack bar area (long locked up) was removed and an extension out from the pier was made in that area.
Another San Pedro fishing pier was once located at White Point, just a few miles around the bend from Cabrillo Beach. Enshrined as a park in 1997, the White Point/Royal Palms Shoreline Complex shows little of what once was a busy Japanese-American spa and fishing area.
Around 1898, twelve young Japanese-American fishermen discovered an abundance of lobster and abalone on the nearby reef. Ramón Sepúlveda built housing for them on the shore, and they soon were harvesting two tons of abalone a day. However, in 1906, with stocks being rapidly depleted, the state legislature restricted the take and the operation ended.
Soon after, in 1910, Tojuro Tagami and his brother Tamiji decided to build a resort around the hot water springs in the area, springs that Tojuro had found to be beneficial for his arthritis. They dug out the sulfur hot spring and built roads, a bathhouse, saltwater swimming pool, hotel, restaurant, guest cabins (originally used by abalone fishermen)—and a fishing pier. It was reported that the "Spanish mackerel, bass and jacksmelt were plentiful." Eventually boats would haul anglers out to two offshore fishing barges.
The White Point Hot Spring Hotel and spa were popular in the 1920s and early '30s, but suffered after the Long Beach earthquake of 1933 closed the vent from which the hot sulfur water was pumped to the baths. The lean years of the Great Depression itself also hurt business at the hotel but the final blow was World War II. Executive Order 9066 soon called for the removal of all Japanese-Americans from the West Coast and the Tagami's were ordered to leave. The Army took over the resort and the spa was demolished. The shoreline as well as the hillside above was soon equipped with machine guns awaiting a Japanese attack on California. The attack never came. After World War II, Nike missiles were placed in the area to fend off an attack from the commies. Again, the attack never came. In time 38 acres were turned over to the County of Los Angeles and a park, minus machine guns and Nike missiles, was built. Unfortunately the pier, located in what became known as "Issei Cove," is long gone and today just history.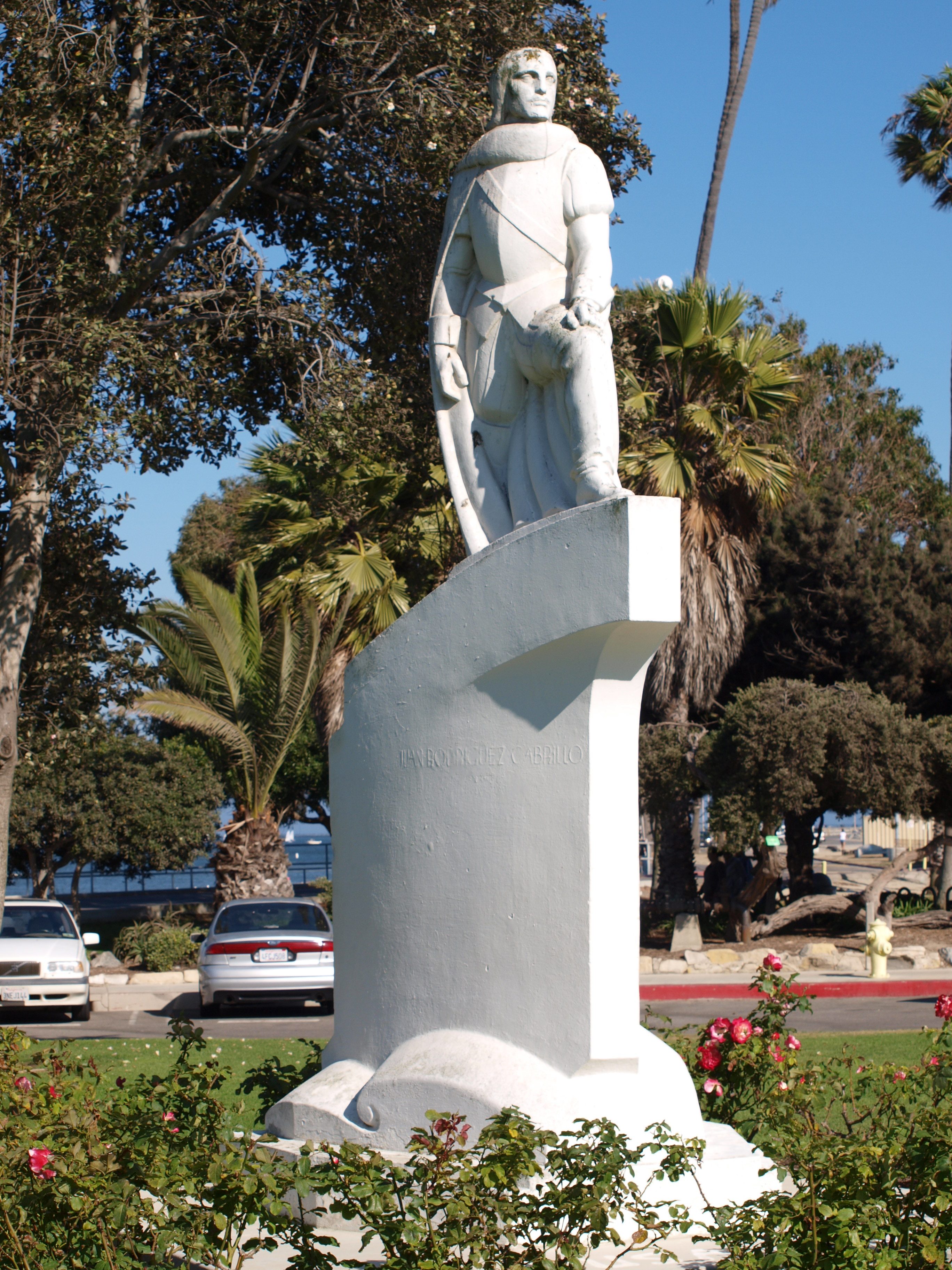 Cabrillo Pier Facts
Hours: The park gates are open from 5:00 a.m. to 10:30 P.M.
Facilities: The pier has only a few facilities—a few benches and fish cleaning sinks but no lights. There are portable restrooms found near the front of the pier. Parking is $1.00 an hour with a maximum of $9.00.
Handicapped Facilities: There is handicapped parking but no restrooms. The pier's surface is cement and the rail height is 44 inches. Posted for handicapped.
Location: 33.70751746170015 N. Latitude, 118.27554702758789 W. Longitude.
 How To Get There: Take the Harbor Freeway (I-110) south; it will turn into Gaffey St. Follow it to 22nd Street and turn left. Follow 22nd St. to Pacific Ave. and turn right. Follow Pacific Ave. to 36th Street and the entrance to Cabrillo Park.
Management: City of Los Angeles, Parks and Recreation Department.