Public Pier — No Fishing License Required
I've known several people over the years that considered themselves experts at everything. In common vernacular they were know-it-alls. Rarely did their knowledge match their egos. However, I have also known a couple of people whose knowledge and range of interests were astounding. One was Bob, a neighbor of mine back nearly forty years ago when I was just beginning to fish. Bob was a Kramer-like personality (think of Seinfeld), a gonzo type (before the word was even invented), and a maverick who had a million and one projects going full bore at all times. He was a Renaissance sort of guy and a true 20th Century polyhistor. Although he never personally claimed to know-it-all, and displayed little sense of fanfaronade, his actions indicated that he thought he did. I certainly thought he was an expert at everything. He probably wasn't, but he did like to tinker and invent and he did have a working knowledge about many, many subjects.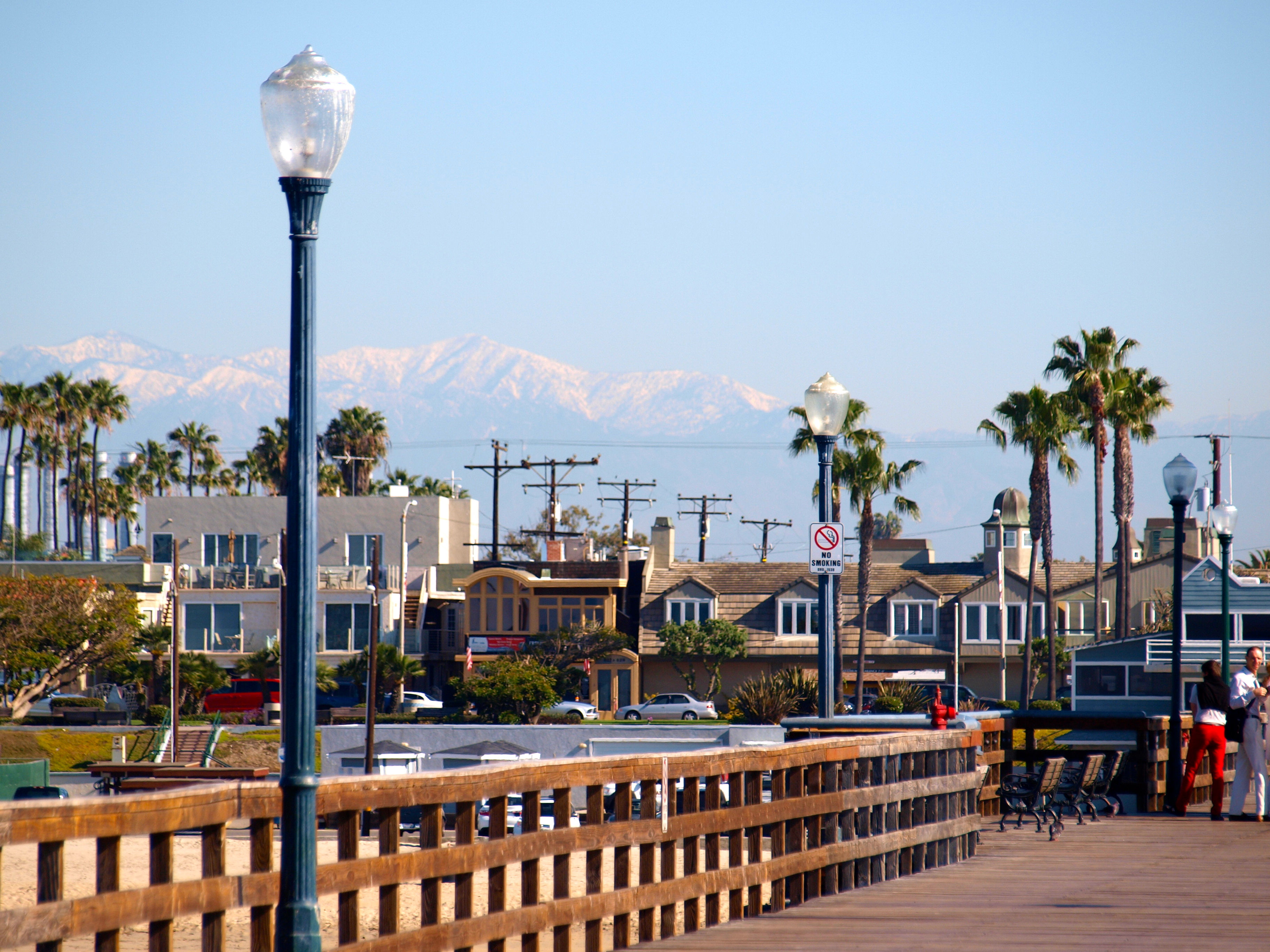 Snow-clad mountains are sometimes a winter-time treat
He also had, in the eyes of this naive fifteen-year-old child, a truly amazing workshop. The shop was huge and filled with a variety of objects, most with no discernible purpose in life. I don't think Bob had thrown away any usable parts of any usable contraption for fifty years (and he was about seventy years young at the time I knew him). There were tools, old signs, bottles, Geiger counters, and thousands of similar items. His pride was the skull and horns of a Texas Longhorn (and it was, in truth, interesting). Included in the mélange were a few hundred spiders and at least a like number of spider webs. It wasn't exactly a chemically clean or even clean environment (in fact it would probably be considered a toxic waste site by some today). Nevertheless, amidst this "junk" was a corner reserved for his fishing equipment. Seven split bamboo rods of various lengths and strengths! A box of reels for everything from surf to deep, deep-sea fishing! And hundreds of lures, hooks, leaders, sinkers and accessories that he had accumulated over the years, most in excellent condition. Bob was a fisherman, a semi-regular at Newport Pier, and one of my early mentors.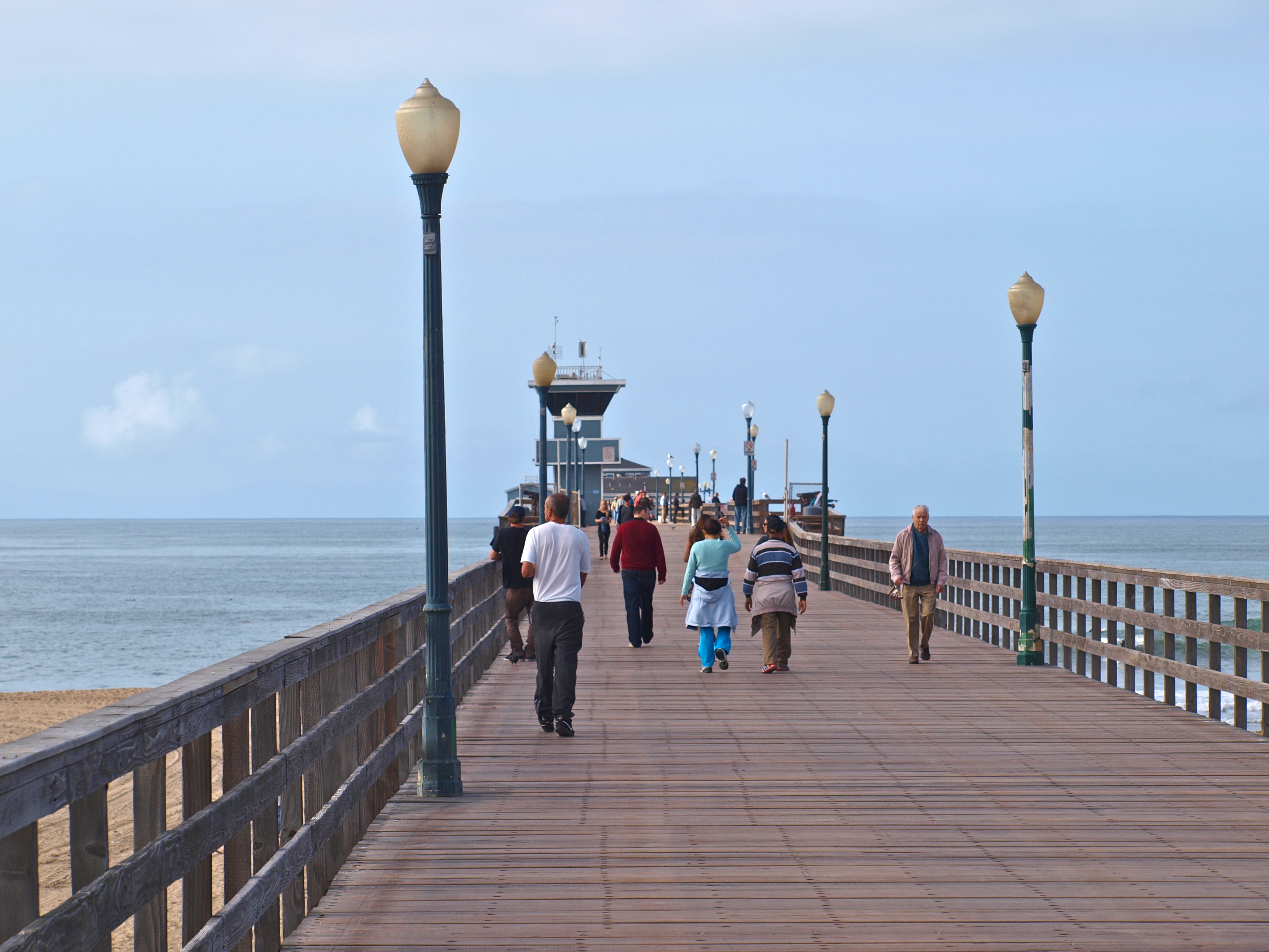 One day Bob asked if I would like to go up to the Seal Beach Pier. Since my normal trips were limited by the distance I could travel on my bulky Schwinn bike, it was an offer I quickly accepted. A few nights later, Bob and I were headed north on the Pacific Coast Highway in his old but reliable Dodge truck. The destination was Seal Beach and the pier. The night proved warm, the water was flat, and the fishing was slow (I caught three queenfish in four hours). Nevertheless, we still had a good time at the pier. Then, on the way home, Bob offered up one of his "golden rules," and he had many of these little homilies."If you want to catch bonito, fish at the Newport Pier. If you want to catch tomcod, go to the Huntington Beach Pier. If you want to catch herring, go to the Seal Beach Pier." It was a straightforward expression of his belief. But was he right?
My recent trips have shown a much-reduced catch of bonito at Newport, and a continued, though reduced, catch of tomcod at Huntington Beach. What about Seal Beach? In July of 1990, two hours of jigging with a Lucky Lura leader resulted in 90 fish: 84 herring (queenfish) 3 Pacific mackerel, 2 extra large sardines, and an unusual four-inch long barracuda. Yes, I guess the queenfish are still present! Of course I shouldn't have been surprised; visits over the years have yielded nearly 17 queenfish per trip and most of these visits were of only two to three hours in length. So maybe Bob was right!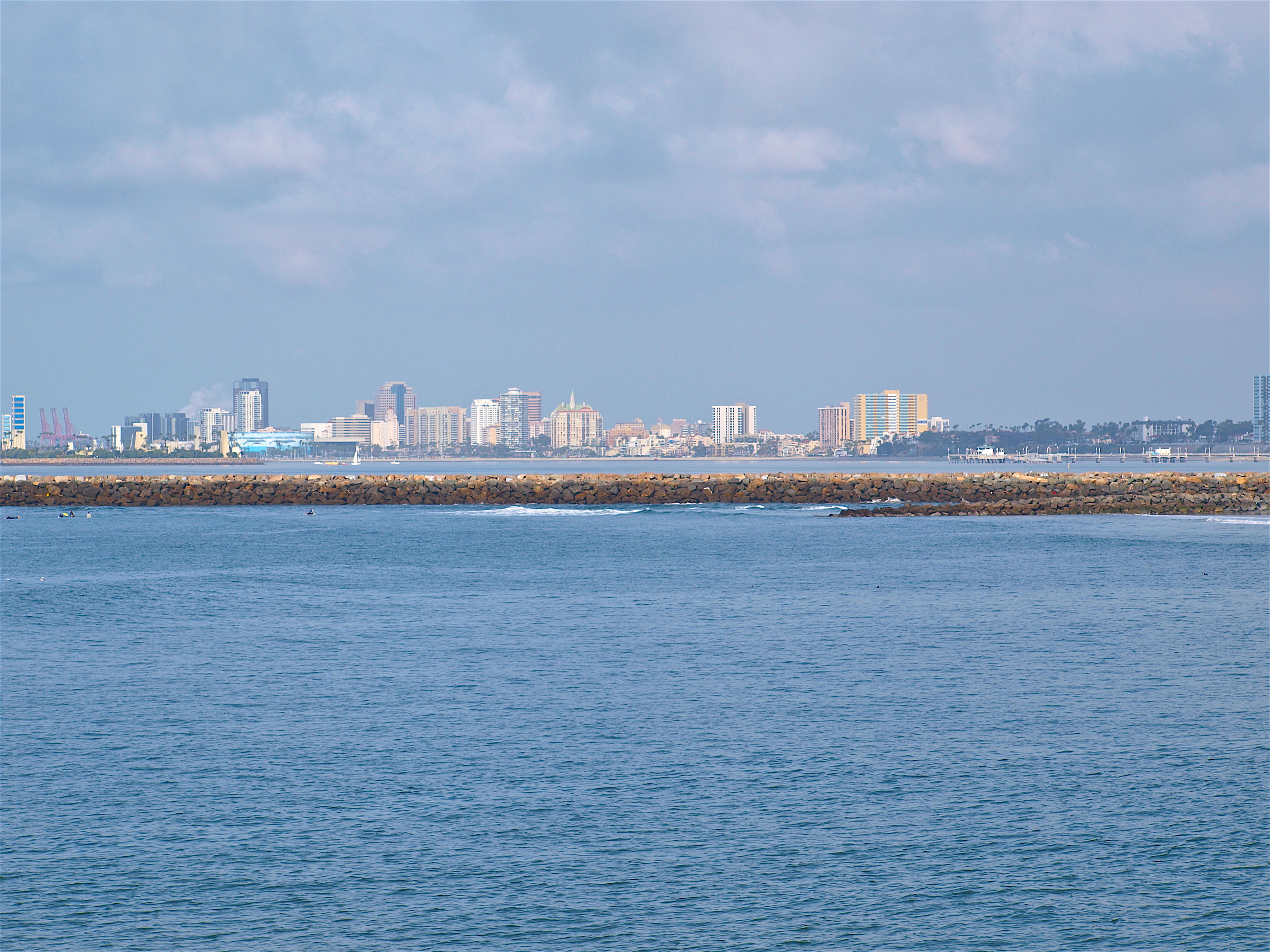 Long Beach and the outlet of the San Gabriel River
Most of the queenfish are small but mixed in will be an occasional plump, pan-sized fish, a fish big enough to save and eat. However, most of the regulars at the pier fish for the smaller queenies and are most excited when they catch an especially small fish. That fish represents prime halibut bait and that is what the experts (regulars/pier rats) are after. Unfortunately, most of the tasty flatfish today are under the minimum size. Still, halibut are one of the premier fish for pier anglers and Seal Beach seems to offer up quite a few halibut. So Bob was only half right, there are queenfish at this pier but also halibut and many other fish; in fact, it is also one of the best piers for a variety of croakers.
Environment. The pier's environment is affected by a variety of factors, many of the man-made variety. Just east of the pier is the entrance to the Anaheim Bay-Huntington Harbor-Bolsa Chica Bay complex. These bay and estuary areas act as nursery grounds for young fish that eventually move out into the waters of Seal Beach and adjacent areas. Just west is the outlet for the San Gabriel River (with water warmed by the discharge from several power plants), the inlet to Alamitos Bay, and the beginning of San Pedro Bay, a huge, heavily industrialized body of water.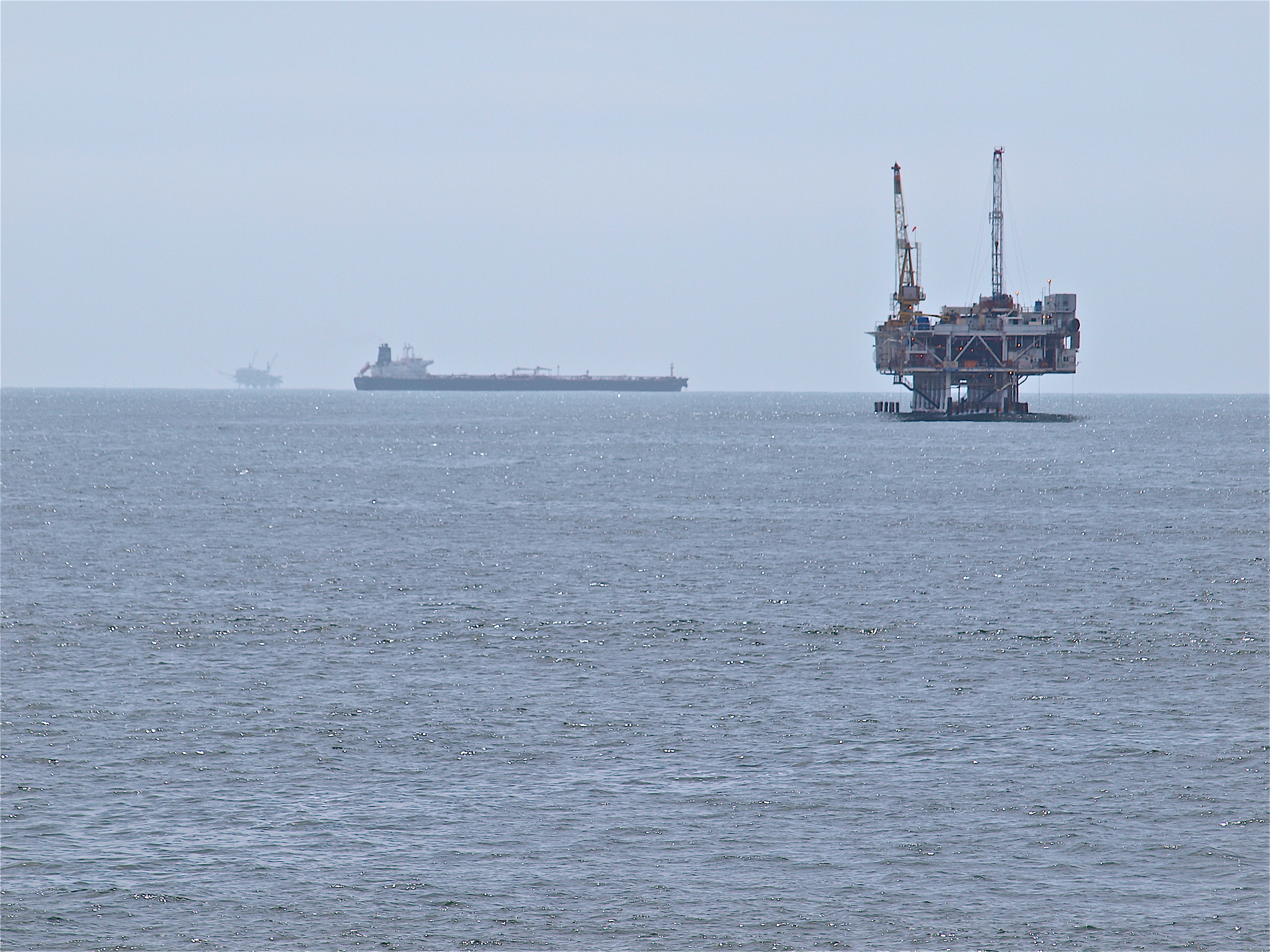 Oil wells sit a short distance offshore
An immediate impact is seen in the concrete seawall (or groin) that parallels the pier from the shoreline to about halfway out on the west side of the pier. Because the San Pedro-Long Beach breakwaters changed the local ocean currents, the seawall is necessary to prevent sand from being carried away and the only way to prevent the pilings from being undermined. The seawall does make it harder to fish the inner portion of the pier on the west side (if you're casting out) but it also provides protection for the beach and very calm water on the south side of the pier. The wall also presents a fairly unique, mussel-covered fishing area straight down from the pier, one heavily utilized by fishermen.
The warm water from the San Gabriel River offers a second man-made affect when the currents cooperate and bath the pier in water that is warmer than surrounding areas. Warm water attracts warm water fish and species occasionally show up at the pier that are relatively rare for the area (bonefish, triggerfish, sea turtles, etc.). When the exotics show, they often leave the locals scratchin' their heads and wonderin' about the fish they just caught.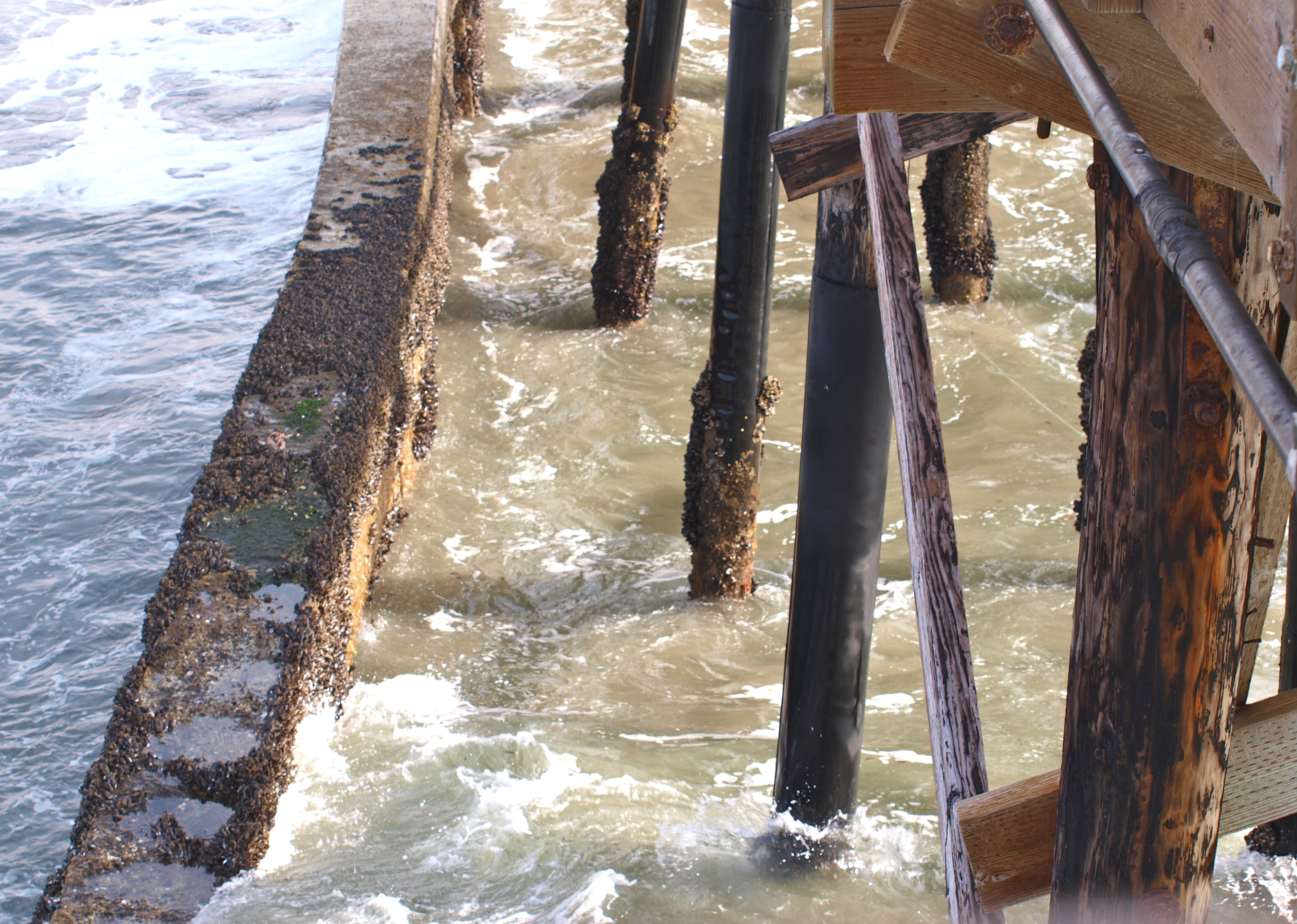 An area for perch when the water isn't too rough
Additional artificial conditions result from a quarry-rock reef that was constructed just out from the pier in the mid 1960s. It still seems to bring in species such as cabezon that are infrequently caught at sandy-shore piers like Seal Beach.
Unfortunately the proximity to San Pedro Bay can also cause a few problems. Because of heavy pollution, some of the fish in these waters may not be safe to eat in quantity, fish such as tomcod (white croaker). Another result of the closeness to the breakwater is very mild wave action in the surf on most days. This is a good area for corbina and one of the best areas for spotfin croaker, China croaker (black croaker) and sargo. For the most part, the bottom around the pier is sand, pilings have a good growth of mussels, and water is fairly shallow.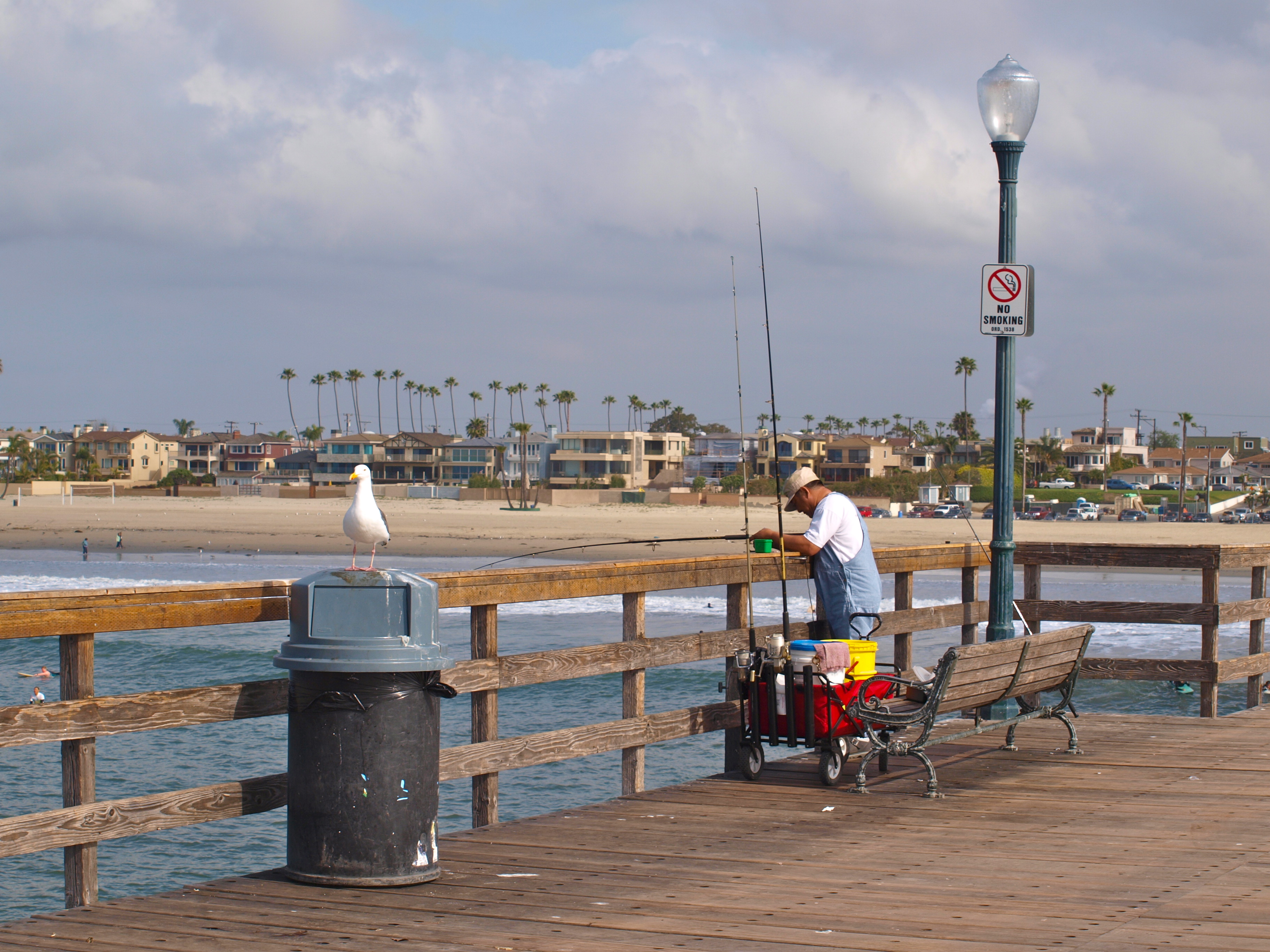 Although the pier is long, fishing is fairly similar inshore to mid-pier while the end does produce a little different action—at times. In the shallowest splash zone, anglers can expect corbina and possibly barred surfperch. Just past the breakers anglers can expect yellowfin and spotfin croakers, barred surfperch, thornback rays and sometimes way too many plate-sized round stingray (generally during the summer months).
As the water gets deeper anglers can expect more of these species but will see more of the smaller croakers, white croakers (tomcod) and queenfish (herring), some sargo, the smaller perch (especially walleye surfperch), jacksmelt, diamond turbot, halibut, and a few bass (mainly sand bass). Most of these will be caught on the bottom of midway up in the water column. This area should also produce thornback rays, smoothhound sharks (leopard sharks and gray smoothhounds), shovelnose sharks (guitarfish) and some bat rays. Top action will see an occasional flurry from pelagic species such as mackerel, barracuda (generally at night) or bonito (some years).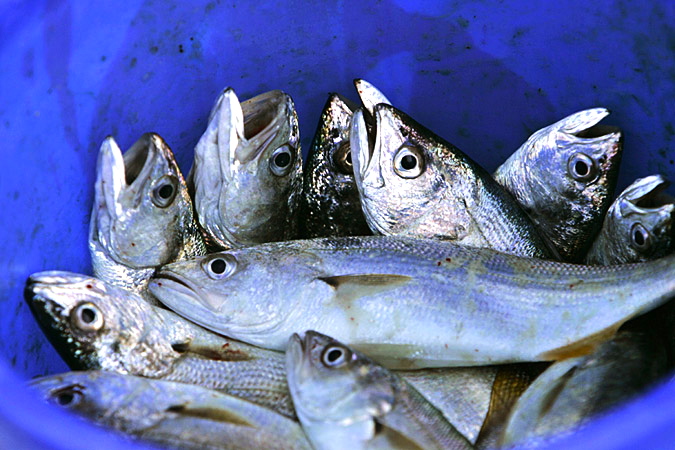 Queenfish
Mid-pier, down around the pilings can produce blackperch (buttermouth), pileperch and some of the larger rubberlip seaperch. The piling area, mid-pier to the end can also produce a few scorpionfish (sculpin) typically at night and especially during the winter months.
The end area sees most of the larger sharks and rays, most commonly bat rays or shovelnose sharks. Occasionally larger sharks such as soupfins or threshers will show up but they're usually youngsters (a 70-pound thresher was caught in March of '00) and when they do they will generate considerable interest. Of interest too was a small 3-foot-long hammerhead shark landed one day in August 2005 by a startled and probably somewhat confused angler; another hammerhead was landed in July of 2015. Two members of the family Rajidae have been reported to PFIC, a big skate (Raja binoculata) in 2001 and a California skate (Raja inornata) in January of '08.
The end area also seems to be the spot where most of the pier's cabezon have been caught (and quite a few of the "king" of the sculpin have been reported during the past few years). Since cabezon are more commonly taken from southland rocks and jetties their appearance is somewhat surprising; most likely it is due to the nearby artificial reef.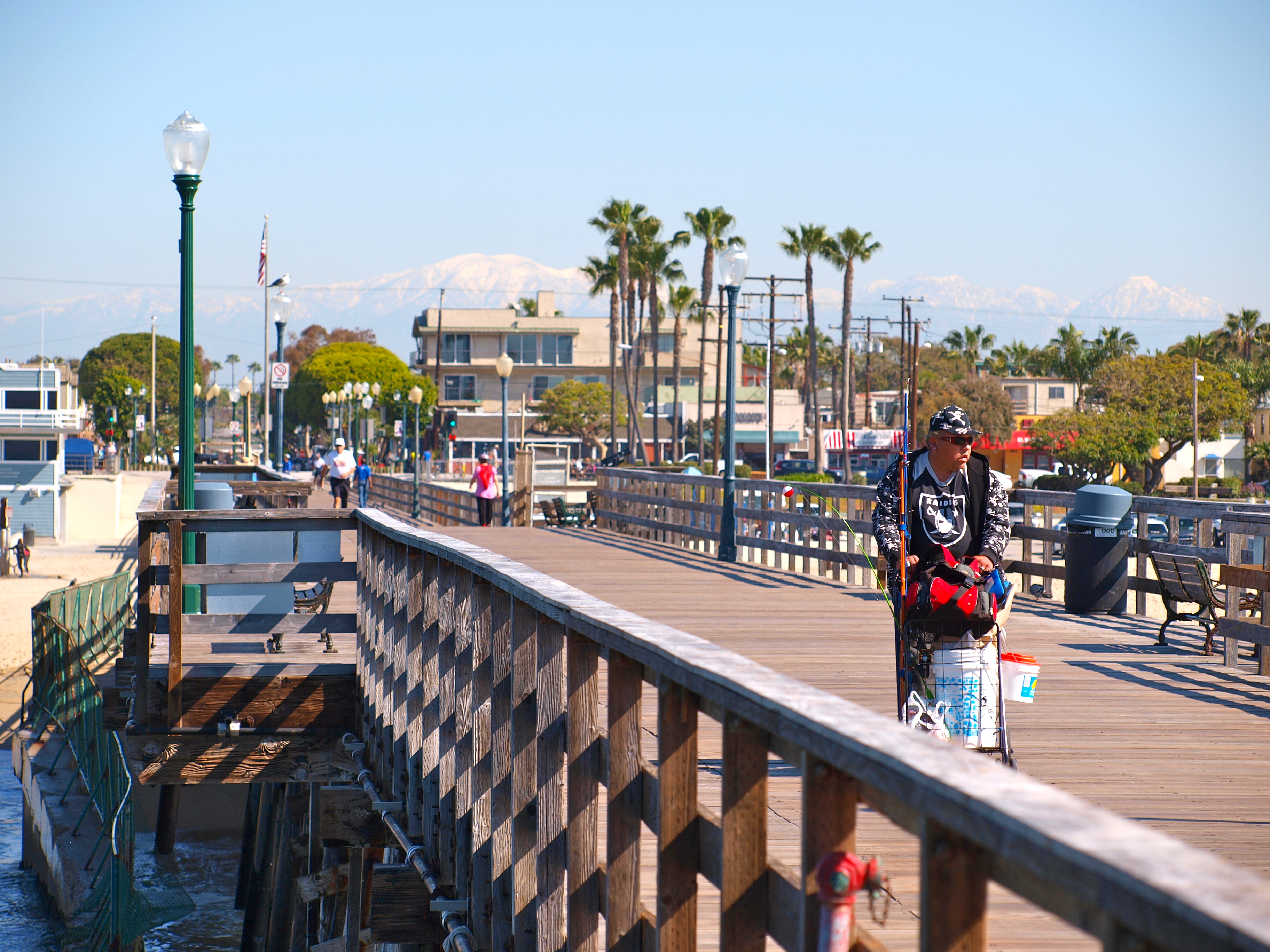 You may occasionally see long, slender fish cruising near the surface of the water. First impressions are that they are barracuda but usually they turn out to be needlefish that have ventured out from the waters of Alamitos Bay and Anaheim Bay. You can try for these with a bobber and a live fish like smelt, but they are hard to hook.
Unusual fish have included a 20-pound striped bass in April of 1998; another striper, although smaller, was taken a month later. In January of 2009 a cusk-eel was taken from the pier. El Niño, warm-water years (like 1959) will often see more exotic species landed. A Pacific bumber (Chloroscombrus orqueta), once called Pacific yellowtail jack, was caught September 13, 1959 from the pier while a Pacific threadfin (Polydactylus approximans) was recorded from Seal Beach on March 3, 1959.
In November of 2009 two juvenile Mexican lookdowns (Selene brevoortii) were taken from the beach by net. The fish, commonly found from the southern tip of Baja down to Panama, had been recorded as far north as San Diego during the 1997-98 El Niño but never north of that area.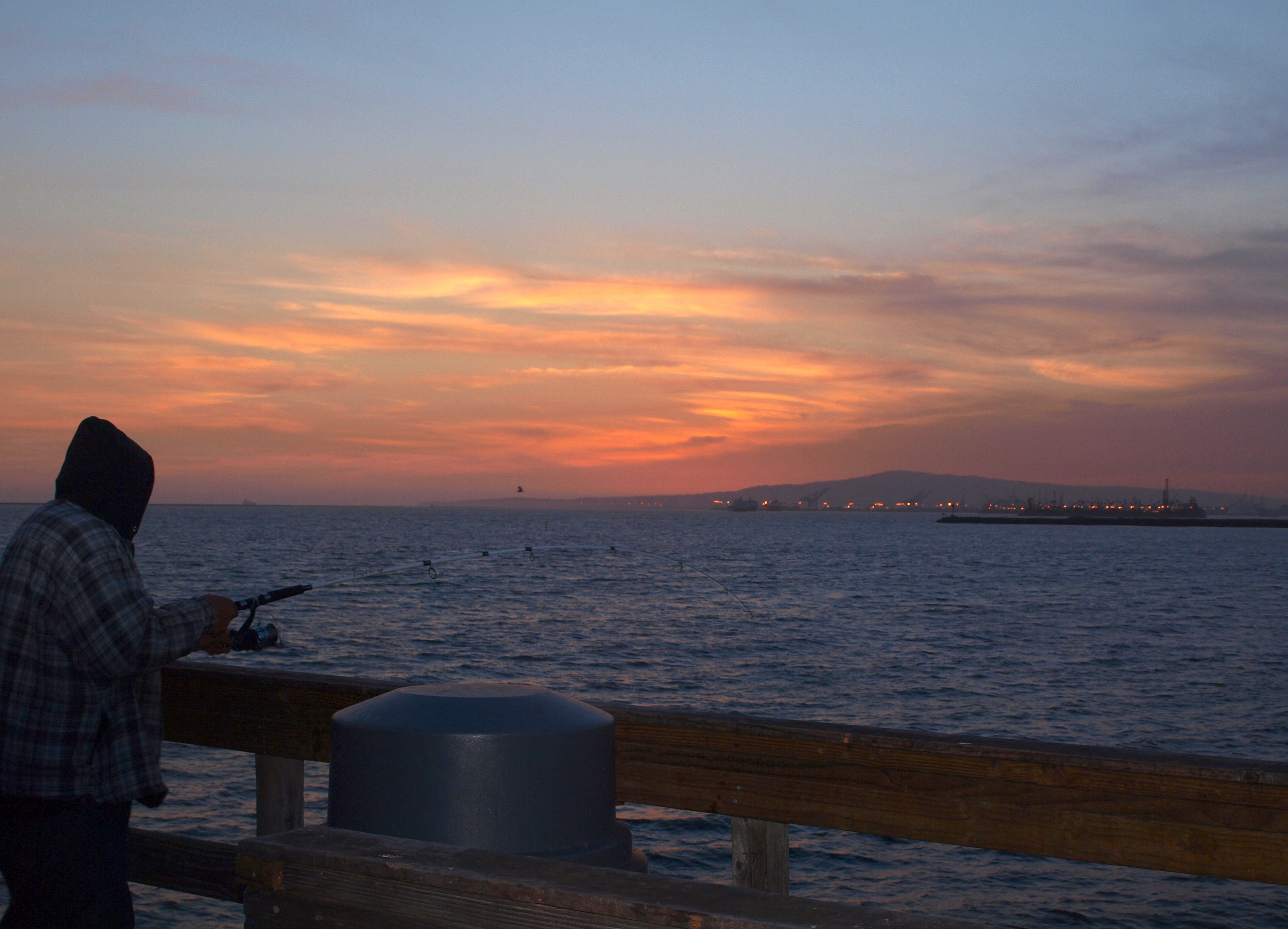 One fish you may spot that is actually common, although rarely caught, is striped mullet. Since the fall of 1999 PFIC has received several reports of large schools of mullet hanging around the inner sections of the pier. Apparently some of the schools contained hundreds of 2-3-foot-long fish. Break out the dough balls, light line, and tiny hooks if you want to try to catch them (although they're more commonly snagged).
Fishing Tips. As mentioned, there are two distinct fisheries at the pier. From the mid-pier area to the end, use two rods. For the smaller fish, especially queenfish, use light tackle and a multi-hook Lucky-Lura or Sabiki-type leader with size 6-8 hooks. Drop the leader to the bottom and simply lift up and down; this works better than a jerky motion. If you are not getting any fish, try your leader at different depths. If schools of queenfish are present, they shouldn't be too hard to catch. I say present because the queenfish typically move into these waters by the first of June and stay resident throughout the rest of the summer and fall. During the winter they head out to deeper water and tend to be replaced by schools of walleye surfperch. If the queenfish are absent, size 8-12 multi-hook riggings will take a variety of other small fish—topsmelt, jacksmelt, salema, and an occasional Pacific butterfish (pompano). Sometimes these species like the hooks sweetened with a small piece of worm, strip of mussel, or small piece of shrimp. If present, mid-pier to the end can see schools of sardines by the pier. The sardines are prime live and dead bait and luckily are pretty easy to catch with the small hook size (8-12) bait rigs.
Use a slightly heavier rod for halibut and use live anchovies, sardines or small queenfish rigged on a halibut leader as your bait. Although halibut may be caught almost anywhere from the pier, I like to try the depressions between the pilings; these areas often harbor good numbers of the flatties. Cut anchovy on the bottom will yield some white croakers, sand bass, kelp bass, sharks and rays.
As mentioned, the end area is usually the prime area for those seeking the bigger sharks and rays. If specifically seeking out the large threshers and bat rays, come prepared with a heavier rod and reel, 40-60 pound test line and a 6/0 to 7/0 hook. Try a trolley rig with a live mackerel or sardine for the threshers, use cut squid or a bloody piece of mackerel on the bottom for the rays. Many a large thresher is hooked from the pier but few are landed.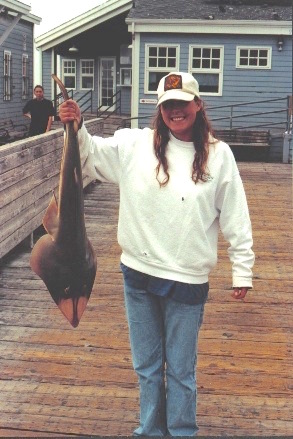 "Mary" was kind enough to hold up my shovelnoe guitarfish
Many mid-sized bat rays are landed but most of the bigger beasts are lost. And, the bat rays do reach gargantuan size. In March of '01 there was an influx of the big mud marlins that coincided with the invasion of local beaches by grunion. A 140- and then 160-pound fish were caught and weighed. Then the really BIG fish was landed, an estimated 200+ pound bat ray that dwarfed the earlier fish and required five guys to lift up to the pier for pictures. Soon after, the happy angler announced that he wanted to release the prize and the party of five had to once again lift up the heavy beast before lowering it down to the water. Just hope it survived the ordeal (but I doubt it). Another big bat ray, estimated to weigh 170 pounds was landed in May of ''001. Several anglers who specialize in sharks and rays feel that Seal Beach offers the best chance to get the really big, 100+ pound mud marlins, and they may be right.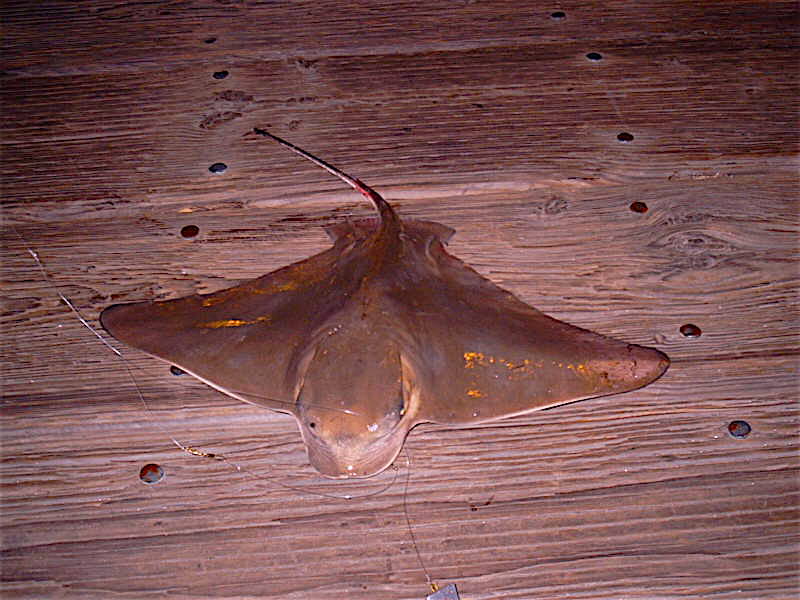 Bat ray
Just to demonstrate the power of the grunion gods, halibut also began to hit fast and furious during the grunions' visit to the inshore waters around the pier. Many, many flatties were caught including several keepers every day. Although most of the hallies were caught on fresh or frozen bait (including grunion), PFIC reporter Dillon decided to cast out a lure—a Wham Lure (that looks like an anchovy) from the side of the pier. His result—a keeper, 26-inch fish.
Local expert George Van Zant reports that the bottom slopes rather rapidly on the eastern side of the pier reaching a depth near 20 feet by the end. He also says that there is a shale-like bottom area out from the pier that is home to many a large halibut. Though great for boaters it's supposed to be just outside of normal casting range for most pier anglers. If adventurous, you might try a trolley rig in the area, casting out your sinker and then sliding live bait down the line. You would probably need an eastern flowing current for this to work with the hallies but it might be worth a try. As for myself, I've always had pretty good luck fishin' the depressions between the pilings.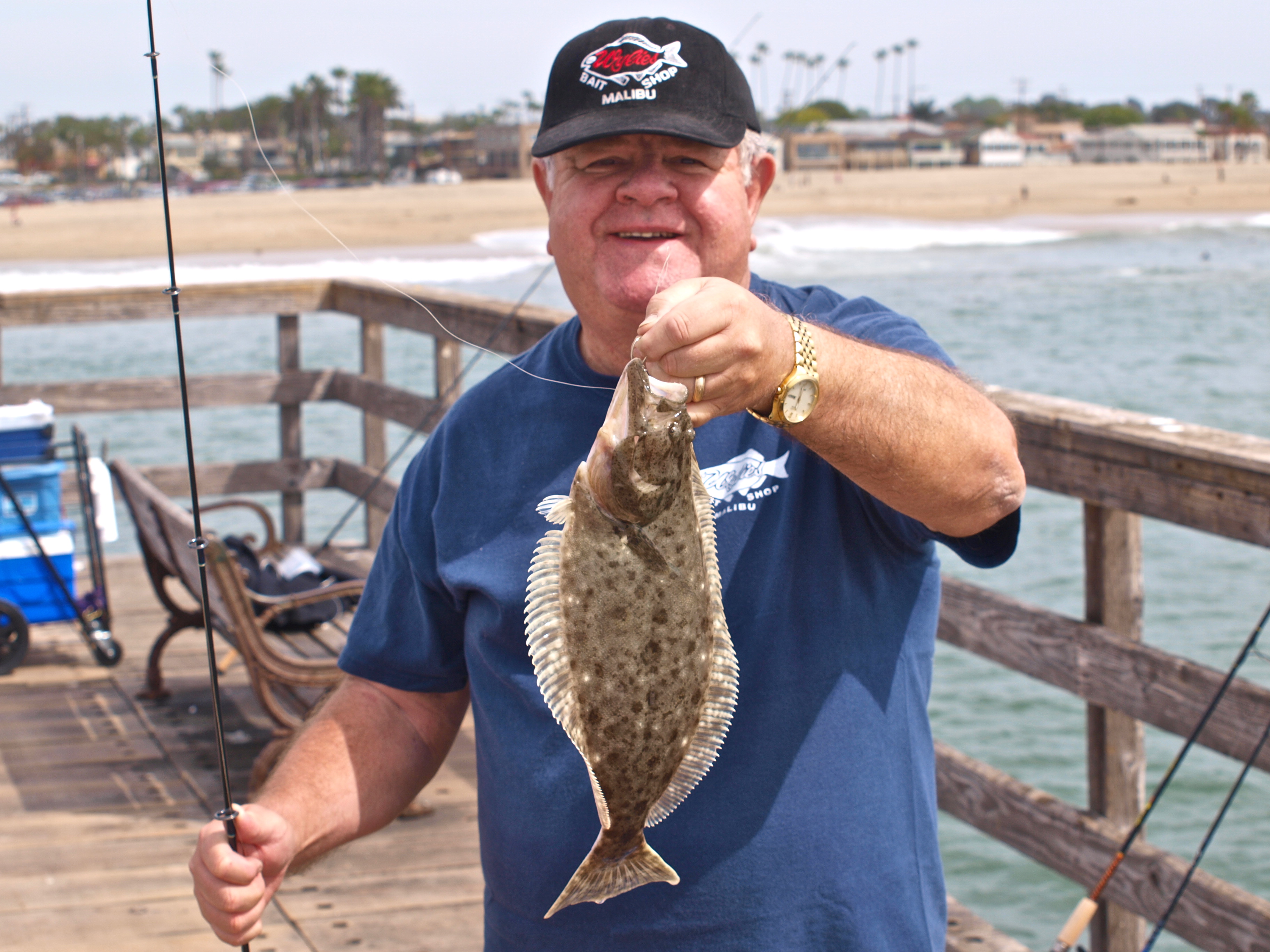 I'm smiling but the halibut was too small, it went back into the water
Another regular, Bobbie Lienau, reported local anglers "walking" their baits for big halibut. They will use fresh anchovies, smelt, grunion or small queenfish as bait and bury a fairly good size hook in their head. They cast straight out using as light a weight as possible and then slowly walk the bait down the pier. The key is a fairly empty pier (since you're using up quite a bit of area). Quite a few halibut in the 13-18 pound range have been landed using this technique. Another key according to Mr. Lienau is to use fairly light line; I would recommend using fluorocarbon to fool the hallies.
A final note on halibut is the use of lures by some of the locals. A variety of lures have proven effective including Big Hammer swim baits and Berkley Gulp! Jerk Shad (in the sapphire shine color).
One area I like to fish is where the now vacant bait and tackle shop once stood.   I've had some tremendous luck on buttermouth (black perch) there as well as good action on the big pileperch that like to drive people a little crazy. The pileperch will swim languidly around the pilings as well as back and forth from piling to piling all the while in water shallow enough to be seen by anglers up above. But seeing them and getting them to bite are two different things. The piles are epicurean and want something similar to what they see on the mussel-encrusted pilings that they are checking out. Fresh mussels and small sidewinder crabs are the answer for bait while light tackle is helpful in attracting the line-shy perch. I usually use 6-8 pound fluorocarbon line, a size 8 hook, and just a small twist-on sinker for weight. Drift your offerings right up against the piling and be prepared for a quick, hardly-detectable bite. Then hang on as the fish will try to wrap you around the pilings. A successful operation can yield perch in the 14-16 inch range. If you're lucky you might also see an even larger rubberlip seaperch.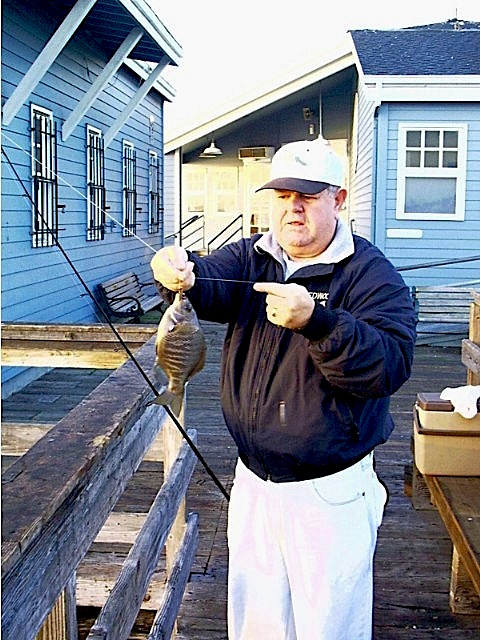 Blackperch in my former "favorite spot"
This same area saw the capture of an estimated 25-pound big skate in the winter of '01 by PFIC regular Jimbojack. The fairly uncommon fish, at least to southland piers, with a 32" wingspan and 42" length, hit a piece of mackerel and provided a spirited fight before being netting.
The mid-pier area to inshore yields a mix of different fish—halibut, croakers, sargo, jacksmelt, stingrays, thornback rays and sharks (mainly gray smoothhounds and leopards). A fairly frequent catch is diamond turbot. Although caught in fair numbers most months of the year, some years will see a good late-winter, early-spring run of the tasty little flatfish. Bait of choice by most locals is ghost shrimp.
Inshore, fish on the bottom for spotfin croaker (to 8-pounds), yellowfin croaker, China croaker (black croaker) and corbina. Best baits are fresh mussels, bloodworms, lugworms, ghost shrimp or sand crabs. Leaders can be either a high/low leader or a sliding bait leader. Early evenings are the best hours for all of these large croakers.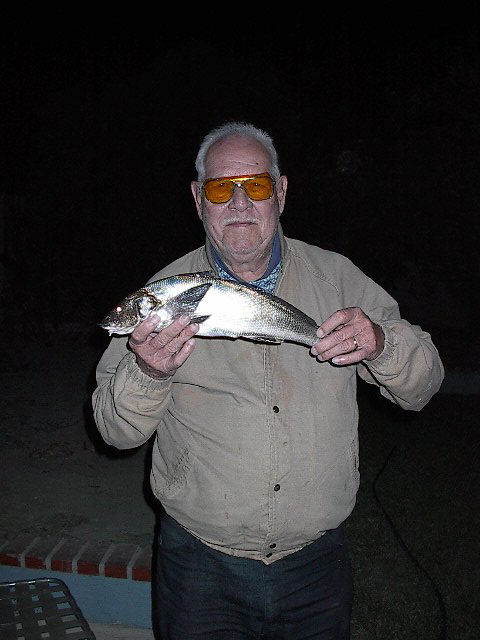 I got a note one day from Jimbojack who said, "grandpa got this corbina"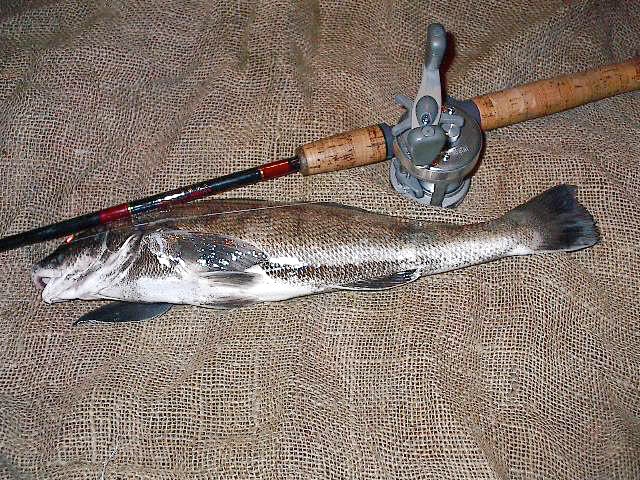 The same baits, in the same area, will also yield some surfperch, especially in the late winter, early spring months. Squid or anchovy fished on the bottom in the shallower areas will often produce round stingrays, thornback rays or shovelnose guitarfish, especially after the sun goes down.On the eastern side of the pier, just inside the lookout station, you can try using soft plastics for the barred surfperch (and don't be afraid to try in the shallowest water). It's obviously harder to fish the plastics from the pier than if you were standing in the surf but anglers still report success on the tasty perch. Many colors will work but root beer colored grubs and motor oil with red flake grubs traditionally were rated near the top. However, Berkeley Gulp! products are becoming the choice of lures for many surfperch aficionados.
For something a little different try fishing the inshore section on the west side of the pier (between the pier and the seawall) with fresh mussels, bloodworms or lugworms. You only have a few feet of space to fish so you're generally fishing straight down but it's an area covered with mussels and often yields a variety of seaperch (especially blackperch, walleye surfperch and silver surfperch), perch-like fish (blacksmith, opaleye, halfmoon), sargo and even an occasional cabezon. Sargo, by the way, have been reported here exceeding 7-pounds in weight. Since the state record is only 4 pounds, 1 ounce, grab some live ghost shrimp and see if you can set a record.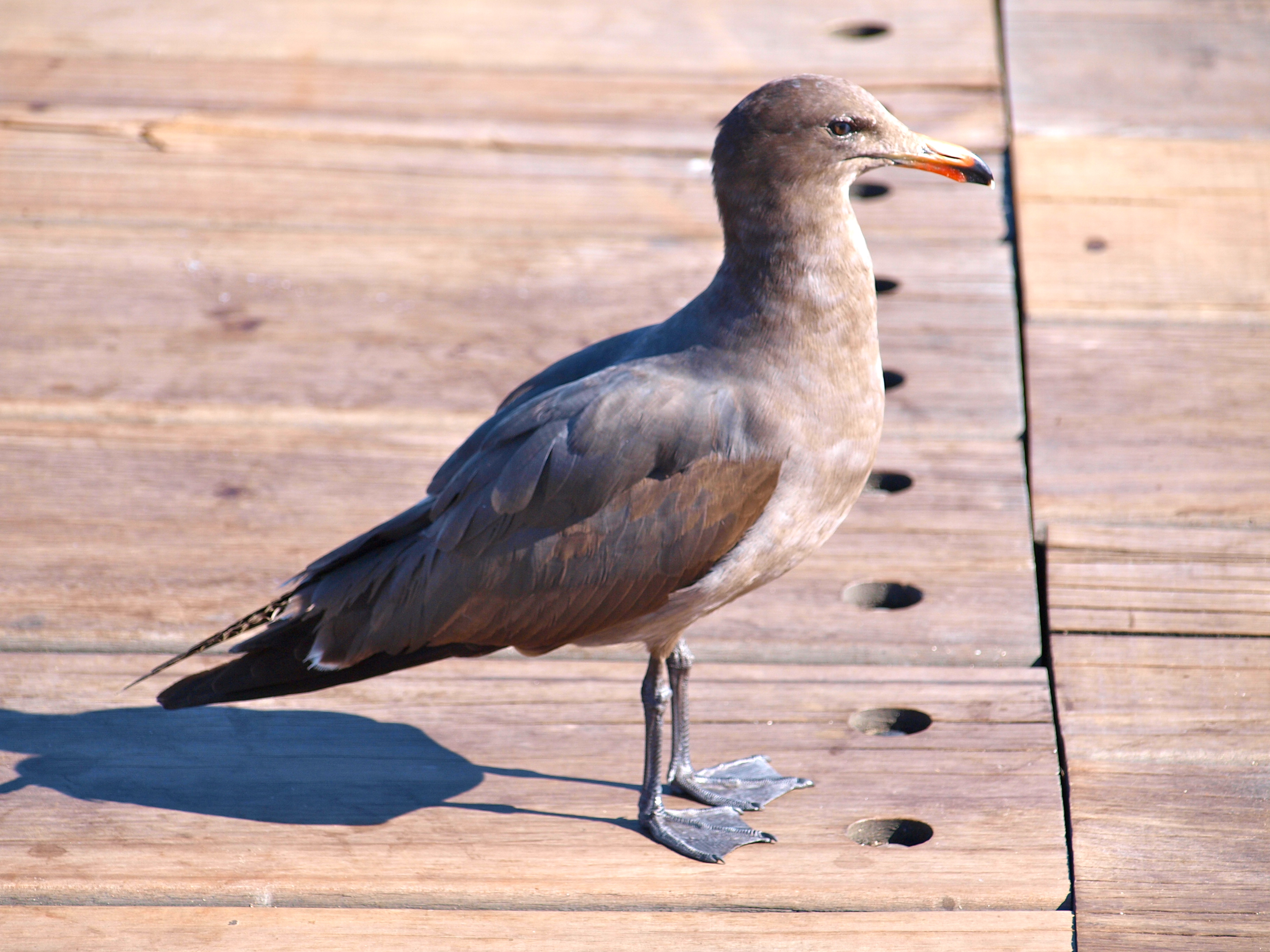 I almost always (depending on the tide) try this inshore section before heading out to the end of the pier. If the tide was wrong on the way out, it's usually different and worth a try on the way in. The only negative aspect is that the water in this section can sometimes be filled with all the flotsam and jetsam that have piled up against the seawall. On such occasions it's almost impossible to fish but remember that the various debris that flows into this area includes all sorts of food that also attracts the fish.
Surprisingly, the late winter months can offer up some good croaker fishing in this inshore section for both yellowfins and spotfins. Of interest are the reported effects from storms. Regulars say that often when there is a strong surge in the surf area from storms the yellowfin action will be steady, while few spotfins will be caught. When the water lies down, the spotfin will begin to feed while the yellowfin action is reduced.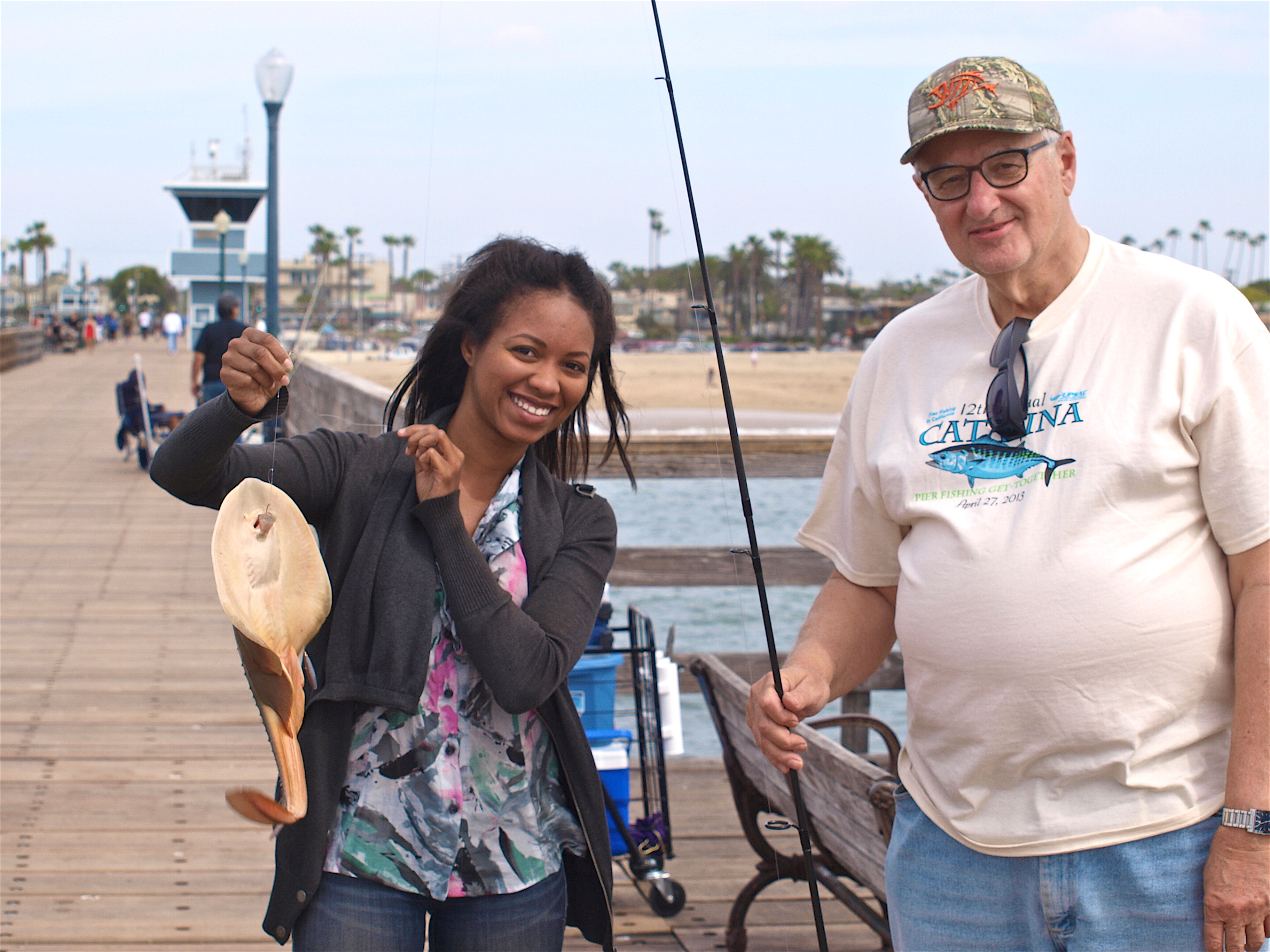 My fishing buddy Mike Granat and a thornback ray. The girl asked if she could hold the fish. 
Late spring to fall can also offer up some very decent corbina fishing. Try the shallow waters on the east side of the pier and the surf area just out from the seawall on the west side (although you'll have to be wary of the surfers). As usual, fresh mussels and seaworms produce a lot of fish while soft-shell sand crabs and innkeeper worms can make the sleek croakers get absolutely giddy.
Crabs are also available at this pier, generally mid-pier to the end. Spider crabs are pretty much available year round while rock crabs seem especially prevalent during the winter months. In fact, some of the regulars feel the pier is one of the most consistent piers in the area for good action on wintertime crabs. Bring a crab net and almost any bait. Some people like oily baits like mackerel or bonito trimmings/heads while others say those baits are too easily torn up by the crabs; they prefer the old squid or chicken necks. It's a science for some but I really think almost anything will work.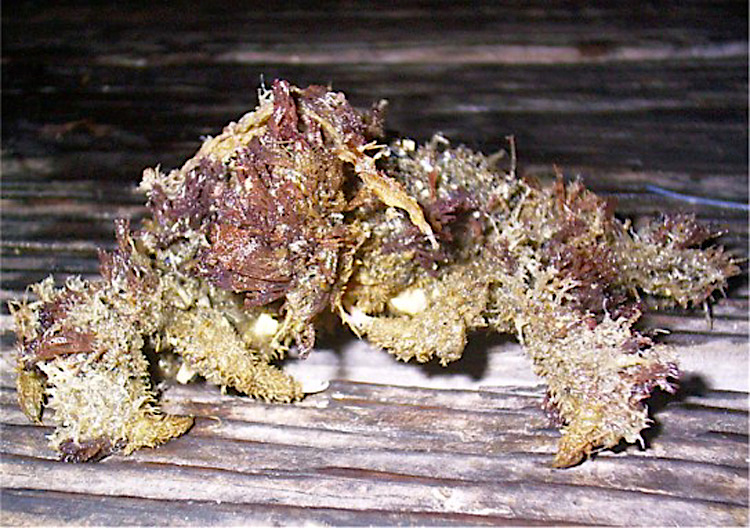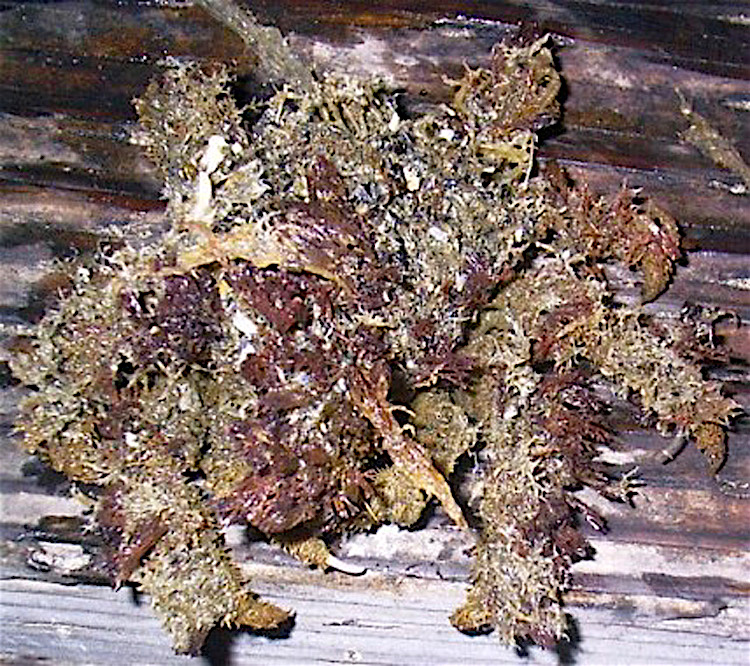 Ugly looking crab
As for lobsters, I've never heard too much about their capture at this pier although they should be available. Perhaps the amount of crabs reduces the amount of lobsters? Then again, there are piers like Santa Monica that are good for both lobsters and crabs.
A couple of final suggestions. One regards using fresh mussels for bait (since they're one of the best baits for perch). The suggestion is to bring your bait to the pier. Since 2007 there has been a city ordinance (No. 318) prohibiting "the taking or removing of mussels from the Seal Beach Municipal Pier and pilings" and "the possession of mussel hook or other device" on the Municipal Pier.
The second suggestion is to always watch the regulars for the best techniques. One approach used by old-timers is to occasionally throw a piece of stale bread into the water; this acts as an attractant for very small anchovies and smelt. The smaller fish seem to act as attractions for larger fish and stimulate action as the fish compete for the breadcrumbs. Also watch the papers and be ready for the runs of grunion. When the grunion come into shore to perform their nasty deeds, the larger fish are usually right behind. Go out to the pier and snag (or net) up some small smelt and then use them as live bait for the halibut. Remember to think like a fish!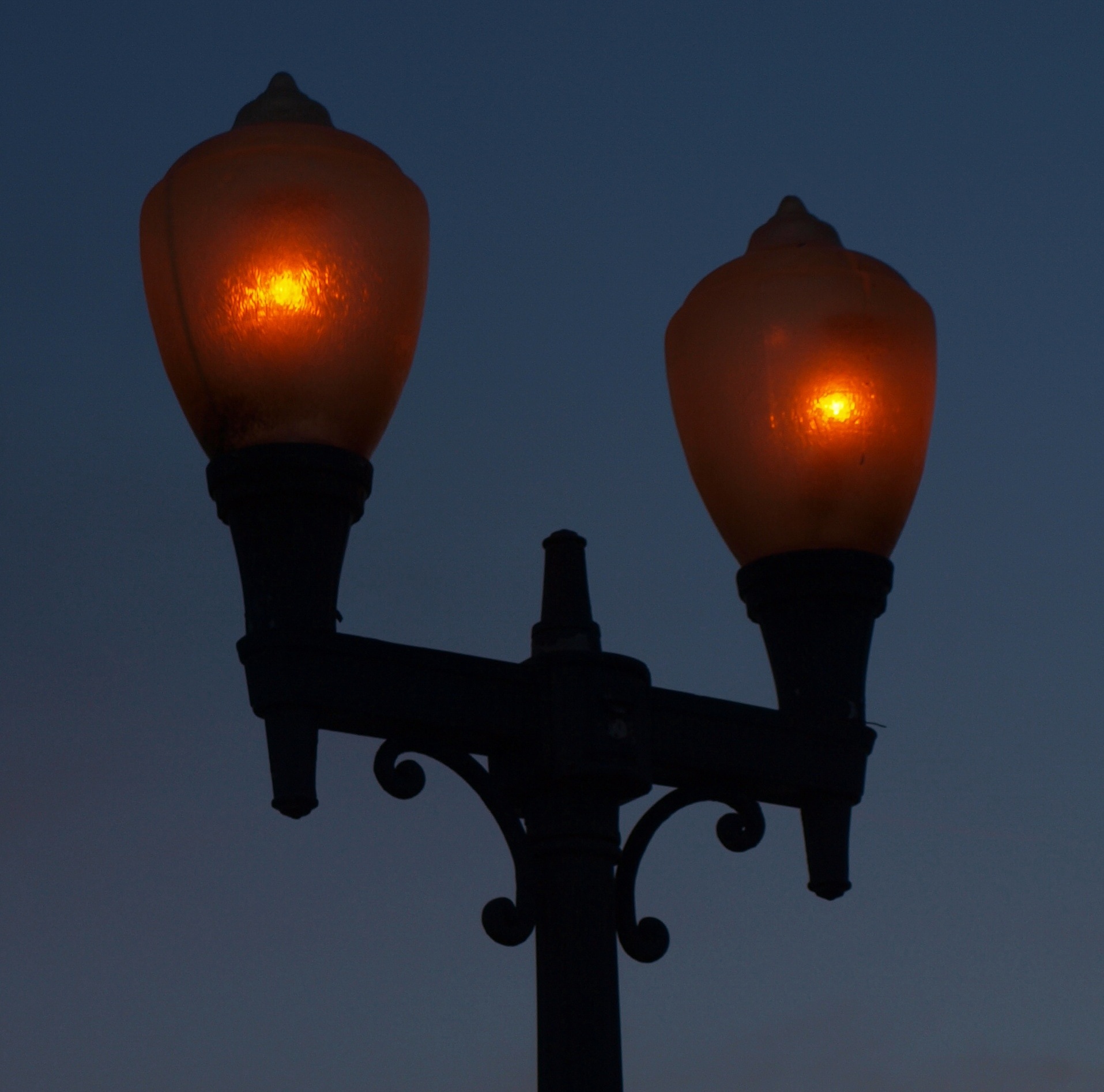 Potpourri — Possibly more than you want to know about the Seal Beach Pier

<*}}}}}}}}}>< — One visit saw me sharing the railing with "Bill," a youthful 82 years of life. Bill had a million and one stories to tell but this book only has room for a couple. One was his story about a granddaughter and her first yellowtail. According to Bill, all anglers must eat the heart of the first yellowtail they catch. Sure enough, when he took his granddaughter fishing (on a partyboat) she caught her first yellowtail. Ditto several other anglers. Kiddingly, the deckhand cut out the hearts of the fish and offered them to the anglers. No one took up the offer until Bill's granddaughter stepped up, took a swig of coke and gulped down the heart. The older anglers, now embarrassed, were forced to follow. A second tale concerned his use of "Mexican anchovies" to catch big fish like yellowtail. "What," I asked, "is a Mexican anchovy?" "Simple," Bill said, "it's a strip of mackerel cut thin to resemble a large anchovy or sardine. It's cast out, allowed to sink a few feet, and then reeled in very quickly. It kills the fish." The gospel according to Bill!
<*}}}}}}}}}>< — As reported in more detail in the chapter on fish, Seal Beach is "Stingray Central" for both California and the nation. In fact, residents sometimes call the local waters "Ray Bay." One fourth to one third of the entire nation's wounds from stingrays occur on the mile-long beach that is home base for the pier. Therefore, don't be too surprised if you pull in a round stingray when you're fishing in the shallow, inshore surf area.
<*}}}}}}}}}>< — If the pier and surrounding beach area looks familiar to you, it may be because both were main settings for "Sunset Beach," the NBC soap opera that ran in the late '90s. The saucy show didn't seem to reflect the "small town" character of Seal Beach but most local citizens didn't seem to mind. They were proud of the attention their town received and didn't object to the money the movie company poured into the city's coffers. Although some locals worried that a mob of curious fans might descend on their city, others pointed out that didn't happen in the past when the area was used for films. Back in the '20s, when Cecil B. DeMille filmed the original silent version of "The Ten Commandments," the local shoreline was used as the site for the parting of the Red Sea. If movie fans didn't invade the beach to see "Moses" surely they wouldn't invade the area for this show. Of course the actresses in "The Ten Commandments" were dressed a little more conservatively than the vixens in the TV show. By the way, the romantic Sunset Beach Pier (where, according to legend two people would meet and fall in love) was of course the Seal Beach Pier.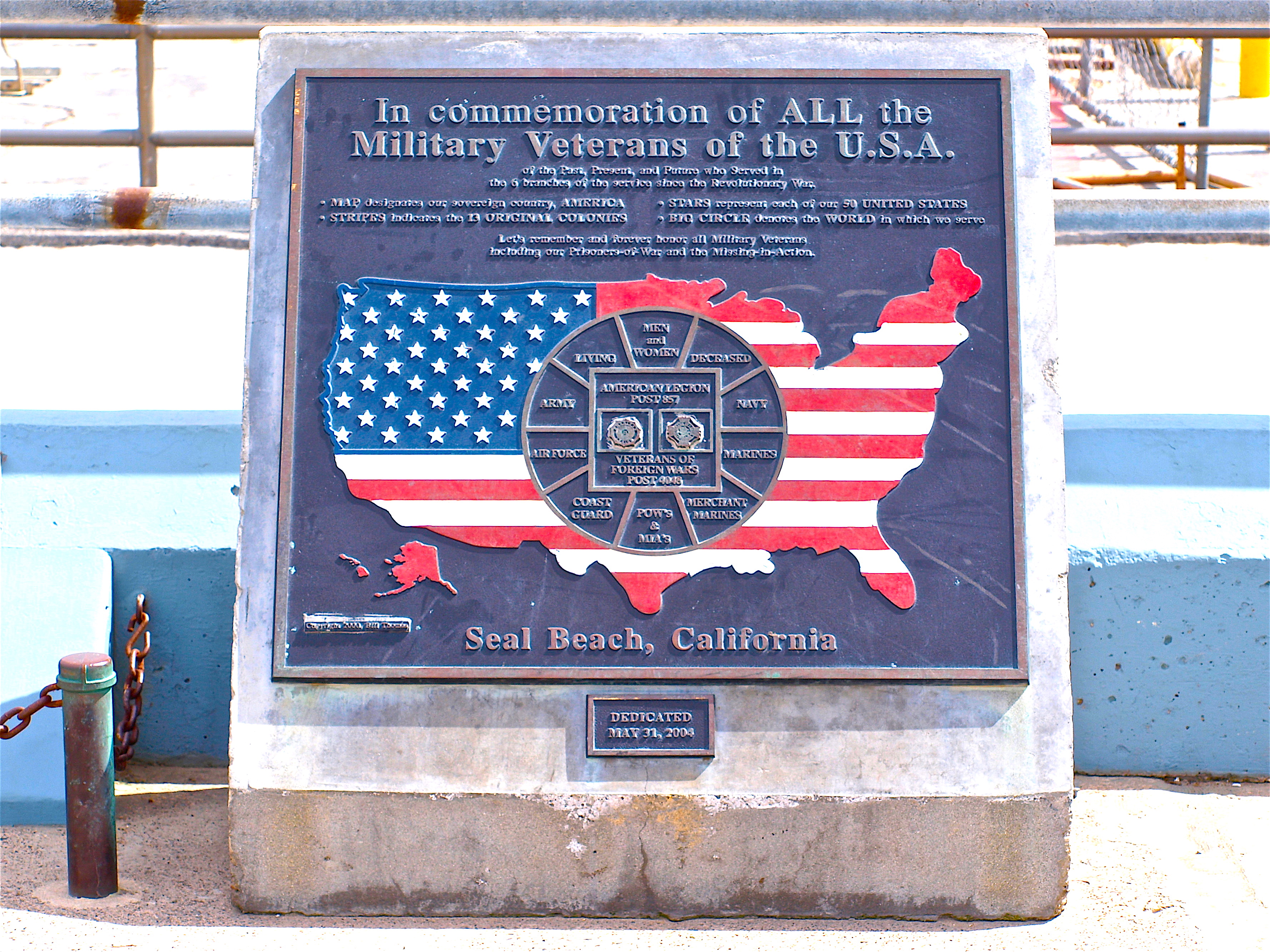 The pier and adjacent downtown area by the way seem to show up in many movies. In a scene in "As Good As It Gets" Jack Nicholson and Helen Hunt walk along a pier supposedly set in Chesapeake Bay. It actually is the Seal Beach Pier spruced up by the addition of several thousand lights.
In "American Pie 2," Seal Beach is portrayed as Grand Harbor, Michigan. Both the town and pier are seen frequently in the movie. In one scene, where the boys cruise down the main street, you can see such local landmarks as O'Malley's Irish Pub, Walt's Wharf Restaurant, and the pier.
<*}}}}}}}}}>< — In an interesting discussion one day on the Orange County Register message board (in response to an article on anglers catching thresher sharks from the Huntington Beach Pier), the following item was posted by Monta Erikson: "My grandfather caught sharks off Seal Beach Pier—1943-era. Food rationing during WWII—this helped feed his extended families working in the defense plants. Shovelnose most frequently." So, the catchin' and eatin' of sharks is not a new story.
<*}}}}}}}}}>< — Fish Bulletin #96 put out by the California Department of Fish Game in 1953 states: "There is a sport-fishing pier but no fish-cleaning sheds or canneries. Small amounts of commercially caught fish are landed here but the average has been about two tons per year… The catches have been barracuda, lobster, rockfish, and rock bass… In 1952 three party boats and one or two charter boats operated out of Seal Beach. One Sportfishing barge is anchored off the town.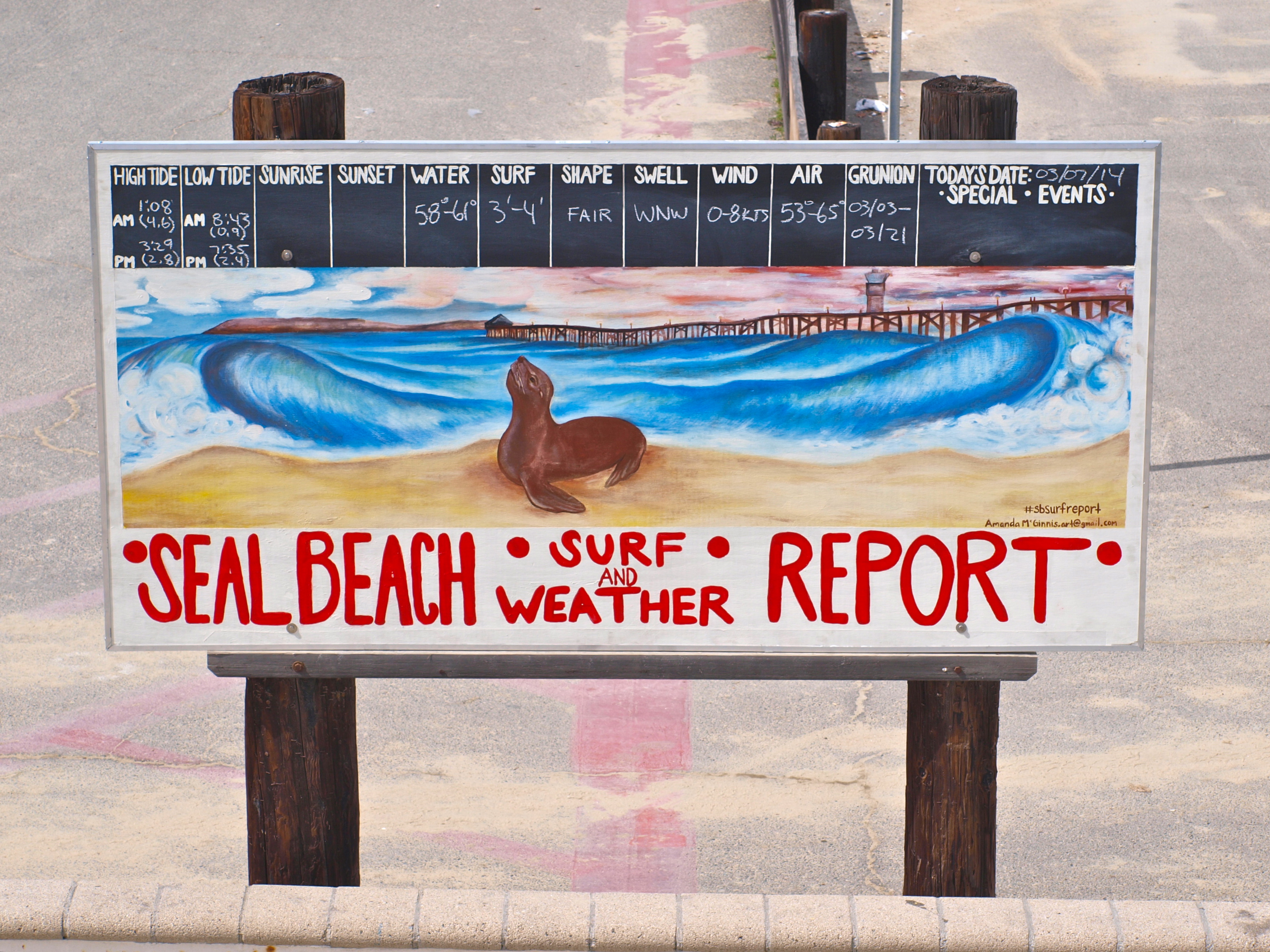 The early bird brings the worm
Art Ibarra Sr. believes in celebrating a birthday right at the stroke of midnight. When he turned 33 recently, the Brea resident piled his best friend and son into a car and headed off to find some fun.
One catch. Their destination offered neither birthday cake nor wrapped gifts. Instead, its presents came in salty waves, stretches of sand and, if Iberra got lucky—a big, smelly fish. "I wouldn't be anywhere else on this day," Ibarra said of the Seal Beach Pier, one of O.C.'s few all-night fishing spots. "Look around—who needs candles and streamers when you have all this?"
It was now 5 a.m., and Ibarra had been fishing for four hours. He pointed to the moon, still glowing strong. Fading stars were sprinkled across the sky. And in the distance, waters shimmered around the silhouettes of boats on the horizon. All these images reverberated with the rhythmic, almost hypnotic sound of waves crashing against the shore.
Don't forget the main reason for this trip, though, Ibarra reminded the group. "We've got to catch a fish. No bites yet for hours. I'm not leaving until we get me a flopping birthday halibut. Why don't you come back in a while and see if our luck has changed?" he told a reporter.
Spread around the rest of the pier, about 75 other anglers tried their luck. Most were solitary sea lovers, but there was also a healthy share of children and families. They gathered at this wooden pier—the longest nationwide at 1,864 feet—to reel in fish, enjoy the scenery and relax.
Relax is the universal mantra here. Yang says he comes twice a week after his stint at a billiards parlor. Today, he arrived at 2 a.m. "You can't find a more soothing, therapeutic hobby. Just us and the quiet openness," Yang said as he zipped his jacket to keep out the damp air. "It's a chance to sit and do nothing—pretty much unthinkable in hectic Southern California."
Yang said he derives more pleasure from nature's spectacles than the occasional fish. "If you want to see some pro action," he advised, "watch the couple down there." Yang gestured toward Phuong Cu, 82, and his wife, Dien Ho, 75.
Up to five days each week, a relative drops off the Garden Grove couple at 4 a.m. Dressed in traditional clothes, they work in tandem, checking hooks and preparing bait with the finesse of sea-bound anglers. After all, the immigrants fished for a living in Vietnam. They would spend days at sea before returning to their village with a bountiful catch, Cu said.
These days, it's usually a bucketful by noon, croaker, king fish, bass, mackerel and other species crowded their white plastic container. "May not be a shipful, but it's a living bridge to our homeland's past," Ho said. "Anyway, the regulars here don't get half as many bites." She wasn't exaggerating. As the couple's bounty piled up, humbled fishermen stole glances, hoping to imitate their method.
What's their secret of success? "We're old, so God is kind to us," Cu said, smirking. "If you want a fish bad enough, you'll net one."
Which brings us back to Ibarra. It was 9:30 a.m. now. Still no fish. He had tried virtually every bait—anchovies, chicken livers, red worms, shrimp, baby octopus and nightcrawlers. "The fish are snapping up everything except my hook," Ibarra said. His son, Art Ibarra Jr., 11, had grown bored with fish. Instead, he was mesmerized by a seal swimming near the pier, a brown pelican and sea gull overhead.
Then it happened. Ibarra's best friend, Michael Conejo, 20, snatched a good-sized croaker on his first stab at fishing. Ibarra would take it. "Michael promised he would buy me breakfast," Ibarra said. "Guess I'll have halibut fish sticks. If you can't catch them, eat them!"
—Hieu Tran Phan, Daytime,  The Orange County Register, June 14, 1997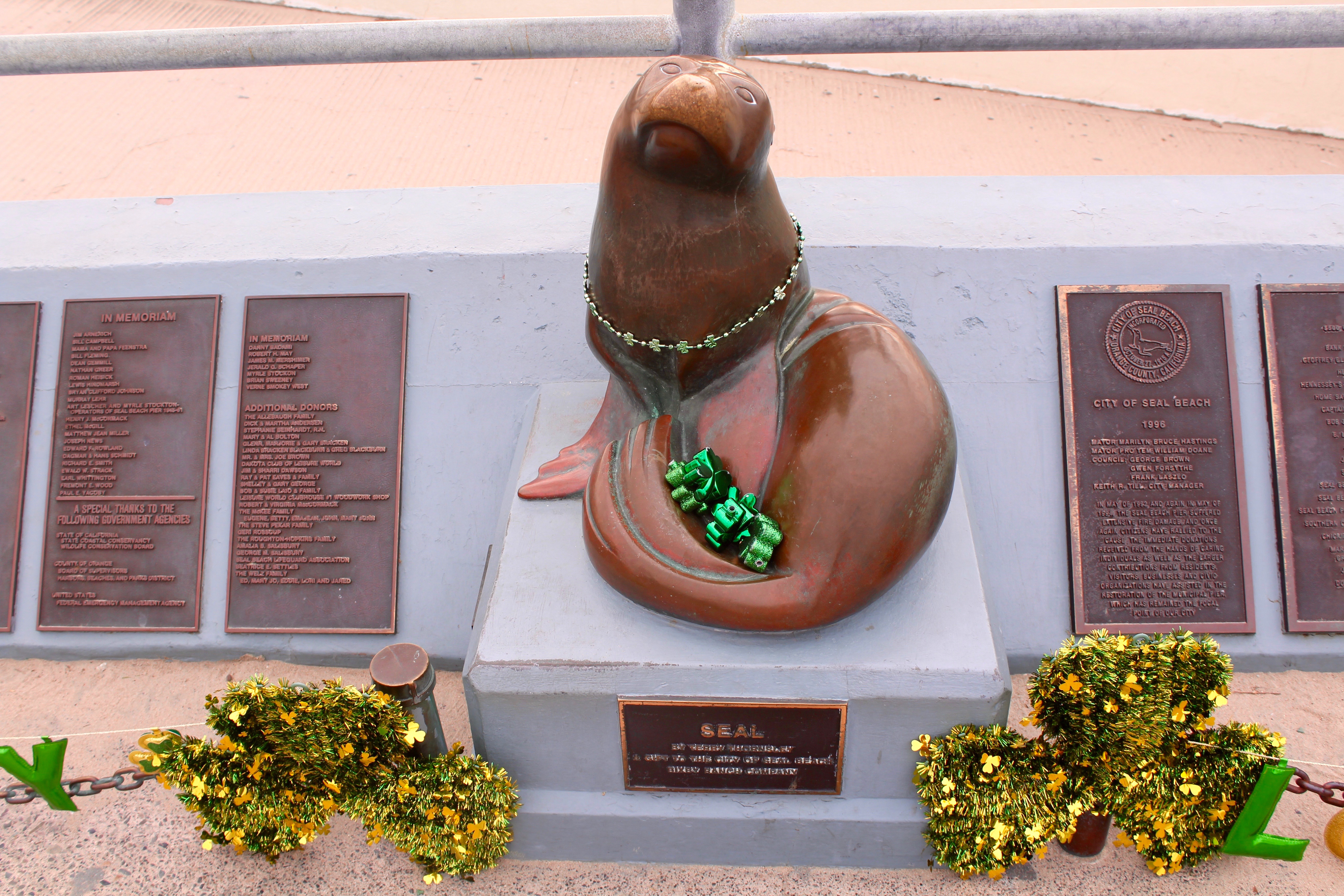 <*}}}}}}}}}>< — 2012 saw a new danger arise to the fishing on the pier—local anglers asking that fishing be restricted. As usual, it was because anglers appeared to be making too much of a mess on the pier. However, nowhere in the story does it mention that the pier was restored in part with money from the Wildlife Conservation Board or that an agreement was made at the time to keep it open as a public fishing pier.
Should Seal Beach Restrict Fishing on the Pier?
Fishermen have been casting their lines off the Seal Beach Pier for the better part of a century, but on Tuesday a city official said she wants the city to consider curtailing the practice to keep the landmark clean.
City Councilwoman Ellery Deaton asked city staff to research potential Seal Beach Pier fishing limits – including the possibility of creating specific fishing times, specific areas for fishing or issuing citations for anglers who break the rules – for a future council meeting discussion. "The fishing is out of control on the pier," Deaton said. "I think maybe it's time to get it on an agenda."
Deaton said when she talks to her constituents they say the fishermen are causing a problem, especially by cutting their bait on the benches. "They leave their trash," Deaton said. "They leave their fish. They leave their bait."
In a brief interview with Patch after the meeting, Deaton said, "I don't want to end fishing out there. I want all of us to be able to enjoy the pier." Visitors "should be able to use a bench to sit down on and not have to sit on fish guts," Deaton added during a later interview. City Manager Jill Ingram said that if the item were added to a future agenda, it probably wouldn't be discussed until 2013.
Seal Beach resident Laura Ellsworth, chair of the Seal Beach Pier bench renovation project, agrees with Deaton. Ellsworth is concerned that fishermen would continue to use the wood on the benches as cutting boards, damaging the work that volunteers recently fixed. "As we are restoring, we are finding fish guts all over the wood and the backrest," Ellsworth said.
Graham Day, store manager of Norm's Bait and Tackle, said he any proposed fishing restrictions would be a bad idea because it "deters people from coming into our city to spend money." He added: "I think they should just let it be. I don't think they need to restrict it."
As for the benches? "The benches aren't anything fancy anyway," Day said, but added that if the city doesn't want people to use them as cutting boards they should put signs up. "I don't really fish off the pier much myself," Day said. "But I service hundreds of people every day that do."
Here is the text of the city code regarding fishing in the city.
Each person fishing from the city beach or city pier shall have due regard for the safety of persons on the beach or in the water.
No person fishing from the city pier shall cast the line overhead or across the deck of the pier.
No person shall use or possess more than 2 fishing poles on the city pier for the purpose of fishing from the pier.
No person shall use or possess a bow and arrow, crossbow and arrow or similar device for the purpose of fishing from the city beach, city pier or other city property.
Also according to Code 9.05.010 C, city lifeguards have the power to restrict or prohibit fishing on the city beach.
—John Crandall, Los Alamitos-Seal Beach Patch, November 14, 2012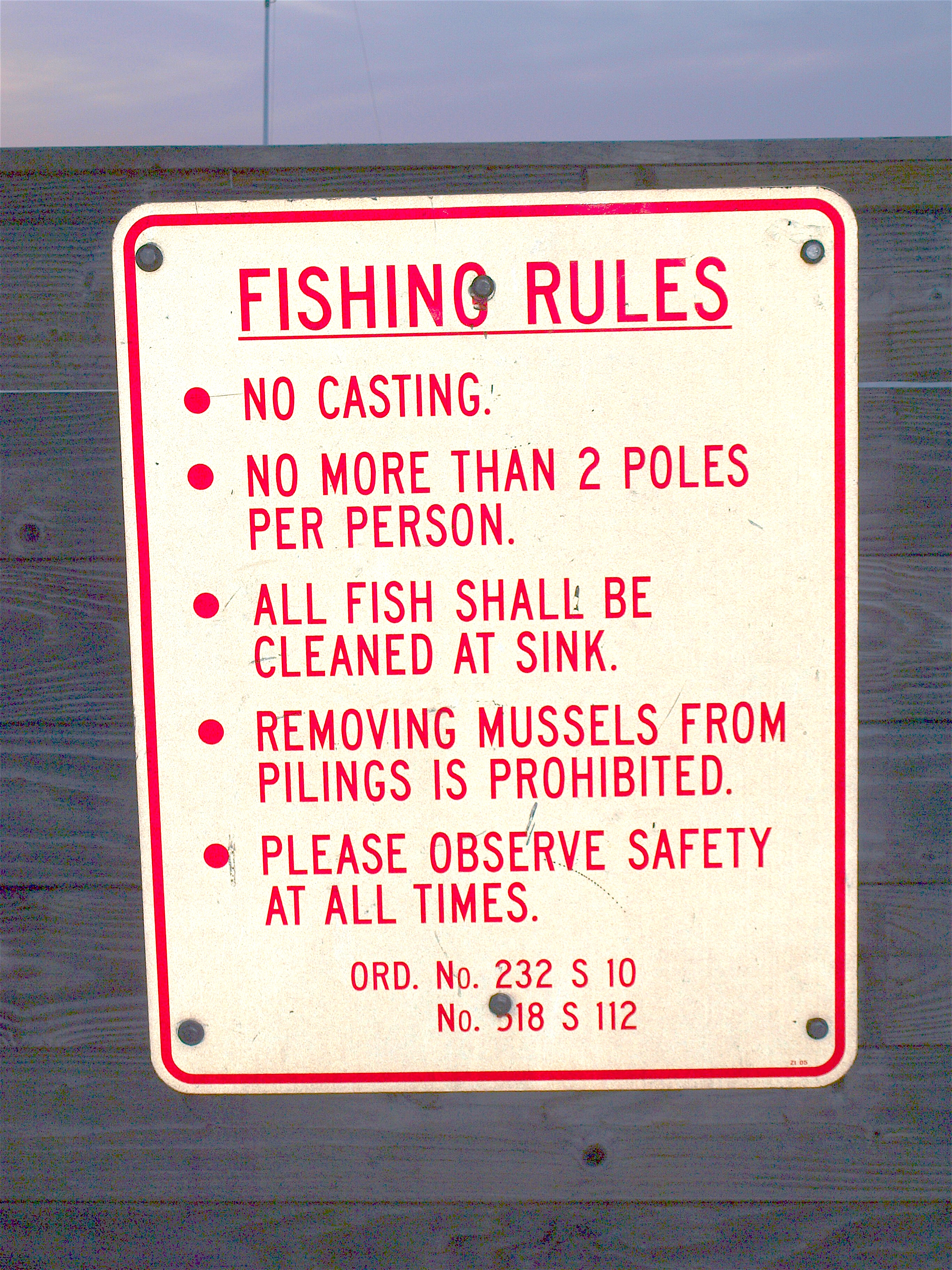 Seal Beach Pier Facts
 Hours: 5 A.M. to 10 P.M.
 Facilities: There are long wooden benches nicely designed for anglers, fish-cleaning stations, restrooms, lights. There is limited one and two-hour free street parking. Beach parking, adjacent to the pier, is $3 for two hours or $6 for the day. The hangout Restaurant is located across the street from the pier. Unlike some of the more celebrated SoCal beach towns, Seal Beach is a family town with a small-town, friendly, relaxed atmosphere. It's a nice place to visit—or live.
Handicapped Facilities: Although there is handicapped parking, the restrooms are not equipped for the handicapped. The pier surface is wood and cement and the rail height is 43 inches. Posted for handicapped.
Location: 33.737188352323436 N. Latitude, 118.10789823532104 W. Longitude
How To Get There: From the Pacific Coast Highway simply take Main St. west and follow it to the pier.
Management: City of Seal Beach.