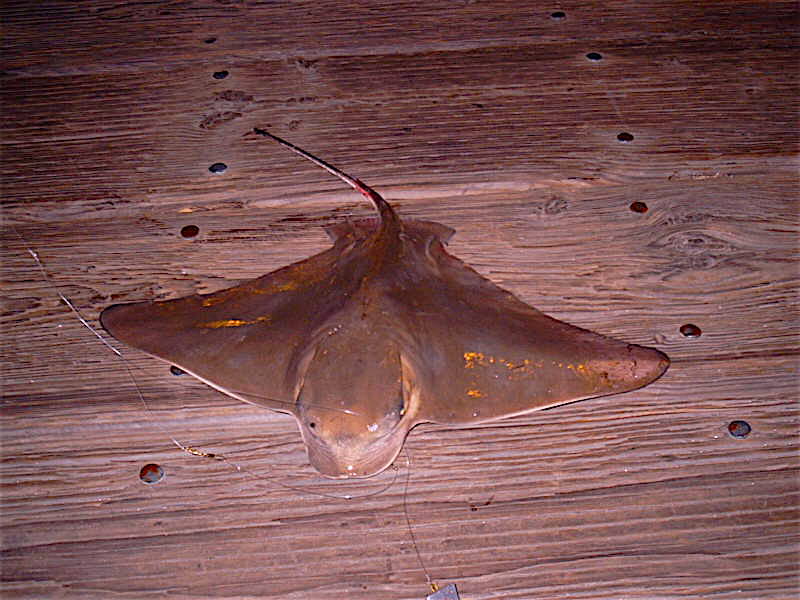 Bat ray
Just to demonstrate the power of the grunion gods, halibut also began to hit fast and furious during the grunions' visit to the inshore waters around the pier. Many, many flatties were caught including several keepers every day. Although most of the hallies were caught on fresh or frozen bait (including grunion), PFIC reporter Dillon decided to cast out a lure—a Wham Lure (that looks like an anchovy) from the side of the pier. His result—a keeper, 26-inch fish.
Local expert George Van Zant reports that the bottom slopes rather rapidly on the eastern side of the pier reaching a depth near 20 feet by the end. He also says that there is a shale-like bottom area out from the pier that is home to many a large halibut. Though great for boaters it's supposed to be just outside of normal casting range for most pier anglers. If adventurous, you might try a trolley rig in the area, casting out your sinker and then sliding live bait down the line. You would probably need an eastern flowing current for this to work with the hallies but it might be worth a try. As for myself, I've always had pretty good luck fishin' the depressions between the pilings.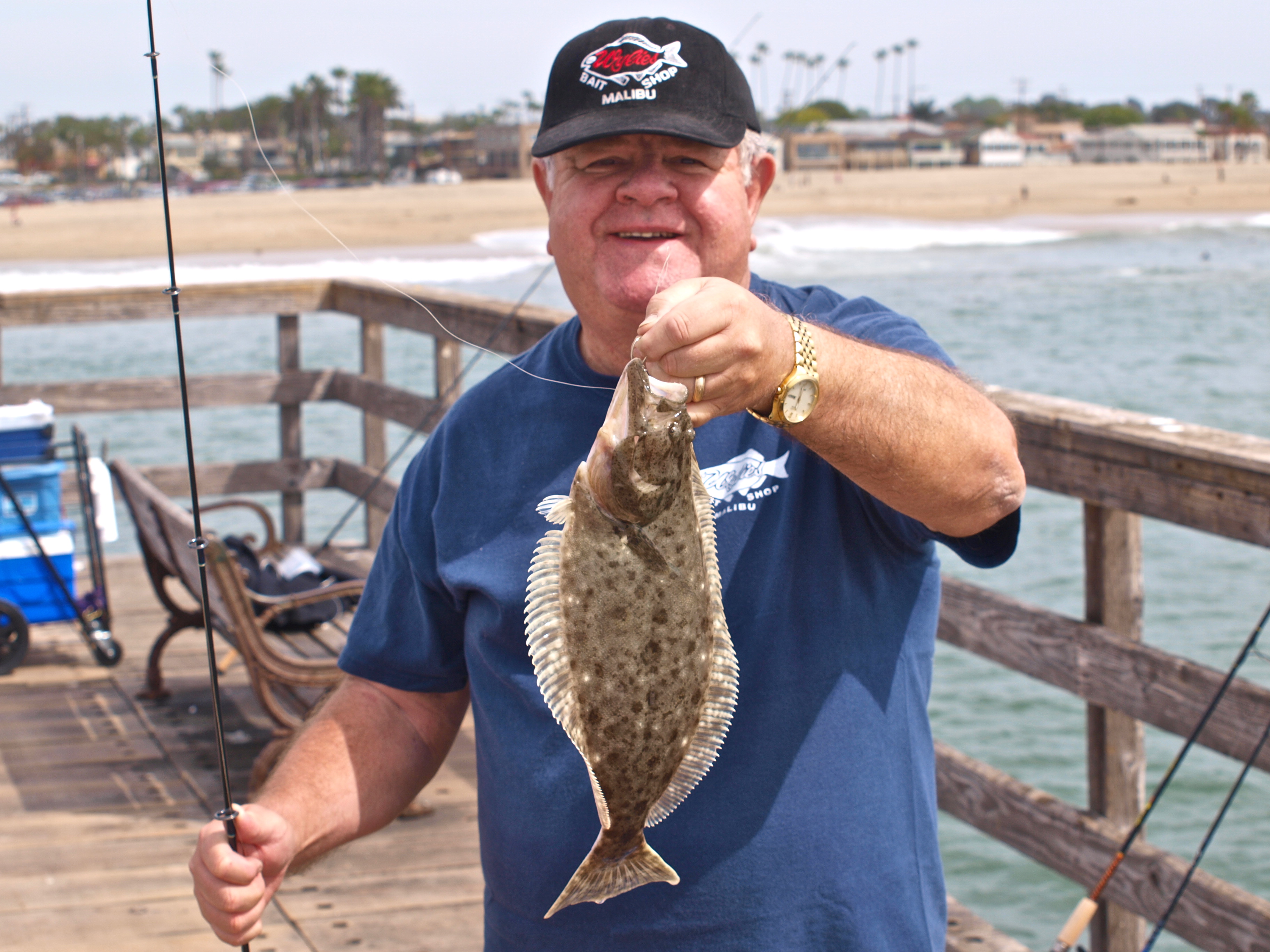 I'm smiling but the halibut was too small, it went back into the water
Another regular, Bobbie Lienau, reported local anglers "walking" their baits for big halibut. They will use fresh anchovies, smelt, grunion or small queenfish as bait and bury a fairly good size hook in their head. They cast straight out using as light a weight as possible and then slowly walk the bait down the pier. The key is a fairly empty pier (since you're using up quite a bit of area). Quite a few halibut in the 13-18 pound range have been landed using this technique. Another key according to Mr. Lienau is to use fairly light line; I would recommend using fluorocarbon to fool the hallies.
A final note on halibut is the use of lures by some of the locals. A variety of lures have proven effective including Big Hammer swim baits and Berkley Gulp! Jerk Shad (in the sapphire shine color).
One area I used to like to fish is just past and to the left of where the closure gates are now located. There once was a  bait and tackle shop there where you could buy bait, tackle and tickets for the pier's Sportfishing boats. One day the Sportfishing Landing moved but the shop still stood empty for several years.   I had some tremendous luck on buttermouth (black perch) there as well as good action on the big pileperch, the fish that often like to drive people a little crazy. The pileperch will swim languidly around the pilings as well as back and forth from piling to piling all the while in water shallow enough to be seen by anglers up above. Seeing them and getting them to bite are two different things. The piles are epicurean and want something similar to what they see on the mussel-encrusted pilings that they are checking out. Fresh mussels and small sidewinder crabs are the answer for bait while light tackle is helpful in attracting the line-shy perch. I would usually use 6-8 pound fluorocarbon line, a size 8 hook, and just a small twist-on sinker for weight. Drifting the offerings right up against the piling and being prepared for a quick, hardly-detectable bite was the technique. Then I would hang on as the fish would try to wrap the line around the pilings. A successful operation could yield perch in the 14-16 inch range and if I was lucky, once in a while a large rubberlip seaperch would grab a bait.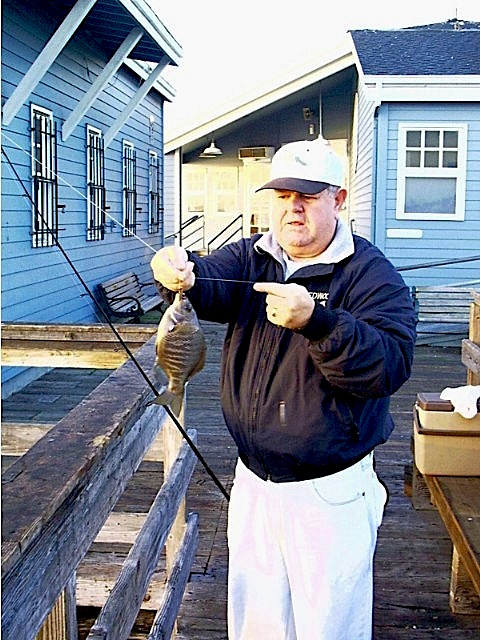 Blackperch in my former "favorite spot"
This same area saw the capture of an estimated 25-pound big skate in the winter of '01 by PFIC regular Jimbojack. The fairly uncommon fish, at least to southland piers, with a 32" wingspan and 42" length, hit a piece of mackerel and provided a spirited fight before being netting.
The mid-pier area to inshore yields a mix of different fish—halibut, croakers, sargo, jacksmelt, stingrays, thornback rays and sharks (mainly gray smoothhounds and leopards). A fairly frequent catch is diamond turbot. Although caught in fair numbers most months of the year, some years will see a good late-winter, early-spring run of the tasty little flatfish. Bait of choice by most locals is ghost shrimp.
Inshore, fish on the bottom for spotfin croaker (to 8-pounds), yellowfin croaker, China croaker (black croaker) and corbina. Best baits are fresh mussels, bloodworms, lugworms, ghost shrimp or sand crabs. Leaders can be either a high/low leader or a sliding bait leader. Early evenings are the best hours for all of these large croakers. The same baits, in the same area, will also yield some surfperch, especially in the late winter, early spring months. Squid or anchovy fished on the bottom in the shallower areas will often produce round stingrays, thornback rays or shovelnose guitarfish, especially after the sun goes down.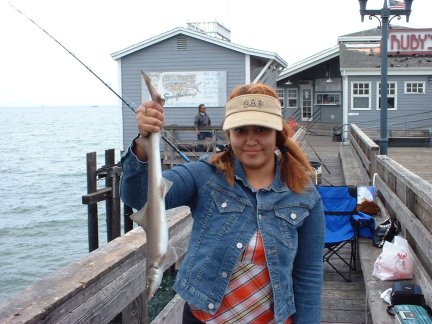 Gray Smoothhound Shark
On the eastern side of the pier, just inside the lookout station, you can try using soft plastics for the barred surfperch (and don't be afraid to try in the shallowest water). It's obviously harder to fish the plastics from the pier than if you were standing in the surf but anglers still report success on the tasty perch. Many colors will work but root beer colored grubs and motor oil with red flake grubs traditionally were rated near the top. However, Berkeley Gulp! products are becoming the choice of lures for many surfperch aficionados.
For something a little different try fishing the inshore section on the west side of the pier (between the pier and the seawall) with fresh mussels, bloodworms or lugworms. You only have a few feet of space to fish so you're generally fishing straight down but it's an area covered with mussels and often yields a variety of seaperch (especially blackperch, walleye surfperch and silver surfperch), perch-like fish (blacksmith, opaleye, halfmoon), sargo and even an occasional cabezon. Sargo, by the way, have been reported here exceeding 7-pounds in weight. Since the state record is only 4 pounds, 1 ounce, grab some live ghost shrimp and see if you can set a record.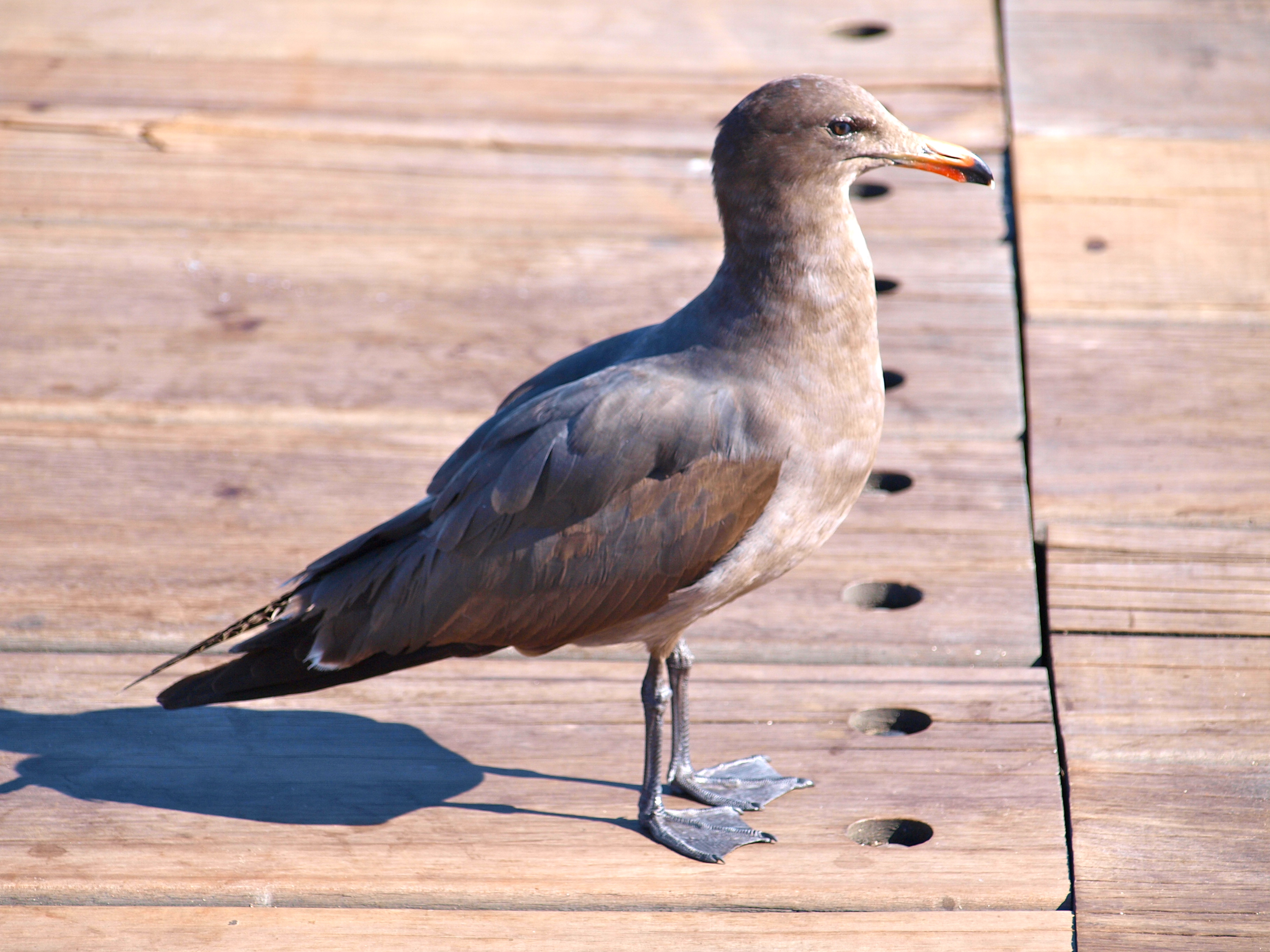 I almost always (depending on the tide) try this inshore section before heading out to the end of the pier. If the tide is wrong on the way out, it's usually different and worth a try on the way in. The only negative aspect is that the water in this section can sometimes be filled with all the flotsam and jetsam that have piled up against the seawall. On such occasions it's almost impossible to fish but remember that the various debris that flows into this area includes all sorts of food that also attracts the fish.
Surprisingly, the late winter months can offer up some good croaker fishing in this inshore section for both yellowfins and spotfins. Of interest are the reported effects from storms. Regulars say that often when there is a strong surge in the surf area from storms the yellowfin action will be steady, while few spotfins will be caught. When the water lies down, the spotfin will begin to feed while the yellowfin action is reduced.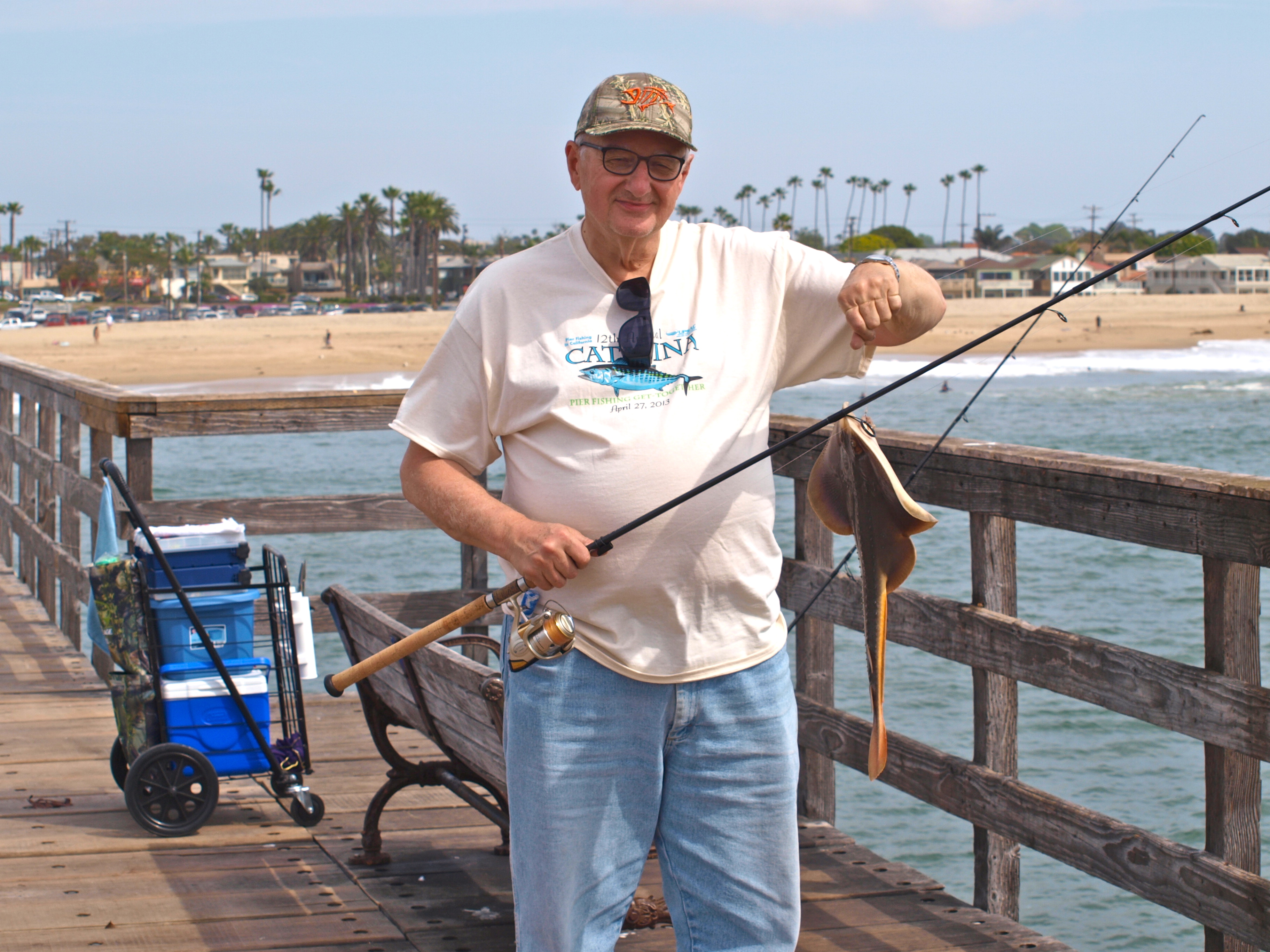 My fishing buddy Mike Granat and a thornback ray.

Late spring to fall can also offer up some very decent corbina fishing (and it's one of the better piers for corbina). Try the shallow waters on the east side of the pier and the surf area just out from the seawall on the west side (although you'll have to be wary of the surfers). As usual, fresh mussels and seaworms produce a lot of fish while soft-shell sand crabs and innkeeper worms can make the sleek croakers get absolutely giddy.
A couple of final suggestions. One regards using fresh mussels for bait (since they're one of the best baits for perch). The suggestion is to bring your bait to the pier. Since 2007 there has been a city ordinance (No. 318) prohibiting "the taking or removing of mussels from the Seal Beach Municipal Pier and pilings" and "the possession of mussel hook or other device" on the Municipal Pier.
The second suggestion is to always watch the regulars for the best techniques. One approach used by old-timers is to occasionally throw a piece of stale bread into the water; this acts as an attractant for very small anchovies and smelt. The smaller fish seem to act as attractions for larger fish and stimulate action as the fish compete for the breadcrumbs. Also watch the papers and be ready for the runs of grunion. When the grunion come into shore to perform their nasty deeds, the larger fish are usually right behind. Go out to the pier and snag (or net) up some small smelt and then use them as live bait for the halibut. Remember to think like a fish!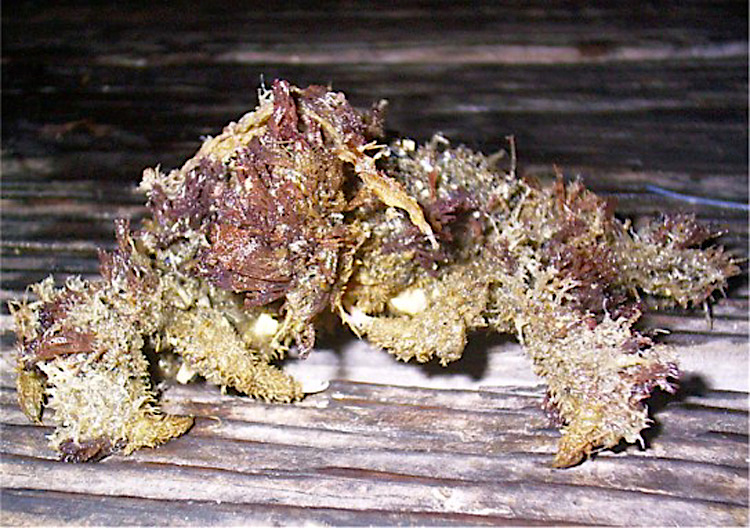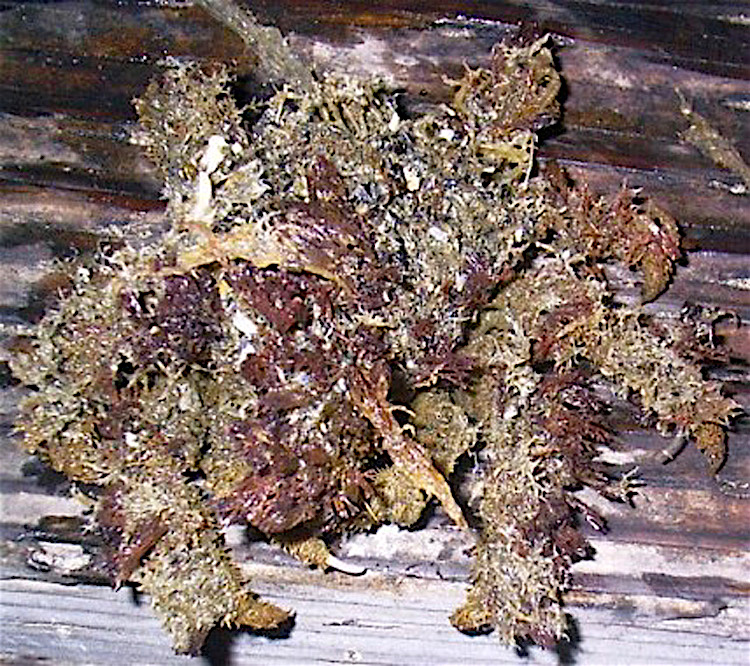 Ugly looking crab
Crustaceans. Crabs are also available at this pier, generally mid-pier to the end. Spider crabs are pretty much available year round while rock crabs seem especially prevalent during the winter months. In fact, some of the regulars feel the pier is one of the most consistent piers in the area for good action on wintertime crabs. Bring a crab net and almost any bait. Some people like oily baits like mackerel or bonito trimmings/heads while others say those baits are too easily torn up by the crabs; they prefer the old squid or chicken necks. It's a science for some but I really think almost anything will work.
As for lobsters, I've never heard too much about their capture at this pier although they should be available. Perhaps the amount of crabs reduces the amount of lobsters? Then again, there are piers like Santa Monica that are good for both lobsters and crabs.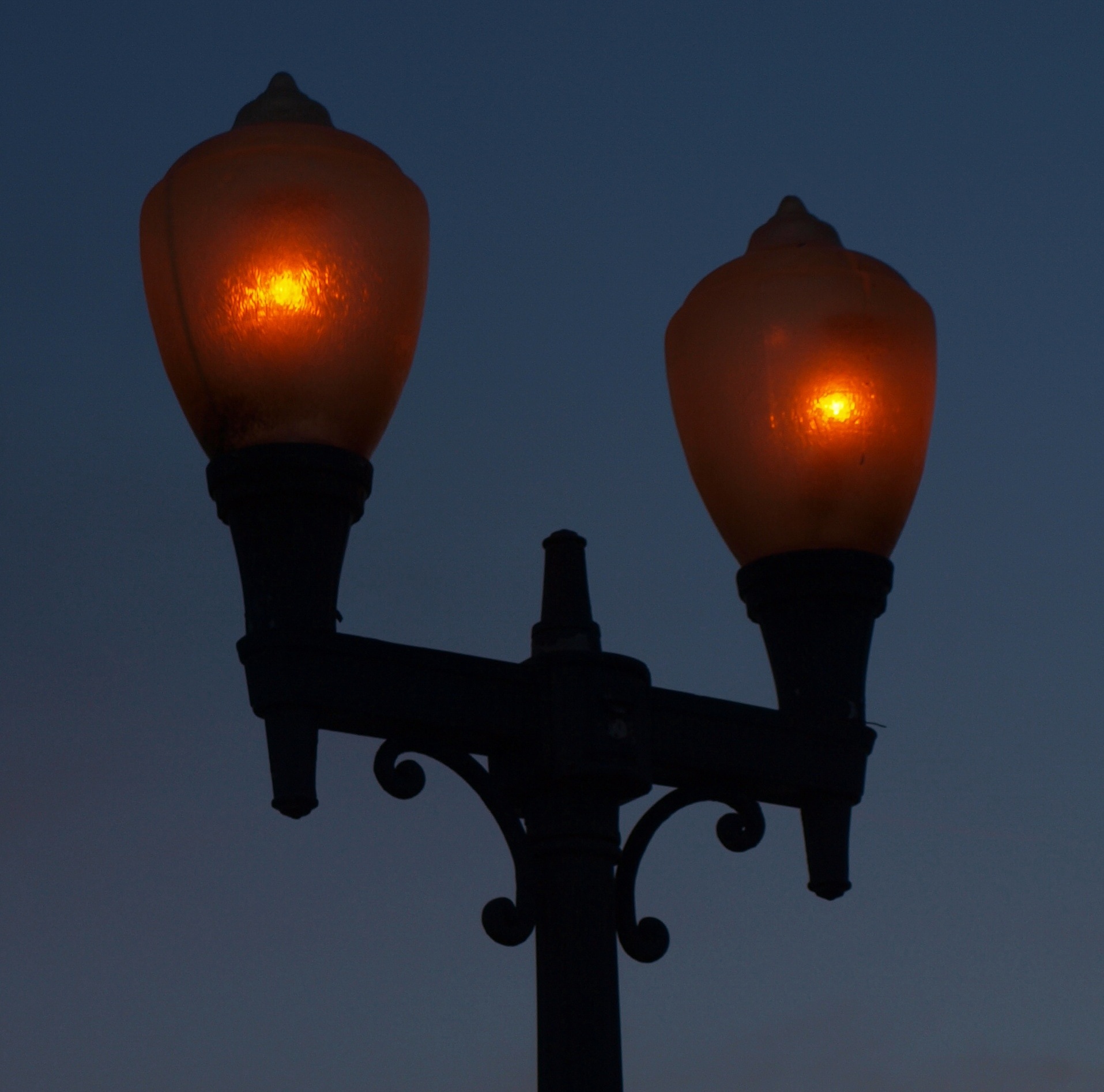 The Pier Rats Speak
Date: June 1, 1999; To: Pier Fishing In California Message Board; From: Eric; Subject: Seal Beach Pier
I've been to Seal Beach Pier for the past three Saturdays and every time I have caught huge shovelnose from around 6 p.m. to 9 p.m. The big shovelnose seem to bite well on small whole tom cods that I catch on Lucky Lura's baited with either squid or small mackerel strips. Also, when I put the Lucky Lura just below the surface I caught some small smelt and mackerel. Strangely, I also caught a short halibut on the surface; I actually saw it come up for the Lucky Lura. Anyway, if you catch a small tomcod, cut some slits in its side and stomach then hook it through the head on a dropper rig and throw it out as far as you can. If you have a baitcast reel put it in free spool and put the bait clicker on. That way you will not lose your rig like I almost did last week. I also saw a couple of huge surfperch caught near shore; all were caught on bloodworms. I saw an old man also catch a nice sand bass at the end of the pier on a live tomcod.
Date: July 1, 1999; To: Ken Jones; From: "Jerry & Cheryl O"; Subject: Seal Beach Pier
Dear Ken, The action at Seal Beach has been slowly picking up, with a lot of Shovelnose, Croaker, Thornbacks, and some Halibut being taken. Most of the Halibut are still undersized, but I have seen a couple of nice keepers, one almost twenty pounds! Water temps are staying in the 63-65 degree range, but should slowly start creeping up as a few spots around the San Diego area have already seen occasional 67-68 degree readings (get ready for White Sea Bass and Bonito!!). I have already caught one WSB, but it was way undersize so it went back. Squid and salted anchovies have been rather productive; mackerel still not around in any great numbers, but if you can find it fresh in the store (thank God for Asian supermarkets!) that's always a good bet too. Early morning and later in the evening have been the best times for the bite. Strange species award this month goes to my wife (!) who caught a needlefish last week. While not all that strange off So. Cal. piers, it's still been awhile since I have seen one. Happy fishing!
Date: July 23, 1999; To: Pier Fishing In California Message Board; From: MikeA; Subject: (In reply to: Freight Train Bats? posted by LaughingClam on Jul-23-99)
Watch for the Grunion runs. That seems to bring them in. A couple of weeks ago out at Seal Beach Pier, my friend lost two (on 40lb test) and brought one up during a Grunion run. That one weighed in at 150-lb. I don't know what you mean by freight train bat, but that works for me. I was there for the run that was supposed to start on the 14th, but the Grunion didn't seem to know about it. I assume it started the next day or so. I haven't been out since, but will be at Seal Beach pier tonight. It's fairly occasional, but the big bats are there. We throw one or two whole squid on 40-lb test with 5-8oz weights; that seems to keep the thornbacks and eight-inch grays from bugging us.
Date: July 28, 1999; To: PFIC Message Board; From: goatfish; Subject: Seal Beach Pier
Decent day at the pier today. Personally—1 Sand bass, 2 Thornbacks, 1 Lizardfish, 3 White Croaker, 2 Mackerel, 2 baby Grey Smoothhound and about 15 Salema, some of which were 6"-7" (which is pretty good size for Salema!) Saw a good-sized (about 3 feet) grey smoothhound landed and several undersized halibut. Salema were the rule today, as many people had several in their buckets. I did see one of the craziest things that I've ever seen today; these kids had "Pixy Stix" candy mixed with water and were injecting it into their bait and were smokin' everybody on the pier. These guys were landing fish left and right! Their day did end abruptly, however, when after one of them landed a stingray and after being warned by yours truly about the stinger in the tail, one of them got stung in the wrist. I suggested they high-tail it home and gave them the first aid procedure for taking care of it. Memo to beginners: Stingrays are not toys, handle with caution!! Tight lines to all!
Date: August 14, 1999; To: PFIC Message Board; From: RDubop; Subject: Seal Beach Pier
We hit the Seal Beach Pier this morning 5 a.m. till noon; the halibut were biting everything. One keeper was landed (24") while dozens of undersize ones were being tossed back. There was some barracuda action on the end, while corbina and croakers were hitting in the middle of the pier. Many parents brought their kids and most of them had a great time jigging Lucky Luras and catching lots of queenfish. The weather was overcast with a mist all morning and the sun didn't make a showing while we were there. The pier was crowded in the early morning and stayed that way, but still ample room to fish. It seems that Ruby's is remembering to lock the end gate at night, but if your lucky there'll be a delivery truck to break it open for you like this morning.