Public Pier — No Fishing License Required
Only a few piers have truly unique features and this pier is/was one of them. The end of this wooden 500-foot-long pier connects to the old cement ship Palo Alto, a bad idea turned good that has now turned bad once again. The ship was designed for the U.S. Navy in World War I but was not completed until the war was over. She sat at her dock in Oakland until 1929 when she made her only voyage—to her present spot. The 435-foot-long ship was filled with water, a pier was built from the beach to the ship, and the ship was turned into a floating attraction (although she didn't really float). A cafe was constructed above deck, the main deck was turned into a dance floor, a heated swimming pool was added and carnival booths lined the back of the ship. Within several years, the company that owned the ship went bankrupt. Later, winter storms damaged the already paralyzed craft.
Although the ship was a bad idea for the company's investors, it turned out to be an ongoing attraction for beach go'ers and anglers who flocked to the ship for what could be at times excellent angling. Although the smaller species predominated, reports of good-sized striped bass, halibut, and white sea bass lured anglers as did the occasional salmon and steelhead.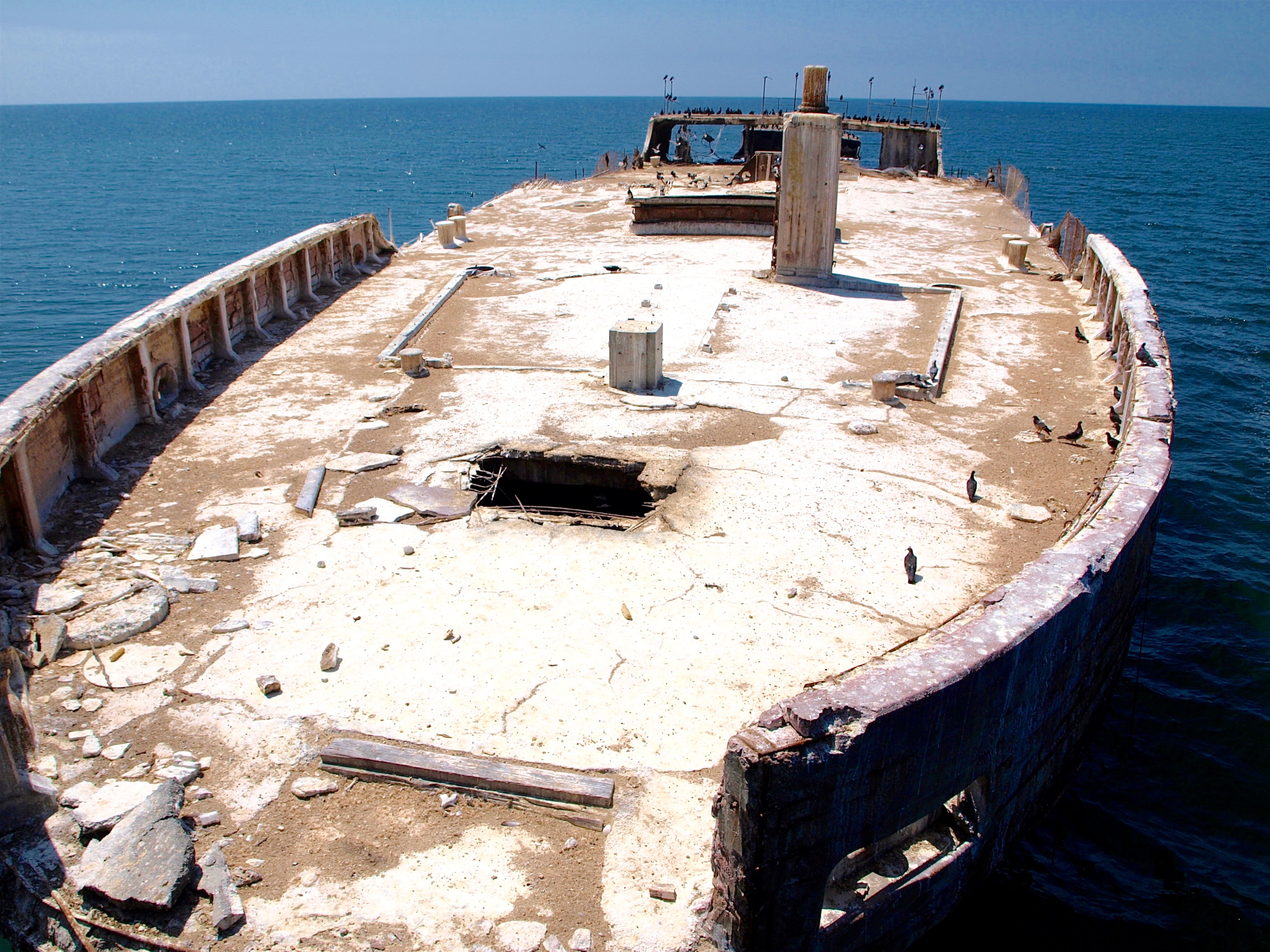 In 2015 the ship was still upright but still resembled a ghost ship.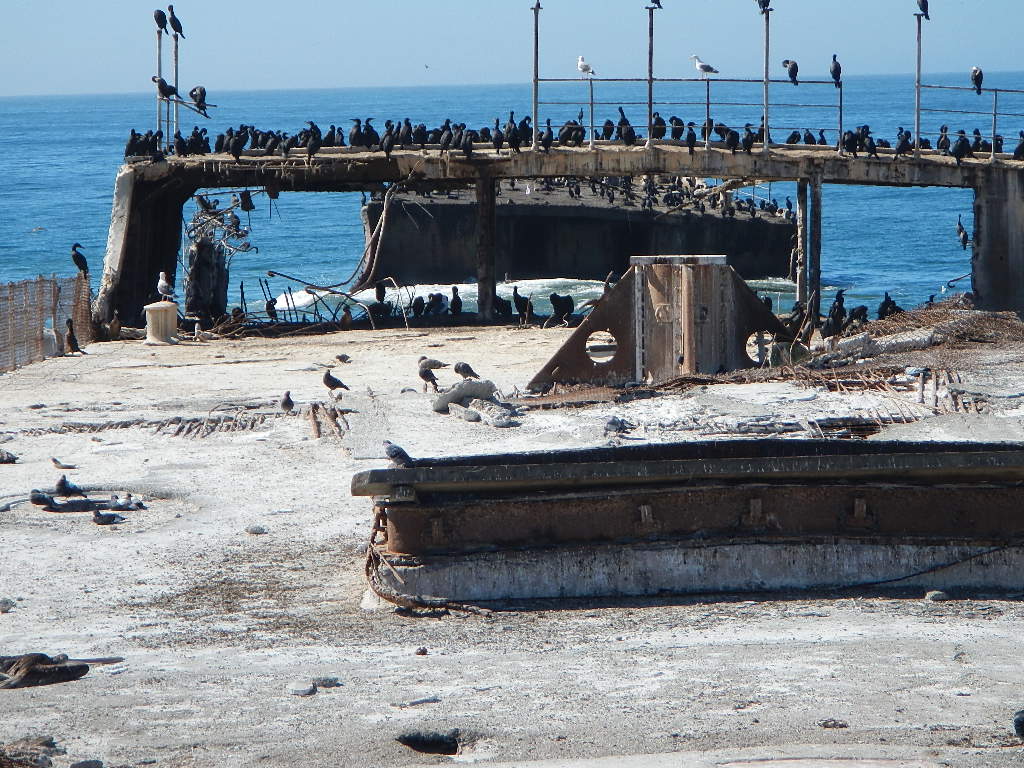 Birds have made the ship home for many years.

That bonanza of fish was mostly true in the early years, especially into the '50s, but even recently, when water conditions were right (especially El Nino warm-water years), it could produce some excellent catches. Locals with the know-how would almost every year find some of the larger species included in their summertime catches. 
Unfortunately winter storms in 2017 finally resulted in the hull of the ship turning on its side, an event which also affected the pier itself. About half of the outer portion of the pier was lost to angling and it's a question mark if the state (even with a so-called bloated surplus of funds) has the willingness to make proper repairs to the pier.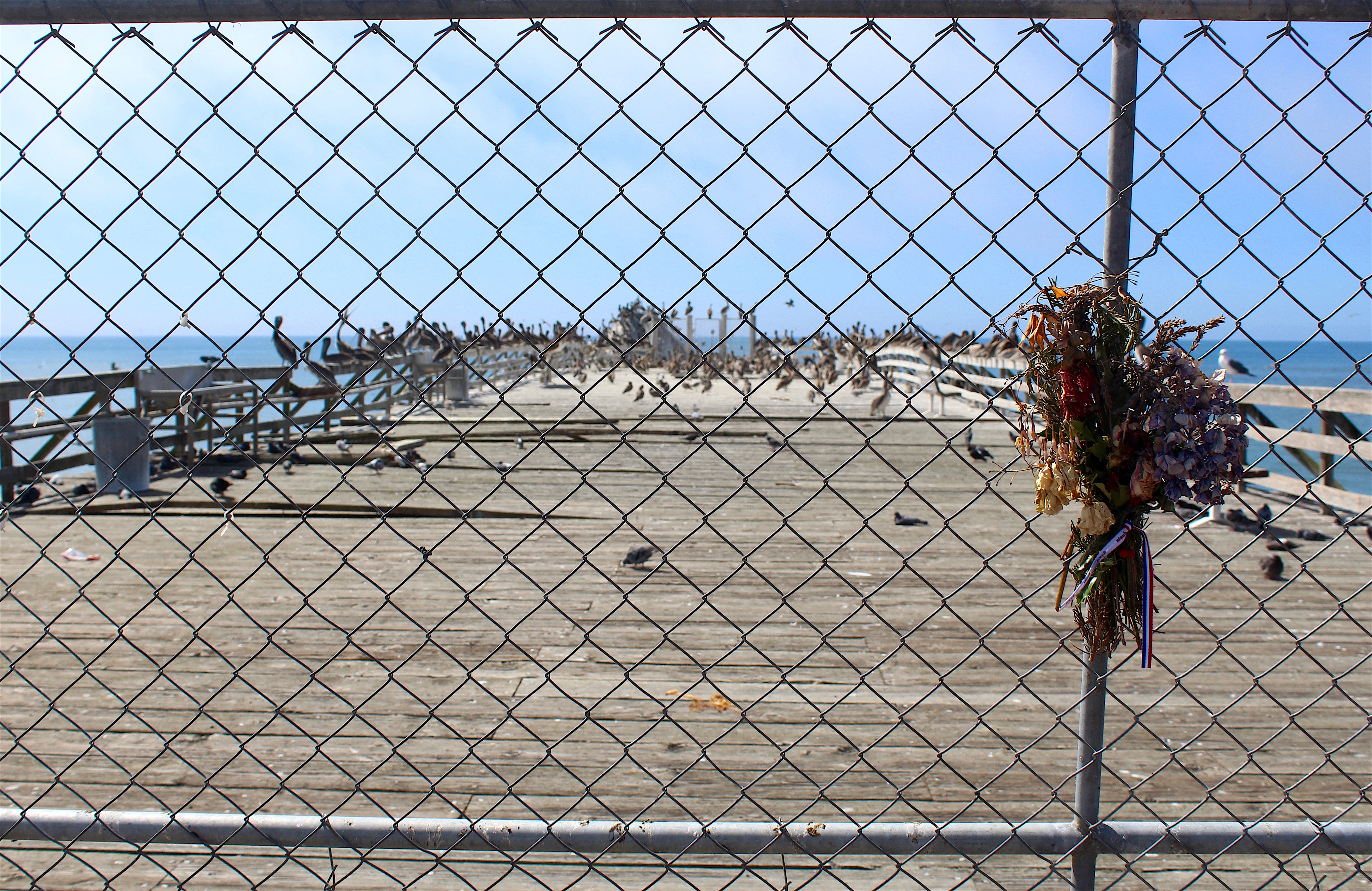 About half of the old pier sits behind fencing, inaccessible to anglers.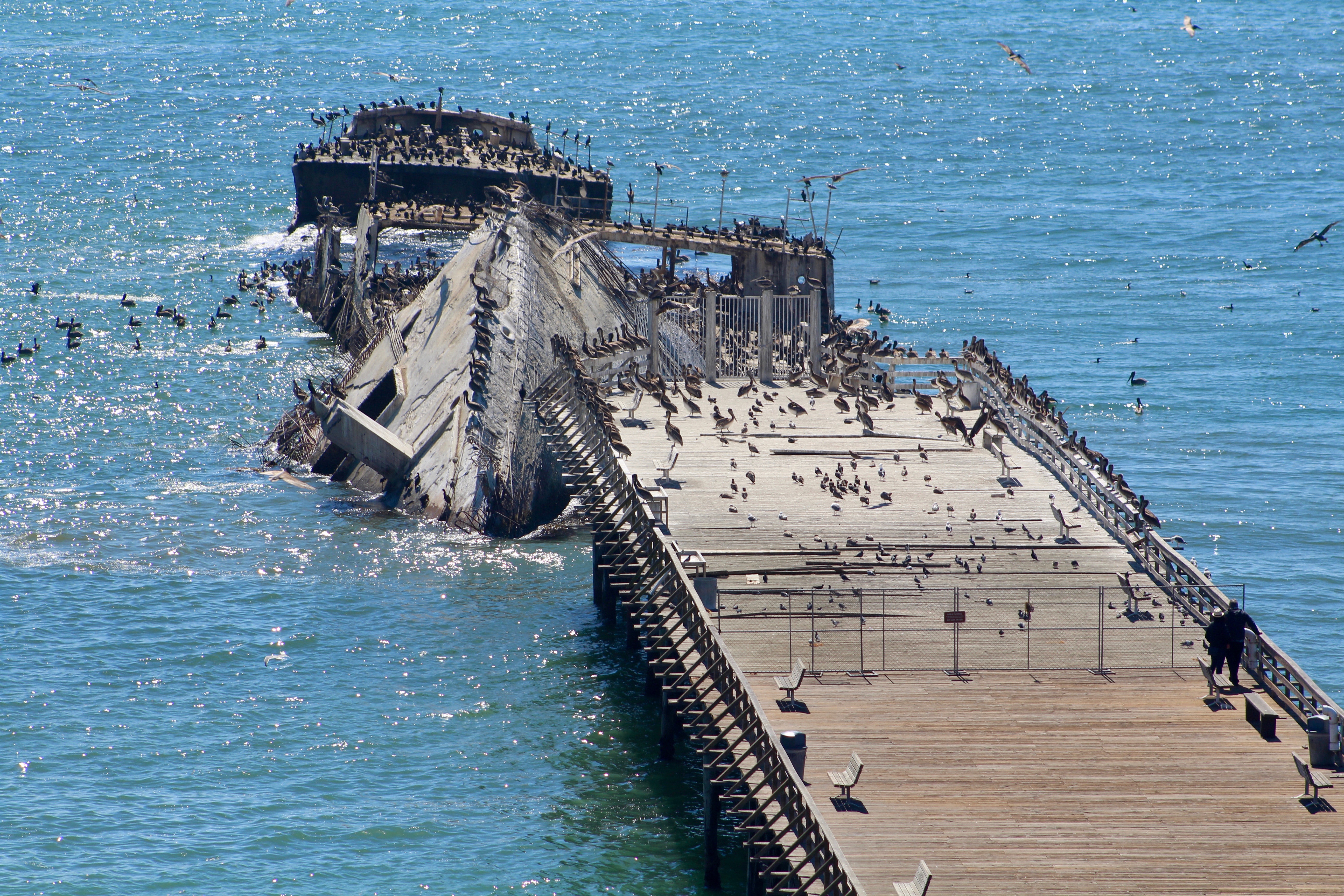 Given the shortened length of the pier today, most angling is for surf species and fewer of the large species can be expected. And, even if the larger species do make a showing, crowding and conflict may be inevitable.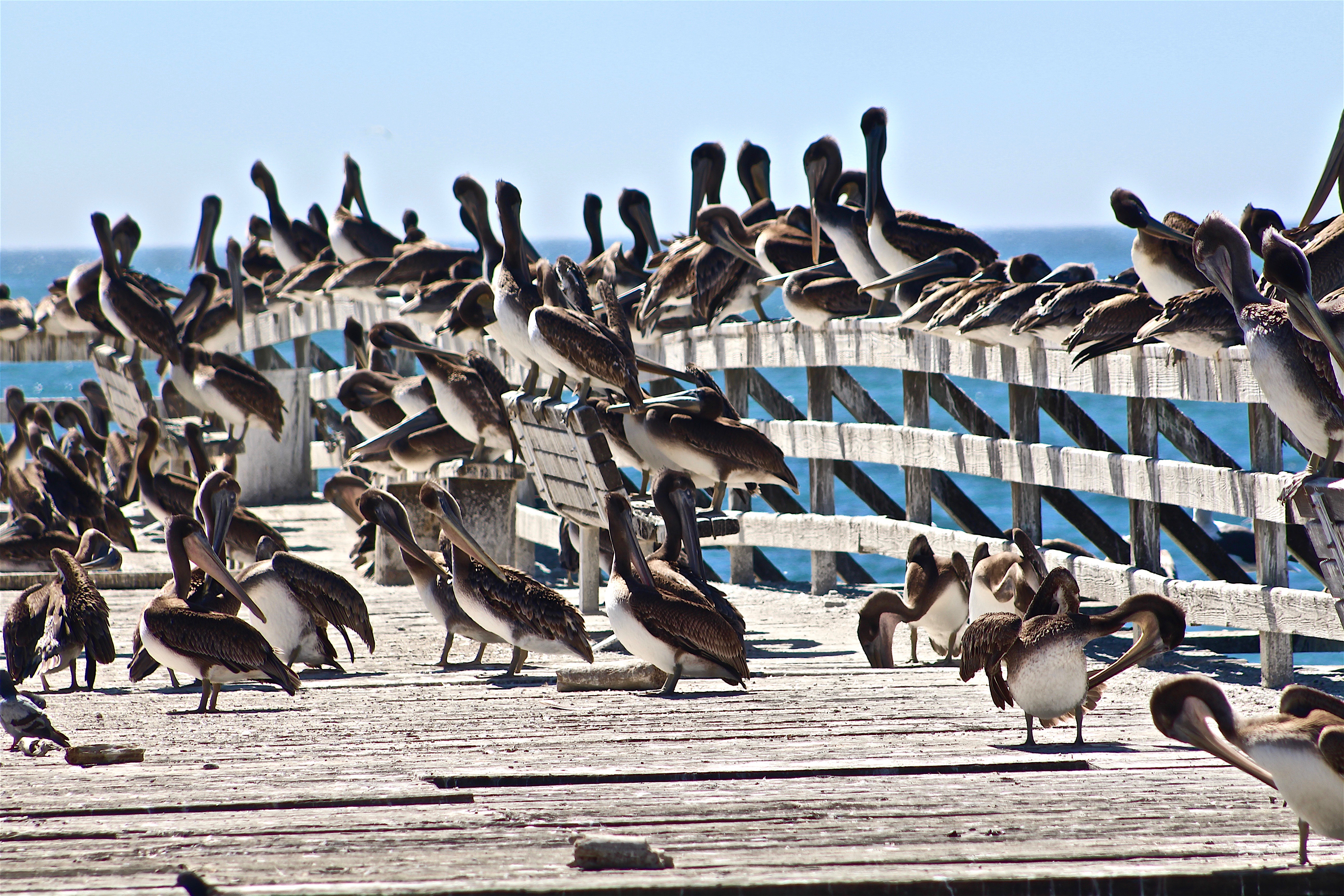 As is, it is a pier that I no longer recommend. My last visit in September of 2018 saw few fish but somewhat unbelievable numbers of bothersome kelp flies. The ship and the pier section now closed to anglers was covered with birds and bird droppings and the stench was overwhelming.
Environment. Seacliff State Beach is a sandy beach that connects with New Brighton Beach to the north and Rio Del Mar Beach to the south; all are noted beaches from which to catch surfperch. A short distance south of the pier sits the outlet of Aptos Creek. The park and pier sit in a pocket of Monterey Bay known as Soquel Cove, an area seasonally filled with baitfish and correspondingly frequently home to larger species—halibut, striped bass, white seabass (some years), and thresher sharks.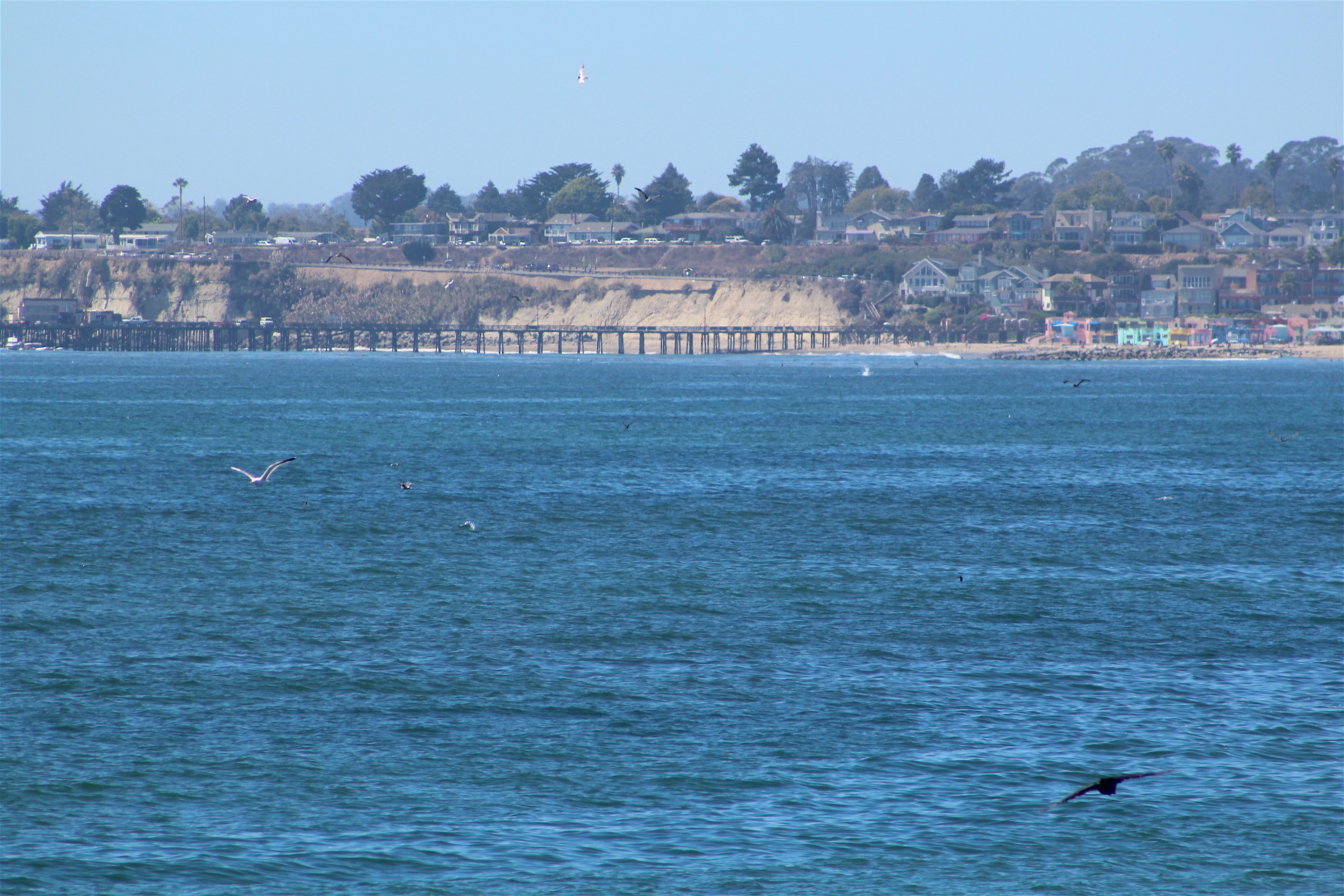 The Capitola Wharf sits a fairly short distance upshore from Seacliff
Given today's shortened pier, anglers are primarily presented a shallow-water, sandy-shore environment under and around the pier. What was a second environment further out on the pier — deeper water and access near the ship, has now been lost.  
In the surf area, the angler can expect to catch the large barred and calico surfperch (with the ratio of barred to calicos being about 3-1) as well as the smaller walleye surfperch, silver surfperch and often all too common (and pesky) shinerperch. Less common but caught most years will be white seaperch, spotfin surfperch, and a few sharpnose seaperch.
Kingfish (white croaker—numerically the number one fish at the pier), jacksmelt, and a buffet of small flatfish round out much of the action — sand sole, starry flounder (a few), English sole (a few), and Pacific sanddab. Although rarely ever seen today in the numbers that once existed, baby bocaccio, round out the catch for the smaller species (but remember that the fish are strictly regulated today).
This same mid-pier to the end area will yield up pelagics when they enter the local waters. Spanish mackerel (jack mackerel) are common most years, the sardines have returned and are also common, while Pacific mackerel visit some years. Most people fish for these with Sabiki-type rigs and use the fish for bait although others will fill a bucket and use them for food.
Most years will also see some king salmon, striped bass and California halibut landed, most commonly in the summer to fall months, and generally by the locals putting in their time on the pier. Increasingly, in the mid-to-late '90s, white seabass have also entered into the picture (and a 45-pound fish was landed in August of '00). Warm water years may also bring species more common to the south and both kelp bass and sand bass have been reported from the pier. As said, it's hard to predict how many will show up in the shallower waters now available to anglers on the pier.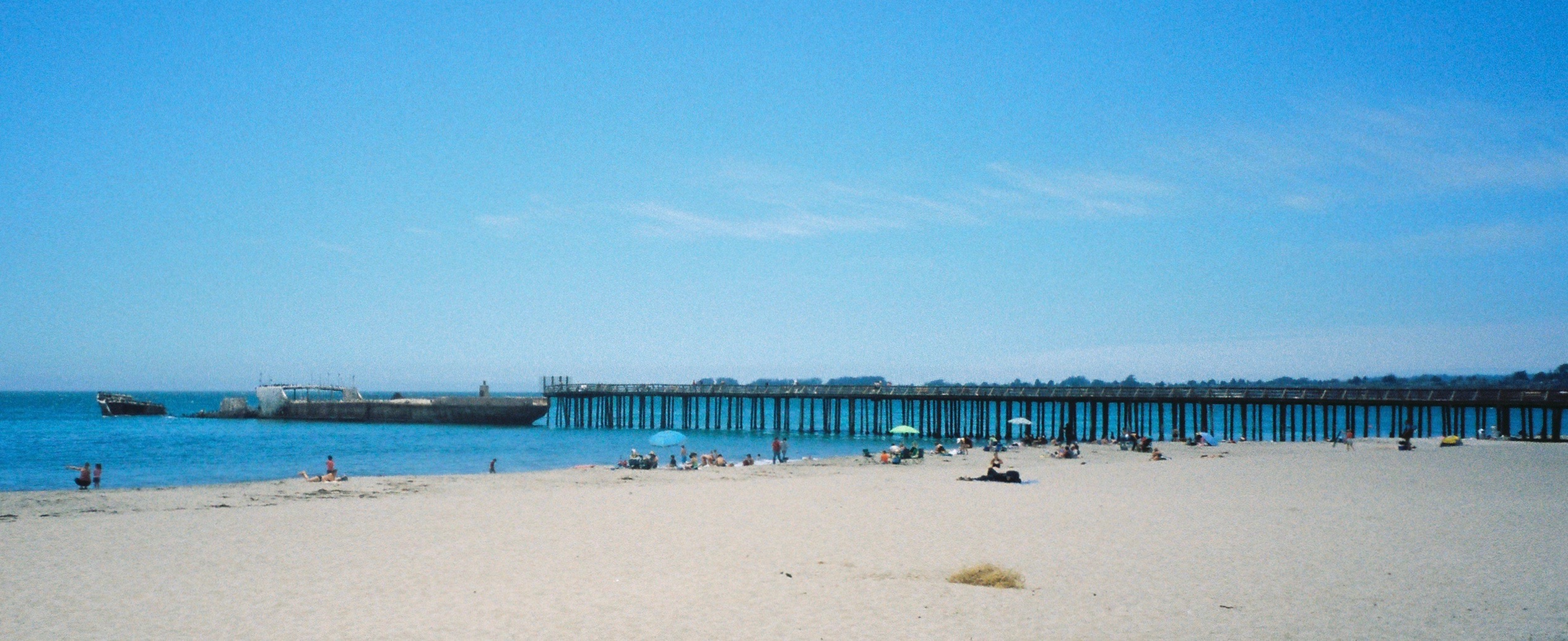 Although a number of species were once available out by the ship, I'm not too sure how many will show up today, species such as pileperch, rubberlip seaperch, blackperch, rainbow seaperch, and a few small cabezon and kelp rockfish. A few steelhead will also generally be landed during the fall and early winter months most years.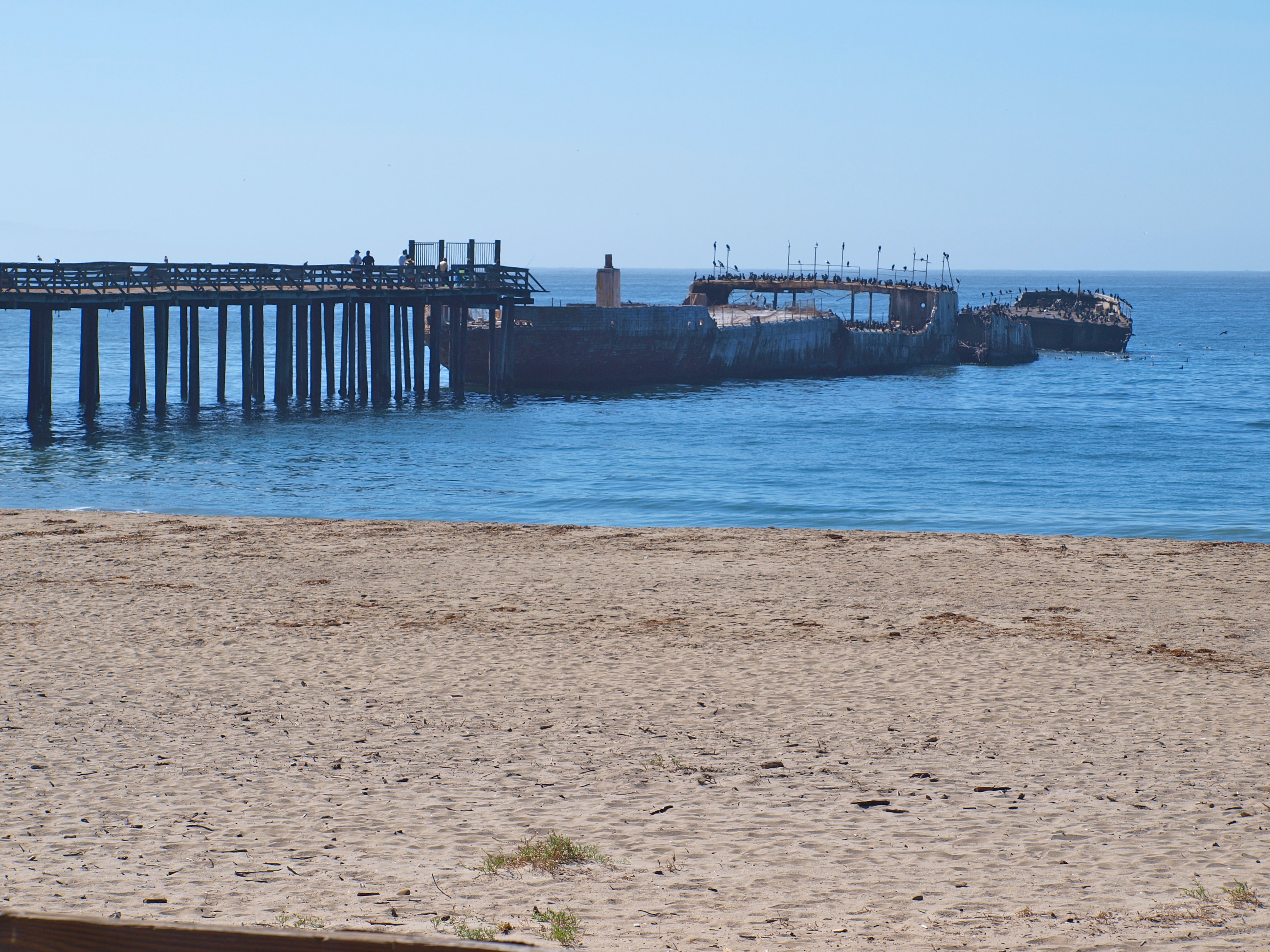 The way it used to look.
This is yet another pier that occasionally sees too many pelicans, although rarely the number seen at Santa Cruz. Nevertheless, the pier was shut down several days in August of '08 to protect the number of pelicans accidentally being hooked by anglers.
A word of caution! This can be one of those piers where the regulars think they own the pier and to some degree don't mind making life miserable for the non-regulars. Of course when a regular has a half dozen rods, has been drinking (or doing drugs), and seems to be camped out on the pier, it can almost be expected that there could be problems. I've seen it a couple times, both times when the stripers and halibut were biting, and was somewhat surprised no one raised a fist. I was even more surprised that the park rangers didn't have better control of the problem. Hopefully it's been corrected.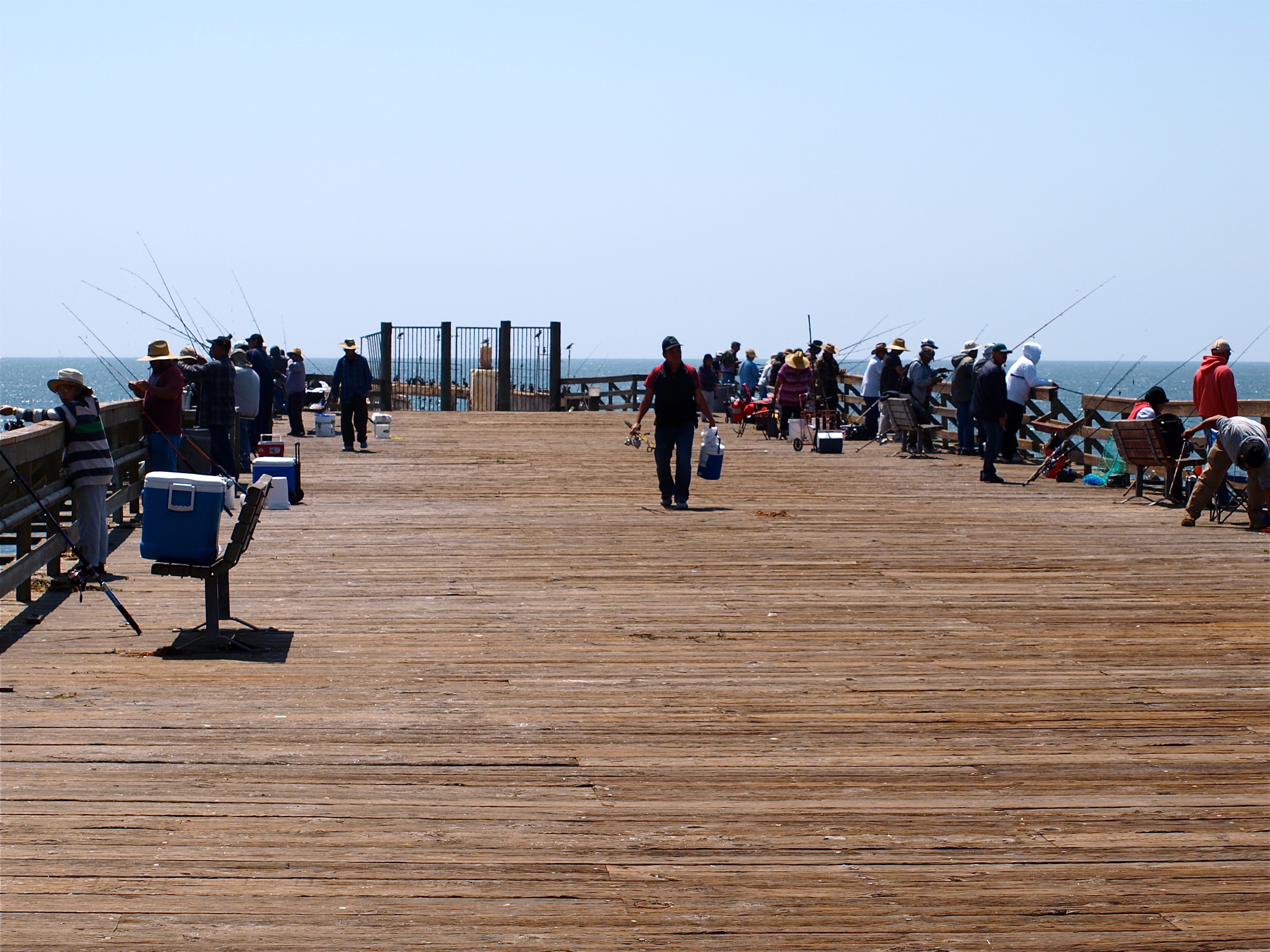 The pier was crowded when the pier was longer and the fish were biting, expect even more congestion today if the "biggies" show up.
Fishing Tips. Whenever possible, fish the surf area with live sand crabs (soft shell are best); if these aren't available, use pile worms, ghost shrimp or fresh mussels for bait. Winter is the best time for large barred surfperch, winter and spring for the calico surfperch. Motor oil and root beer colored grubs can also be used for these perch and since this pier is built close to the water it's a good place to try your artificial lures. Add some shrimp scent to the grubs for increased production. However, the surf here is typically only moderate and I haven't had as much luck with the plastic grubs as at beaches with heavier surf. Do try to hit the pier near high tide if you're seeking out the perch, two hours before to two hours after are the peak times.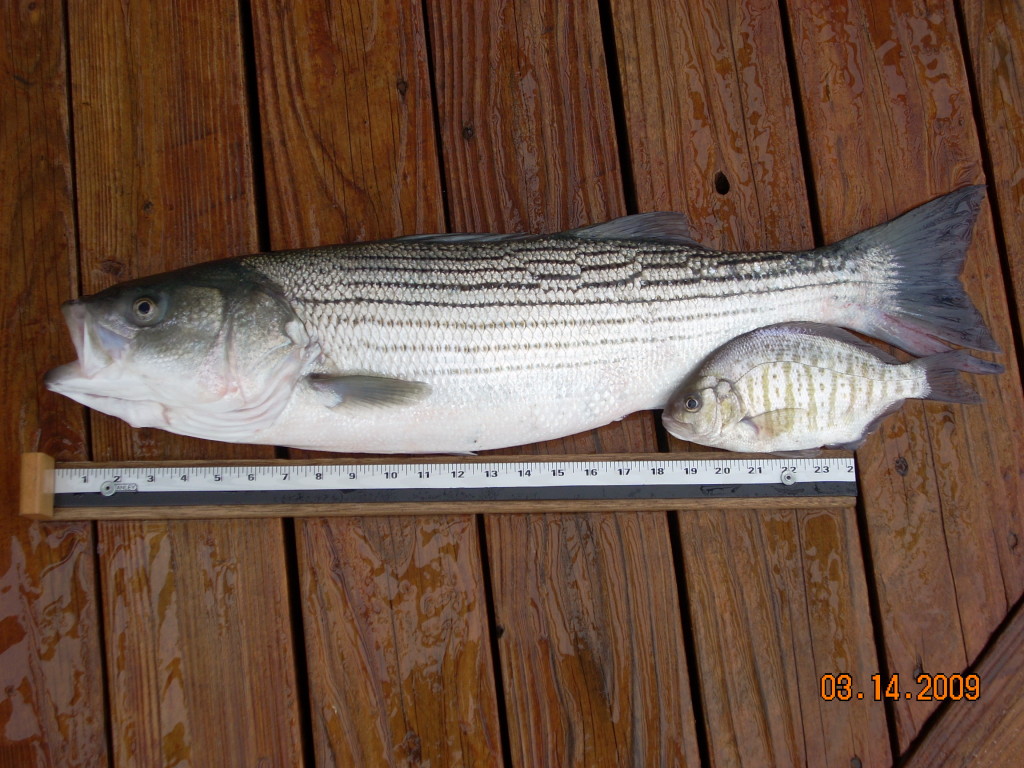 Striped bass and barred surfperch
If you do use an artificial lure, be careful of the nearshore bathers and the crowds on the pier. One day I saw a young girl get hooked in the face by the errant actions of an equally young boy. She was simply walking on the pier, he was paying no attention to anything except his friends. Having trouble casting a lure that was far too light for his tackle, he whirled it about and impaled the young girl with the treble hook of his lure. It was not a pretty sight.
Fish on the bottom using anchovies for sand sole, starry flounder and white croaker. Sole bite best in the spring, the flounder winter to spring, and the kingfish summer to fall (although some winters see large concentrations of these small croakers). Use a small piece of anchovy and fish mid-depth for walleye and silver surfperch. Fish near the top of the water and use pile worms for jacksmelt.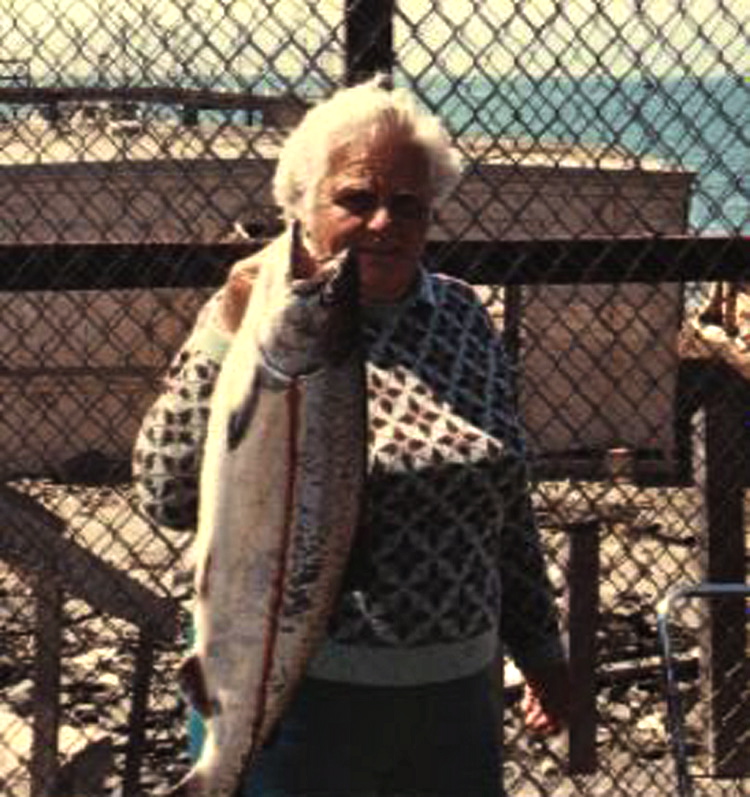 Rose Costa was a regular at the pier — and an excellent angler. Here she has a salmon
From June through August, use a live shiner, smelt, sardine (or small mackerel when available) and fish on the bottom for halibut and stripers; fish with the same bait but near the surface for salmon. As said, numbers will propbaly be down given the shallower water now available.
A plethora of different lures are used for the stripers; a few of the best are  Hair Raisers, i.e., Spro bucktails, Pencil Poppers, Lucky Craft Pointers and white swim baits.  Halibut like soft plastics with Big Hammer, among others, being a favorite.  Again, the pier can be very crowded so take care to insure that you do not tangle lines or endanger anyone.
Some years will also yield a few steelhead during the late fall months; most of these will be landed on worms or small lures.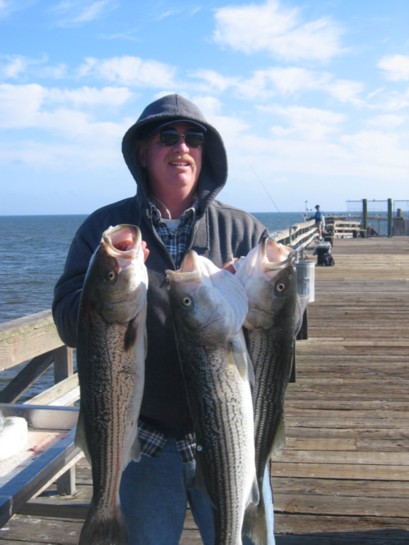 A trio of stripers
 If seeking out perch, the typical bait is pile worms, fresh mussels or small pieces of shrimp along with small hooks, size 6 or 8.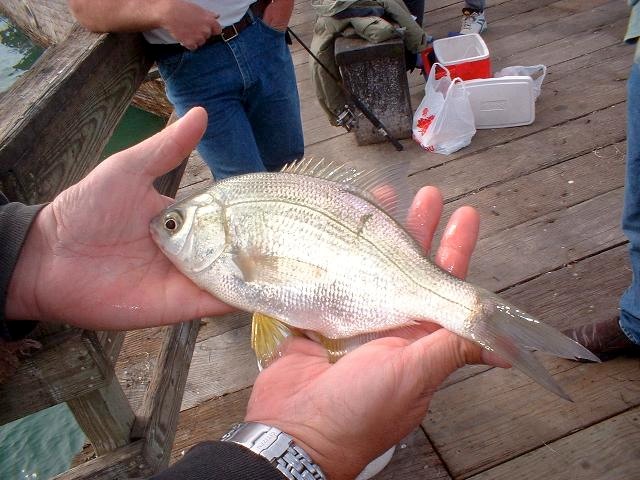 A white seaperch
A favored species is large rubberlip seaperch and bait or plastic grubs can catch them, especially root beer-colored plastic grubs. Although much harder to catch today than when you could actually fish near or on the  ship, hopefully a few rubberlip will still show up for anglers. Keep the grub moving and be ready for a hard strike from these large perch. Also, use a fairly heavy drag on your reel and try to keep the perch moving toward you.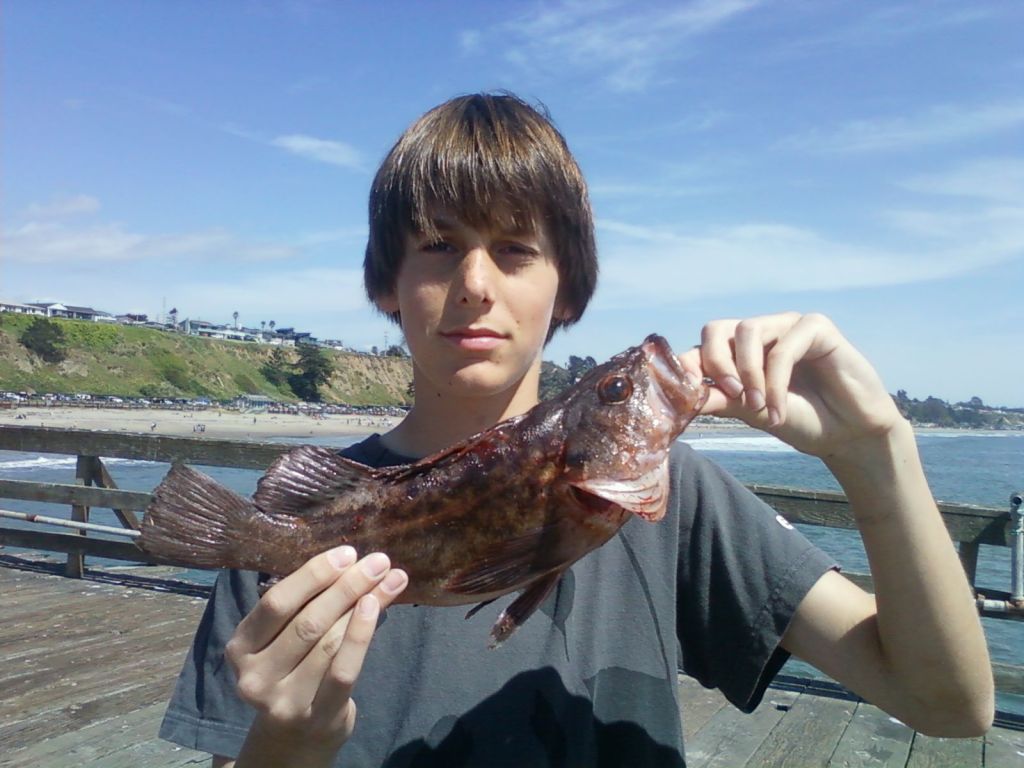 Brown rockfish
The waters will also yield a few sharks, mainly smoothhounds or leopard sharks (including a nearly five-foot-long fish in August of 2009), Rays too will show up including thornback rays, bat rays, and a few skates.
Although not a noted pier for large sharks, some years do provide decent action as seen in 2008 when large numbers of thresher sharks were reportedly taken over the summer months. Some years will also see a few species more common to the south, i.e., two shovelnose guitarfish were caught in July of '06.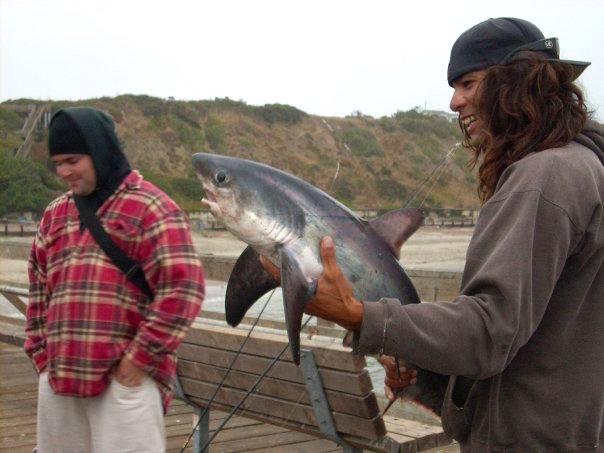 One problem that can exist is the overabundance of shiners (shinerperch) and bullheads ( staghorn sculpin). At times it is almost impossible to keep the shinerperch off your hook, especially if you are using small pieces of pile worm. The only alternative is to use larger hooks and different bait but realize you will catch less of the other smallish fish. Of course when you latch on to that 30-pound halibut or striper using your live shiner as bait, you will thank the good Lord for their abundance. After all, small baitfish like the shiners is what attracts the larger halibut, stripers and salmon. And there is a reason why the regulars have two rods—their larger rod for the halibut and their light action bait rod.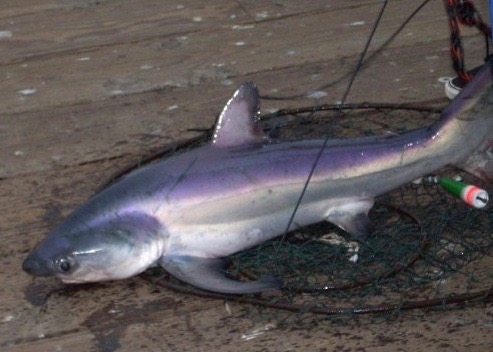 A thresher shark but just a baby
The Pier Rats Speak

Date: December 14, 2001; To: Pier Fishing In California Message Board; From: pescare; Subject: Why Seacliff Pier Scares Me