The Hermosa Beach Pier, as well as the historic Lighthouse Cafe, is featured prominently in the Oscar favorite musical "La La Land." Ryan Gosling was filmed on the pier in a song and dance number under the bright lights of vintage-looking lamp posts installed by the studio.
"You should see it once a day," Duclos told the Council about "La La Land." "It's an inspiring movie, it's a very positive movie. It presents Hermosa Beach in just the best possible light."
There is a check list of improvements needed at the pier, including lighting, and the city has funds budgeted toward capital improvements related to the pier. Duclos feels those improvements have "elevated itself to a priority" with the release of "La La Land." "For us, I think it would be silly not to look at this as a unique opportunity," said Duclos in an interview Wednesday. "This is an opportunity to fulfill some expectations for people when they come to Hermosa Beach in terms of what they think they're going to see. Our pier basically is pretty nondescript, I think you would have to admit. It wasn't always so, but that's the way it is now … how do we make our pier distinct again? It would attract people to the city, it has economic value long term and it's a look that's very compelling."
Duclos added that the idea didn't start with him. It came from people in the community, including Dency Nelson, a Directors Guild of America member, who called the film a "love note" to Los Angeles as well as Hermosa Beach. "There are a lot of us in the community who would like to see those art production lamp posts that were there just for the film permanently installed, perhaps in place of what we have," said Nelson at Tuesday's meeting.
—Michael Hixon, The Beach Reporter, Jan 12, 2017
<*}}}}}}}}}>< — Pictures from an "Ethical Angling class given by United Pier and Shore Anglers of California (UPSAC) in 2010.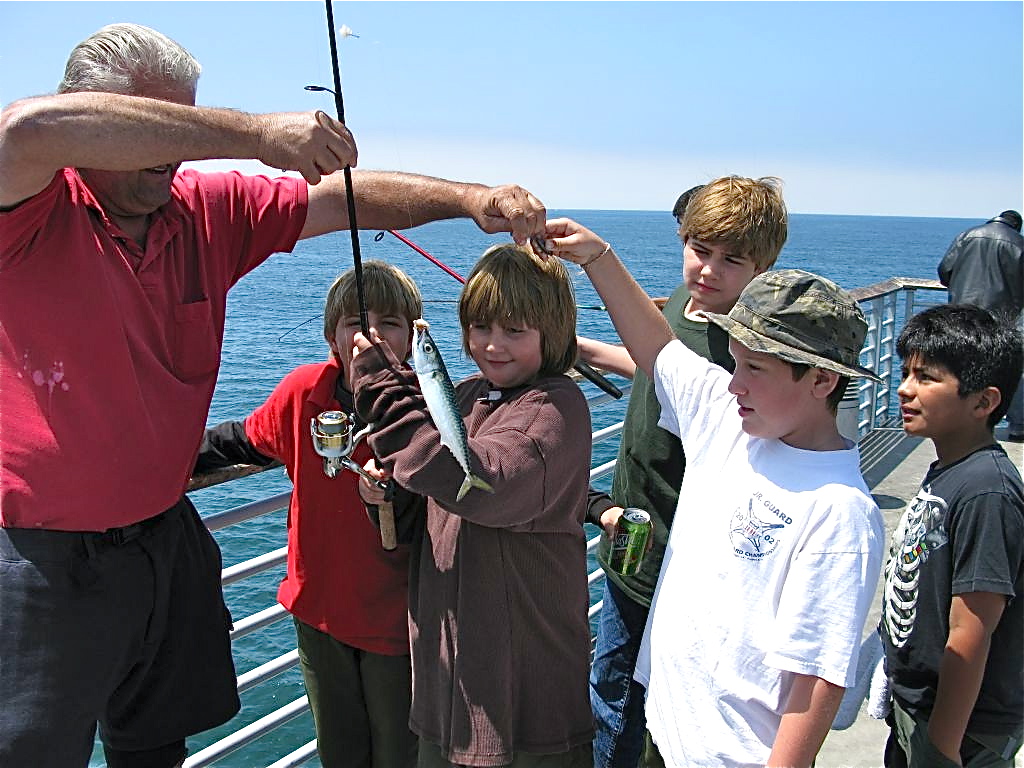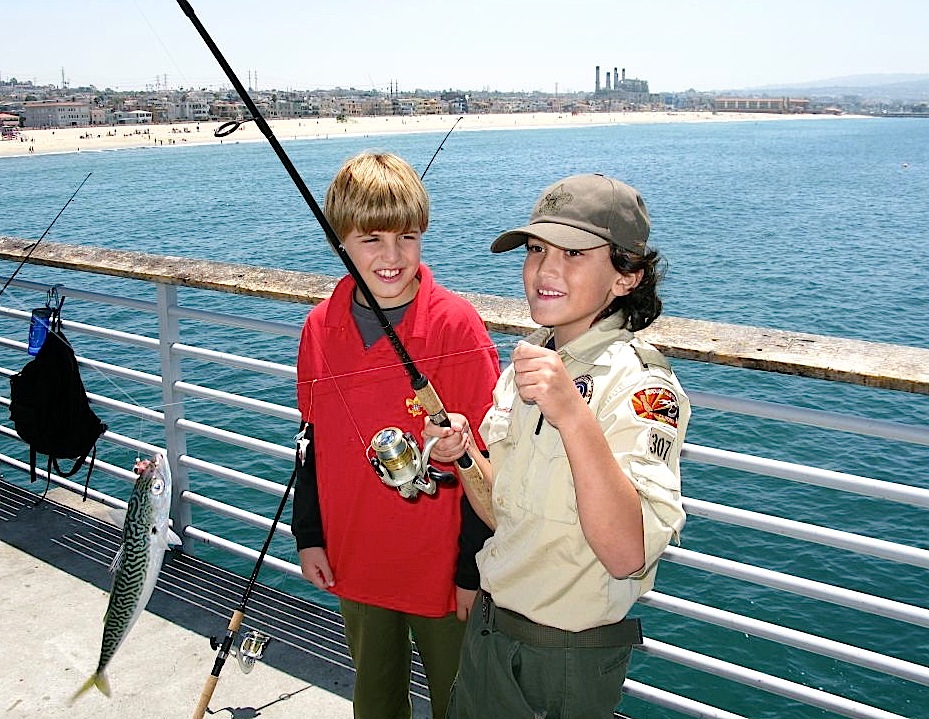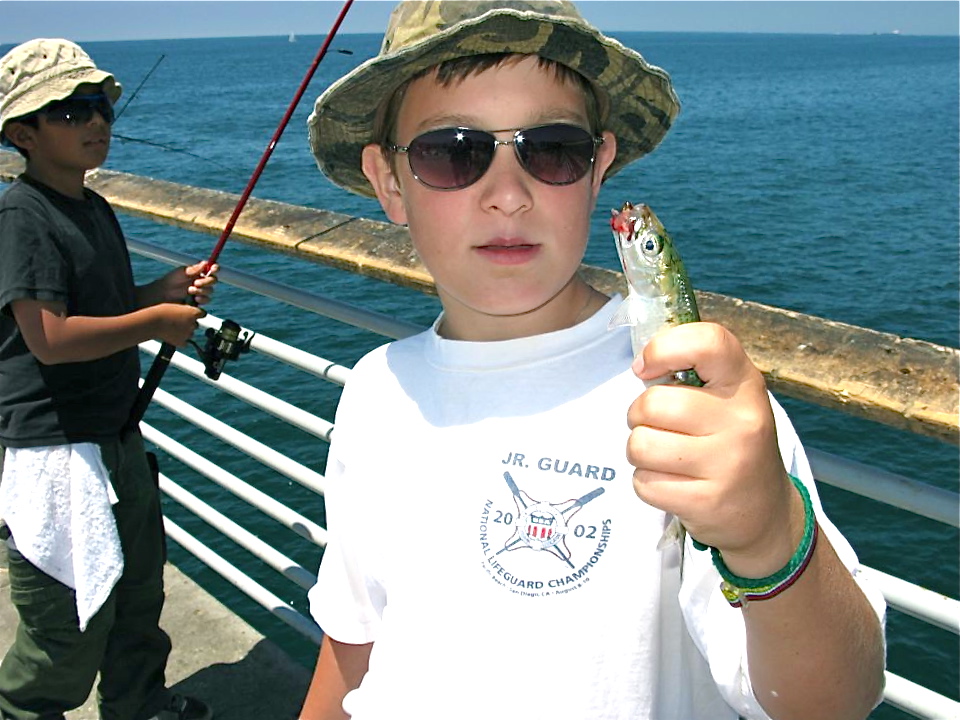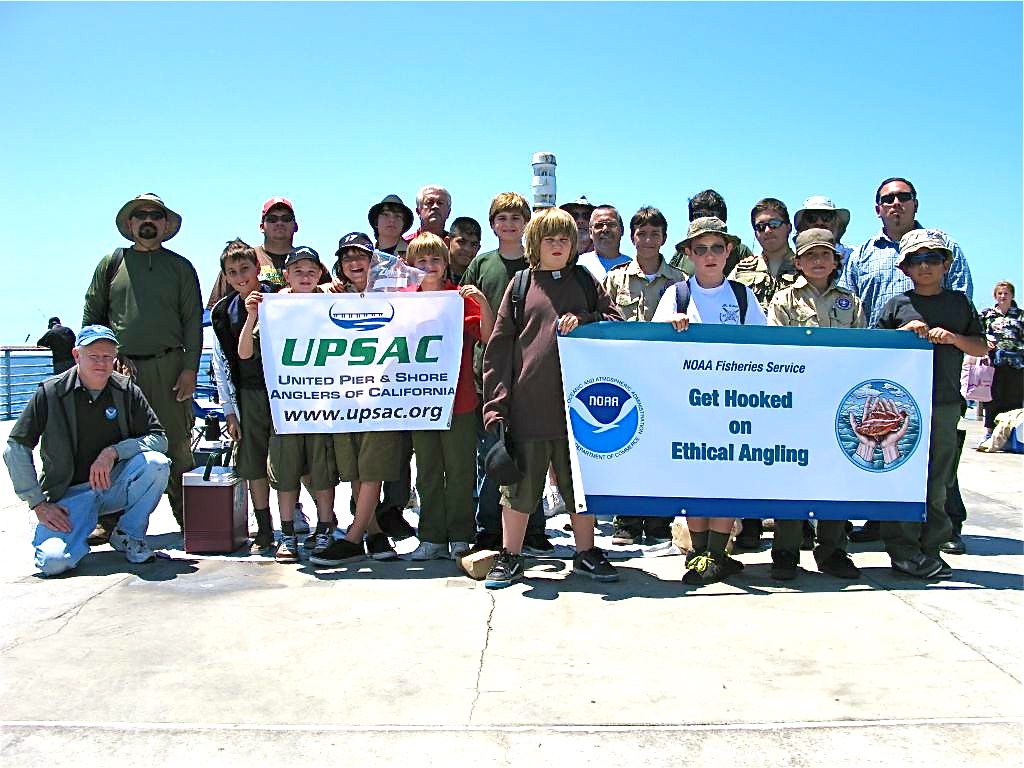 <*}}}}}}}}}>< — Just wish I had been there.
Grand Opening Of Beautiful Hermosa Beach — Tomorrow, Sunday, May 5
Free Excursions Every 20 Minutes by Two Electric Railroads from 8 A.M. to 1 P.M. Secure Your Free R.R. Tickets at Once at Our Office.
[Pictured in the ad is a ship, a car, a railroad engine, a trolley car and a man on a camel—all headed toward the beach.]
The Beautiful "Redondo Villa Tract B, Only $90 per lot, $4 Down, $4 per Month
Music by the famous Catalina Island Band and world-renowned Hawaiian Orchestra. The cheapest beach lots around Los Angeles. Buy where the beach is incomparable and moonstones gems of great value are found daily. Buy now at the opening sale. Prices will soon be raised. Remember, Hermosa Beach has a excellent electric car service, grand ocean wharf, electric lights, gas plaint, magnificent water system, a fine sewer system. A grand board walk along the entire length of the beach and many beautiful residences already built. Prices low. Terms easy. Buy before the raise. Call at office at once for free ticket…
Our Restrictions. No saloons, no shanties, no factories…Telephone (Main 3379 or Home 5339).
—Los Angeles Herald, May 4, 1907
Fishing — The Good Old Days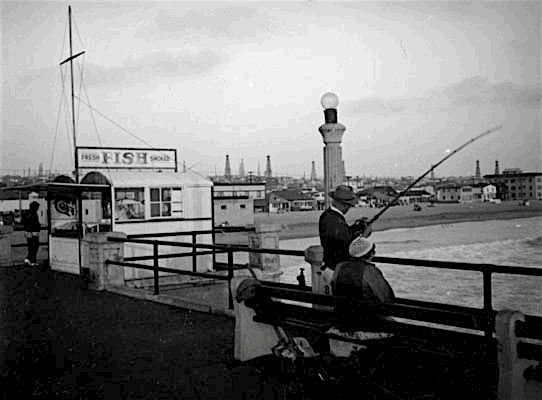 Make Freak Catch
Two Southern California anglers, members of the Southern California Rod and Reel club, went to Hermosa Beach last Saturday after yellowtail. For several hours E. R. Morse and Walter Geft fished and fished, but nothing was doing. Finally Morse moved up the pier about 1000 feet, and, with a six-ounce rod, brought in five shovel-nose sharks. Geft captured the same number of sharks, one of them being of the leopard family. Geft also, on a 3-6 tackle, caught a yellowtail weighing six ounces. This is considered a freak, as rarely are these fish taken under the weight of several pounds.
—Los Angeles Herald, June 29, 1909
The First Big One — Hermosa Fisherman Lands Three Hundred Pound Jewfish
Hermosa Beach, May 14—"Texas" Rogers, nationally known fisherman, who has more than once put Hermosa Beach on the map with exploits of rod and line, is full of sorrow. His heart is near breaking with regret while another angler revels in delight pleased with fresh laurels just thrust upon him.
This morning, when the first big crowd of the season was gathered at the beach, Ed Dorsey of Los Angeles brought to dock, at the end of the pier, the first big Jewfish of the season. It was a fine specimen weighing 302 pounds and measuring six feet seven inches. The big fish was brought to the end of the pier after a fight of an hour and a half. It was necessary to shoot the monster three times before it could be lifted from the water.
"Texas" is disconsolate because he says that for three months he has been endeavoring to land the big beauty. "Why, I had that fish located for weeks," he said yesterday. "I knew him by name and was on speaking terms with all the members of his family, but some way he passed me by." The successful fisherman used nothing but an ordinary rod and reel and was assisted in the landing by Everett Cassell of Los Angeles.
—Los Angeles Times, May 15, 1922
Fishing on the pier at Hermosa is at a fever heat these days. Barracuda are running and biting with the result that the anglers and their families are having the time of their lives, according to Mrs. Helen B. Alexander, who runs the bait and tackle store on the pier. Mrs. Alexander claims one family consisting of Pa and Ma and about a dozen kiddies ranging from large to tiny bagged over 100 fish during a day's outing on the pier last week. Every member of the group had a line overboard and they all caught fish.
Charley Murphy, the handsome young fellow who tends to the wants of Mrs. Alexander's bait and tackle customers at Hermosa Pier, gave the visitors a thrill last Wednesday when he landed a monster sting-ray. Charley was pulled all around the pier before he finally bagged the finny devil.
Capt. J.M. Anderson, who operates the barges Olympia and Kohala, which are anchored off Hermosa Beach, is fairly jumping with joy these days. It seems the fish have been biting as fast as lines are thrown over from the barges and the anglers are going hoe with bags full of fish and heaps of praise for Anderson's boats—hence the captain's jumping antics."
—Along The Fish Trail with Line N. Sinkur, Los Angeles Times, August 7, 1927
Hermosa Beach—Pier fishing has been excellent with good catches of mackerel and perch, while some hauls of halibut and bonito are also being reported.
—San Bernardino County Sun, May 25, 1930
Fishing in local waters has never been better, says [Capt. J. M.] Andersen, at least a dozen fifteen-pound halibut being hooked by pier fishermen yesterday. Barracuda are also extremely plentiful. Live-bait boats from up and down the coast were anchored 100 yards off the pier yesterday, all catching barracuda as fast as they could be hauled aboard.
—Los Angeles Times, June 29, 1933
 Hermosa Beach reported no monster fish caught this week… [but] pier anglers in that region are hooking large hails of halibut. Last week witnessed the triumph of Angler Mike Mattos, of Los Angeles, over three hefty halibut, heaviest of which weighed forty-one pounds.
—Los Angeles Times, June 21, 1936
The run of the three B species [bonito, bass, and barracuda] along all areas of the coast has hit peak speed this week with big catches reported on boats and barges—plus large numbers taken on several Southland piers. Hermosa Beach pier is an excellent example of the run of bonito through south bay banks. Gary O'Neill, operator of the Hermosa sport fleet reports that more than 1000 boneheads are being taken daily by fishermen on the pier.
—Jack Adams, Rod and Reel, Van Nuys News, June 28, 1968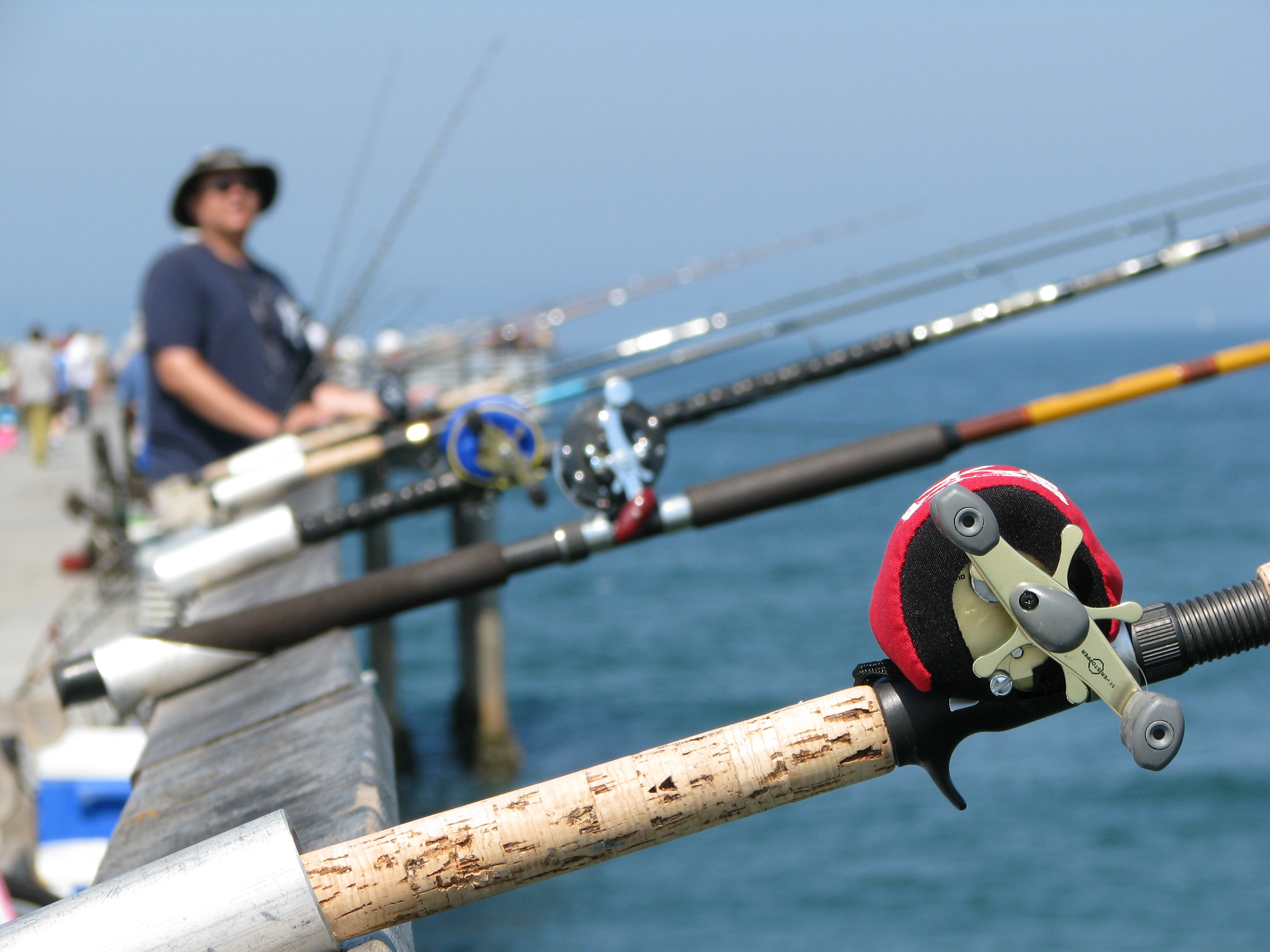 History Note. The name "Hermosa" is the Spanish adjective for "beautiful" and was used by the Hermosa Beach Land and Water Company when their new subdivision was laid out in 1901. Three years later, in 1904, the company built the first Hermosa Beach pier, an all-wooden structure. Designed to attract visitors (a.k.a. potential buyers or pigeons) to the beach, it extended out 500 feet into the ocean. The pier sat at the end of Santa Fe Avenue, the early name used to designate the main route to the Santa Fe Railway (the main transportation through the area), and its tracks, which were seven blocks away from the beach. When the reliance on the railway ended, the street was renamed Pier Avenue, the same as it is today.
That first pier was partially washed away in 1913, then torn down and quickly replaced by an asphalt-covered, all concrete pier. The replacement pier was almost immediately attacked by the elements itself, on December 12, 1913, huge swells and giant breakers "broke off all of the four wooden pilings of the dolphin of the pier, which was formed of four pilings bound together. These pilings were washed through the concrete pilings of the pier, and in dashing against them bent one of the great concrete pilings and cracked the concrete on that and two others." The builders of the pier said they had "no fear of the sea owing to its solid construction" and apparently they were right for the pier survived for many years.
The new concrete pier included tiled pavilions that were erected at intervals along the side to afford shade for fishermen and picnic parties. Soon a bait shop was built out at the end, and in 1914 an auditorium building was added at the shore end next to the pier. Eventually this pier too would be destroyed by storms—and old age.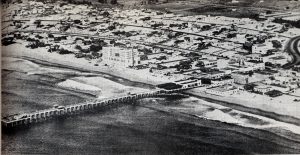 The pier in 1924
Like many piers in the '20s, a Sportfishing operation on the pier was begun when Capt. J. M. Andersen built a landing that could be used to shuttle anglers out to the barge Olympic in 1926. An additional barge, the Kohala, was used from 1927-1928, and the Olympic II replaced the Olympic in 1934. In addition, from 1930-33 a number of Sportfishing boats ran from the pier; they included the Martha, Calypso, Big Redondo and Little Redondo.
The Lahaina, a 4-masted barkentine converted into a fishing barge, was apparently available during the late '20s; it was owned by Hans Monstad who also ran the Sportfishing operation on the Redondo Pier.
Capt. J.M. Andersen, who operates the barges Olympia and Kohala, which are anchored off Hermosa Beach, is fairly jumping with joy these days. It seems the fish have been biting as fast as lines are thrown over from the barges and the anglers are going home with bags full of fish and heaps of praise for Anderson's boats—hence the captain's jumping antics.
—Along The Fish Trail with Line N. Sinkur, Los Angeles Times, August 7, 1927
Record Shark Caught
Hermosa Beach, Oct. 28.—One of the largest hammer-head sharks ever caught here was brought in yesterday from the Olympic fishing barge by Ted Haberfield. The huge shark measured thirteen feet in length and weighed 212 pounds. Haberfield battled for more than an hour with the big fellow before bringing it to gaff.
—Los Angeles Times, October 29, 1931
From 1934 to '36 a new company operated the Grant, Calheeta and Asahi. Then, in 1936, yet another company operated the barge Magdalena Bay. Finally, Paul Froude operated a succession of boats until the outbreak of WW II in 1941. His boats included the Irene F., Neptune, Kingfish, Asahi, Grant and Calheeta. Two attempts were made to operate profitably after the war, one on the Pier Fisher, another on the Offshore, but both were short-lived. However, in 1965 a new company entered the local scene
"South Santa Monica Bay fishing grounds take on new luster this week with a new Sportfishing fleet making its bow at Hermosa Beach Pier on Friday. Frank Hale, well known to local sportsmen for this operation at Seal Beach the past several years, will head the organization, which will offer barge fishing and half-day runs from the end of the Hermosa Beach municipal pier. Hale is bringing the barge C-Coaster, which he had at Seal Beach, back to the South Bay area. He will also schedule the live bait boat Sea Hawk leaving daily at 7 a.m. and again at 12 noon. Opening of live bait fishing at Hermosa offers quickie runs to the fishing grounds. Little more than five minutes are needed to be on the reef area set up by the Fish and Game Dept. during the past year… The debut on Friday is expected to result in excellent fishing right from the opening run."