Private Pier — Fishing License Required
Paradise Cove's pier is an icon of its history. Over decades of fishing boats, strolling lovers, angry storms, determined rebuilds and fat seagulls, it's remained a landmark for this latitude of coastline. It used to be about twice as long, until nature decided otherwise one dramatic winter back in the early 80's. For years I've stepped lightly across these planks as I did today. One's nose is immediately greeted with that distinctive Eau de Pier scent: moldy-salty-smoky creosote marinated in the collective sun-baked guano of sea birds… no wonder hot dates can't keep their hands off each other when they get here. My oddest pier-specific memory is of one New Years Day walking with a few friends. Upon reaching the tip, a girlfriend who worked at Paramount Studios suddenly removed her left sneaker and flung it far out to the sea. When quizzed on this, she replied, "tradition!" Perhaps she wasn't the first in her family to be in shoe business."
—Alex Shapiro, Objects are closer than they a pier, November 3, 2006, notes from the kelp, (http://www.alexshapiro.org/blog/?p=123)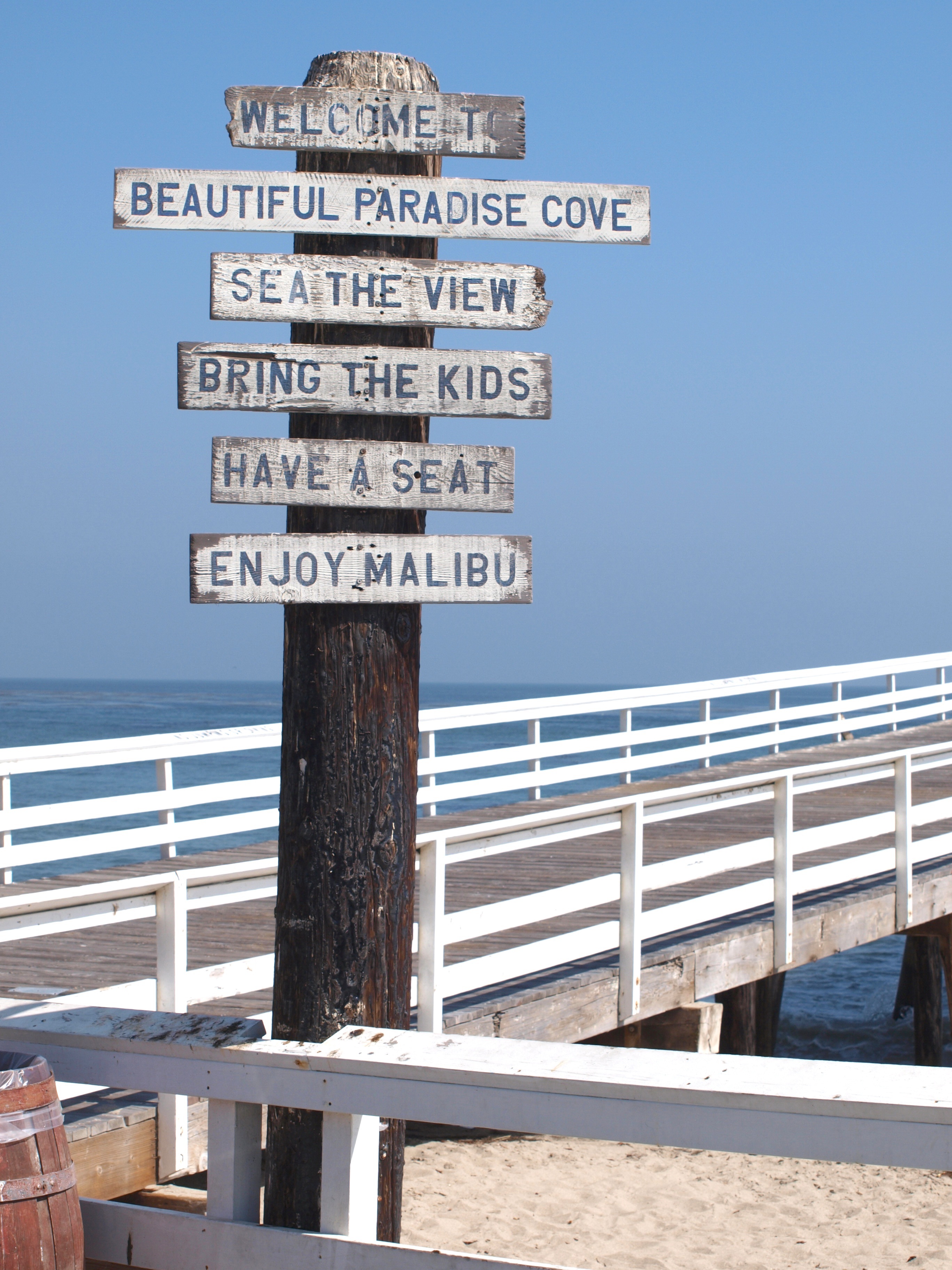 If you have a few bucks and a fishing license, and you want to try something different, you can try this little pier that is located in a private cove and beach. Jacketed attendants let you into the parking area for a $25 per car charge, although you can walk in for less, and then you're entitled to use the beach or pier.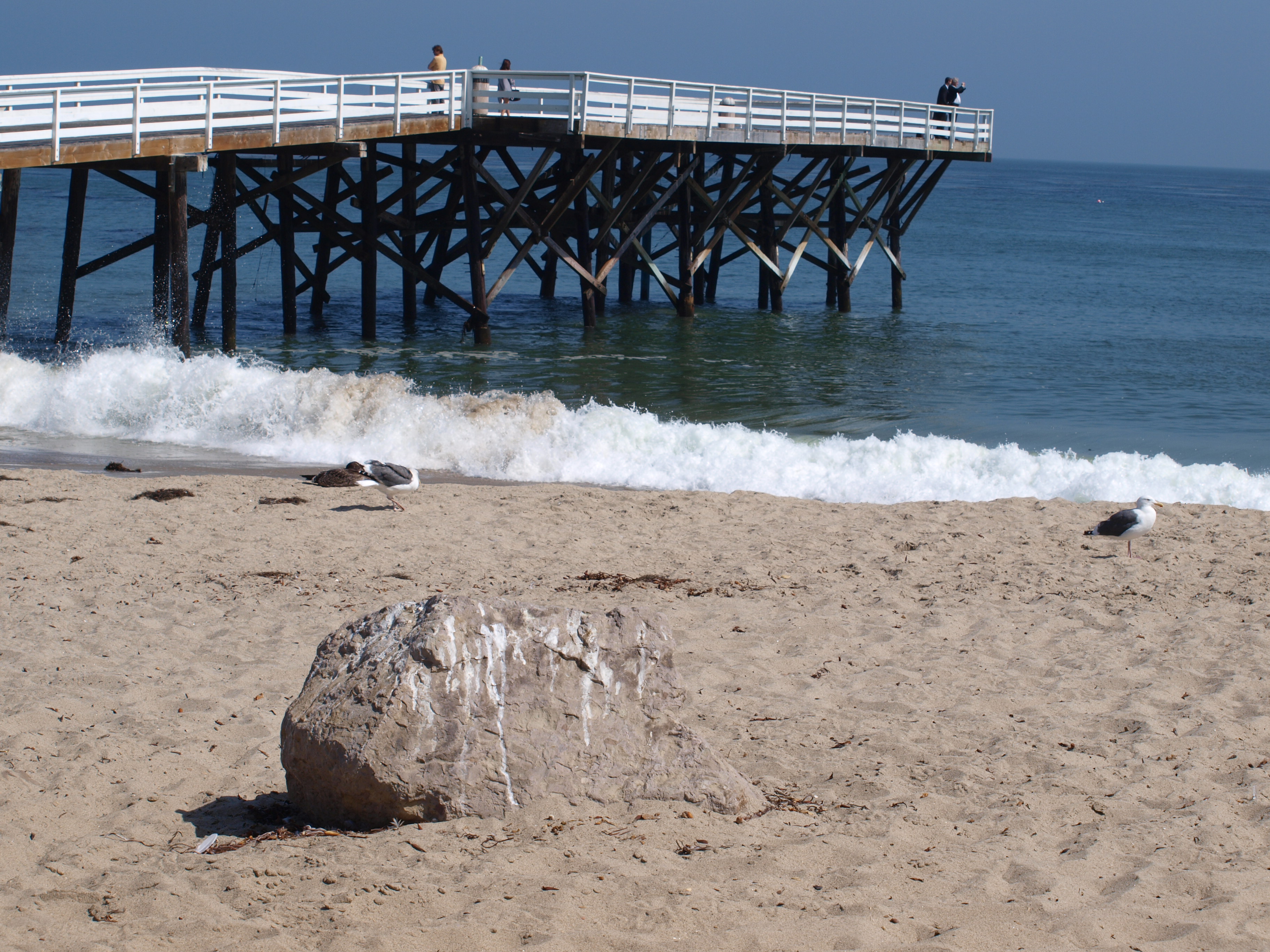 Of course, the pier today bares little resemblance to the pier that existed before the storms of 1983. Prior to that year, a 600-foot-long pier graced the cove's waters. The pier was well maintained, had rental boats, and the Paradise Cove Sportfishing fleet operated from the pier. Today, that is all gone. The El Niño-driven winter storms of 1983 that damaged so many piers included this pier as a victim. Huge waves destroyed much of the pier and left only a small 220-foot-long, inshore section intact.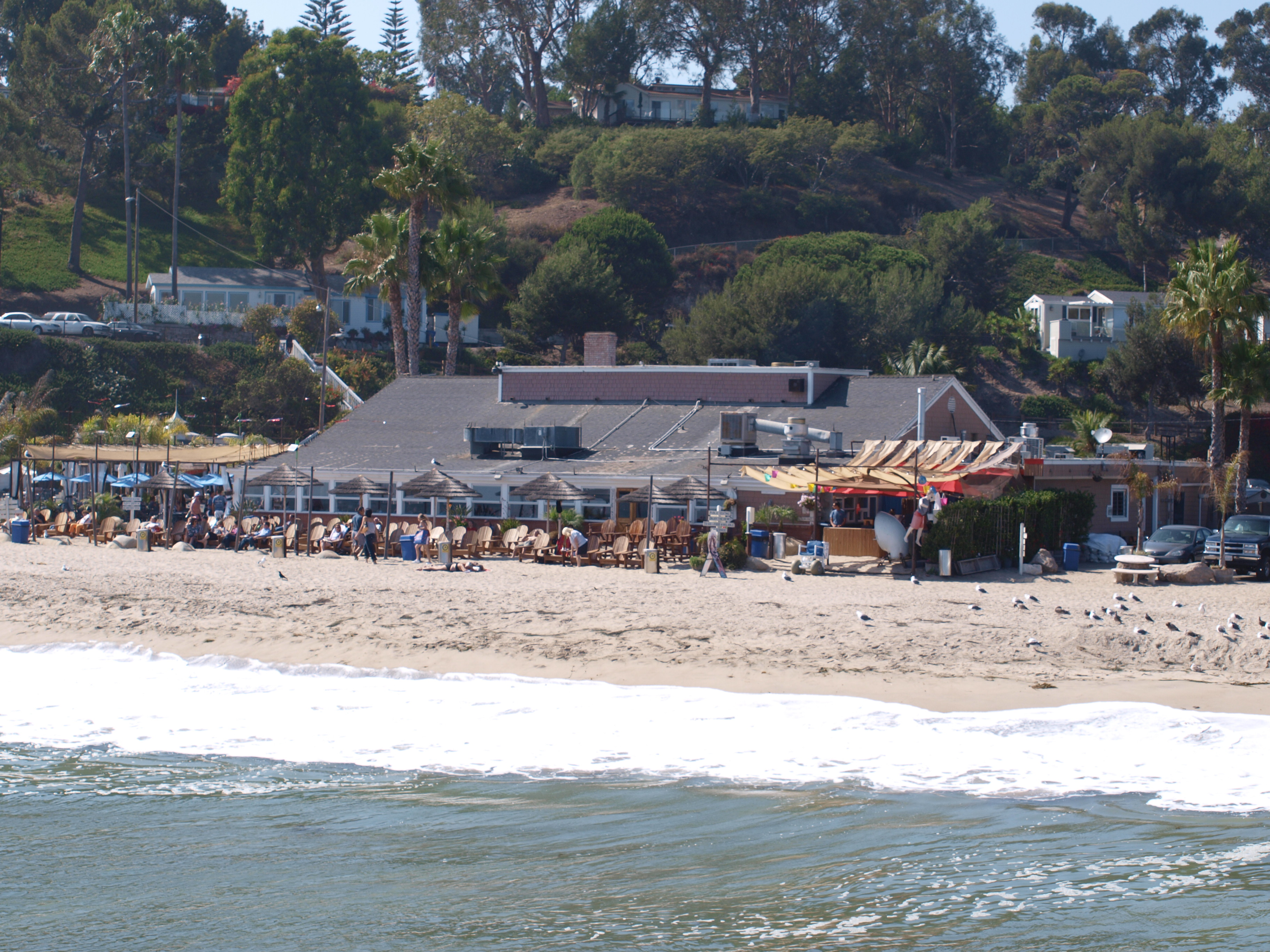 You can pay $25 to park or pay to eat at the restaurant; spend $20 and you get three free hours of parking.
Although still in use until the year 2000, it was closed for a period of time but is now once again open. Good news because this is a popular (sometimes too popular) and pretty area. It is a site that has been used in many movies, television films, and commercials, and is a pier that, at one time, had better-than-average fishing. Even given its reduced size, it still manages to offer decent to good fishing and, at times, offers an interesting variety of species.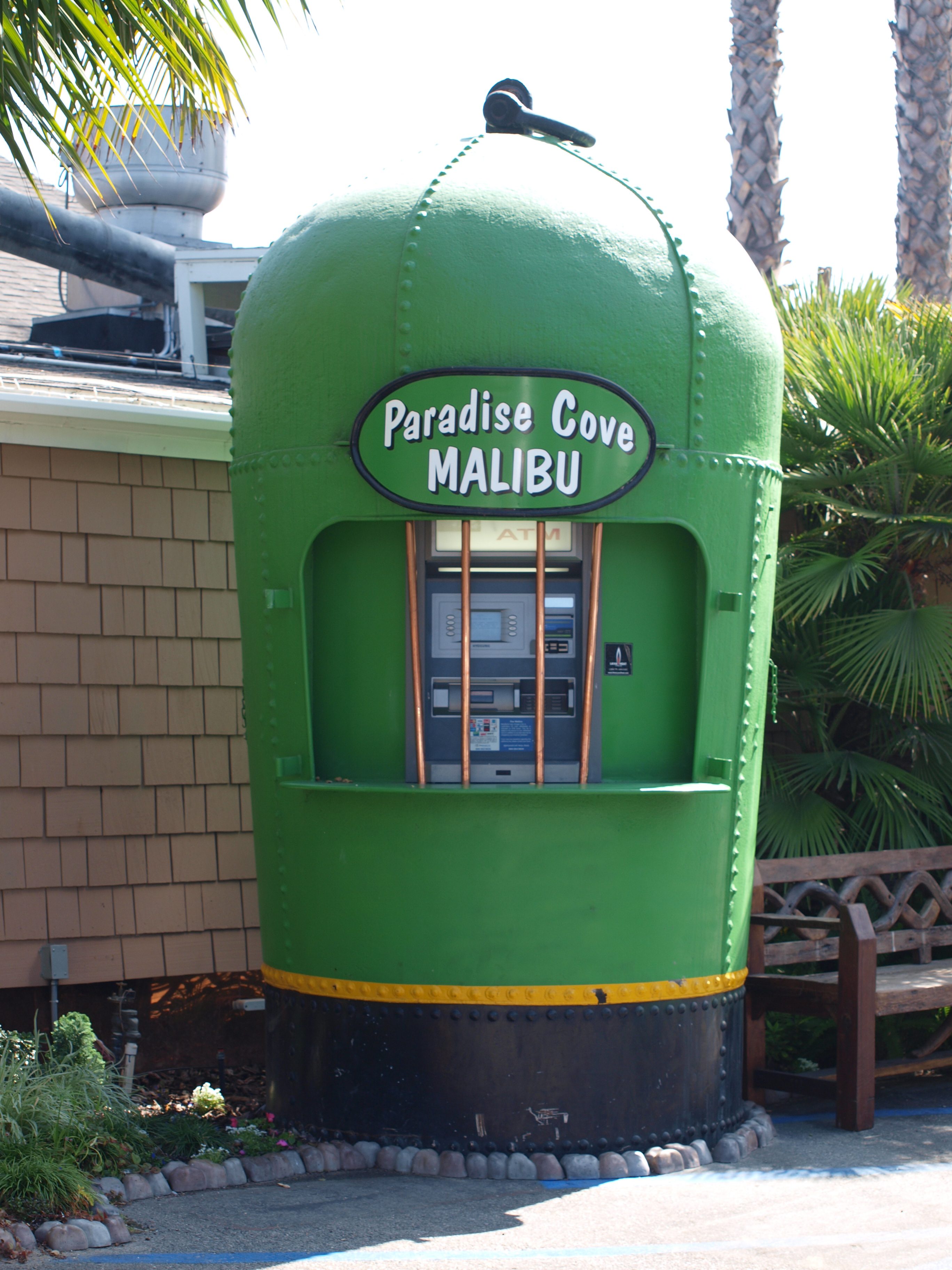 Environment. Paradise Cove is located just south of Point Dume, the northern end of Santa Monica Bay, and has long been a favored destination for boaters and fisherman. Wind and waves can be somewhat deflected by the point, and the area is known for large growths of kelp, conditions that attract the fish—and fishermen.
The pier sits in fairly shallow water, the bottom is primarily sand, pilings have some growth of mussels, and, during the summer, the pier itself is often thoroughly surrounded by a luxuriant garden of kelp and seaweed. Because of the light surf, the area usually had only fair surf fishing (although some surfperch and corbina are caught). However, because of the extensive beds of kelp and other assorted algae that often surround the pier, there can be a pretty fair variety of kelp-loving species available to anglers who know how to catch them. The numbers are usually not that high but an angler is often able to get a surprising variety of fish and a few good quality fish.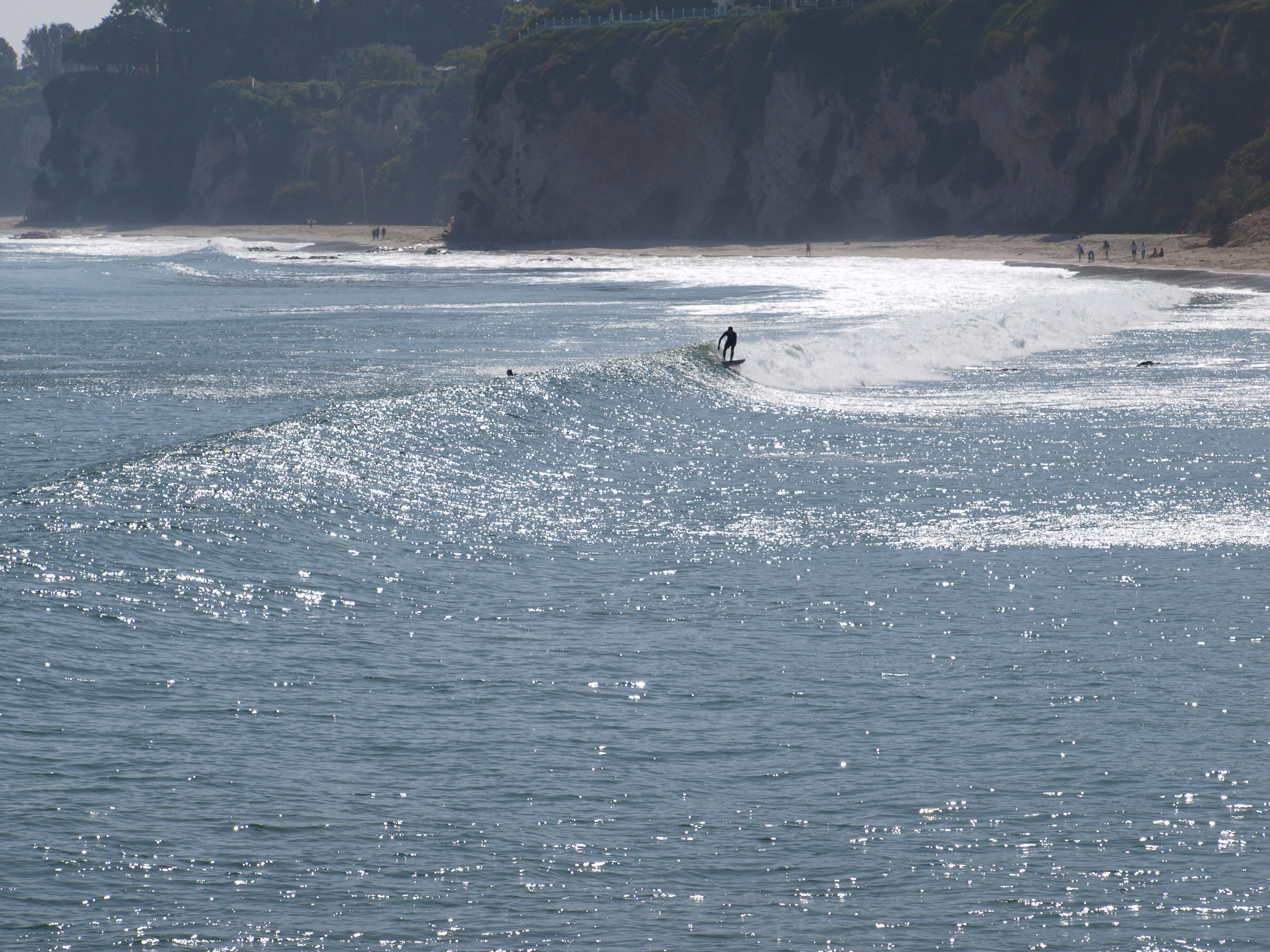 Fishing Tips. Normal southland baits and procedures work here: sand crabs, sea worms, mussels and ghost shrimp in the surf area, live bait, cut anchovies, cut mackerel, and strips of squid further out on the pier.
Inshore, anglers primarily land barred surfperch, corbina and several types of croaker. I've never thought the pier was particularly good in the surf but I've been told by some regulars (not seen it) that the surf fishing is just as good as at the Malibu Pier. Artificials will work here as seen by the regulars using grubs for perch.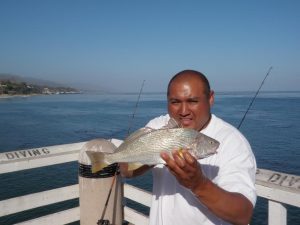 Yellowfin croaker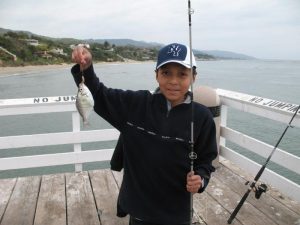 Walleye surfperch
Just past the breakers all the way to the end (because the pier is short) is the area for halibut. At times, especially spring to early summer, quite a few halibut are caught. Anglers fishing plastics such as Big Hammers or Fish Traps take most of the flatfish but the vast majority of the fish are under the legal size. In fact, I watched an angler during a visit in June of 1995 land over a dozen flatties in just over an hour using plastics but not one was more than about 15 inches in length. Live bait will also attract the halibut and a small perch or white croaker used as bait will generally see larger fish than the plastics. Try using a Carolina rigging or a live bait leader a couple of feet above a sinker.
Way, way back, when the pier was much longer, in January 1967 to be exact, a 35-pound halibut was caught from the pier by William Cambier. The picture of the fish and the details of the catch made the newspaper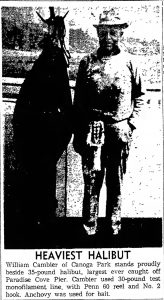 "By the way, this may be an early season spot for halibut. Normally the SoCal halibut season kicks off around the start of May but here it may start sooner. The sand beaches of the Malibu, stretching from the movie colony pier to above Point Dume fishing grounds are noted for their late winter and early spring runs of the flatfish family and the jump in results of this species over the weekend could be the opening round of the first major show of halibut for the season."
—Van Nuys Valley News, February 7, 1967
Mid-pier to the end can see invasions of jacksmelt as well as a plethora of bottom species—thornbacks, shovelnose sharks (guitarfish), leopard sharks and some bat rays. At the end of the pier, anglers have the best chance of encountering the pelagics—Pacific mackerel, jack mackerel, sardines, and sometimes bonito, but the numbers are less than at longer piers that extend further out into deeper waters. Surprisingly, the fairly shallow waters have yielded some pretty good-sized fish including a 3-foot-long black (giant) sea bass taken in July of '08 and a 37-inch white seabass taken in March of 2009.
As mentioned, the pier sometimes has a heavy growth of seaweed and kelp during the summer to fall months, vegetation that provides excellent cover and attraction for several varieties of fish—including some that are infrequently encountered at the area's other oceanfront piers. Halfmoon, opaleye, blackperch, sargo, giant kelpfish, striped kelpfish, senorita, rock wrasse, sand bass, kelp bass, and small rockfish—kelp rockfish, grass rockfish, or olive rockfish (Johnny bass)—all are fairly common when the kelp is around.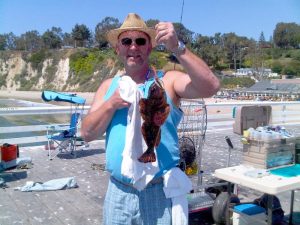 Cabezon
I'd bring along some bloodworms (or lugworms), fresh mussels, and shrimp (especially live ghost shrimp) to try for these species. Bring along some frozen peas or moss if specifically seeking out the opaleye. Fish on the bottom or mid-depth and use only enough bait to cover a size 6 or 8 hook.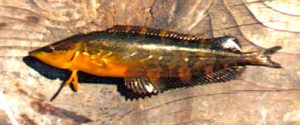 Giant kelpfish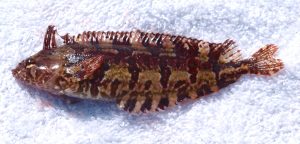 Striped kelpfish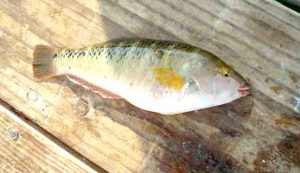 Rock wrasse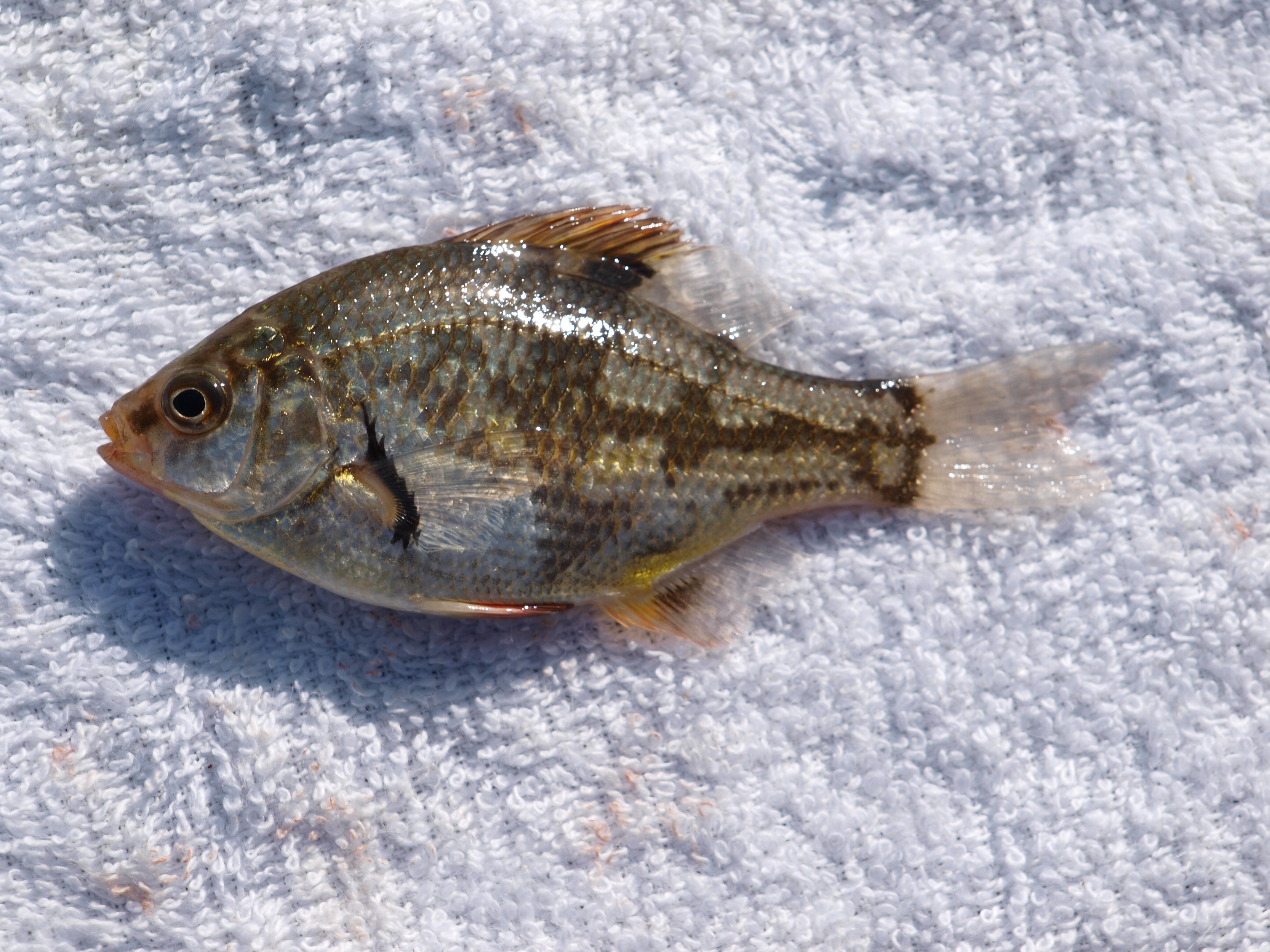 Dwarf Perch
Regulars (including some of the men who worked on the Rockford Files) told me that the pier used to be a top opaleye pier and good strings of fish were a possibility. However, that was when the pier was considerably longer.
The pier is not noted for sharks and rays primarily because it is only open during daylight hours. Nevertheless, a number of sharays are taken as mentioned above. If fishing for the large leopard sharks or shovelnose guitarfish try live bait or a smelly piece of mackerel. If seeking out the large bat rays try a large piece of squid. The bat rays in particular can be hard to land when the kelp is thick around the pier.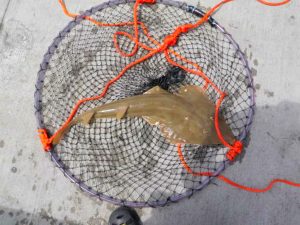 Shovelnose shark (guitarfish)
A non-fish species that is frequently encountered is spiny lobster. Do remember that they must be taken by net, they have a legal size and season, and you must have a lobster card to keep them. At most piers you primarily see lobsters at night but this area seems to have enough of the bugs to even see them during the day.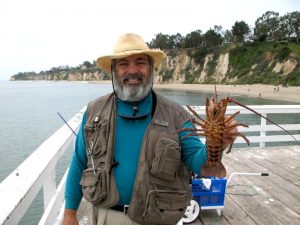 Spiny lobster caught by Mahigeerr aka Hashem Nahid
Water clarity can be a problem here; it is fairly shallow and on many summer days it is crystal clear. On such days, the lighter the line and less hardware the better are your chances—so use fluorocarbon as leader material or even as your main line.
The Pier Rats Speak

Date: July 6, 1999; To: Pier Fishing in California Message Board; From: JP; Subject: Paradise Cove Pier
On Monday, the 5th, my boyfriend and I went down at Paradise Cove around 12 PM to do some pier fishing. We had only been there about 2 hours when an officer came strolling down the pier checking fishing licenses. Luckily I had mine in the car from two days before when we were fishing down in Dana Point and San Clemente…I didn't think you needed a license for pier fishing—and you don't, for most piers. But, since Paradise Cove is a private beach and pier, they require a license. Not only did this officer check licenses, she checked every single cooler and bucket and made everyone claim their rods (yep-she was enforcing the 2 rod/person limit. And rightfully so! Between two men, they had 11 rods in the water. Too many for a pier this size! It makes it hard for anyone else to get a good cast in, let alone a good catch.) Additionally, any unclaimed rods she reeled in and tried to take with her; until the owners finally fessed up…a few without licenses, and a few with more than two rods in the water. And guess what? She ticketed every one of them! So remember next time you painfully fork over $20 to park at Paradise Cove for some pier fishing, you take your license and your two favorite rods. OKAY, here's the meat: We were there for 4 hours and got a few nibbles from small mackerel and opaleye. The two with 11 rods caught quite a few perch, sargo and sculpin…and tickets from officer Kathy, of course.
Date: October 21, 2004; To: PFIC Message Board; From: Rockfish59; Subject: Movie question
I was wondering if any of the old timers here may remember a movie that came out around the late 50's/early 60's or so and it was about a kid who fished on a pier and the plot revolved around catching a huge fish that was supposedly 'uncatchable.' I remember one part where there was an old fart who would move in on someone's 'hot spot' if they left it for a few seconds. It was in black and white and I also remember that Jerry Lewis sang on the sound track about the kid. I checked Lewis' biography but didn't see any mention of the film.
Posted by pescare
Raymie – 1960. Really cool movie about a boy fishing for that illusive "big fish."
From the movie page: Classic 1960's Hollywood production, filmed almost entirely on location at the beach, instead of on a sound stage. Released only in B&W; runs about 72 minutes. Stellar performances by John Agar, Julie Adams, Charles Winninger, Richard Arlen, young David Ladd as "Raymie." The title song was sung by none other than Jerry Lewis. This was Charles Winninger's last movie before he passed away.
Posted by dompfa ben
This sounds like a "Must Rent"… maybe a "Must Own!" Just like "Mr. T's-Be Somebody (Or Be Somebody's Fool)," and "The Star Wars Christmas Special" According to IMDB, Richard Ladd played the voice of Fletcher in Jonathan Livingston Seagull…one of the worst movies (and greatest books) of all time…
Date: July 3. 2008; To: PFIC Message Board; From: HUNTRESS; Subject: Look what came to visit…a Giant (Black) Sea Bass
July 2 was a gorgeous southern California day, light variable winds, afternoon low tide, evening high tide with a grunion run expected (never saw any grunion where I was fishing). What I did see/catch was 4 Calico bass (1 legal, 3 short), 2 leopard sharks (1 legal, 1 baby), a tiny shovelnose, 1 brown smoothhound, and this … check out the pics! All were caught on half-sardines using circle hooks; ALL fish were released. Later after sunset, the water was full of activity, but every hit severed the line (80lbs test braided leader) so I can only assume they were large toothy sharks! Altogether a fantastic So-Cal day by the water. Sorry I don't have a weight on the Giant Bass, but he was an inch or so over 3 feet, and it took two of us to lift him over the rail for the release… Truly a magnificent creature! … The fish was released with the net, and the pics were snapped by a kind tourist while I was working on getting the hook out and releasing it, the fish was never "handled" in any way, except for pliers to the hook, so I feel all was done as efficiently as possible to expedite the release.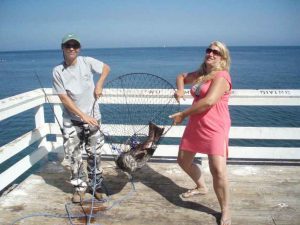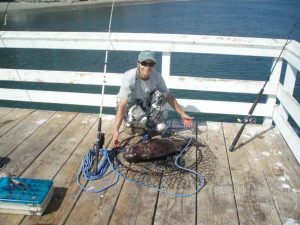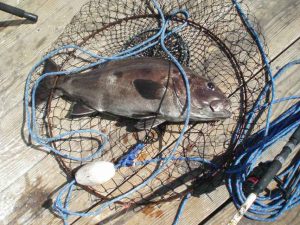 Potpourri — Probably More Than You Want To Know About The Paradise Cove Pier

<*}}}}}}}}}>< — Two record fish were caught in the cove. For more than 30 years, the state record sheephead was a fish weighing 28 lbs. 14 oz. that was taken in Paradise Cove on December 6, 1978. In 2009 that record was broken by a sheephead that was caught in Newport Beach weighing 30 Lbs. 8 oz. For twenty-five years, the state record for a Pacific bonito was listed as a 22 Lbs. 3 oz. fish taken in Paradise Cove in 1978. Today the record is listed as a 21 Lbs. 5 oz. fish caught in 2003 at the "181 Spot." I'm not sure why the smaller fish is now the record.
<*}}}}}}}}}>< — Local legend has it that a local angler one day hooked a nearly 600-pound giant (black) sea bass while fishing near the pier in a skiff. Supposedly the huge fish did an imitation of the marlin in The Old Man and the Sea and pulled the skiff nearly fifteen miles to near the Santa Monica Pier. At that point a local lifeguard used scuba gear to tell him what he had hooked (perhaps he thought he had a submarine?) and he decided to cut the line on the illegal fish. Now that is a fish story.
<*}}}}}}}}}>< — Marlin from a pier? Well, not exactly. The following report details how a marlin came close to the pier and was captured. The marlin was probably sick and I am a little surprised someone would have it mounted given the method of capture.
Here's A New Twist on How to Land a Big Marlin
Jim Overfield of Pacific Palisades saw a surface disturbance on the edge of the kelp bed in front of the Paradise Cove pier while paddling around on his 11-foot Styrofoam sailboard last Sunday.