Many more were hooked that day, and many other days that summer, but only a couple made it onto the pier. I also hooked one that day, and got a monster blister on my thumb as I tried to stop it from running under the pier. It's one of those fish that stays with you forever. How I would love to be able to say I landed a bluefin tuna from a pier. Many trips have passed since those days of growing up, but few trips throughout my life can match some of the days I spent making friends and catching fish from Hermosa Pier. Bonito Joe was not in the best of health when he caught the tuna, and because of his health, never made it out the following season. I heard he passed away not too long after that. The fish gods were smiling down on Joe this day, and even though I would of loved to catch one, I think it was only fitting that Bonito Joe hooked and landed his. I can still see that ear to ear smile as he tried to lift that fish over his head for all to see. To this day, it's the memory that comes flashing back whenever I find myself standing and looking out over the water that surrounds this pier. Way to go Bonito Joe, we'll share.
<*}}}}}}}}}>< —  A short visit in 2013, limited to one hour fishing out at the end of the pier, proved rather desultory and uneventful, at least as far as the fishing. Although a large school of fish lingered in the shadow of the pier, none would bite on bait nor were they attracted to a Sabiki bait rig. As for the fishing, the results were a single giant kelpfish, a senorita, and a sanddab. Six anglers were fishing and most had no fish. Nevertheless, it was a beautiful October day, several pods of dolphin visited the pier, and paddle boarders were doing their thing by the pier. Then I heard a guy yell out and people rushed to the end. A large mola mola (ocean sunfish), guesstimated to weigh 75-100 pounds was slowly swimming by the pier. Immediately one guy ran to get a large treble hook to try to snag the fish. I said let it go, don't even try. I explained that the sunfish primarily eat jellyfish, are no good to eat, and snagging it would likely lead to its death for no good reason. Surprisingly the guy listened to me and we watched the fish swim away. Sometimes a little advice can help.
<*}}}}}}}}}>< — Snagging fish as carried on at Hermosa Beach and other piers has long been a pet peeve of mine  The following discusses the problem.
Hitting a snag on the Hermosa Beach pier
Hermosa Beach fishermen and surfers have been at odds lately regarding the controversial practice of snag lining, a fishing technique that involves hooking a fish with a long rig instead of enticing it with bait.
"They're basically sight fishing, using their eyes to snag the fish," said local waterman Rick Ciampa. "They can't even tell them apart. As soon as it swims across their snag line, the fisher jerks the line causing the rig to rip through the fish, injuring the fish in either its belly or its sides." "No matter what size or species, anything that happens to cross the snag liner's path is considered fair game" he said. "Basically they lay four or five lines off the pier so they can see the fish over the lines with indicators to know where they are," said Scott Kobayashi of Redondo Beach Sportfishing. "It's technically legal to do, but the way they do it is not the best way because it actually can leave their snag lines in the surf where people swim."
According to the California Department of Fish and Wildlife, fishing by snag lining is currently legal on salt water piers, but illegal on California's lakes and rivers. After several close calls between surfers and fishermen, snag lining has increasingly become an issue at the Hermosa Beach pier as well as Manhattan and Redondo Beach, although no injuries have yet been reported.
"Nobody has [been hurt] yet simply because none of the swimmers have accidentally gotten hooked yet," said Pete Wilkowski, owner of local fishing shop Just Fishing. "I've heard people yell many times from beneath the pier after nearly getting tangled up in the rigs," Ciampa said. "On many occasions I've witnessed people entering and exiting the water, surfing, boogie boarding and body surfing over the snag lines, with little or no warning from the snag liners." "The fishers have to obey the city and county ordinances," said Kyle Daniels, Hermosa Beach Lifeguard Captain. He added that fishermen are protected by a local ordinance.
A local fisherwoman who wished to remain anonymous said that local lifeguards have installed a sign warning swimmers and surfers to stay away from the pier because of the fishing hazards. "One area is for swimming and the rest is ours," she said. Signs on the pier and onshore say that surfers and swimmers are not allowed within 100 feet of the pier. However, surfers and swimmers often do not obey the signs and are often in the water near hooked fishing lines. For surfers and swimmers, swimming near the pier and the fisherman's territory can be risky. "It's dangerous," said Gus, a surfer who wished to be called by first name only. "Why should [snag lining] be allowed anywhere over there? …It's just a bad idea. I know you're supposed to stay a certain length away from the pier, but come on, dude, are [the fishermen] really hurting that bad for a meal? Someone could get hurt and sue the city for allowing it to happen."
In 2007, the president of the United Pier and Shore Anglers of California (UPSAC) Ken Jones sent an email to the California Fish and Game Commission in support of a regulation in regards to the practice of intentionally snagging sport fish. "Intentional snagging of California corbina, and several additional surf inhabiting species, is a practice engaged in by both pier and shore-based anglers in southern California," Jones wrote. "As it entails a method to hook a fish without attempting to have the fish voluntarily take or eat the bait, it should already be illegal, but this type of 'snagging' has been largely overlooked."
Regulating snag lining is difficult because there is no clear way to determine whether an angler is intentionally snagging the fish. And, if the fish is not hooked in the mouth, it is unclear whether the fish intended to bite the bait. "It can be a public hazard as well as a negative public perception issue for sport fishing as a whole," Jones said in his letter. "It is the responsibility of the fishing community to do what we can to ensure that the natural resources remain viable and that the public image of anglers is respected. The public's safety also must be addressed and protected."
"All [snag liners] do is just throw their lines down there," said another anonymous fisherman. "They hold the line with their fingers, and once they feel any movement whatsoever, they yank. It's not even fishing. They don't even have to go for the hook. I report them sometimes."
Fishing by snag lining does not always result in catching a fish. Many are only snagged or injured, resulting in maimed or injured fish flopping through the surf or on the shore. "Few… are recovered by net or any other method, with most of them just drifting helplessly into the surf dead or dying," said Ciampa.
"It's kind of a problem," Kobayashi said. "It's technically legal to do, but ethically we don't like it because they don't catch all the fish they just hurt them and they end up dying." "I don't believe in it but unfortunately what can I do?" Wilkowski said. "Fortunately for us the same people who do that go out at night for the lobsters on the piers and get caught for that, and the fine's pretty major." Kobayashi added that many fisherman consider snag lining cheating. "It's just one of those situations and the only way it can possibly have any resolve is to inform the public about what's going on," said Kobayashi. "It's just not considered fishing to me to just snag a fish."
For Ciampa, it's not only cheating but it is also depleting valuable fish populations. "With as many as five, six or more snag-liners working the shallow water along the beach at one time, literally every fish that happens along the way is assaulted, maimed or killed," said Ciampa. "I was walking on the pier near the filleting station and saw a snag-liner gutting his catch. One after the other he was cutting open the large female corbina and tossing their egg-laden row sacks up into the air to the seagulls. Tens of thousands of new baby corbina that could have been cruising up and down our beaches now lost forever."
—Easy Reader News, October 18, 2013
<*}}}}}}}}}>< —  Hermosa, like Manhattan Beach to the north, has become an in spot for those who have the energy and bling to hang out in the area around the pier. Parking lots fill up early on most summer days and you can almost forget about most weekends (one guidebook suggests a typical Hermosa weekend is like Fort Lauderdale at spring break). Another guide, Lonely Planet (2005), says Hermosa is "possibly LA's most libidinous beach party with hormone-crazed tight-bods getting their game on over beach volleyball and in the raucous pubs along Pier Ave." Action can be non-stop along palm-lined Pier Avenue and our humble pier rats may feel just a tad bit out of place as they walk by the bars and restaurants with their blaring music, crowds waiting for a table, and the blondes—Aphrodite and Adonis-wannabes, who help define the culture of southern California. The area's changed quite a bit since I fished it back in the 80s but I'm not sure it's for the better.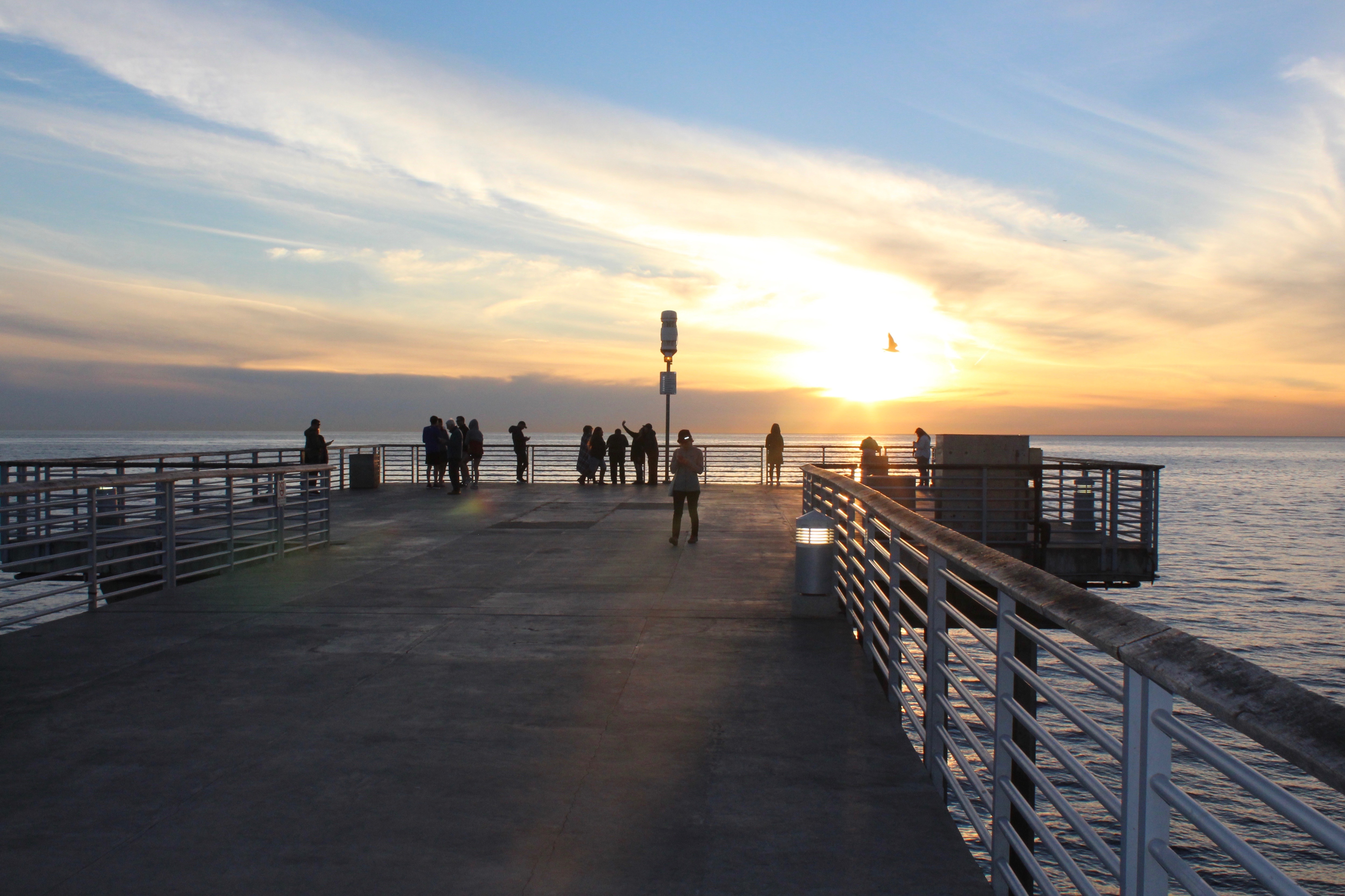 <*}}}}}}}}}>< — Although most would agree that the pier that sits down at the foot of Pier Avenue is a social center of the town's activities, and that the crowds that surround and exist on the pier give evidence of its popularity, not everyone agrees. The following review of the pier was one of seven that showed up one day on the Internet. Talk about a disappointing review! Of course she's from Manhattan Beach.
Sarah J. — Manhattan Beach, CA — 1 star rating — 11/16/2008
As I was riding my bike from Manhattan Beach to Redondo Beach today I felt like I fell into a strange vortex. I know that I live in California. I have lived here my whole life, but there is something strange and smelly between beautiful Manhattan and Redondo that made me feel like I was in a foreign land: Hermosa.
If Florida and Oklahoma had a love-child it would be the Hermosa Beach Pier. Imagine spring break Tampa Bay meets extreme mullets and meth pipes (oh, wait, I guess Tampa Bay has those things in excess). Don't let the photos fool you. All of the guys and gals rejected from USC frats and sororities have congregated here in this cesspool that reeks of stale, cheap beer and urine.
SKIP IT unless you like endless tribal tattoos, football jerseys, PBR bongs, and tetanus (wear shoes!).
Hermosa outside of the pier area is quite pleasant though. Stay away from the pier if you don't like STDs, wolf-whistles, and frightening tourists from fly-over states (I am a snob, yes I know).
FYI: the surfing here is, at best, mediocre. Go up to Manhattan or El Segundo, or better, south to Newport or San Clemente. If you are interested in volleyball, research more before you go, but Manhattan is far superior.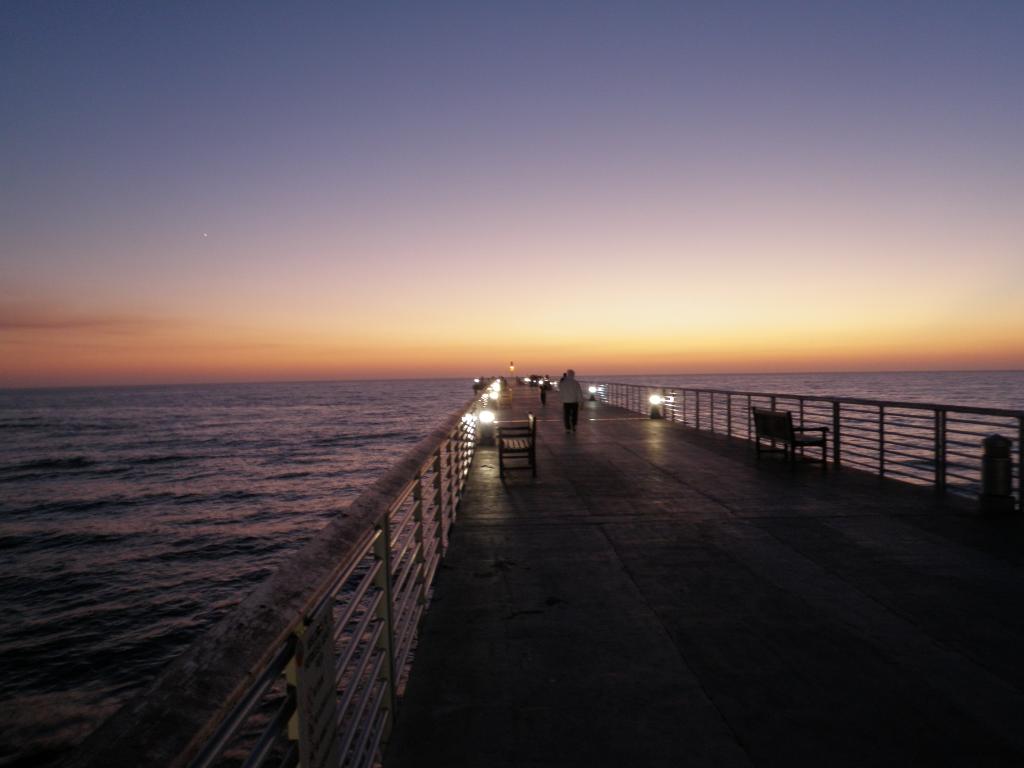 Lights?
<*}}}}}}}}}>< — It would be interesting to see what Sarah J (above) felt about the following proposal.
Should Hermosa Beach add "La La Land" lights to its pier?
Councilmember Jeff Duclos thinks the movie "La La Land" casts a "new light" on Hermosa Beach. So much so, that at Tuesday's City Council meeting, he directed staff, backed by the council, to look into replicating the lamp posts from the movie and have them installed on the pier permanently.