Date: August 25, 2003; To: PFIC Message Board; From: Slash; Subject: Cayucos Pier 8/23

August 23, 10am to 2pm, Cayucos Pier; Custom rod of unknown origin and unknown components, 7 ft long; Pfluger Oceanic reel; 20-lb line, unknown brand (borrowed rig); Trolley Rig, 3 oz flat sinker, 3" Silver Perch for bait
I finally made it back to the Central Coast this past weekend. After much time had been spent planning my short stay to include as much fishing as possible while still accommodating my wife's desires and our friends who were invited along, I only got to go out once on Saturday. However, the quality of the trip made up for the lack of quantity…
While our wives went shopping, my friend and I spent some time on the Cayucos Pier. We started out about mid-pier with a couple of Sabiki rigs to try and make some bait. We used bare rigs at first and soon progressed to baiting the hooks with squid, chicken livers, and some cooked bacon that my friend snagged from the breakfast dishes as we left the house. We weren't catching anything, just like most of the other people on the pier. One lady was catching some shiners, though, but not very many.
After awhile, we decided to try the end of the pier. My friend's Bacon-Sabiki started getting hits right away. He pulled in some little fish (less than 3" long) that looked like some kind of bass, but it was difficult to tell. He also brought up a small silver perch that he wasn't interested in keeping. He gave it to me and I had visions of pulling in a halibut—just like Eddie did the other day. So I made up a trolly rig like I saw in Ken's book and let that little fish go to do his thing. While I was waiting, I used my light rod to jig around the pilings. My friend kept pulling up little fish with his Sabiki and wouldn't switch to a bigger rig because he said he was having too much fun with the little guys.   After a while, I noticed that my rod tip quickly dipped just a little, twice. I figured it was the perch swimming around and went back to jigging. About 20 minutes later, I decided to check on the little guy and picked up my rod. Wow! It felt heavier than a 3-inch perch! I thought I was hooked in some kelp, or maybe on a piling. I cranked a little and hauled back on the rod, and then I felt something alive on the end of my line—and it was kind of heavy! It didn't run and didn't fight much, so I just hauled and reeled. I looked over the railing and there was this ugly face looking back at me with lobate fins spread out on either side and two eyes sitting on top of the head. A big rockfish! My first though was that I had hooked a Cabezon.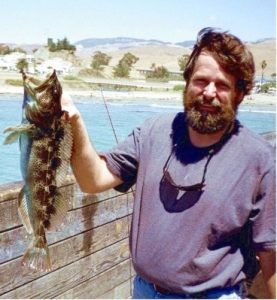 Well, here I was with no net, no gaff; and my rod was bent double. So I handed my rod to my partner and pulled this fish up hand over hand until he was safe on the deck. Man, he was ugly! And look, he's blue—I had a Lingcod! My, what big teeth he had! I had to step on his lower jaw with the toe of my shoe in his mouth to keep him still enough to measure. While being measured, he started chewing on my foot—that was a weird sensation. 24-1/2 inches—long enough to keep. I considered throwing him back, but decided that he would taste great on the grill. So, now two nice-sized fillets are waiting in the frig for dinner tonight!
Date: May 27, 2004; To: PFIC Message Board; From: Scotty; Subject: Dazzlin' Dan
On a vacation couple years ago, I was fishing off the end of Cayucos Pier. About 9 AM, this white bearded guy in his 60s drives out to the end of the pier in a golf cart, takes out a rod, sticks a big fish head on a huge treble hook and casts it way out. I generally like to pick up fishing tips from local regulars, so I asked him if he was fishing for sharks and if he fished this pier often. He told me that he was disabled and semi-retired, and fished the pier the same four days each week.
I asked him what was the biggest shark he had seen caught at the pier. He told me that he had caught a 7 1⁄2-footer, but that he had seen an 8 1/2 footer caught, and launched into a series of Cayucos "big shark" stories. Now I have seen my share of threshers caught at Pacifica and leopards in the Bay, but I was skeptical about all these monster shark stories. However, I kept listening politely because who can begrudge an old fisherman his stories? I noticed that he didn't have a net, and I asked him how he got such large sharks up on the pier. He showed me his pier gaff. Then he told another story about how he was having trouble gaffing this 7-foot shark, so his buddy jumped off the pier, grabbed the pier gaff with one hand and the shark with the other, and manually gaffed the shark. This was too much for me—I started to feel insulted that he expected me to believe this, and I backed out of the conversation.
Then he said he was featured in Sunset Magazine, and pulled a scrapbook out of his golf cart. The scrapbook indeed contained an article about Cayucos Pier and referenced a pier rat named "Dazzlin' Dan." Then he turned a page in the scrapbook and showed me a photo of him on Cayucos Pier with a 7 1⁄2-foot shark. There was another photo of an 8-foot shark on the pier. Then he showed me a photo with another big shark and his (wet) buddy who had jumped in after it. Picture after picture of very impressive sharks on the pier – enough to back up his tales. Ya never know.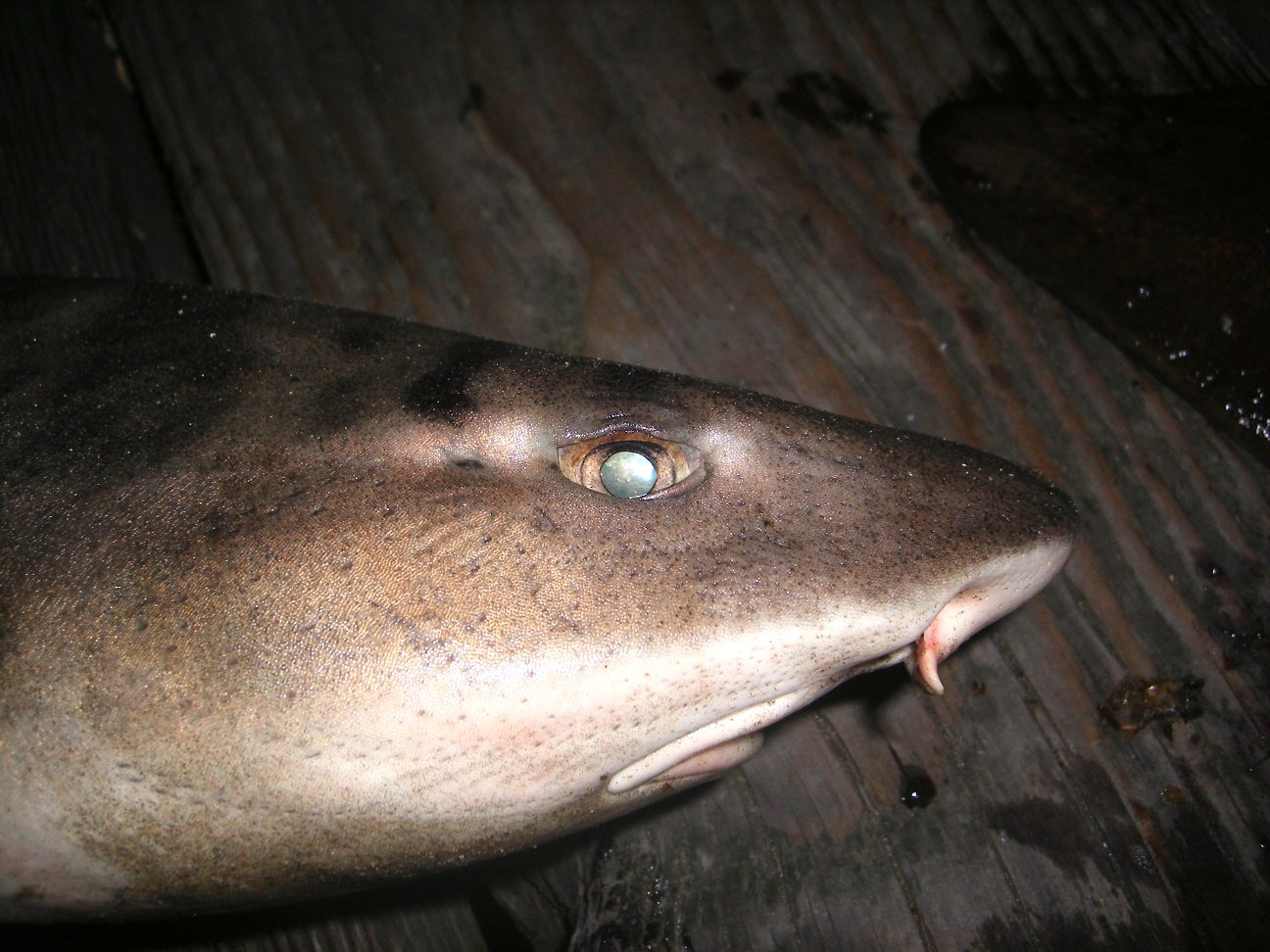 Date: August 31, 2004; To: PFIC Message Board; From: EddieE; Subject: Short Report—Cayucos
I'm dead tired so I'm going to make it short. Went to Cayucos and fished from 6:30PM till about 12:30 AM. Bait was EVERYWHERE… Caught 'chovies, jacksmelt, Spanish mackerel, croakers, bullhead. The dog sharks were also there. I ended up with a total of 11 dog shark, smallest was 12″ largest about 3′. Eddie
Date: November 2, 2004; To: PFIC Message Board; From: by cayucosjack; Subject: Cayucos Pier 11-1-04 Report
When I got to Cayucos pier I could see that there was a lot of bait just past the end. I decided to throw a grub (1.5″ perch powers) in the surfline for perch while waiting for the bait to come in. Hooked into a couple of small walleyes and some big jacksmelt right away. The perch were right under the pier so I was working next to the pilings when I pulled up a 11″ steelhead on the grub. Thought it was a croaker till I looked closer. Took a pic and released the little guy. They are in a bit early as the creek isn't even breaking the beach yet. I caught another small perch and decided to move down to mid-pier and use it for live bait on a halibut rig.
Set up shop at the sink and changed from a grub to a Sabiki with a Kroc at the bottom on the small setup. I tipped the Sabiki with squid and soaked it in Bang. Right away the big smelt were hitting the mackerel Kroc as well as the fishskins. I eventually found some anchovies, shiners and small topsmelt as well. I was able to keep an assortment of small live baits out the whole time but they went untouched.
I started jigging the Kroc/Sabiki next to the pilings to find the shiners (for leopard bait later that eve) when I found another school of steelhead. I caught and released another four (one on the Kroc, the others on the squid/Sabiki hooks). They were all 8-10 inches long and just beautiful fish. The pictures don't do them justice. Please release these sweet little fish if you go… Stats: 5 steelhead; 30+ jack/topsmelt; 12 anchovies; 4 walleye perch; 3 shiner perch; 4 bullhead
All fish released except about 6 smelt, 1 walleye and the shiners (save what I used as live bait). The sun went down and I decided to follow through with my plans to target leopards in Morro, despite the urging of regulars who claim the dogsharks and swell sharks have been on a hot bite at Cayucos.
Date: November 28 2004; To: PFIC Message Board; From: mobynick1; Subject: Big Skate
I decided 5 years ago that I wanted to try fishing on Cayucos pier. One evening last June, my son and I went fishing and this is what I caught. The next morning, I went to the harbor patrol office and checked their records to identify the fish. According to their records, she was a big skate, about 100-120 lbs., and about 100 yrs old! I'd guess she was at least 6 ft. long and 5 ft. wide. I only had her out of the water a few minutes and then I let her go. I always wanted to catch Moby Dick…it looks like I got his mom. Now, I want to catch his daddy! Anyone else catch anything like this?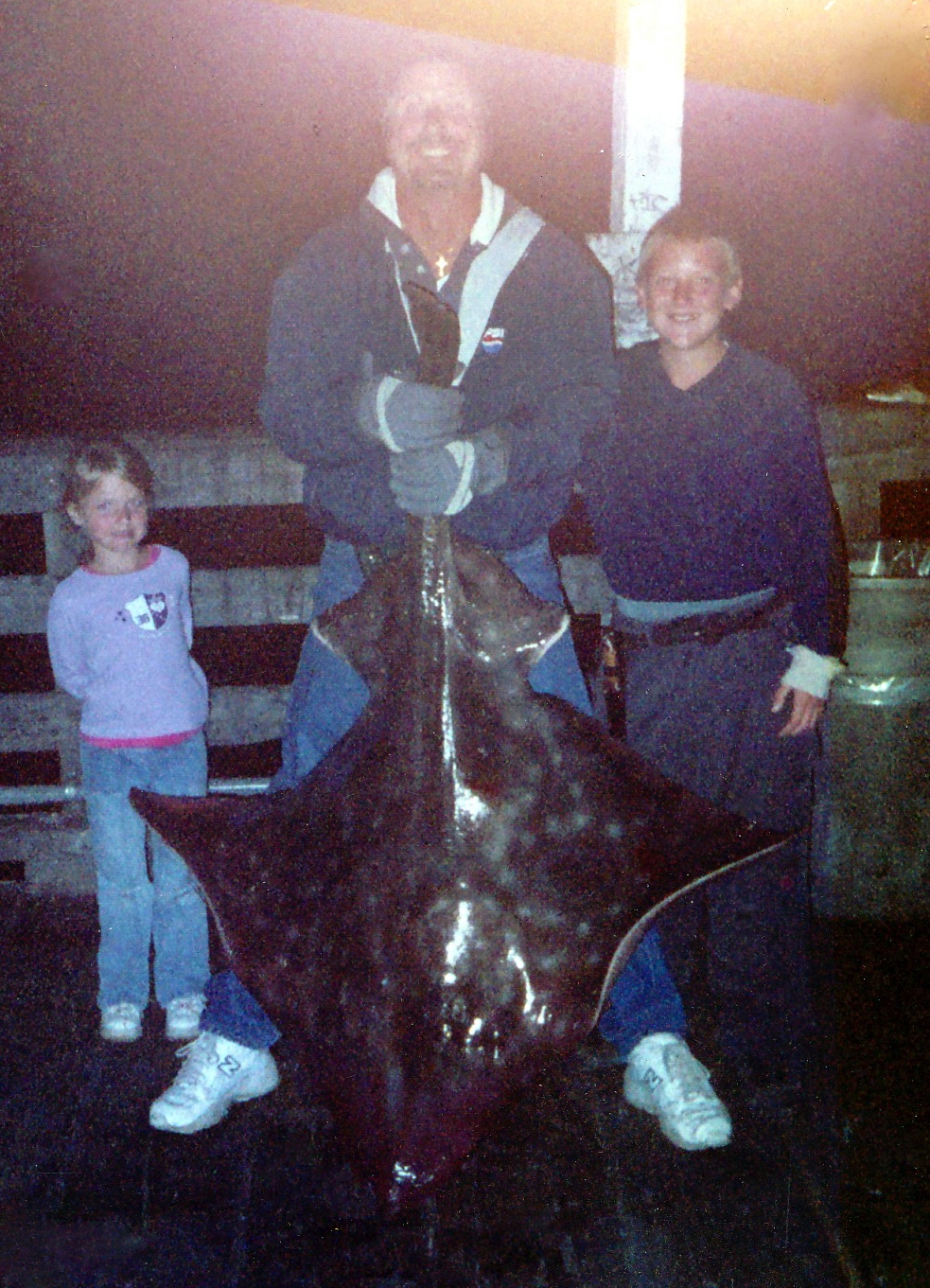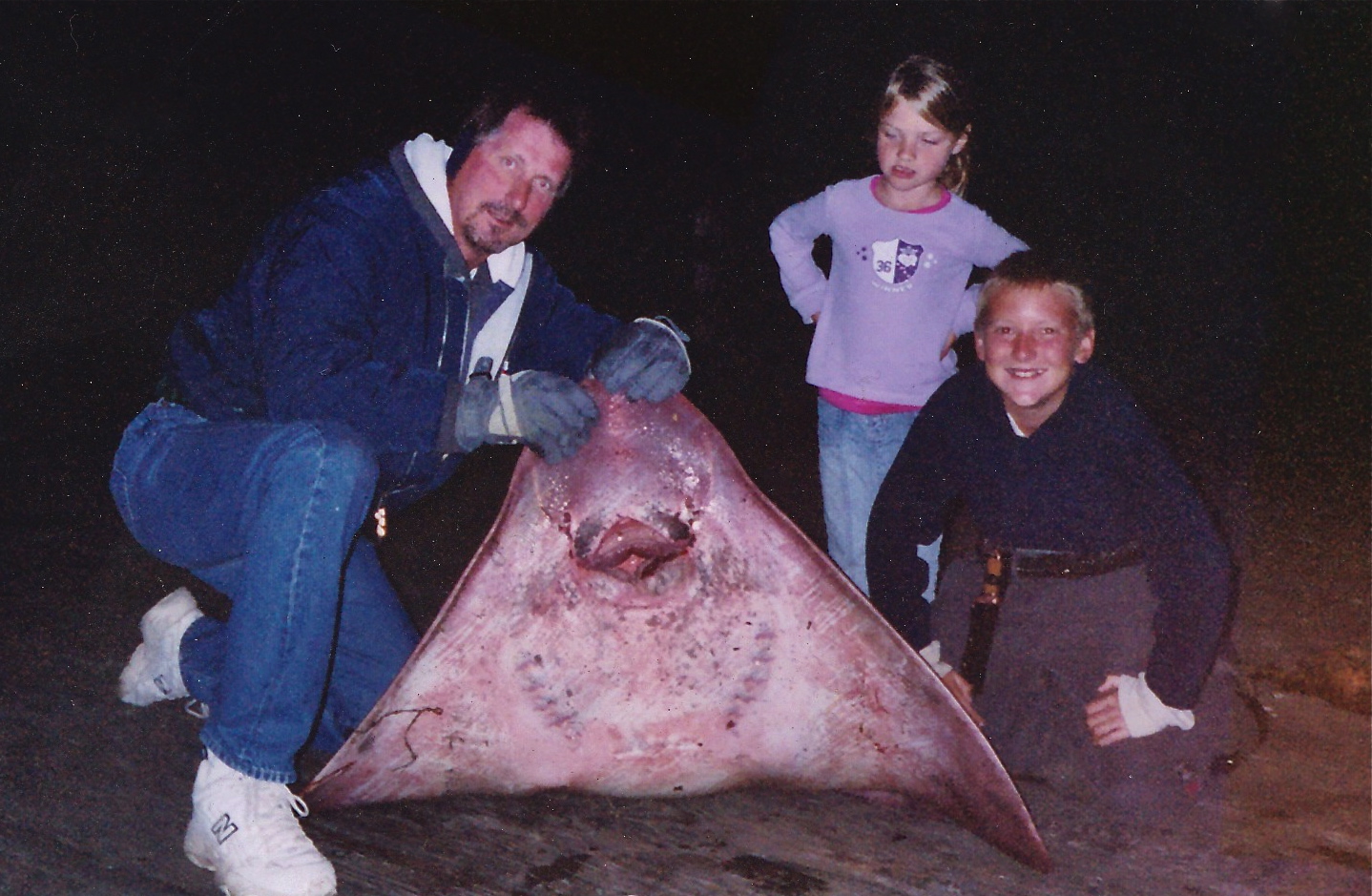 A BIG big skate  (Photo courtesy of "The Tidepool")
Date: February 5, 2005; To: PFIC Message Board; From: cayucosjack; Subject: Perchin' the Yuke
Fished Cayucos Pier from about 3-5:30pm Thursday. Midway through a small incoming. Went looking to get some grubbing in without getting wet. I set up just outside the surf zone and worked a Carolina'd grub from the sand back out to me on the North Side (South had a bunch of surfers out). I stuck with small Kalin's Perch Power's scented with shrimp oil and on the other outfit a Sabiki tipped with cut mackerel. The grub caught fish immediately but the mackerel at the edge of the surf ended up producing much better fish (numbers and size). I also tried cut shrimp which caught a couple of fish too but they definitely liked the blood bait better. Most fish were small, a few were pushing 1-lb.
After the perch bite tapered I moved out to deeper water. The bottom from just outside the breakers to as far as I could cast off the end must have been covered in little sanddabs. Unfortunately most are the speckled variety and few were over 5". They would hit any small hook baited with anything near the bottom (they'd hit it before it even got down). I quickly got bored releasing these little things and went home. Don't the bullheads know that Cayucos Pier is their territory? Do they realize that a bunch of little dabs are stealing their (annoying) thunder? A regular at the pier said he caught a few sharks the night before. There must be a regular sanddab buffet for any predators lurking. Maybe I'll give it a whirl tonight to see for myself.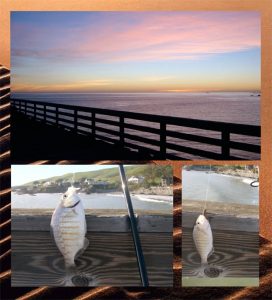 Stats: 4 BSP on grubs — 13 BSP on cut mack — 2 big walleyes (shrimp and mack) — 32 sanddabs — ALL fish released.
Date: February 8, 2005; To: PFIC Message Board; From: cayucosjack; Subject: Cayucos Pier 2-7-05
Headed to Cayucos pier after it got too dark at the jetty. The tide was incoming, weather cold and clear. After about an hour of fishing I was joined by EddieE, the shark master himself, and he brought some luck out with him. We had a banner night by February standards. We fished until about 11pm from the end. I got a fat 16″ flounder on squid. The little sharks were congregating off the pier in great numbers. At one time we had a shark on 3 different rods at the same time. As usual the shark master out-sharked me. I got still got him in total numbers and 'sides I got an edible fish too! The flounder was the first I've caught in a long time and probably my biggest. Since I never catch them I wanted to eat him but I also figured that was the best reason I could have to return it. I played it forward and released him hoping I'm doing my part to bring back the populations. Either that or I just missed out on a tasty meal. I did get one Pacific sanddab that was big enough to keep too.
My stats: 1 jacksmelt (squid); 5 white croaker (squid & mack); 4 bullhead (squid & mack); 2 walleye perch (squid & shrimp); 1 speckled sanddab (squid); 1 Pacific sanddab (squid); 1 starry flounder (squid); 5 smoothound sharks (squid & mack, all were lil 14-19″ers). Eddie's stats (I think): 10 smoothound sharks (all lil guys); 1 thornback ray.
We released everything. After dark some people were catching BSP in the surf on bait. They reported the bite was awesome just before sunset. Even though tide was really low (that whole high tide perch theory is just not holding water lately).
Date: June 20, 2005; To: PFIC Message Board; From: cayucosjack; Subject: Cayucos Pier
 In hopes of finding some shark action I took the stroll out onto the pier about 5pm. There was one other family group that was spread out over the last half of the left side. Most of their rods were out for the big boys but they reported some perch and croakers on the bait catching outfits. I threw a Sabiki tipped with mackerel pieces and couldn't keep it in the water. No smelt or mackerel, just a white hot croaker bite. Just before dark I gave up on the small stuff and went with two bigger rods. One was set up for anything that might come along, the other a bit smaller (17-lb test) to keep those lil guys fun. The little rod (Slydo, 24" 30-lb wire, 2/0 lightwire circle baited with a squid head) got bent first. I was surprised by the little skate in the pic. My second of the year at Cayucos (fairly rare around here). The angler next to me reported catching some bigger ones recently at Avila Pier.
Went on to have steady, even if not stellar, action. Most came on my bigger rod using Offshore Angler 5/0 wide gap circles and golfball sized chunks of mackerel. The swell sharks were out in force along with the thornbacks. No dogs or leopards like I saw on the weekend. As usual the swell sharks provided the tourists and other fisherman something to gawk at. Luckily I didn't have to burp any!
The family next to me was getting frustrated. Every time I got one on they'd chime in "Not again!" I suggested they lose the squid and go with fishy baits and before I left they had started to catch thornbacks at least. I decided to let them have my hot corner and left about 10:30.