Posted by Dion
(In reply to: Another opah picture posted by Leapin Bass). I saw one of these fish caught off of Cabrillo Beach Pier last year.
Posted by Marty Borboa
The Opah is also known as the "Ocean Sunfish."  I saw one caught off the Oceanside Pier about 10 years ago. It went around 15 lbs and looks like the back end of the fish got cut off. Marty B.
Posted by The Fishin Magician
Ocean Sunfish… The ocean sunfish is actually a different fish, usually called a mola mola. Here's a link to some pictures of them: http://www.earthwindow.com/mola2.html Though they look a bit like the opahs, I don't think they're related. Tight lines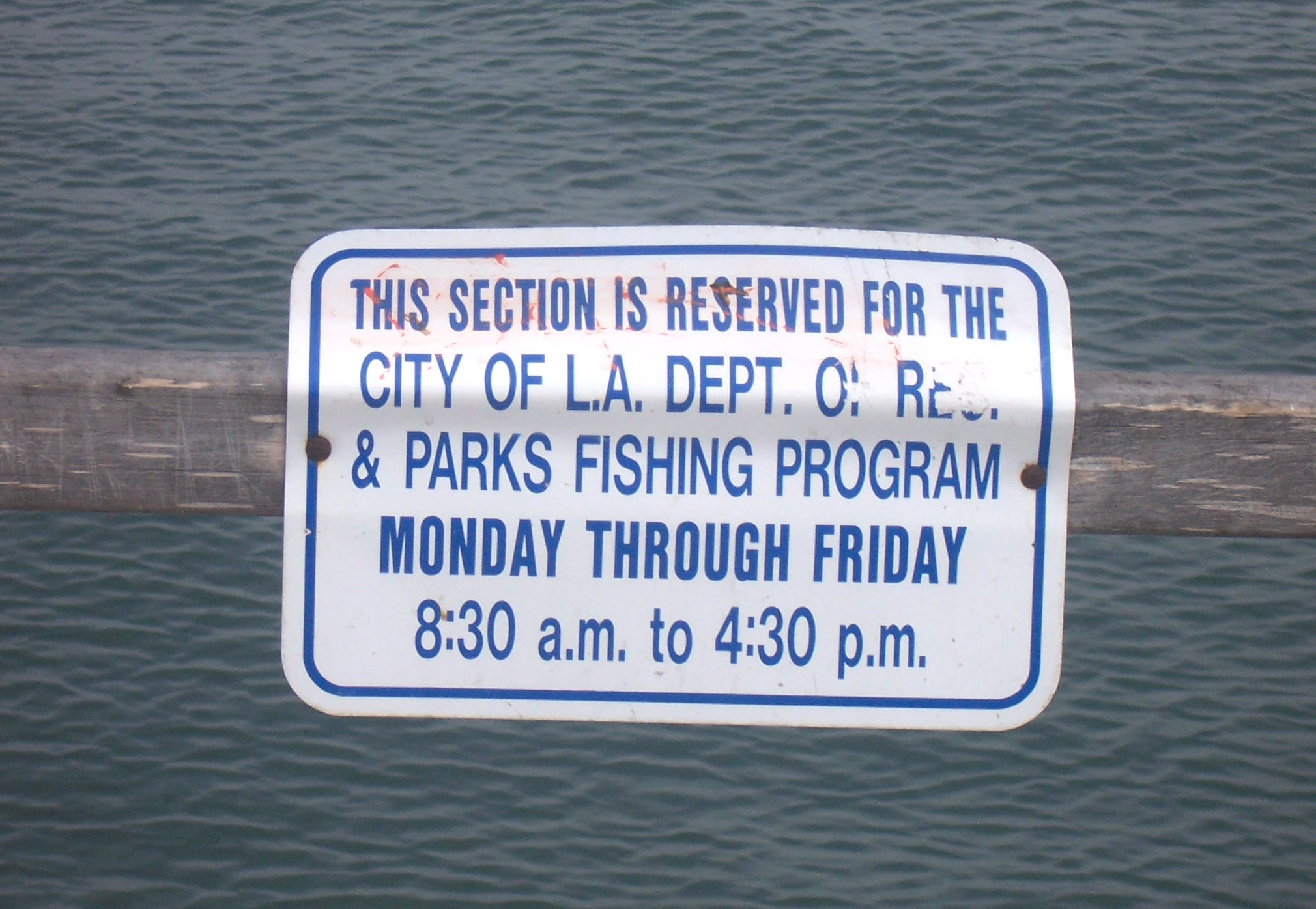 Date: December 16, 2002; To: Pier Fishing In California Message Board; From: Ken Jones; Subject: A Short Little Trip to the Southland

Had a couple of appointments in Los Angeles last week and decided to combine business and pleasure by taking off a few days to go fishing. I didn't expect much due to the time of the year and thus wasn't disappointed when I caught so little — but I did catch some fish..
Cabrillo Pier: 12/11/02 — "Any fish biting" I asked the angler in the parking lot. "A few mackerel and jacksmelt," he replied. Sounded about normal since I've caught a lot of both from this pier. Well, apparently it was an early morning bite since I saw neither species. There were only about 10 anglers on the pier and none seemed to be getting fish when I arrived. However, I set up shop out at the far end (where the water is a little deeper) and cast out a pile worm. First cast and what shows up but a lizardfish of about a foot in length. Assumed there would be more since they typically occur in fairly large schools but didn't see another one.
Cast out cut anchovies and ghost shrimp on the heavier outfit, pile worms on the light outfit. Fished for an hour and a half with limited success – the lizardfish, 3 white seaperch and a speckled sanddab. Tried a few plastics and cast some pile worms up against the rocks near the jetty but no hits.
Finally decided to try the shallow end of the pier. Found some fairly steady action on white seaperch in that area using pile worms. Probably could have caught quite a few more if I had wanted to fish a little longer but wanted to try a new pier.
Fished: 10:15 a.m. – 12:45 — Results: — 10 White Seaperch — 1 California Lizardfish — 1 Speckled Sanddab
Date: January 6, 2003; To: Pier Fishing In California Message Board; From: Jonjon; Subject: Cherry Beach or Cabrillo Beach
We go to Cabrillo a lot. Mostly at night. My buddy lives on the same street that the pier is on. We usually catch a lot of white croaker, small rockfish, and even a few small leopard sharks. We use a small glow stick and squid and cast toward the breakwater side of the pier.It's really shallow and you can almost see the fish hit the bait. Although the croaker catch is pretty good, there are signs everywhere saying not to eat the fish due to contaminants in the water. Good luck, jonjon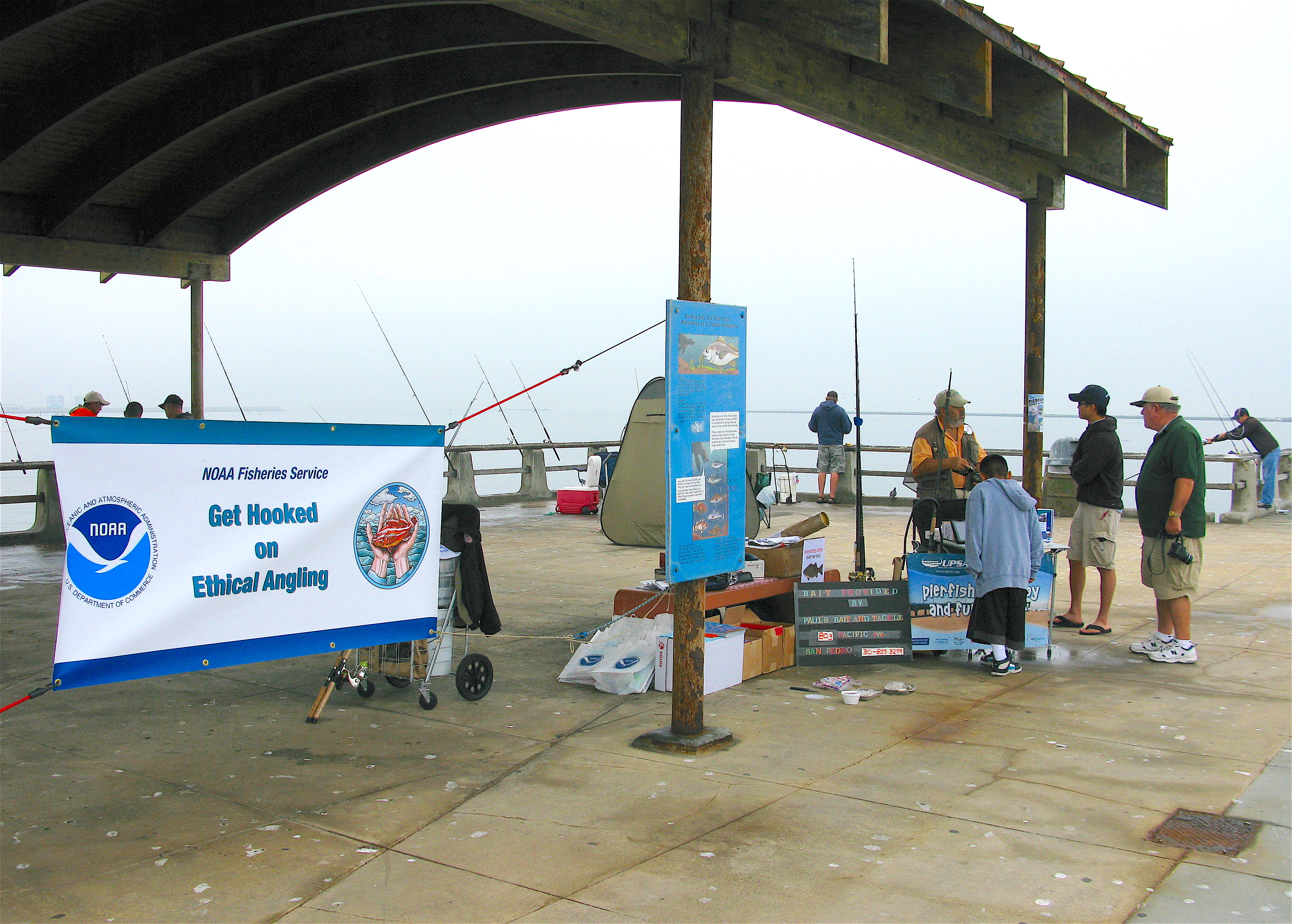 Setting up for the UPSAC Cabrillo Pier Derby in 2010
Date: August 1, 2005; To: Pier Fishing In California Message Board; From: dompfa ben; Subject: (In reply to: Anyone hang lights from piers? posted by tackleholic)
A couple of anecdotes. Several years ago, my brothers and I braved Cabrillo pier after dark. If memory serves, we had just been run out of a favorite PV spot by a guy in a helicopter (but that's another story altogether)…so we were feeling brave.
Upon arrival, we encountered a family that had somehow managed to unscrew one of the light fixtures from the overhead awning, and had pulled about 30 feet of conduit out. They hung the light over the railing, so that it was suspended just a few feet above the surface of the water.
Using fly-lined chunks of bait on Pepsi cans, these anglers were nailing mackerel and pompano on every drop. The bucket behind them was literally overflowing with fish. While I can't say that damaging the pier light was a good idea, it was certainly gutsy and inventive…and it worked.
We also used to take a shop light down to the now-gone Aliso pier, and plug it into any one of the outlets that were on every light pole on the pier. The light attracted plenty of "small, darty things" that, in turn, brought in mackerel and all the toxic tomcod you could ask for.
Incidently, I've seen plenty of fish shy away from a spotlight beam at San Clemente pier, including smelt, needlefish, small barracuda, bat rays, and mackerel. So I suspect it's probably the small plankton that brings the bigger fish in, and not the light.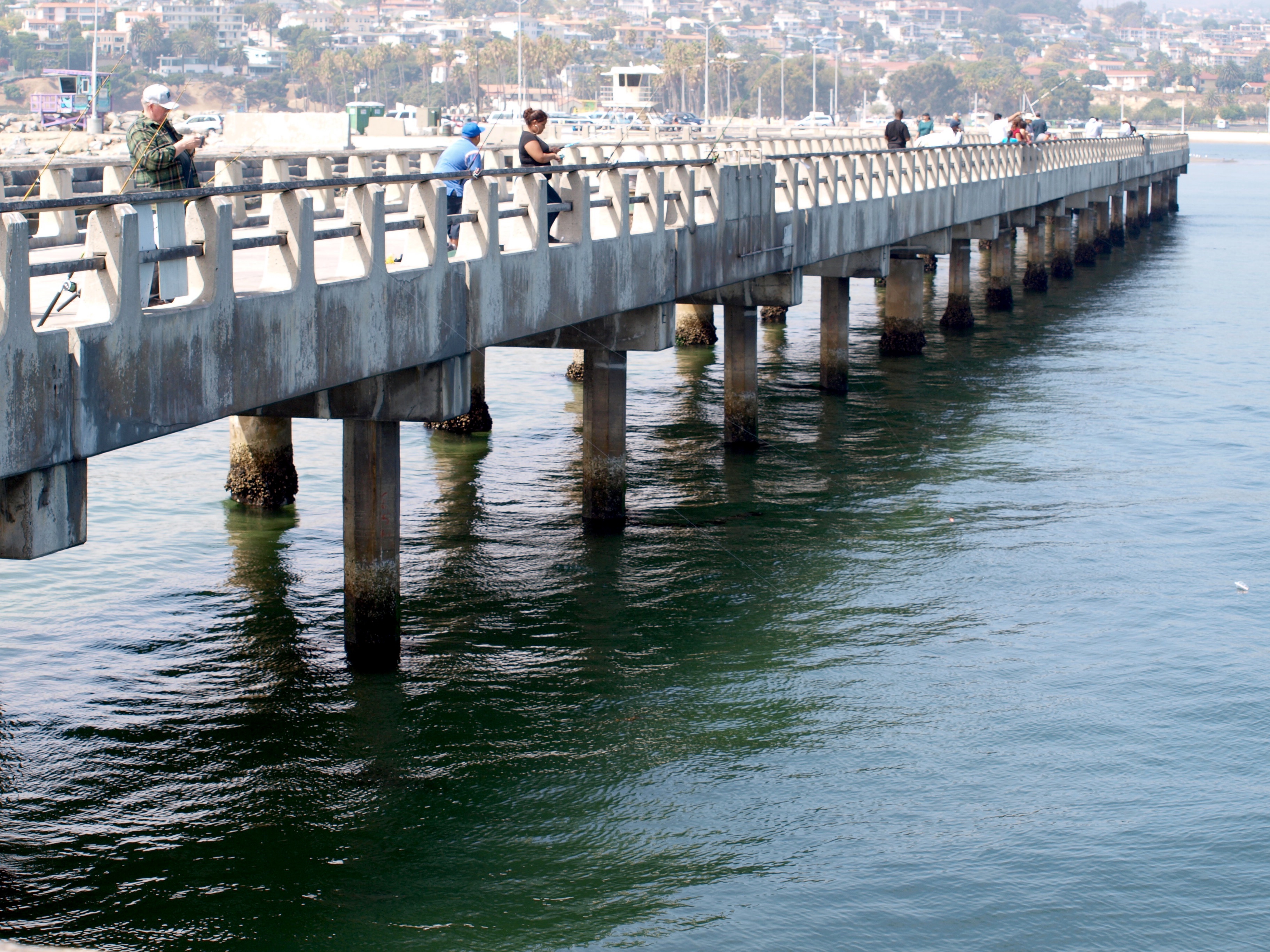 Date: March 24, 2007; To: Pier Fishing In California Message Board; From: lollich; Subject:  Cabrillo Pier (late report)
My son, Daniel, and I went to Cabrillo Pier at 5:25 a.m. We started fishing at around 6:20 a.m. We used ghost shrimp as bait, and we were going for any type of flatfish. Soon we had a "double" going. I caught a lizardfish and he caught a small barred surfperch almost at the exact same time (both released). Then he caught a 14.5″ pile perch. Soon after I caught a 14″ pile perch. Later Daniel caught a monster 15″ 2-lb pile perch! Then he caught a 12″ pile perch. The fishing started to slow down after that, except for my 13″ buffalo sculpin. Later we cut the fish. Found out one pile perch was pregnant, so we gave the babies away as bait. Then left at around 3:00 p.m., so we could be home to watch my beloved UCLA Bruins advance to the Final Four! (or, Daniel's Kansas Jayhawks to advance. — Daniel forced me to say that!)
Total for the day: Mom = 11; Daniel = 8 (this is the first time Mom was able to catch more than Daniel!) 18 fish, including… 5 pile perch (kept 4) — 1 buffalo sculpin (kept) (((((Scorpionfish)))) — 5 shiner surfperch (all released) — 2 lizardfish (both released) — 1 barred surfperch (released) — 1 spider crab (released) — 1 sanddab (released, to small)
Date: May 31, 2007; To: Pier Fishing In California Message Board; From: lollich; Subject:  Cabrillo Pier (late report)
We Started fishing around 6:45 a.m. Bait was live ghost shrimp. We were fishing at the end this time. We started getting bites around 7:00. I caught a 13.5″ sole. Then I caught a 10″ sand bass. Seven minutes later I caught a 7″ perch. And soon after, Mom caught a giant 17″ sole. I caught 2 more perch after that. Then, Mom caught a perch. After that, I caught 3 more perch. And, she caught 2 more perch. Soon after that, I caught a queenfish and a perch. Later, a seagull stole one of the four perch in our bucket. Then we left at 2:15.
Total: 14 fish, Daniel 10, Mom 4 — Sole: 2, both kept — Sand bass: 1, released — perch: 9, 4 kept (1 stolen), 5 released — queenfish: 1, released. Daniel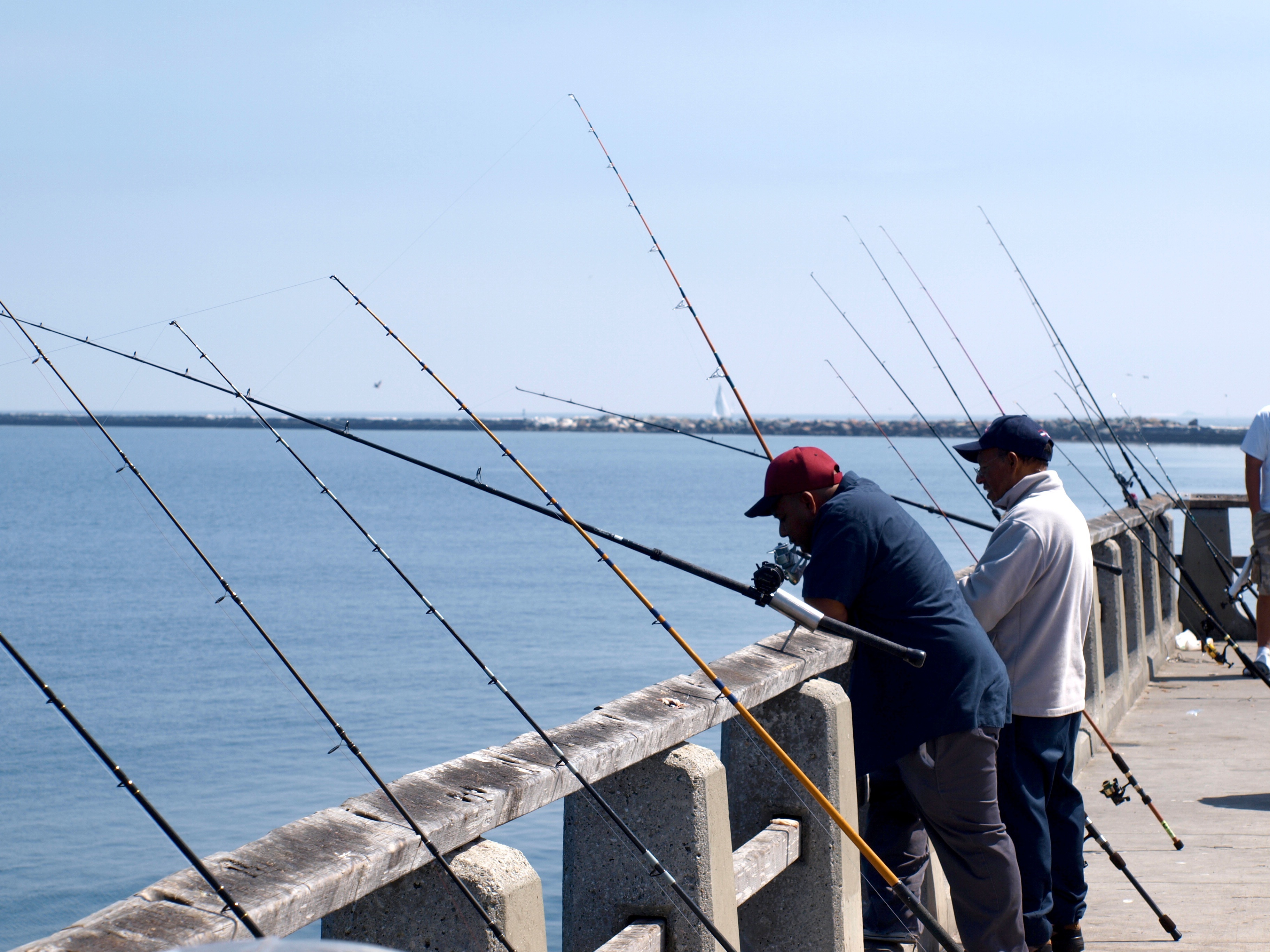 Date: July 19, 2007; To: Pier Fishing In California Message Board; From: lollich; Subject:  Cabrillo Pier & Redondo Muni – Late report 7/13, 7/17
Friday 7/13: We went to Cabrillo Pier. Our bait was frozen shrimp, live ghost shrimp, live anchovies, live grunion, and live topsmelt. I caught a 10″ calico bass, some topsmelt, some tiny anchovies, a grunion, and to top it all off, two halibut 13″ and 16." Mom caught some topsmelt, some grunion and two perch. All were released (except live bait).
Monday 7/17, night: We got to Redondo Muni Pier at 11 p.m., intending to fish for grunion at the grunion run. The grunion were a "no-show", so we fished the pier. Our bait was frozen shrimp, and live topsmelt. I caught a topsmelt and my first ever keeper HALIBUT, at 1:30 a.m.! It was 24″ and 3 lbs. 13 oz. Mom caught three topsmelt. Then we slept for two hours.
Tuesday 7/17, day: We went to Cabrillo Pier. Our bait was frozen shrimp, live ghost shrimp, and live topsmelt. I caught some topsmelt and three perch. Mom caught a 10″ calico bass, a small salmon grouper, and a bunch of topsmelt. All released. Daniel
Date: August 2, 2007; To: Pier Fishing In California Message Board; From: Ken Jones; Subject: Another short trip to the southland piers
Got back last night from a short trip down to San Diego to return my granddaughter to her home. Did manage to fish a few piers, and was able to meet up with Snookie and Hashem, but overall it was a quick whirlwind trip cut short by a need to return home for business reasons.
I did get a chance to visit the Cabrillo Pier. Hashem and I met up in San Pedro where I was scheduled to interview Bill from Paul's Bait and Tackle (I'm doing an article on what it's like to own/run a bait and tackle shop). Hashem and I soon headed out to the Cabrillo Pier to do a little fishing before Bill arrived for the interview. Interestingly, we ran into Jennifer Renzillo, the diver from the Sea Doc Society who is doing their line recycle project. She and two other divers were cleaning the pilings of line/hooks/lures before installing line recycle bins. We had talked several times on the phone, and I had even invited her to an UPSAC meeting which she missed due to illness, but we had never actually met. Now unexpectedly we run into each other out on the pier. It's a small world! As for the fishing, there were quite a few black perch, white perch, and giant kelpfish that weren't so giant. Hashem also managed a diamond turbot but we didn't see any halibut.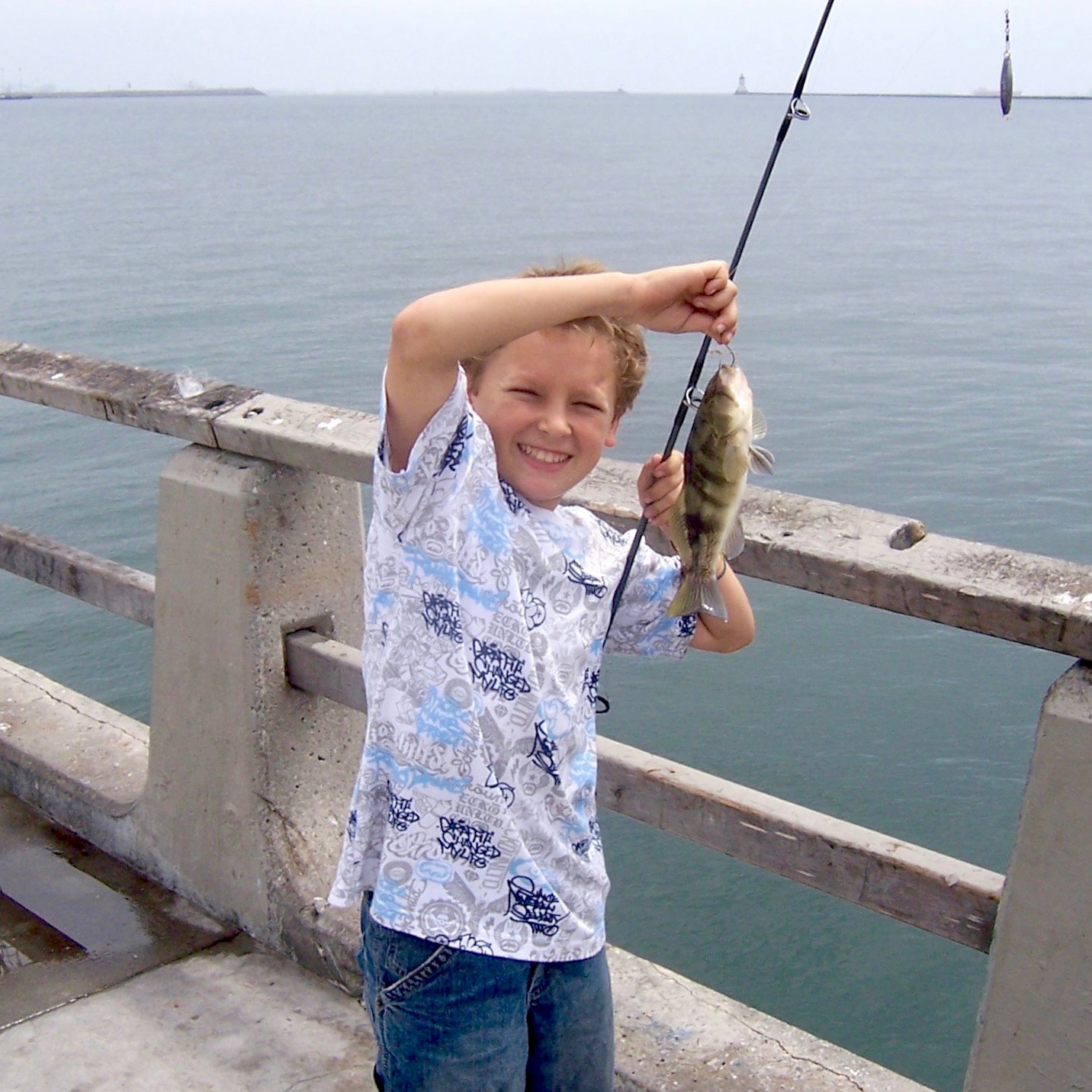 Bill's son with his sand bass
Bill's son managed a sand bass. We did make sure to cast away from the pilings while the divers were doing their thing. It just wouldn't have looked too good for an UPSAC official to hook one of Jennifer's companions. As for myself, it was quite a bit of fishing considering I started at 8PM on Sunday night and stopped at noon Wednesday but with my new sleep machine I wasn't even tired (although the body is sore as well as sunburned). The worst part was the drive home yesterday. The air conditioner in my truck quit working and even with the widows wide open the Valley heat was pretty intense.
Date: August 28, 2007; To: Pier Fishing In California Message Board; From: lollich; Subject:  Cabrillo Pier

We got to Cabrillo at 5:15 a.m. We also brought our new fishing partner. I caught two tiny baitfish that we threw back. Then I switched to my Bonito setup and had a 20″-30″ Barracuda on the line, but it got off. Mom caught a few baitfish that we used, for nada. Mom used ghost shrimp and caught three nice-sized perch. Then at about 10:15, Mom caught here first keeper bass, which was a 13″ Barred Sand Bass! About 15 minutes later, Attila from PFIC showed up with his fishing pal. Attila caught a short halibut and a few white croaker. At about noon, I start setting up ghost shrimp, when Attila said, "Hey you've got one on". So I ran over, set the hook and start reeling in, and found a giant Calico Bass!!!!! Mom helped bring it up with the net. Then, I measured it at 14.5"! It's my first keeper bass. My fishing partner went crazy. After that the fishing became slow and Attila left. We left at 2:00 p.m. Daniel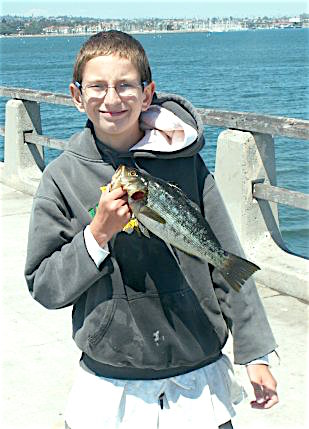 Daniel and his keeper-size kelp bass
Date: Sep[tember 3, 2007; To: Pier Fishing In California Message Board; From: sheldon; Subject:  Cabrillo Pier Late Cabrillo Pier

Took my son and we got there around 9:00am or so and the parking lot had the most cars we've seen in it for the time we've been fishing there….only the lsat 2 months or so. The most cars we've seen is aboit 20 or so, whereas the lot had about 100 cars that day. We had been fishing there on Fridays to avoid any potential crowds since my son was on summer vacation and it's also one of my days off. The pier and the jetty had a higher amount of people as well, but spots were available. We usually walked the length of the pier throwing plastics but ended up staying in one spot due to the number of anglers. Talking to the anglers as we walked to our spot revealed the action was slow. It was slow for me till I fished the side of the pier facing the jetty. I hooked a small 'but pretty quick and would, through the course of the day, catch 8 additional small halibut off that side…..I got two on consecutive casts!! It was neat because the water was shallow enough to be able to see most of the hookups as well as a lot of tailing fish. Nobody prior to my catching the first one was fishing that side of the pier, but soon some anglers moved to that side. I saw two other guys fishing that side nail a small 'but each. One was on a krock and I think the other was on bait.
I caught everything on a 3″ Big Hammer swimbait on 6-lb line. It was a previously used one that was in my box already threaded on a 1/4 oz leadhead. I've definately have gotten my monies worth out of that one and it is still fishable!!! It was a yellowed green colored lure. My son nailed a small 'but, two sand bass (one was 11 1/2″….so close), a lizard fish, and a queenfish on a 3″ Big Hammer swimbait in the Deep Blue color. We did see a few anglers catch other fish….a bareacuda, small bass, and a few macs here and there, but pretty slow for the most part. It was fun to see so many people even if it limited our fishing area. There was a couple sea lions prowling around the pier and a school of dolphins outside the jetty too. It was great out there with a nice onshore breeze to keep things cool.
By the time we left at 2:00pm the lot was pretty much full and upon exiting the park, saw they had closed the entrance off due to the park having reached capacity. There was a lot of traffic as people were looking for street parking in the neighborhood and a lot of people were still walking in with ice chests ready to enjoy the day on the beach.
Potpourri — Perhaps more than you want to know about the Cabrillo Pier
<*}}}}}}}}}>< — Although at first glance the pier would not seem to be too different from most other SoCal piers, the proximity to the breakwater does bring in a larger than normal mix of fish. In delving through the pier surveys conducted by the Fish and Game Department, Cabrillo stands out by having one of the largest mixes of fish. 44 different species were recorded, virtually all the common species as well as a couple uncommon to SoCal piers—copper rockfish and gopher rockfish. Almost every year sees more than 20 species of fish recorded. The list (numerically) — white croaker, shiner perch, jacksmelt, Pacific mackerel, black perch, white seaperch, queenfish, topsmelt, Pacific bonito, walleye surfperch, opaleye, yellowfin croaker, kelp bass, striped seaperch, blacksmith, barred sand bass, California sheephead, pile perch, rubberlip seaperch, sargo, California halibut, jack mackerel, California scorpionfish, halfmoon, Pacific sardine, California corbina, black croaker, cabezon, copper rockfish, shovelnose guitarfish, gray smoothhound shark, senorita, California lizardfish, barred surfperch, spotfun croaker, diamond turbot, spotted sand bass, brown rockfish, gopher rockfish, black and yellow rockfish, white seabass, zebra perch, salema and giant kelpfish.