The most recent California shark attack occurred last year on Thanksgiving Day, when Michael Casey was bitten by a 16-foot white shark while enjoying the surf at Salmon Creek Beach in Sonoma County. Casey, a Santa Rosa deputy city attorney, was bitten at least twice in the legs; the resulting wounds required more than 80 staples to close. Another surfer, Lee Fontan of Bolinas, was bitten four times by a 12- to 14- foot great white on April 30, 2002, near Stinson Beach in Marin County.
—Maria Alicia Gaura, Chuck Squatriglia, San Francisco Chronicle, August 20, 2003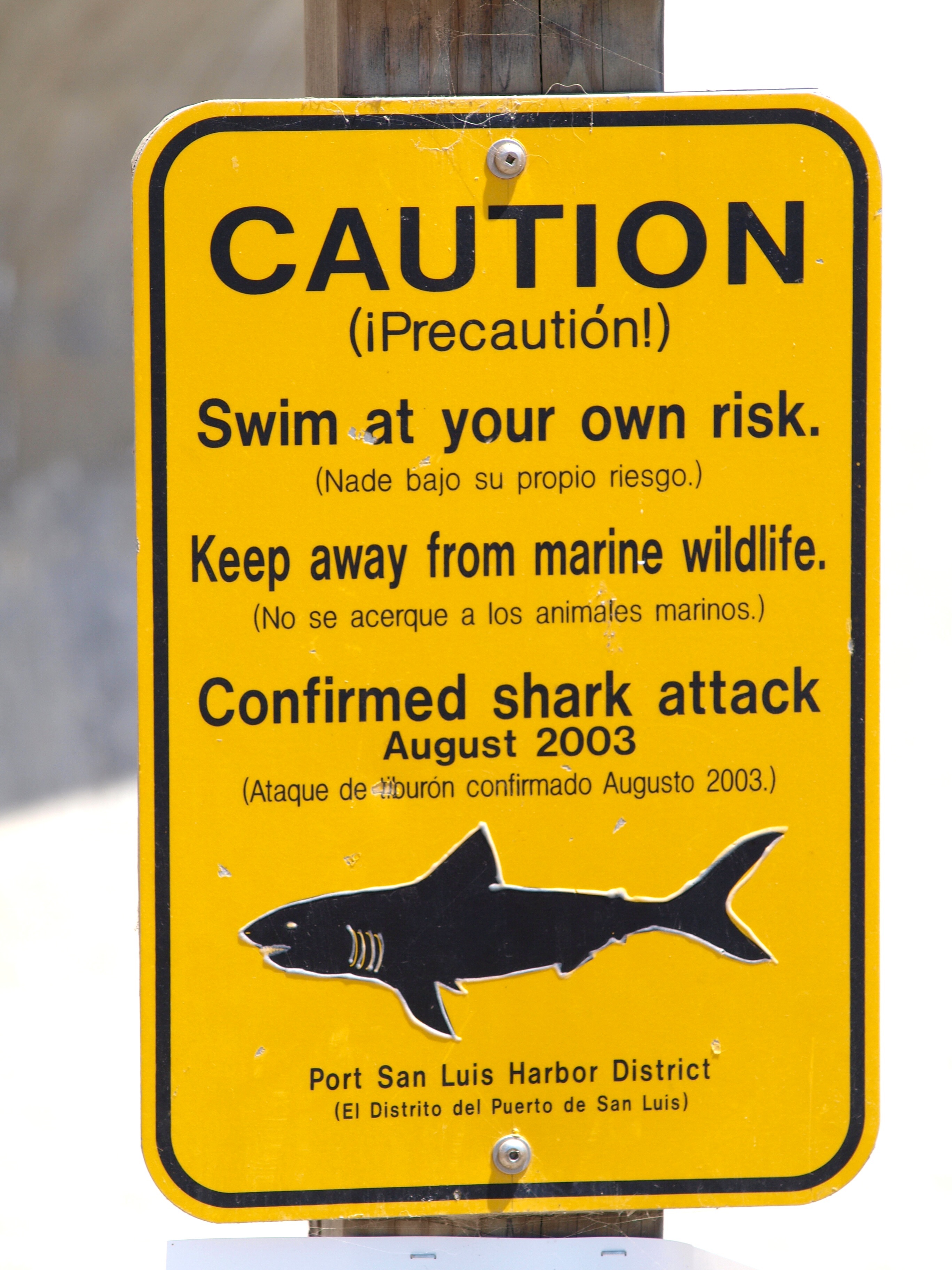 She died doing what she loved
AVILA BEACH—The fatal injuries Deborah Blanche Franzman suffered while swimming off Avila Beach were inflicted by a 15-to 18-foot great white shark, authorities said Wednesday.
Preliminary findings of an autopsy performed on Franzman, as well as expert analysis of her injuries, conclude she was killed Tuesday morning by an adult great white shark, according to sheriff's Lt. Martin Basti. Basti said Bob Lea, a marine biologist with California Department of Fish & Game, assisted in the autopsy and determined Franzman's injuries were consistent with a great white shark attack. Lea estimated the shark that attacked Franzman, 50, a Hancock College sociology instructor who frequently swam in the ocean, was between 15 and 18 feet in length—the size of a long-bed mini-truck. A great white that size would weigh between 2,700 and 4,000 pounds; the average mini-truck weighs 3,220 pounds.
Witnesses who were on the beach reported Franzman was swimming near a group of feeding sea lions when suddenly the sea lions disappeared, a dorsal fin appeared and the swimmer was pulled under the water. The most severe injury sustained by Franzman was the severing of her left femoral artery caused by a large laceration from a shark bite. Basti wouldn't say how many times Franzman was bitten. He did say a severed femoral artery would have required immediate medical attention, within one to two minutes, for a person to survive the injury. "It's catastrophic and not survivable," Basti said. Response time was quick, but when lifeguards reached Franzman, she was unresponsive. "She was floating on her stomach when I got to her," said Avila Beach lifeguard Tim Borland. "She was unconscious. We couldn't see (any wounds) on her body."
Usually, lifeguards aren't on duty at the beach until 10 a.m., but Tuesday the Port San Luis Harbor District was hosting a Central Coast lifeguard competition at the Avila Beach Pier. Borland, who was first to reach Franzman, and three other lifeguards where on the pier when they heard screams for help from the beach. "We just started running down the beach," Borland said. "None of us even saw the woman in the water. I was swimming with my head up because we didn't know what we were looking for." The four lifeguards said they didn't see the attack but knew they were likely in danger when they reached Franzman, who was bleeding profusely. "I don't think any of us believed what was going on (when we reached her)," said Pismo Beach lifeguard Billy Larsen.
After the attack, Avila Beach, Olde Port Beach and Fisherman's Beach were closed to all water activities and remained closed Wednesday. Casey Nielsen, Harbor District operations manager, said unless any new information is developed, such as confirmed shark sightings in the waters, the beaches would reopen today. Port San Luis Harbor District will post warnings that a person was attacked in the water. Pismo Beach and Oceano will have the same warnings signs. Nielsen said when the waters open, people will be urged to swim with caution—don't swim near marine animals that are feeding, swim in groups close to shore and swim where a lifeguard is present.
"This is the creature's home that we're entering," Nielsen said about ocean swimming. "We're entering their environment and need to be aware of that." Ocean swimmers are also cautioned to avoid early morning and late afternoon swims. After Labor Day, the Harbor District doesn't staff the beach with lifeguards. Nielsen said he expects to step up lifeguard patrol from now until the Labor Day holiday weekend.
—April Charlton, Santa Maria Times, August 21, 2003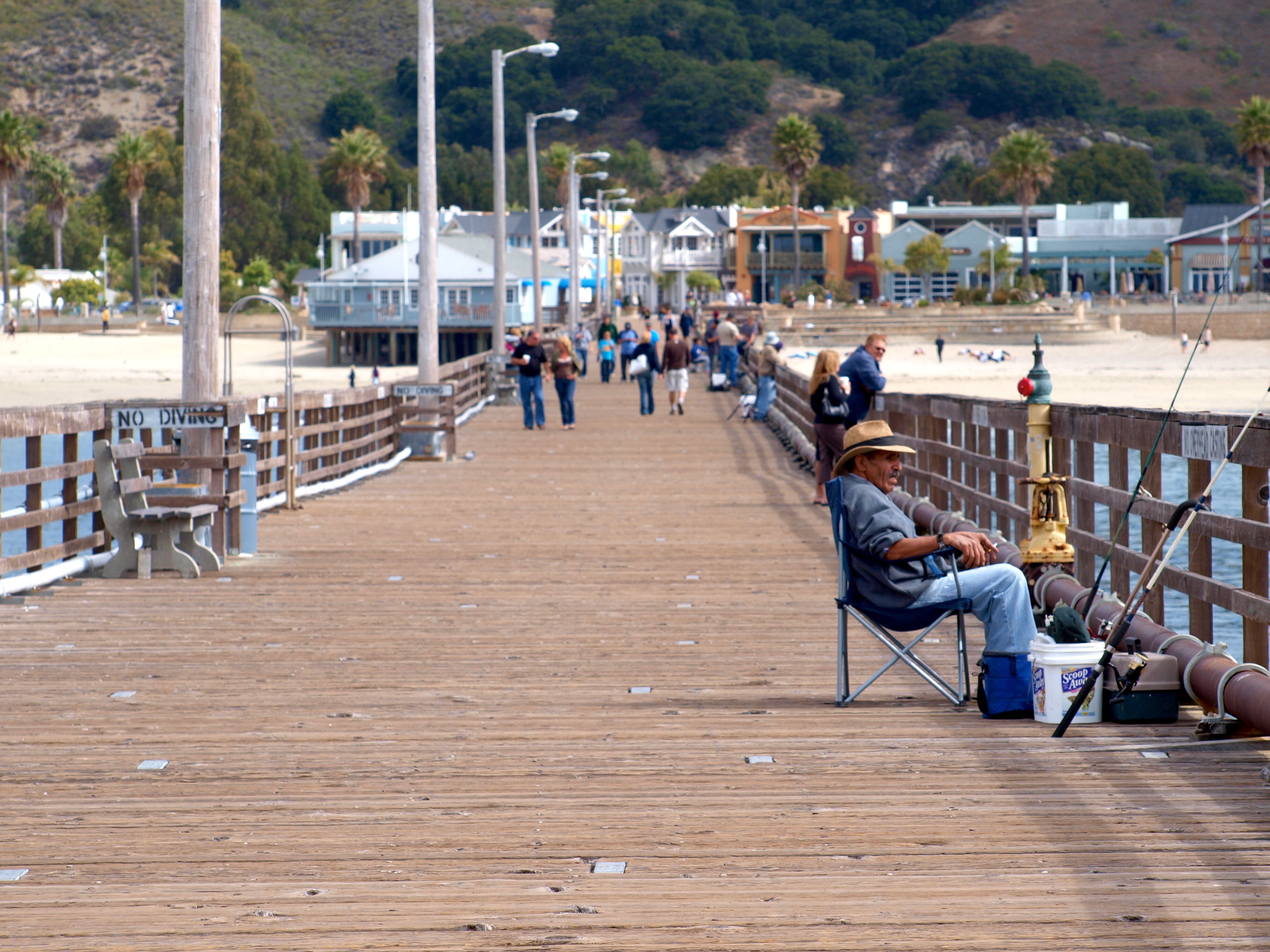 New shark sighting at Avila Beach
AVILA BEACH—An Avila Beach fisherman saw fear in a harbor seal's eyes just before a great white shark chomped its tail inches from his boat Saturday morning. Joe "Chovy" Dearinger was fishing for live bait between the Avila Beach and Unocal piers when he spotted the 18- to 20-foot shark breach as it lunged for the leaping seal 500 yards offshore.
Port San Luis Harbor District closed the waters at Avila Beach, Fishermen's Beach and Olde Port Beach just after the sighting was reported around 10 a.m. Operations Manager Casey Nielsen said the water would remain closed until further notice.
"It takes a lot to get me nervous and I was like, 'Oh my God,'" said Dearinger, a commercial fisherman at Avila Bay for six years. "It took me 15 minutes to calm down." He recounted the sighting while unloading anchovies just off the pier at Port San Luis. Just as Dearinger was about to drop and drag his fishing net by hand, he saw two harbor seals jump out of the 35-foot deep water—an unusual occurrence. Another seal leaped while the great white shark surfaced to grab the tail of its prey. "As the seal hit the water, the shark had its tail section in his mouth," Dearinger explained. "It was like something you see on National Geographic."
The fisherman saw the entire shark—including its large teeth gripping the seal and 21/2-foot high dorsal fin—as he stood at the rear of the boat, net in hand. He narrowly missed catching the shark in his net. If the shark had become entangled, it could have rolled the 45-foot boat, Mello Boy, according to boat owner Deke Wells.
In his 15 years of fishing at Avila Bay, Wells has never spotted a great white shark. Neither has partner Dearinger. Wells said the splash created by the seal and shark was so large he believed the culprit was a humpback whale. "That was a big damn splash."
The fishermen speculated the shark could have been the same that killed Nipomo resident Deborah Blanche Franzman last Tuesday. Besides the shark they saw Saturday, they spied one hours after Franzman was attacked. "He could be coming back to the scene of the crime," Dearinger said. "He knows there is food." Both fishermen said an exploding seal and sea lion population is attracting one or more great white sharks to the bay. "We've been saying it was inevitable," Dearinger said. They believe the food source will cause a shark to stay. "He ain't going anywhere," Dearinger said.
The fisherman urged closure of all area beaches and suggested a boat patrol between piers. Dearinger also suggested the Port San Luis Harbor Patrol study movement and activity of seals and sea lions. "If you keep an eye on the seals, you'll see a shark," he said. Just before the shark surfaced Saturday, Dearinger said the seals acted skittish, keeping their heads above water instead of looking down for fish. After the seal attack, the remaining seals scattered. "You can tell when seals are looking for bait and when they are scared," Wells said.
An ultimate solution could be controlling the seal and sea lion population, said Dearinger. He explained the creatures are now breeding in the bay, as opposed to the wild. The new additions are crowding onto the back of boats and sinking docks, said the fishermen. "There are way too many seals here," said Wells, who recently fenced off his dock to prevent sleeping seals and sea lions. Still, they attempt to board. Dearinger and Wells will continue fishing for bait in the bay, although they admitted they will pay close attention to the seals and keep their hands in the boat. "We sure as hell will be keeping our eyes open," Wells said.
—Emily Slater, Santa Maria Times, October 8, 2003
Shark Presence Closes Avila Waters
The waters at Avila Beach, Fisherman's Beach and Olde Port Beach will be closed to human contact until 7 p.m. Monday—just two days before the busy Fourth of July holiday—because of a great white shark sighting, according to Port San Luis Harbor District officials. The water was closed around 7 p.m. Wednesday after the Harbor Patrol was alerted to a credible shark sighting in the port's mooring area; by harbor policy, a credible shark sighting triggers a mandatory five-day closure of the water in San Luis Bay.
A "boater with quite a bit of boating experience" spotted the great white that was estimated to be about 15 feet long, roughly the size of a small pickup with jump seats, said Casey Nielsen, Harbor District operations manager. "The five-day water use restriction is meant to be an opportunity to educate the public about specific ocean hazards," Nielsen said of the water closure that will include the entire weekend before July Fourth—and which could be extended through the holiday if another shark is seen over the weekend.
While the district's beaches remain open during water closures, signs are posted throughout the port warning the public that a shark has recently been sighted in the bay. People are also expected to voluntarily stay out of the water during closures. "We're still inviting people to come to the beach …," Nielsen said, noting that beachgoers can get their feet wet in the surf, but that's it. "We know (the closure) is inconvenient for people."
If there's another credible shark sighting prior to Monday, the water closure would be extended, per the district's Dangerous Marine Animal Incident Policy, according to Nielsen. The Harbor District adopted the mandatory water closure policy in August 2003 after a Nipomo woman was fatally attacked by a great white shark while swimming near a group of seals off Avila Pier. The last water closure in San Luis Bay was last Labor Day weekend, when the waters were closed for almost two weeks after two sightings were reported within days of each another.
Meanwhile, at Pismo Beach, advisory signs will be posted warning people to enter the water at their own risk; the city can only post warnings, because it doesn't have the authority to close the water as the Harbor District does. Signs warning people of the shark sighting are also expected at Oceano Beach, but they hadn't been posted as of early Thursday afternoon, according to a dispatcher at the Highway 1 ranger station.
—April Charlton, Santa Maria Times, June 29, 2007
 <*}}}}}}}}}>< —It's sometimes hard for a person to feel the changes that take place in a town unless you've lived them. The following excerpt from a short story on Avila gives just that feeling and it matches the feelings I had when I returned to the town in 2002 after the "makeover!"
Remembering Avila
The new 1949 Chevy rounded the southbound curve of US 101 at Shell Beach, and Mother had her first glimpse of the Pacific Ocean. "My god, look at that," she said. "It's huge! It's beautiful! Look at those rocks."
Our family had packed up several days previously and set out for California. All of us anticipated the excitement of our trip and the adventure of starting new lives in a new place. But for Mother, nothing along the way or at our destination could rival finally viewing the Pacific.
To an untraveled Nebraska farm girl, that long-awaited peek at the ocean represented all unknown wonders beyond the confines of monotonous midwestern cornfields. For Mother, the ocean never lost that original "wow" factor. Consequently, our family never missed an opportunity to go beachcombing at Oceano, clamming at Pismo, or picnicking at Point Sal. We fished from the Port San Luis pier. We watched San Simeon sunsets. We camped in the dunes. But Avila Beach was a special place. It held an irresistible attraction that continued through decades.
Standing on the sidewalk above the retaining wall, looking toward the ocean, modern Avila beachgoers see water, sand, rocks, the south-curving coastline. It's a picture-perfect postcard scene that could have been lifted right out of the 1940s. Mother Nature changes slowly and beaches endure. The surf beats tirelessly a billion times upon a shell-littered shore. Gulls and pelicans wheel and dive. Rhythmic collisions of breaking waves, the swishing, hissing pull of water returning to sea, shrill cries of shorebirds and excited children comprise a seaside symphony. Smoky smells of beach barbecues mingle with salt air and suntan lotion, creating an olfactory experience unique to beaches. Those sensory cues don't change.