Public Pier — No Fishing License Required
If you're looking for a place to take the kids fishing, this small pier is a great place to start. The pier is located in the pleasant setting of Dana Harbor and close to the pier sits a park and a shallow-water beach called Baby Beach. Unfortunately, that beach provides the font for one less than desirable nickname for the pier—Baby Beach Pier—but the name does give evidence of the safe nature of the beach in case you want to pay a visit with young 'uns.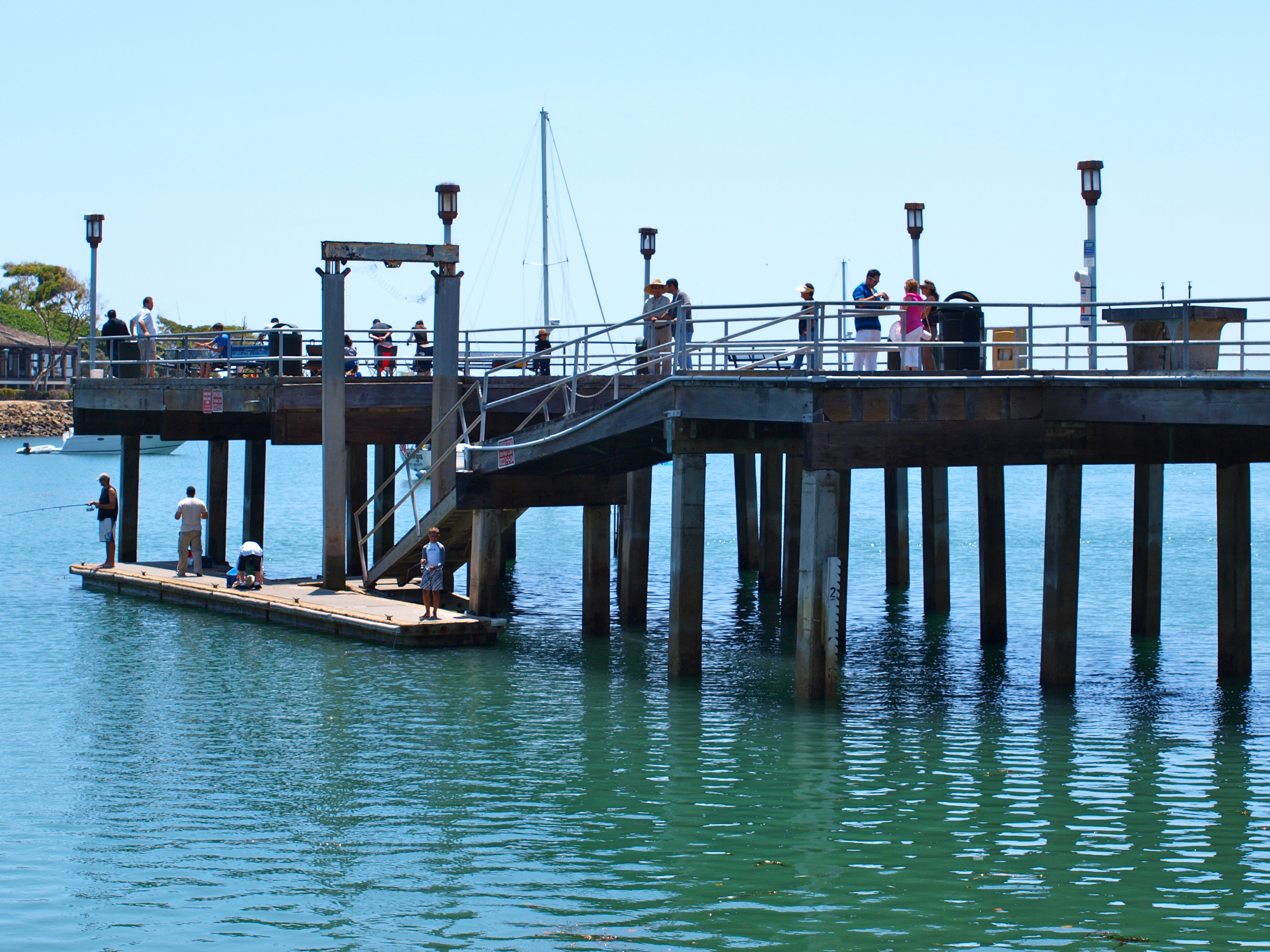 Anglers can fish from top or down on the float
Safe that is as long as you ignore the yearly listing of the beach as one of the most polluted (with bacteria) in the state. However, the county has made a commitment to find the causes of the problem and to fix them; it's not exactly the kind of publicity a beach intended for kids needs! They're checkin' da birds, checkin' da boats, and checkin' da storm drains so hopefully the problem will disappear. Interesting is the fact that before the harbor was built the site of the beach was a rocky tidal shoreline with little sand. Sand was brought in to make the beach and new sand is added about every five years.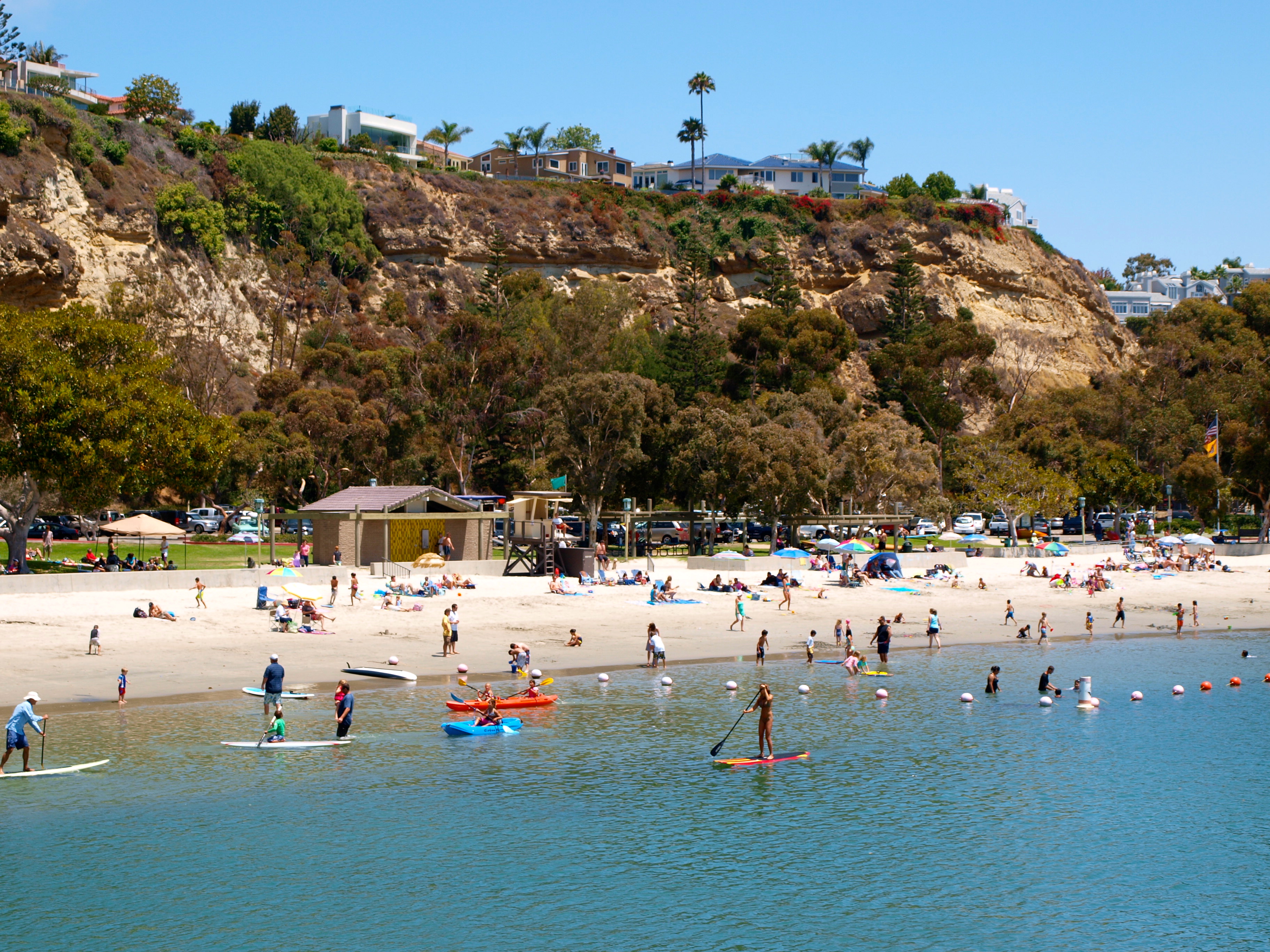 Baby Beach sits to the side of the pier
To the east of Baby Beach sits the main marina area as well as a variety of shops, restaurants and outdoor-related businesses. The pier itself is attractive, well maintained, and receives considerable use given its small 150-foot-long size. Although fishing is generally only fair, there are times when it is excellent.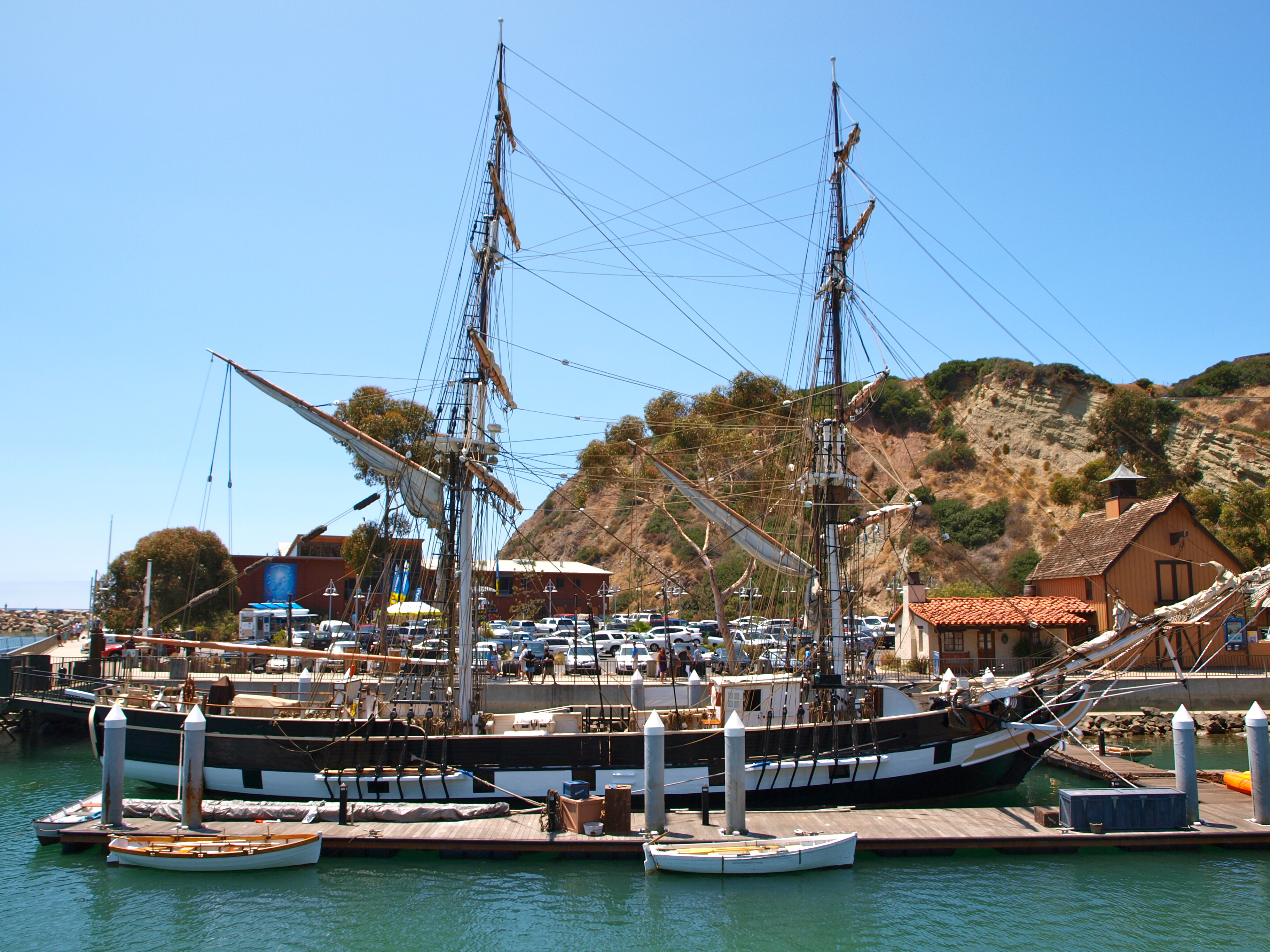 The Pilgrim
An interesting feature, just a short cast away from the pier, is a 130-foot replica of the brig Pilgrim, the square-rigged sailing ship upon which Richard Henry Dana sailed. The original ship was Dana's home away from home when he visited the area in 1835; it became famous when he published "Two Years Before The Mast." Today its copy serves as a home for student tours (so do be careful that you don't send a lead sinker skidding onto the Pilgrim's deck).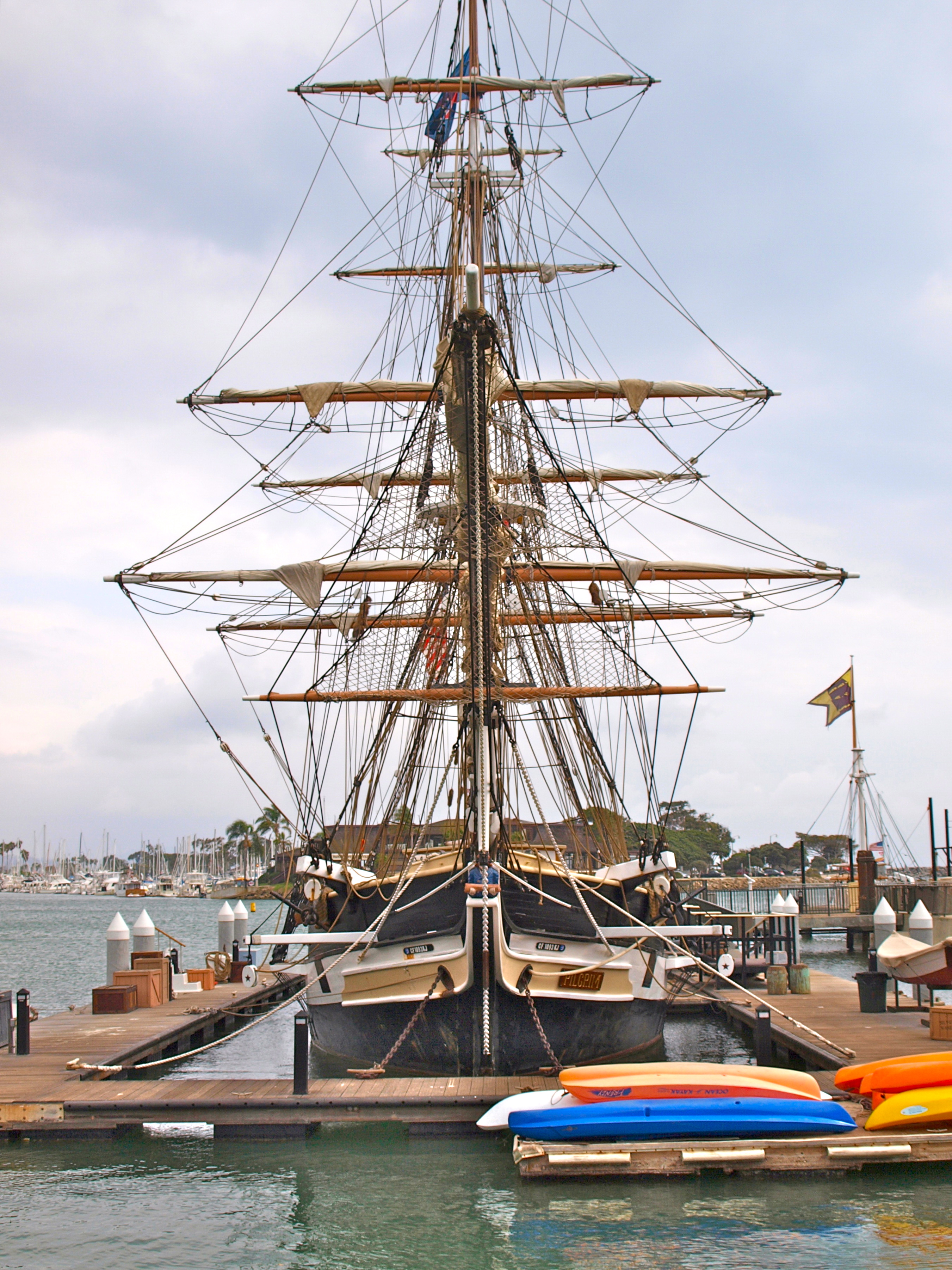 In addition, adjacent and just up the street from the Pilgrim is the Orange County Ocean Institute, a don't-miss attraction for those interested in the sea. Visit the institute, visit the ship (on Sundays), break for a small lunch, and then take the kids fishing on the pier. Do anything you can to get the kids away from TV and Video games while taking a respite from the normal jog trot of life.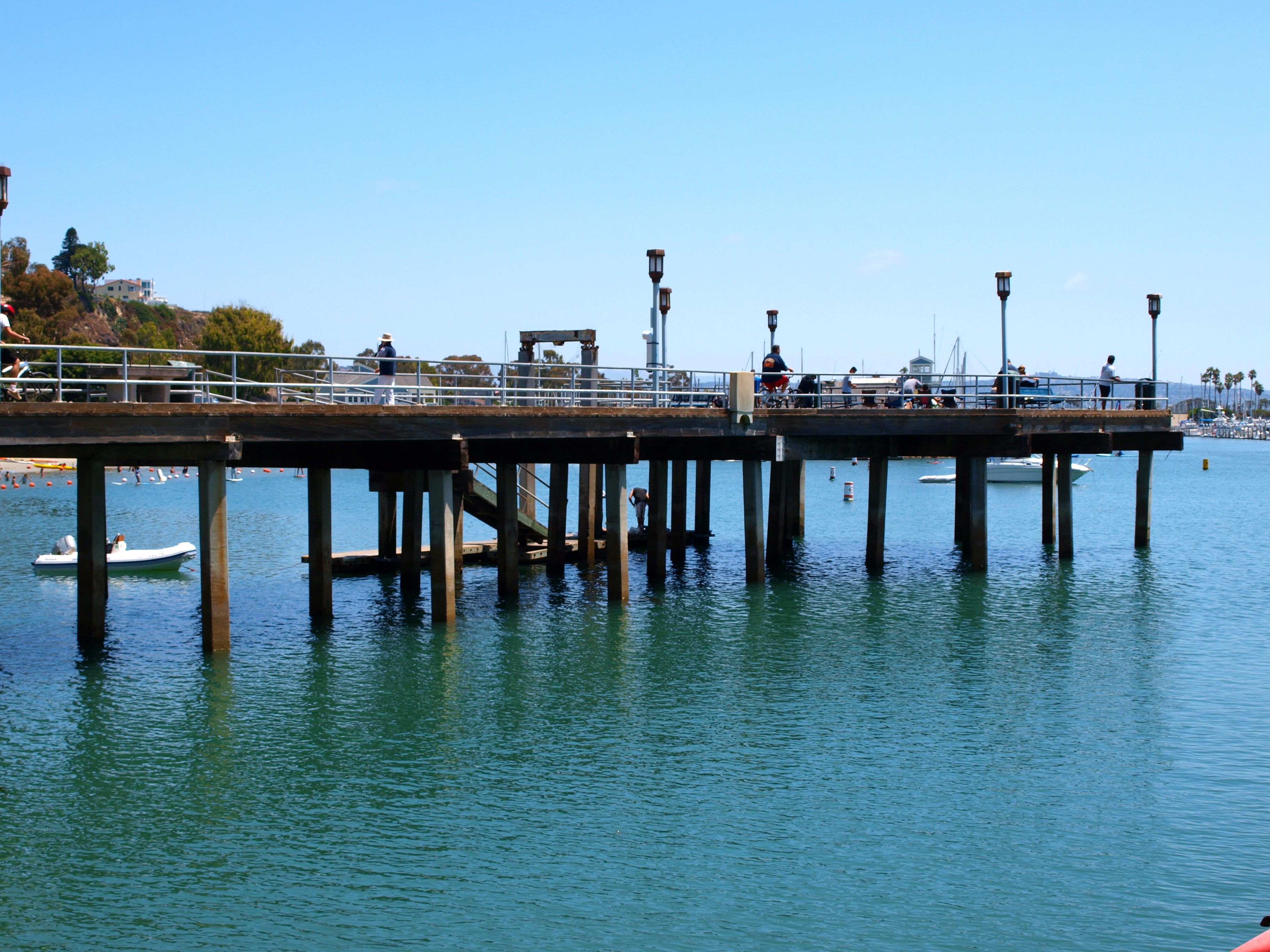 A final note: several times over the years when making my pier hoppin' expeditions down the coast I've arrived at the San Clemente Pier and found parking to be IMPOSSIBLE (especially on mid-day, summertime weekends). Depending upon the time of the day, one solution was to head over to this pier and fish for a few hours; by late afternoon people were headed home and parking would be available at San Clemente.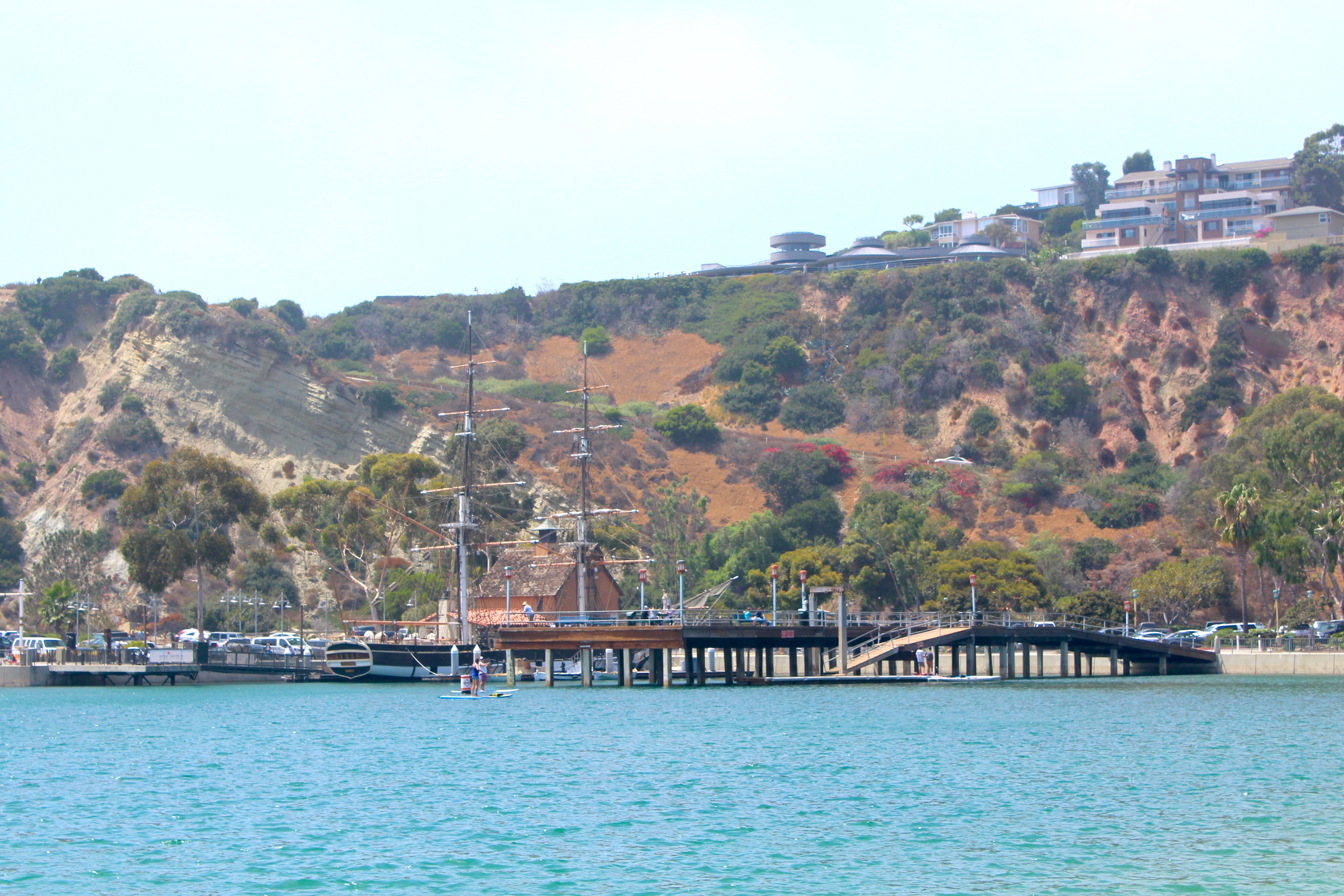 Looking from Baby Beach toward the pier and the Pilgrim
Environment. The pier is situated in the Dana Cove Park area in the northwest corner of the outer harbor. The water is fairly shallow, tidal flow is mild, the bottom is primarily sand, and there seems to be some grass within a short cast on the left side of the pier. Unfortunately, the concrete pilings usually have only moderate fish-attracting growth on them; usually there are some barnacles but not always mussels.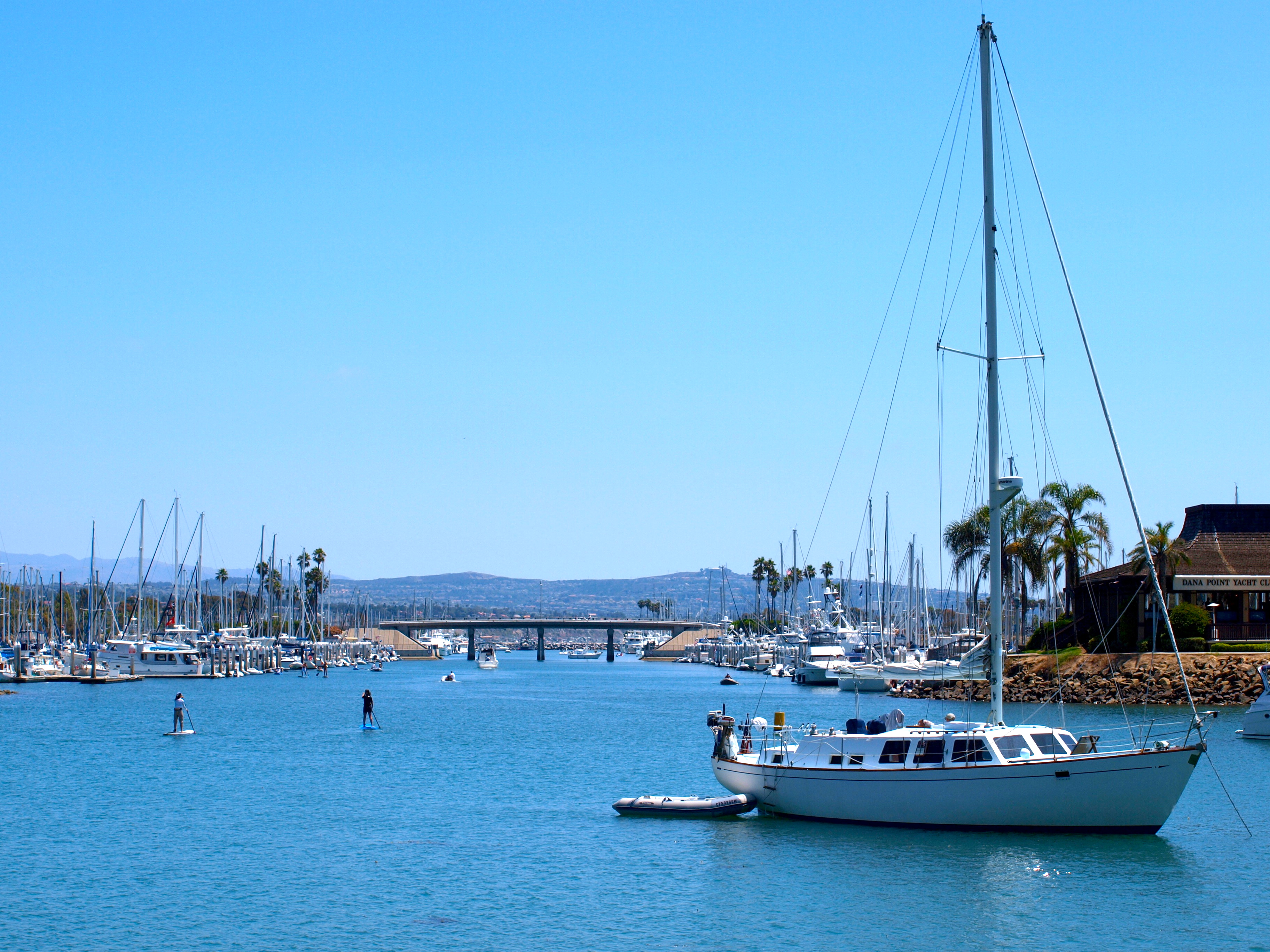 Dana Harbor
Being a busy harbor means there can be considerable traffic from motorboats and sailboats, especially during weekend days. There is also a small loading dock on the north side of the pier which means you can fish down around the pilings. However, the dock also means boats can be loading and unloading people which can make space a little tight, and fishing a little difficult. One way to avoid the boats is to fish early or late and leave the mid-day sun to the kids. The shoreline itself is covered by rocks so rock-frequenting species will appear, but overall action is slow.
Fish and Fishing Tips. The most common species here are the typical bay fish: topsmelt, jacksmelt, shinerperch, herring (queenfish), tom cod (white croaker), yellowfin croaker, spotfin croaker, sargo, opaleye, black seaperch, white seaperch, rubberlip seaperch, pileperch, small kelp bass, sand bass, spotted sand bass, California halibut, diamond turbot, Pacific mackerel, sharks and rays. As usual, most sharks and rays are caught at night. Nighttime hours may also see an octopus grab hold of your bait or an occasional moray eel, the sworn enemy of all octopuses.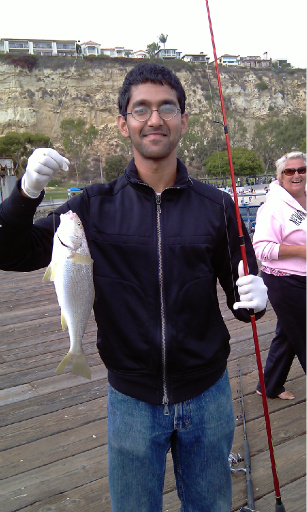 Yellowfin Croaker
Often you will see fairly large fish jumping in the shallow waters near the adjacent beach. Most of these are mullet, sometimes exceeding three feet in length; unfortunately they are almost impossible to hook. You'll sometimes also see needlefish swimming near the surface and, like the mullet; they are really hard to hook. Uncommon fish caught from the pier have included bonefish and quite a few yellow snake eels.
I'm not sure if there is a "best" spot on the pier, I've caught fish casting out away from the pier, fishing down by the pilings, and fishing the channel between the pier and the Pilgrim. Each location yielded fish, although generally with only a modicum of success. However, the different spots do produce different fish.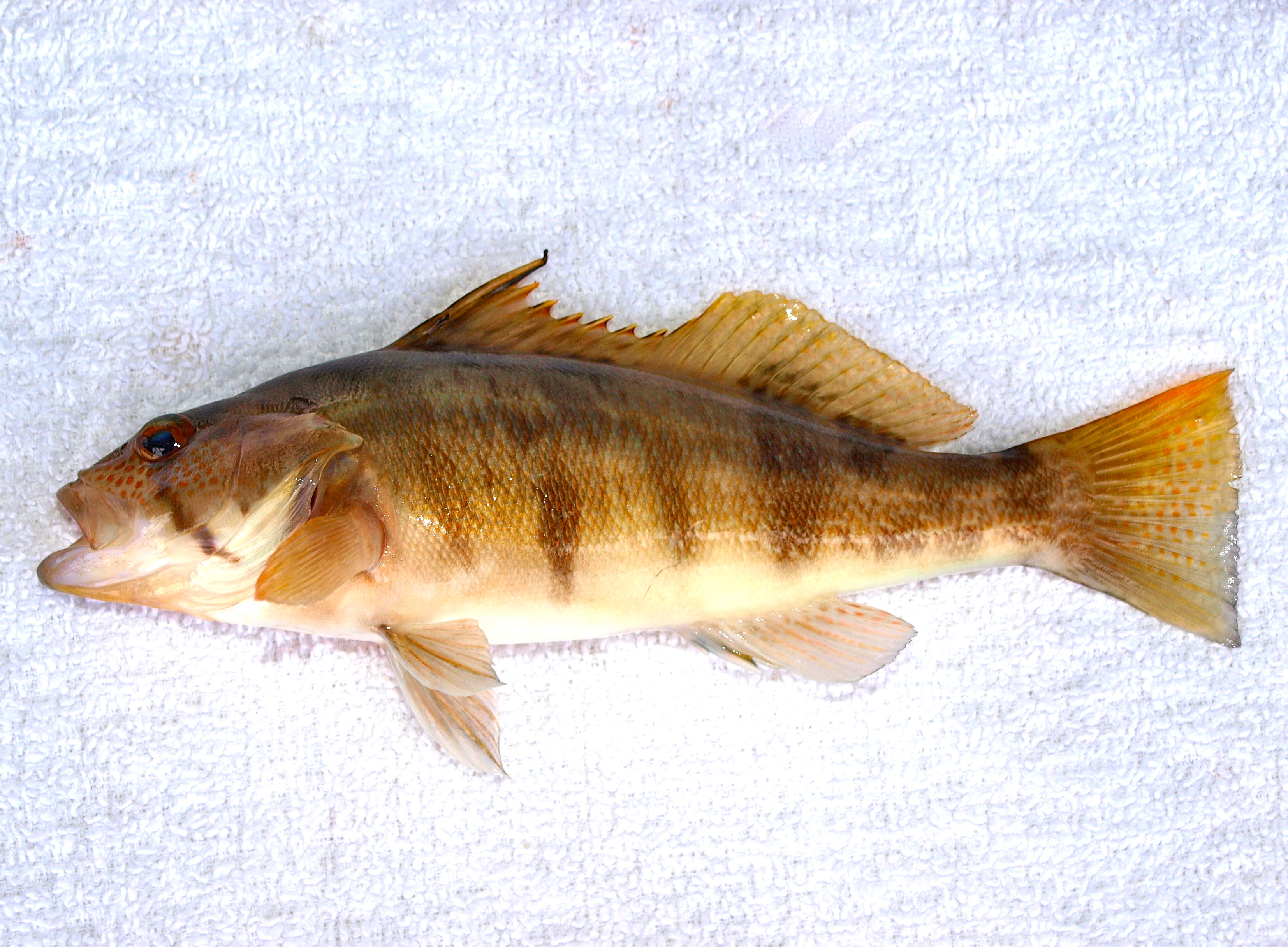 Barred Sand Bass
The flats out from the left side of the pier mainly produce a mixture of the normal bay species—perch, croakers, sargo and bass. White seaperch and blackperch will fall for a high/low rigging baited with bloodworms, fresh mussels or small pieces of market shrimp on a size 6-4 hook; if you have live ghost shrimp use a size 4 Kahle hook. Ditto on the area, rigging and bait for yellowfin croaker, spotfin croaker, and bass although hooks can be a little larger, size 4-2. By the way, if you have a choice buy/use small ghost shrimp for the perch, medium size ghost shrimp for the croakers, and medium/large ghost shrimp for the bass. If seeking out the bass feel comfortable using cut anchovies and strips of mackerel or squid. Although the majority of the bass will be fairly small ones, a four and a half pound calico (kelp) bass was caught in September of '08, a good-sized bass for pier or boat. Bloodworms (or lugworms) under a bobber will sometimes produce big jacksmelt that can surprise you with their fight. Other fish that might surprise you with these riggings and baits include diamond turbot and China croaker (black croaker). I suppose an 18-foot-long great white shark could even surprise you. An 18-foot-long great white shark would certainly surprise me!
Given the close proximity to the water (even closer if you stand on the small dock), it's a good spot to try artificials for the bass. Try soft plastics such as 3-4 inch Big Hammers, Fish Traps, Scampis, Scroungers or Berkeley Power Sand Worms. One tip is to use freshwater jig heads with your swim baits; they have smaller hook diameters and are sharper. At night try Strike Lites with a swim bait for the bass, I've been told it can help.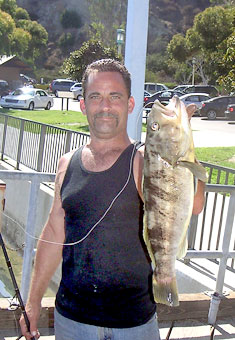 Nice barred sand bass
If you're lucky the artificials might also entice a halibut. Most anglers use live bait (small smelt, queenfish, or shinerperch) on a Carolina rigging for the toothy flatties but lures can often be just as productive. Although the pier is not a noted halibut hot spot, enough are caught to keep it interesting. In fact, there was unconfirmed catch of a 40-pound halibut from the pier.
The right side of the pier presents a narrower body of water—the channel between pier and the Pilgrim but it has often been productive for me. I've caught several nice croakers in this area, including a couple of black croakers (China croaker) and seen several halibut landed here. I like to cast close to the ship feeling that some fish will hang under the shade of the boat but don't do this unless you really know how to cast. That area has also yielded some nice perch.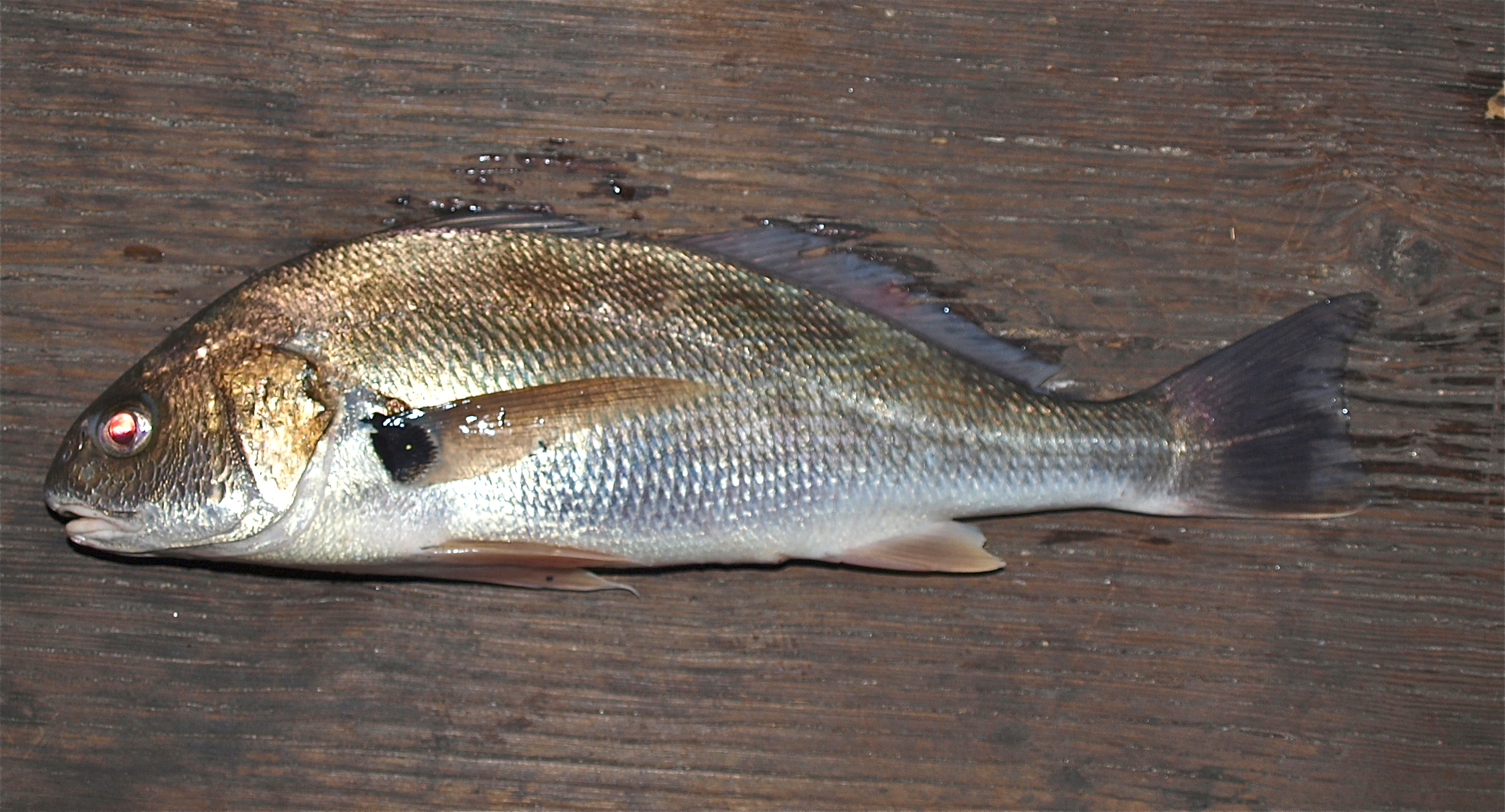 Spotfin croaker caught in the channel between the pier and the Pilgrim
The area straight out from the end of the pier yields these species but also seems somewhat better for the shark and ray species, especially at night. Bloody mackerel and squid will attract the gray smoothhounds and leopard sharks while bat rays seem to prefer squid. Big shovelnose sharks (guitarfish) will hit a variety of baits but often like a lively smelt or small queenfish; small thornback rays and round stingrays will bite almost any bait. If fishing for the big mama bat rays (the big ones are always females) come prepared: several large 100+ pound bat rays have been landed here and you need to have a way to bring them up onto the pier. Hopefully you'll release them so you also need to have a way to release them with as little trauma as possible.
Three other species are most common at night. California barracuda, mostly sub-legal-size fish will often show at night and hit live baits or, more commonly, whack spoons such as Kastmasters and Krocodiles. Another nighttime visitor rarely seen during the day is the misnamed sculpin (actually California scorpionfish); they prefer a strip of squid on a high/low rigging. Last but not least is the gnarly yellow snake eels and we've had reports of them being caught in 2002, 2006, 2007 and 2010 so they no longer can be called rare; uncommon yes, rare no.

Yellow Snake Eel — 2006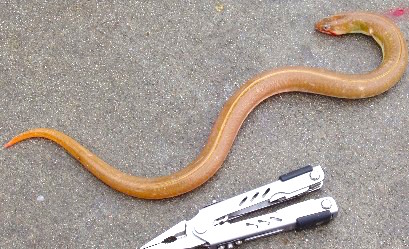 Yellow Snake Eel — 2007
Although not noted for pelagics, the pier will occasionally see good runs of Pacific mackerel, sardines and even, some years, bonito. Most anglers will fish for the macs with either small strips of bait (mackerel or squid) under a split shot, a couple of size 4-2 hooks rigged high/low style with a piece of mackerel, or on a bait rig. The sardines are taken on bait rigs; the bonito are typically taken on a feather trailing behind a Cast-a-Bubble or lures such as MegaBaits.
Fish down under and around the pier for the smaller species. A Sabiki-type bait rig will often yield good catches of topsmelt, jacksmelt, shinerperch, walleye surfperch, or queenfish. At times the bait rigs will also hook under-sized calico bass (kelp bass) and bay bass (spotted sand bass); be sure to return any bass that are under the 14" legal size.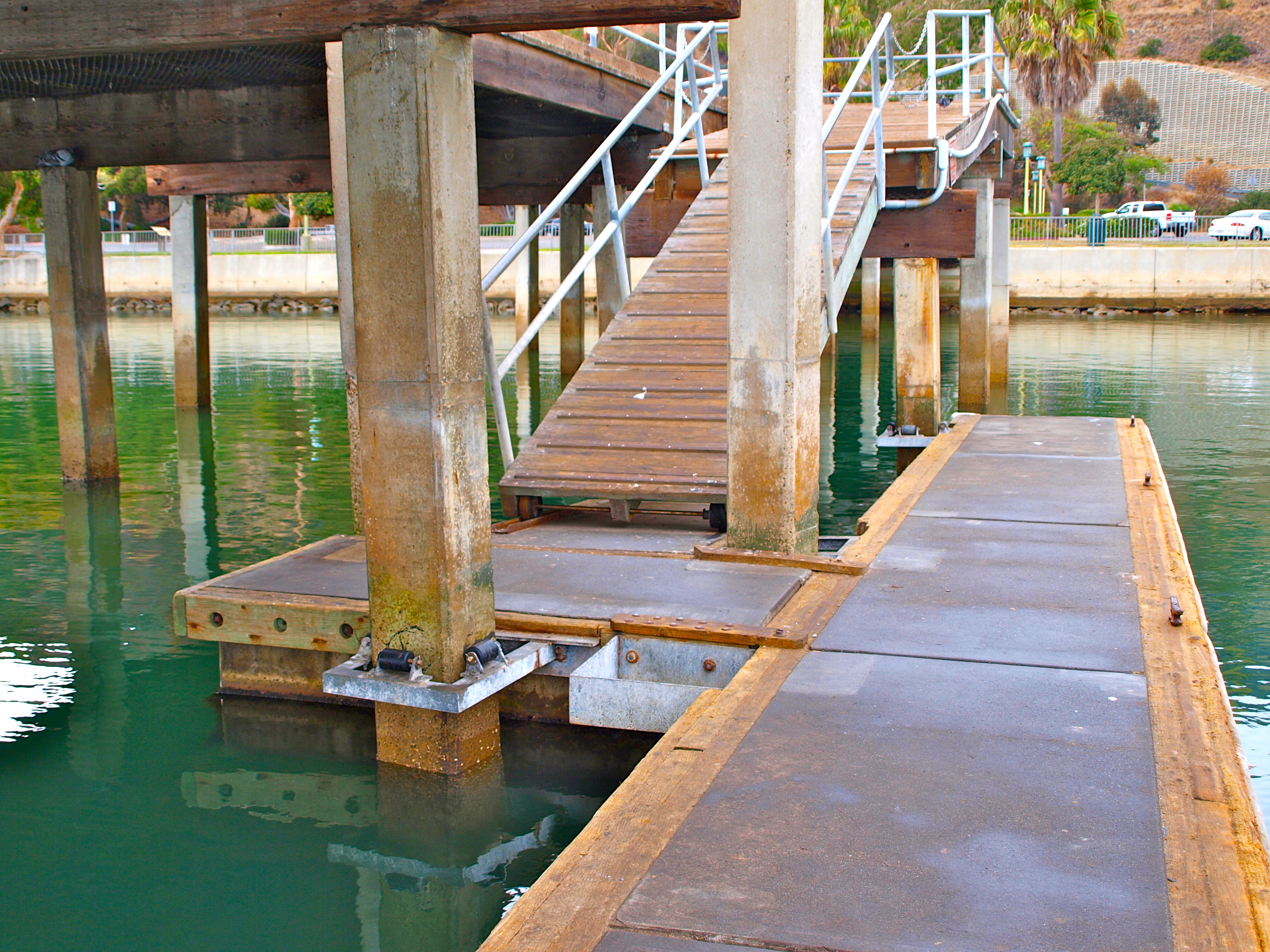 You might also join the kids (as well as learn from them). One day I decided to fish down on the boat ramp along with several young anglers. I fished for an hour and a half using ultra-light tackle, size 8 hooks, and fresh mussels for bait. The result was black seaperch, opaleye, kelp bass, sargo and jacksmelt. Several enticingly large (but illegal) garibaldi and large (but legal) rubberlip seaperch and pileperch circled slowly around the pilings, but all were unwilling to bite. This action is best during the mid-summer to fall months if/when the pilings have acquired a good growth of attractants around them. When the pilings are bare, the fish are gone.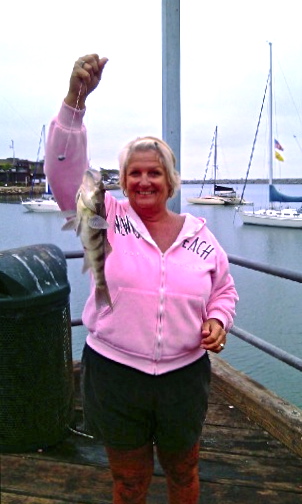 Sand Bass — 2010
A couple of less commonly caught fish are seen quite often. Needlefish will cruise the top areas of the water and are usually mistaken for barracuda. They're hard to catch but a small smelt fished under a float can yield the good fighting little fish. Mullet are harder to catch and most commonly caught by snagging. Don't do it, try baiting small, size 14 hooks with vegetation or dough balls. Do it the sporting way—although it isn't easy.
Lastly there is the mainly riprap shoreline at the entrance to the pier. It's really only fishable at high tide but I have managed a few blackperch in the area along with a cute little wooly sculpin one night.
Most strange is the capture of giant squid in these harbor waters but it's true. As detailed in the E-Mail message below when they're in the area they aren't averse to checking out the waters.
The Pier Rats Speak — Somep osts to the Pier Fishing In California Message Board
Date: July 5, 1999; To: Pier Fishing in California Message Board; From: Ken Jones; Subject: Dana Point Harbor Pier
 Fished down around the pilings of the pier for an hour on the 29th. Used a light rig to catch 3 opaleye and 2 sand bass. Big mullet were jumping in the shallow waters by the nearby beach.
Date: June 5, 2000; To: PFIC Message Board; From: Squidder; Subject: Dana Point Harbor Pier
After living in Orange County since 1978, I finally tried the Dana Point Harbor Pier two weekends ago. My first trip rewarded me with a small calico. A lady fisherman hooked two very large spotfin croaker weighing approximately 3 to 4 lbs each. I was impressed with the size of these spotfin. I went this past Saturday evening from 8 PM to 11 PM and landed one stingray, one banjo, and one bullhead. Several other banjos were landed as well as some small calicos and a shortie hallie. I plan to be a regular at this pier, as the action is worthwhile.
Date: February 19, 2002 ; To: Ken Jones; From: John Coll; Subject: Dana Point Harbor Pier
Fishing has been slow at Dana Point Pier. I fished Friday night, Saturday night, and Sunday night (8 P.M. to 8:30 A.M. Saturday and Sunday) and only caught one halibut. Plenty of baitfish around to snag or net, but not much action. Did lose a giant fish Saturday night using a live jacksmelt about 8 inches long. Snagged up on something, and finally I got the snag off and was fighting the fish when the line just went limp. The line must have broken where it was abraded from the snag because I was using 40-lb test and had my drag set. It didn't snap it just kind of came apart. Plenty of queenfish, big jacksmelt, needlefish and those damn mullet around, but I would rather get skunked then catch queenfish all night. Three weekends ago there was a huge school of anchovies that came in next to the loading dock. They were all very small, but I could net them by the thousands. I used them for bait and all I caught were a bunch of queenfish, a very small white seabass and an octopus.
Hopefully the fishing picks up here because I go here every weekend. It usually gets good for halibut in March all around the pier and especially right up at the very beginning of the pier in the shallow water on the Pilgrim side. Three years ago I got a 40-incher here and the water must not have been more than 4-feet deep. I thought I just had a snag until it took off. The best part of the story is that I was with this lady from Tahiti and she actually climbed over the railing and went into the water and wrestled this thing out for me!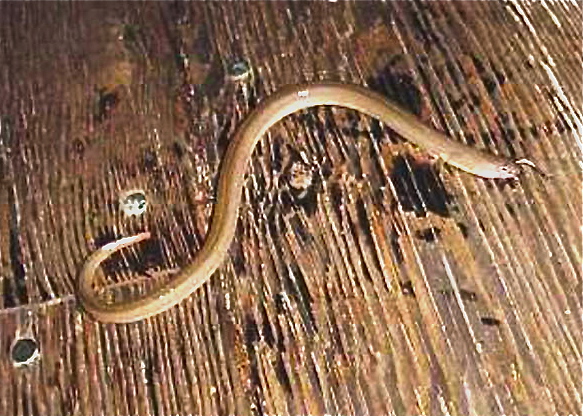 Yellow Snake Eel caught by John Coll — 2002
Not lately, but I have been catching these eels that are pinkish in color sometimes and they spin up my fishing line and try to work their way up towards my hands. They almost always seem to strangle themselves. Do you know what kind of eels these are?  Thanks, John (They were probably yellow snake eels.)
Date: April 24, 2002; To: PFIC Message Board; From: Corbinaman1; Subject: (In reply to: Watch Out For The Puhi! posted by trotsky on Apr-24-02)
I Caught/Released a bonefish last summer at the Dana Point Harbor Pier on sand crabs. It was only about 10 inches, but fun to catch.
Date: August 16, 2002; To: PFIC Message Board; From: Snookie; Subject: Dana Point Harbor Pier
Those of you who fish the Dana Harbor pier might consider tonight because the Humboldt squid are there en masse in the harbor. Today around 11 a.m. while relaxing on the stern of my boat over by the Dana Point Yacht Club, we had hundreds of the squid come through our channel. It was still overcast. They were right under the surface, and every one of them was a deep maroon color and about 20 inches long. Ohhhh, what a sight! Of course my squid jig was not on my rod at the moment nor was my camera handy either, but I will remember that sight. Some of the squid were caught on A dock about that time. I am on F dock, so there must be many hundred more in the harbor. There is an influx of pinhead anchovies that apparently they are after. Squid fishing is always better after dark so I hope some of you will make it to that little pier and report back.
Date: August 31, 2002; To: PFIC Message Board; From: Corbinaman1; Subject: Dana Point Harbor Pier
8/17, 8/18, and 8/19 night reports. Exclusively fished for giant squid…got 12 squid on 8/17, 2 squid on 8/18, and 2 more on 8/19. Unfortunately, they are gone now. Saw a weird eel that looked like a snake (released), baby leopard (released), legal sandie (kept), 15- inch halibut (released), small stingray (released), and 2 lobsters (1-kept) in those 3 nights. Lobsters were probably there eating on the squid parts I threw back after cleaning them the night of 8/17.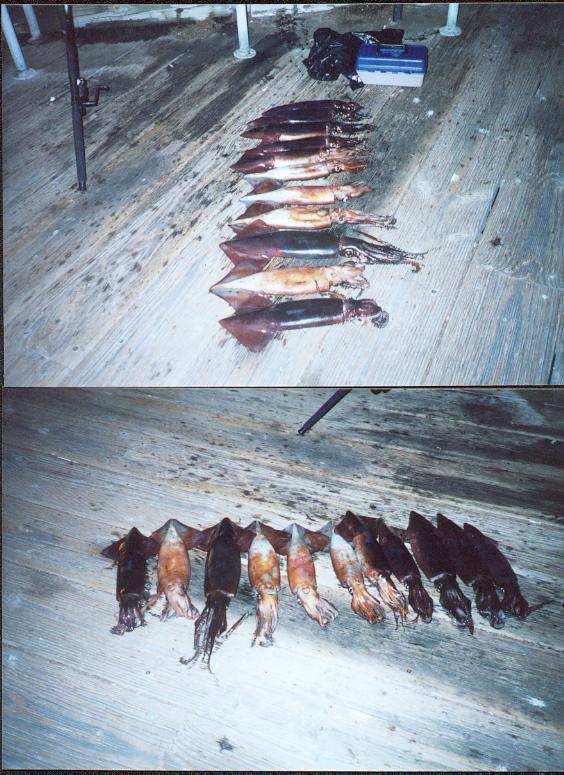 Corbinaman's squid
Date: July 18, 2003; To: PFIC Message Board; From: corbinaman1; Subject: Dana Harbor Pier Huge Corbina?
Walked the harbor yesterday late afternoon with my mom and went on the Dana Harbor Pier (didn't have pole)…slow fishing except for a short sand bass caught and released. However, some kids fished towards the beginning of the pier with lugworms, and they yelled a "sand shark" was next to their lines…I ran over to check it out…turns out it was a HUGE Corbina what looked like around 5 pounds (maybe bigger)! It was feeding right next to their lines and sand/mud was flying everywhere due to the roiled water! The state record corbina was caught in DP Harbor (almost 7 pounds) and this fish looked HUGE…I may get some sand crabs and try for this fish (never fished for corbs in the harbor but always from the surf)…It may be too smart to catch though, but could be worth a try!
Date: September 23, 2004; To: PFIC Message Board; From: corbinaman1; Subject: Dana Harbor Pier
The Jumbo squid were in last weekend Friday, Saturday, and Sunday Nights. Unfortunately, I missed the bite Friday and Saturday night which was wide open, but heard about it from a pier regular on Sunday afternoon. Made it down Sunday night and got 16 Jumbo squid…kept 14 of them and gave a few away…Had one for dinner…very tasty Calamari! Gave a lot to my mom so she is happy. Unfortunately, they are all gone now (the twilight boats have been skunked the last 3 nights too). Who knows when they will come back?
Squid Info and Answers To Questions…I did some Internet research on these guys and here is what I know. Their Latin name is DOSIDICUS GIGAS and they grow to a maximum length of around 6 feet and 100 pounds. The limit on them is 35 with no size limit…that is a lot of squid! They are NOT the same species as the 50 plus foot Giant Squid. Those have rarely ever been seen or taken. I used a squid jig (weighted glow in the dark) for a number of them, but they were a bit more cautious than a few years ago. Some of them would be attracted to the jig but wouldn't latch on…I was able to quickly net a few of these (is this legal?). The majority would hit the jigs though. Luckily I didn't get inked/soaked on these as I learned from past experience that you have to let them expel the water once above the surface and point the tentacles AWAY from you. Pretty uncommon for them to be in the harbor (and off piers), but it happens every few years or so for a short time period. Mysterious, fascinating creatures that make excellent Calamari…hope they come back soon!!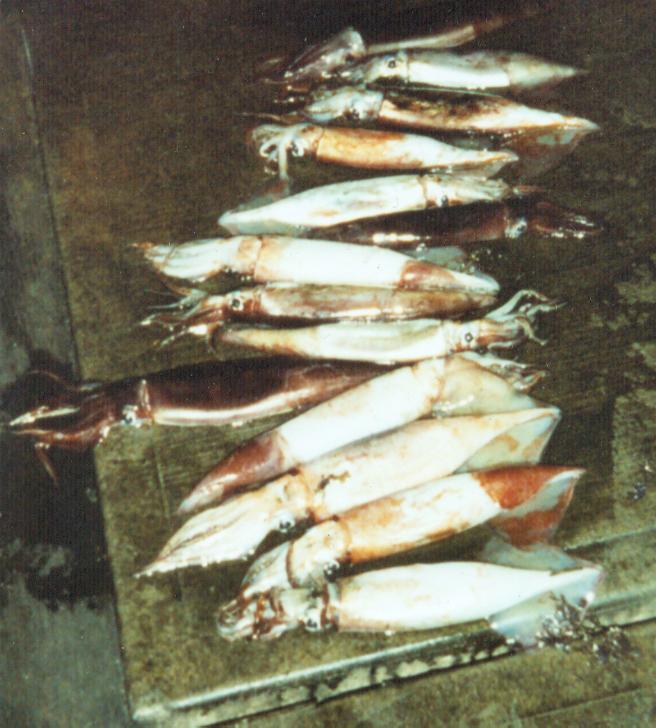 More Humboldt squid by Corbinaman
Date: July 20, 2005; To: PFIC Message Board; From: potterbiz; Subject: Dana Point Harbor Pier 7-20
Sorry in advance…a little long winded…Woke the kids at 5:15 this am in hopes of fishing the North Dana Jetty. They were both stoked last night when I promised to take them fishing…not so enthusiastic this AM. But, with a little prodding, we're in the car by 5:30. When we arrived we encountered the dreaded "jetty closed due to high surf" sign. Not wanting to break the law in front of the kids or, worse yet, return to my wife minus one of our offspring, I decide we'll fish the pier inside the harbor. I had my reservations: I'd never caught anything off that particular pier but what the heck… Beats driving home without making a cast!
The kids bait up their hi-lo rigs with store shrimp and cast out. I start pitching a red flake Blam with a 3/8-ounce jig head. We can see big balls of bait swim through occasionally. I think they were little anchovies but I can't be positive. All of a sudden something starts SMASHING the bait balls! Boils everywhere! I can't see what the attackers are but I pull the Blam through the middle of the boils and consistently get short bites. Then, WHAMO, my son's rod goes bendo. He gains some ground and we see color…a decent sized YFC. He gets it over the rail and off the hook and it starts "croaking" like they do. My daughter is now POSITIVE that fish pass gas! I finally hook one on the Blam. Another YFC. Well, it shuts down just as fast as it started and we're home by 8AM. My son and I had YFC fried in butter with Garlic pepper & toast and I made it to work by 9:30. Great way to start the day! FINAL COUNT: 2 YFC; 1 on shrimp, 1 on the red flake Blam; Ps. don't feel sorry for my daughter for getting skunked. She usually outfishes both of us.
Date: February 2, 2006; To: PFIC Message Board; From: 5focus; Subject: Dana Point Harbor Pier
Fished with a squid on a slider at the first tee. Two rays were hooked at the same time; I was fighting one and the other reel was screaming out line. It's a good thing I had a lot of line. I caught a bigger ray that gave me a good fight. The rod was going over the rail when I grabbed the butt. The Bait-Runner engaged after I had the rod in my hand. For some reason it didn't feed line; after that I checked it before setting it down. Saw lots of sardines in the water.
1 Pasadena Trout; 1 China Croaker; 3 Bat Rays
Date: August 14, 2007; To: PFIC Message Board; From: JohnG; Subject: (In reply to: Fish of the Day (8/14)—California Moray posted by Ken Jones
'NIGHTMARE' Fish of the Day—Well Ken you're right on. I caught one as well. At the Dana Point Harbor Pier, at night, with a live smelt. It fought well at about 3'6″ long or so.
Your quote depicts the situation quite well: "be careful if you happen to inherit the unenviable job of removing a hook from a still-thrashing, nasty-tempered moray." I thought I was good. Had my terry towel around its throat, like you would with a snake. When its tail wrapped around my arm, I freaked out and dropped the serpent. It was then that I decided to cut the leader close, and let it go. The eel was seemingly killing its self, and scaring the bageezit's out of me too. I hate to leave a hook, but the Moray Eel can be a real handful. JohnG
Date: September 22, 2008; To: PFIC Message Board; From: moonshine; Subject: Dana Point Pier  
Was at the "Let's Talk Hookup" website and came across this photo and story from Dana Pt. Pier: "Hi Guys, I visited the Dana Pt pier yesterday, Sept 20, 08, when Kevin a young pier fisherman, came running to ask to use my large net as he described the large fish Vince had on his spinning rod. If it was as big as his outstretched arms it would have been a definite Calico bass record. I rushed to see what he had on his line, as Vince reached over the rail on shore, barely reaching the huge fish. It was a good size Calico that weighed 4.5 pounds. He was really lucky to get that in because the hook was buried very shallow in it's mouth and the fish also went under the pier, dangerously close to the piling. It's the biggest Calico I ever saw caught off this pier. Hope his picture is posted somewhere on your site.I know a lot of bigger fish are being caught right now but one like this off a local harbor pier is pretty unusual and it would make his day. He's a great guy and I'm glad to know him."
Date: August 11, 2009; To: PFIC Message Board; From: Jordan of Riverside; Subject: My first post–Dana Point Harbor Pier
I fished from 4:30-10:00. When I arrived I walked along the harbor from the pier to the north jetty to survey the water. I noticed many juvenile opaleye in the shallows as well as a few garibaldi and two mullets. Fished using squid strips and shrimp on 4# line on my light pole and whole squid on my heavy pole. On my first cast, I got an opaleye on shrimp. Next cast an opaleye hit the shrimp as soon as my sinker landed. Many nibbles but only was able to get 2 opaleye. I mostly targeted the small stuff around the pilings, but tried a Krocodile for macks and with no luck so I went back to the shrimp and squid. I landed a small shovelnose on my heavy pole around 8:45. Around 9:30 I saw what I thought was a barracuda swimming near the pier but later was told it was a needlefish. Everyone was pulling in small calico and sand bass and a few small croakers. Between 9-10 a man caught two halibut on jigs near the beginning of the pier, one measured 19." All in all a fun day at a very friendly pier. Fish Count: 2 opaleye, 2 calico bass, 2 sand bass, 1 small perch and 1 shovelnose. All fish released.
Date: August 30, 2017; To: PFIC Message Board; From: Ken Jones; Subject: Dana Point Bonefish
This past weekend saw me scheduled to (1) present the "Basics of Pier Fishing" to a group of neophyte anglers at a classroom in Dana Point Harbor and to  (2) help them test out their new knowledge on a visit to the San Clemente Pier. Both the class and the visit to San Clemente went great.
Most interesting was a visit to the Dana Point Harbor Pier following the class on Saturday. Mahigeer (Hashem) who was going to join me at the San Clemente Pier later to catch some mackerel (bait) for Sunday, surprised me by being at the pier. I began to fish and though I tried a variety of baits — bloodworms, fresh mussels — cut mackerel and anchovies —I didn't have a bite for over an hour until a small opaleye decided to grab a piece of worm.
Mahigeer decided he would head to the San Clemente Pier and I told him I would join him but that I wanted to try the small pier a little bit longer. Soon after I decided to change positions and moved inshore where I cast to the waters just outside "Baby Beach."  A few minutes later I caught a decent-sized spotfin croaker so I once again decided the spot deserved a little more time.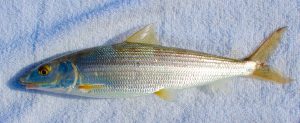 My Cortez Bonefish
A few minutes later my second rod had a good hit. I grabbed it and made sure the fish was hooked and then watched the fish and line perform a large curving arc from about the 15 minute spot on a watch to the 45 minute spot. The fish was moving fast and I wasn't sure what I had hooked. It didn't fight like a croaker, bass, mackerel, flatfish or sharay, species that typically inhabit the harbor. But within a short time I had the fish to the pier and much to my surprise saw it was a bonefish, a Cortez bonefish to be exact, the first I had caught in nineteen years. I had landed two from the Embarcadero Marina Pier in San Diego Bay in 1999 but they had been caught in deeper water on a heavier line and didn't give the same fight as this fish. The fish MADE MY TRIP.
<*}}}}}}}}}>< — Surveys done by the Fish and Game Department between 2004-2009 showed a nice mix of 19 species — (numerically)  white seaperch, topsmelt, walleye surfperch, opaleye, white croaker, halfmoon, jacksmelt, kelp bass, black perch, spotfin croaker, yellowfin croaker, California scorpionfish, sargo, shiner perch, Pacific mackerel, California halibut, barred sandbass, Pacific bonito and rock wrasse. I'm pretty sure if they done some surveys at night they would have recorded some  barracida, sharks and rays.
<*}}}}}}}}}>< — Two California state record fish are recorded from Dana Point Harbor. One was a 6 lb 9 oz corbina taken on May 23, 1997; the second was a 2 lb 1 oz yellowfin croaker taken on August 3, 1995. Since I've seen larger fish than these taken from several piers, including a larger yellowfin croaker by yours truly, I don't imagine these records will last very long.
<*}}}}}}}}}>< — Elephant Parade at the pier? If you happened to visit Dana Point in August of 2013 (which I did) you might have seen some colorful elephant sculpture. More than 40 "elephants" were scattered around Dana Point and Doheny State Beach and one, "The Gentle Giant," made it to the pier. It was all part of an  elephant parade, a fundraiser for the "Asian Elephant Foundation." Apparently by 2013 more than 1,000 such elephant sculptures (every one different)  had been created and nearly a dozen such parades had been held in Asia and Europe. This was the first one in the U.S.A.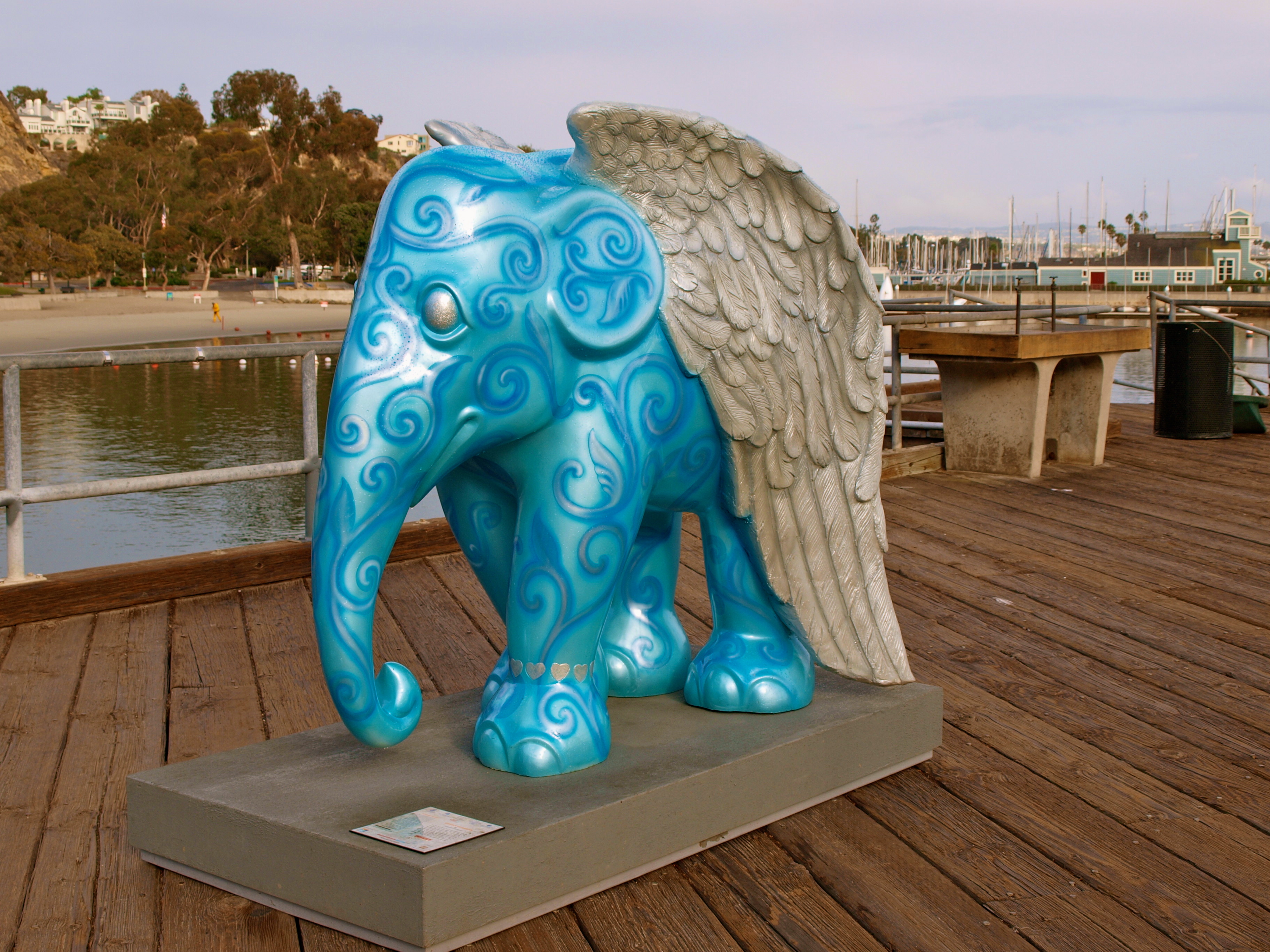 "The Gentle Giant"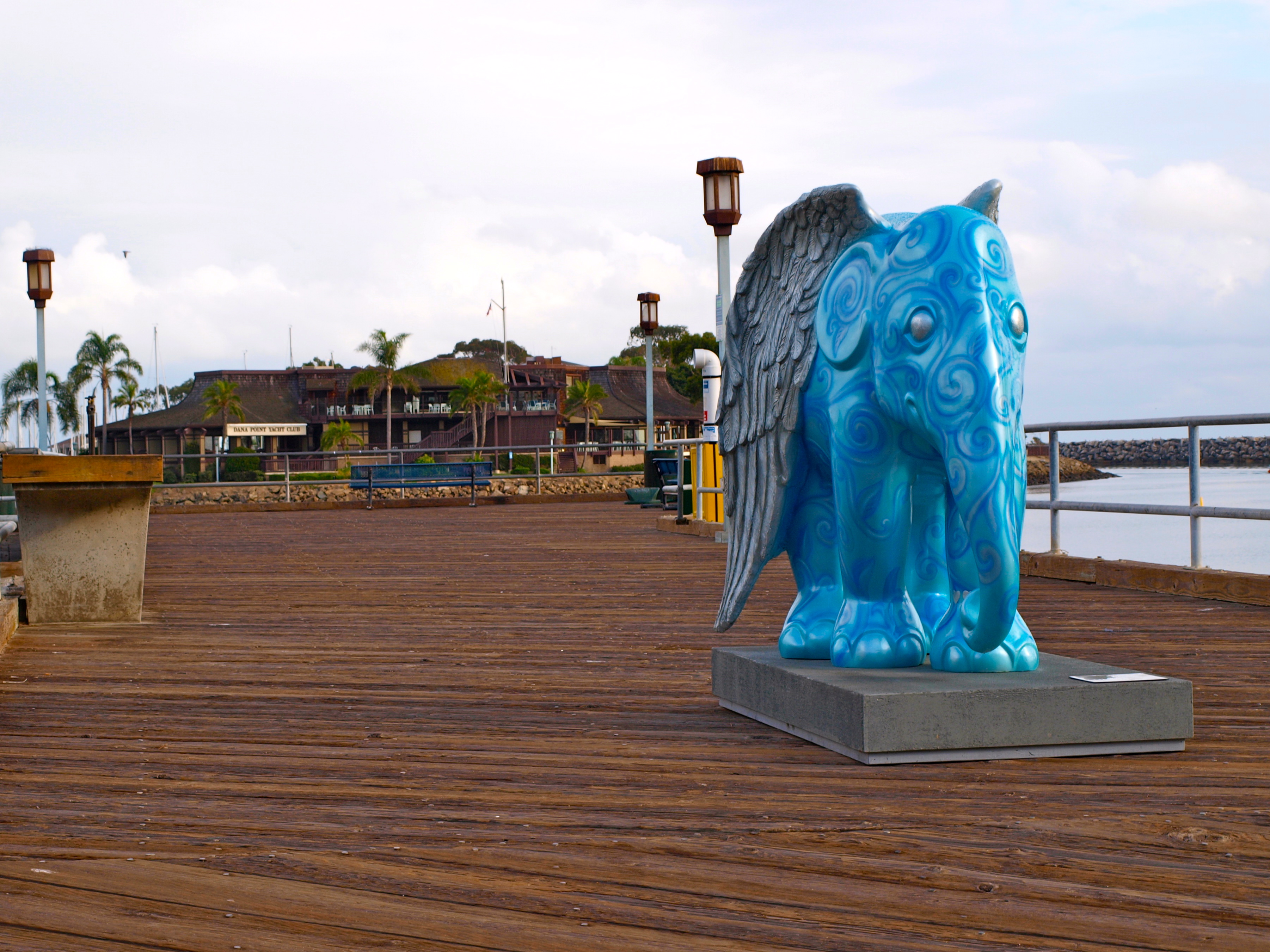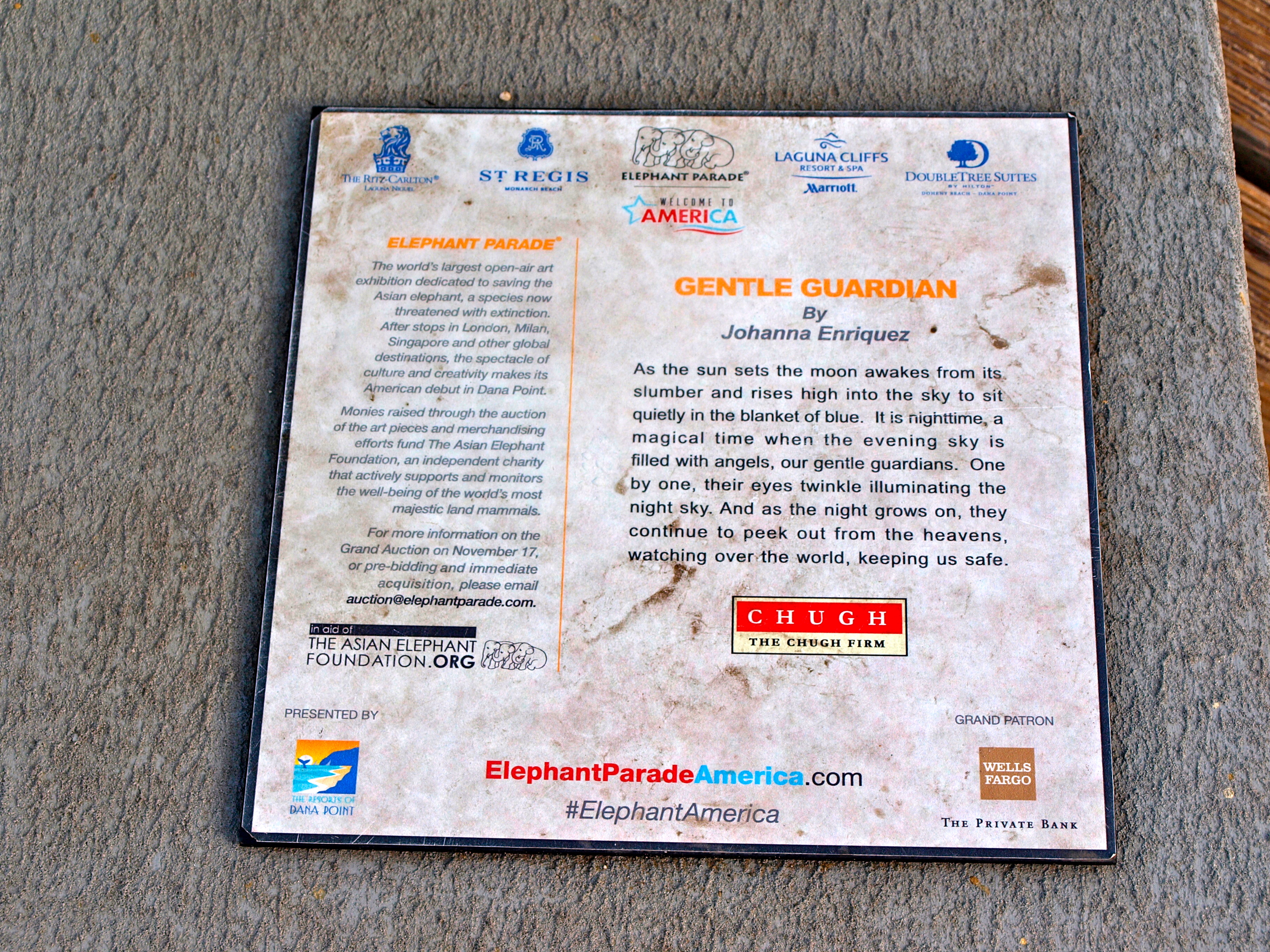 An interesting addition to the pier — 2013
<*}}}}}}}}}>< — California F&G Bulletin #96 from 1953 says of Dana Point, "Located on the coast 16 miles southeast of Newport Beach and seven miles southeast of Laguna Beach. The point is a stubby peninsula with a sheltered cove on the southeast side. It was called Point San Juan Capistrano, after the nearby mission, or was shortened to San Juan Point. It had been called Punta de Arboleda. Richard Henry Dana, Jr., in 'Two Years Before the Mast' described (1835) the hauling of dried hides in squeaking carretas from the mission and surrounding ranchos to the point and dumping them over the cliff to be picked up by the ship's small boats.
This was at the cove which, like the point and the town, has been given the name Dana. The cove is now owned by Mr. Probar and is often called Probar's Cove. There is a short pier here for the landing of small craft. The town of Dana Point, started in 1926, is on the mesa back a little from the cove. Some people now apply the name Point San Juan to the west corner of the peninsula and Dana Point to the east corner… In May, 1949, about 28,000 pounds of abalone were credited to Point San Juan and 20 pounds in 1950 were so recorded but normally the catches are reported as Dana Point. In 1950 and 1951 the landings at Dana Point averaged 64,000 pounds per year. The species were, in order of volume, lobster, abalone, albacore, sheep-head, barracuda and halibut. The rocky shores of Dana Point and the offshore rocks were the fishing grounds for some of the first paddleboard skin divers along the coast and this area remains an outstanding locality for this sport."
History Note. All piers see change but few have seen the changes that this pier and area, have experienced.
An "oceanfront pleasure pier" was one of the many attractions that the Dana Point Syndicate hoped would bring buyers to the area (then known as Stillwater Bay) when their $1,150 home sites went on sale in January of 1927. The syndicate's partners, led by developer Sidney Woodruff (famous as the developer of Hollywoodland, today's Hollywood), Los Angeles Times publisher Harry Chandler, and General M.H. Sherman, Director of the Pacific Electric Railway Company, bought 1,388 acres of land and envisioned quite a town. Attractions were to include a scenic beach pavilion, a breakwater, a yacht club, and a "Pompeian" bath with heated salt water. The highlight was to be the Dana Point Inn, a luxury hotel that was to include an elevator to bring guests from the hillside hotel down to the beach. However, only 35 homes and several commercial structures were built before the Great Depression brought an end to the developers' dreams.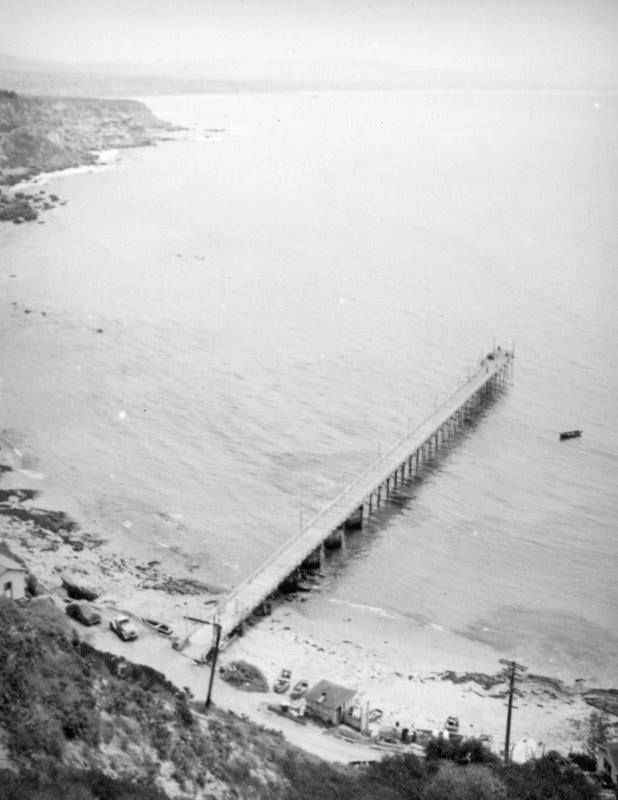 But at least one structure had been built—the "pleasure pier." That 304-foot-long wooden pier (some sources say 295 feet) was located in the cove at the base of the cliffs, a cove that sat inside the protective curve of Dana Point, and a cove that eventually gained the name Stillwater Bay.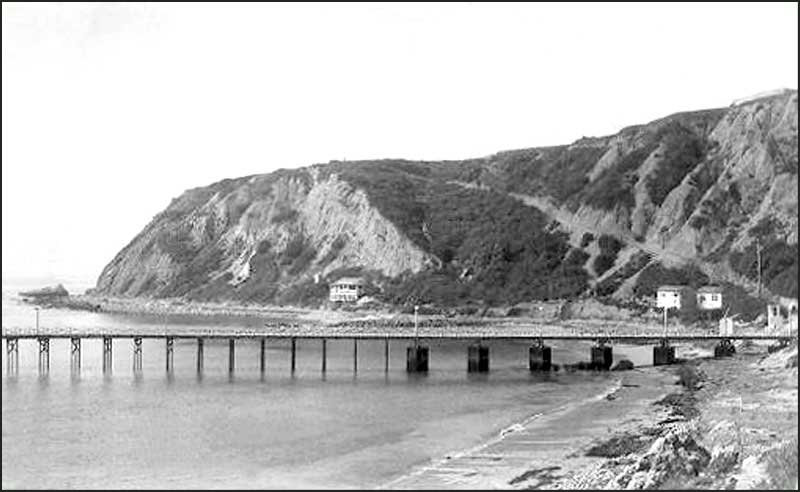 Fisherman were attracted to the area and the words on one brochure—"The wise birds fish at Dana Point"—seemed to come true. The pier was a popular and heavily visited site and even included its own Sportfishing barge, the Ace I.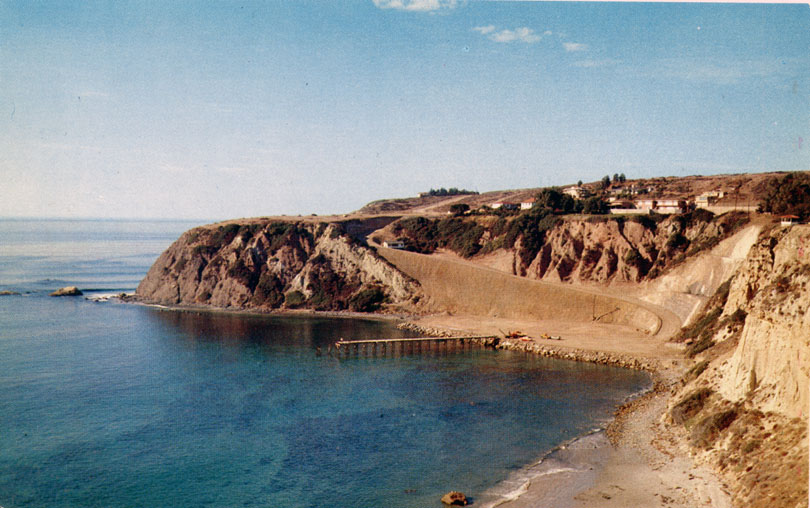 However, in 1956 the Orange County Board of Supervisors began to develop Dana Cove as a recreation area. An early necessity was a parking lot for the cove and a dike to protect the lot. Soon, a dike began to be constructed near the shore end of the pier and eventually the pier was severed with the dike running through the innermost section of the pier. The original inshore section now ended at the dike, and the outermost section started at the dike. Development in the cove continued throughout the year. Barbecue and picnic areas, restrooms, and new roads were added. Then, in January of 1957, the old, and by now rotting, pier was demolished.
A new 300-foot-long oceanfront-fishing pier was then designed and constructed. At the same time, calls began to be heard for changing the cove into a truly protected harbor. When state and federal backing for the harbor project was gained, it made inevitable an ending for the "oceanfront" pier at the cove. Dredging and expansion during the '60s and '70s turned the harbor into a protected bay and turned the pier into a small bay pier.
The pier was shortened at the time of the harbor expansion and then refurbished in 1988. Some decking was replaced as were some pilings, a new gangway and float were installed, fish cleaning facilities were added, and the snack bar and bait and tackle shop were moved off the pier and placed at the shoreline entrance.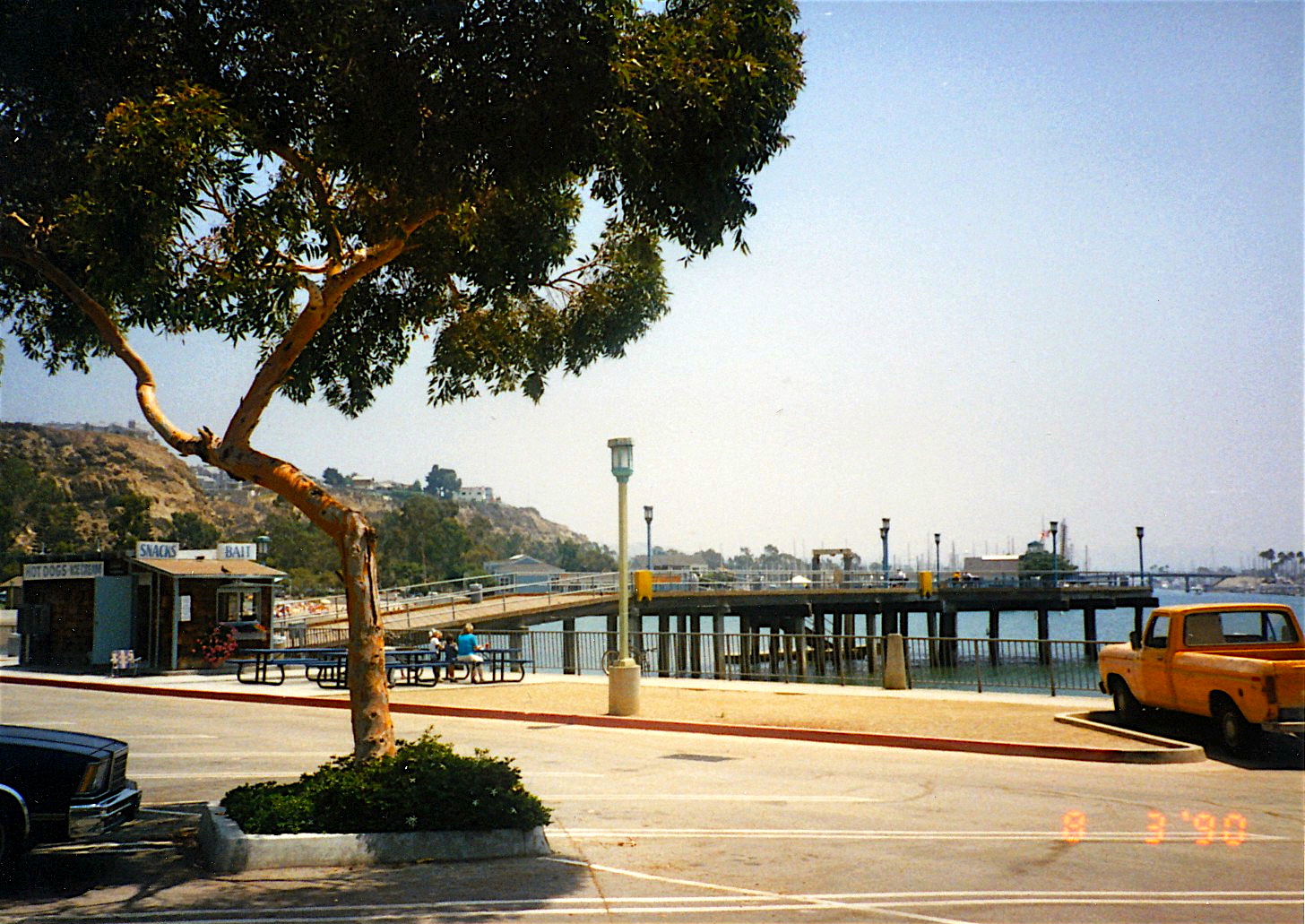 The pier in 1990, note the bait shop at the front of the pier.
Today the pier's length is listed as 150 feet. It is, in some ways, an inconsequential fishing pier, but it is also popular with many local anglers and does offer excellent fishing at times.
The harbor and nearby point are named after the author Richard Henry Dana who visited here in 1835. Earliest maps (by Humboldt) called the small bay "Bahia de San Juan Capistrano."
Dana Point Harbor Fishing Pier Facts
Hours: Open 24 hours.
Facilities: Most of the facilities were rebuilt in the late 1980s and are in excellent condition. Lights, benches, and a fish cleaning table are on the pier. A small snack bar, which usually carries some bait, is located near the entrance to the pier. Restrooms are located across the street. There is free parking near the front of the pier although signs say no parking between 12 midnight and 6 a.m.
Handicapped Facilities: Handicapped parking and restrooms. The pier surface is wood and the rail height is 40 inches. Posted for handicapped.
How To Get There: The pier is located in the Dana Cove Park area of Dana Point Harbor. From the Pacific Coast Highway take Green Lantern Road south to the harbor, turn left on Cove Road, and follow it to the pier.
Management: Dana Point Harbor District.