Public Pier — No Fishing License Required
There are times when I don't particularly like people to know that I am "The Pier Fisherman." That's generally true when I'm out on a pier and my fishing skills are stinking up the joint (in other words, I'm not catching fish). It's especially bad if others ARE catching fish. If you're the so-called expert, people expect you to catch fish! Luckily that scenario doesn't occur too often. I normally catch my fair share of fish and sometimes lead the hit parade. However, I've fished long enough, and experienced enough of the former situations, that I would never gloat when doing better than others.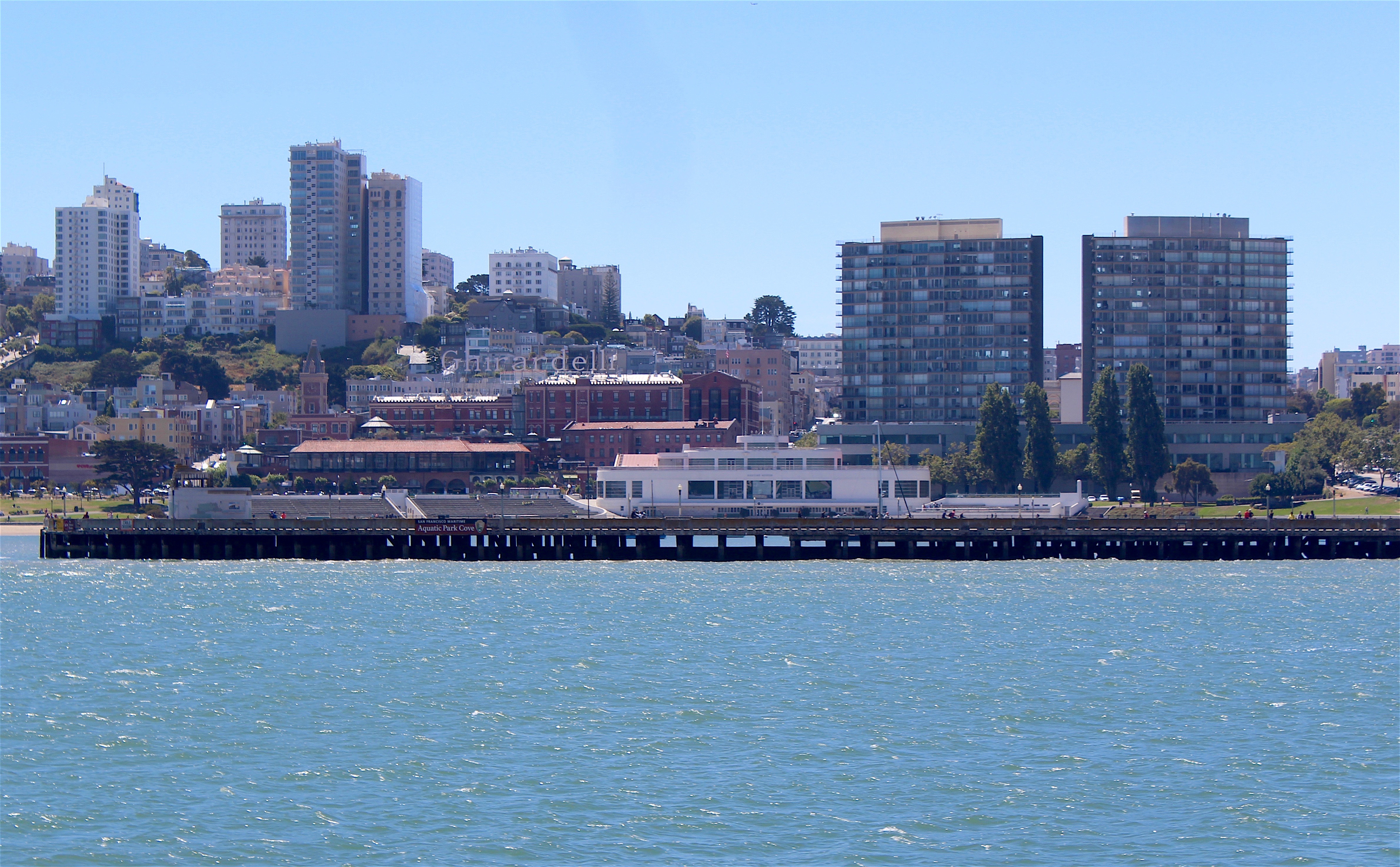 Still, I'm proud when I'm able to catch fish because I know that I'm a good pier fisherman (and I paid my dues to reach this point). And sometimes the good fishin' does happen when others are having little "luck." That happened one morning down at this old pier, a pier which is simply called the Muni or Horseshoe Pier by most locals. I had arrived shortly before 8 a.m. on the morning of my birthday in 1999 and walked down to the pier through a maze of movie trucks and technicians setting up for some type of filming, a fairly common experience on California piers. The sun was shining, there was no fog or wind, and it looked like it might be a nice day.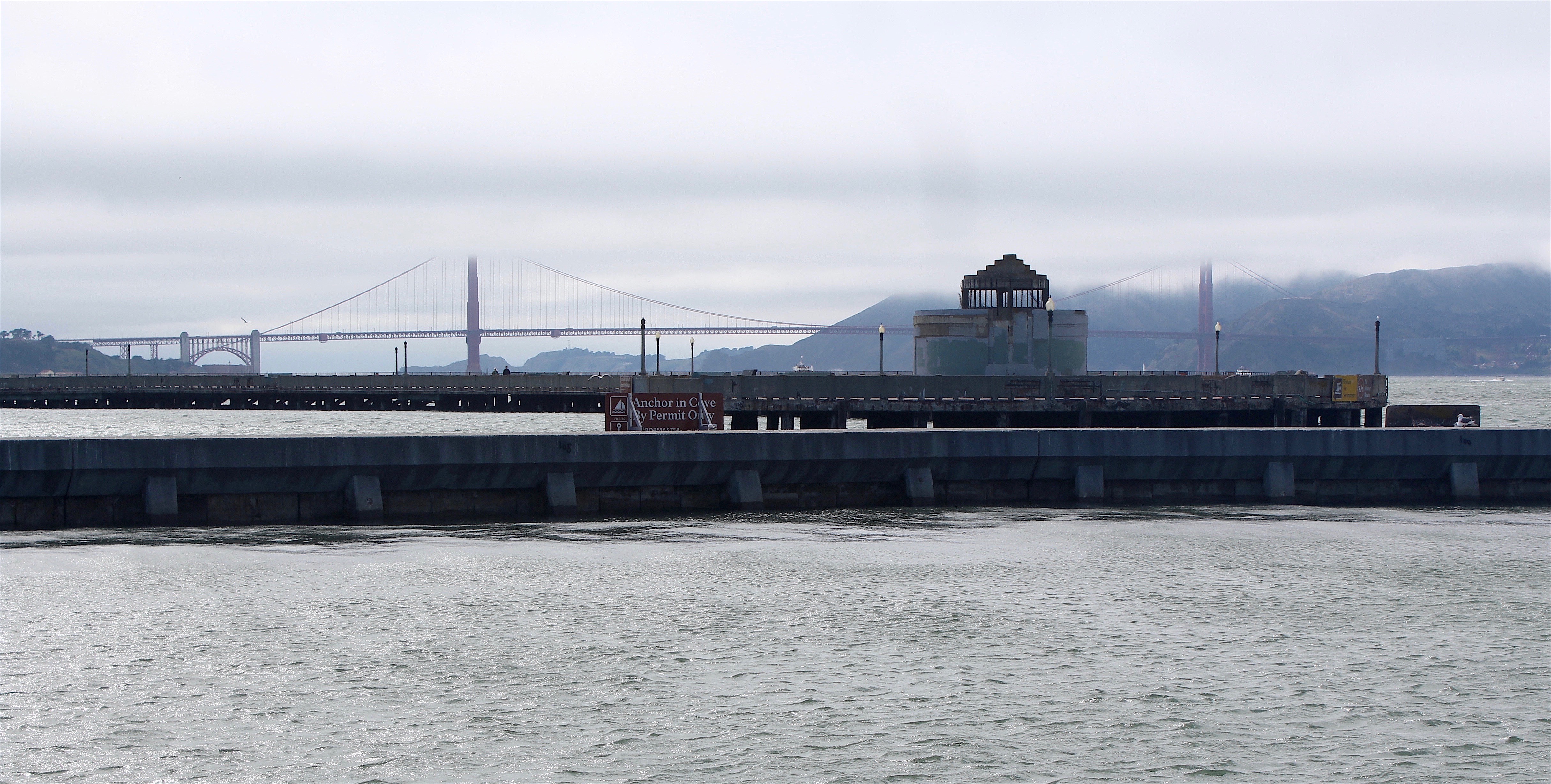 Although the tide was out, I planned to begin fishing inshore by the rocks which line the shoreline area. About a half dozen anglers were fishing on the south side of the pier and they were having little luck. I decided to try the other side. I baited up my light pole and cast out near the pilings of Transport Wharf #4 that sits near this pier. I dropped a cast about two feet from the fourth piling and set my pole down. Before I could bait my second pole I had a fish on. It turned out to be a striped seaperch.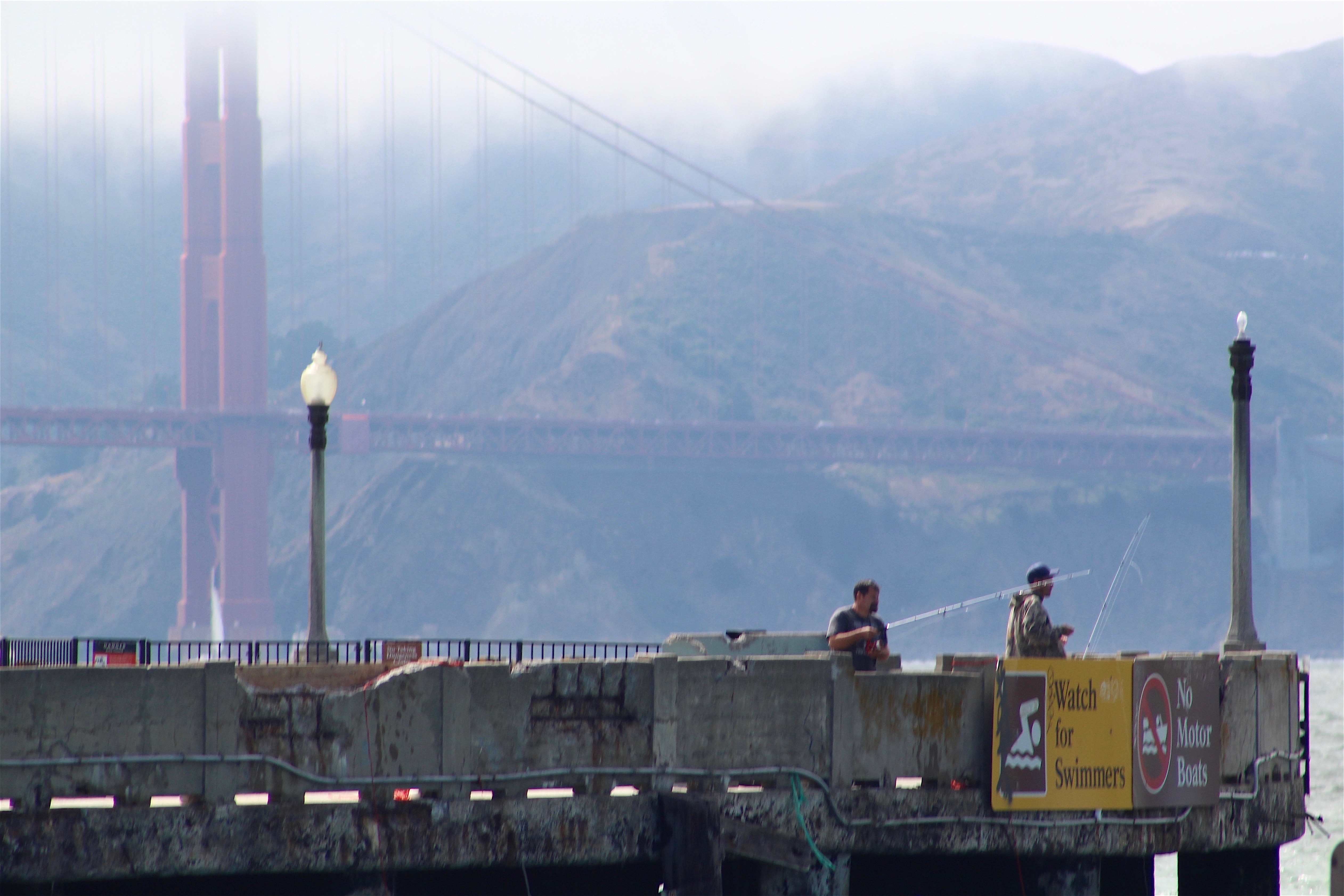 Immediately, a wizened old Chinese lady, age unknown but definitely elderly, rushed over. She really couldn't speak English but we were somehow able to communicate. What had I caught, what bait was I using, where was I fishing? Since I didn't want the fish, I offered it to her and the offer was immediately accepted. Another cast and soon another fish, identical to the first. This time a second lady rushed over and an almost identical scene took place to the first. When a third cast yielded a third fish, I was beginning to become a center of attention. Anglers were coming over to check out the bait and several were now fishing from my side of the pier. For some reason, they weren't catching the fish.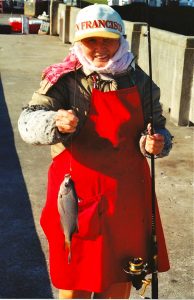 Striped Seaperch
Soon after, I hooked a good-sized rubberlip perch and now I really became the center of attention. Not only were the anglers anxious to inspect my bait but so too were several crewmen from the film company. Was it a movie or perhaps a Nash Bridges episode? Nothing so exotic, they were filming a commercial for First National Bank. Still, it gave a little extra excitement to the environment. It also gave me a chance to discuss my book and web site with several interested people. I certainly wasn't nervous about being "The Pier Fisherman" that morning, I was catching most of the fish and seemingly proving myself the expert.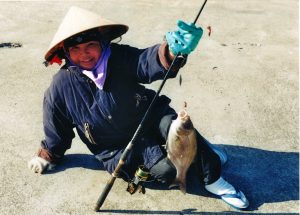 Rubberlip Seaperch
Since I needed some pictures for the web site, I asked one lady to hold up my fish. She was a natural model and full of enthusiasm. She quickly let me know that people called her "Miss Good Morning Vietnam" because she was from Vietnam, always wore her Vietnamese hat, and looked like a character in the film (although her real name was Kim Nga). Always smiling, she told me the story of how she came to America during the war and soon thereafter lost her husband. Since then she had survived some hard years but never missed coming down to the pier when she had the opportunity to go fishing. I continued to catch fish and give them to her, and she continued to tell me tale after tale of her years in Vietnam.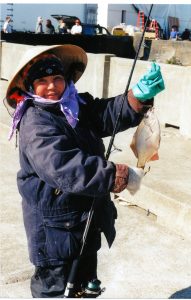 Striped Seaperch
After a couple of hours she had a full bag of perch and one lone cabezon, while I had experienced a truly beautiful birthday morning.
The San Francisco Municipal Pier was built in the early 1930s as a recreational pier. Today it continues to be heavily used by anglers but also is heavily trafficked by joggers and tourists visiting the area. Listening to the conversations of passing strangers is like being in Babylon, or wherever the Tower of Babel was located. A veritable United Nations of languages. The pier is a short walk over the hill from Fort Mason past picnic areas and gardens. A short distance up the street from the pier is the San Francisco Maritime Museum and Aquatic Park. On a sunny day people will be sunning themselves on the steps and perhaps even putting a toe into the chilly water at the small beach. Ghirardelli Square, its chocolate, its ice cream, and a plethora of shops and restaurants filled with tourists sits just up the hill from Aquatic Park. Less than three blocks away is Fisherman's Wharf. There is obviously plenty to see for everyone.
Unfortunately, the pier itself is not in the best of shape. Not only is it filthy at times but it is also in severe need of maintenance. Nevertheless, it remains one of my favorite spots on the waterfront. (Perhaps due, at least in part, to the fact that it was the first pier I fished in San Francisco. Way, way back, in 1966, I managed a short visit to the pier during a trip to The City. Three silver surfperch were the sum total of my catch that day. The surroundings as much as the fish remained a beacon for many years.)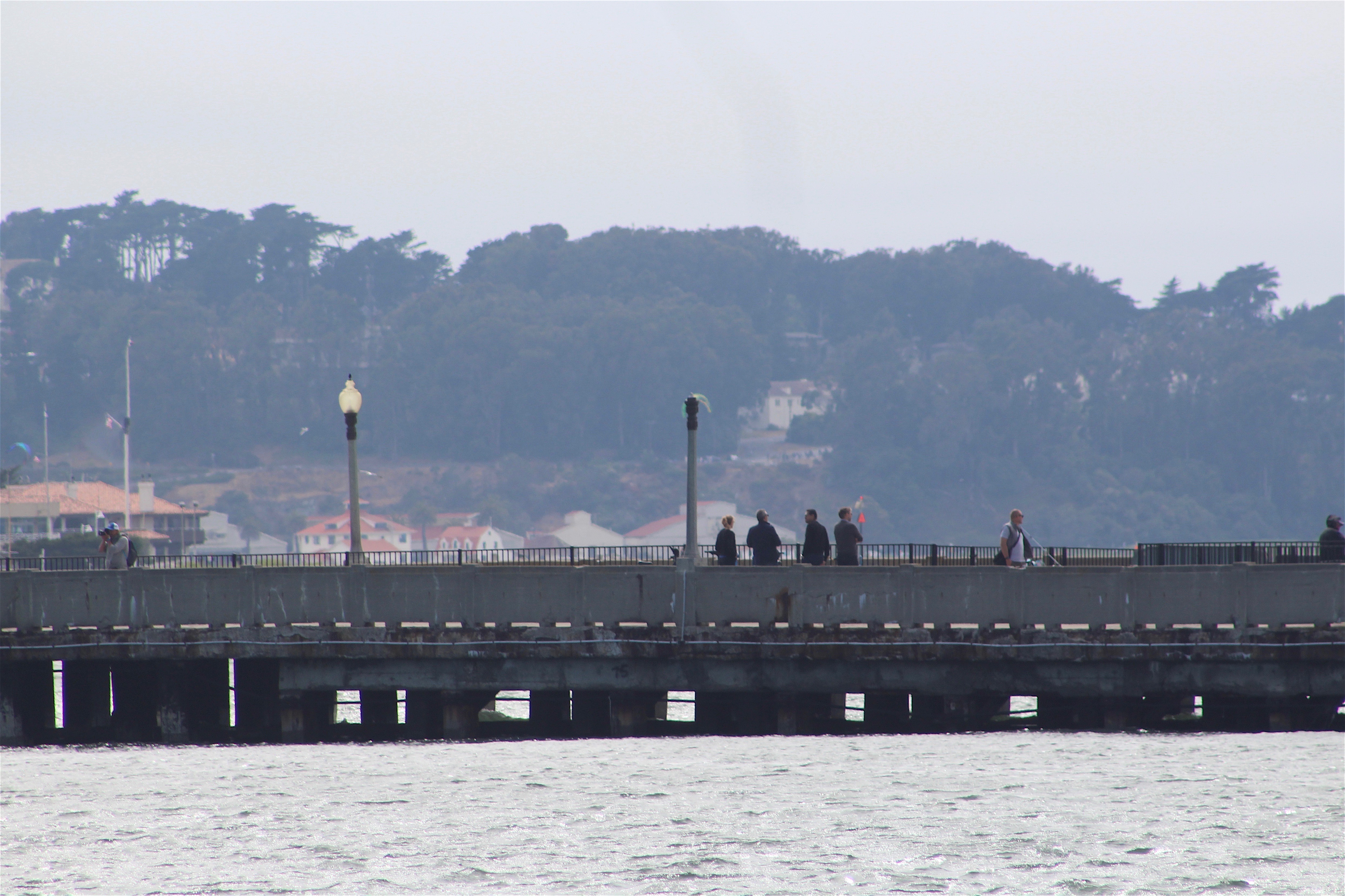 There is also the already mentioned smaller pier that sits near the foot of the Municipal Pier. That pier, formerly known as Transport Wharf No. 4, and informally known as the Black Point Pier, angles off to the left toward Black Point. The pier is currently closed; prior to closing it was primarily used by those crabbing or fishing the inshore area for seaperch.
Environment. The 1,850-foot pier is built over clay, sand, and mud, but considerable material has built up under it over the years. As a result, a great number of different species of fish have been caught here. Department of Fish and Game studies showed more than 45 species of fish caught at the pier in a single year. The vast majority of the fish that are caught are the old standbys for this area: white croaker, walleye and silver surfperch, striped seaperch, black seaperch, white seaperch, pileperch, shinerperch, jacksmelt, Pacific tomcod, sand sole, Pacific sanddabs, starry flounder, English sole, California halibut, brown rockfish, black rockfish, striped bass, brown smoothhound sharks, leopard sharks, California skates, big skates and bat rays.
The largest striper from the pier that I've been able to authenticate was a 41 1/2-pound fish taken back in June of 1954.
Fishing Tips. As is true at most Bay Area piers, the best time to fish for large perch (pileperch, blackperch, rubberlip perch and striped seaperch) is in the winter and spring. Fish inshore along the shoreline rocks or cast toward the Black Point Wharf (Transport Wharf #4). Use pile worms, mussels, or small pieces of shrimp, and small hooks, size 6 or 8. A few redtail surfperch and rainbow seaperch will also enter the census as may a few eels—monkeyface eels and wolf-eels—although neither is a true eel. Unfortunately for perch fishermen there is now a perch closure in the bay from April 1 to the end of July—and it's enforced.
The winter months may also produce a few starry flounder but fish further out on the left side of the pier; use pile worms or anchovies, and a sliding sinker rigging. Wintertime also seems to be the best time for Pacific sanddabs. Some years will see runs of the 'dabs and when they show up, almost any bait and rigging will work for the tasty little flatfish. Although they will bite throughout the day, they seem to bite best right at daybreak. Ditto the Pacific herrings which sometimes swing close to the pier during their spawning runs; when they do, it can be easy pickins' for anglers with bait rigs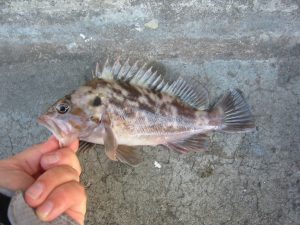 Brown Rockfish
Although summer is generally the best time for kingfish (white croaker), I've heard of tremendous winter-time catches during some years, especially at night. February through March is considered the best time for Pacific tomcod, even though I've made some good catches during the summer months. Unfortunately their numbers, as well as the number of starry flounder  seem to be decreasing.
Summer is definitely the best time for the smaller perch — primarily silver and walleye surfperch, although white seaperch are also common and shinerperch can be over abundant. The shiner perch can be kept year round but remember that the other perch can't be kept April-July. All of these can be caught with small hooks, size 8 or 6, and pile worms, strips of anchovy or pieces of shrimp. Fish for the perch and tomcod at mid-depth and the kingfish on the bottom. Casting away from the pier during the summer months will almost always guarantee a bullhead (staghorn sculpin) if you're using small hooks and pile worms. The small fish are truly pests but they do make great striper bait.