Most strange is the capture of giant squid in these harbor waters but it's true. As detailed in the E-Mail message below when they're in the area they aren't averse to checking out the waters.
The Pier Rats Speak — Somep osts to the Pier Fishing In California Message Board
Date: July 5, 1999; To: Pier Fishing in California Message Board; From: Ken Jones; Subject: Dana Point Harbor Pier
 Fished down around the pilings of the pier for an hour on the 29th. Used a light rig to catch 3 opaleye and 2 sand bass. Big mullet were jumping in the shallow waters by the nearby beach.
Date: June 5, 2000; To: PFIC Message Board; From: Squidder; Subject: Dana Point Harbor Pier
After living in Orange County since 1978, I finally tried the Dana Point Harbor Pier two weekends ago. My first trip rewarded me with a small calico. A lady fisherman hooked two very large spotfin croaker weighing approximately 3 to 4 lbs each. I was impressed with the size of these spotfin. I went this past Saturday evening from 8 PM to 11 PM and landed one stingray, one banjo, and one bullhead. Several other banjos were landed as well as some small calicos and a shortie hallie. I plan to be a regular at this pier, as the action is worthwhile.
Date: February 19, 2002 ; To: Ken Jones; From: John Coll; Subject: Dana Point Harbor Pier
Fishing has been slow at Dana Point Pier. I fished Friday night, Saturday night, and Sunday night (8 P.M. to 8:30 A.M. Saturday and Sunday) and only caught one halibut. Plenty of baitfish around to snag or net, but not much action. Did lose a giant fish Saturday night using a live jacksmelt about 8 inches long. Snagged up on something, and finally I got the snag off and was fighting the fish when the line just went limp. The line must have broken where it was abraded from the snag because I was using 40-lb test and had my drag set. It didn't snap it just kind of came apart. Plenty of queenfish, big jacksmelt, needlefish and those damn mullet around, but I would rather get skunked then catch queenfish all night. Three weekends ago there was a huge school of anchovies that came in next to the loading dock. They were all very small, but I could net them by the thousands. I used them for bait and all I caught were a bunch of queenfish, a very small white seabass and an octopus.
Hopefully the fishing picks up here because I go here every weekend. It usually gets good for halibut in March all around the pier and especially right up at the very beginning of the pier in the shallow water on the Pilgrim side. Three years ago I got a 40-incher here and the water must not have been more than 4-feet deep. I thought I just had a snag until it took off. The best part of the story is that I was with this lady from Tahiti and she actually climbed over the railing and went into the water and wrestled this thing out for me!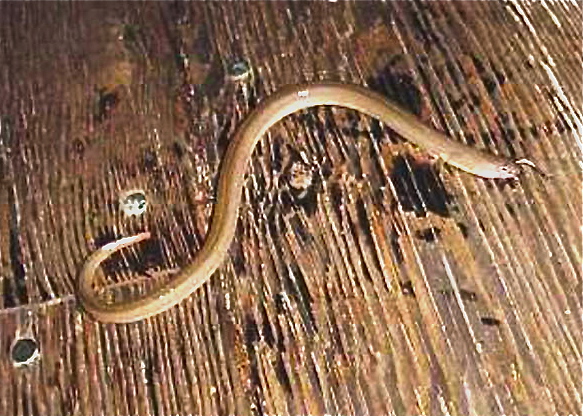 Yellow Snake Eel caught by John Coll — 2002
Not lately, but I have been catching these eels that are pinkish in color sometimes and they spin up my fishing line and try to work their way up towards my hands. They almost always seem to strangle themselves. Do you know what kind of eels these are?  Thanks, John (They were probably yellow snake eels.)
Date: April 24, 2002; To: PFIC Message Board; From: Corbinaman1; Subject: (In reply to: Watch Out For The Puhi! posted by trotsky on Apr-24-02)
I Caught/Released a bonefish last summer at the Dana Point Harbor Pier on sand crabs. It was only about 10 inches, but fun to catch.
Date: August 16, 2002; To: PFIC Message Board; From: Snookie; Subject: Dana Point Harbor Pier
Those of you who fish the Dana Harbor pier might consider tonight because the Humboldt squid are there en masse in the harbor. Today around 11 a.m. while relaxing on the stern of my boat over by the Dana Point Yacht Club, we had hundreds of the squid come through our channel. It was still overcast. They were right under the surface, and every one of them was a deep maroon color and about 20 inches long. Ohhhh, what a sight! Of course my squid jig was not on my rod at the moment nor was my camera handy either, but I will remember that sight. Some of the squid were caught on A dock about that time. I am on F dock, so there must be many hundred more in the harbor. There is an influx of pinhead anchovies that apparently they are after. Squid fishing is always better after dark so I hope some of you will make it to that little pier and report back.
Date: August 31, 2002; To: PFIC Message Board; From: Corbinaman1; Subject: Dana Point Harbor Pier
8/17, 8/18, and 8/19 night reports. Exclusively fished for giant squid…got 12 squid on 8/17, 2 squid on 8/18, and 2 more on 8/19. Unfortunately, they are gone now. Saw a weird eel that looked like a snake (released), baby leopard (released), legal sandie (kept), 15- inch halibut (released), small stingray (released), and 2 lobsters (1-kept) in those 3 nights. Lobsters were probably there eating on the squid parts I threw back after cleaning them the night of 8/17.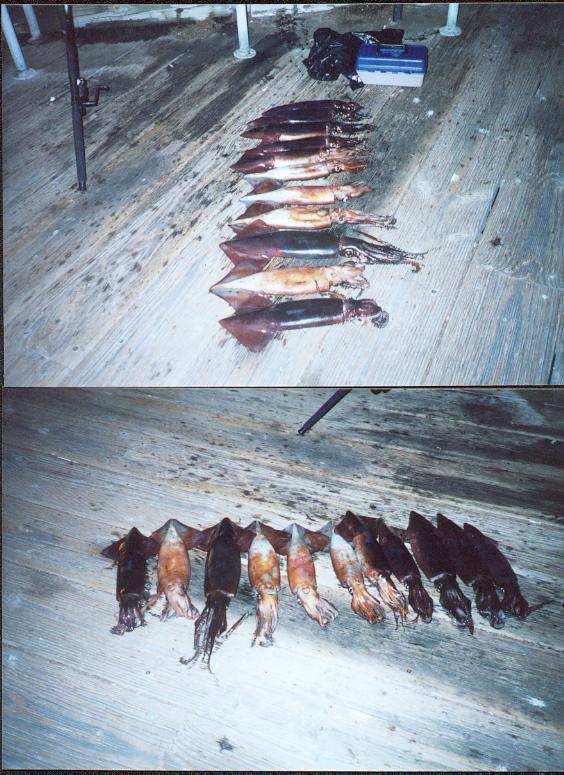 Corbinaman's squid
Date: July 18, 2003; To: PFIC Message Board; From: corbinaman1; Subject: Dana Harbor Pier Huge Corbina?
Walked the harbor yesterday late afternoon with my mom and went on the Dana Harbor Pier (didn't have pole)…slow fishing except for a short sand bass caught and released. However, some kids fished towards the beginning of the pier with lugworms, and they yelled a "sand shark" was next to their lines…I ran over to check it out…turns out it was a HUGE Corbina what looked like around 5 pounds (maybe bigger)! It was feeding right next to their lines and sand/mud was flying everywhere due to the roiled water! The state record corbina was caught in DP Harbor (almost 7 pounds) and this fish looked HUGE…I may get some sand crabs and try for this fish (never fished for corbs in the harbor but always from the surf)…It may be too smart to catch though, but could be worth a try!
Date: September 23, 2004; To: PFIC Message Board; From: corbinaman1; Subject: Dana Harbor Pier
The Jumbo squid were in last weekend Friday, Saturday, and Sunday Nights. Unfortunately, I missed the bite Friday and Saturday night which was wide open, but heard about it from a pier regular on Sunday afternoon. Made it down Sunday night and got 16 Jumbo squid…kept 14 of them and gave a few away…Had one for dinner…very tasty Calamari! Gave a lot to my mom so she is happy. Unfortunately, they are all gone now (the twilight boats have been skunked the last 3 nights too). Who knows when they will come back?
Squid Info and Answers To Questions…I did some Internet research on these guys and here is what I know. Their Latin name is DOSIDICUS GIGAS and they grow to a maximum length of around 6 feet and 100 pounds. The limit on them is 35 with no size limit…that is a lot of squid! They are NOT the same species as the 50 plus foot Giant Squid. Those have rarely ever been seen or taken. I used a squid jig (weighted glow in the dark) for a number of them, but they were a bit more cautious than a few years ago. Some of them would be attracted to the jig but wouldn't latch on…I was able to quickly net a few of these (is this legal?). The majority would hit the jigs though. Luckily I didn't get inked/soaked on these as I learned from past experience that you have to let them expel the water once above the surface and point the tentacles AWAY from you. Pretty uncommon for them to be in the harbor (and off piers), but it happens every few years or so for a short time period. Mysterious, fascinating creatures that make excellent Calamari…hope they come back soon!!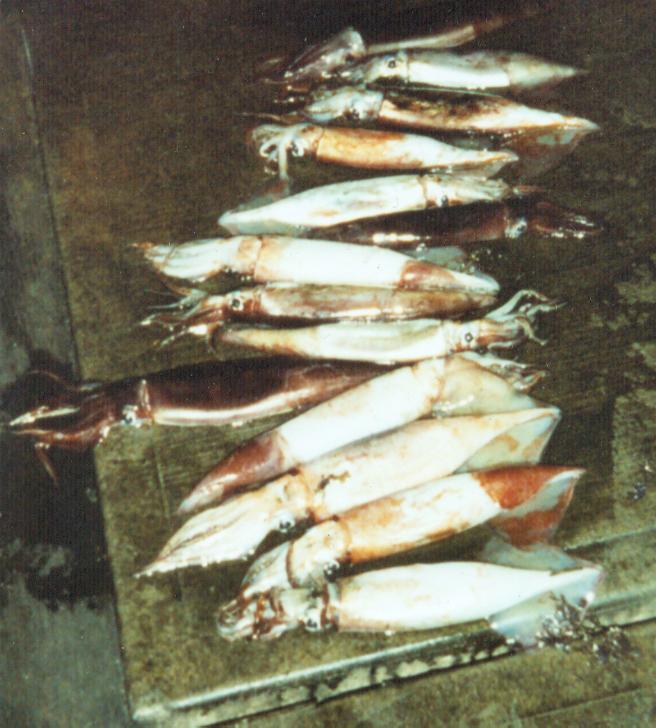 More Humboldt squid by Corbinaman
Date: July 20, 2005; To: PFIC Message Board; From: potterbiz; Subject: Dana Point Harbor Pier 7-20
Sorry in advance…a little long winded…Woke the kids at 5:15 this am in hopes of fishing the North Dana Jetty. They were both stoked last night when I promised to take them fishing…not so enthusiastic this AM. But, with a little prodding, we're in the car by 5:30. When we arrived we encountered the dreaded "jetty closed due to high surf" sign. Not wanting to break the law in front of the kids or, worse yet, return to my wife minus one of our offspring, I decide we'll fish the pier inside the harbor. I had my reservations: I'd never caught anything off that particular pier but what the heck… Beats driving home without making a cast!
The kids bait up their hi-lo rigs with store shrimp and cast out. I start pitching a red flake Blam with a 3/8-ounce jig head. We can see big balls of bait swim through occasionally. I think they were little anchovies but I can't be positive. All of a sudden something starts SMASHING the bait balls! Boils everywhere! I can't see what the attackers are but I pull the Blam through the middle of the boils and consistently get short bites. Then, WHAMO, my son's rod goes bendo. He gains some ground and we see color…a decent sized YFC. He gets it over the rail and off the hook and it starts "croaking" like they do. My daughter is now POSITIVE that fish pass gas! I finally hook one on the Blam. Another YFC. Well, it shuts down just as fast as it started and we're home by 8AM. My son and I had YFC fried in butter with Garlic pepper & toast and I made it to work by 9:30. Great way to start the day! FINAL COUNT: 2 YFC; 1 on shrimp, 1 on the red flake Blam; Ps. don't feel sorry for my daughter for getting skunked. She usually outfishes both of us.
Date: February 2, 2006; To: PFIC Message Board; From: 5focus; Subject: Dana Point Harbor Pier
Fished with a squid on a slider at the first tee. Two rays were hooked at the same time; I was fighting one and the other reel was screaming out line. It's a good thing I had a lot of line. I caught a bigger ray that gave me a good fight. The rod was going over the rail when I grabbed the butt. The Bait-Runner engaged after I had the rod in my hand. For some reason it didn't feed line; after that I checked it before setting it down. Saw lots of sardines in the water.
1 Pasadena Trout; 1 China Croaker; 3 Bat Rays
Date: August 14, 2007; To: PFIC Message Board; From: JohnG; Subject: (In reply to: Fish of the Day (8/14)—California Moray posted by Ken Jones
'NIGHTMARE' Fish of the Day—Well Ken you're right on. I caught one as well. At the Dana Point Harbor Pier, at night, with a live smelt. It fought well at about 3'6″ long or so.
Your quote depicts the situation quite well: "be careful if you happen to inherit the unenviable job of removing a hook from a still-thrashing, nasty-tempered moray." I thought I was good. Had my terry towel around its throat, like you would with a snake. When its tail wrapped around my arm, I freaked out and dropped the serpent. It was then that I decided to cut the leader close, and let it go. The eel was seemingly killing its self, and scaring the bageezit's out of me too. I hate to leave a hook, but the Moray Eel can be a real handful. JohnG