Wintertime sees fewer fish and fewer fishermen. Late winter to spring is the best time for surfperch while a few flounder and sole may also show during the winter months. This is the time for locals to get their perch—barred and calico—and though the numbers may be less than the pelagics, the quality can be good.
A fish occasionally seen in the shallow to mid-pier areas during the late fall to winter months is steelhead trout. Most often the fish are fairly small and most often they are mistakenly hooked on Sabiki-type rigs. Release them and do so with care! An effort is underway to reestablish the steelhead in San Luis Obispo Creek so "pier rats" can do their good deed for the day by helping them survive.
The waters at the end of the pier, which are fairly deep, mainly offer up small rockfish (in the summertime), kingfish (white croaker), jacksmelt, pelagics and, once in a blue moon, a salmon.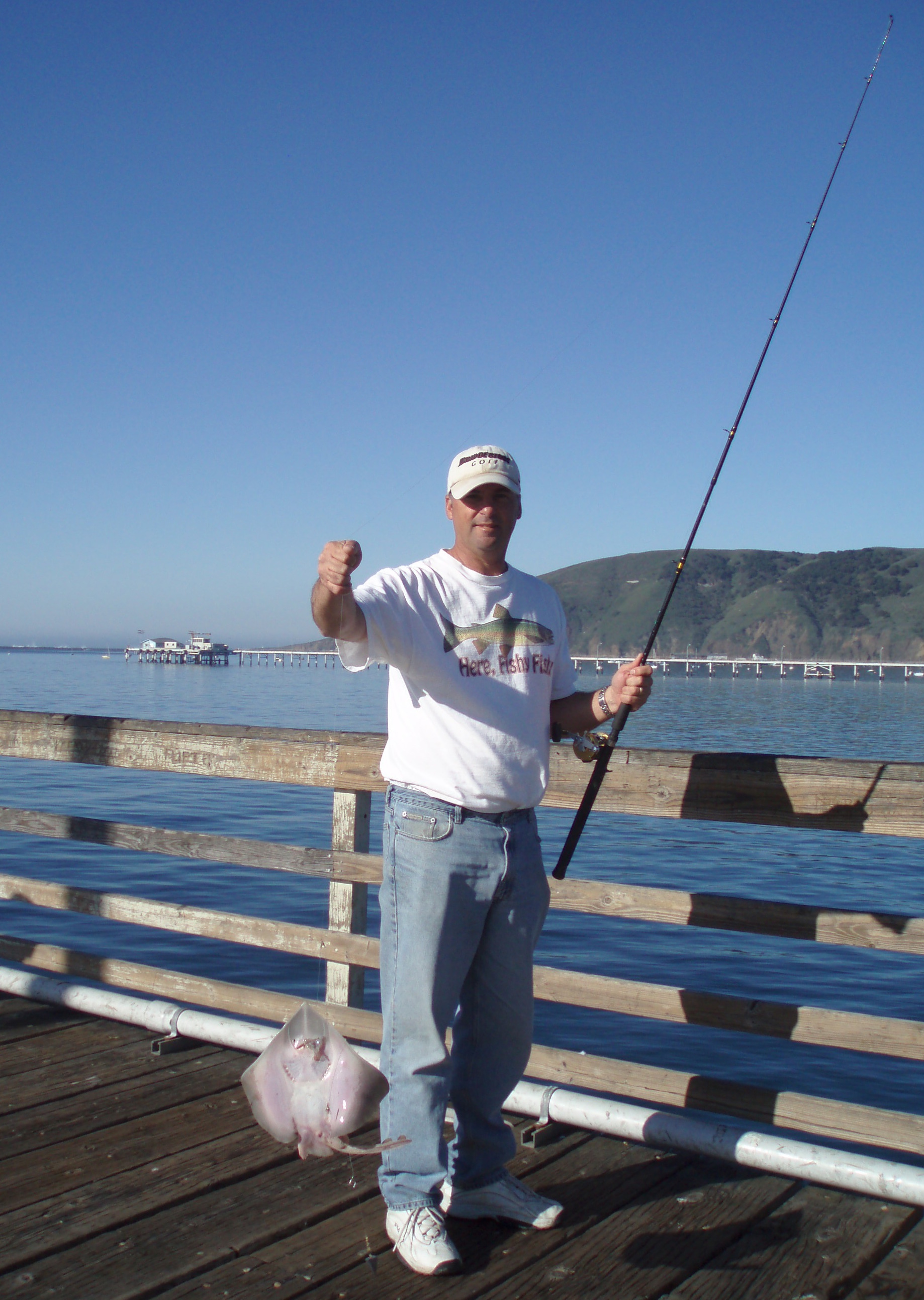 Skate
The end waters do offer up some decent shark fishing at night with primarily a mix of dogfish, leopard sharks, and a few puffer sharks (swell sharks). Bat rays and big skates are also common so have strong gear to bring them up to the pier.
Some years may also see a few soupfins landed as well as thresher sharks, especially when the sardines and mackerel are around, but Pismo seems better for the threshers.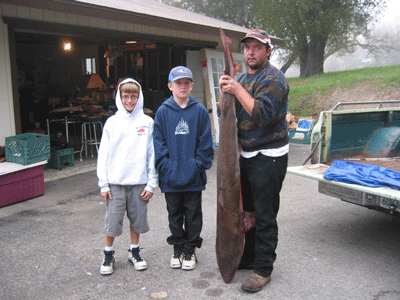 A Soupfin Shark caught by PFIC member Eddie
White sharks are also present as evidenced by the "shark warning" signs along the beach. As the population of sea lions has arisen, so have the visits from "whitey." A lady who wanted to swim with the sea lions was killed in 2003 (see the story below) and there have been several additional shark sightings since then. It doesn't mean you should break out the heavy tackle and pursue the "man eaters" (they're protected) but you should be aware that they might be around. There haven't been any reports of the big fish endangering "pier rats" but I would be a little weary if I was one of those surfers down by the beach.
Fishing Tips. Although the pier is fairly long, I have always had the best results fishing the inshore area of the pier, the first third of the pier. Just outside the breaker area of the surf will often yield the larger barred and calico surfperch and this is the only pier where the recorded catch of calicos was higher than the barred. Some warm-water years will also see schools of queenfish flock into these shallow waters. Springtime months can also, at times, see schools of small leopard sharks.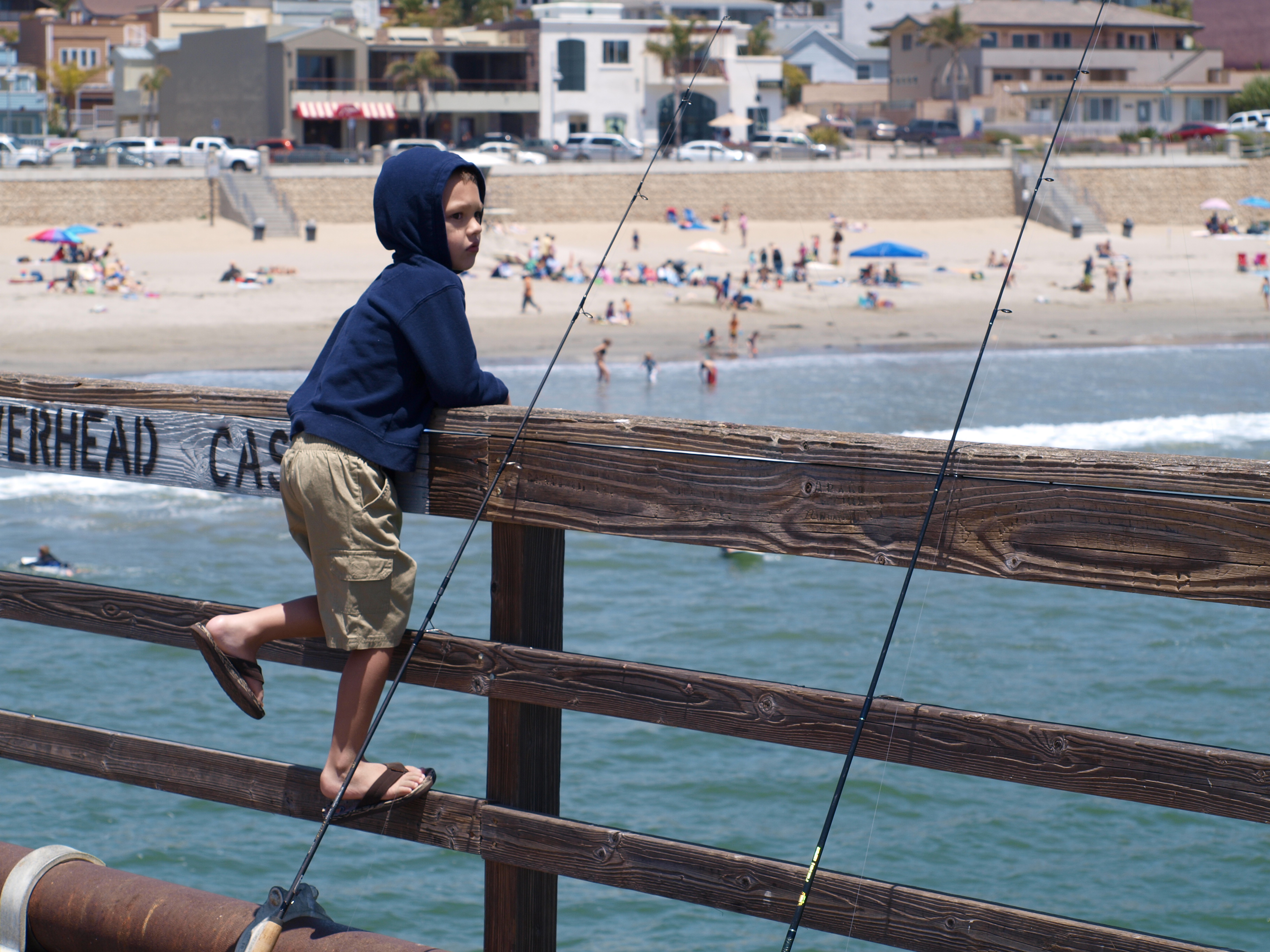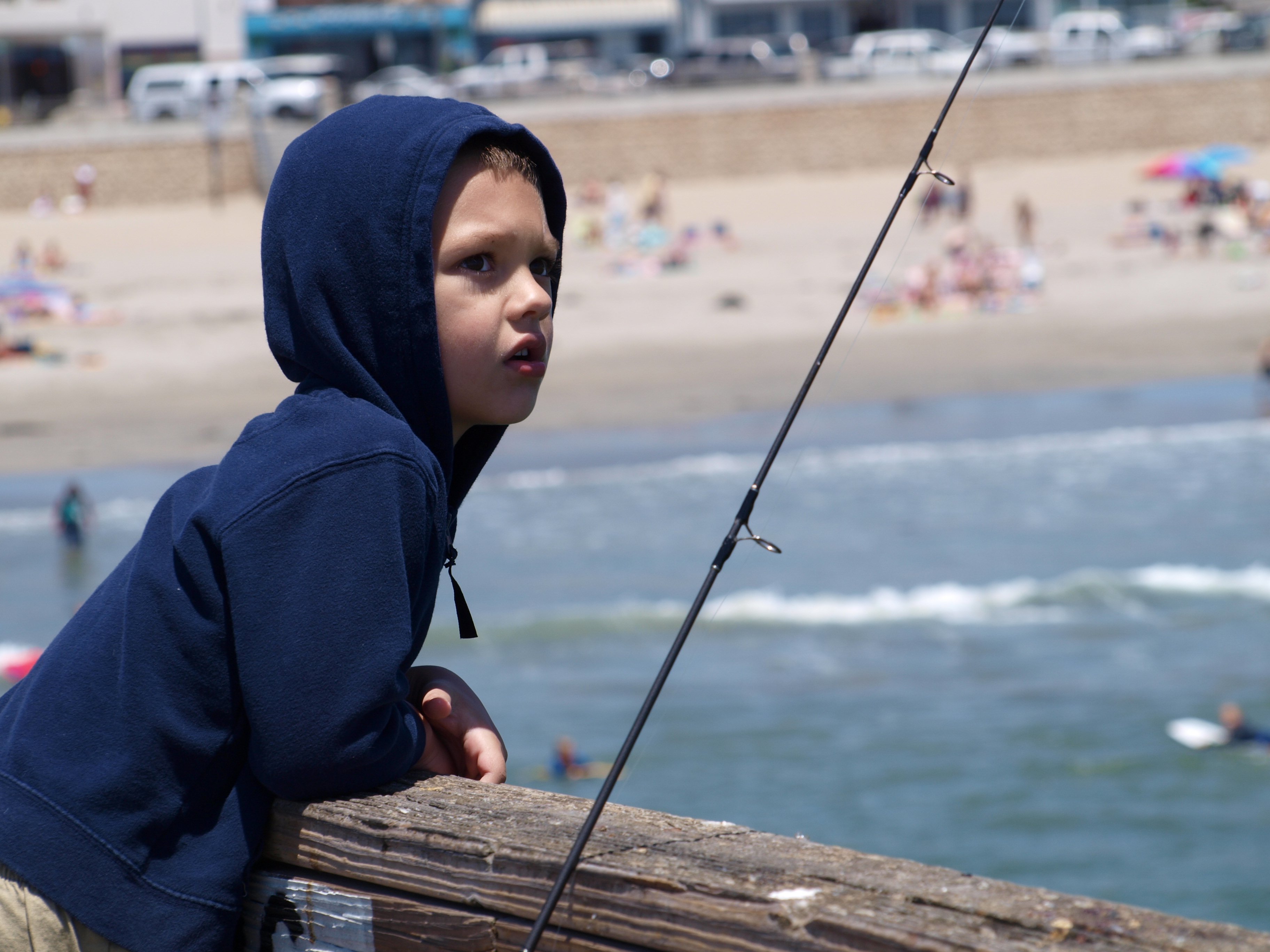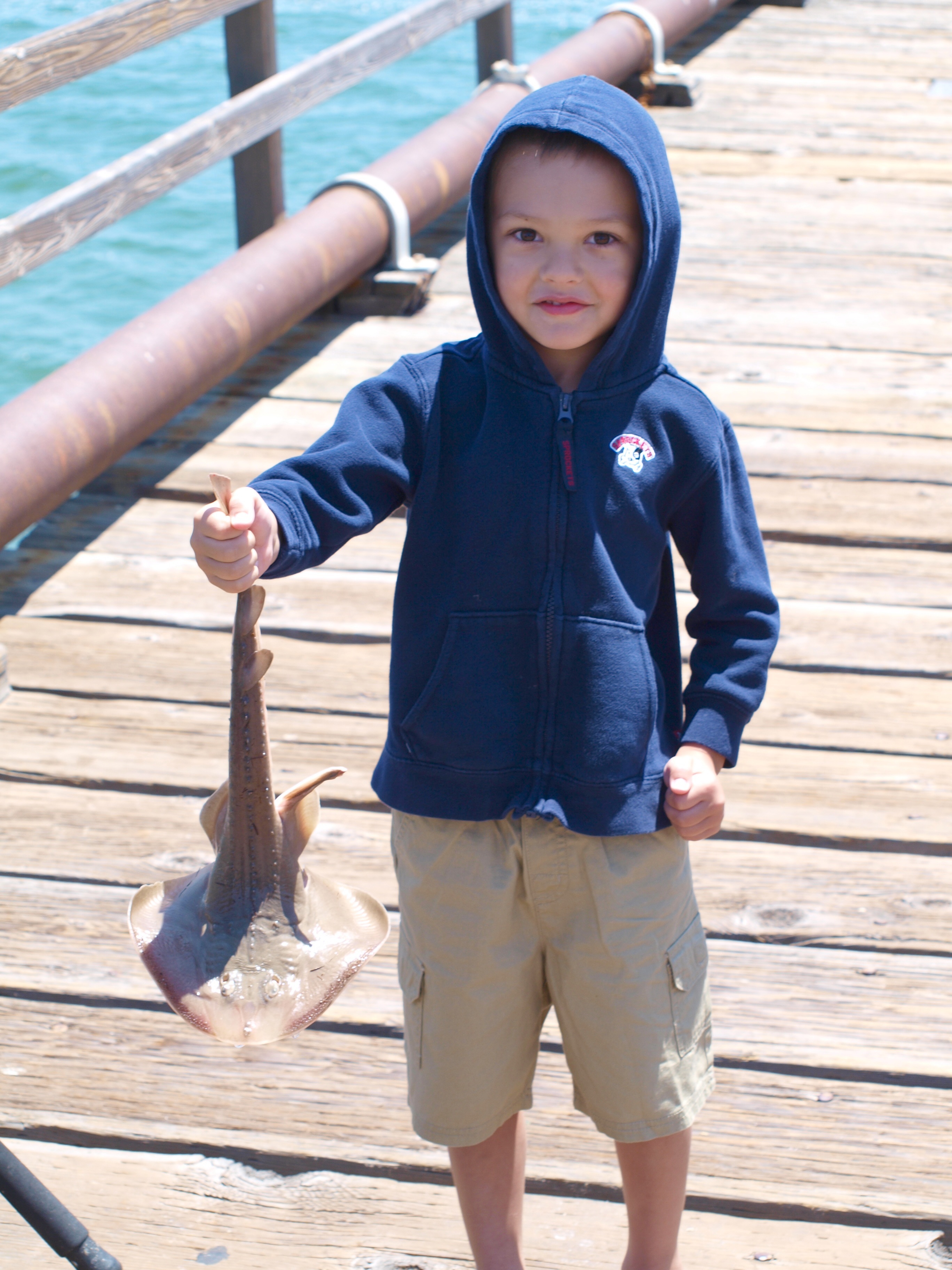 My grandson Adam watching his rod and catching a thornback ray
A little farther out on the pier, mid-pier, yields large numbers of white croaker (often on every cast). Unfortunately, small speckled sanddab and staghorn sculpin (bullheads) will often fight to get on to your hook first. During the summer to fall months, this is also a very good area to fish at night for thornback rays and the fewer, but larger, skates and bat rays. Down around the pilings will yield walleye surfperch, silver surfperch and an occasional white or black seaperch. Some years will also see the bottom covered with California lizardfish and when they are thick they can be hard to keep off your line.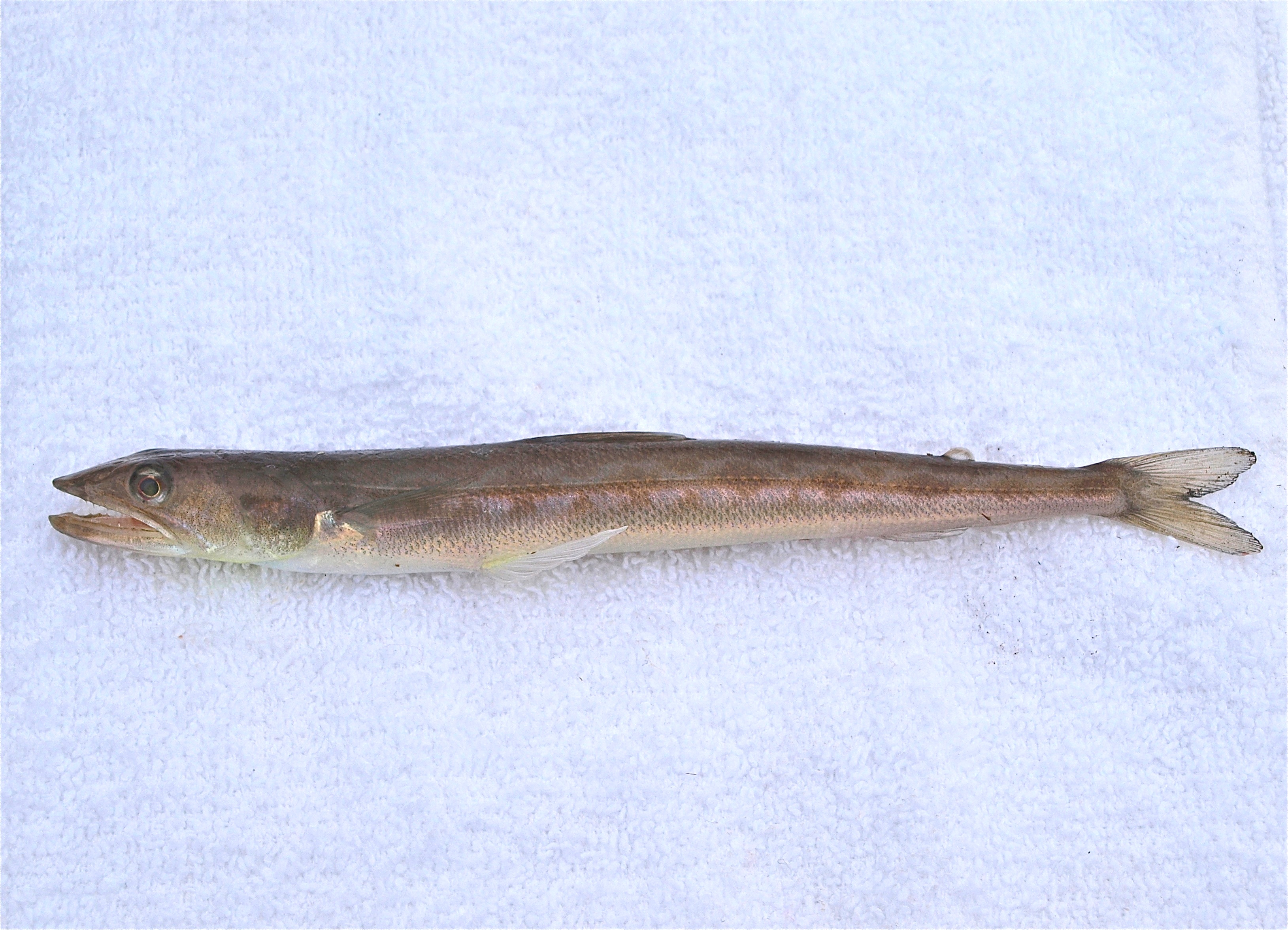 California Lizardfish
Fishing mid-way to the far end of the pier will yield white croaker and several varieties of flatfish on the bottom — Pacific and speckled sanddab, sand sole and starry flounder. From the mid-level to the top of the water, and usually caught with bait rigs such as Lucky Luras, will be jacksmelt or jack mackerel. Increasingly though, huge schools of sardines are returning to these waters and early evening hours can see anglers filling buckets with the small fish. Once again perch can be found down around the pilings and a few pileperch and striped seaperch will be added to the other species. Also joining in the fun, but less common, are cabezon and a few lingcod which seem to be strange species for the sandy-bottom environment found at this pier.
Bloodworms, pile worms, sand crabs, ghost shrimp and fresh mussels work best for the larger perch. Worms are best for the jacksmelt, and anchovies (remember, only a small piece) are best for the white croaker. Squid is best for rays and sharks.
For more than 50 years an annual summertime ritual was to head to the Central Coast piers and catch bucket loads of snapper — small, immature bocaccio (rockfish). Their numbers are down but some summers will still see the small fish in abundance. If schools of bocaccio do show up around the pier remember to check the regulations on size and number (they seem to keep changing).  Best though is to simply not keep any bocaccio, their numbers are just too low.
Some years will also see Pacific mackerel and when they're in you can expect to catch a "mess of macs." The standard rigging used by most is a bait rig, with or without bait. During the sunny part of the day many people simply cast out their unbaited rigs and jig for the mackerel. During the night, or when the fish are demanding to be fed, hooks are usually sweetened by the addition of a small strip of squid or a piece of brethren mackerel. The baited rig is then fished under a balloon or Styrofoam float, whatever will keep the bait just under the surface of the water. Better in my book is simply to use a high/low rig with a torpedo sinker (or shiny spoon) on the bottom of the line. Use size 6-2 hooks (size depending on the mackerel being encountered) and put a small piece of bloody mackerel on each hook. You'll still catch plenty of fish and meanwhile save some money. Multi-mackerel on a bait rig have a way of twisting the line into an unsalvageable Gordian knot.
Some warm-water years may also see bonito and even barracuda, usually in late August or September. Best for the boneheads is feathers trailed behind a Cast-a-Bubble, jigs, or spoons. Best for the snakes are Krocodile or Kastmaster-type spoons.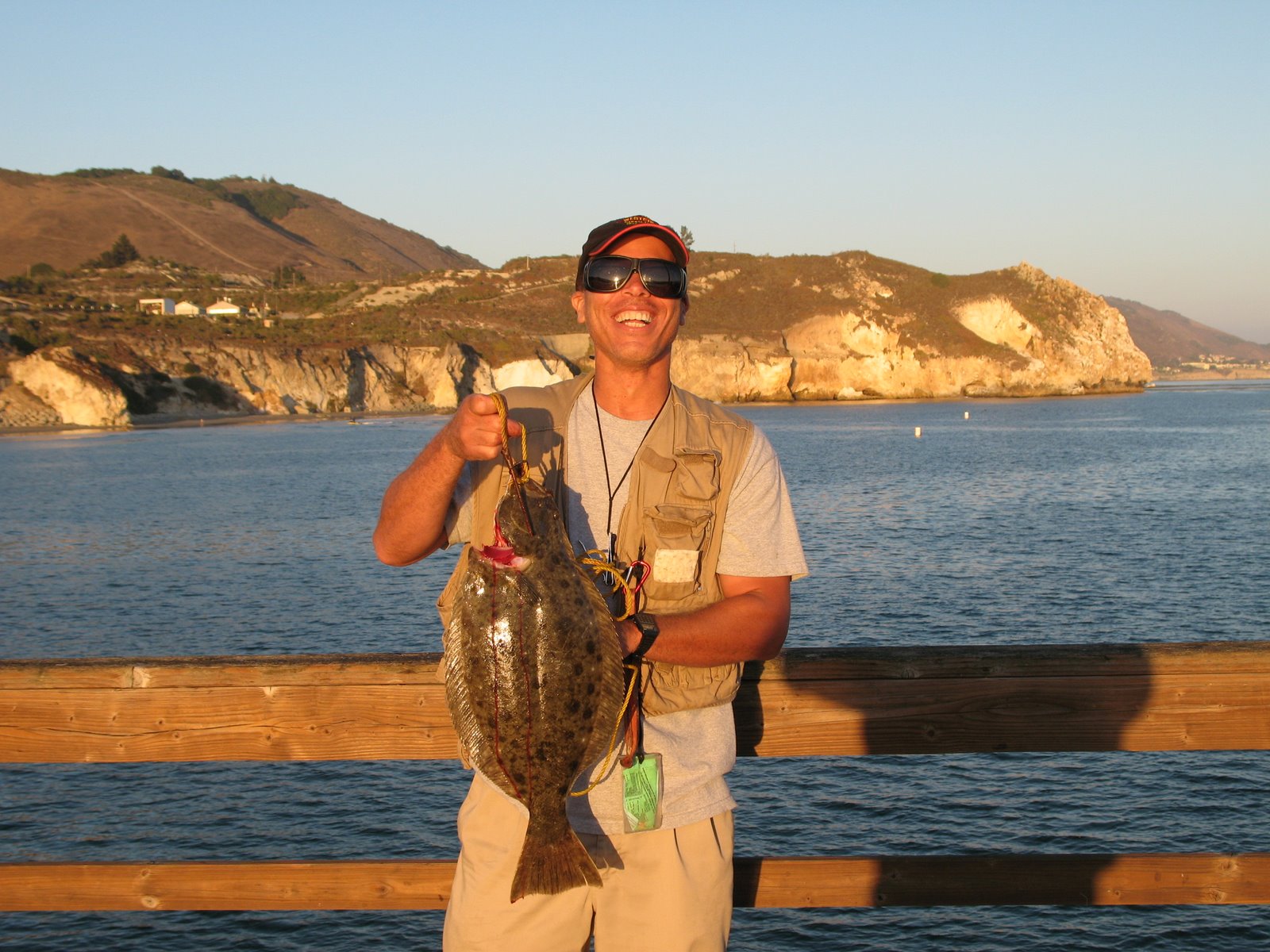 Red Fish (Robert) and a California halibut — August 2008 PFIC Get Together

The mid pier area is also where you will find halibut and they are most common from about May until September. Best results are usually obtained by anglers using live bait. Some of the locals will head over to the nearby Port San Luis Pier, purchase a bucket of live anchovies, and bring them back to fish for halibut. If the anchovies aren't available use a drop net or Sabiki to get shinerperch, small walleyes, small kingfish, small smelt, small mackerel, or small sea lions (just seeing if you're still awake); all but the latter make excellent halibut bait. Some anglers prefer lures but most of the halibut I've seen taken here were caught on live bait.
Another fish you might encounter mid-pier to the end is salmon. A few will be landed each year, usually on a whole anchovy fished under a float, but numbers are rarely sufficient to justify a separate trip to the pier just for them. A duo of steelhead trout were landed in August of 2011 which of course startled ALL the local anglers.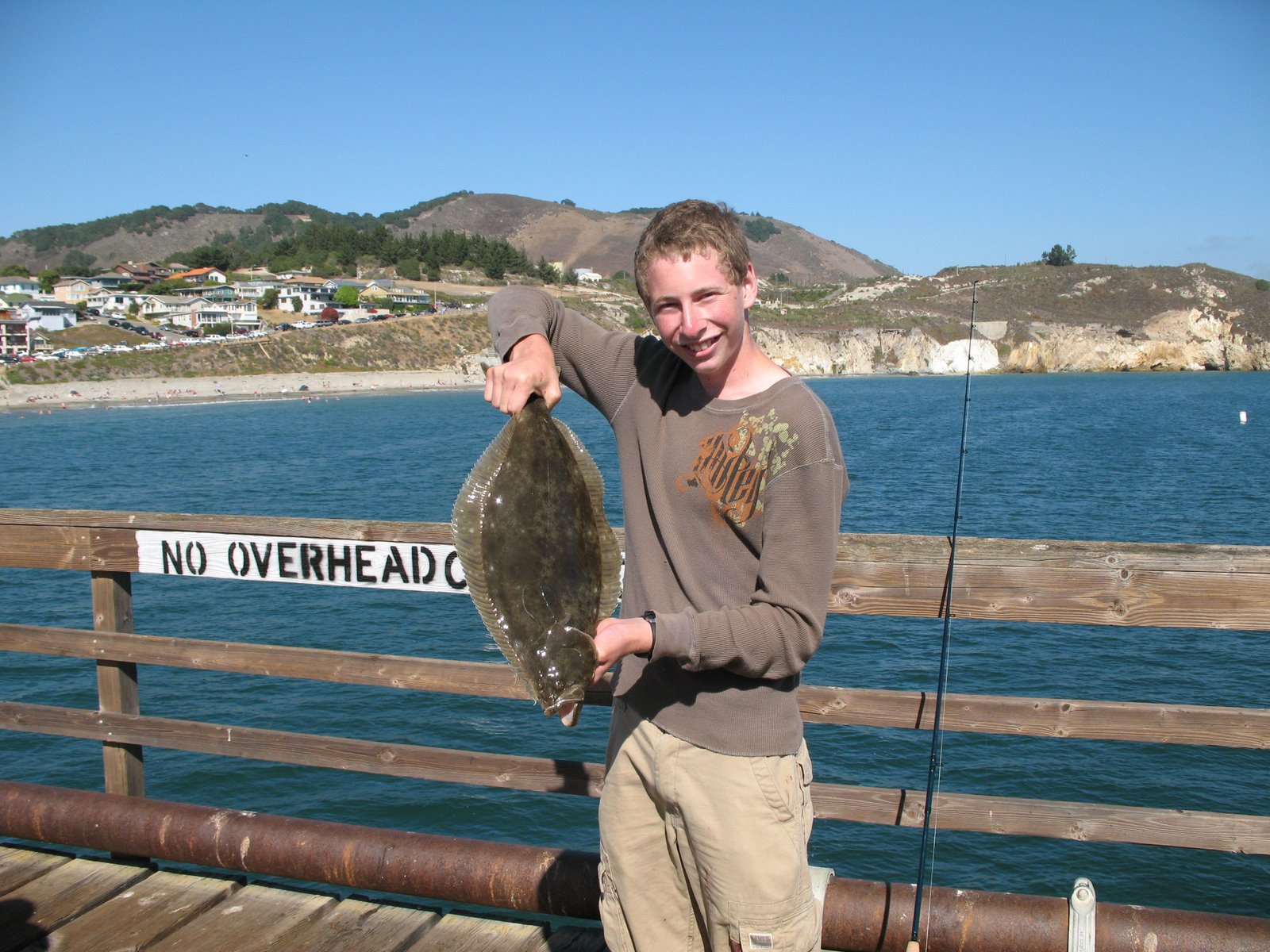 California Halibut caught by Matthew— August 2008 PFIC Get Together

Night fishing for sharks and rays is a tradition here. Most of the sharays caught will be leopard sharks, swell sharks, dogfish or bat rays, but every year will also see a few soupfins and threshers, possibly an angel shark or two, and even an occasional blue shark. Best baits for the sharks seem to be fresh mackerel but freshly caught croakers and perch will also work. Bat rays and skates prefer a big chunk of squid. The threshers prefer a live mackerel on a sliding leader but you can also float out a big, bloody piece of the same to attract them.
One unpleasant scene I've witnessed a couple of times at the pier was the bodies of puffer (swell) sharks littering the surface of the pier at the end. Many locals seem to believe the "old wives" tale that returning a swell shark to the sea after capture hurts the fishing. It's not true and the "puffers" should be returned to the water since they are not good to eat.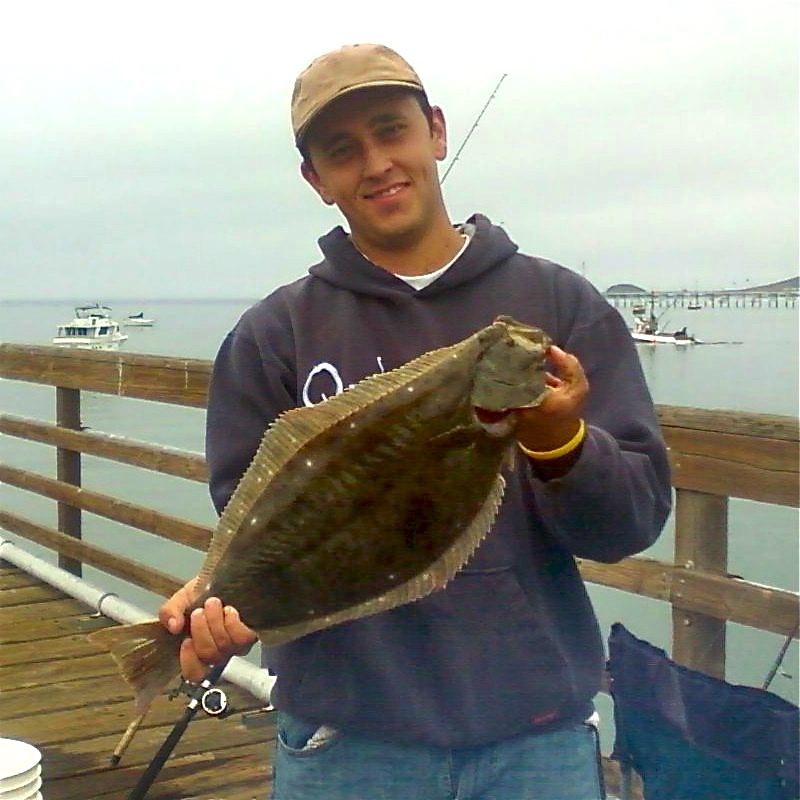 What appears to be a Pacific Halibut caught by "Polishfromthedeep" — August 2008 PFIC Get Together

One of the things we learned during a series of Kids Fishing Derbies that UPSAC put on from 2011-2014 was the number of small, juvenile fish out at the end of the pier during the summer months. The small fish, often only a few inches long, shelter under the pier much of the summer and are food for the larger fish as well as fish for young anglers.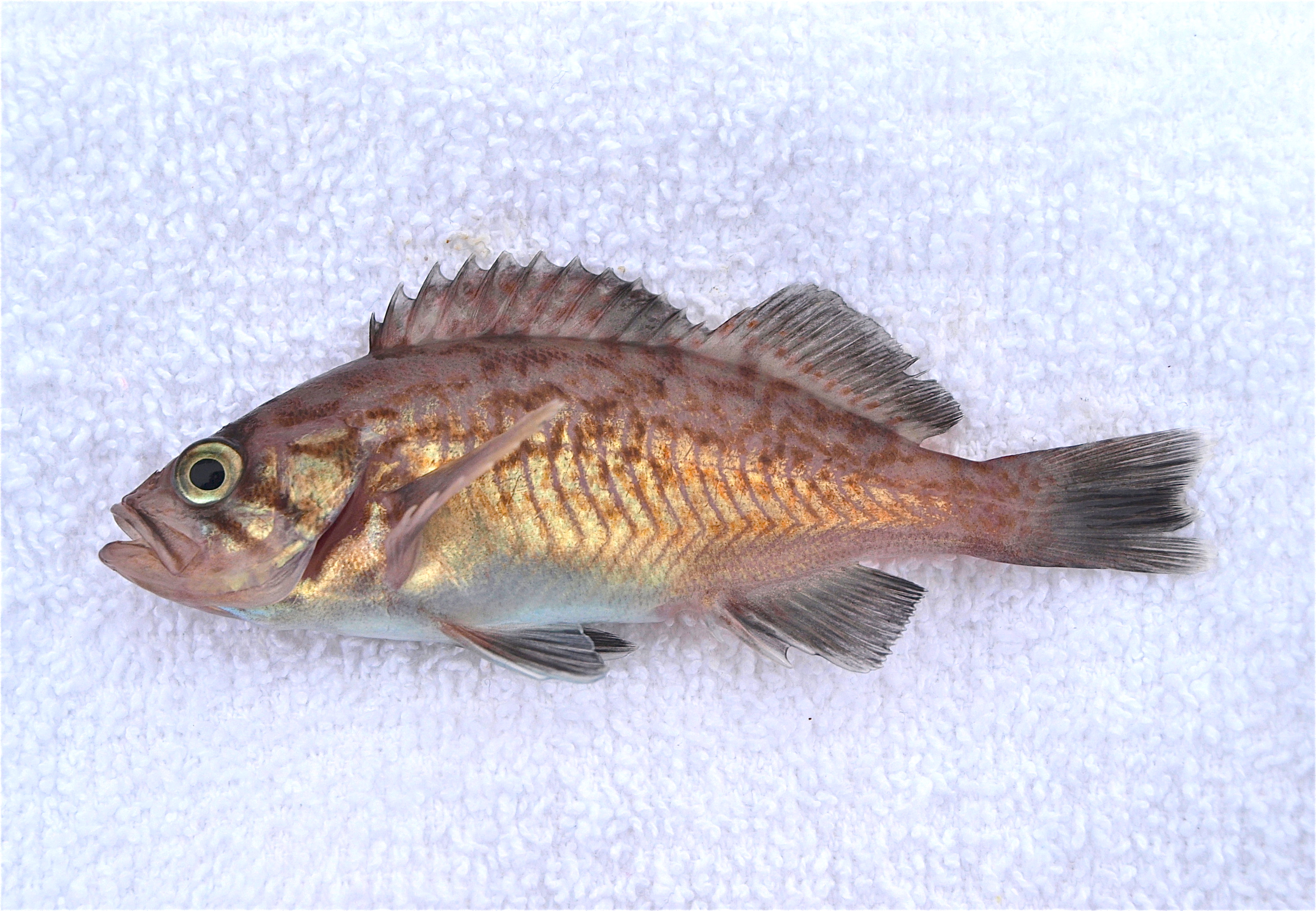 Juvenile Blue Rockfish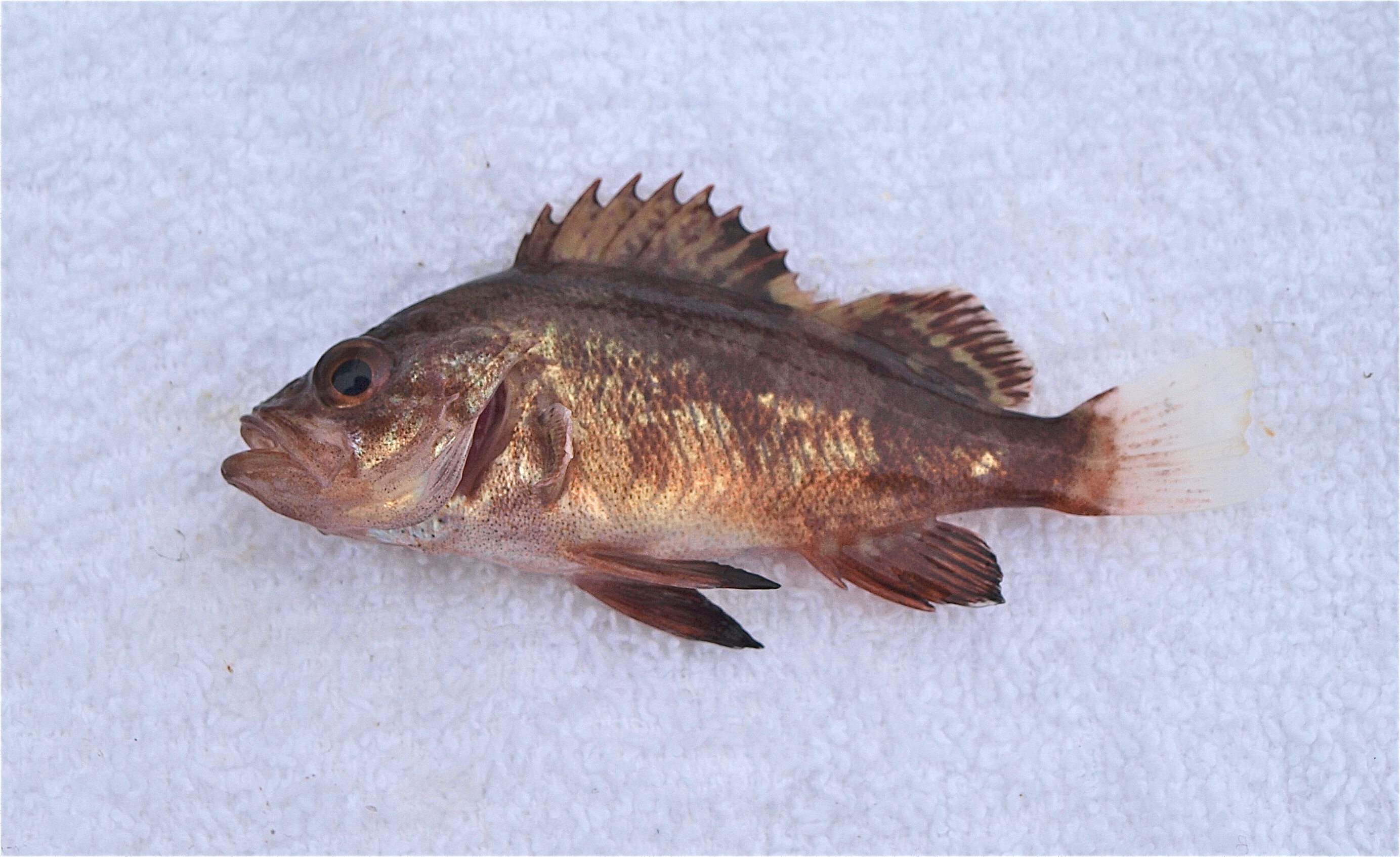 Juvenile Vermilion Rockfish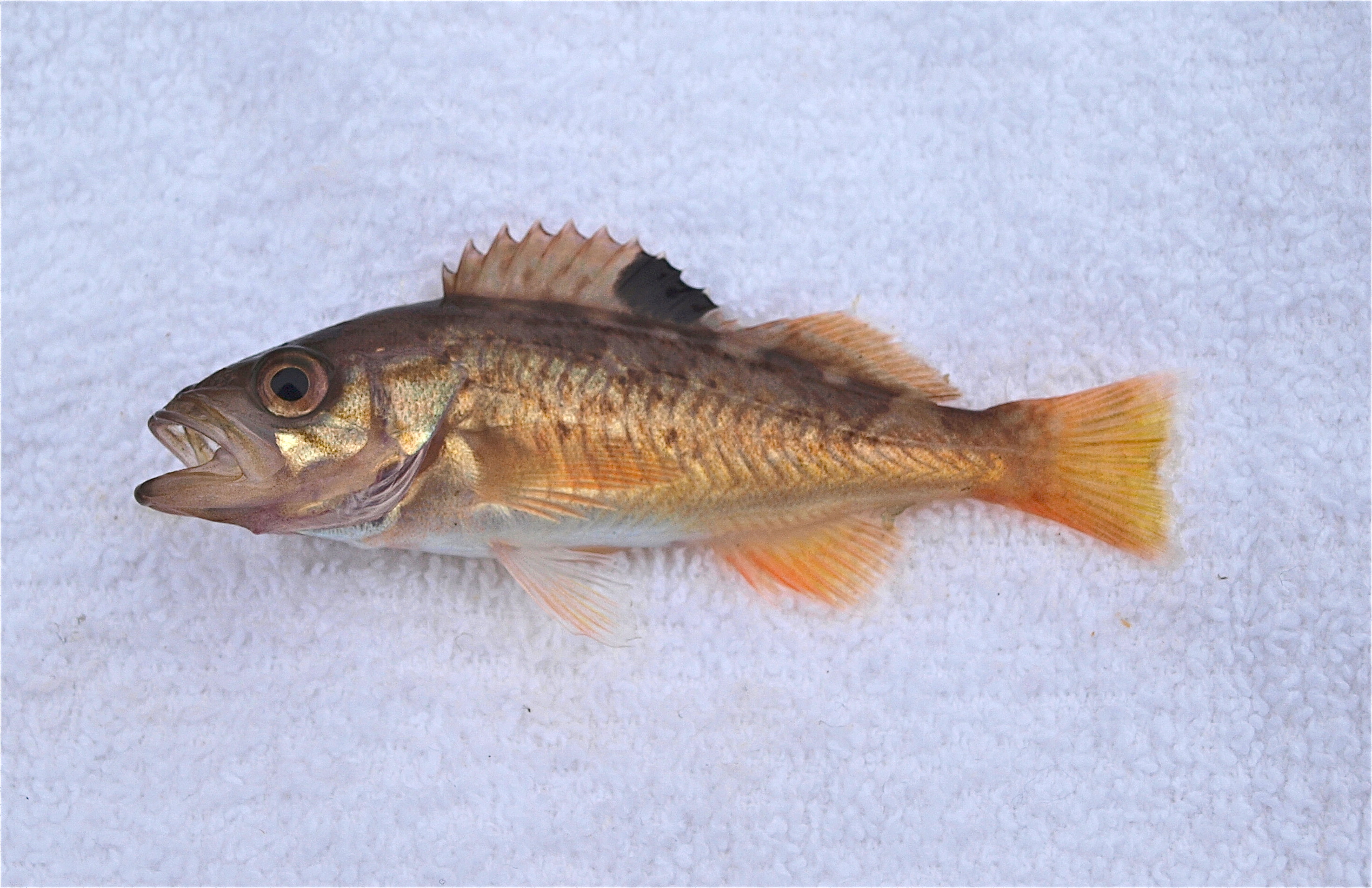 Juvenile Yellowtail Rockfish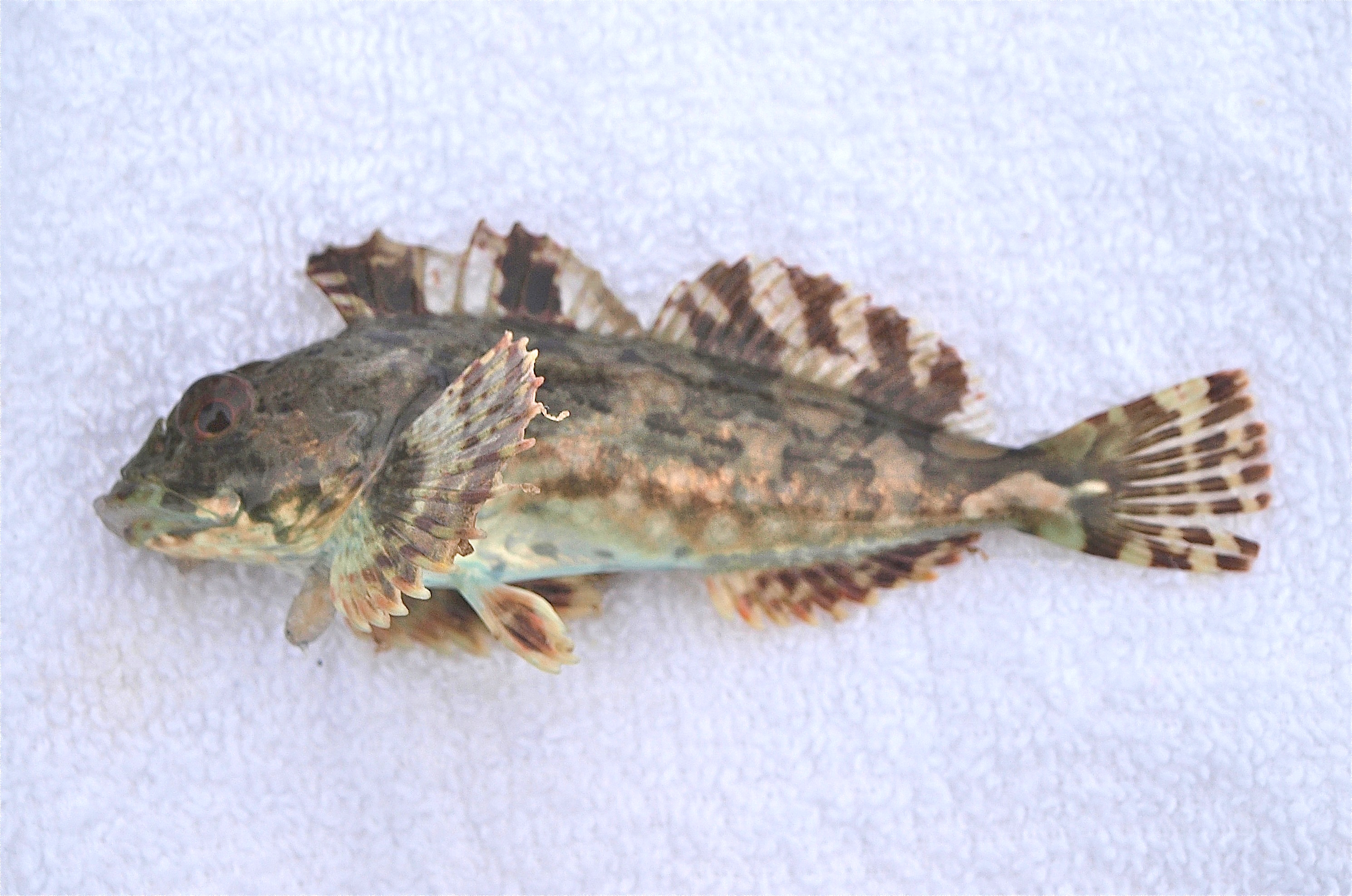 Juvenile Cabezon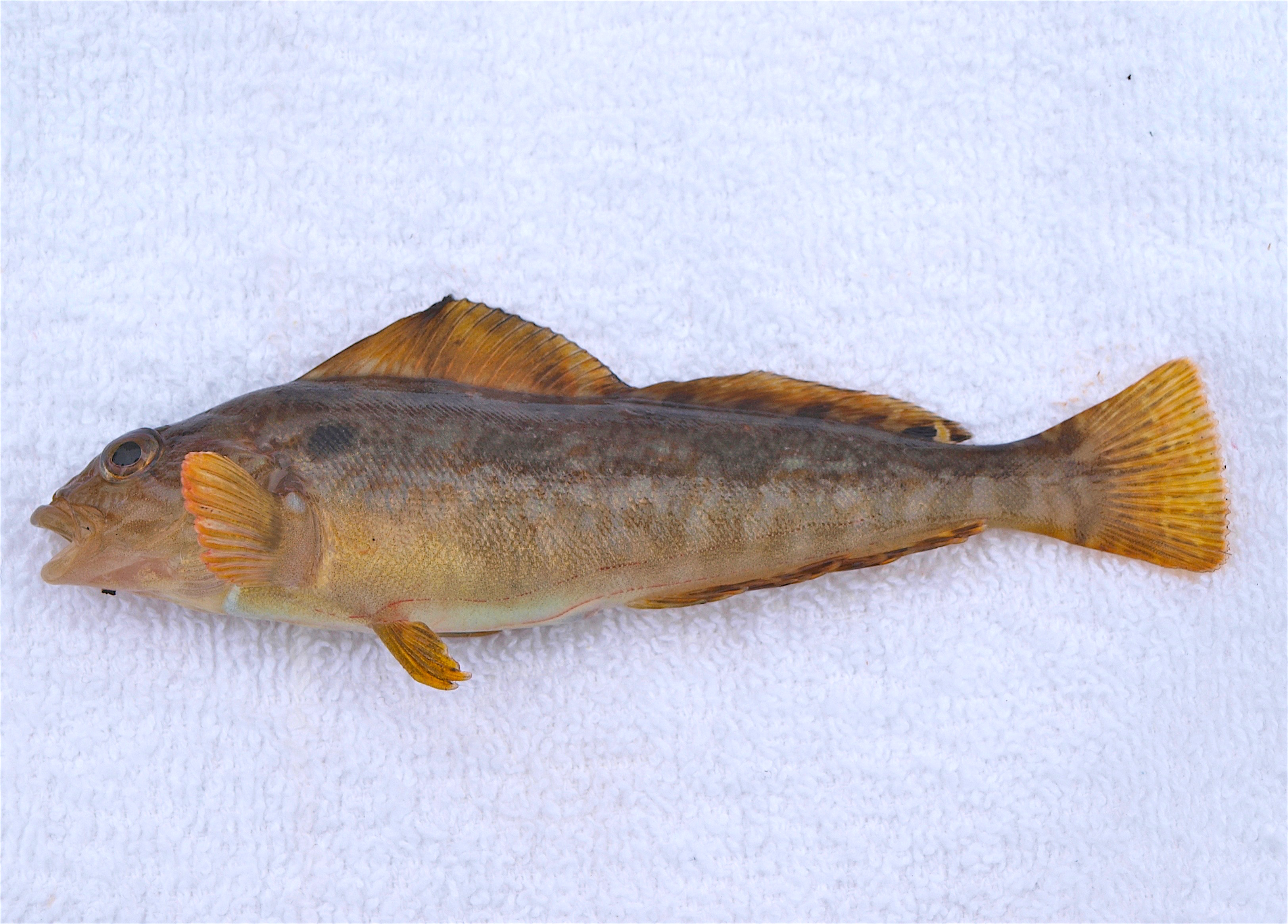 Young Kelp Greenling
Crustaceans and other creatures. The pier has never been noted as a great pier for crabbing but it does yield up a fair amount of rock crabs for those who give it a try. Nighttime is often best and best action is out at the end.
An occasional catch, one that is also seen at night, is small squid. If and when you do catch one remember that a live squid makes good bait for several species.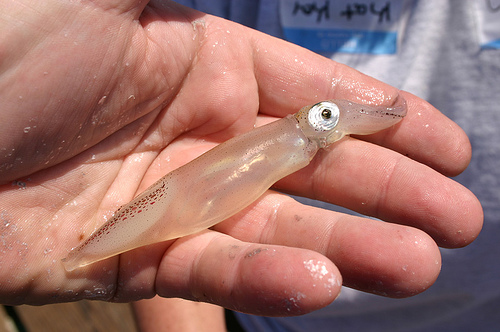 Squid
Potpourri — Perhaps  more than you want to know about the Avila Pier

<*}}}}}}}}}>< — My most unusual catch at this pier occurred one chilly June night in 1997 when I caught a whelk, a sea snail that decided to nibble on the pile worm I was using for bait. Unfortunately, I hadn't purchased any garlic or wine while passing south through Gilroy. I've never had escargot out at the end of a pier (actually I've never had escargot at all although my daughter has weird tastes and likes the slimy, slinky creatures). Whelks seem to be fairly thick on the bottom here as are starfish (oops, sea stars)! I wonder what a whelk and sea star sandwich would taste like? Perhaps you could have different sizes—a papa, momma, and baby star whelkich?
In 2006 another strange beast decided to attach itself to my line, a spiny mole crab about 4-inches long and the largest I have ever seen. What would really be interesting would be to see a barred surfperch large enough to swallow that crab!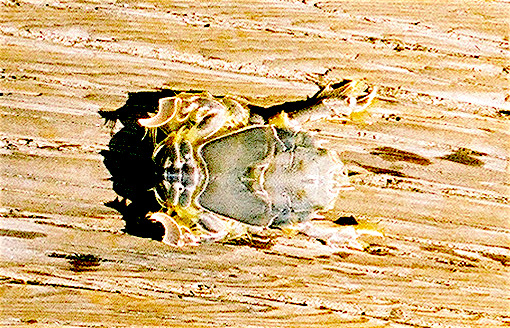 Mole Crab
<*}}}}}}}}}>< —My best day at the pier was a day that I caught absolutely nothing worth keeping and in fact did not get a even a nibble on my 2nd, larger rod and reel. Not that I didn't try. I tried several baits on the larger rig, everything from anchovies to mackerel to squid and live bait, but none of the larger fish were biting that day. Everything was caught on my perch rig and everything was basically small excepting a fair-sized barred surfperch and jacksmelt that were returned live to the water. Nevertheless, it was quite a few fish, constant action, and provided a nice variety of fish — something I always love. It was on August 3, 2013 from 7 :05 A.M. to 1:50 P.M. and resulted in 114 fish and 13 different species.
The catch — barred surfperch, jacksmelt, white croaker, lizardfish, speckled sanddab, brown rockfish, cabezon, kelp greenling, onespot fringehead,  and several small, juvenile rockfish — bocaccio, vermilion rockfish, yellowtail rockfish, and blue rockfish.
<*}}}}}}}}}>< — Avila Beach is recorded as the southern limit for redtail surfperch—so go get one.
<*}}}}}}}}}>< — As far as Avila culture, the locals who keep an eye on such things claim there's an over abundance of beautiful young ladies from nearby Cal Poly on the beach and they have given them the nickname "Poly Dollies." Being the gentleman that I am I would never use such a sexist term, in fact I try to avert my eyes from the beach when entering and exiting the pier. I'm not sure what the guys from Cal Poly are called? "Poly Guys" sounds just a little too tame and I hope not too many are "Poly Daddies." Would "Polly Doodles" do? But I digress.
<*}}}}}}}}}>< — August of 2008 saw a PFIC Get Together at the pier with members from throughout the state. It turned out to be a great gathering and included some pretty fair fishing—as seen in the post below.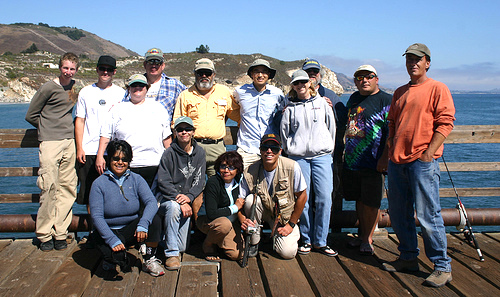 Date: August 24, 2008; To: PFIC Message Board; From: Gordo Grande; Subject: Mid State Get Together Aftermath…
It's Sunday night, and I'm still dead tired, but I can't go to bed without posting a better report. I think our first mid-state get-together was a smashing success, and everyone involved said we have to do it again. Many thanks to Santa who helped with the planning and did quite a bit of scouting ahead of time. Our first surprise of the day was when Santa found out that the police weren't ticketing parked cars around the pier. We thought we were all in for some long walks from the free parking zones, but it turns out that we were able to park right next to the pier the whole time. It sure saved a lot of wear and tear on our feet.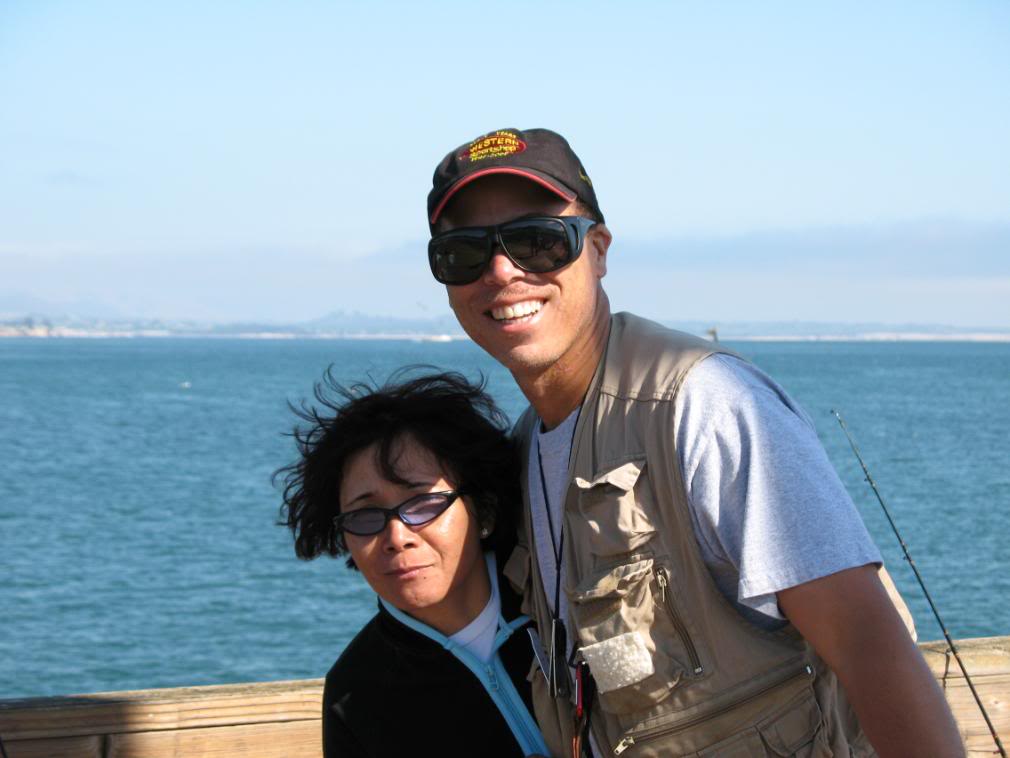 Sylvana and Redfish
The next surprise was when I spotted a certain mad Turkish/Iranian strolling the pier, who had surprised us with his attendance. The shock was almost too much for me, and I attempted to leap from the pier in fear, only to be pulled back in by my family members.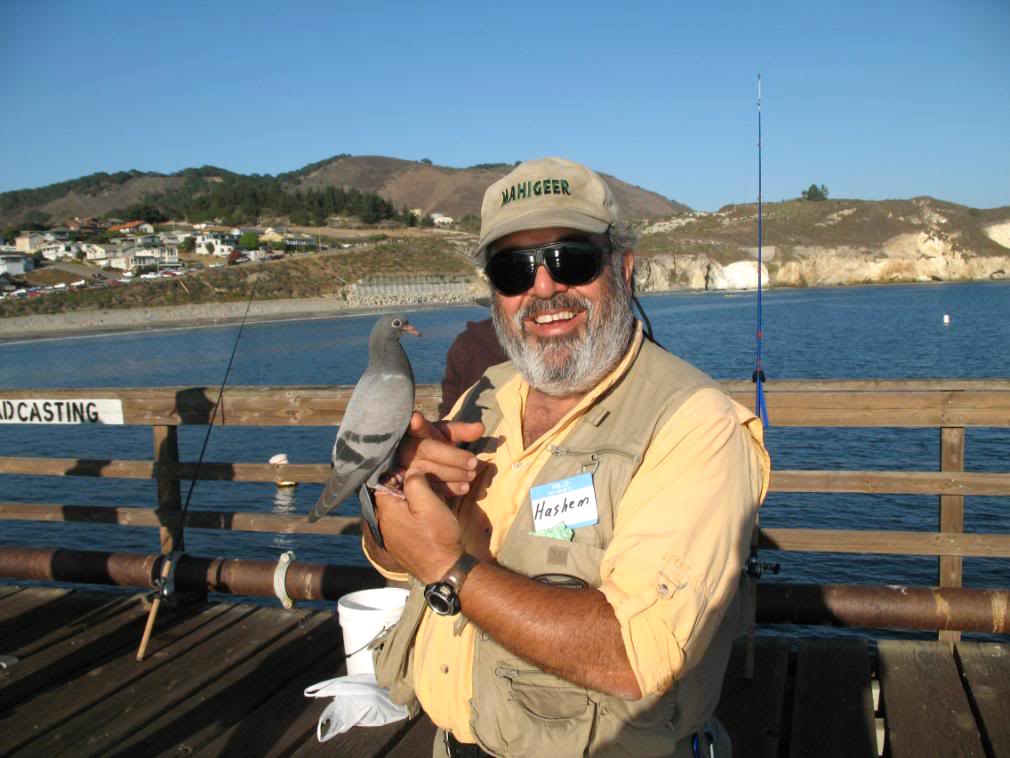 Mad Iranian? Actually Mahigeer (Hashem Nahid)
We had a great turnout for our inaugural event, although we were disappointed that several people who signed up couldn't make it. However, that usually happens with GTs to some extent, so we didn't let it stop us from having a good time. Most of the folks congregated in the mid-pier area, thanks to the advice of our locals, Polishfromthedeep (Karl), Kingfisher (Brian), and his little brother, KingfisherBro (Mathew). These guys knew this pier well, and they were tuned in perfectly to the halibut bite. Polish drew first blood with a legal hali, soon followed by Kingfisher and KingfisherBro. Between the three of them, I think they pulled in 5 halis, four of which were legal.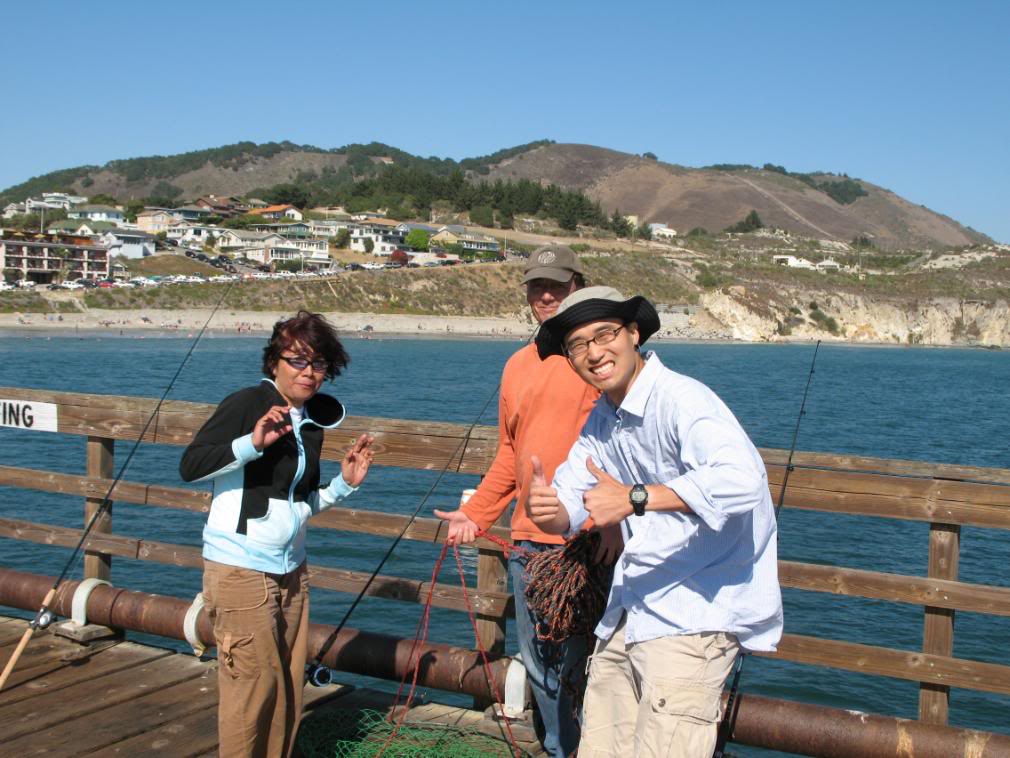 Sylvana, Dave and Eugene
Their technique was flawless. I'll let them fill you in on the details, if they think it's a good idea. It's up to them to do so, because I wouldn't want to blow up a good spot by giving away their trade secrets. Suffice it to say, I was grateful for their advice, and used it as best as I could.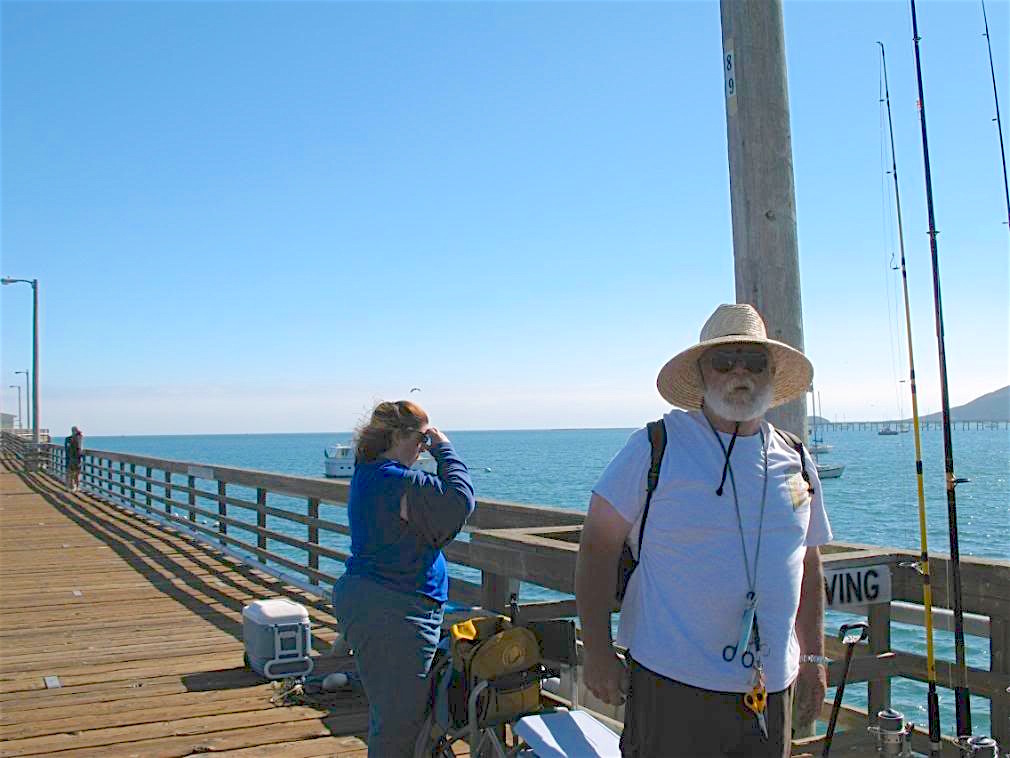 Santa (Mike Spence) and his wife Cheryl
As usual for our GTs, we weren't wanting for good eats. Hashem (aka BananaMan) brought along some cioppino, which he heated up on a propane grill beneath the restaurant at the foot of the pier. Riorust's pal Ken made some killer ceviche. Kcruise and Mrs. Kcruise contributed greatly in the sandwich department, and Santa brought along a ton of eats as well. Next year I'll try to remember to bring along a table so we can set it all up on the pier. Please forgive me if I've forgotten to mention anyone's contribution.