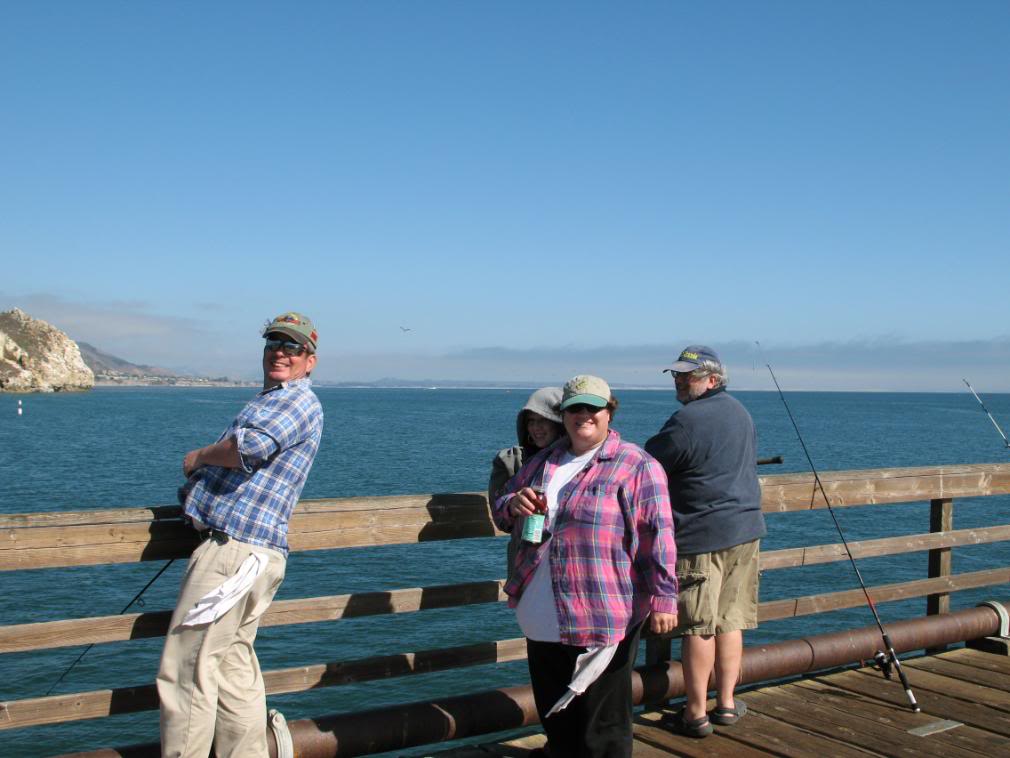 KCruise family
These little sea stars provided us with some cheap entertainment. There didn't seem to be any crabs at this pier, but the sea stars took their place, snatching bait every chance they got. It seemed they would wait for something to hit a bait, and if the bait died these guys would grab on for dear life. Several of us brought up half-eaten mackerels with sea stars wrapped around them.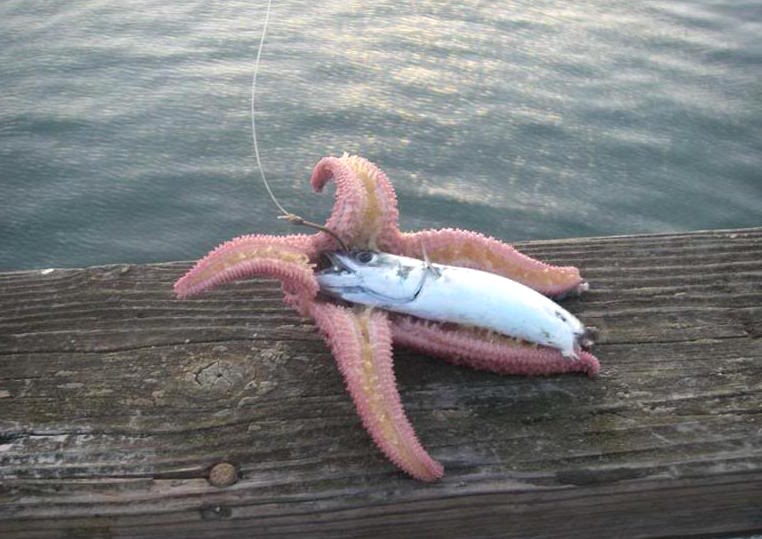 Of course, the high point of the day for me was catching this beast, [30-pound angel shark] which hit a live mackerel. I was using the same technique that the guys were using to catch all the hali's. As I was pulling it up I thought it was a ray, because that was the way he was fighting. No headshakes, just a lot of dead weight and an effort to get under the pier. I was able to horse him away from the pier and out of the kelp, where he was expertly netted by Kcruise. Many thanks for the assist, Kel. See, El Gordo actually does catch fish from time to time. Santa was nice enough to clean him for me, because he knew an amateur like me would botch the job. It took him about an hour-and-a-half from start to finish. He and I split the filets, and mine are destined for the vacuum packer in the morning. BTW, I'm happy to report that this beast was hauled in on my G-dude Special, custom wrapped Rainshadow Forecast, 8 ft. 2-piece rod that I won at the Fred Hall Show last year. The reel was a Penn 535 GS spooled with 20 lb. mono.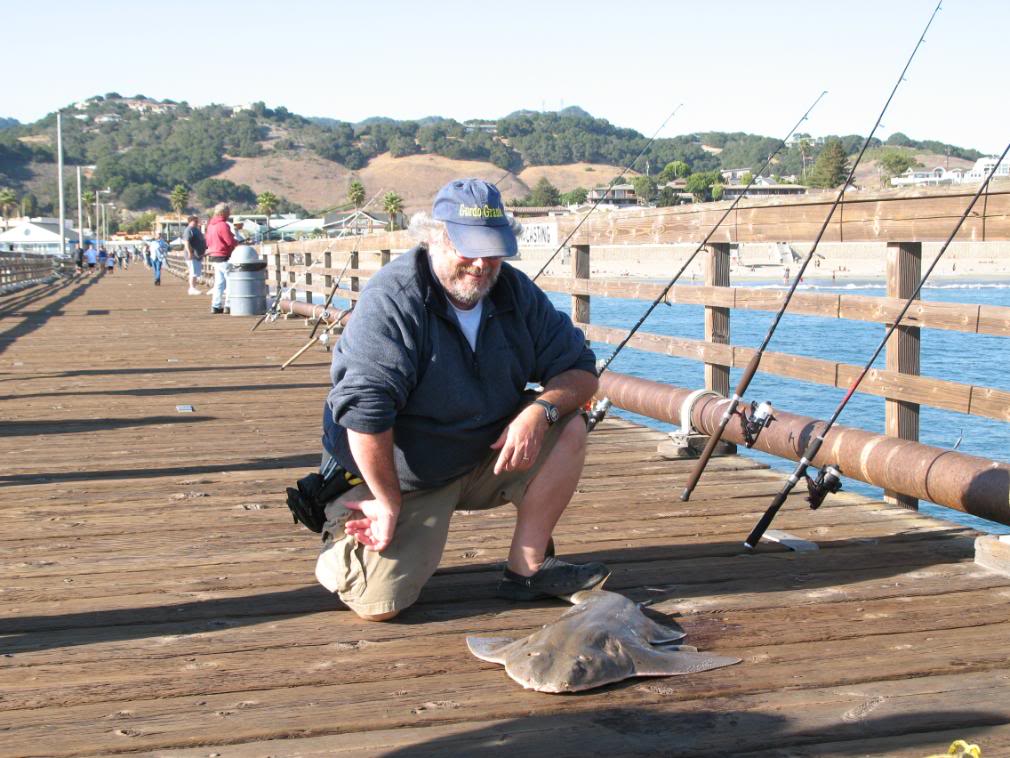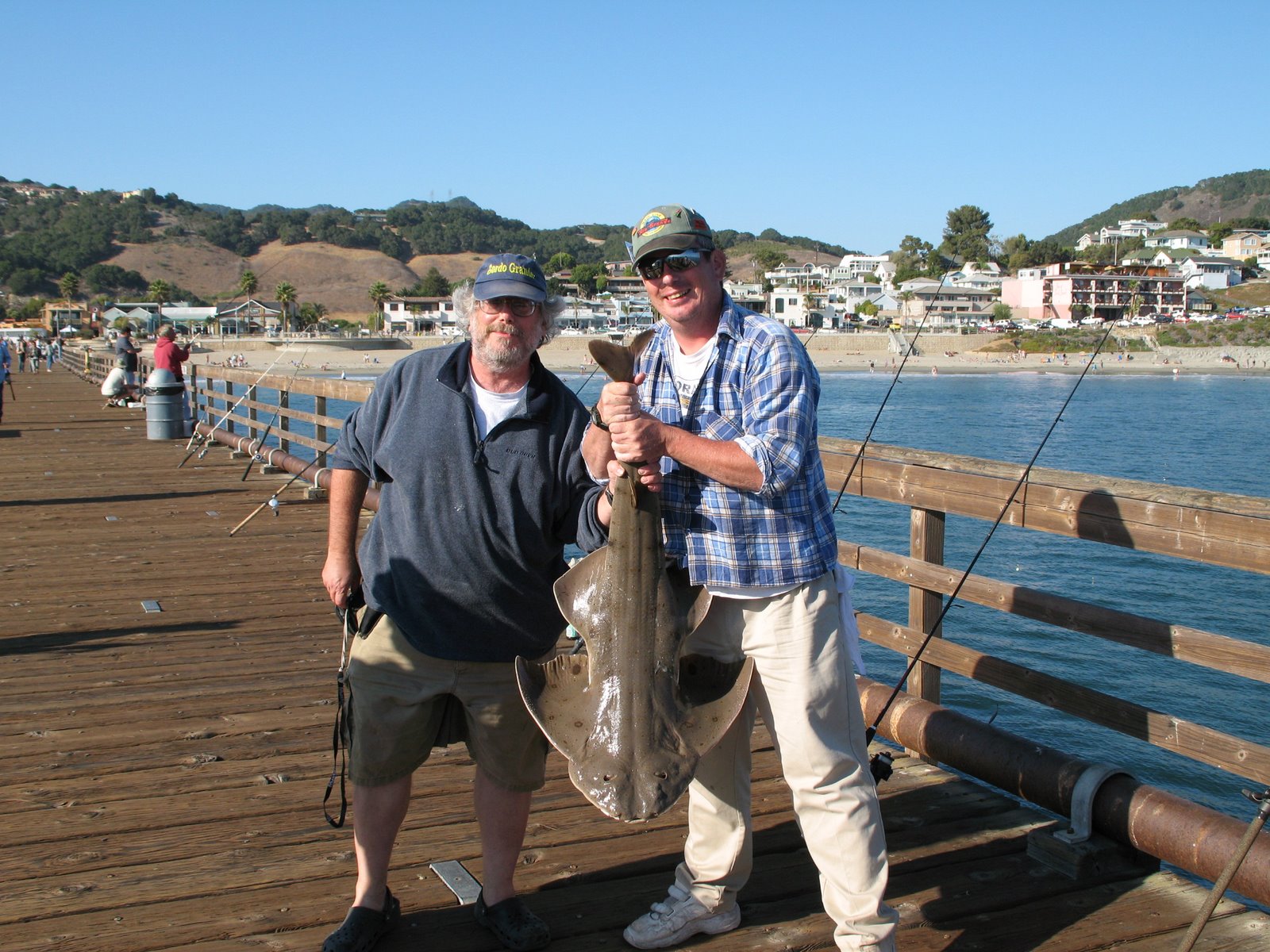 Angel Shark caught by Gordo Grande (Ross) with help from KCruise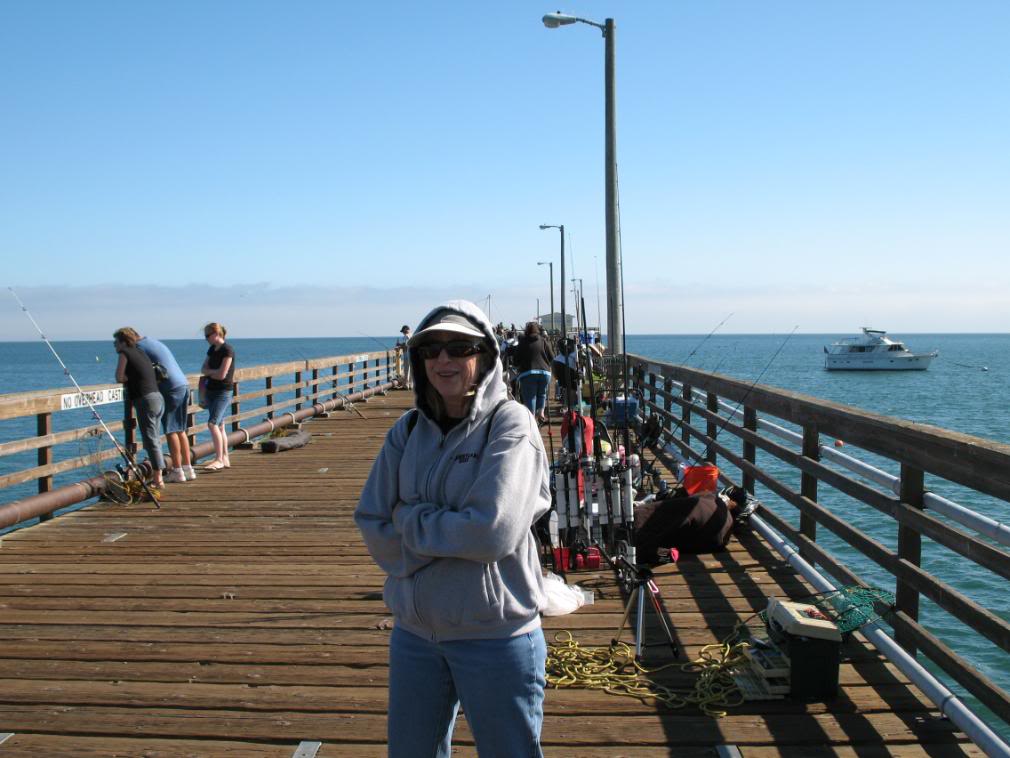 Mrs. Gordo Grande
At the risk of forgetting someone, the attendees were Gordo and family, Santa and Mrs. Santa, I'llcatchanything2 (great to finally meet you Brian), Polishfromthedeep, Kingfisher and Kingfisherbro, Kcruise and family, Huntress and friend, Red and friend, Riorust and pal Ken, Kelpangler and family, and a certain mad Turkish/Iranian.
 <*}}}}}}}}}>< — From 2011 to 2014 PFIC and UPSAC conducted a series of kids fishing derbies at the pier. We introduced a lot of youngsters to the joy of fishing and had a lot of happy faces. Herein a few of the pics —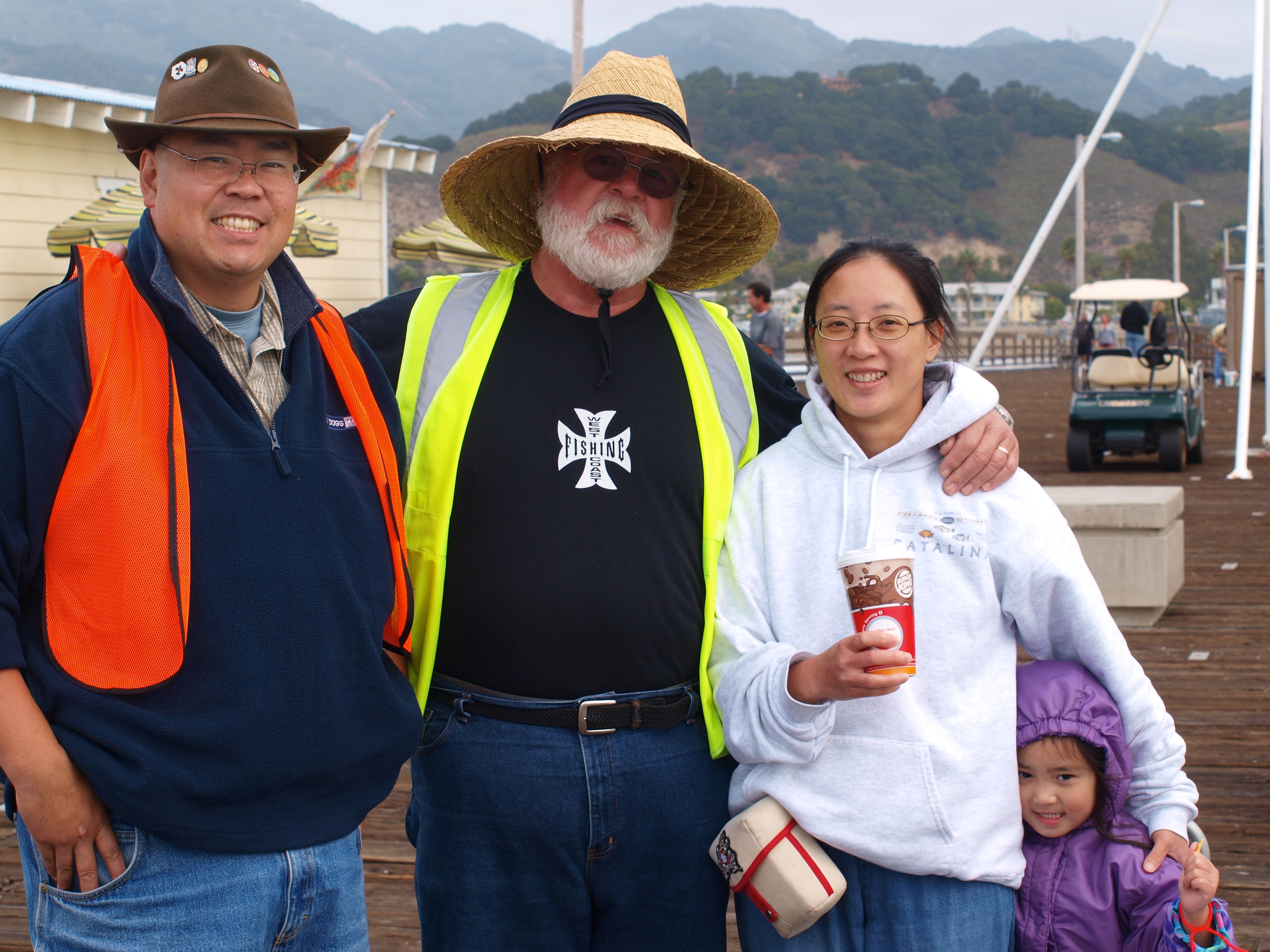 Some great friends — James Liu, Santa (Mike Spence), and Dora Liu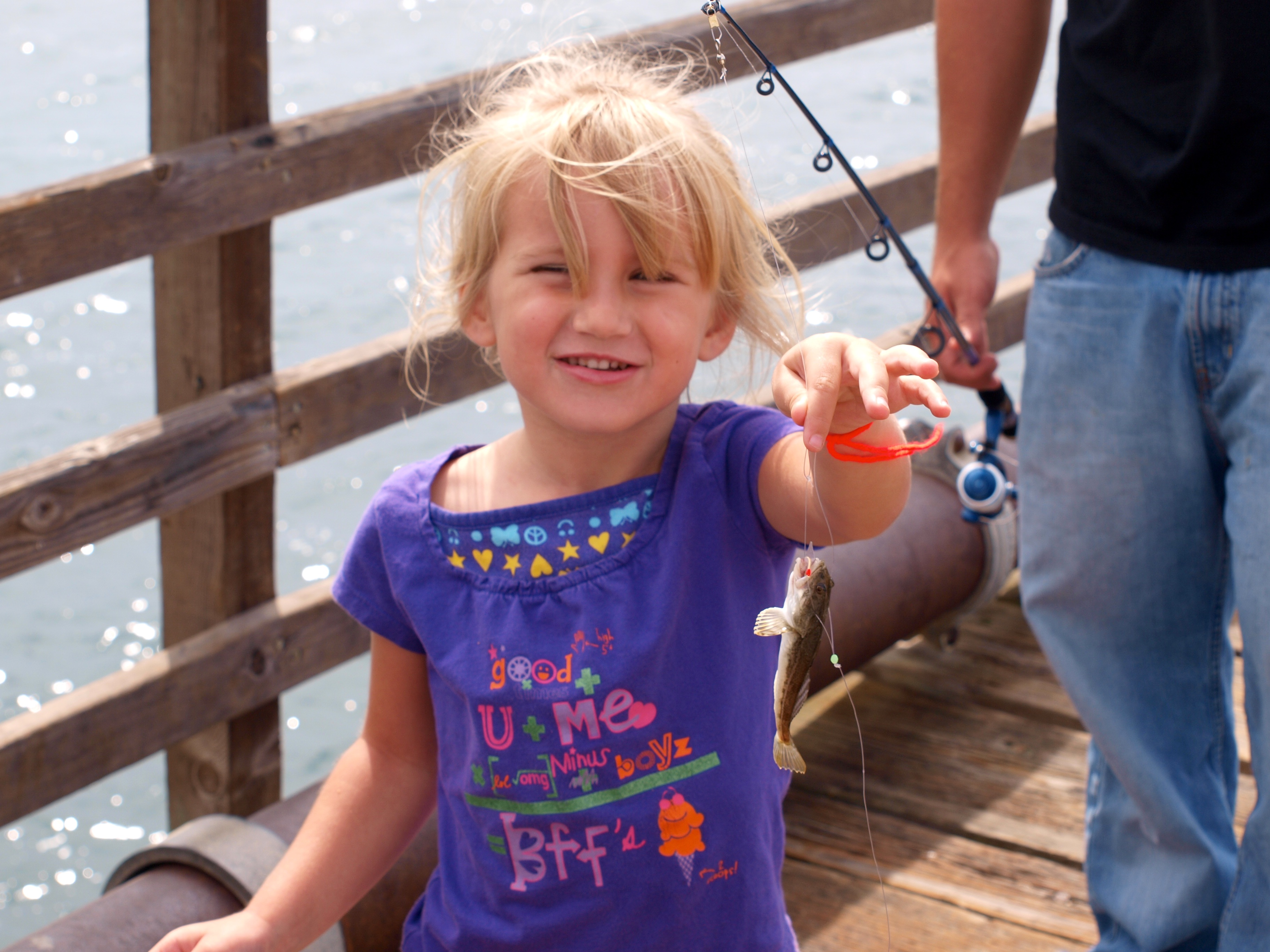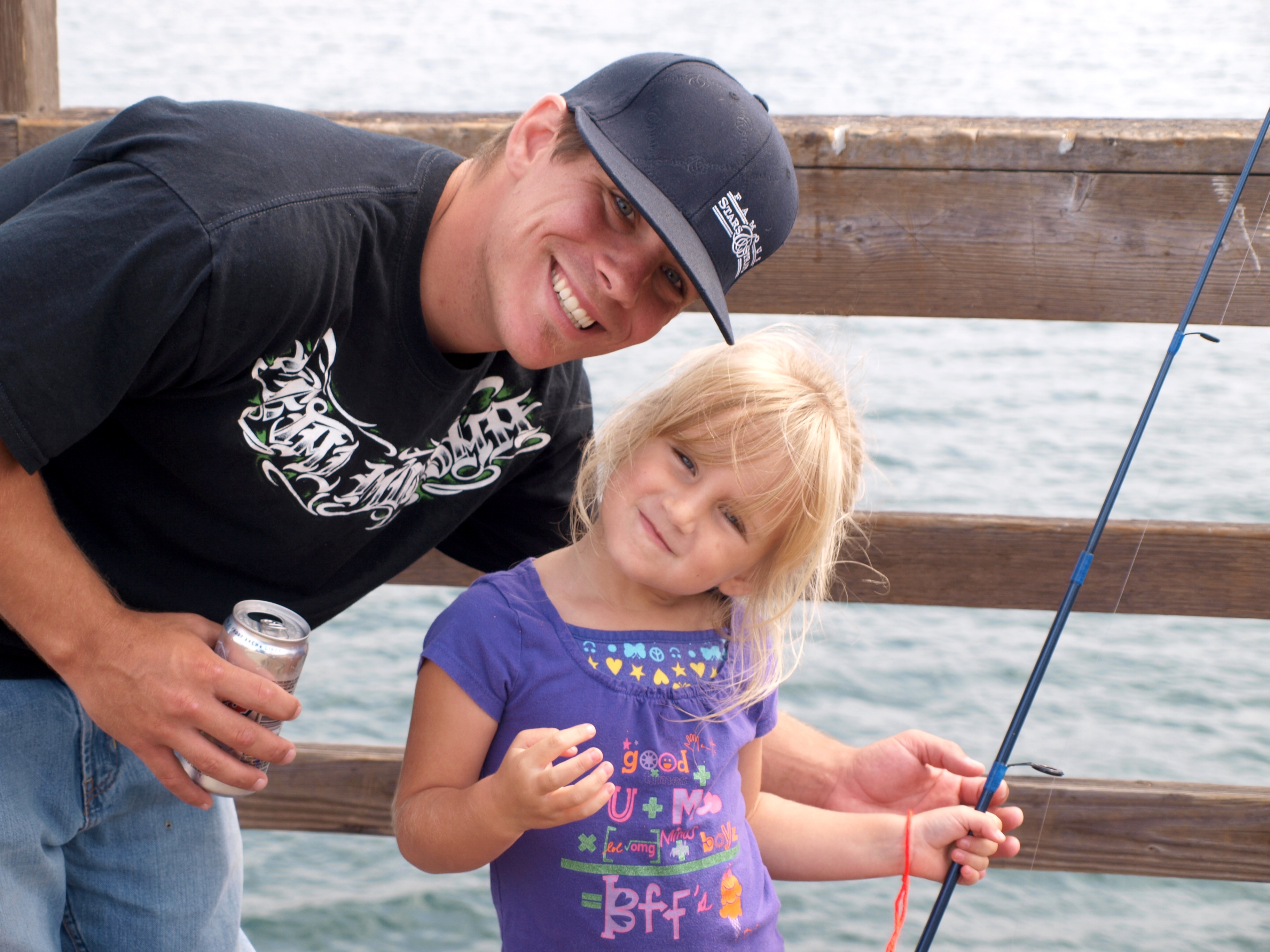 A happy young lady and her dad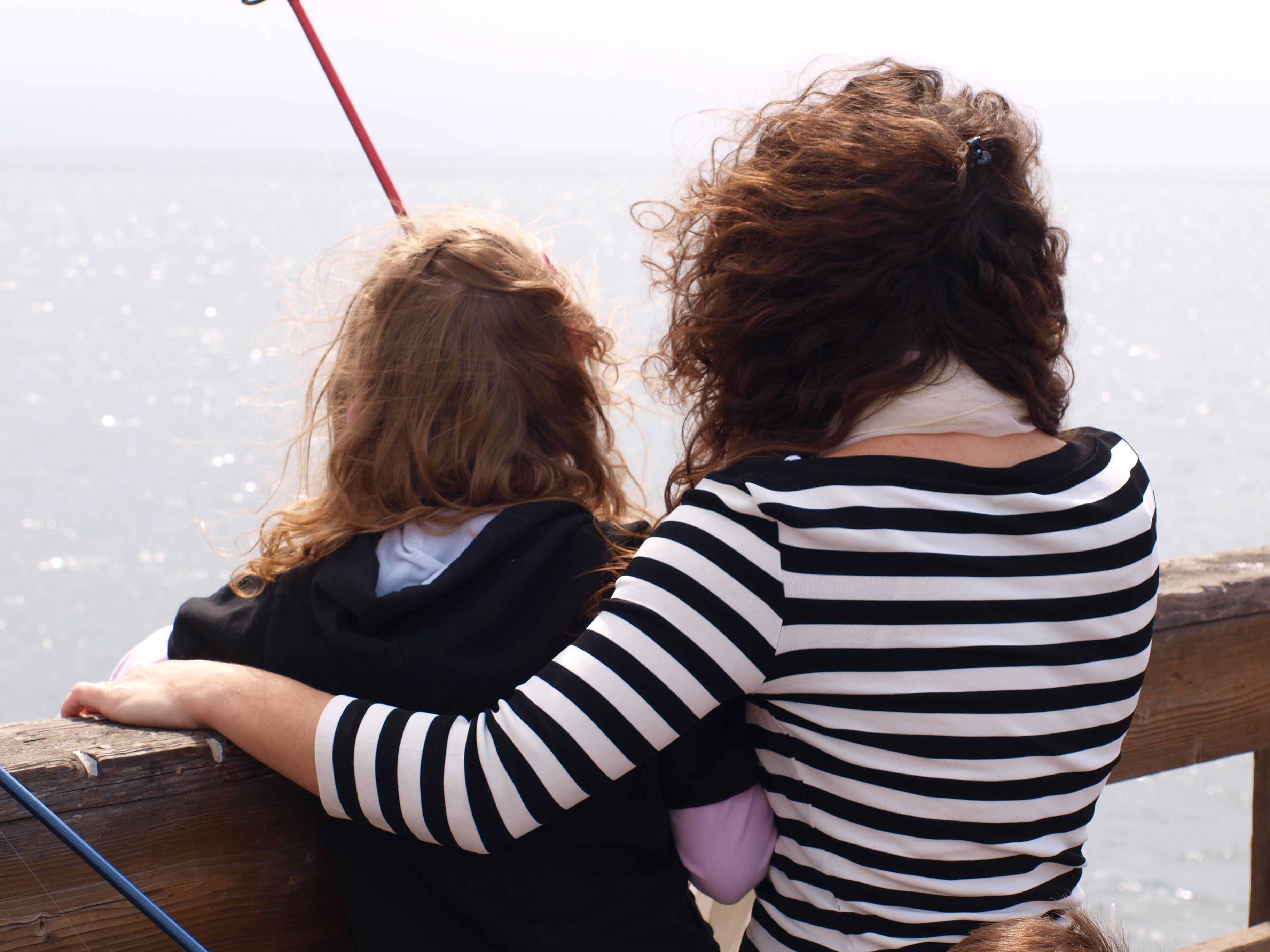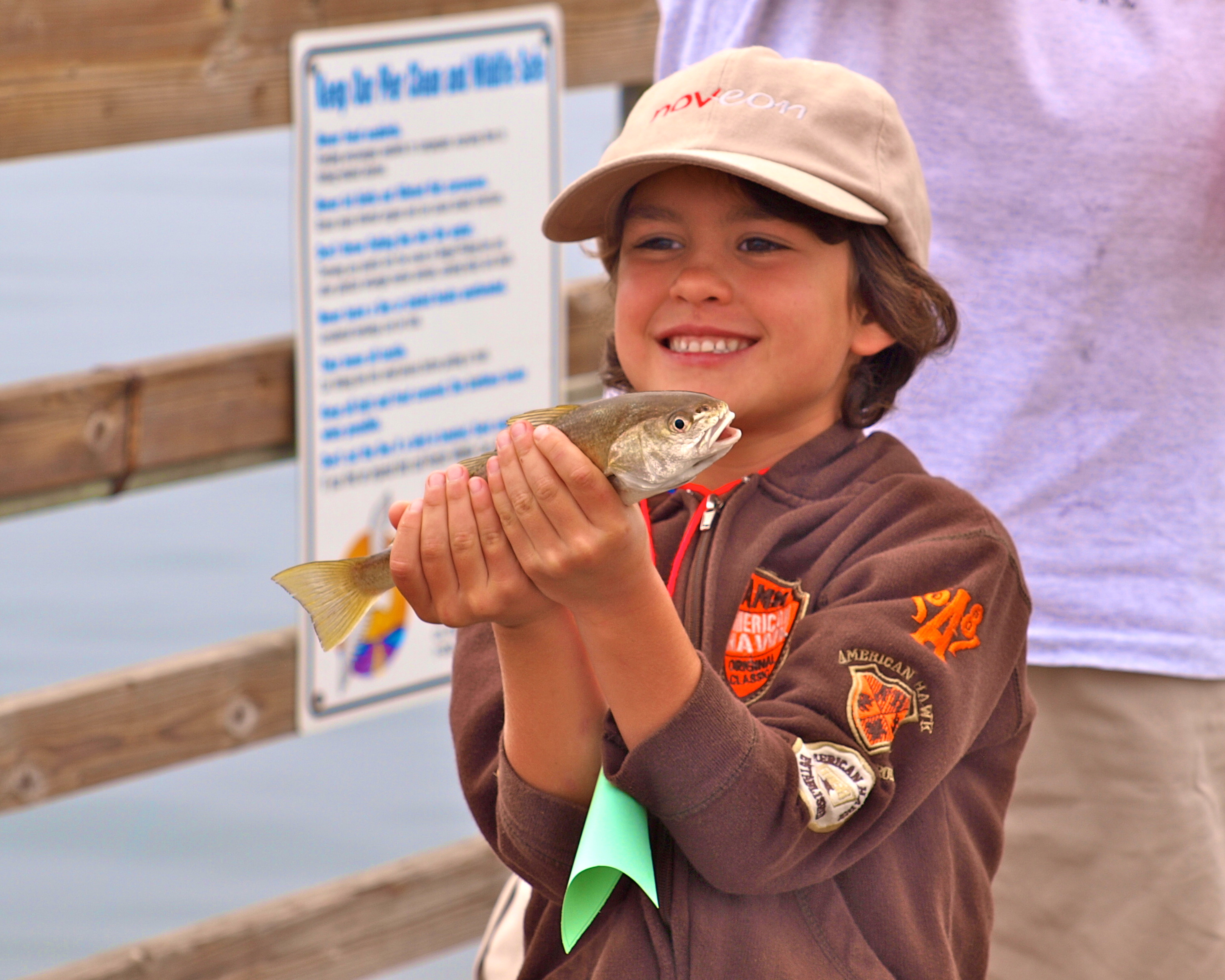 This young man was the winner for his age group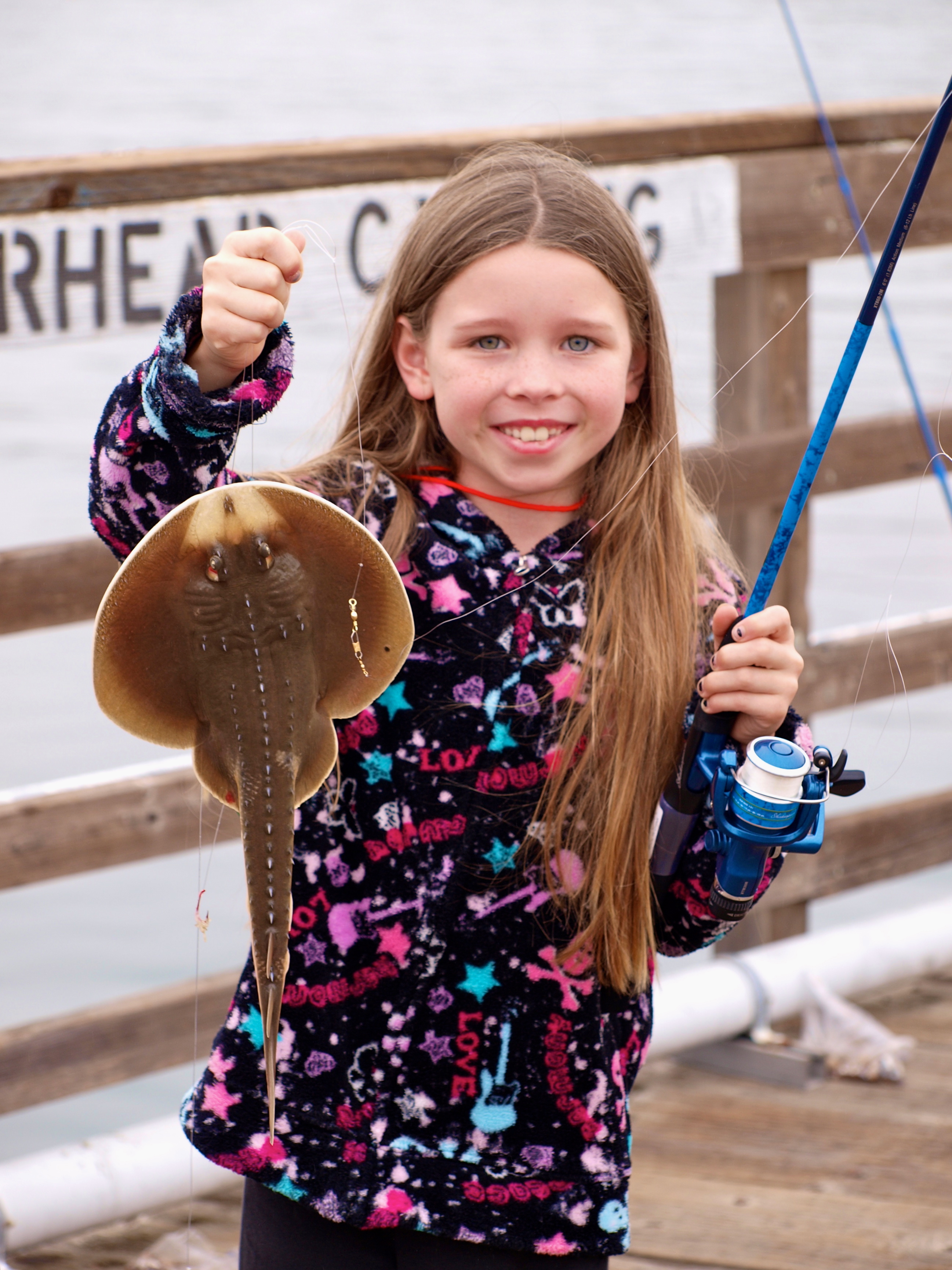 Even a thornback ray earns a smile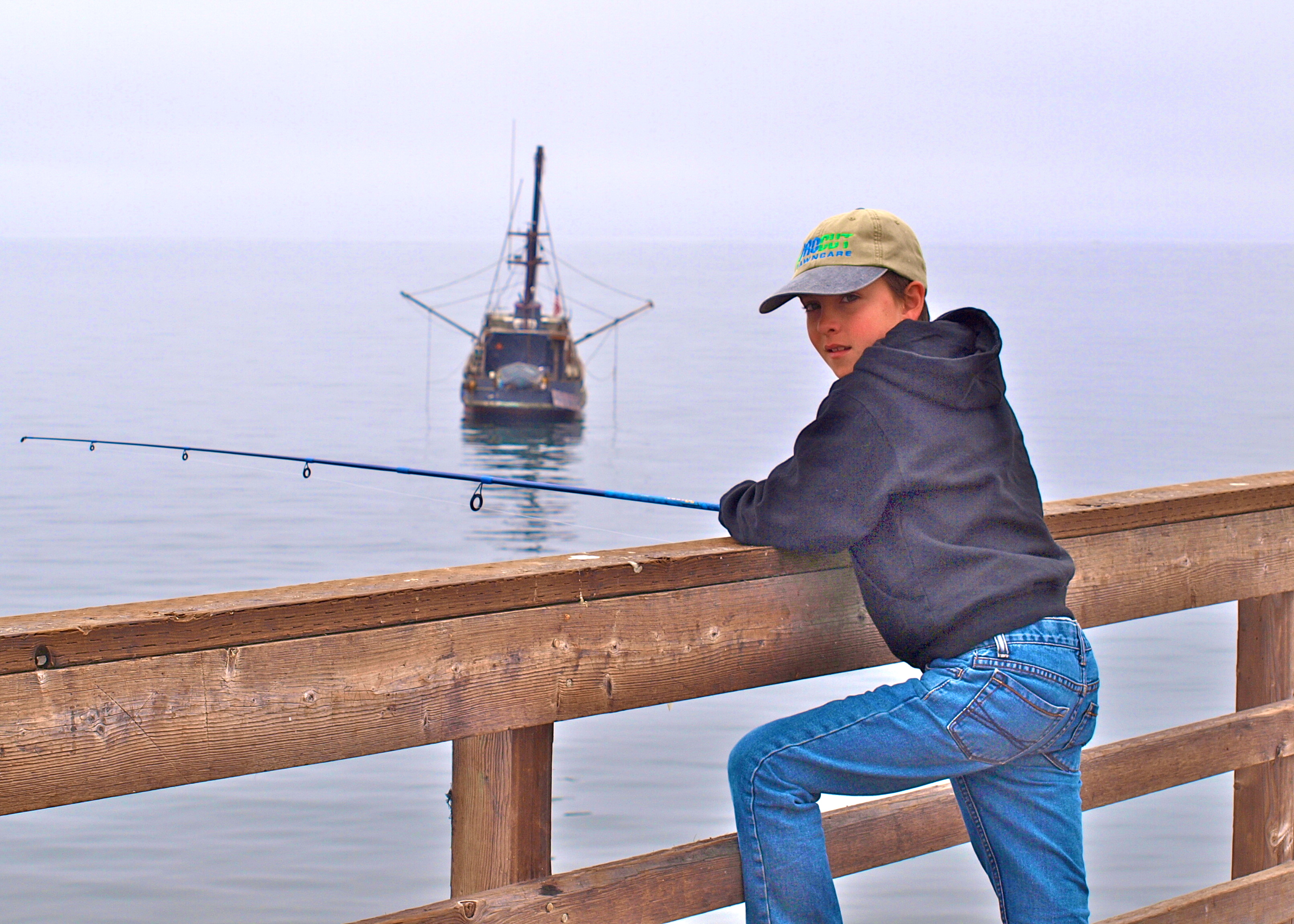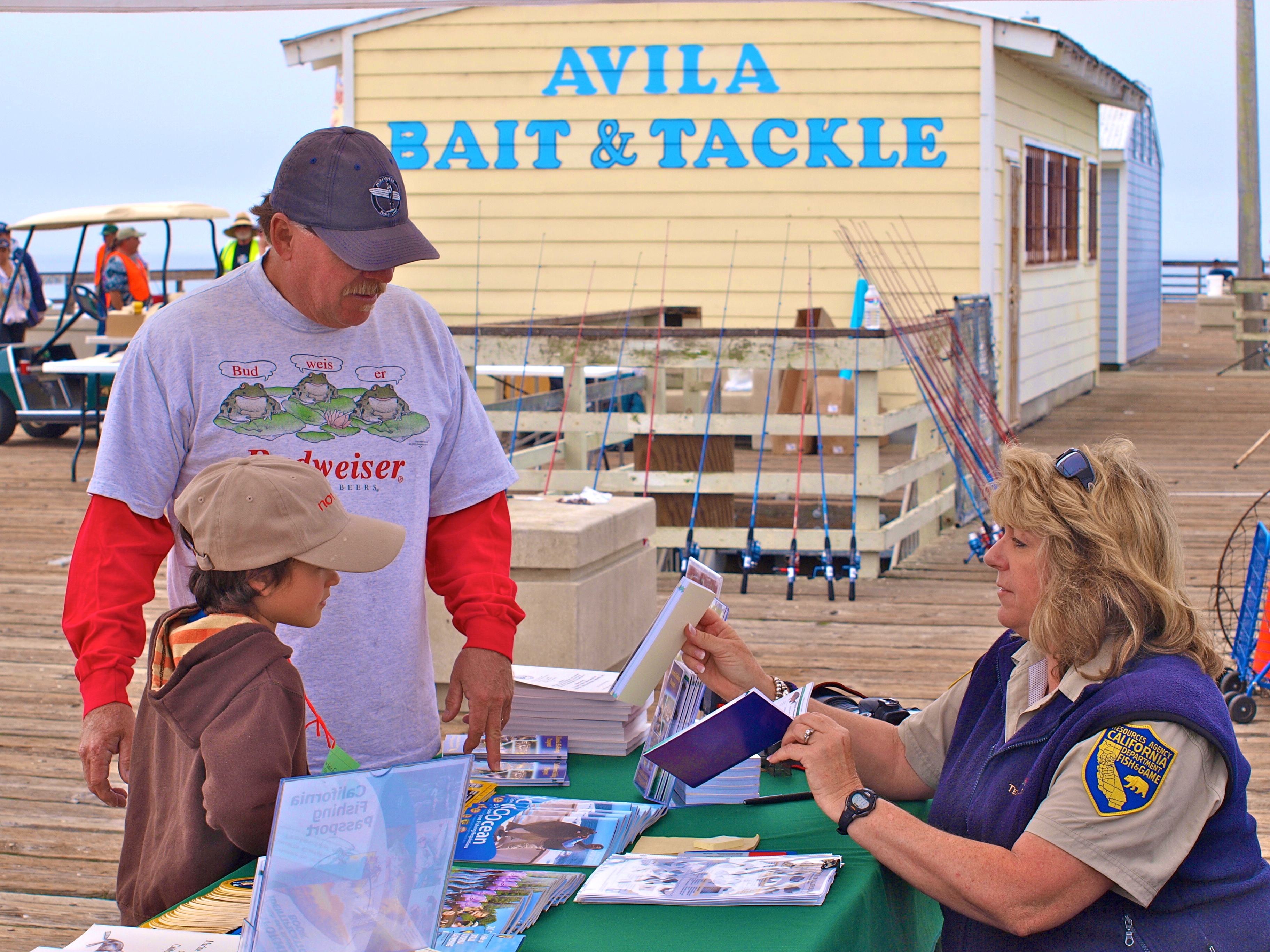 Carrie Wilson of the Department of Fish and Wildlife showing some of their literature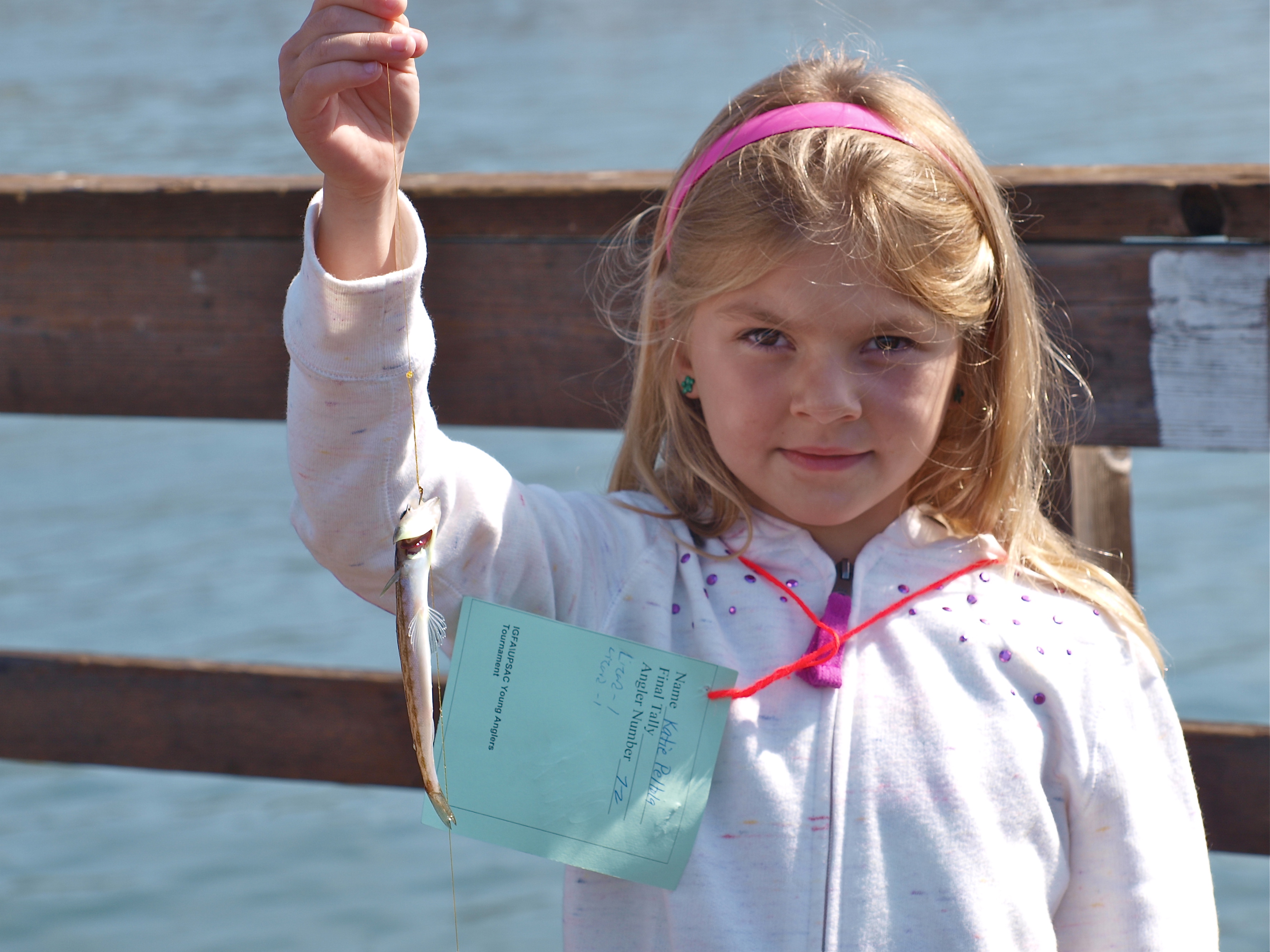 Granddaughter Katie with a lizardfish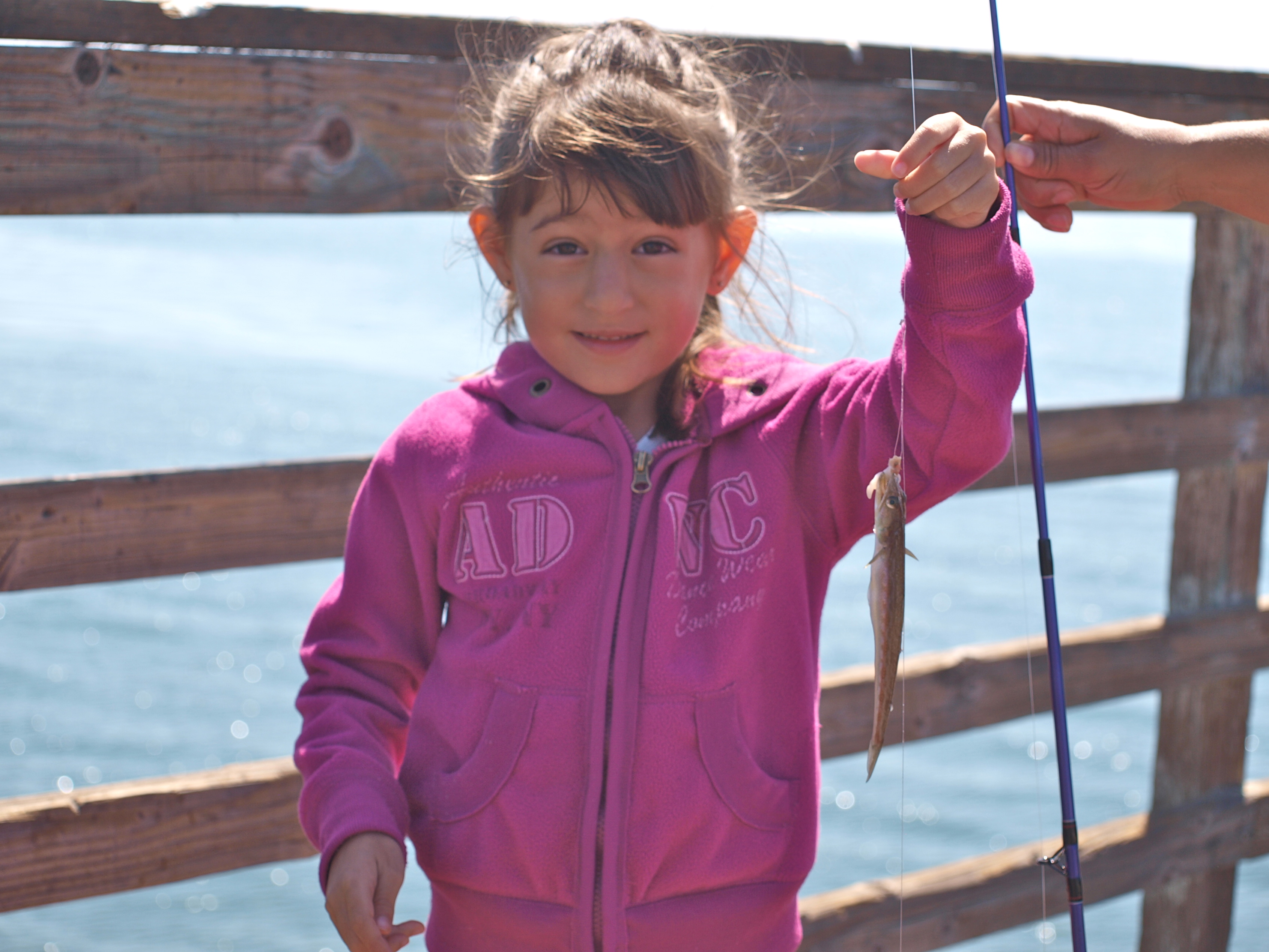 Another lizardfish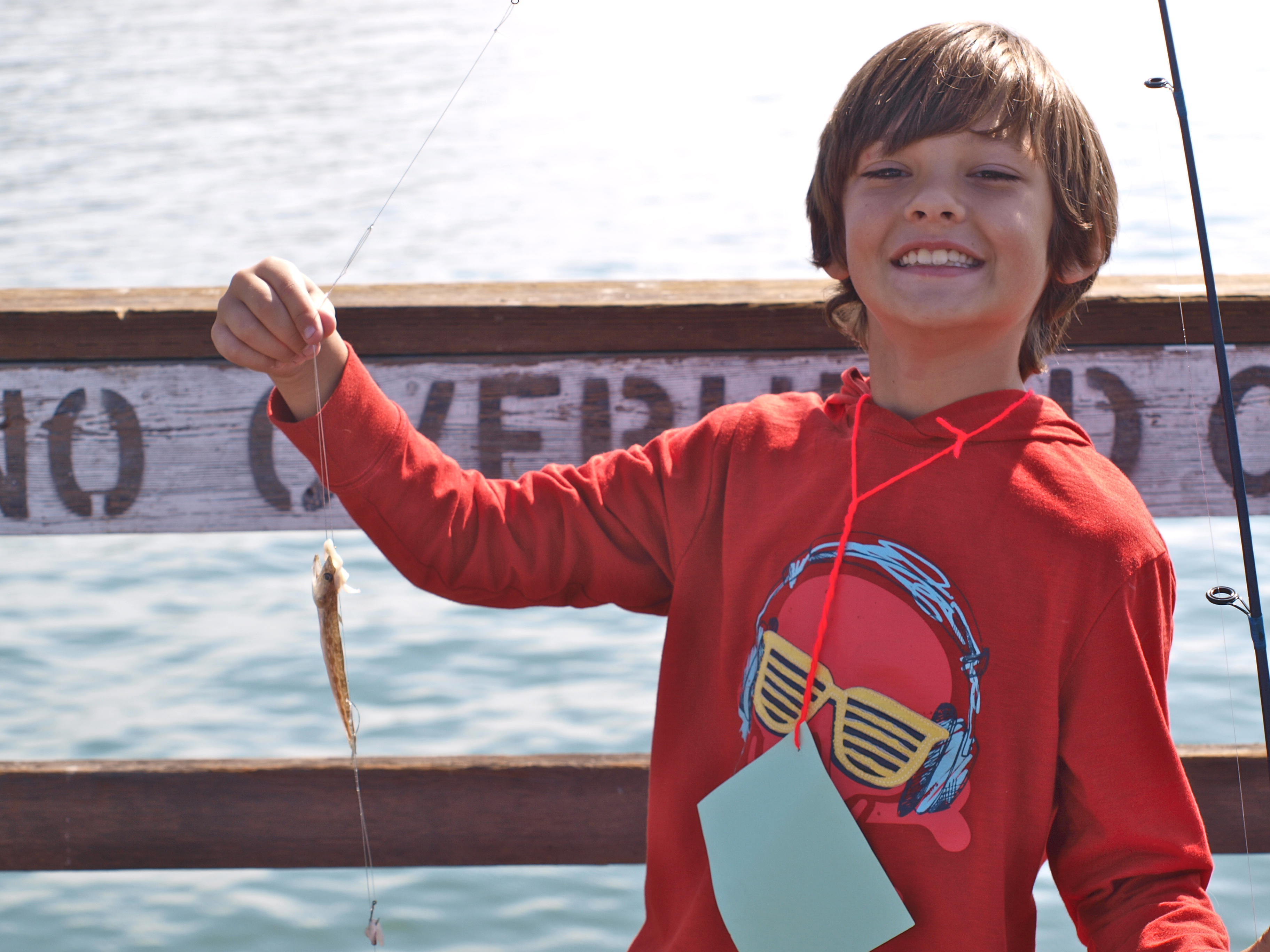 2013 was the year of the lizardfish — Grandson Adam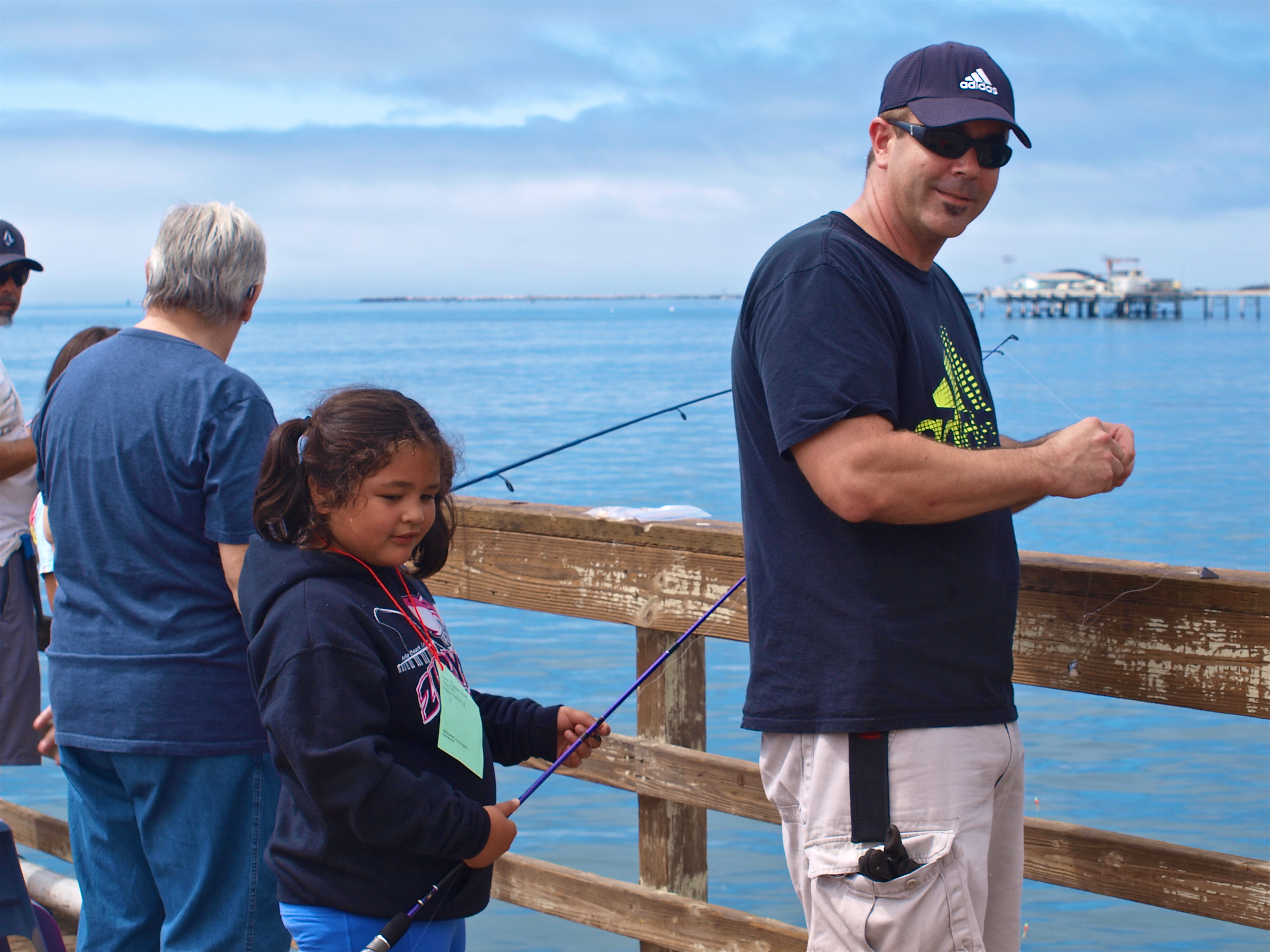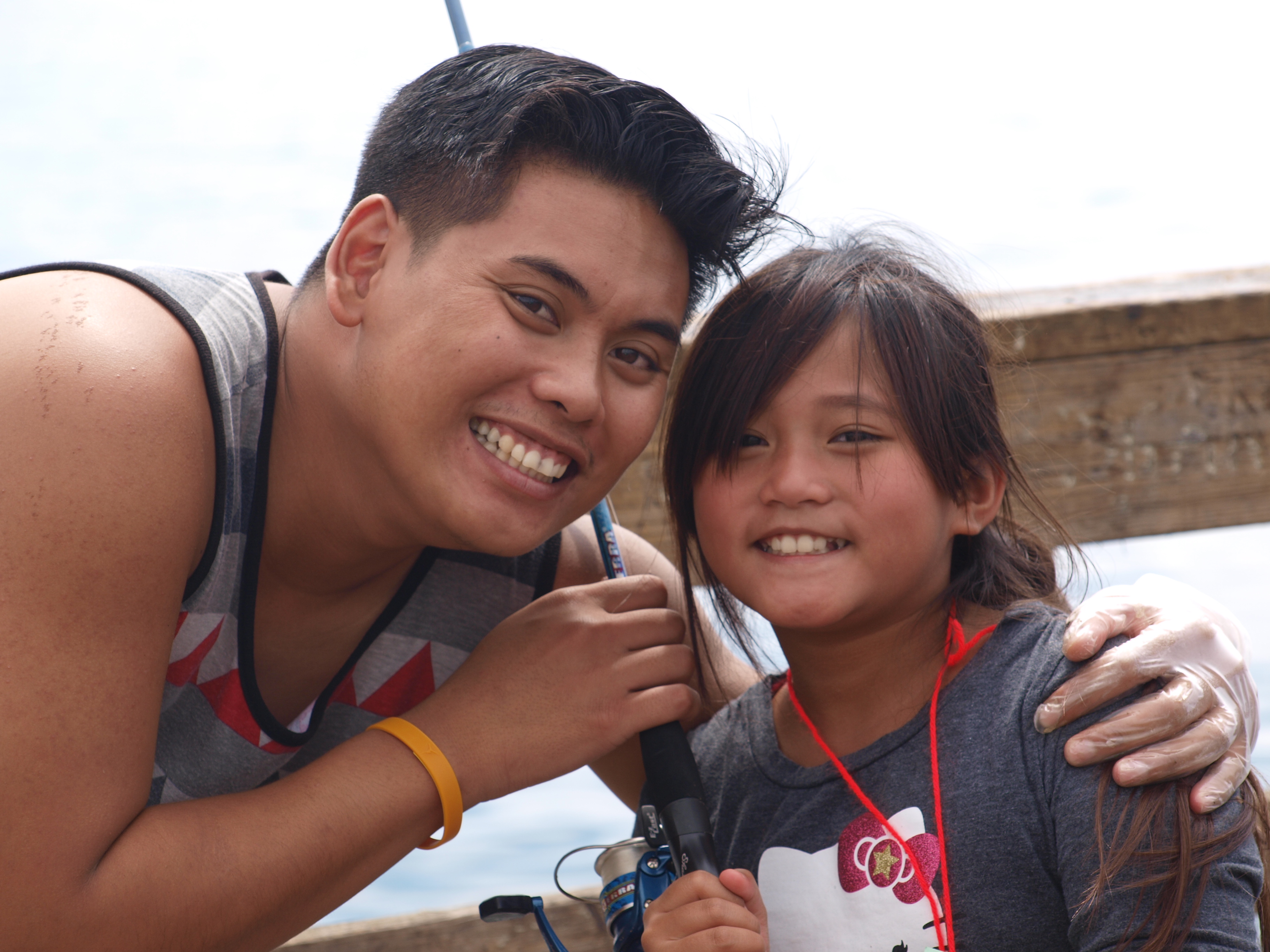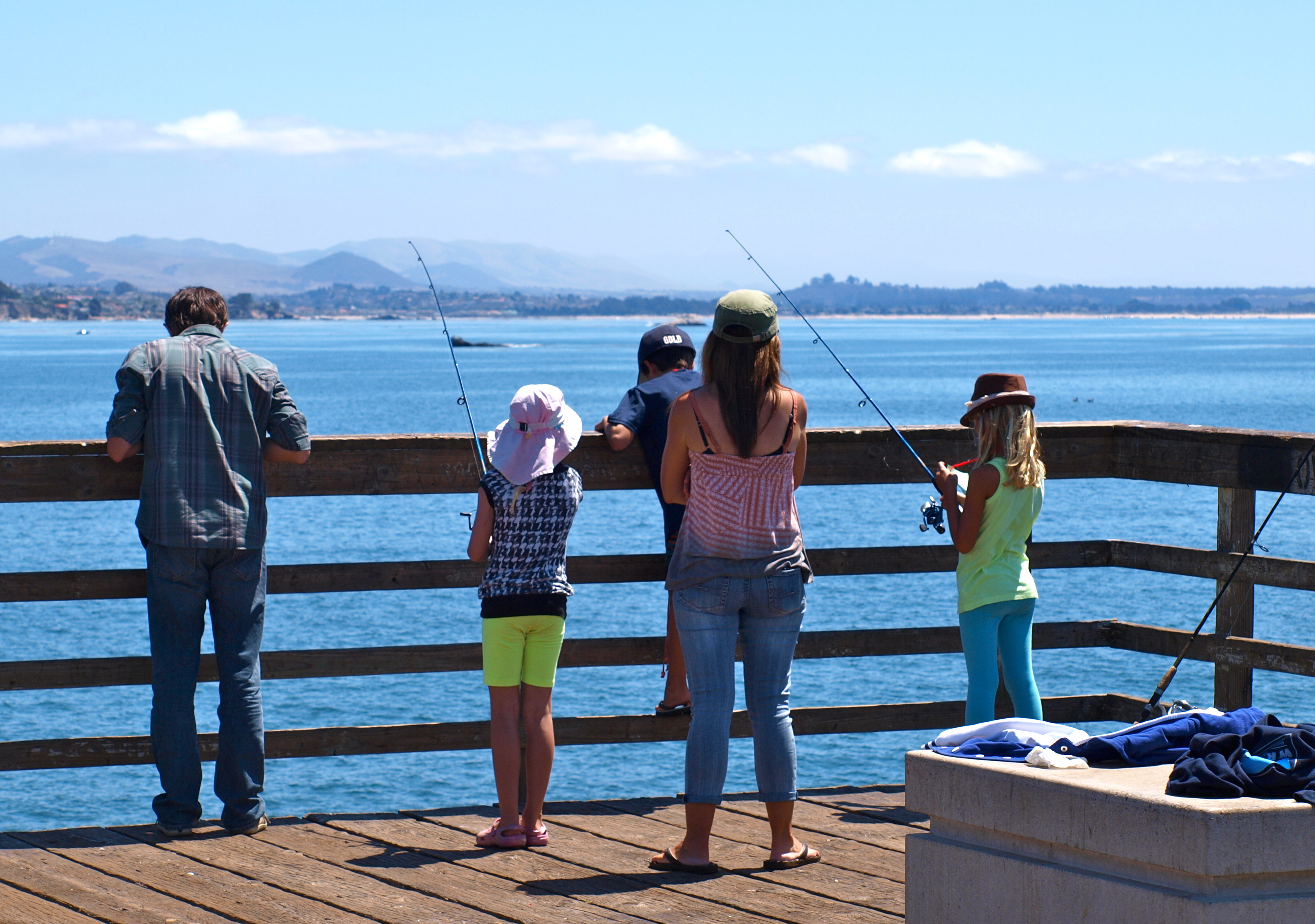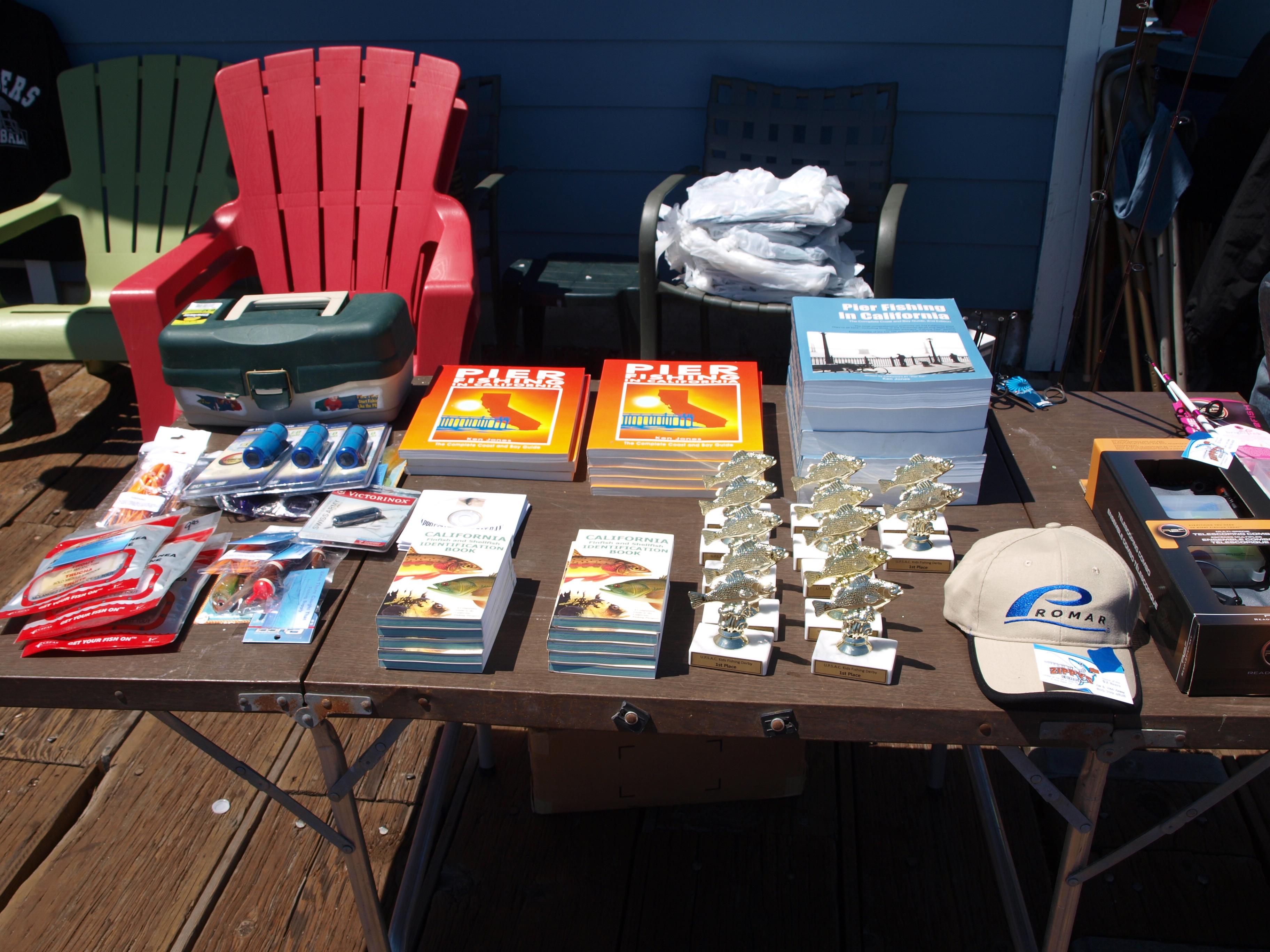 Some of the raffle prizes and prizes for the various age group winners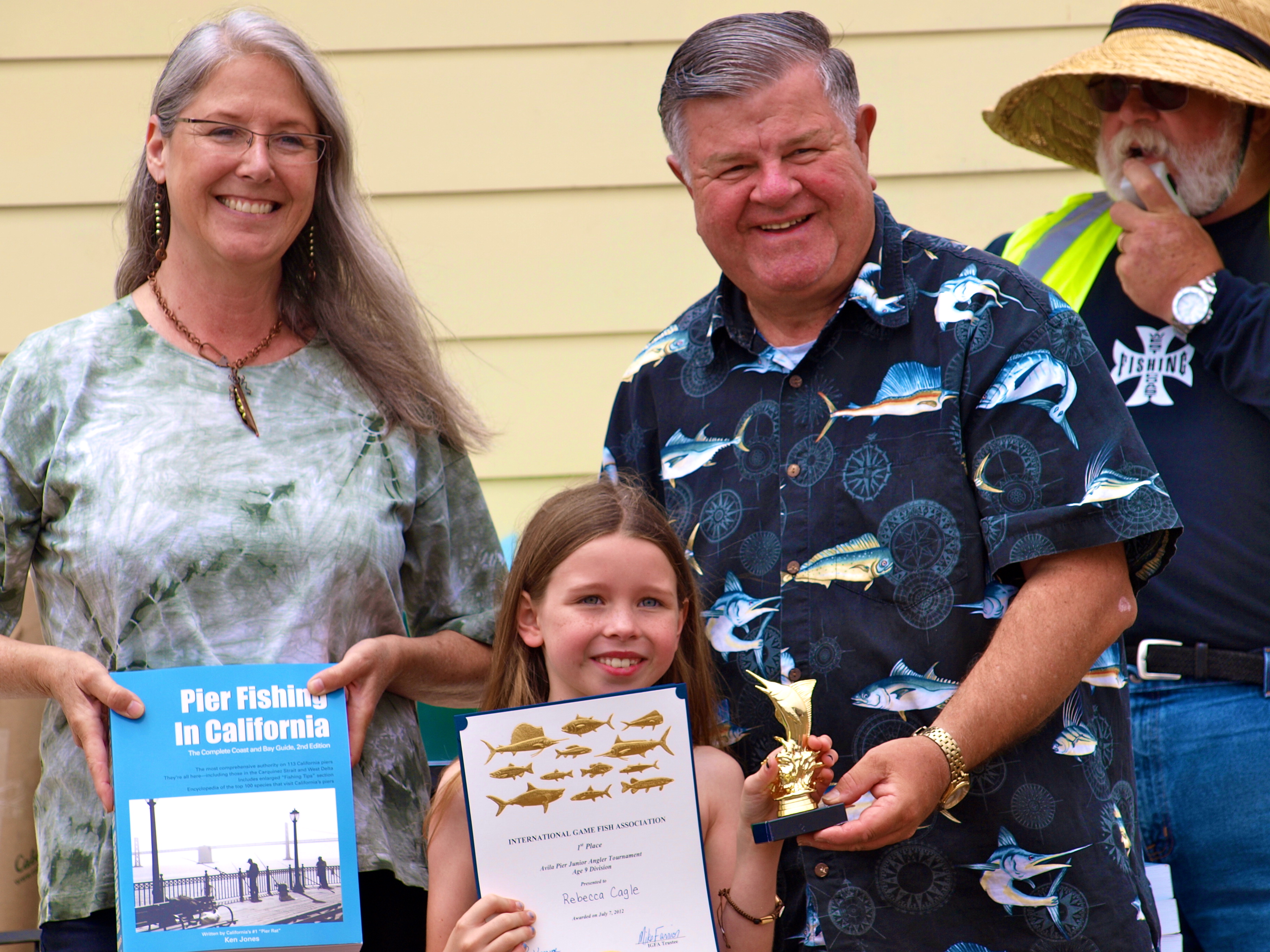 One of our many young winners
 <*}}}}}}}}}>< — Great white sharks always seem to add a certain element of thrill to a story and this bay has seen a number of the large beasts make visits during the past decade.
Shark Attack 
Avila Beach, San Luis Obispo County — A woman swimming among sea lions in the ocean off the Central Coast town of Avila Beach died Tuesday morning after she was bitten by what authorities believe was a large great white shark. Deborah B. Franzman, 50, was attacked as she swam alone within sight of beachgoers on the Avila Beach pier and of about 30 lifeguards training on the beach.
The shark struck from below, breaching the surface and tearing most of the tissue from Franzman's left thigh. Although no one saw the entire animal, a witness saw a gray fin in the churning water, and authorities said the nature and severity of the attack left little doubt it was a white shark. "The bite was fairly massive," said Robert Lea, a marine biologist with the state Department of Fish and Game. "The white shark is one of the few animals that could make a bite that large. From the description witnesses gave, everything indicates" it was a white shark.
Should the autopsy slated for today confirm that Franzman was killed by a shark, it would be the first fatal shark attack along the California coastline since 1994. Two men were attacked by white sharks off Bay Area beaches last year, but both survived. Despite the animals' fearsome reputation as relentless predators, attacks by great white sharks—and all sharks, for that matter—are exceedingly rare. There have been 106 shark attacks along the West Coast since the Department of Fish and Game began keeping statistics in 1952. Just 10 have been fatal. All of the deaths occurred in California, and at least nine involved great white sharks, officials said.
Authorities closed the picturesque beach in Avila Beach as well as those in Cayucos, Morro Bay, Oceano and Pismo Beach immediately after the 8:15 a.m. attack. The beaches reopened at midday, drawing hundreds of visitors, but authorities barred people from entering the water until further notice.
Avila Beach is a beach town of 2,300 people in San Luis Obispo County 241 miles south of San Francisco. Franzman lived in the nearby town of Nipomo and was a regular at the beach, officials said. Her teenage son, Alex Franzman, said his mother taught philosophy and ethics at Allan Hancock College in Santa Maria. She was a strong athlete who swam in the ocean three or four times weekly. She was often joined by friends, but she swam alone Tuesday when none showed up, he said. Her partner, who declined to comment, watched from shore as Franzman ventured into the sea. Franzman was about 75 yards from shore and 200 yards south of Avila Pier in water roughly 20 feet deep when the attack occurred, officials said. Authorities said she was well within the swimming boundary. As she swam, more than two dozen local lifeguards were training and competing in shows of skill just north of the pier.
Swimming With Sea Lions — Witnesses told investigators that Franzman, clad in a wetsuit and fins, was swimming among a pod of sea lions when the mammals suddenly vanished and something large and gray breached the water.
A friend of Franzman's screamed, "A shark's got her! A shark's got her," bringing five lifeguards dashing off the pier, said Casey Nielsen, head of the San Luis Harbor District, which has jurisdiction over the beach. One grabbed a passer-by's cell phone and called 911. The others dove into the water despite having no rescue gear and little idea what might be waiting for them, Nielsen said. "It was heroism," he said. "They knew someone was bit, and they went into the water and brought her to shore anyway. My first thought would have been 'Stay out of the water.'" The four men, who could not be reached for comment, pulled Franzman ashore and loaded her into a pickup truck, where they began cardiopulmonary resuscitation and tried to stop the bleeding. "A bunch of local lifeguards come out and drag her in, and she was bleeding. It was bad," eyewitness David Abbott, his voice cracking, told KCOY-TV in Santa Maria. Paramedics pronounced Franzman dead at the scene.
Signs Point To Great White —  Experts said the attack is typical of the white shark, an "ambush predator" that strikes quickly and from below with a devastating bite. One witness told investigators the animal bit the woman twice, but that could not be confirmed. "It appears she was bitten once primarily in the left leg, but there also is a wound on the right leg," said Lea of Fish and Game.
Few animals other than the white shark are capable of so large a bite, he said. The bite in all likelihood severed Franzman's femoral artery, contributing to her death, Lea said. Had the bite missed the artery, she might have survived the attack but would have undoubtedly lost her leg, he added. Lea said he will not know for sure it was a white shark until he examines the woman's wounds, which also may shed light on the size of the animal. "We know it's large, and large for a white shark can be anywhere from 12 to 18 feet," he said. Such an animal could easily top two tons, he said. Sharks do not prey upon humans, Lea said. Instead, researcher believe most attacks are "a case of mistaken identity" in which the animals mistake humans—especially those wearing fins or riding surfboards — for seals or sea lions, their primary prey.
The most recent California shark attack occurred last year on Thanksgiving Day, when Michael Casey was bitten by a 16-foot white shark while enjoying the surf at Salmon Creek Beach in Sonoma County. Casey, a Santa Rosa deputy city attorney, was bitten at least twice in the legs; the resulting wounds required more than 80 staples to close. Another surfer, Lee Fontan of Bolinas, was bitten four times by a 12- to 14- foot great white on April 30, 2002, near Stinson Beach in Marin County.
—Maria Alicia Gaura, Chuck Squatriglia, San Francisco Chronicle, August 20, 2003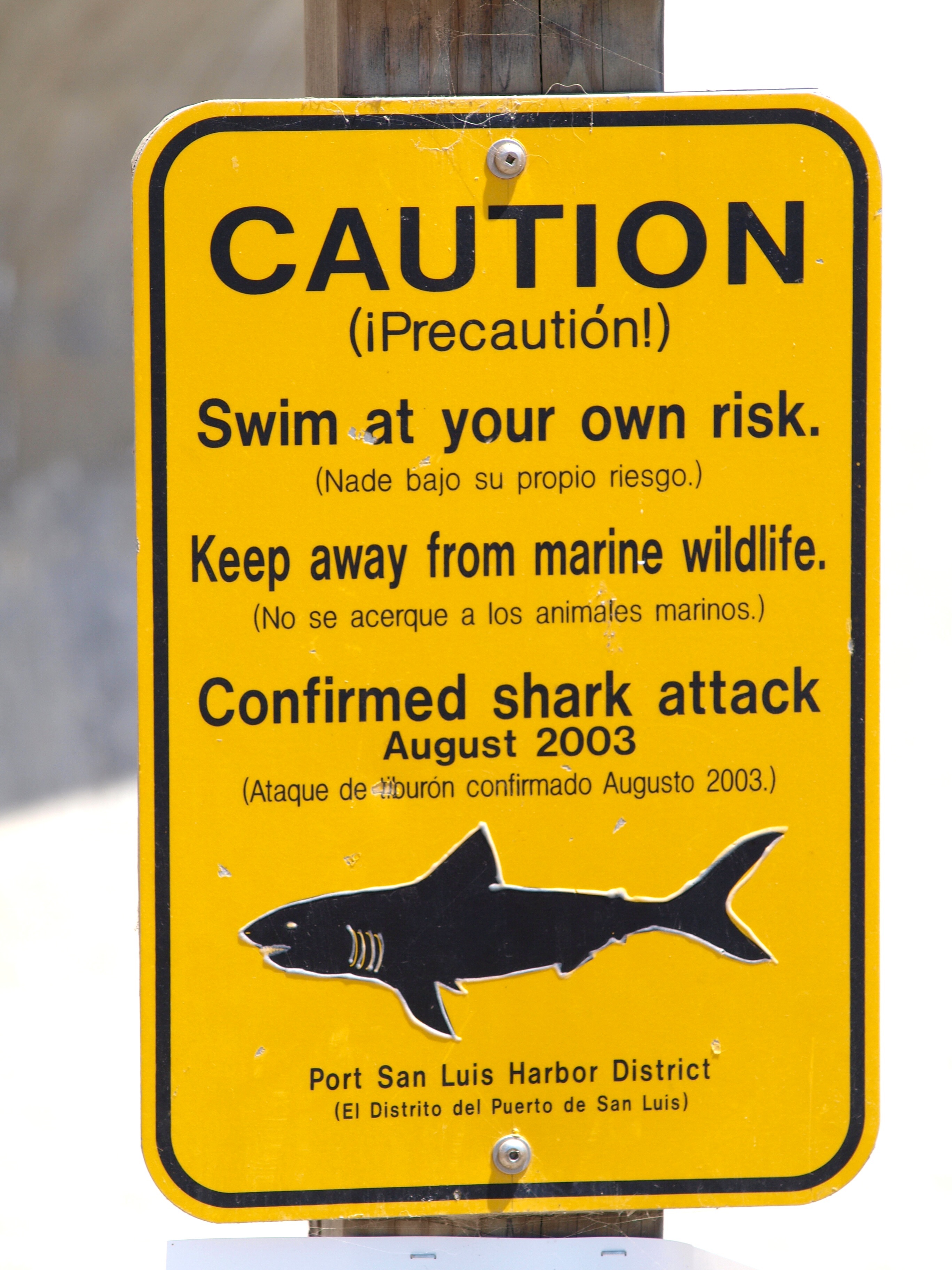 She died doing what she loved
AVILA BEACH—The fatal injuries Deborah Blanche Franzman suffered while swimming off Avila Beach were inflicted by a 15-to 18-foot great white shark, authorities said Wednesday.
Preliminary findings of an autopsy performed on Franzman, as well as expert analysis of her injuries, conclude she was killed Tuesday morning by an adult great white shark, according to sheriff's Lt. Martin Basti. Basti said Bob Lea, a marine biologist with California Department of Fish & Game, assisted in the autopsy and determined Franzman's injuries were consistent with a great white shark attack. Lea estimated the shark that attacked Franzman, 50, a Hancock College sociology instructor who frequently swam in the ocean, was between 15 and 18 feet in length—the size of a long-bed mini-truck. A great white that size would weigh between 2,700 and 4,000 pounds; the average mini-truck weighs 3,220 pounds.
Witnesses who were on the beach reported Franzman was swimming near a group of feeding sea lions when suddenly the sea lions disappeared, a dorsal fin appeared and the swimmer was pulled under the water. The most severe injury sustained by Franzman was the severing of her left femoral artery caused by a large laceration from a shark bite. Basti wouldn't say how many times Franzman was bitten. He did say a severed femoral artery would have required immediate medical attention, within one to two minutes, for a person to survive the injury. "It's catastrophic and not survivable," Basti said. Response time was quick, but when lifeguards reached Franzman, she was unresponsive. "She was floating on her stomach when I got to her," said Avila Beach lifeguard Tim Borland. "She was unconscious. We couldn't see (any wounds) on her body."
Usually, lifeguards aren't on duty at the beach until 10 a.m., but Tuesday the Port San Luis Harbor District was hosting a Central Coast lifeguard competition at the Avila Beach Pier. Borland, who was first to reach Franzman, and three other lifeguards where on the pier when they heard screams for help from the beach. "We just started running down the beach," Borland said. "None of us even saw the woman in the water. I was swimming with my head up because we didn't know what we were looking for." The four lifeguards said they didn't see the attack but knew they were likely in danger when they reached Franzman, who was bleeding profusely. "I don't think any of us believed what was going on (when we reached her)," said Pismo Beach lifeguard Billy Larsen.
After the attack, Avila Beach, Olde Port Beach and Fisherman's Beach were closed to all water activities and remained closed Wednesday. Casey Nielsen, Harbor District operations manager, said unless any new information is developed, such as confirmed shark sightings in the waters, the beaches would reopen today. Port San Luis Harbor District will post warnings that a person was attacked in the water. Pismo Beach and Oceano will have the same warnings signs. Nielsen said when the waters open, people will be urged to swim with caution—don't swim near marine animals that are feeding, swim in groups close to shore and swim where a lifeguard is present.
"This is the creature's home that we're entering," Nielsen said about ocean swimming. "We're entering their environment and need to be aware of that." Ocean swimmers are also cautioned to avoid early morning and late afternoon swims. After Labor Day, the Harbor District doesn't staff the beach with lifeguards. Nielsen said he expects to step up lifeguard patrol from now until the Labor Day holiday weekend.
—April Charlton, Santa Maria Times, August 21, 2003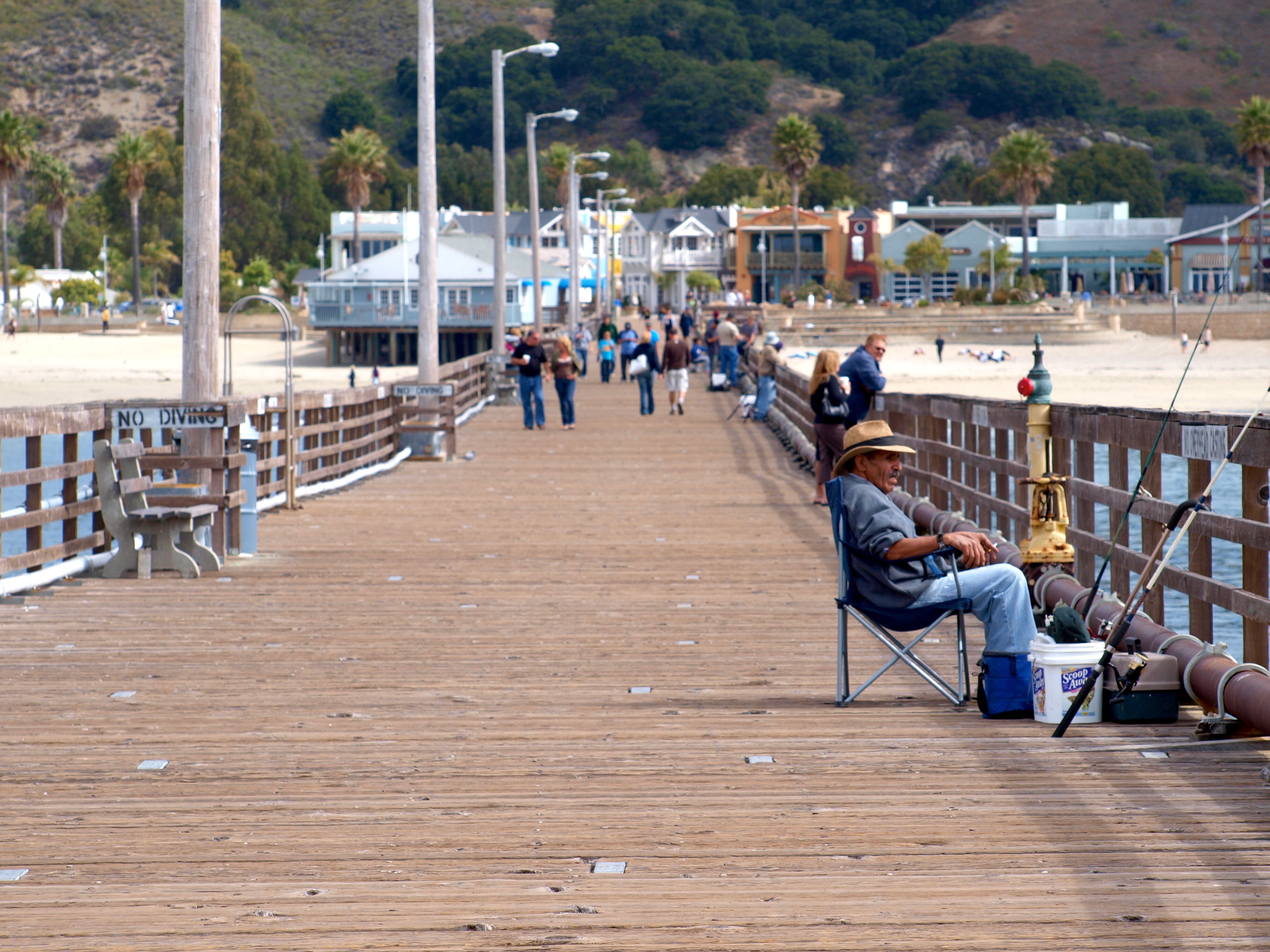 New shark sighting at Avila Beach
AVILA BEACH—An Avila Beach fisherman saw fear in a harbor seal's eyes just before a great white shark chomped its tail inches from his boat Saturday morning. Joe "Chovy" Dearinger was fishing for live bait between the Avila Beach and Unocal piers when he spotted the 18- to 20-foot shark breach as it lunged for the leaping seal 500 yards offshore.
Port San Luis Harbor District closed the waters at Avila Beach, Fishermen's Beach and Olde Port Beach just after the sighting was reported around 10 a.m. Operations Manager Casey Nielsen said the water would remain closed until further notice.
"It takes a lot to get me nervous and I was like, 'Oh my God,'" said Dearinger, a commercial fisherman at Avila Bay for six years. "It took me 15 minutes to calm down." He recounted the sighting while unloading anchovies just off the pier at Port San Luis. Just as Dearinger was about to drop and drag his fishing net by hand, he saw two harbor seals jump out of the 35-foot deep water—an unusual occurrence. Another seal leaped while the great white shark surfaced to grab the tail of its prey. "As the seal hit the water, the shark had its tail section in his mouth," Dearinger explained. "It was like something you see on National Geographic."
The fisherman saw the entire shark—including its large teeth gripping the seal and 21/2-foot high dorsal fin—as he stood at the rear of the boat, net in hand. He narrowly missed catching the shark in his net. If the shark had become entangled, it could have rolled the 45-foot boat, Mello Boy, according to boat owner Deke Wells.
In his 15 years of fishing at Avila Bay, Wells has never spotted a great white shark. Neither has partner Dearinger. Wells said the splash created by the seal and shark was so large he believed the culprit was a humpback whale. "That was a big damn splash."
The fishermen speculated the shark could have been the same that killed Nipomo resident Deborah Blanche Franzman last Tuesday. Besides the shark they saw Saturday, they spied one hours after Franzman was attacked. "He could be coming back to the scene of the crime," Dearinger said. "He knows there is food." Both fishermen said an exploding seal and sea lion population is attracting one or more great white sharks to the bay. "We've been saying it was inevitable," Dearinger said. They believe the food source will cause a shark to stay. "He ain't going anywhere," Dearinger said.