<*}}}}}}}}}>< — Amidst the exotic fish that have shown up at the pier is one species that you wouldn't want to eat! Although California Fish & Game reports simply give the location as the "Redondo Pier," newspaper accounts said the "Redondo Beach pier at King Harbor" — this pier.
The pier was the site of the first capture in California of a longnose puffer, Sphoeroides lobatus, a species more commonly found from Mexico to Peru and considered rare north of Magdalena Bay. That fish was caught on December 23, 1972, by an angler using live anchovies for bait. In 1978 a second longnose puffer was taken at the pier. 1972 was an El Niño year as was 1984 when four additional specimens were caught between late September and October.
Headlines in the Los Angeles Times reported, "Angler Had Death on the Line" in regard to a foot-long, longnose puffer that Scott McKelvey, a Redondo Sportfishing employee, caught on September 29, 1984. He reported he was fishing for yellowtail with squid from the pier when he caught the fish — "an ugly-looking creature whose stomach proceeded to blow up like a ball — it was like a blob."
As reported by the CA F&G, a second fish was caught the same day by James Sanders of Woodland Hills. Dan Armstrong, manager of Redondo Sportfishing, initially identified both fish and these two fish, as well as the one in 1972, evidently would up at Marineland of the Pacific in its "Baja Reef" display.
Two additional puffers would be caught on the pier on October 16. As reported in the Times, the Canadian angler who caught the last fish planned to keep and eat the fish until warned by the Sportfishing employees.
A decade later, during the 1997-1998 El Niño, longnose puffers were once again sighted in California. This time two of the fish were spotted near La Jolla.
There was considerable concern regarding the catches of the puffer fish. Although considered a delicacy in Japan where they are called fugu, they are also one of the most notorious and dangerous foods used by Japanese chefs, a fish that can cause paralysis and death within minutes.
In fact, one must have a license to even purchase the fish in Japan. In addition, Japanese chefs must serve a 2-3 year apprenticeship and then pass a rigorous exam to earn a license to serve fugu, which is considered an expensive delicacy (usually served in stew or as raw sashimi).
Given that most pier rats would have no idea what they have caught if they pulled in a pufferfish, and given the pretty much guaranteed fact that none of those pier rats would have been trained as fugu chefs, their lives easily could have been at risk.
The problem is that longnose puffers sometimes contain tetrodotoxin, one of the most violent fish toxins. If eaten there is a 60% fatality rate  (incoordination > salivation >weakness >nausea and vomiting >diarrhea >abdominal pain >muscular twitching >paralysis >convulsions >and death by respiratory paralysis). It doesn't sound like a particularly good way to go.
<*}}}}}}}}}>< — Barge fishing headquartered on the various "Redondo" piers was a long time tradition. Most operated from the Monstad Pier but the last few barges operated out of this smaller pier. I was lucky enough to fish from the last two barges—the California and the Isle of Redondo.
My favorite fishing trip on a barge took place on the California on July 26-27,1978. My seven-year-old son Mike and I were doing a pier hoppin' trip along the coast and had fished the morning at the Crystal Pier in San Diego before heading back north. I planned to fish the Redondo Beach Pier and possibly the Hermosa Beach Pier that night but hadn't made a motel reservation. Instead, I decided to spend the night on the barge as a cheap alternative to a motel so caught the ferry out at 7 p.m. I fished the entire night while Mike fished for a few hours before getting some shut-eye. There was an absolutely amazing amount of fish being caught. Mostly it was medium-sized bocaccio with some mackerel mixed in. People would catch some fish, head over to clean their fish, the guts and remains would be sent down toward the Redondo Submarine Canyon and apparently the waiting maws of fish because their was a steady stream of fishing showed up to partake of our fishy offerings. I managed to reel in 54 bocaccio, 14 mackerel, 5 sablefish, a rosethorn rockfish, a blue rockfish and a misplaced white croaker. I did manage to hook a large shark but after fighting it for quite a while (with undersized rod and line) it wrapped the line around the anchor chain and that was the end of the story.
All told it was 76 fish although I only kept my limit (and yes, I should have stopped fishing much earlier but you learn as you age). Mike and I headed back in to the landing on the morning shore taxi and preceded north to Malibu where we fished the pier a few hours (and had some more great action) before heading on up to Santa Barbara. At Santa Barbara we caught the 1/2 day boat Hornet where I caught 14 additional rockfish— blues, bocaccio, flag, honeycomb, starry, olive and vermilion. We got back in to the dock at 5 p.m. and were quite ready for the motel (and I had a reservation that night).
A few years later, in August of 1982, I fished the Isle of Redondo one night from 6:30-11 p.m. but the species were reversed—48 mackerel, 2 vermilion rockfish and one unusual squarespot rockfish.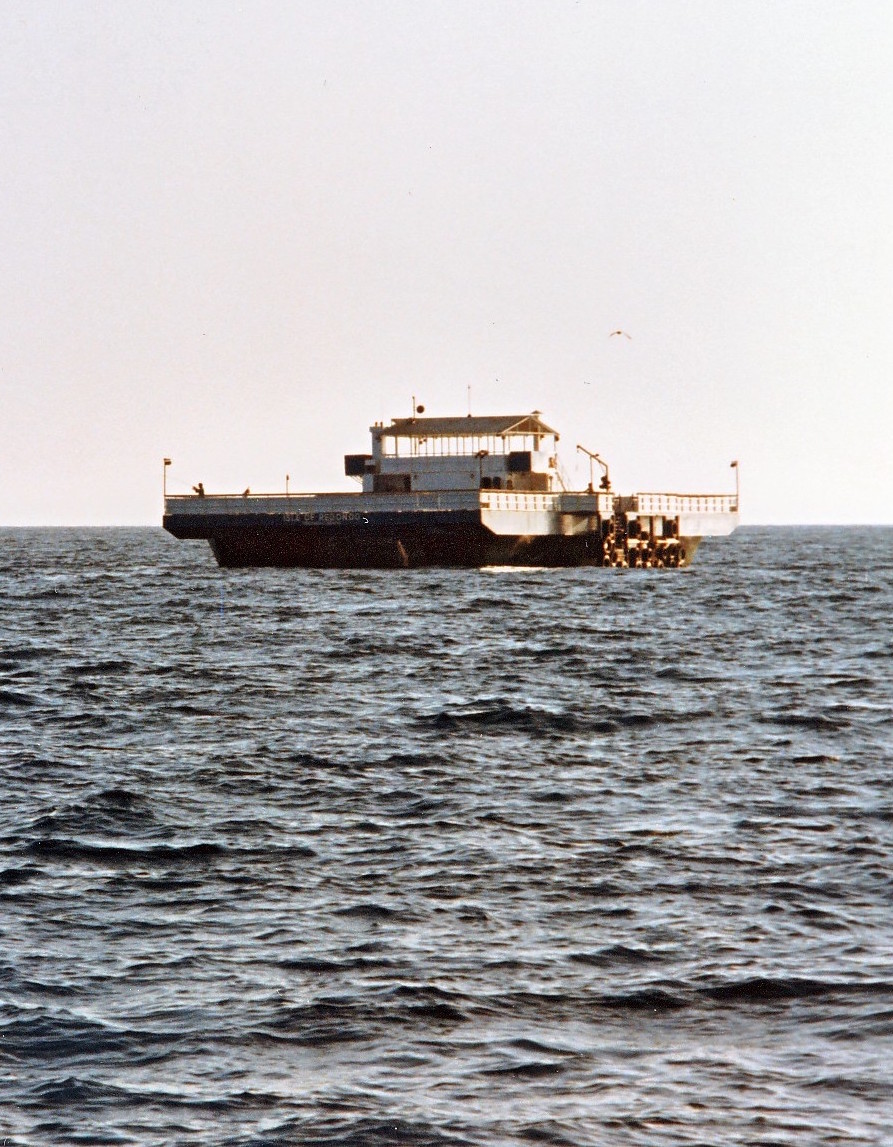 Isle of Redondo
Amazingly, almost every year on the PFIC website someone will ask "are the barges still around?" Of course the answer is no but several of the responses have been interesting:
Posted by Mola Joe on March 26, 2000— I have some great memories of fishing sharks all night on the Redondo Barge in the mid-'70s. Mostly blue sharks and the occasional mako but I'll never forget the night me and three friends each hooked the same big hammerhead one after another only to loose it each time. It came up in the lights on the stern and ate my mackerel that I had out on a Sabre 820 and a Penn 3/0. After almost getting spooled, it broke off right at the swivel above the leader. About an hour later here it is again in the lights and you can see my leader hanging out of his mouth. My buddy hooks it on a live mac and it does the same thing to him. Another hour later and it shows up again this time eating my other friend's 5-hook cod rig that he had just reeled up that had a chunk of mac on each hook. I still remember the vision of that hammerhead trying to eat all the baits on each hook, only to get the leader wrapped all around his head. The shark got pis… and my friend got an empty reel. The hammerhead looked about 200 to 300 pounds, not a giant, but every time we told the story for years after, it seemed like one of us would add another 200 pounds on that sucker. I guess by now that thing should weigh right around 1500 lbs.
Posted by Mike Mahr on October 17, 2003—California Coastal Barges. They originally used barges back during prohibition to drink and gamble on. Later, during the fifties and sixties, barges were popular from Santa Monica to San Diego. Off of Redondo, there was a barge named the Sacramento that was anchored off the Redondo Canyon in 220 feet of water. It sank during a bad storm. After that, another barge named the California was put out in open ocean, it also sank during a bad storm. All of these barges were decommissioned vessels that were used for fishing. During the late 70's, the owners of the previous barges off Redondo had a barge built specifically for fishing; the name was the 'Isle of Redondo.' The cost was around a million dollars (not a bad price). The barge was steel and had a catamaran hull for stability. 120 feel long and 60 feet wide; it could hold 220 passengers. I worked on this barge from 1980 to 1985. The owner also owned the bait boat, so the barge had a continuous supply of live bait. It was sold sometime later to an oil company out of Louisiana and they towed it through the Panama Canal and up to the Gulf. The reason that no more barges have appeared is the cost of liability insurance, labor and such. I believe that it could be done, but when you have too many people that get a cut of the profit it just doesn't pan out. When I worked out there we had EXCELLENT fishing for most of the year. Mackerel always; bonito, barracuda, yellowtail, sand and calico bass, and of course a wide varieties of rockfish. Mike
Posted by frozendog on August 27, 2004—When I was just a young pinhead my mother found out she could unload my best friend and me for a whole Saturday by driving us to Redondo and shipping us out on the barge for the whole day. She told the boat taxi skipper not to bring us back until 5 or 6 P.M. and she drove us home and we loved it. Today's kids [and moms] should have the same opportunity
<*}}}}}}}}}>< — Although not primarily about the pier, the following note gives a feel for harbor back in the '60s and '70s, the bonito, and "The Good Old Days."
Date: September 21, 2000; To: PFIC Message Board; From: Mola Joe; Subject: Reply to barbless & Redondo Harbor
I see that you fish Redondo Harbor a lot and I'm kind of curious if you fished it back in the late '60s or '70s when the big bonito were thick and eating just about anything that moved. I have a soft spot for this harbor as I learned more about fishing and probable caught more fish from it than any other place I have ever fished, including Mexico. It really was a unbelievable site to see the harbor packed with boats and the rocks lined with people, and just about everyone getting torn up by 4 to 8-pound bonito. When the Sunbeam unloaded anchovies into the receiver, the harbor turned into one big boil. Yellowtail showed up every summer and it's the place where I caught my very first one when I was 12 years old. The bubble hole would fill up with yellows every summer, and fly-lining a sardine or small mack on 12-pound line would get you at least 2 or 3 hits every morning.
Most people don't know of the huge resident population of spotted bay bass that live back in the basins where the docks are The harbor patrol knew me on a first name basis, as they kicked me out of docks at least once a week. I'm sure the fish are still there, but things are different now and you will get a ticket if they catch you back in there. The wall has always held big calicos, and I fished it at night just a few years ago and did really well. I was in a boat, but you can get them from the rocks as well.
If you're serious about targeting bigger fish, don't fish anything less than 25-pound line, and fish at night on an incoming tide. The secret bait that few talk about is a 5 to 8-inch baby octopus fished on a ¼-ounce head bounced along the rocks. I fish 50-lb Spider Wire on a heavy 9-foot Loomis rod and still break fish off in the rocks. You can buy the octopus at most Asian markets like the 99 Ranch Market. I know it sounds like overkill to use such heavy line, but until you hooked these big guys, you won't believe how hard they pull. There are more 5 to 10 pound calicos here than you would think, being so close to shore, but putting your hands on one is another story. Good luck and remember to put them back so you can catch them again next year!!!
Posted by barbless
It was a wonderful time… Hi Mola Joe! Well my story is that I was fortunate to grow up in Manhattan Beach in the 70's and 80's. As a kid I would go with my older brother to the Manhattan pier and watch as he and his friends would catch big bonito, thresher sharks, huge bat rays, etc. And then there was King Harbor. I remember being in awe as bonito just seemed to always be eating. You could always go there and catch fish all year. Ah, yes the good old days. My brothers and I still talk about those days and still shake our heads at how wonderful it was. And my brother and I also use to get kicked out of the docks all the time too. I've only recently been going again, as fishing took a back seat in my life… but no longer! I'm just starting to realize the fishery that is still left. It's really sad that almost every time out I see people poaching tiny bass and anything else they can get. The good news is that most don't know how to fish so at least some survive. That's why I release 99.9% of what I catch no matter what it is. Catch and release when done properly is a great thing. I'll have to try more of the night fishing. I've been pondering that of late so with your advice I guess it'll happen for sure. Thanks for sharing your memories with me and talk with ya later. Tight lines! <"))){