Currently closed but the city says it plans to construct a new pier (although no plans have been finalized or dates given).
The small (250-foot-long) Redondo Sportfishing Pier that served as the center for Redondo's Sportfishing fleet since being built in 1969, was declared unsafe and closed in 2017. Its closure did not mean the end of a Sportfishing fleet (it simply moved to an inner harbor berth) but it did spell the end, hopefully the temporary end, to a pier that was both unique and special.
It was a private pier that required a license but was often crowded simply because it yielded a lot of fish.  As a matter of fact, more fish were probably caught per angler than at the larger Redondo Beach Municipal Pier located just a short distance to the south.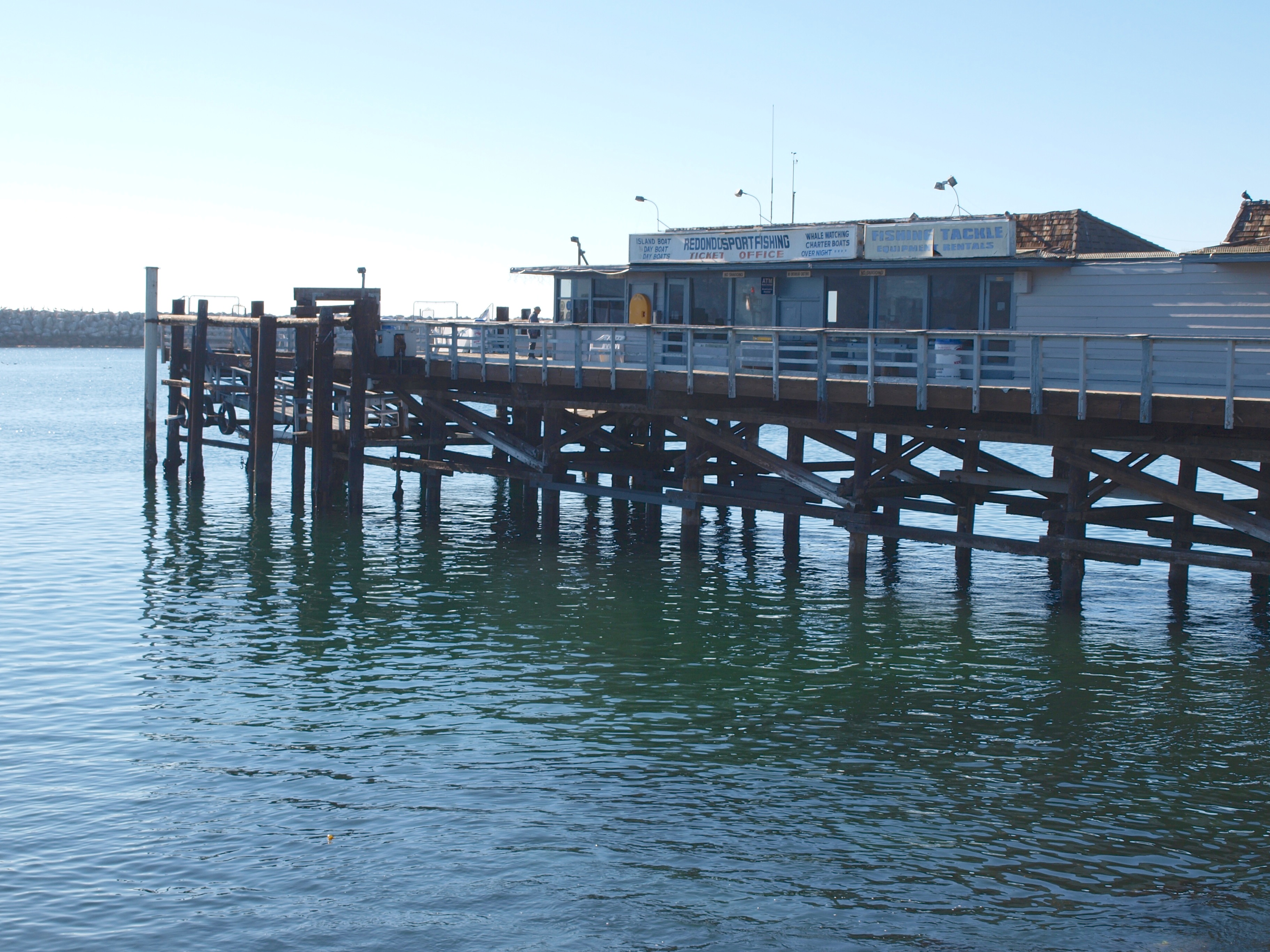 Part of what made it special were some of the unusual species of fish that showed up in the harbor and sometimes at the pier. I thought the most unusual visitors were a school of deep-sea skipjack tuna that made an unfortunate mistake and turned into the harbor one day (some sources say they were black skipjack—Euthynnus lineatus). And, the deep-water triggerfish and bullet mackerel that were caught are pretty intriguing. But then I heard the story of the swordfish (Xiphias gladius). For some reason a young, four-foot-long swordfish ventured into the harbor in 1992 and stayed for nearly a week. It occasionally would surface and attract crowds and eventually four different television stations filmed it. Many people feared it was injured and almost all hoped it would make its way back into the open ocean. It disappeared after a week and has not been seen since.
Another unusual species, one that actually seemed to have formed a resident population, is a school of broomtail grouper. The groupers, which are more commonly seen in Baja California, are sighted every winter in the harbor. Most of the fish seem to be between 30-40 pounds (so where are the babies?) but they range to over a hundred pounds and a few will be hooked most years. The best theory I've heard so far to explain their appearance (besides the warm water in the harbor) is that they are most evident when the schools of bonito enter the harbor. Even though the bonito are noted for their speed, they are prey for the grouper. After all, if you were a sixty-pound grouper, would you prefer a half-ounce anchovy for lunch or a five-pound bonito? The monster bass are an illegal species so if hooked needed to be returned to the water immediately and failure to do so meant a stiff fine at the very least.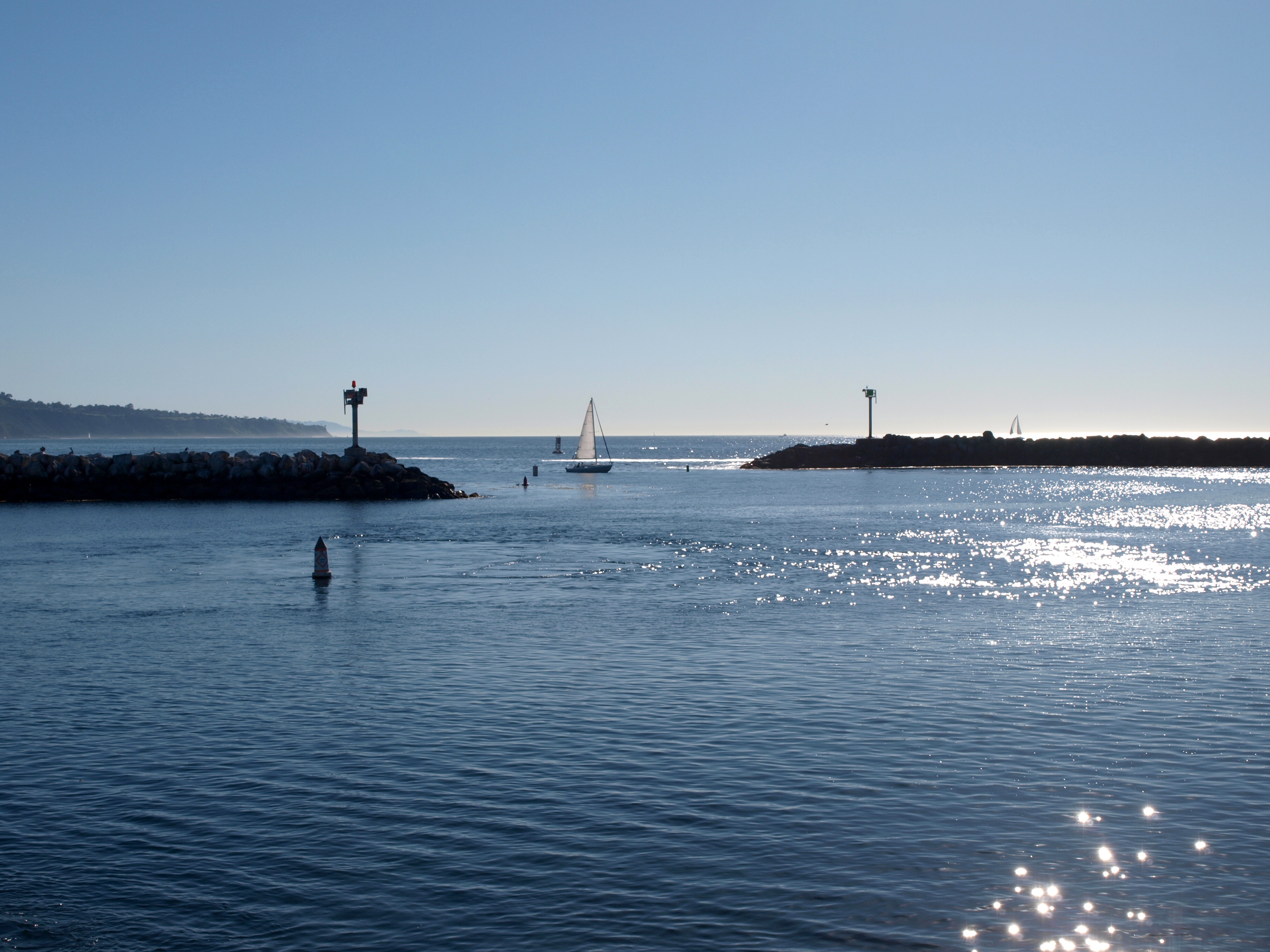 The entrance to the harbor
Environment. The pier's unique environment produced an olla podrida of large and small fish, common and uncommon species. Three separate factors were at play. The first and most important was the deep-water Redondo Canyon that sits just outside the entrance to the harbor. The canyon, which drops off to a depth of over 2,000 feet, produces a considerable upwelling much of the year. One result seems to be a funneling of rich nutrients, plankton, baitfish and larger fish (including some deep-water fish) directly into the harbor.
In addition, there are two warm-water outlets in the harbor that discharge water from the Southern California Edison generating plant that sits across the street. One is the famous "Bubble Hole" that emits heated water just 100 yards away from the pier. As a result, water in the harbor is warmer than that outside the harbor in the ocean (five to ten degrees warmer during some winters). The warm water attracts bonito; in fact, the harbor is known as one of the best spots for bonito in southern California (and almost always is the best spot during the winter).
Many, many bonito were caught at the pier. Some years would also see fairly good runs of small (firecracker-size) yellowtail at the pier. The sight of a lowly pier rat fighting and landing a yellowtail was, I am sure, somewhat unnerving for some of the deep-sea anglers patiently waiting in line to board a Sportfishing boat. After all, they had paid more money and faced a sometimes long and bumpy ride to have a chance at the yellowtail. There chances were better both for quantity and quality fish but there was no guarantee.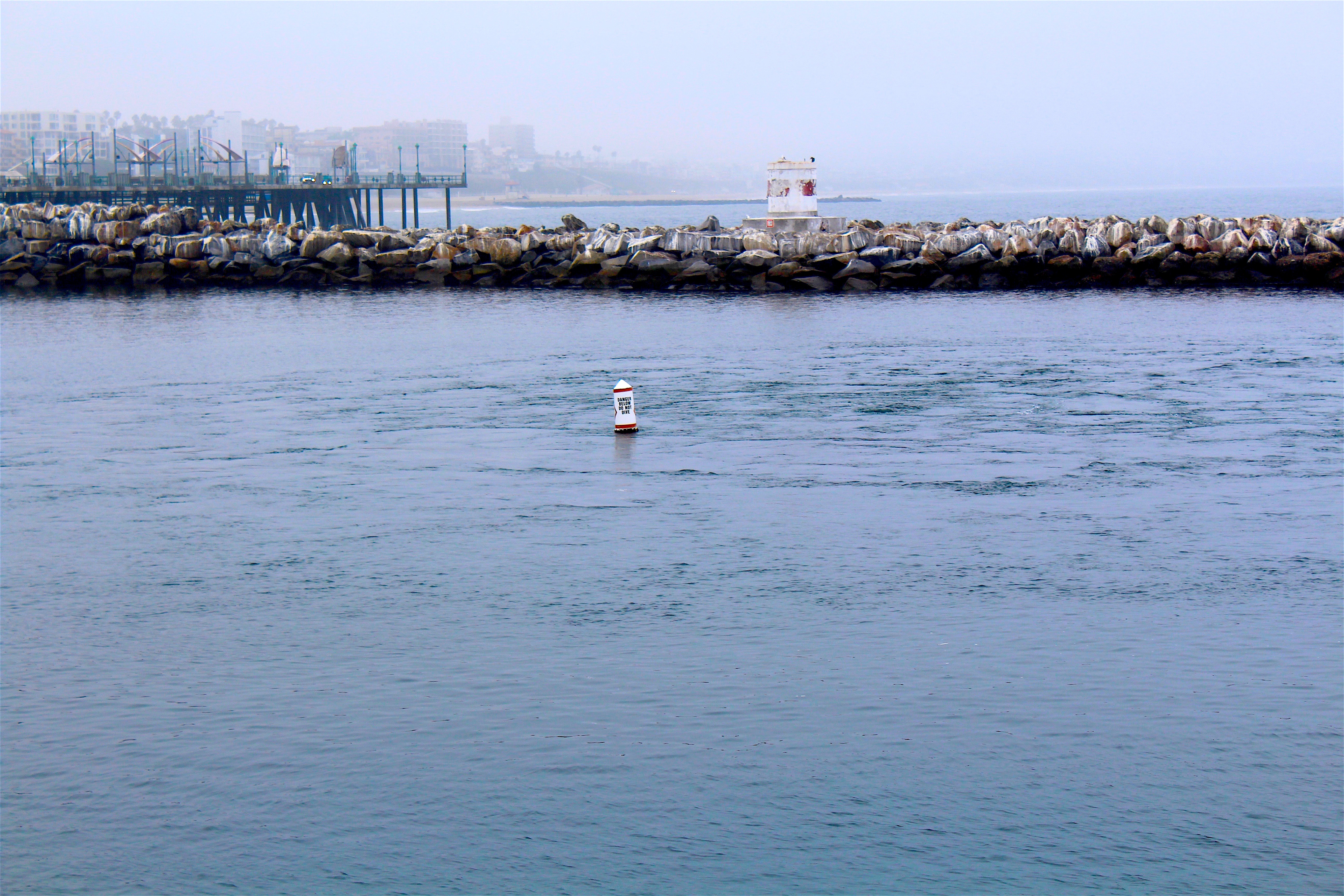 The "Bubble Hole" and the main Redondo Beach Pier in the background
However, this second factor, so important for the warm-water species, had seen change. In 1998 a new company took over the power plant and they decided to change the system that the Edison Plant had used for nearly 40 years—sucking in cold water from the harbor and releasing hot water back into the harbor via the "bubble hole." Stopping the release of the warm water had, of course, an adverse affect to the harbor's fish, especially the bonito. Eventually the plant was shut down but then it was resold and reopened. Today the warm water releases appear to be once again occurring although not on a daily basis as was once the case. Thus the results can fluctuate to a much greater extent than once was the case. Regulars, by the way, watch for smoke emanating from the power plant. When they see it they figure the hot water discharge is back and flock to the harbor.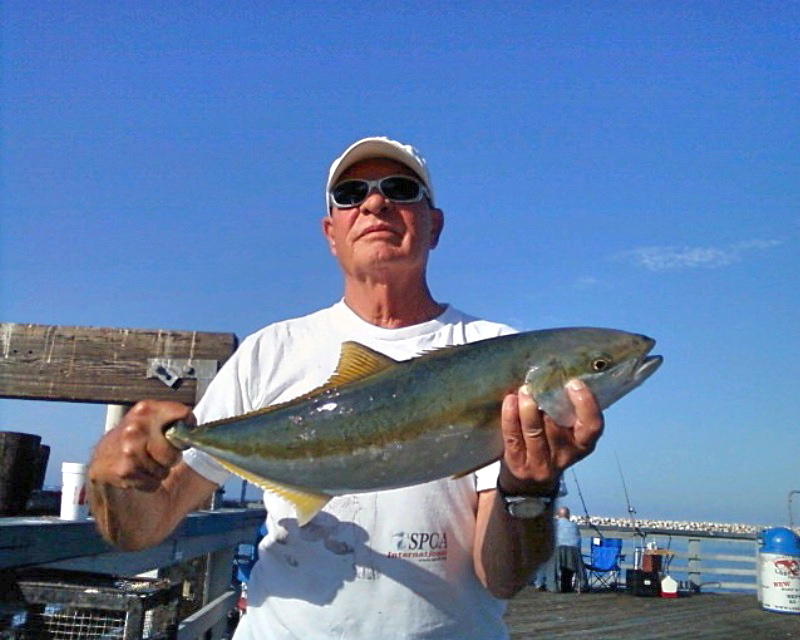 A small yellowtail
A third factor was the benthic bottom region around the pier. Although the pier was located over a sand-and-mud bottom, there were a considerable number of rocks and debris under and around it. One result was that a lot of rocky shore species were caught including seaperch (black, rubberlip, white and rainbow), opaleye, halfmoon, blacksmith, senorita, rock wrasse, kelpfish, salema, sargo, sculpin, bass and even an occasional sheephead.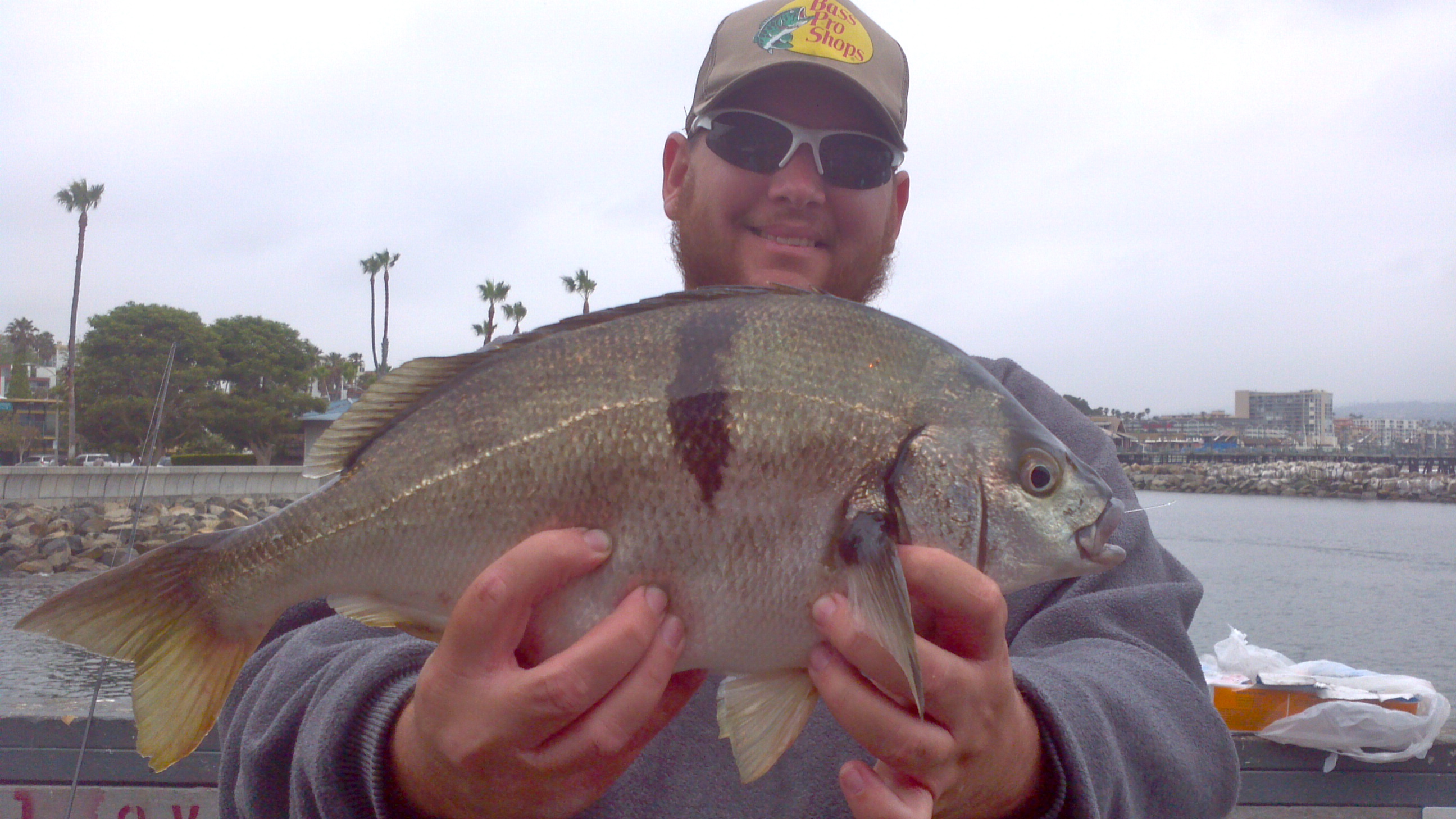 Sargo
The pier was not a great place to catch the smaller schooling species that prefer sandy environments, species like walleye surfperch, queenfish, or white croaker, but who really cares when you have these more favorable species? However, small flatfish were occasionally seen, flatties like CO-Sole and Diamond Turbot. The end section, which gave access to the deepest water, produced a lot of sanddabs although most were small speckled sanddabs. In addition, pier anglers also caught a few spider crabs and spiny lobster from these waters.
I used to think the pier was poor for halibut, especially when compared to the nearby larger Redondo Pier.  However, a 25-pound halibut was caught on a Worm King in July of '02 and a 40-pound fish was taken on a live sardine in August of 2010 (although some say it weighed 38 pounds). In fact, that August saw a terrific one-week run of halibut that included the largest fish, a 25-pound fish, and three 20-pound fish. All were taken in one week's time and all were caught on live sardines.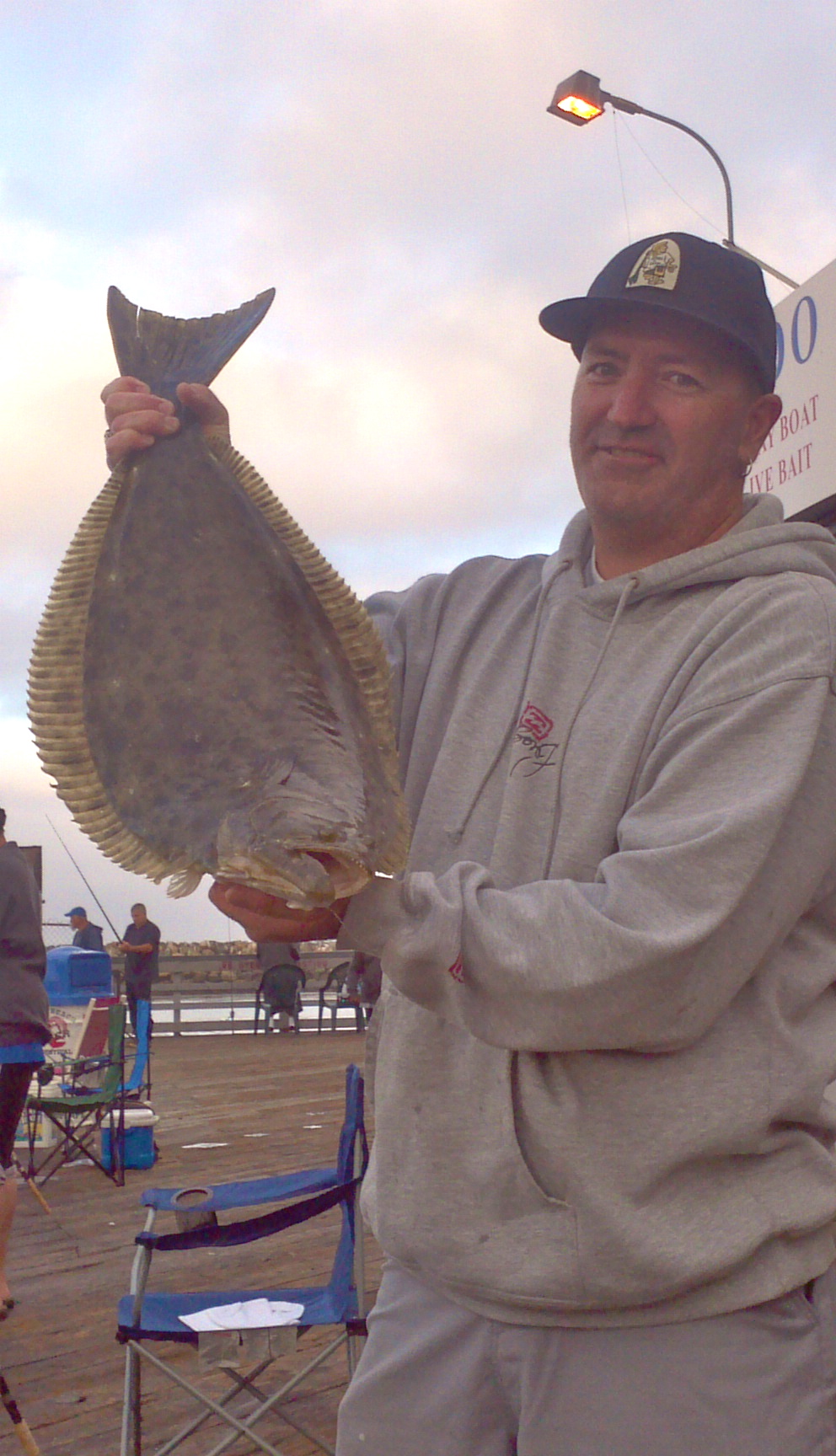 Halibut
Although there are other piers located close to deep-water canyons, and some with both rocky and sandy areas, none matched the three fish attracting features as this pier.
Fishing Tips. Anglers here were presented two almost completely different options for fish. Excellent action could take
place for the pelagic species from the mid-pier area to the end. For those fish, one cast out away from the pier (toward the famous Bubble Hole), and used small feathers, spoons, live anchovies and live sardines, or small strips of bait (anchovy or squid) behind a cast-a-bubble. Bonito, Pacific mackerel, jack mackerel, and sometimes barracuda or even yellowtail would be the reward. White seabass made an occasional visit and sometimes they were good-sized, legal fish but you had to hit them when they were there. The end section was also been reported to be a good area from which to catch spiny dogfish (at least in some years) although I had never seen any of the twisting little sharks in my visits to the pier.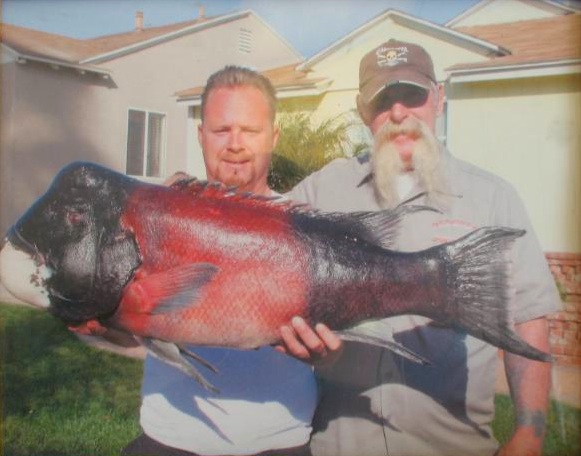 29.7 pound sheephead
Additional fish taken at the end included sanddabs, needlefish and sheephead. In February of '08, a 29.7-pound sheephead was landed at the end of the pier. It was caught on a live squid and topped the 21-pound goat caught in February of 2001. I caught quite a few white seaperch and pileperch using worms and ghost shrimp from the far right corner of the end (with a diagonal cast from the end).
This could be an excellent pier for bass—calico bass (kelp bass), sand bass (barred sand bass), and bay bass (spotted sand bass). In fact, when kelp was thick in the harbor (it grows fast in colder water years and thins out in warm-water El Niñoyears), calico bass became the number one fish for the pier anglers making up probably 90% of the catch albeit most were under the 14-inch legal size.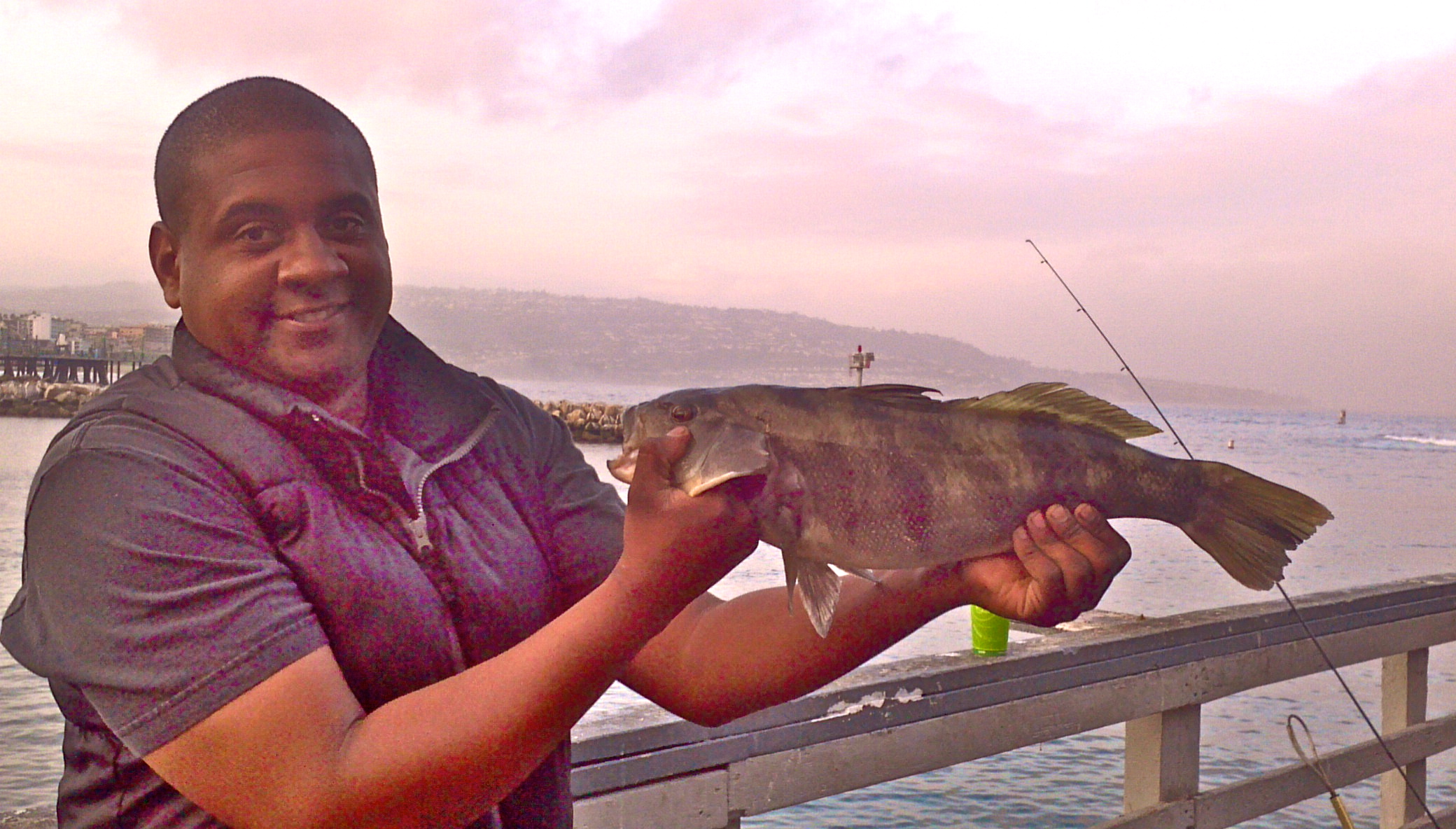 Nice sand bass
Nevertheless, an occasional bigger fish was caught including a 7-pound calico that showed up in June of '09. Some big sand bass were also caught as seen in a hefty 8-pound fish in May of '09. Regulars say that quite often the bass only show up around 5-7 A.M. in the morning, and then again in the evening (although I caught kelp bass throughout the day), and they hit best on an incoming tide. What to use? Plastics were one answer, especially Worm Kings, Big Hammers and Scampis. Live bait and cut bait (especially anchovies) would also work on the feisty bass. By the way, the trio of local bass had been joined by a few striped bass over the last decade, wanderers who traveled a long way from their northern home; a 21-pound striper was landed in July 2012.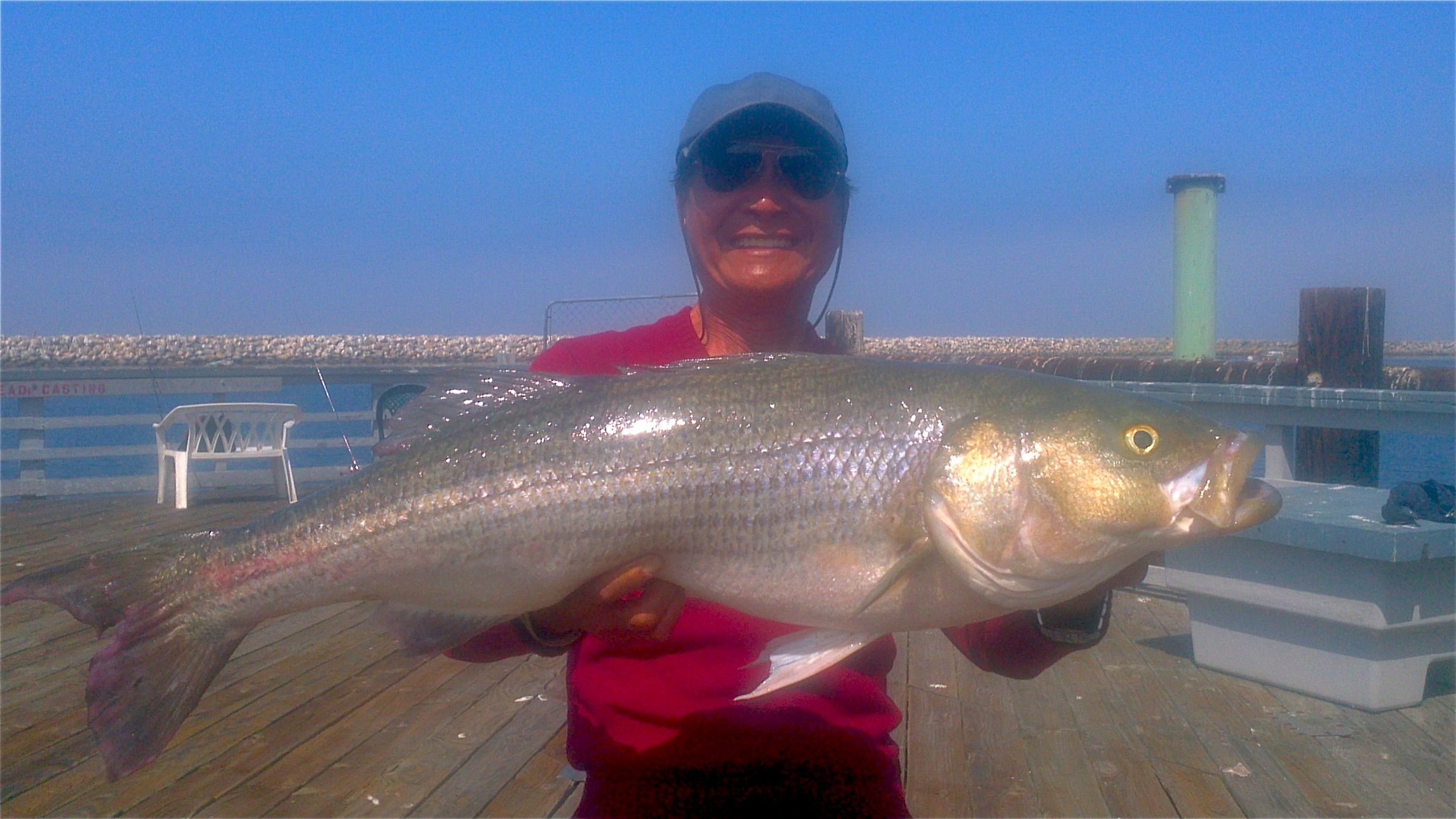 A good-sized striped bass
Anglers fished the inshore half of the pier, on the bottom and under the pier, or by the inshore rocks, for rocky-shore species. An amazing number and variety of small rock-frequenting species were found here. In fact, this was the only mainland pier that nearly duplicates the catch of the Catalina Island's piers, albeit in much smaller numbers. For these species, anglers used fresh mussels, bloodworms, lugworms, ghost shrimp or small pieces of shrimp as bait. They had to keep the hook size small, no larger than a number 4, and keep the line light.
This was also a good pier for California scorpionfish (sculpin); anglers fished on the bottom with anchovy or strips of squid and had to be careful of the spines when handling the scorpionfish.
At times some nice halibut were also been landed although, as noted, the pier wass never really been viewed as a prime halibut pier. Live bait was of course, the key if you were seeking out the flatties.
Regulars who fished the shoreline area often create a feeding frenzy by throwing bread into the water. Most commonly a mass of opaleye would converge, making a "meatball" of fish one to three feet thick. Once stimulated, the fish would strike almost any bait. The best method, however, was to cast out a size 8 hook baited with a small piece of bloodworm, a couple of frozen peas, or moss which you have collected. If you just wanted opaleye, sticking to the peas and moss was effective; if you wanted other fish you tried the worms, small strips of mussel or squid, or small pieces of shrimp. At times there would be mixed schools of opaleye, blackperch, senorita, rock wrasse, salema, kelp bass, blacksmith and the beautiful, but illegal to keep, garibaldi; usually in the lower levels of the water. Above this school would  be a different school made up of topsmelt, jacksmelt and shinerperch. The angler could decide which fish he wanted by the bait he used and depth he fished.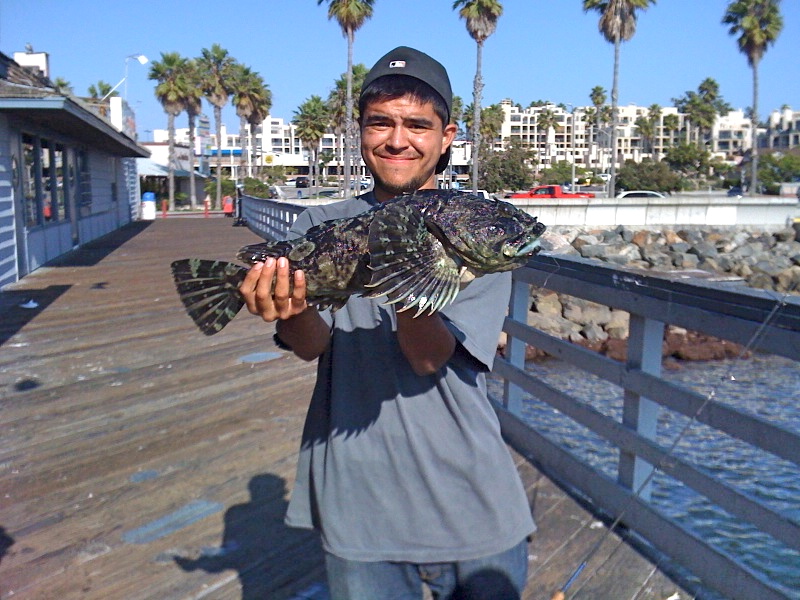 Cabezon
The ubiquitous senorita, notorious for their bait stealin' abilities, could drive you nearly crazy at times. The small but feisty fish would  attack almost any bait but were especially fond of soft-fleshed baits such as mussels and worms and could strip the bait from hooks in a matter of seconds. However, they were a pest that you had to put up with if you wanted the other, more desirable species. You could try mussels or worms that have been salt-cured to toughen them up but you would still lose some bait.
If the tidal conditions weren't too difficult (you needed a mild current), you could also drop your bait down into the crevices and small pools that sit amongst the inshore rocks. You had to do it carefully, and be prepared to retrieve instantly when a fish hit your bait or your rigging would likely be lost under a rock. However, the result was often  fish such as opaleye, blackperch, cabezon, and giant kelpfish. I've even taken a few smaller fish that are rarely seen at most piers—rockpool blenny (Hypsoblennius gilberti), spotted kelpfish (Gibbonsia elegans) and striped kelpfish (Gibbonsia metzi). All were caught fishing in the crevices down among these rocks.