Public Accesss piers — some of which require a license
Streets that end at the bay along Morro Bay's Embarcadero, those between Beach and Anchor Streets, provide public access, several in the form of small viewing/fishing platforms. None are very big, facilities are limited, and during the day they are heavily visited by tourists seeking out the perfect spot for a "Kodak" moment. Nevertheless, the platforms can provide some good fishing access, especially when the T-Pier's are crowded with boats. The major caveat is that morning and evening hours are by far the best time to visit them and if you decide to do some shark fishing at night (a tradition here) you will probably need to bring a lantern along since lights are rare.
Dunes Street/Anchor Park Pier — Public Pier, No License required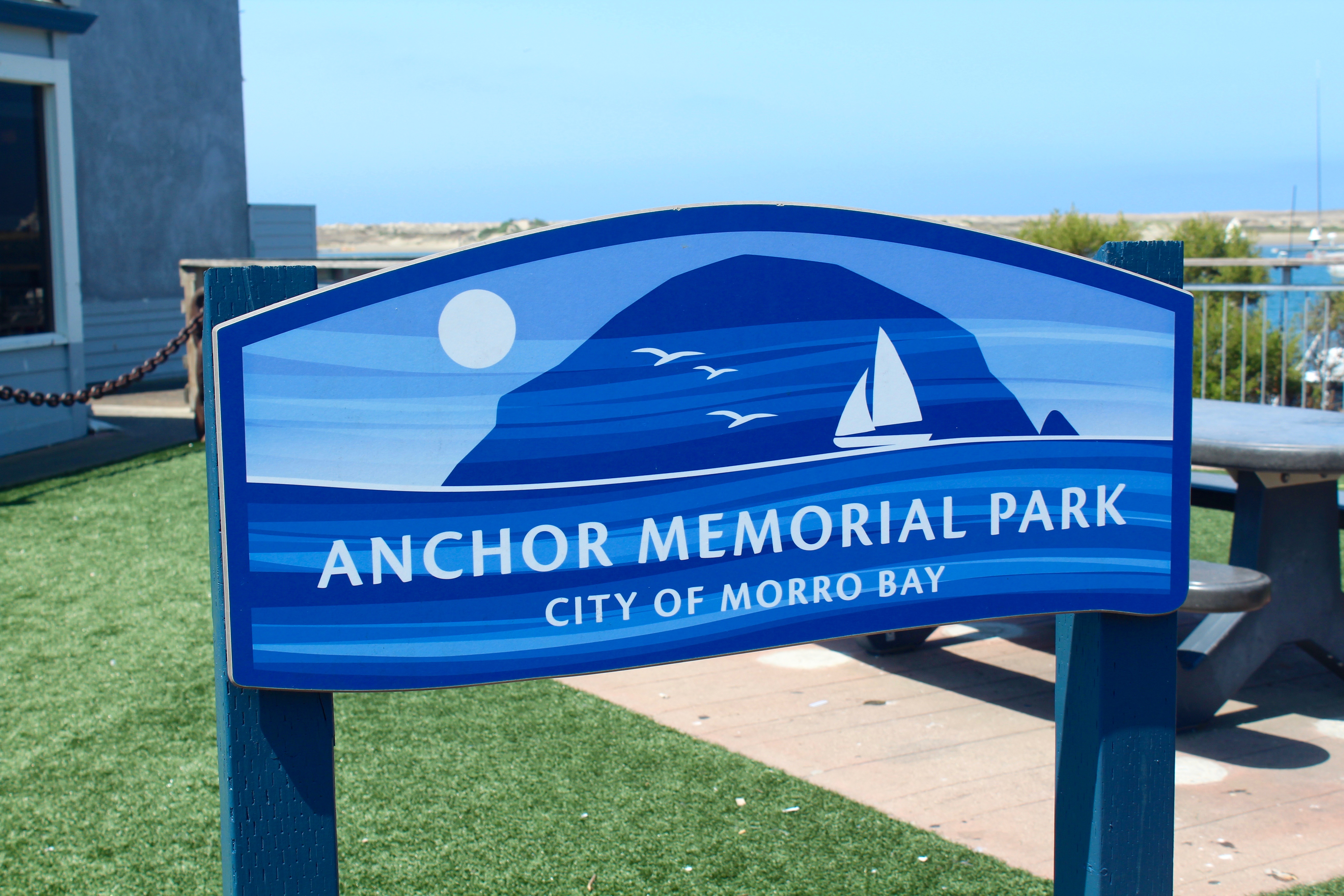 This is a very small pier that gets more attention from tourists sightseeing than it does from fishermen even though the fishing here can be excellent. Alternate names that I've heard it called include the 'J' Pier and Memorial Pier (since it connects with Anchor Park and its large j-shaped, anchor monument), the Wavelength Pier (since it sits across the street from the Wavelength's surf shop), and Giovanni's Pier (guess what's next to it?). The city prefers it be called the Anchor Park Pier.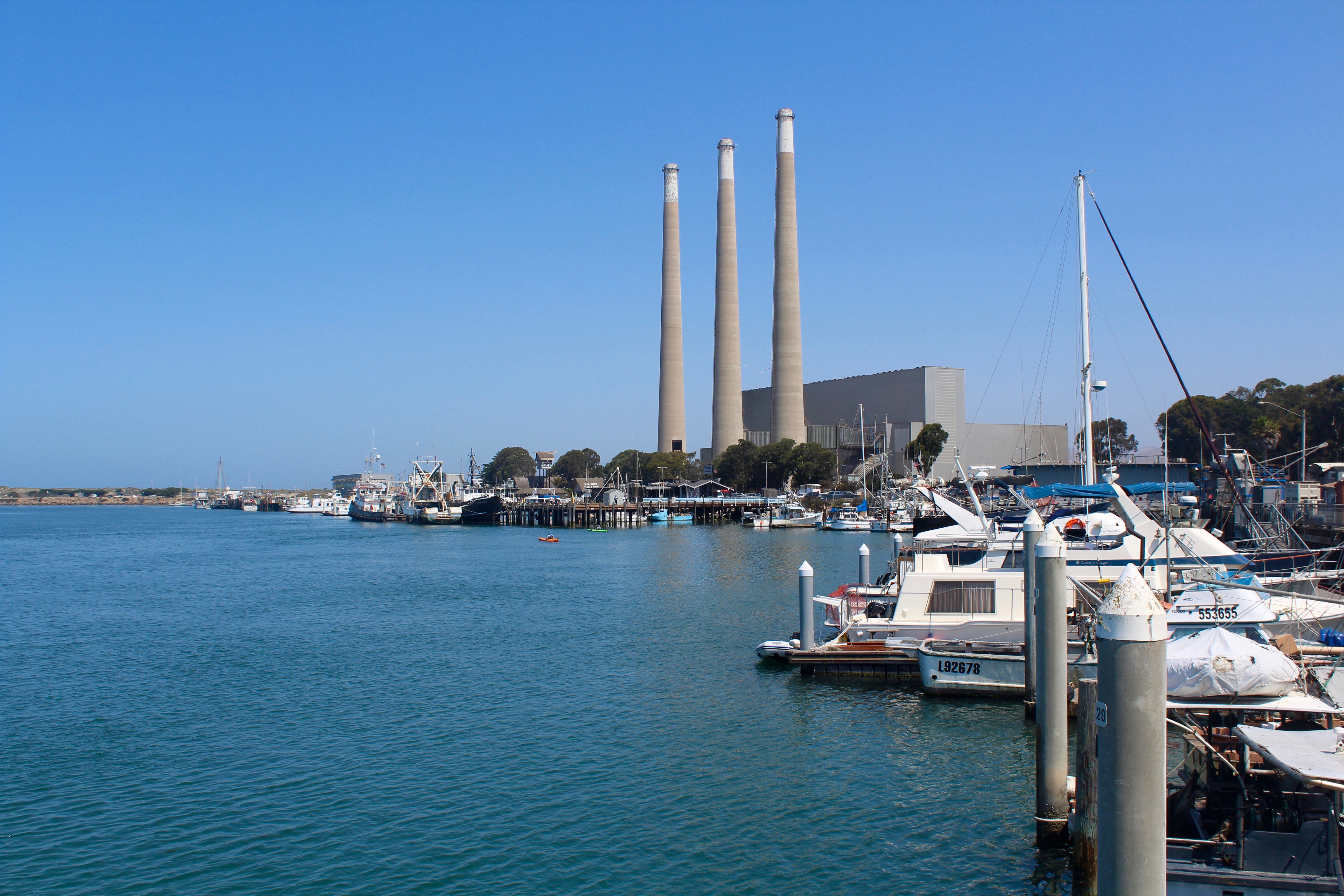 Environment. This pier was built in 1974 and extends out nearly 80 feet into fairly shallow water that has a mud bottom with few rocks but some eelgrass. At the end there is a small, 12-by-16 foot, fishing deck that receives most of the fishing attention; it's not really possible to cast out from the sides of the pier although you can fish straight down on the sides (when boats aren't present) and can fish a few feet of water inshore by the shoreline rocks. Most anglers are concentrate on casting out from the end section.
Although there can be decent seasonal fishing for perch around the dock and inshore rocks, the true attractions at this pier are (1) summertime fishing for schooling pelagics—sardines, jacksmelt and mackerel, and (2) the possibility of excellent sharay action—especially BIG bat rays and leopard sharks that roam the bay's waters.
One regular reported that in "nine successful trips, I have caught 17 bat rays ranging from 25-75 pounds. I have caught 6 Leopard Sharks, from 15-30 pounds, including an absolute monster that wrapped me up in the pilings, breaking me off. This fish may have had a shot at the state record. I have caught 3 shovelnose sharks, 2 soupfin sharks, and a big blue (50+), which absolutely destroyed one of my reels. I have also caught several small spiny dogfish."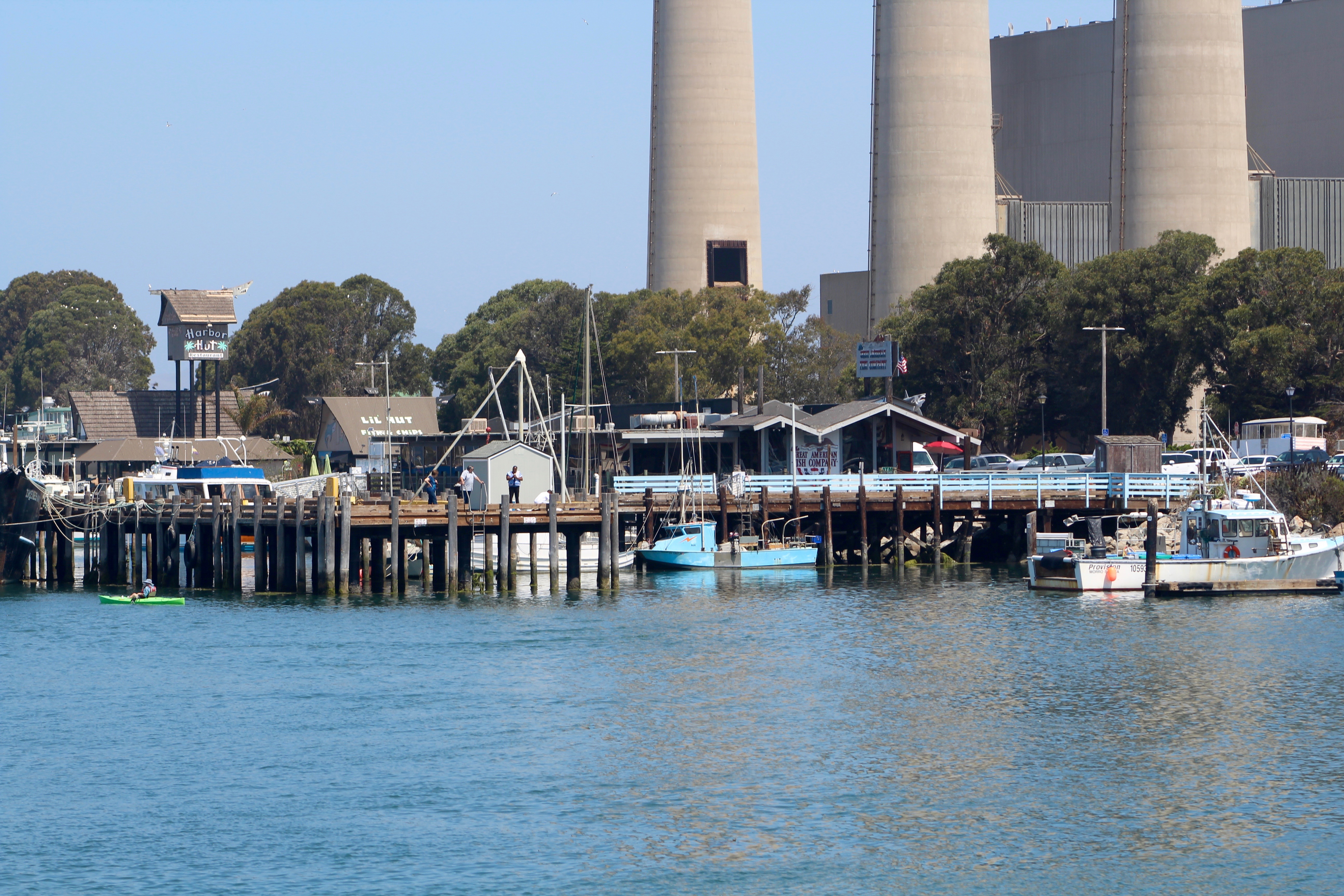 The Morro Bay South- T-Pier sits just a short distance down the harbor
Of course there are also a couple of problems that may cause an angler to pause before fishing from the pier. The first is the fairly tiny size of the pier. Realistically two anglers with two rods each and the various accouterments of a shark fishing expedition would take up all of the room at the end, and be crowded. Angler love might squeeze in a buddy or two but you'd better limit the number of rods.
Second is the fact that both sides of the dock can see heavy boat activity that can interfere with angling, especially if you've hooked to a fifty-pound bat ray that's determined to escape. You've got to have the right tackle and, at times, a little bit of luck.When combined with the heavy number of "what ya catchin'" tourists wandering out to take a look, it may just seem to make more sense to head down to the T-Piers where things are a little less crowded.
However, the good news is that if you do decide to fish the pier at night, the primo time for sharks and rays, there are lights on the pier—although a sign says that the park use is from 7:30 AM until sunset. Do bring a net since the pier surface is listed as 13 feet above the water.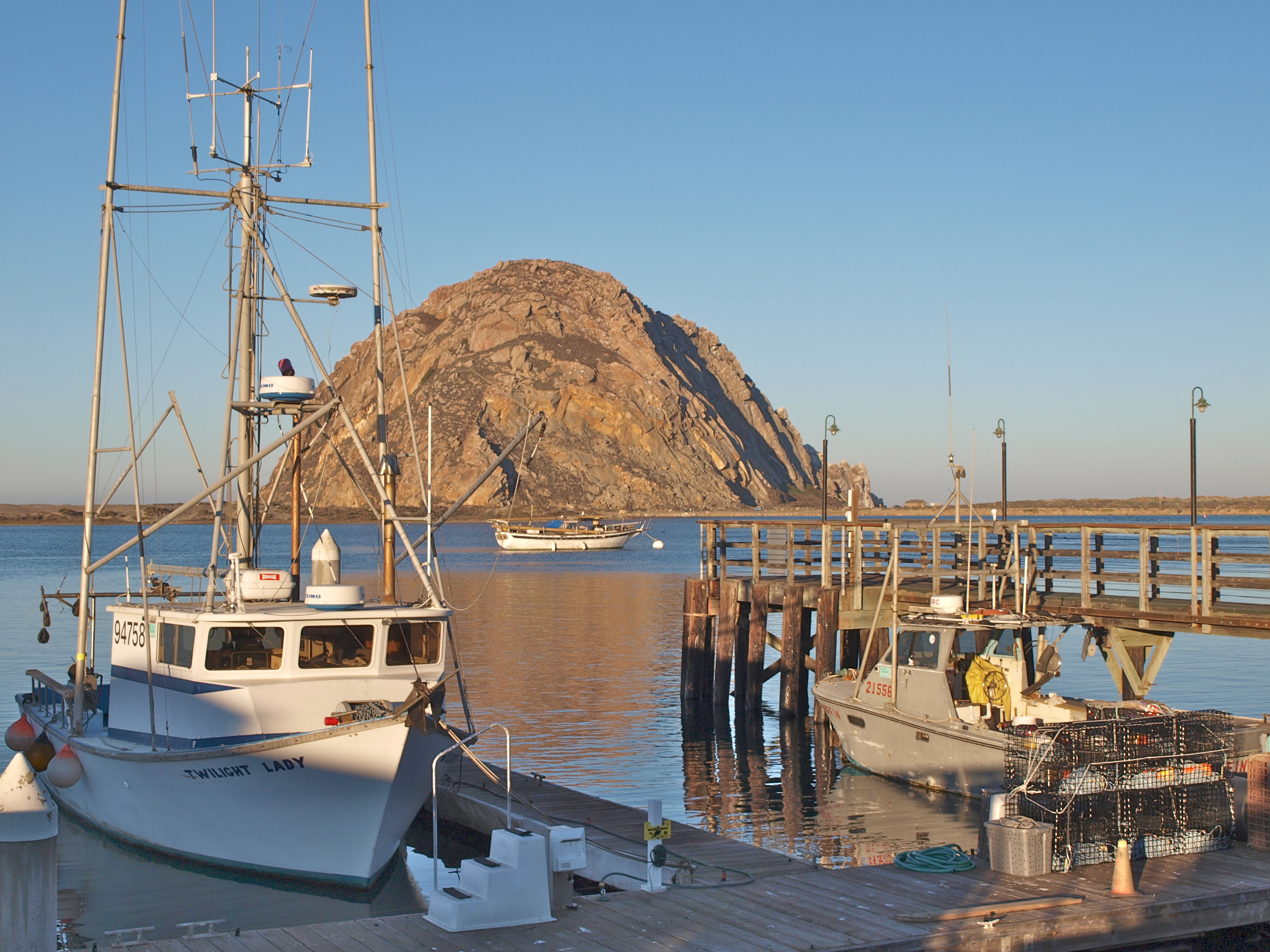 Fishing Tips. There are primarily three methods of fishing here. The first is to try this pier winter to spring months for perch and flounder. February to April, when the perch enter the bay to spawn, is the best time for the perch. Use a light outfit, a high/low leader with hooks size 6 or 8, and a light line. Use seaworms, fresh mussels, or pieces of market shrimp for bait (even better are ghost shrimp, if you can find them). A little earlier, November to March, is the best time to try on the bottom for starry flounder. Use a sliding bait leader, size 4 or 2 hooks, and ghost shrimp, seaworms, clams or cut anchovies as bait.
In the summer and fall, try this pier for sharks and bat ray; use a heavier line and size 2 to 4/0 hooks. Although the conventional wisdom is a bloody piece of fish like a mackerel for the sharks, and squid for the bat rays (and skates), I would modify the recommendation. Most summers will see sardines, jacksmelt, or mackerel enter the bay and often the best bait is the current visitor to the bay; thus if sardines are clogging the water use them for bait; ditto with the jacksmelt and mackerel.
The pelagics will also flood through this area—jacksmelt, sardines, Pacific mackerel, and jack mackerel (Spanish mackerel) and when they do good numbers can be jigged up using Sabiki-type bait rigs, The most reliable is jacksmelt and sometimes they're a little bit harder to catch so if the bait rigs aren't working try seaworms fished under a float near the surface of the water. Although the jacksmelt are fun to catch, I can't say the same for shinerperch and staghorn sculpin (bullheads) that can be far too numerous at times in the shallow water (although they can be used as live bait for larger fish).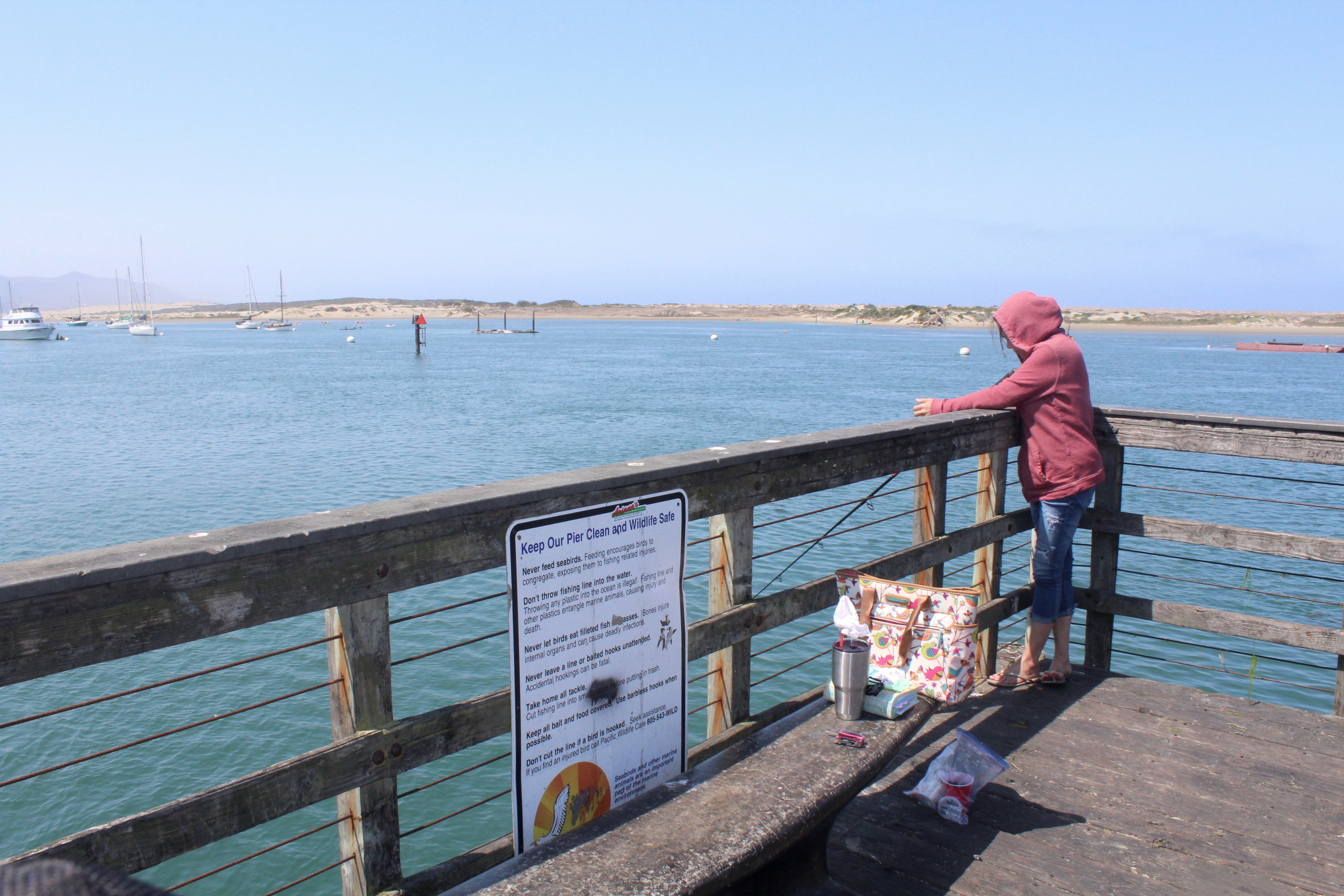 The Pier Rats Speak

Date: January 5, 2006; To: Pier Fishing in California Message Board; From:  Blake Bradley; Subject: Monsters of Morro Bay
Ken, There is a pier in Morro Bay, which is a good place to get some sore arms. I grew up fishing the Pismo, Cayucos, Avila, and San Simeon piers. The pier in Morro Bay beats them all, offering almost non-stop action. It is a small pier, maybe 40-50 feet out into the bay. I believe it is called the J pier or Memorial pier, or something like that. The pier features an anchor monument, a tribute to fisherman lost at sea. It is a small pier, only able to accommodate 1-2 rod sets. Every time I drive up to it, I am hopeful to find no other fisherman present (usually, there aren't).
I fish two rigs with 50 pound test monofilament line and wire leader, spooled to a Penn Reel, attached to a heavy duty Pacificstik Supreme. The most challenging aspect of fishing the pier is avoiding the tourist traffic. When you have 100 yards of line out, a boat loaded with tourists going out to look at whales can really cause problems. Anyway, this pier is ridiculously fun to fish. Live smelt are the best bait, but squid or cut mack will also work when the smelt aren't running. I normally catch a live smelt, about 10 inches in length. These are readily available, using Lucky Lura rigs or even crappie jigs. Nose-hooked smelt will live forever, shaking the rod tip as they struggle on the hook. I use Gamakatsu Octopus Hooks, 2/0 and tie a slip rig with a 6oz pyramid sinker.
I have fished at this pier exactly 11 times. I have been skunked twice, both times as the tide was going out and I couldn't keep my set in place, even with 20-oz of lead. I have fished primarily in early summer, but have fished in October, November, and February. I throw bait as far as I can, usually about 40-50 yards off of the end of the pier. I put the reel in free spool, and engage the bait clicker. The water is 20-30 feet deep and my heart starts pounding as the wait begins. Usually it doesn't take long.
In the 9 successful trips, I have caught 17 bat rays ranging from 25-75 pounds. I have caught 6 Leopard Sharks, from 15 -30 pounds, including an absolute monster that wrapped me up in the pilings, breaking me off. This fish may have had a shot at the state record. I have caught 3 shovelnose sharks, 2 soupfin sharks, and a big blue (50+), which absolutely destroyed one of my reels. I have caught several small spiny dogfish also. I have caught only one legal Halibut, and the locals tell me that Halibut really move in later in the summer. In addition, I lost a Bat Ray that was ridiculous in size, 200+ easily, a "barn door" like they call Alaskan Halibut.
Basically, I go for the Bat Rays, which are always there and fight like absolute banshees. Whatever else shows up is just a bonus. The fish hit hard and the zzzzzzzzzzzzzzz of the reel is about the best sound in the world. A fifty pound bat ray will take 100 yards of line in no time. It takes discipline, but the thing to do is to let them tire far from the pier. The pier is so high up from the water that almost all leverage is lost when the fish get close. The action is fast and exciting, and I have averaged a fish every 45 minutes or so on my successful trips. I usually go home with sore arms and a smile, as one fish is at least a 15-30 minute fight. I have hooked fish on both rods at the same time, a nice problem to have, but landing both is next to impossible. I have been completely spooled once, by God knows what kind of beast.
The fishing here is tremendous in my experience. The locals are aware of this, but I consider the pier kind of a secret spot of mine. It is an incredible experience not knowing what kind of fish is heating up the drag. In addition, some nice Rock Crab can be taken in season, with a crab trap placed near the rocky shoreline.! I am writing you because I love pier fishing. I have caught a variety of pier fish in my life and there is no better way to spend an afternoon or evening. I once caught a Sevengill Shark at Pismo Beach which was over 7 feet long. It looks like you are a pier man as well. Enjoy this little spot if you get a chance, I look forward to hearing from you. Please reply if you receive this message.  Sincerely, Blake Bradley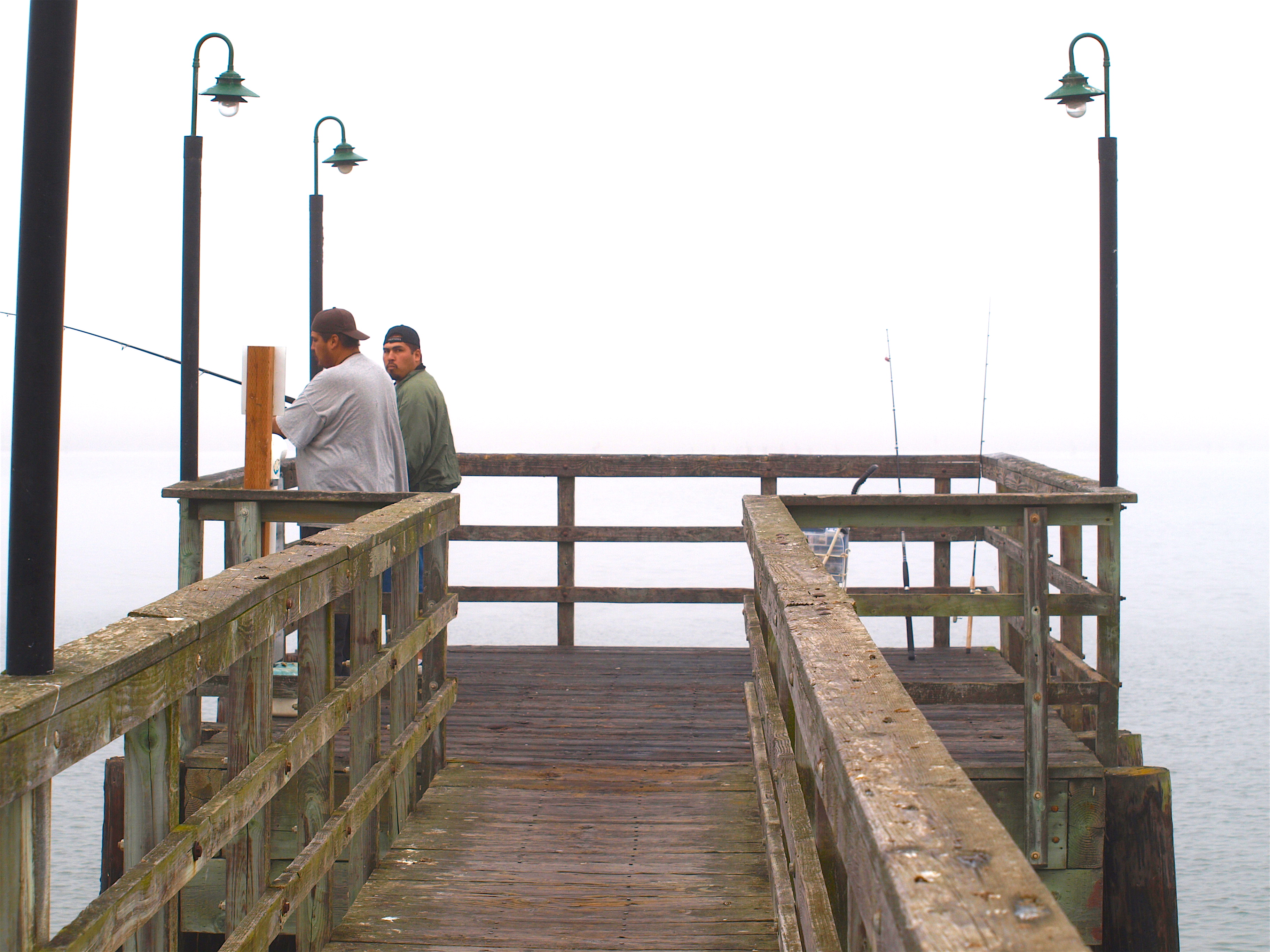 Date: October 9, 2006; To: PFIC Message Board; From: pierkahiki; Subject: Morro Bay
I was in Morro Bay on Saturday morning. Several people on the end of the short pier across the street from Wavelengths were filling their buckets with Spanish and Pacific mackerel. They were using Sabikis. I cruised by there this morning too, and it looked like some of the same people were there again, jigging for macks. Matt
Date: September 18, 2008; To: PFIC Message Board; From: frozen dog; Subject: On Pelicans, Smelt, Frozendog, and a Hot Dog (a fish story)
A long fish story…. Monday, Mrs. Kittyfish and I were in Morro Bay having our fish cooked up for lunch at the Flying Dutchman. Afterwards, of course, decided to do some bait fishing. So, my wife went one way with her cup of tea and book and I went out on a little pier to bait fish.
Tide was roaring out and I really didn't expect much. I rigged up my Sabiki, made a few casts for nothing but eelgrass. I started jigging right over the side and started catching top smelt — 6" to 8" long, 3-4 bait chunk size out of each smelt.
Then I caught the lone sardine and got the interest of Mr. and Mrs. Pelican. My, they were friendly birds, sitting down right next to me and my bucket. I put my fishing rag over the bucket, but you could still hear the fish in there. I fished a little more, got another smelt and as soon as it came over the rail, both pelicans made right for it. I tried to shoo them away, but it turned into a dance with the pelicans.
Every time I waved my hands, they opened their mouths because they thought I would feed them a fish. One of the pelicans had a small Sabiki hook in its feathers, so it looked like they had tried this before. Also, I was attracting a crowd—a bunch of kayakers were watching and thought this was hilarious. I dug in and grabbed the sardine to throw over the side, hoping the pelicans would follow it into the water—but one grabbed it before it went over the side. Once again, laughs from the kayakers. Next time, I'll throw fish into the kayaks and see what the birds do then.
I stopped fishing, took a bathroom break hoping that the pelicans would leave if I did. No such luck! Sat down on a bench and started thinking. Lots of bait out there, how to get rid of my competition. A few minutes later—brainstorm! Here comes a couple walking their little Dachshund. I explained the problem and asked them to walk out on the dock with their dog to chase off the pelicans—barking, running…. But don't let the dog bite the pelicans. We got half way out and the pier started wobbling from side to side. The dog freaked, flattened itself out and wouldn't move.
Great. So I asked them to pick it up and carry it out—maybe it would bark and this could still work. So, the man did after peeling the dog off the ground. The man and I did the woofing while he shoved the poor cowering, kicking dog in his arms at the pelicans. Yes, it worked. The pelicans finally flew away from the crazy people. I thanked the dog owners for their help, they carried the little dog back off the pier and I finally caught all the bait I needed.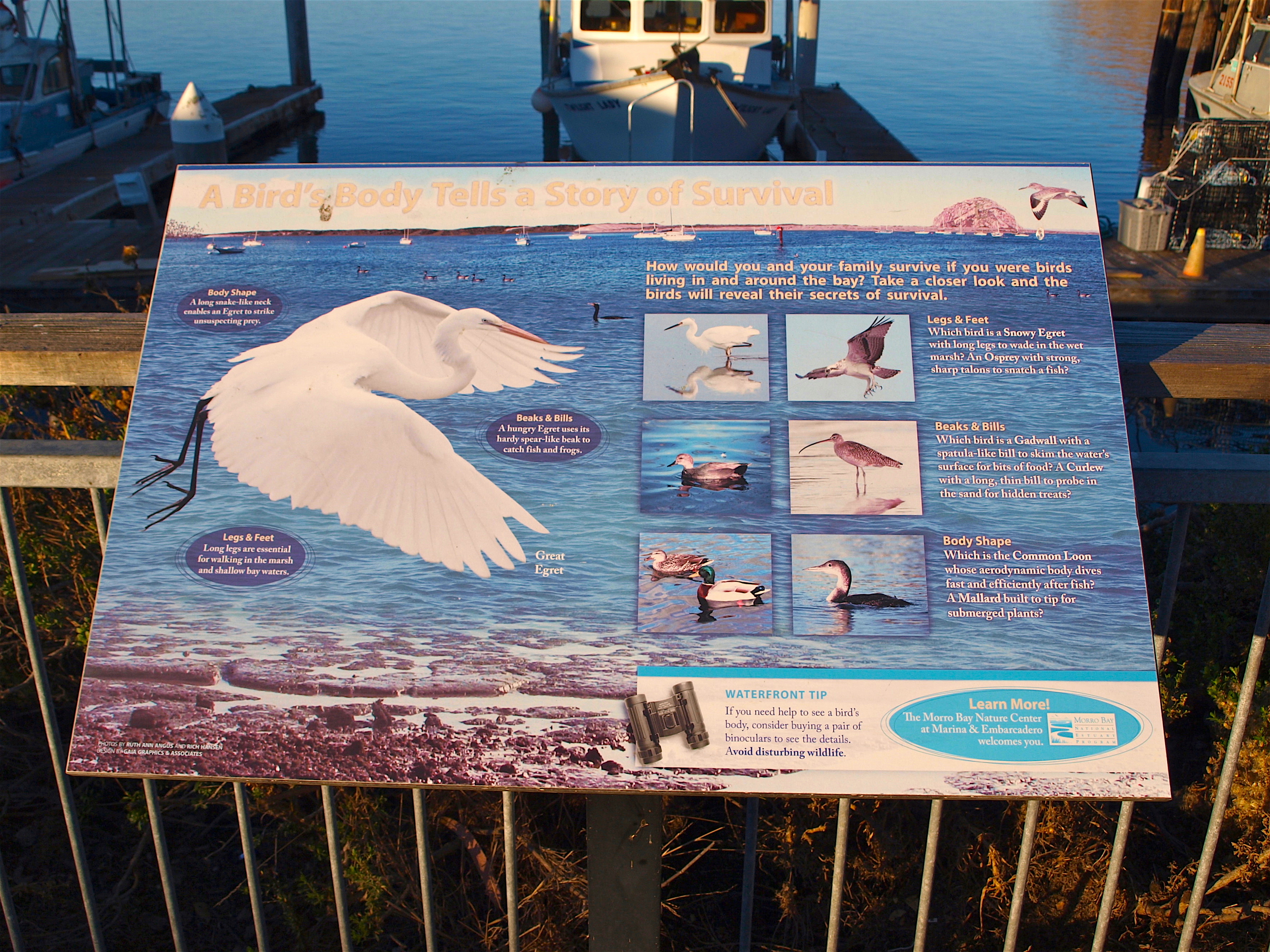 Posted by Ken Jones
I was at the North T-Pier on Saturday, caught some of those jacksmelt, and saw some of those pelicans. When I arrived the tide was moving at a good clip and there was lots of grass in the middle of the channel between pier and shore. I decided to fish on the outside of the pier by a boat that was blocking the drift and where the water was fairly free of the eelgrass. I immediately started hauling in jacksmelt and of course a pelican came over to help me out.
I wouldn't give him any food but a passing family said "oh he just wants to be fed." I then patiently explained how people shouldn't feed them because then they become aggressive and that can lead to problems such as getting stuck with hooks and line. The lady then told me how they had just come from a boat ramp that had a dumpster next to the ramp. Apparently people dump fish scraps in the dumpster and there were two pelicans there. One was alive but had fishing line around its neck, the other one was apparently dead. She said someone was trying to remove the line from the live pelican when they were leaving.
What surprised me was that after just seeing the injured and dead pelicans she would suggest that I feed the pelican. Some people just don't connect the dots.
In 1968, Morro Rock was declared a State Historical Landmark No.821 and after 80 years (1889-1968) quarrying of the 576-foot-high, long extinct volcano was halted.  In the future only nature would alter the looks of the "Gibraltar of the Pacific," simply called "The Rock" by most locals.
Today the Embarcadero remains the center of the tourist activity, the main support for the city, and the home of Morro Bay's fishing piers.
Dunes Street/Anchor Park Pier Facts
Hours: Open 24 hours a day.
Facilities: Parking is available nearby on Embarcadero. The pier is adjacent to a small park that has a grassy lawn area, a large anchor monument (in tribute to fishermen lost at sea), several benches, and picnic tables. There are no restrooms, bait and tackle facilities, fish cleaning tables, or food establishments in the park or on the pier but there are numerous restaurants and rest rooms along the Embarcadero.
Handicapped Facilities: None.
Location: Latitude: 35.36722 Longitude: -120.85222
How To Get There: Located at the corner of Dunes Street and Embarcadero.
Management: City of Morro Bay.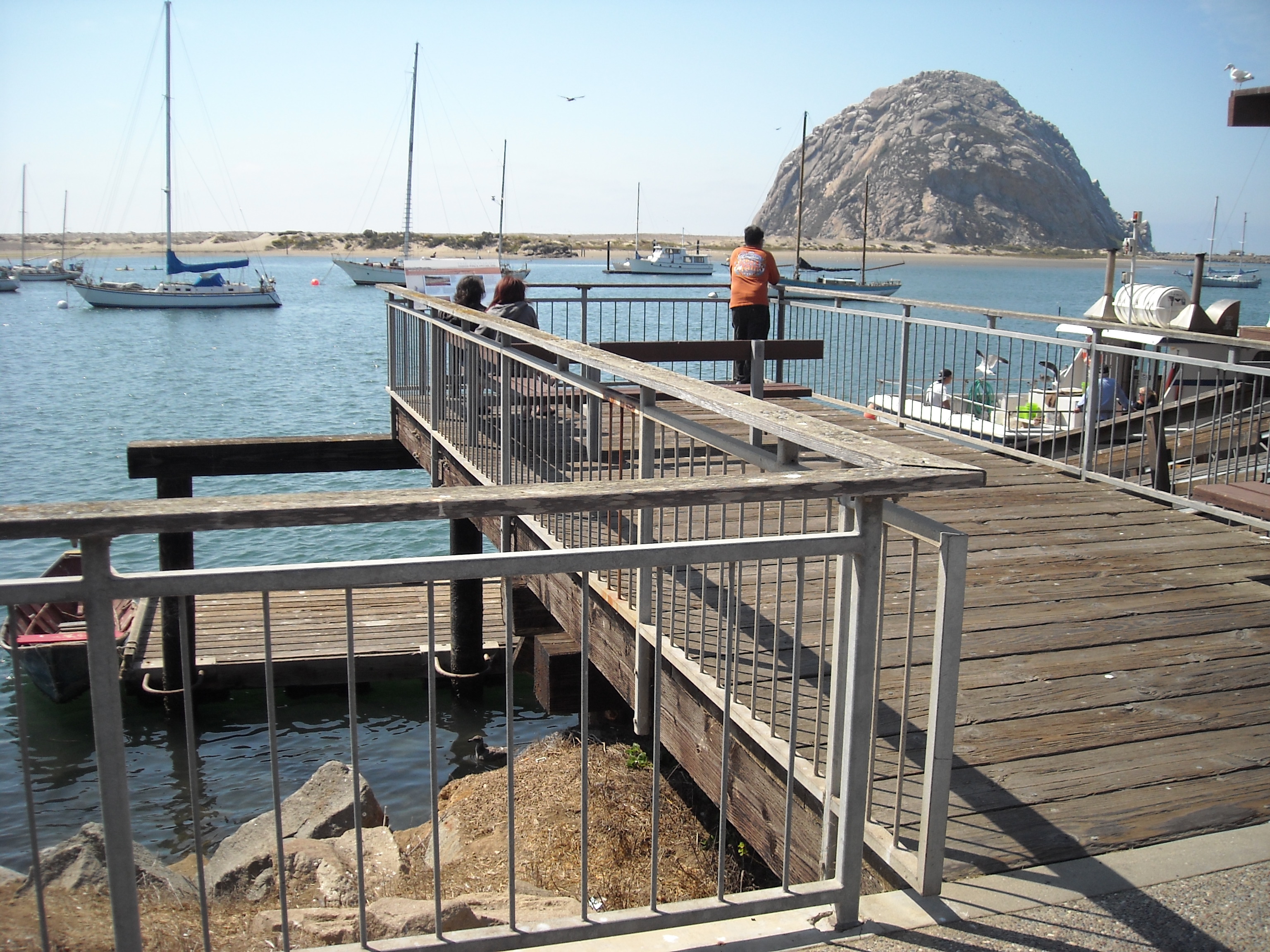 Centennial Parkway Pier — Private Pier, License Required

This is an attractive spot with Morro Rock looming off in the distance but the environment itself makes this a difficult spot to fish.
Environment. Technically this is a fishable platform but realistically it's very difficult to fish due to the dock that sits in the front of the pier, a dock that you are not supposed to fish from. Thus, if you do hook a fish you need to circumvent your way down to the dock, land your fish, and then bring it back up to the pier.  The bottom line is that it is easier to fish off of one of the other piers along the Embarcadero.
Fishing Tips.  Only fish here is the other finger piers are filled with anglers.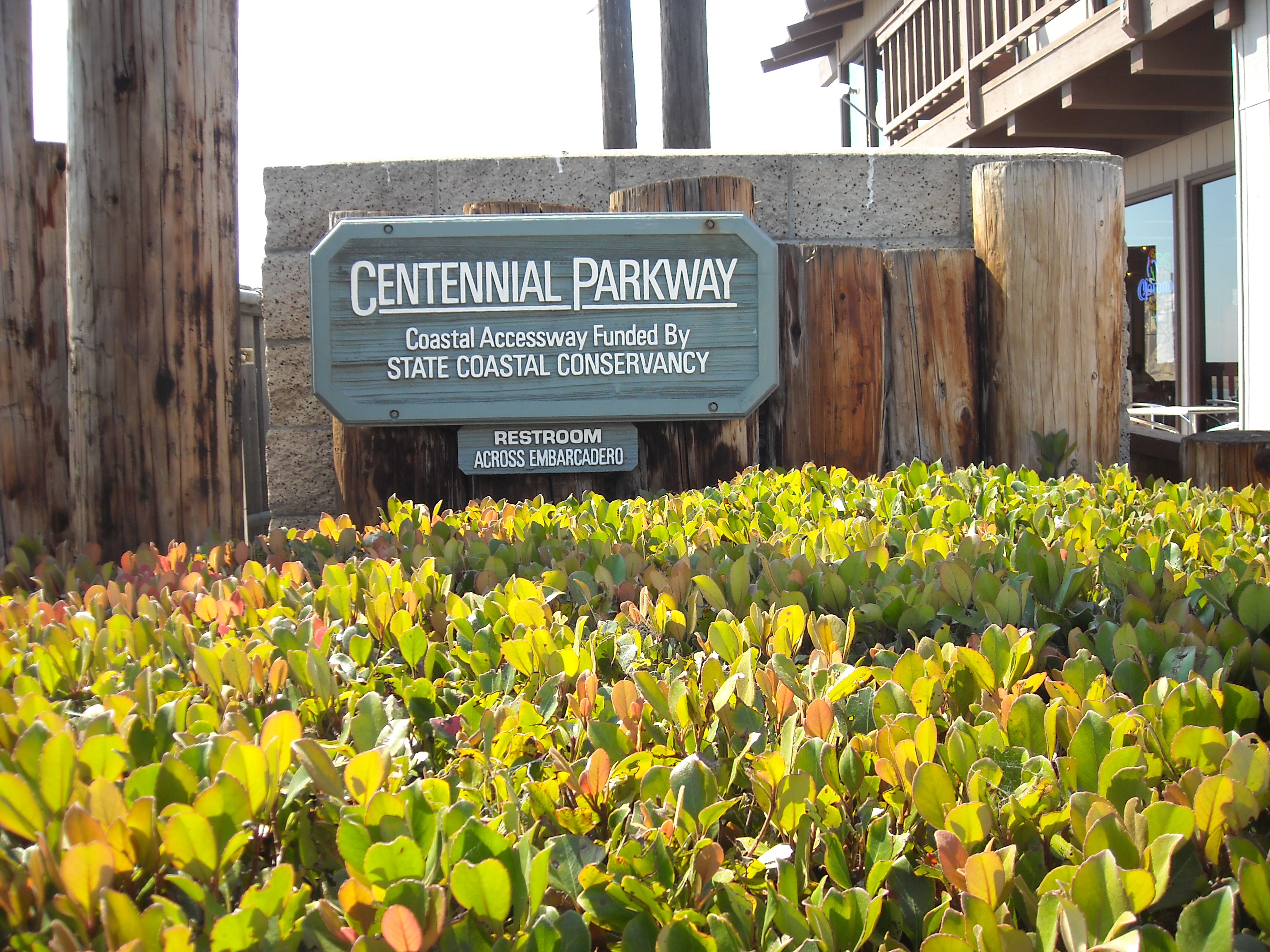 Centennial Parkway Pier Facts
 Hours: Open 24 hours a day.
Facilities: Parking is available nearby on Embarcadero. Restrooms are found across the Embarcadero.  There are no lights, bait and tackle facilities, or fish cleaning tables.
Handicapped Facilities: None.
How To Get There: Located at the corner of Centennial Parkway and Embarcadero.
Management: City of Morro Bay.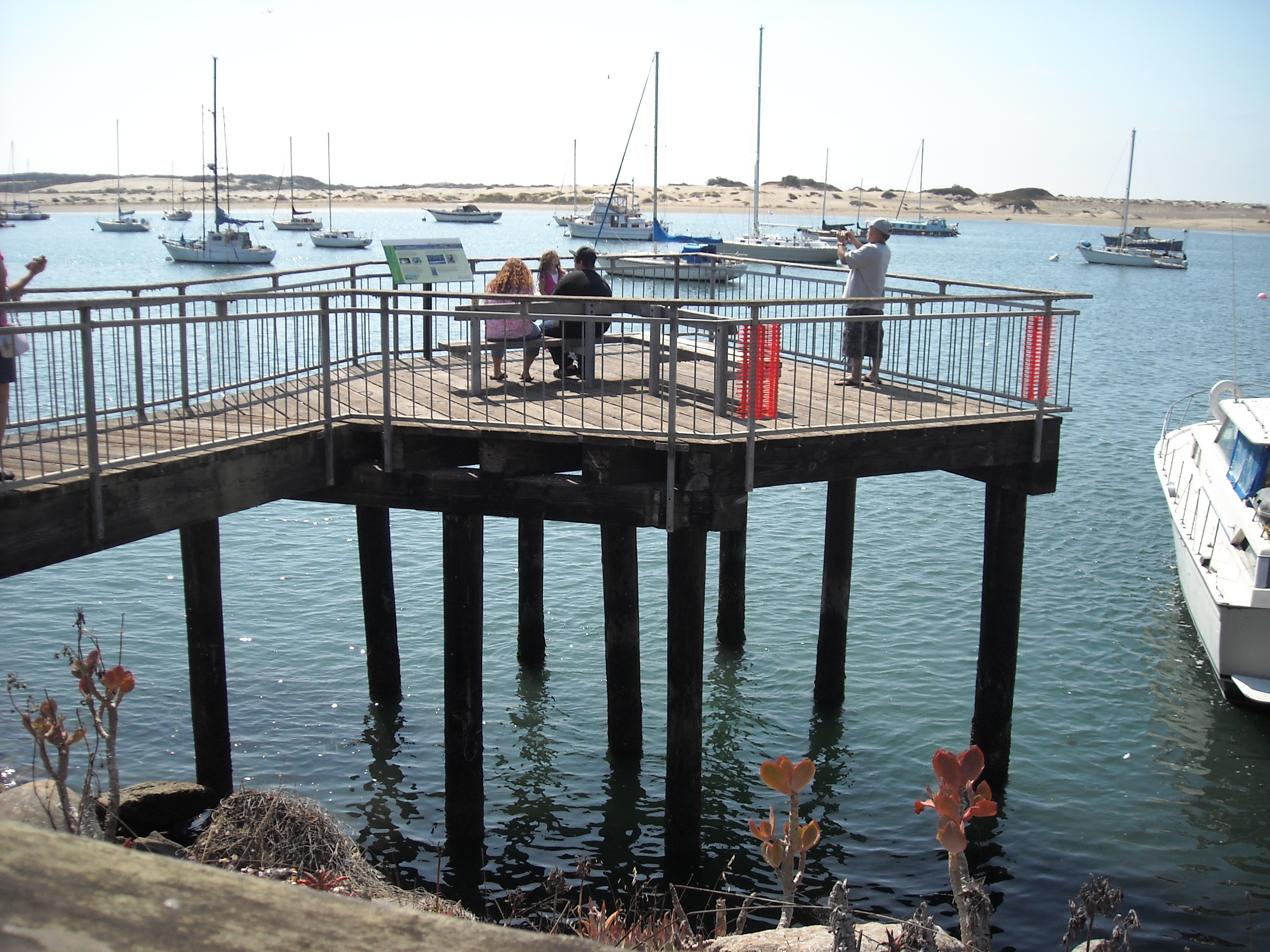 Marina Street Pier — Private Pier, License Required
This small pier, really a viewing platform used by some as a pier, sits just downshore from the two previous piers. It's located next to the Morro Bay Aquarium and presents a great view of Morro Rock and the three large stacks of the Duke Power Plant.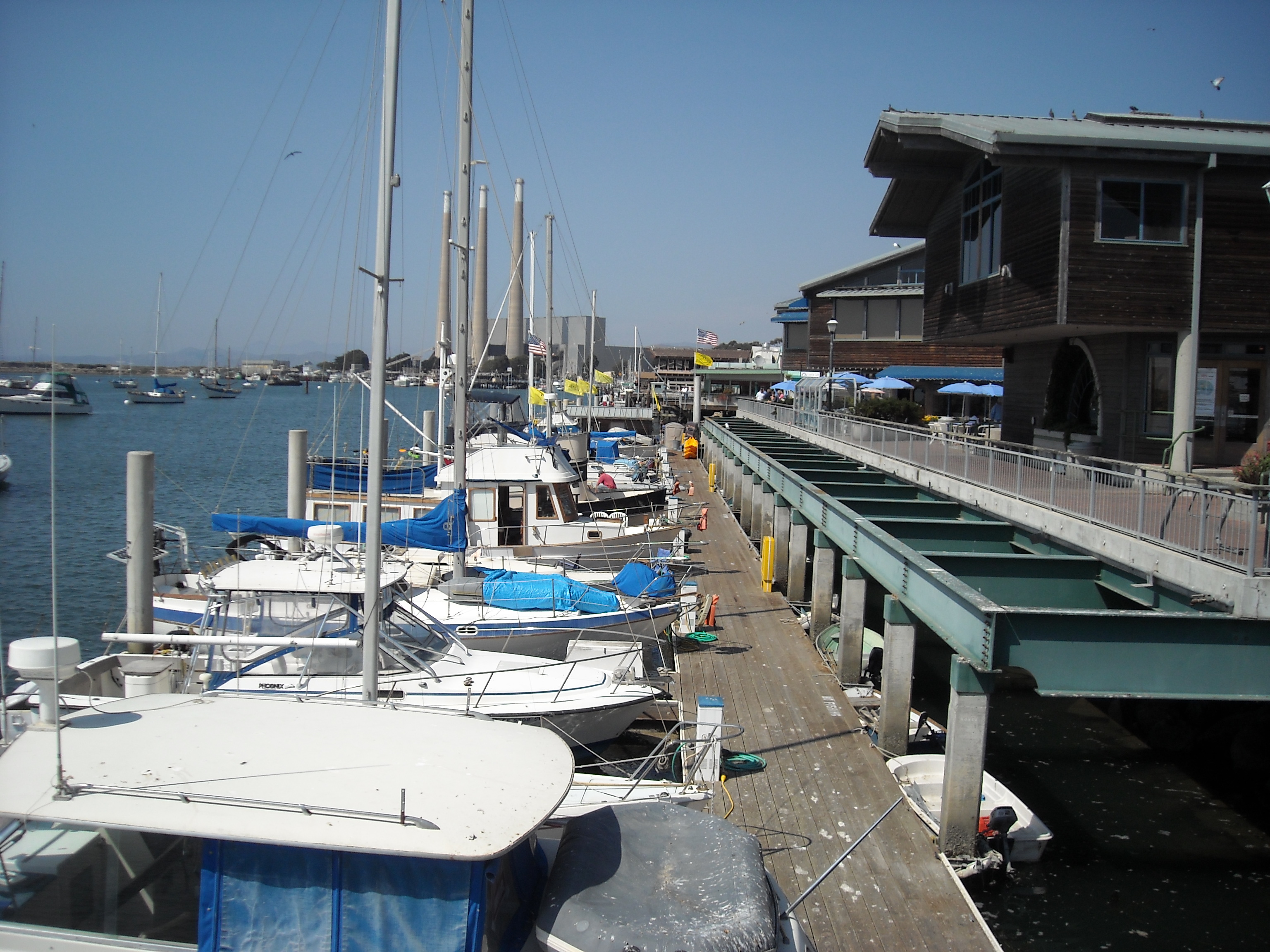 Environment. Inshore there are some small rocky areas to fish while off to the left a short cast presents an additional rocky area. But be careful since there are also fences and obstructions in the water. The end is open to casting but be careful on the right side since there are docks and always boats attached to those docks. The bottom is mud and, like the other piers along the Embarcadero, eel grass can be a problem during flood stage in the bay.
Fishing Tips.  Ditto the information given for the Dunes Street/Anchor Park Pier.
Marina Street Pier Facts
 Hours: Open 24 hours a day.
Facilities: Limited, free, three-hour-parking is available near the front of the pier with additional parking available on the Embarcadero. Two benches and a trashcan are found on the viewing platform. There are no lights, bait and tackle facilities, or fish cleaning tables but rest rooms can be found along the Embarcadero. If fishing is dead, head over to the Aquarium, they have some interesting fish in their tanks.
Handicapped Facilities: None.
How To Get There: Located at the corner of Marina Street and Embarcadero.
Management: City of Morro Bay.
History Note—Morro Bay And The Embarcadero. In 1864 Franklin Riley moved to Morro Bay and built the area's first house. Next, in 1870, on a homestead of 160 acres, he founded the town of Morro Bay and built a wharf on what would become the Embarcadero. That first wharf was joined by a larger wharf in 1873 and then a railroad pier shortly thereafter. The wharves were primarily used to ship local produce—wool, potatoes, barley and dairy products—and even though the entrance into the bay was a dangerous one for boats, the Embarcadero became the main center of Morro Bay commerce.
Challenges emerged in 1875 when the Embarcadero saw competition from the new wharf at nearby Cayucos. Many of the coastal ships preferred to stop there instead of confronting the hazardous entrance into Morro Bay. Commerce slowed but Morro Bay continued its growth well into the 20th Century both as a small town and a center for tourism, today's main industry.
In 1933 the WPA changed the face of Morro Bay forever. Although Morro Rock was originally surrounded by water, the WPA began construction of a large jetty and built a road across the north end of the harbor to connect Morro Rock with the mainland. The jetty closed the north entrance into the bay, but the south channel was dredged, and a breakwater protecting the entrance was constructed.
With a safer entry into the bay the number of commercial fishing boats calling Morro Bay increased and by the mid-'30s Morro Bay had become an important center for fishing. Large amounts of rock cod, sole, halibut, salmon and albacore were brought into port.
By 1940 the U.S. Navy had begun training operations for LCVPs in Morro Bay and a base was constructed where the Duke power plant now stands; World War II saw an expansion of those Navy operations and also saw a breakwater built on the southwest side of the Rock in 1944-45 to protect the landing craft entering and leaving the harbor.  Soldiers, many who would be at Normandy on D-Day, would come over to Morro Bay from Camp San Luis Obispo to practice loading into the LCVPs.
In 1953, PG&E began to build the large power plant that would eventually provide much of Morro Bay's tax base. Today the Duke Energy Company runs the plant and plans are underway to modernize the plant—if agreement can be reached. In the meantime the plant produces a limited amount of power under contract to PG&E and the tax base of the city has fallen.