Public Pier — No Fishing License Required
I was fishing on the pier one mid-August day (with no luck) when a lady came up and asked how the fishing was. I said I hadn't had a bite. She was attractive and wearing a dress that made her look like a mermaid (picture it). She said she was Viana the Mermaid and that she was good luck for fishermen. We talked for a while and then she said she had to go. But, she assured me that I would now begin to catch fish. Well, I waited, and waited, and waited some more. I didn't have a bite. Zilch! Nada! So much for a mermaid bringing me luck. But at least she was an attractive mermaid.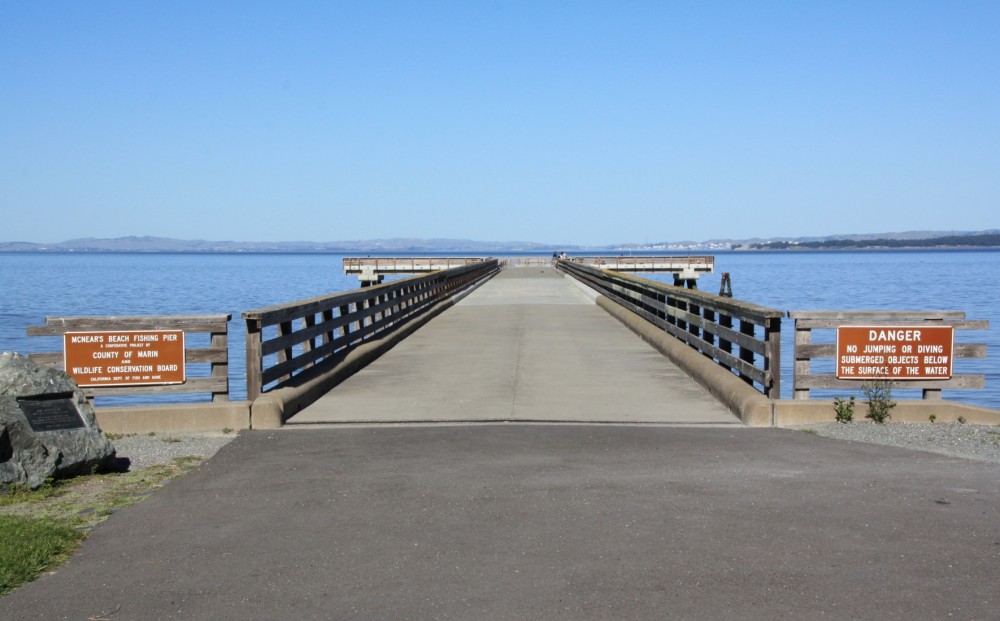 Environment. Opened in 1989, this is surprisingly one of the newer piers in the Bay Area even though it's nearly 30 years old (which gives glimpse into the state of Bay Area piers). It is also one of the best spots to bring a family. Fishing can be good or bad but so many facilities are available in the 52-acre park (including a snack bar, public pool, and nearly mile long beach), that there is generally something for everyone to do. The last time I was there people were barbequing and having picnics, teams were playing volleyball and soccer, the pool was crowded — and a few people were even fishing.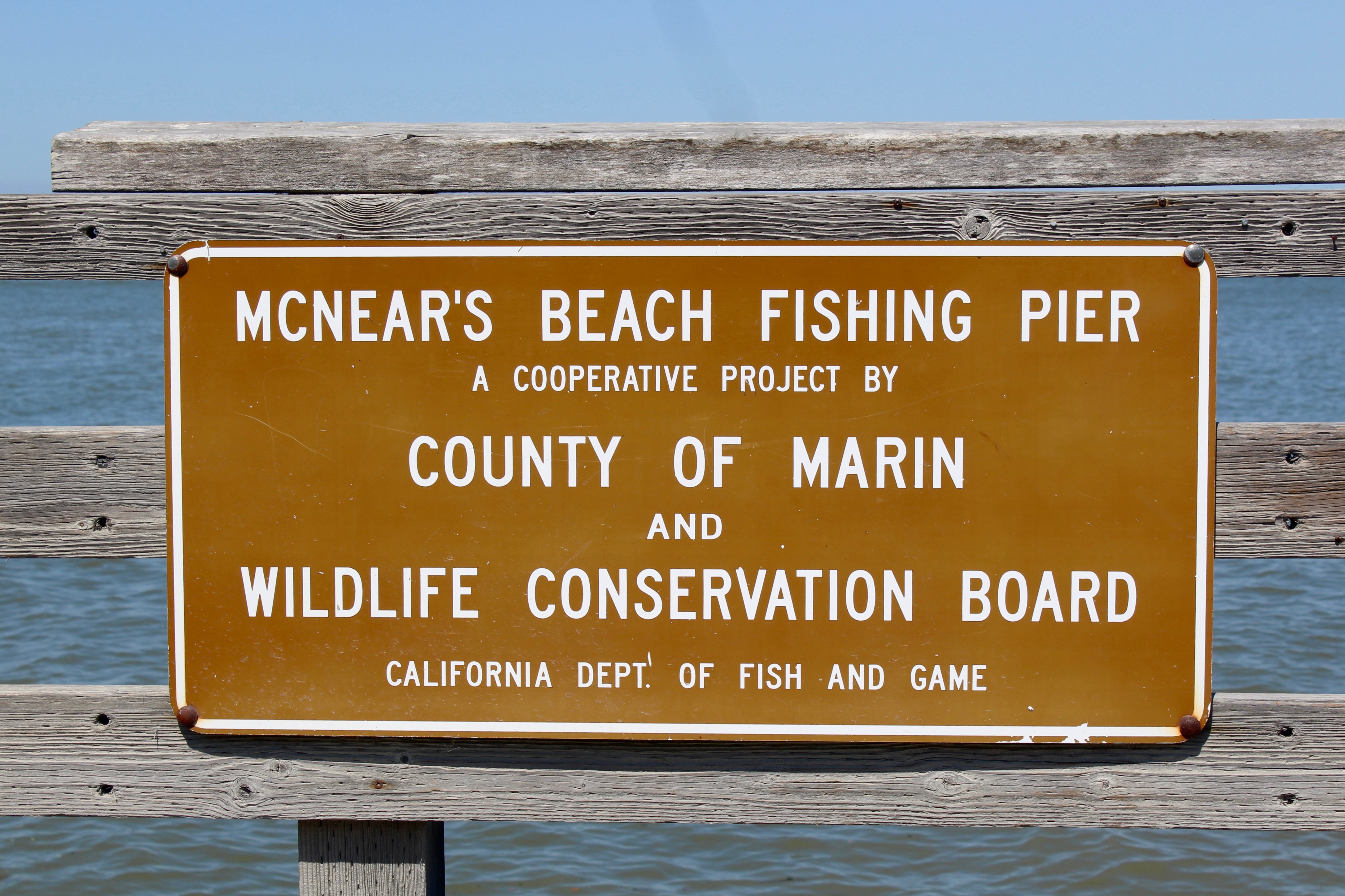 The pier is located a short distance away from the Sister Islands and fronts some of the deeper water in this part of San Pablo Bay. Pilings show little growth of mussel but the bottom here is mud and grass and there seems to be a lot of natural food. Inshore, the shoreline is covered with rocks and at times there is some fishing for perch but it seems only fair.
More productive is the water to the left of the pier about half way to three quarters of the way out. This is a good area for kingfish (white croaker) and starry flounder (although both have seen a decrease in numbers), striped bass, sharks, skates and bat ray.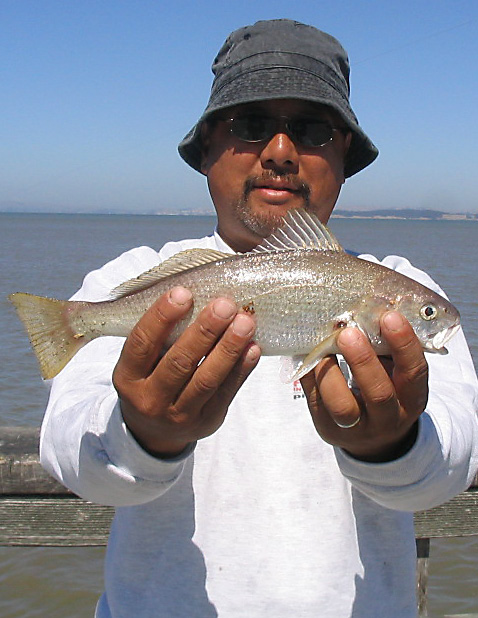 Mel and a kingfish (white croaker)
The most heavily fished area is the t-shaped end of the 190-foot-long pier; this is the premier spot for sturgeon.
Fishing Tips. This is one of those piers which can be great or terrible depending on the tides and the season. During the right time of the year, late winter to early spring, it is one of the best piers from which to catch white sturgeon, and sturgeon up to 170 pounds have been reported from the pier.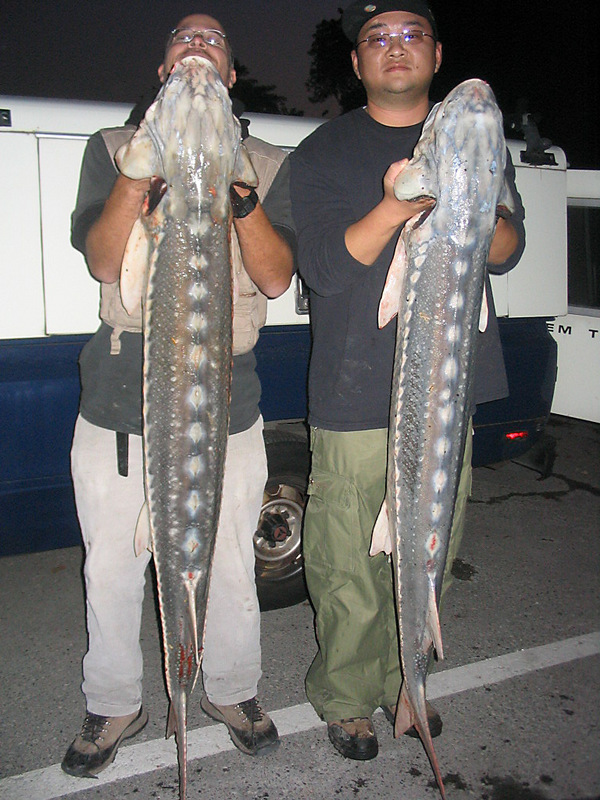 White Sturgeon 
If your goal is sturgeon, come prepared and follow a few simple rules. In regards to equipment, make sure you are using a medium to heavy saltwater rod and reel loaded with at least 300 yards of line of at least 40 pound test. Use a plastic-coated wire leader equipped with one or two 5/0 to 7/0 hooks, a sliding sinker rigging, and a sinker heavy enough to hold your line on the bottom. In an extremely fast moving tide, attach one or more rubber core sinkers to your leader to keep it on the bottom.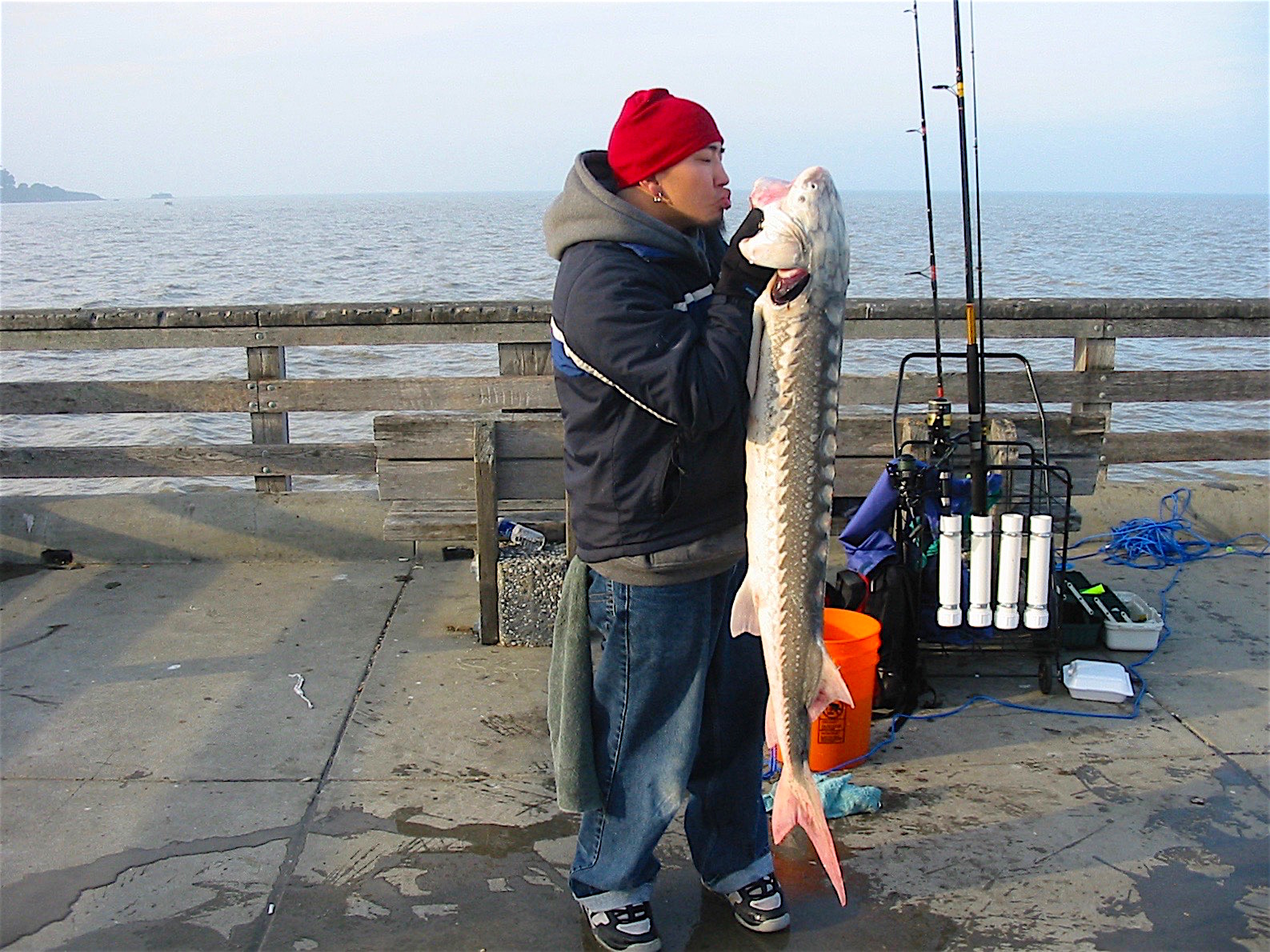 White sturgeon caught by Matty
Come prepared with a net and remember that with the sturgeon regulations you (1) cannot gaff a sturgeon and (2) you must release any sturgeon under 40 inches or over 60 inches (so the pier's record fish will not be challenged). Obviously you must be careful before you net any sturgeon; you may want to walk large sturgeon to the shoreline. Unfortunately these regulations are particularly hard on pier anglers who already are at a disadvantage in landing large fish.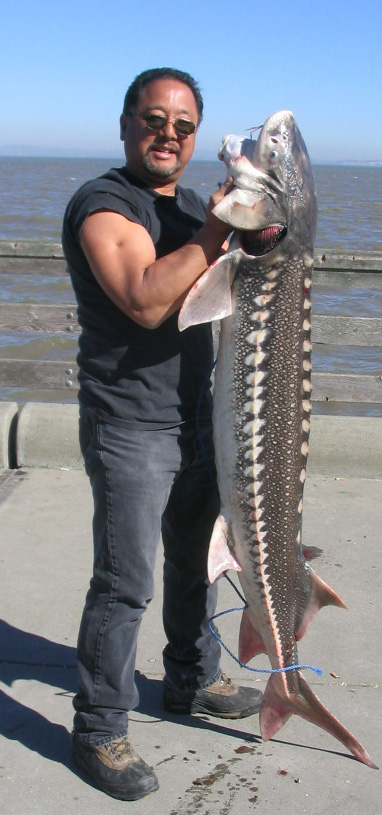 White sturgeon caught by Mel
Also remember that tides are super critical in sturgeon fishing. Try to fish the last few hours of a strong outgoing tide, especially a tide which ends on the minus side. However, here either incoming or outgoing tides can produce; just remember that results will be poor when the water stops moving (slack water). In addition, the period after a few inches of rain is often super productive.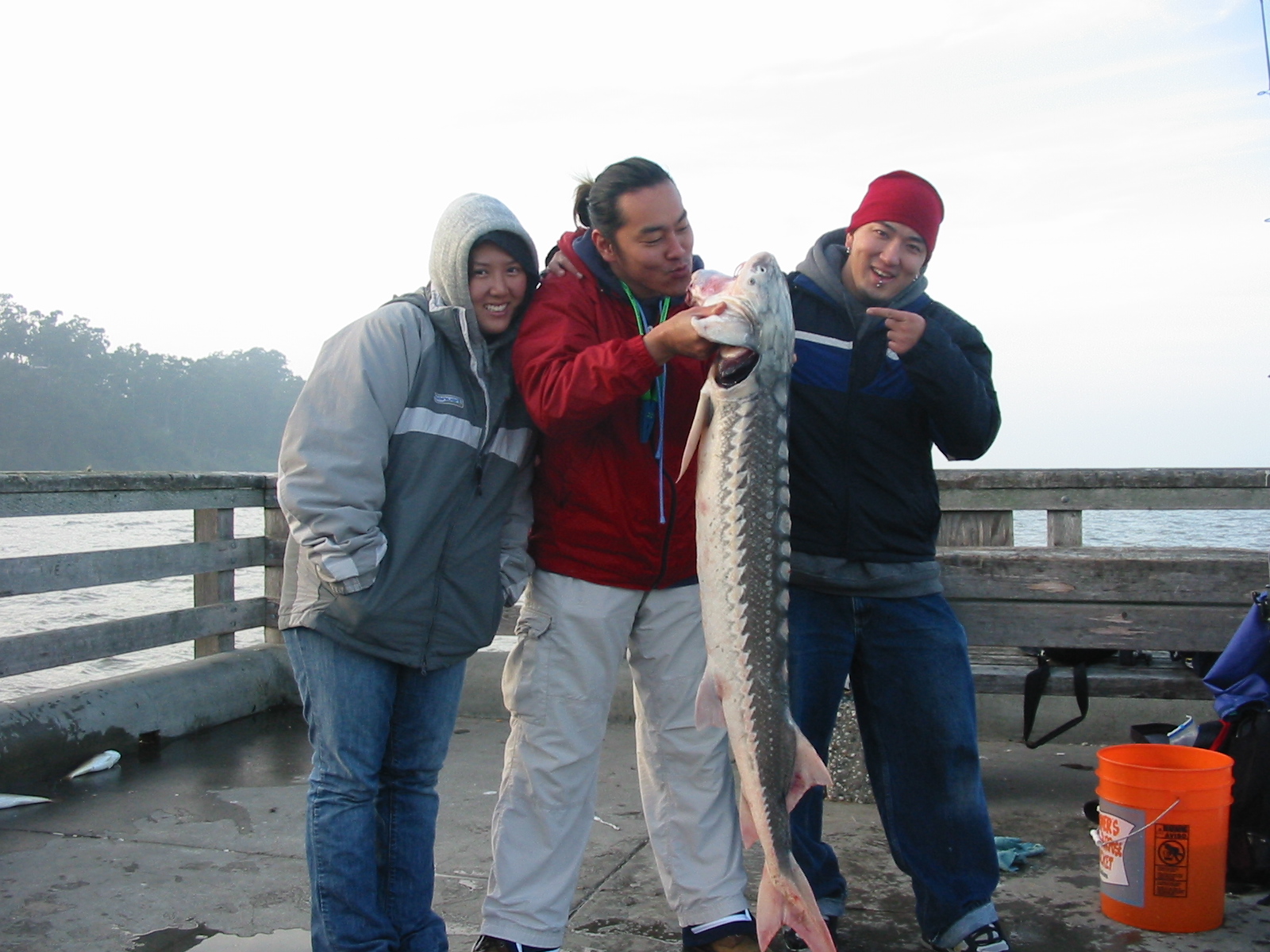 White sturgeon — Carol, Masa and Matty
Finally, remember to use the right bait. LIVE grass shrimp, ghost shrimp, or blue mud shrimp will produce best results. Ghost shrimp and mud shrimp seem to produce the biggest fish but during the summer months grass shrimp often seem a better bait overall. In addition, herring roe, which can be collected during the winter spawn, can be good bait. If the crabs are a problem, you might try a combination-bait, such as cut eel and grass shrimp. Even if the crabs tear up the shrimp you've still got the tough eel left on the hook; some locals will also add anise oil to give the bait additional scent.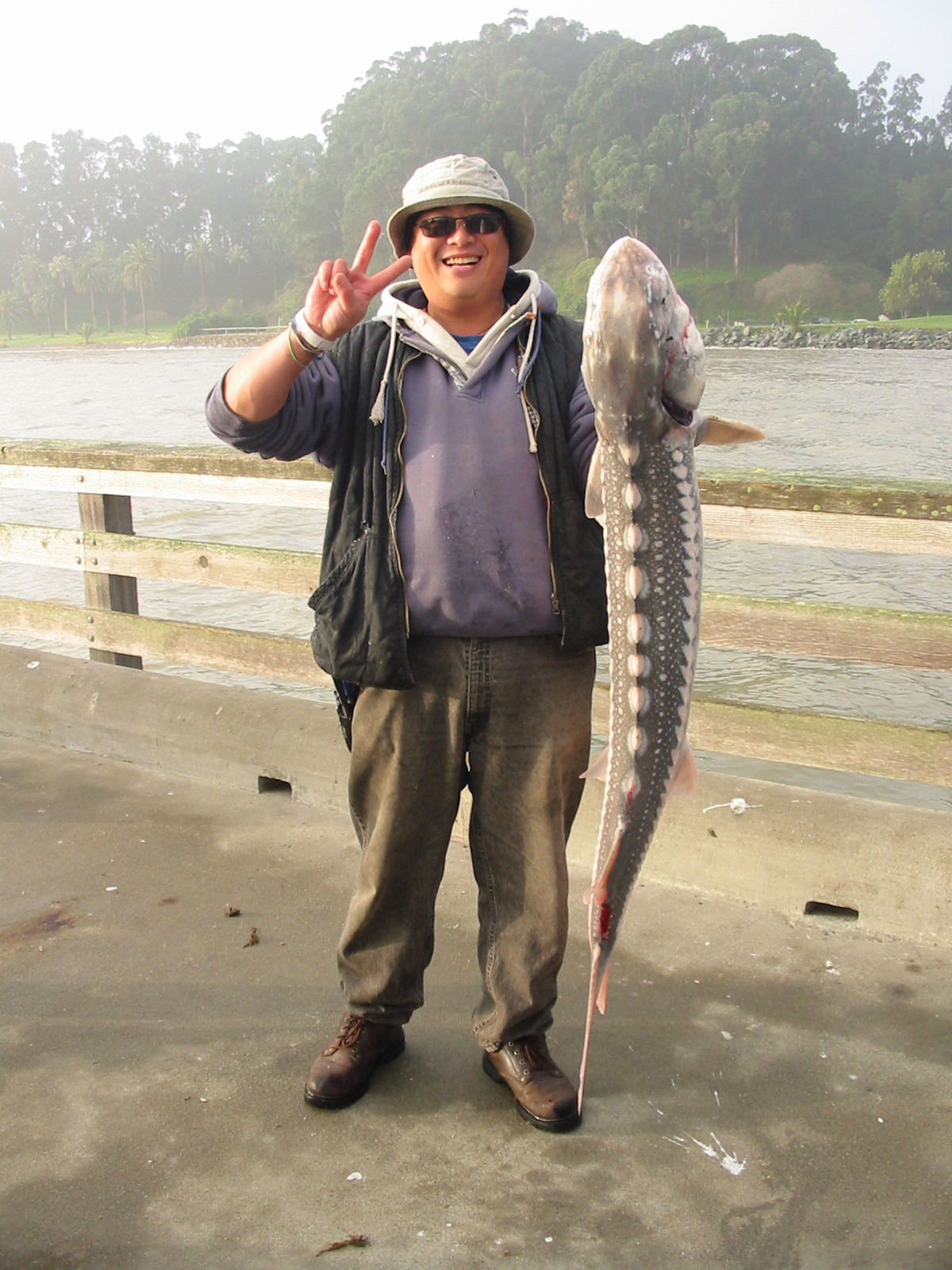 White sturgeon caught by Eugene
Weather does play an important part at this pier. As example, rains bring in the sturgeon and push out some other fish. Low-rain years will see good catches of kingfish at the pier into the winter months along with some continued catches of sharks and rays. When the big rains hit, and the run-off begins, these species will move closer to the mouth of the bay and be replaced by the sturgeon.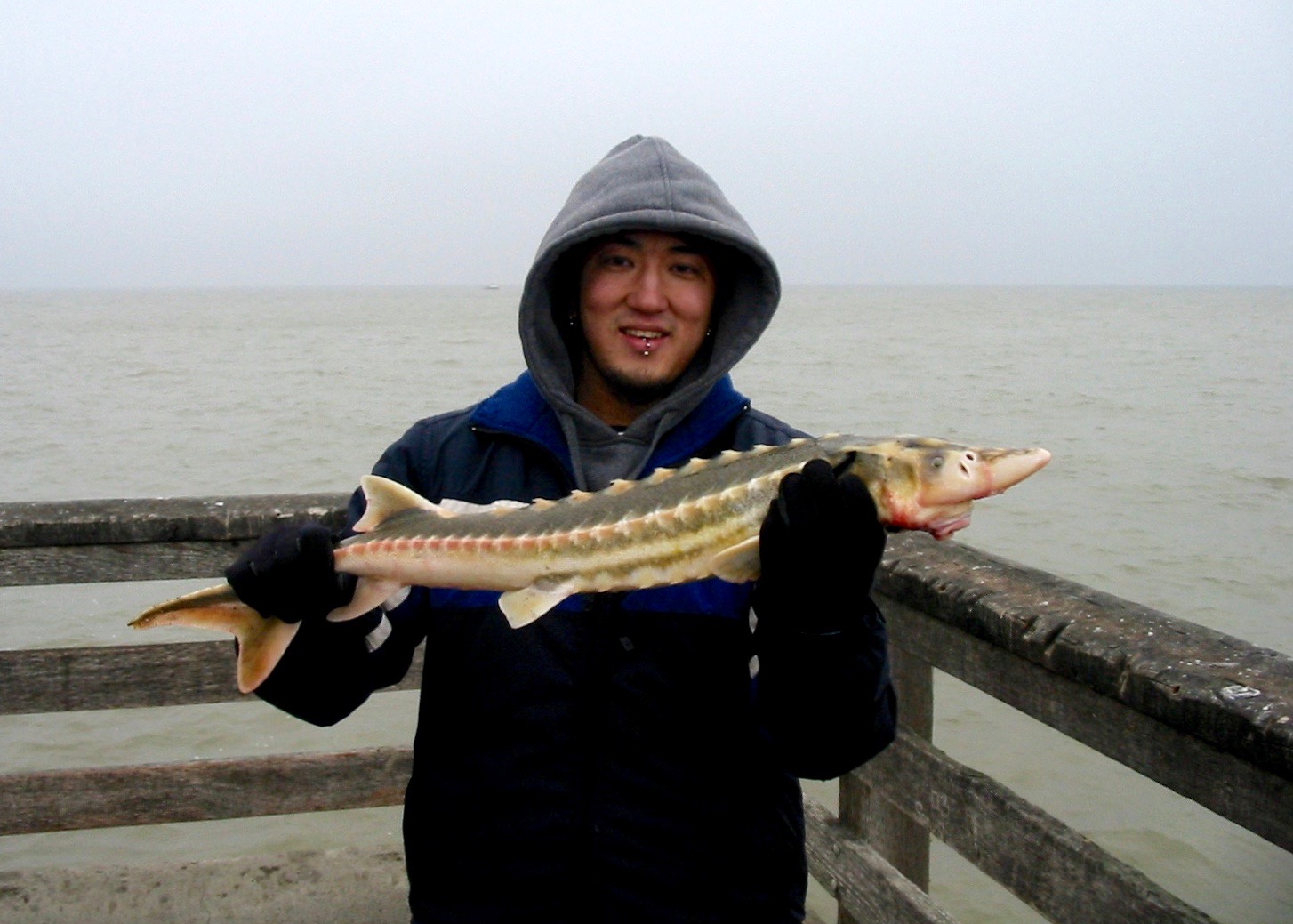 Green sturgeon caught by Matty before the regulations were changed.  (Green sturgeon are no longer a legal species to keep)
High water years almost always produce better sturgeon fishing than low water years—at least that seems evidenced by the high water years of 1983, 1986, 1993, 1995, 1996 and 1998. Some attribute this to the lack of food in the sturgeon's normal haunts. The high fresh water flows drive shrimp (the diamondback's most common food) down into the saltier parts of San Francisco Bay. Deprived of their normal food, the sturgeon seem to invade shallow areas (including areas around some piers) in search of clams. The result can be, at times, a frenzied bite throughout San Pablo Bay, Suisun Bay and the Carquinez Strait.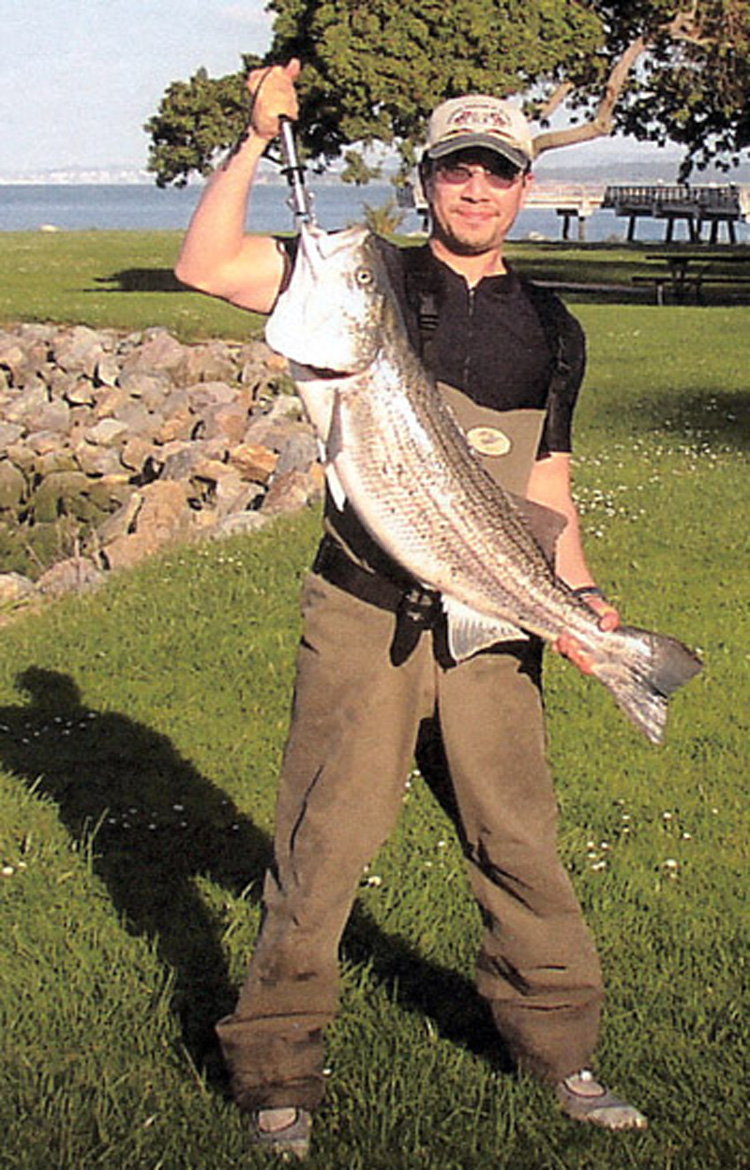 Striped bass
Special Tip. It is good to remember the tides no matter what type of fish you are seeking. Striped bass like a swift moving tide with best action at the time of most movement. Perch like a moderate tide with best action at maximum current. Jacksmelt like a swift current with best action at the height of the incoming tide. For sharks and rays a moderate incoming tide is best. For most of these, the three types of shrimp will work as bait; however pile worms are the best bait for the jacksmelt and you may not want to pay the high cost for ghost or mud shrimp when fishing for perch.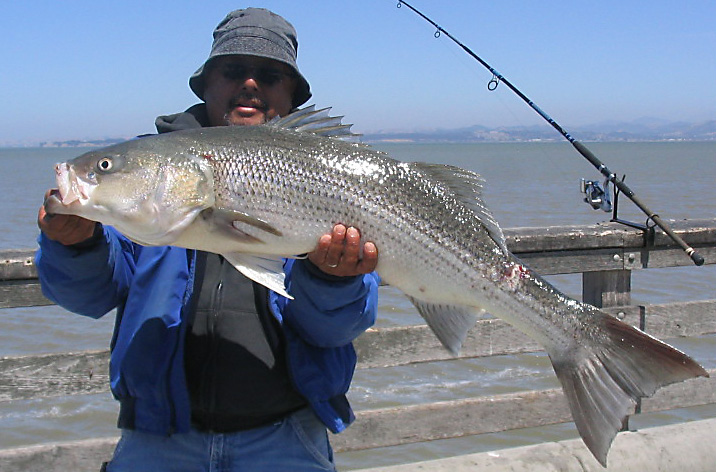 Striped bass caught by Mel
Best time to fish for the various species: striped bass—fall (remember the October "World Series" bite) into the early winter and then again around the so-called "Easter Bite"est times to fish for the various species is as follows: sturgeon—late winter to spring;; starry flounder—winter and spring; perch—winter; jacksmelt—spring to summer; white croaker—late winter to early summer; skates and rays—most of the year with late summer and fall the best time. Remember however that these times will vary somewhat depending on the arrival dates of the winter storms, their severity, and the freshwater runoff associated with the storms.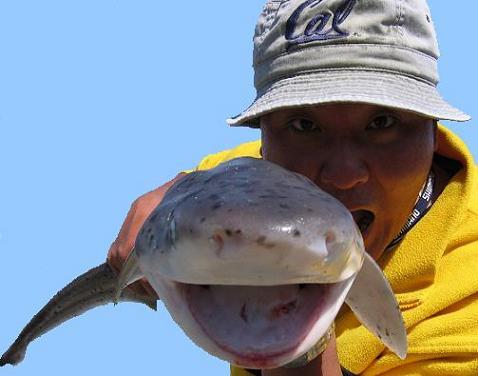 A small 7-gill shark
The Pier Rats Speak
Date: June 15, 2002; To: PFIC Message Board; From: eelmaster; Subject: McNears first timer
I'm going to go to McNears for the first time. Just wondering if anyone has any tips. I would love to focus on stripers, but am also interested if there are any hallies. How is the shark action now? Also would it be worth bringing crab nets? Any help for this McNears rookie is appreciated. Thanks, monte
Posted by Songslinger
Stripers: bullheads are the best bait here. Catch them yourself close to shore using pile worms and then move to the pier.
Sturgeon: always a possibility though fall through spring is best. Grass shrimp is a good bet.
Halibut: incidental mostly. Live bait might work, but this is not a great pier for shiners or anchovies, so you'd have to bring your own.
Occasional species include, skates, sharks, rays, flounder, kingfish, and jacksmelt. Fair for sharks right now.
What the hell, bring the crab net just in case.
This pier gets crowded so get here early. Strong current on the outgoing usually dictates being situated on the right side of the "T." Along with everyone else… But this is one of the few spots in the area where you are near deeper water and more fish.  Fish Giggle At The Sound Of My Name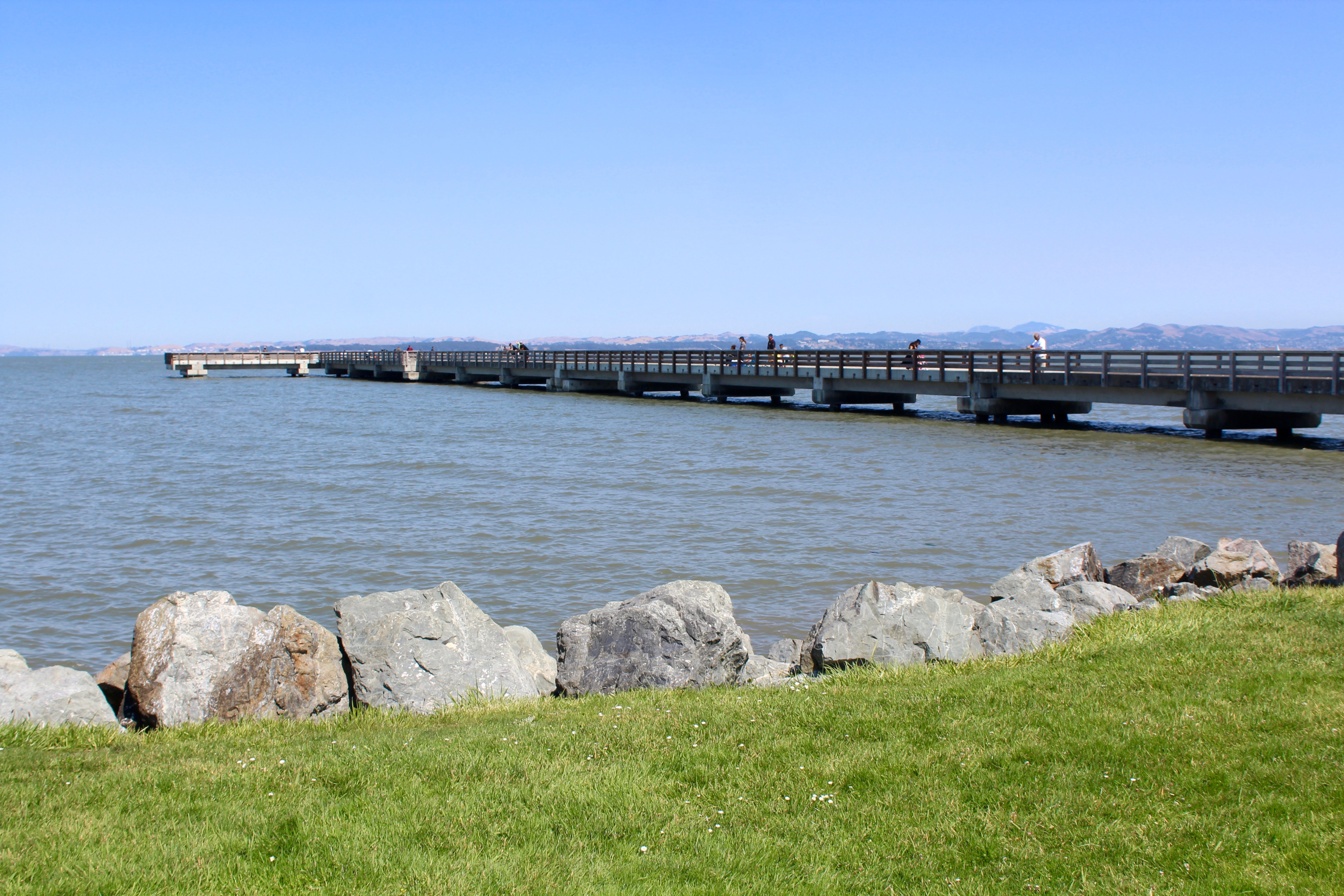 Posted by neptune1234
That's my specialty pier. That was where the party was all through high school. We used to sneak down at night with a couple bottles of Tequila and cast for stripers all night. There are some bruisers out there at night.
First 40 feet of pier….Before the benches… Cast Hair Raisers horizontally across the pilings for halibut and big stripers. Don't let them run into the pilings. They'll break off immediately. Throw a slider rigged with live baitfish or ghost and mud shrimp for sturgeon and stripers. Right around the ebb of the tide is best. When the water is all brown and muddy.
Lots of crabs though so bring lots of bait. I usually go through 6 or 7-dozen ghost shrimp in 8 hours for sturgeon.
First set of benches…..before the T….. Slider with live bait for stripers. Anchovy pieces or pile worms for kingfish, leopard sharks, rays and skates, stripers, and bullheads. Grass shrimp is another good bait for the same species of fish.
You'll need a 4-oz. weight to keep 20-lb. test down. There is a deeper hole at the base of a sandbar on the left hand side off the first bench. Usually pull something out of there. Incoming tide is best for this spot.
Out on the end of the T… I prefer the right hand outer corner. I always nail a keeper striper there. Often a limit. You'll need 6-8 oz. of lead to stay put. Cast out towards the islands. There's another hole out there. Anchovies cut in half seem to be the favorite bait. Everyone uses a high/low out there. You can just about give up on a minus tide unless you have 1-lb weights to throw. Tide rips through there.
Make sure your pole is secured to the pier. Big rat rays come through and will take your pole over the side in the blink of an eye. I use bungee cords. The water is deep out there so there is often freak catches. I have seen thornback rays, 6 and 7-gill sharks, lizardfish, giant flounder, dogfish, and halibut caught there. Willie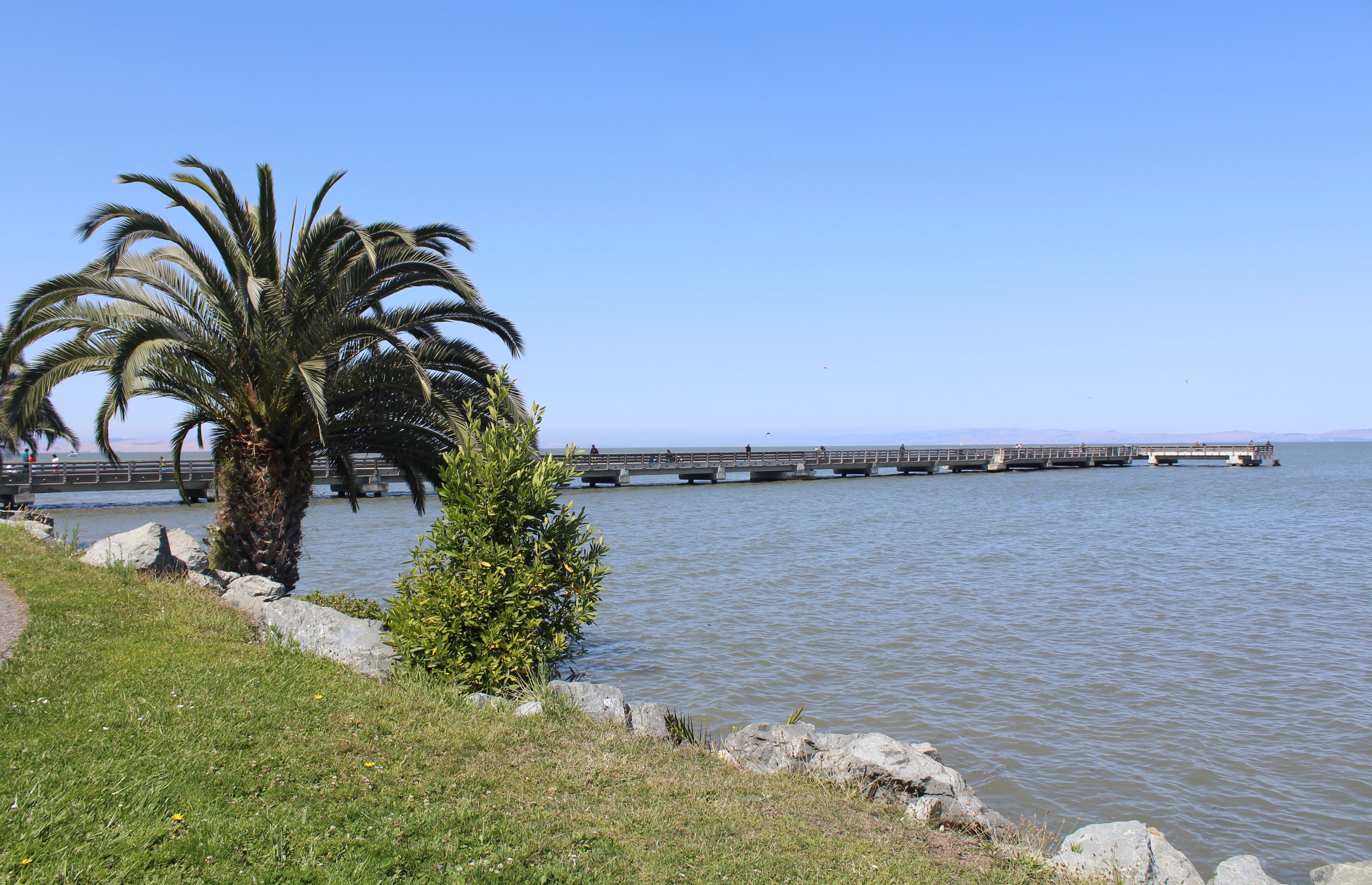 Posted by neptune1234
I forgot… If you get there on a low tide flip over some rocks along the shore. You'll find midshipman for sharks and stripers, pile worms, clams, and mussels. Throw that whole mess on a slider in the shallows.
I wouldn't bother using the crab net for crabs. Place only has baby dungies and mad mitten crabs, neither of which I would eat. Kind of dirty water. Warning signs. The whole bit. Nets will come on handy to land the big fish. I usually walk my monsters down to the beach though. More sporting.
As far as the lures go…. keep at it… the stripes come through every day. I have caught them at ever point of the tide. Always within the first 50 feet of the pier. About a month ago I hooked seven, lost three, and landed four. Nailed a 28" halibut too. Drag your lures right past the pilings. Beware of snags of course. Have fun, stay young, drink Pepsi….WIllie
Posted by eelmaster
Thanks guys…when you say a lot of people, what are we talking. I hate people. lol! I like to be solitary, but I need to fish this place.
Posted by neptune1234
The tourists mainly stick to the grass and picnic tables. Occasionally they'll come out to catch the view. Nothing like the Tides Wharf. It's a nice place to take the family though. You'll see what I mean…. I think its 7 bucks to get in. I only fish during the winter when it's free.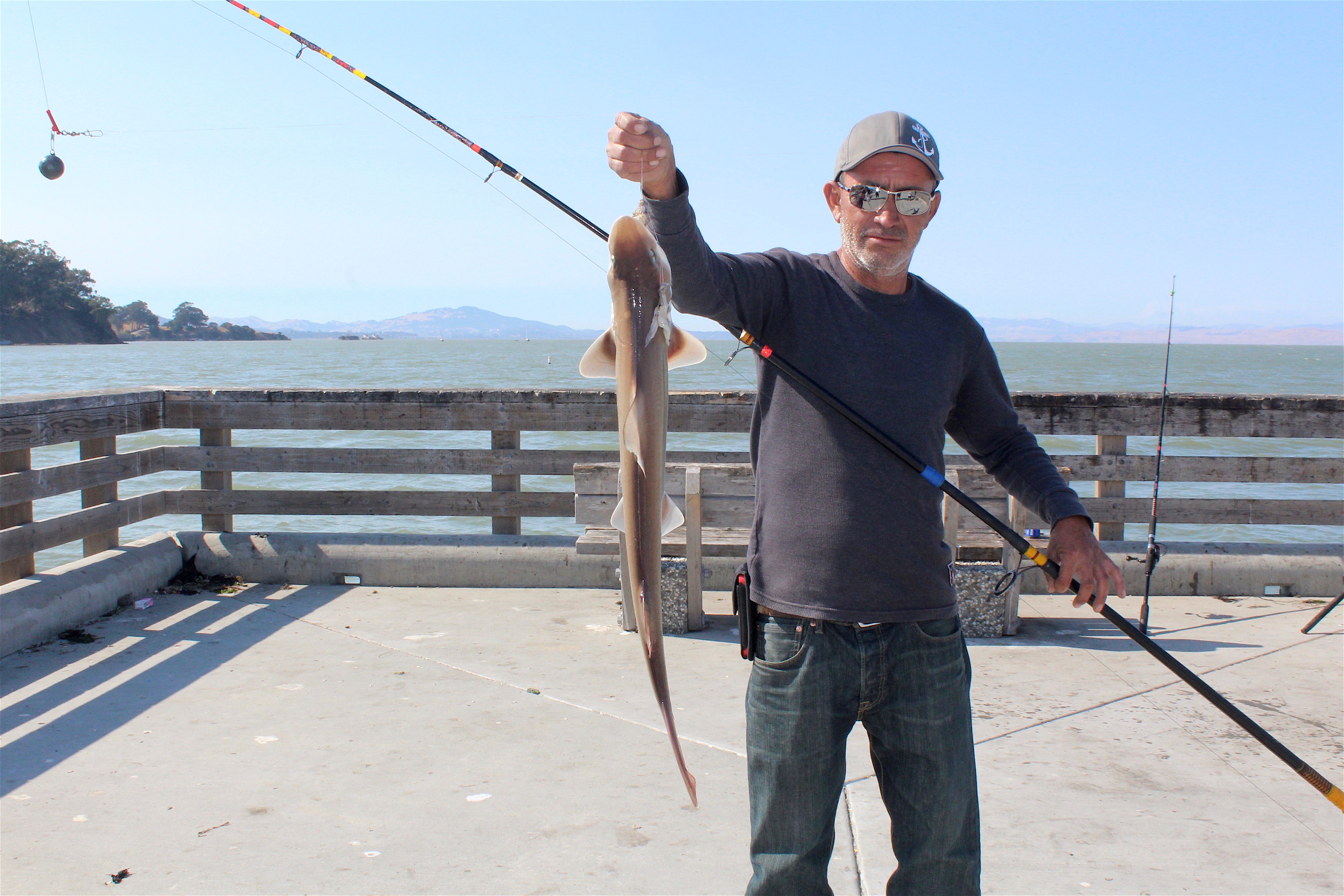 Simon and a brown smoothhound shark
Potpourri — More Than You May Want To Know About the McNear Beach Pier
<*}}}}}}}}}>< — PFIC angler Mel Kon sought for years to catch his first sturgeon which the below thread details. Since then he has become an expert and now helps give seminars on how to catch the big fish from the pier.
Date: January 2, 2005; To: Pier Fishing In California Message Board; From: Mel; Subject: YEEEEEEEEEEEEEHAAAAAAAAAAAAAAAAW!!!!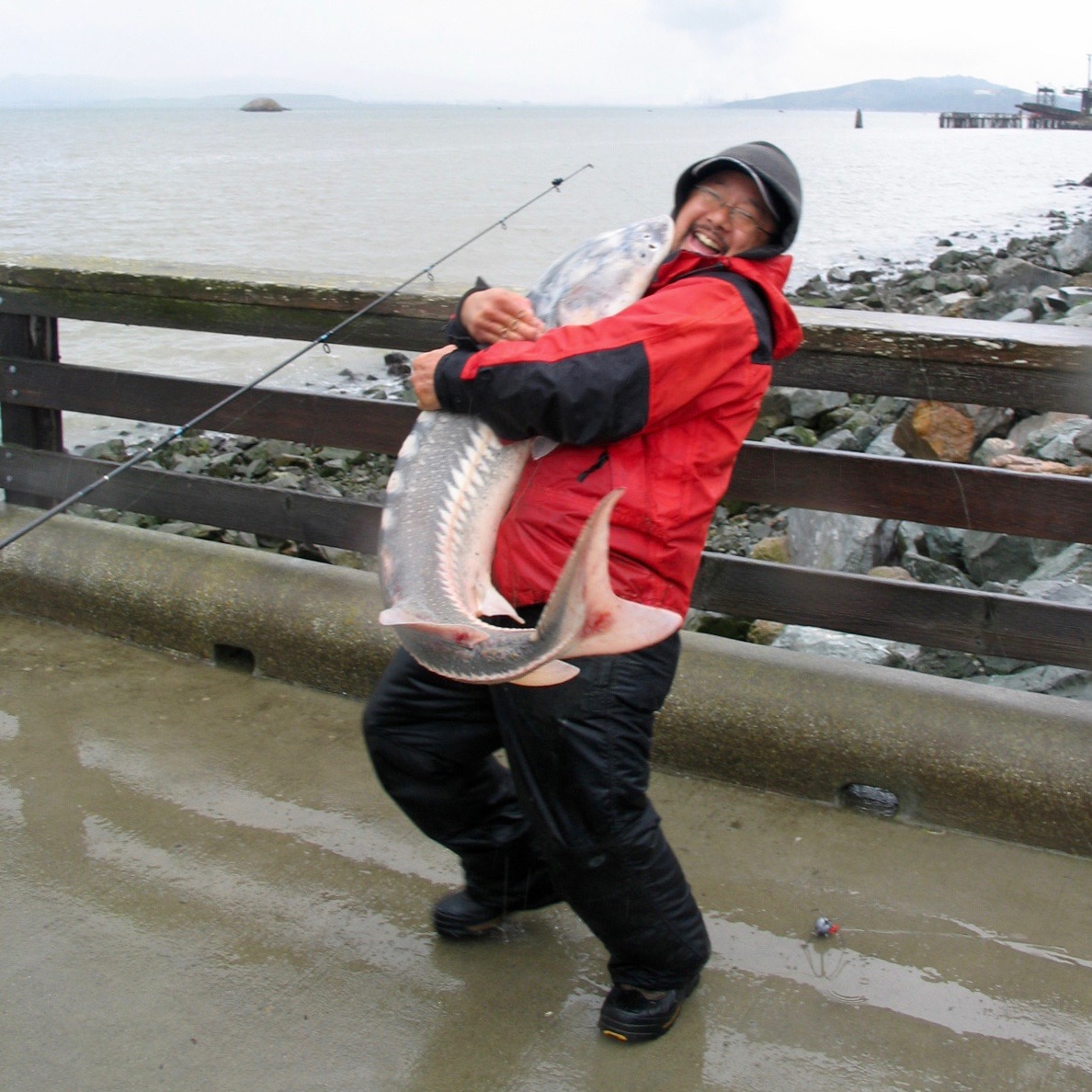 I finally did it! 57-inches, 45-pounds. A nice fat beauty. Caught on ghost shrimp at McNears about noon. Bite looked like a kingfish so I just left it alone. About 20 seconds later it bit like a kingfish again. I took my rod out of the holder and felt a tug. It wasn't a kingfish tug. It was one of those kinds that tug the whole rod. Loaded up and swung hard and set the hook home. The fish did a nice little dance, complete with aerial acrobatics. It swam in and I thought I lost it. Finally got it to the pier and walked it down to the rocks. A great big assist to Redfish who assisted me as he did some acrobatics of his own getting down to the rocks. Unclesteve took some pics and he'll post them later. I'm pumped, I'm stoked! Finally, I can be normal again. (Not that I ever was before) YEEEHAAAAW! What a way to start off a new year!