Public Pier — No Fishing License Required
I should have been there (but I wasn't). The date was July 2, 1966, the official opening day for the Ocean Beach Pier. Included in the 7,000 people who crowded the pier that day were local politicians, city officials (including Mayor Curran), and the main man, California's governor, Edmund G. Brown who was scheduled to make the first cast from the pier. The San Diego Union reported the next day that Brown borrowed an angler's rod, fished for five minutes, failed to catch a fish, and returned the rod. The angler decided to move! Just a short distance away, a large white cabin cruiser circled slowly around the front of the pier. On the side of the boat was a large banner reading "Reagan for governor" (and Reagan would defeat Brown that November). It must have been a sight!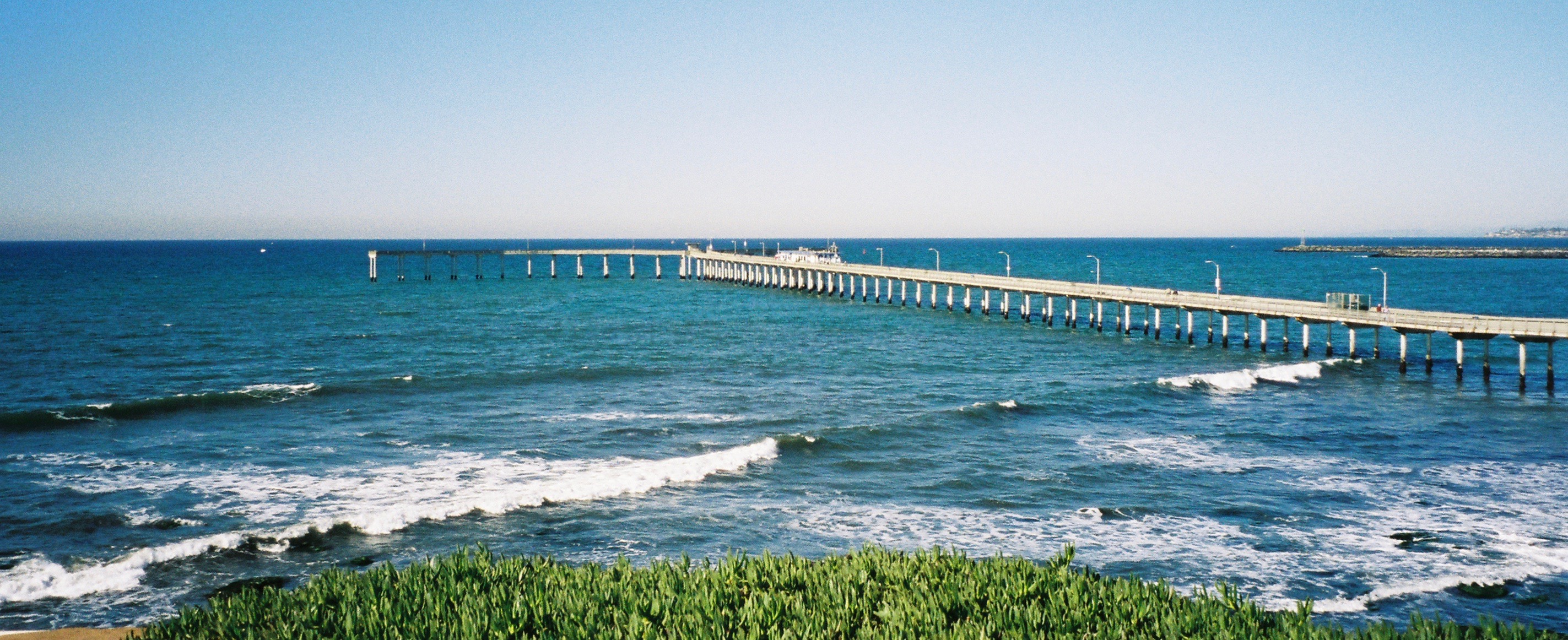 The first fish reported caught that day was an 8-inch sunfish (but since sunfish are freshwater fish, it was probably a perch of some type); next in line was a gray shark and then a crab. Not too impressive, but a start.
When it opened, this pier promised to be one of the premier piers in the entire state. It was long, providing nearly a mile of railing space, had full facilities, and it jutted out into the Point Loma kelp beds, one of the finest fishing areas in southern California. Anglers had visions of not only the smaller pier species but also larger game fish like barracuda, yellowtail (generally 5-10 pound firecracker size), white seabass and perhaps even a few giant black sea bass. Alas, although there are occasional glimpses of that promise, most of the days the fish and fishing is much like that found at other piers—fair to good but generally unexceptional.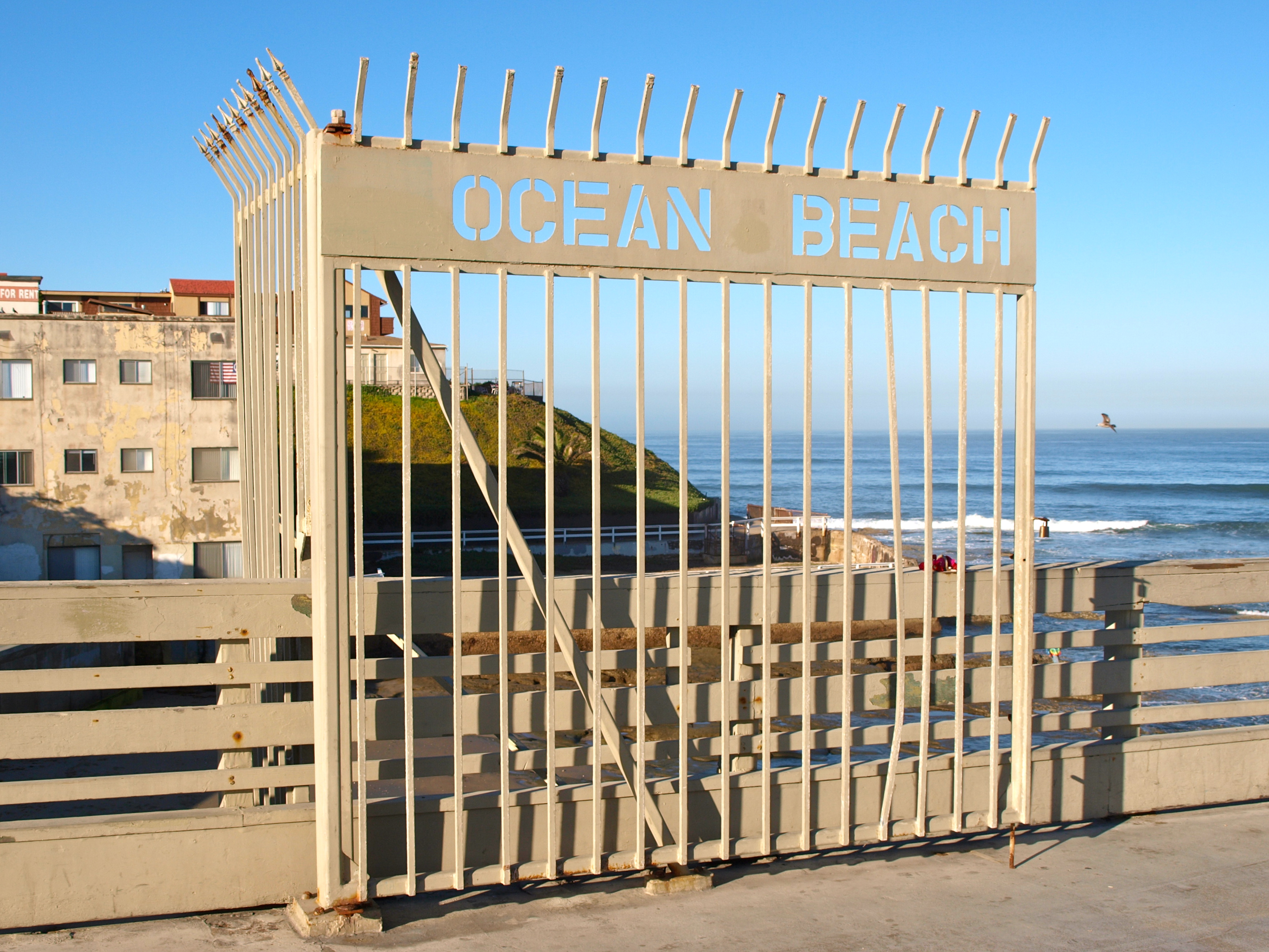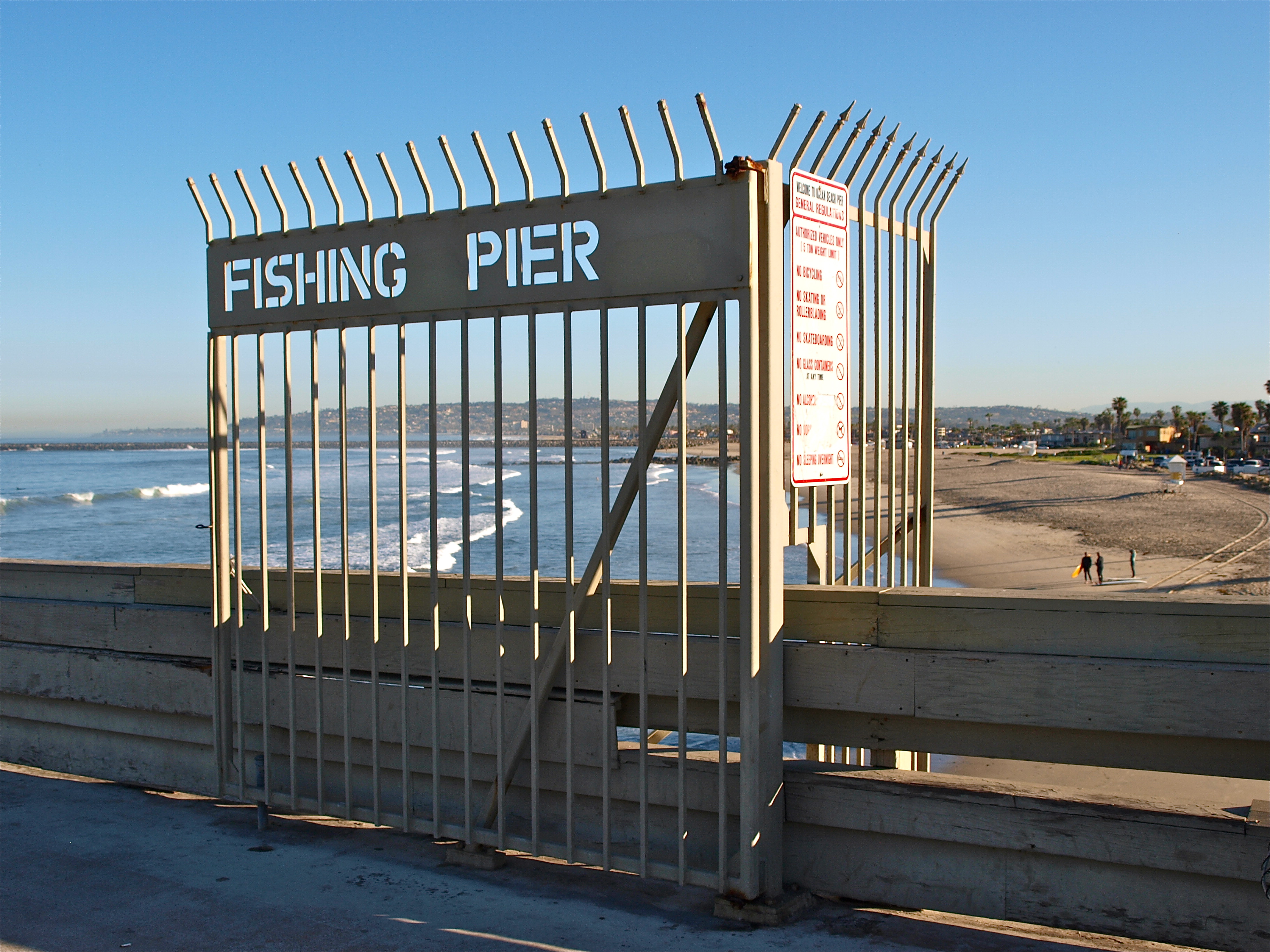 Personal experience would seem to substantiate those thoughts. My first visit was on August 6, 1966 and produced nothing but queenfish, a lot of queenfish. Several additional trips that year produced nothing but more small fry—white croaker, jacksmelt, walleye surfperch, jack mackerel and queenfish. Better results were obtained at Crystal Pier and so it was there that I would typically go unless at night when OB would be open while Crystal closed. Eventually though (in 1967 and 1968) the larger fish did show up—halibut, bonito, shovelnose sharks (guitarfish) and barracuda, in fact quite a few barracuda. So, there are larger fish to be found at the pier but be realistic and do not expect to have the fishing match the size of the pier.
Environment and Fish.  At 1,971 feet the Ocean Beach Pier is supposed to be the longest concrete pier in the world. It also has a T-shape at the end extending 360 feet to the south end and 193 feet to the north end with a width of 20 feet throughout the pier.  It's a long pier and not surprisingly presents several different environments—rocky, sandy, and those found in a kelp bed.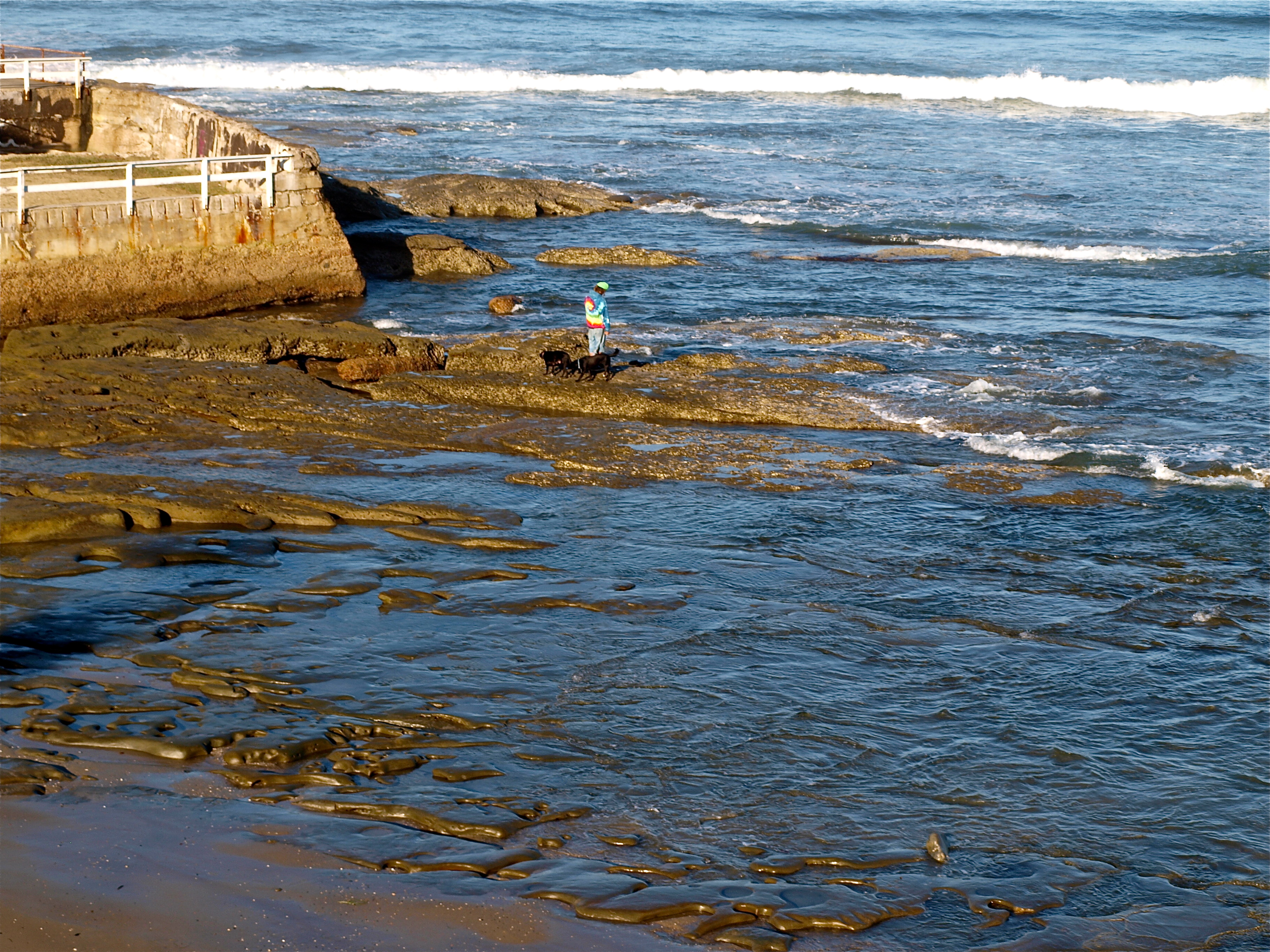 Inshore waters present a contrast in environments, at least at the foot of the pier. North of the pier is Ocean Beach Park, a typical sandy-shore beach, while south lies the Ocean Beach City Beach and Sunset Cliffs Park. Both of the latter are primarily rocky shore areas with each containing a series of small pocket beaches, some of which can be accessed by stairways. When young I used to fish from the Sunset Cliffs and was able to catch a wide variety of rock-frequenting species—bass, cabezon, perch, halfmoon, opaleye, kelpfish, etc.
Given that the front of the pier is built over this same type of rocky environment, there's a chance for some of these same species. Unfortunately this rocky area is small and is basically a shallow-water area. When tidal conditions are right, high tide with small breakers, anglers are presented an opportunity to catch some fish. Low tides present conditions more conducive to exploring the tide pools.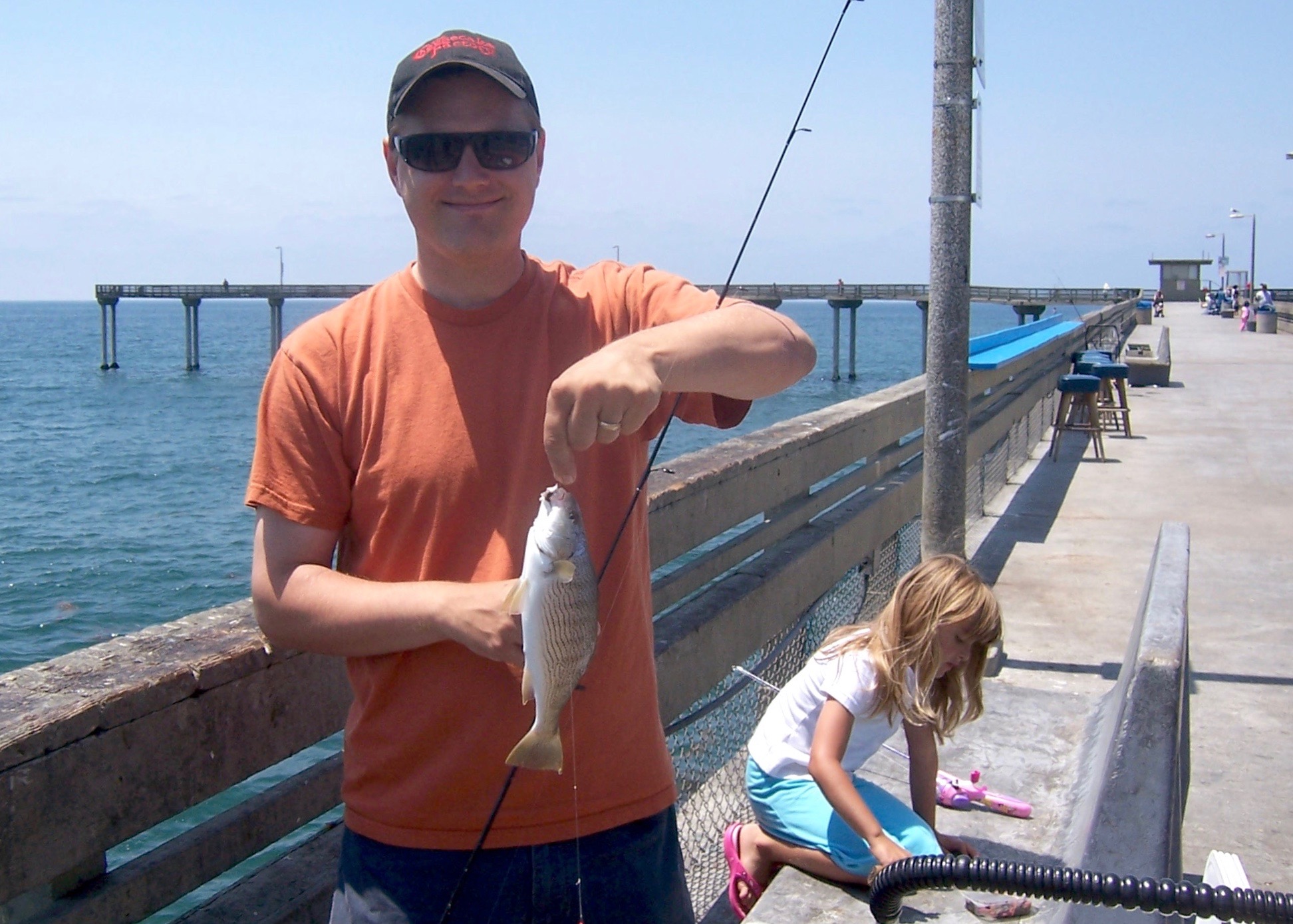 Yellowfin croaker taken by my son Mike. Granddaughter Serena is uninterested
A short distance out on the pier though presents a sand and mud bottom that means for the most part the normal sandy-shore species. Inshore you'll primarily get some perch, croakers and sharays (sharks and rays). Midway out, on both sides of the bait shop, is the best area for the smaller white croaker, queenfish, jacksmelt, walleye surfperch, barracuda, mackerel and white seabass (usually the small, illegal, juvenile fish called sea trout).
This mid-pier area also seems to yield the majority of halibut (spring to summer), guitarfish and bat rays; it was in this area that I once caught a nearly 4-foot-wide California butterfly ray. Another day I got an uncommon, just barely 6-inch-long deepbody anchovy (Anchoa compressa) that hit a bait rig intended for mackerel. I believe there is a reef on the north side of the pier in this area, and that may explain why the majority of the fish seem to be taken on that side.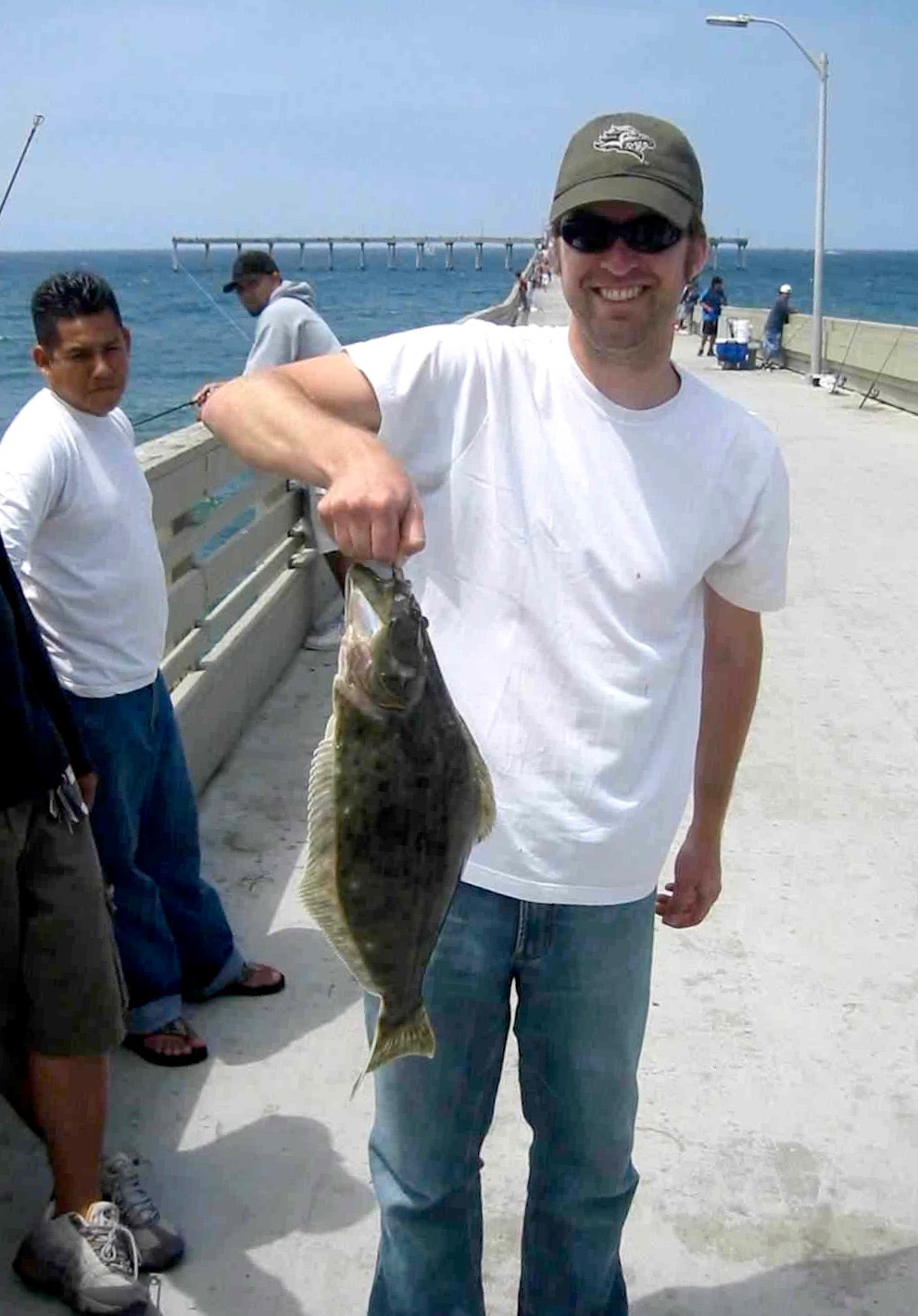 The far end extends into the Point Loma kelp bed and is blanketed by kelp much of the year. This can attract some kelp resident species but can also cause a lot of tangles, usually at the most inopportune time—such as when you have a large fish attached to the end of your line. At this far end, where the water is 25 feet deep, the most common species are kelp bass, sand bass, several variety of perch, bonito, mackerel, scorpionfish, and, quite often, California lobster (which are illegal if taken on a line). Unfortunately during warm-water years the kelp beds may diminish in size, which can mean less fish — but also less tangles (there's always a trade-off).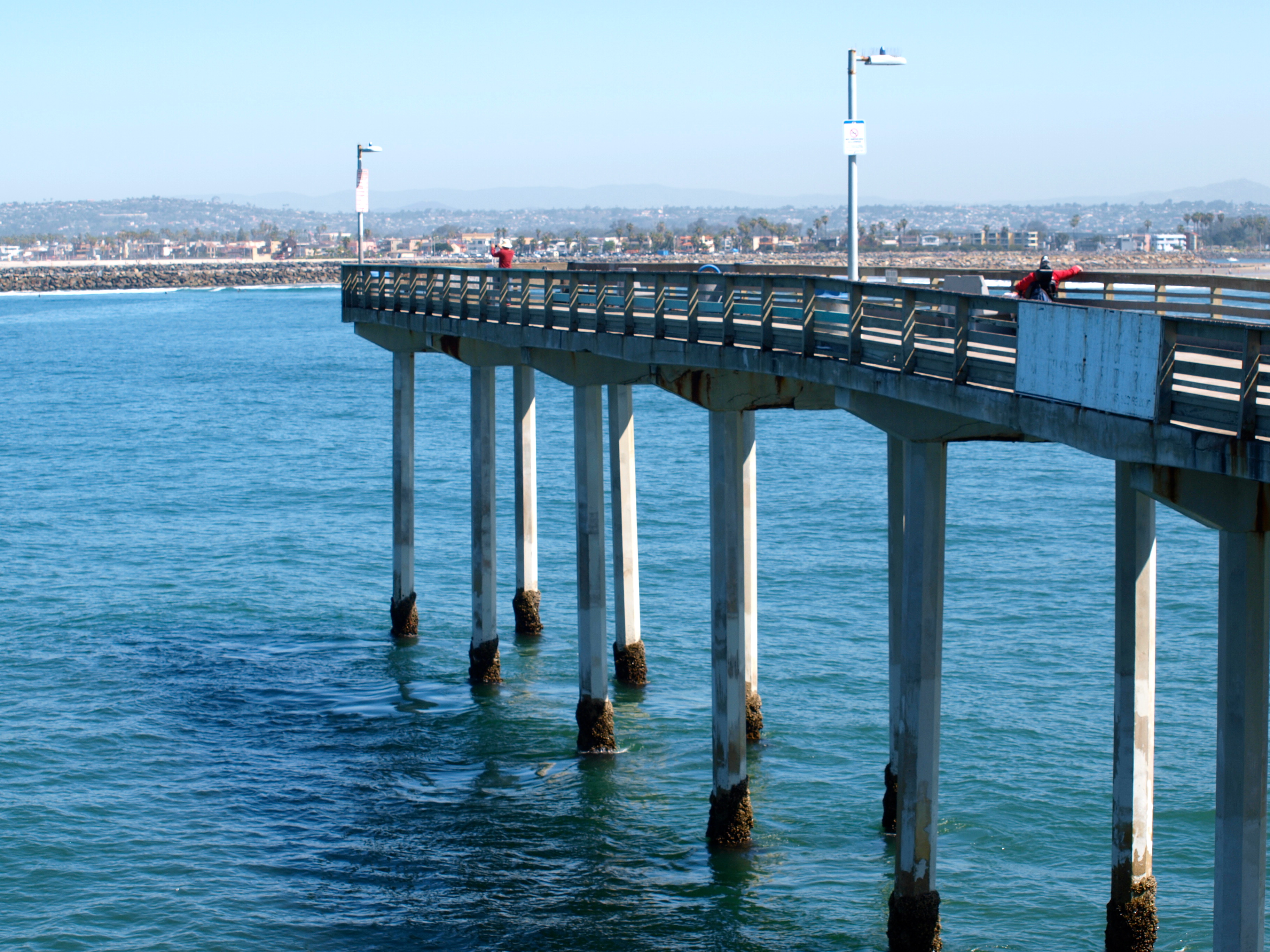 Occasionally a black sea bass (giant sea bass) will also pass through this kelp bed area. The first PFIC report of a blackie at the pier was in August of 1997, a 9-pound baby that was caught and quickly released back into the water. Since then the number of the giant sea bass that are hooked and released seems to multiply each year. Two of the large bass, estimated at 80-pounds each, were taken in May of '09 (one on a live queenfish, one on a chunk of mackerel), followed in the same month by a fish estimated to weigh 150 pounds. Who knows, maybe it's the mamas and the papas of that little 9-pound youngster? Then again, how big might he or she be after all these years?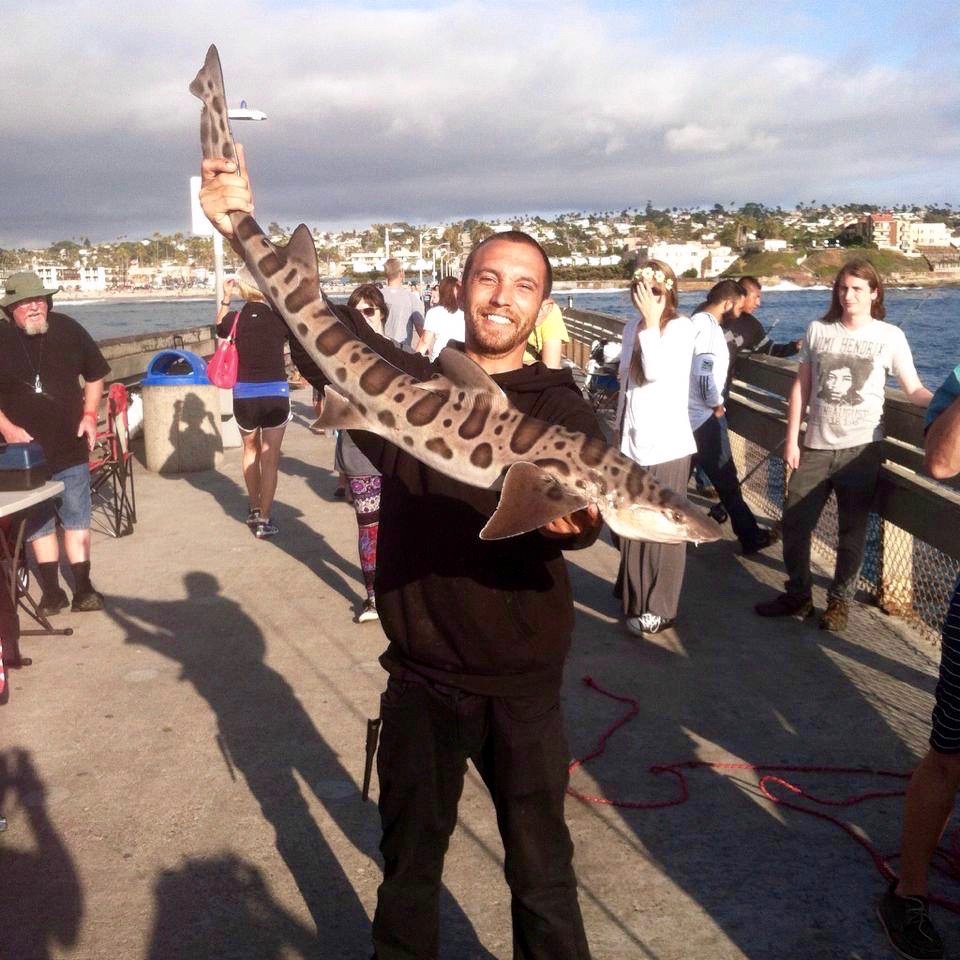 Leopard shark taken in 2016
The pier receives a lot of angling pressure (more than 500,000 visitor-days of use per year) but, because of the length of the pier with more than a mile of railing space, it rarely feels crowded. Regulars used to include such characters as Halibut Harry, Bonito Man, Buffalo Kid and Big Mama, but the cast and names change with the times.
Something that doesn't seem to change is the antics of the sea gulls. Never leave your bait unattended because the robber gulls will quickly swoop down and grab anchovies or similar baits. Best to cut a piece of bait and then put the rest of the bait back into a cooler.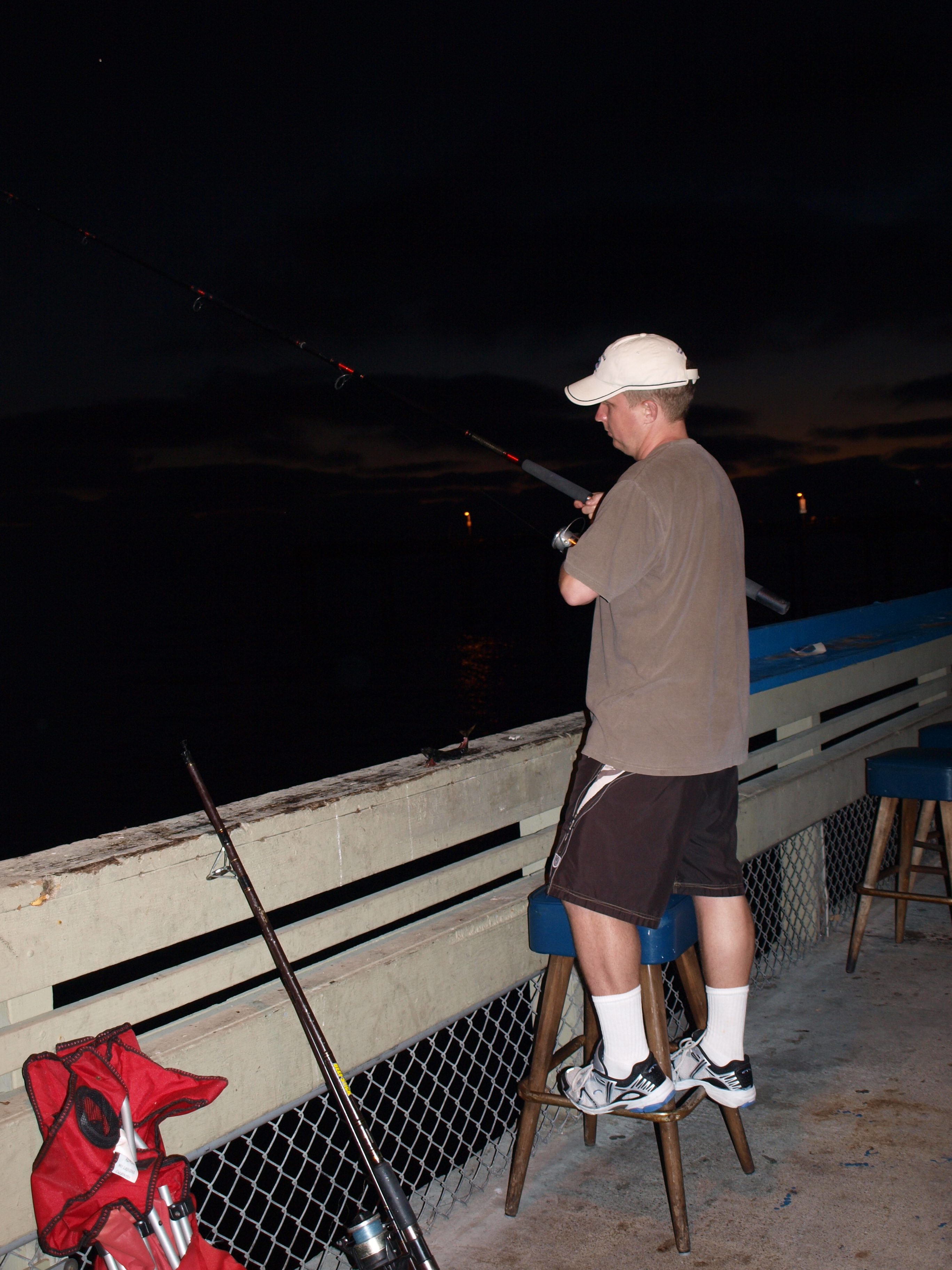 OB Pier Rat
A final important consideration regarding the environment is the behavior on the pier. One visitor to my web site reported that a popular California fishing guide mentioned that it was unsafe to visit this pier at night due to unruly thugs. This was news to me! Although I had spent many a long night on the pier back in the '60s, recent trips had rarely extended beyond 10 P.M.  In checking with the local "experts" it is fairly apparent that there were some problems in the mid-'90s due to transients using the pier at night for their lodgings. However, tactics changed. The police now use bicycles to patrol the pier (thus not tipping off their arrival), and 24-hour parking has been set up adjacent to the pier, which seems to cut down the number of people on the pier at night. Also, and this was a big factor, no alcohol is allowed on the beach or on the pier. Thus it is generally safe to visit the pier at night.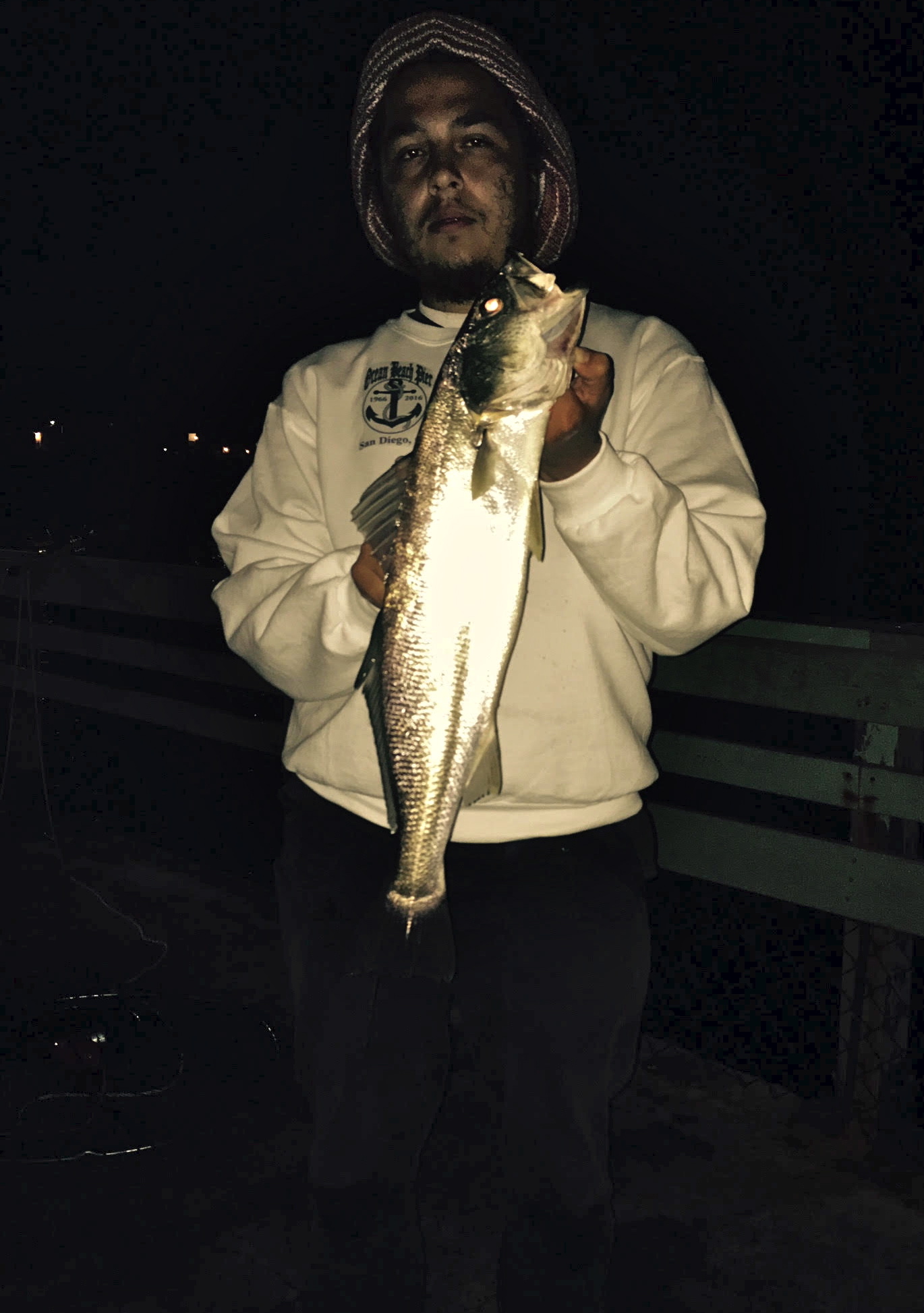 Shortfin corvina caught in 2016 by Angel
One of my favorite descriptions of the pier and its environment is a poetic one given by Janice Lee in her excellent blog titled ENTROPY. Herein a few excerpts:
Ocean Beach Pier at night, recalls a certain image. I always remember one particular night when it was red tide and so the incoming tides and subtle movements of the water revealed a strange and eerie glow, the small but numerous bioluminescent dinoflagellates causing the water to glow blue. The same night the pier was full of people fishing, different colored glow sticks tied to the ends of their lines for visibility. And amidst the already eerie symphony of light and darkness, the fireworks from Sea World started to go off. I'm somewhere else, I thought. It was utterly chaotic: all of the different lights and people and flopping fish and voices and boom boxes, and it was utterly beautiful and calm: the darkness, the glow, the perfect home for ghosts and their sorrow…
At the end of the pier, it is like you are at the end of the world. Standing on the southern tip, there is only darkness and infinity. If you stand in the right position, the lights of the city don't even exist anymore. This is the ocean that can swallow you whole without flinching, without anyone noticing. You could disappear into the blackness, and here, no one would ever notice. Is this a similar kind of loneliness to the terrifying solitude of outer space?…