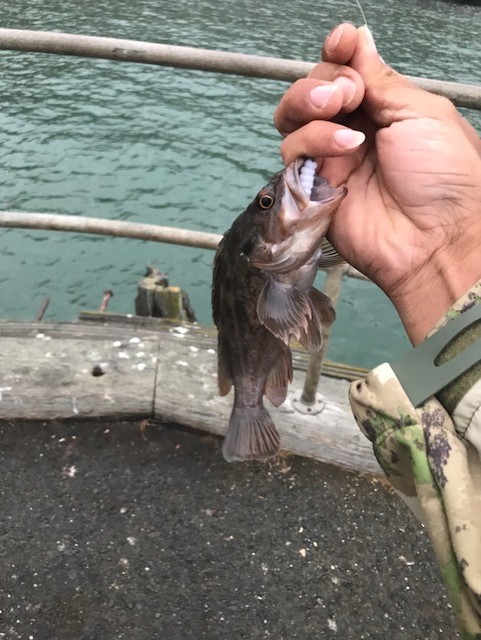 Brown rockfish caught on a white lure by Matt Shockley — makes it look like its got a good set of teeth
King salmon are sometimes caught during the summer, especially when schools of anchovies are clogging the water around the pier. When present, the best bait is a whole anchovy fished a few feet under a float.
Sturgeon are often present winter to spring months, especially when the herring are spawning in nearby areas. Sometimes they're present in large numbers. One day in the mid-'70s I saw nine keeper-size sturgeon laying in a row near Point Cavallo (just past the jetty/breakwater to the left of the pier), none was under thirty pounds, and all had been caught by a group of anglers fishing from the ROCKS at the point. Several mentioned how hard it was to fight the fish from the rocks and then climb down, gaff, and pull the large fish up to the top of the cliff. Needless to say, they felt it was the greatest day of fishing most had ever experienced.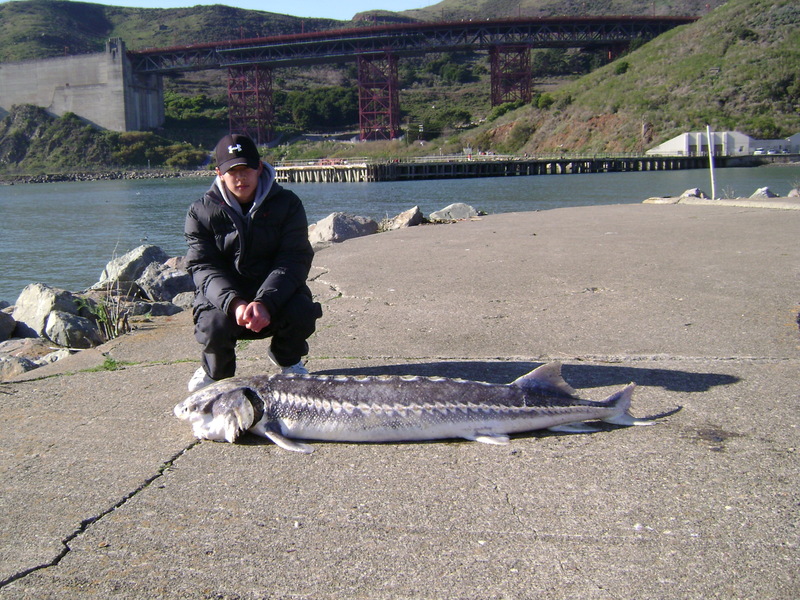 White sturgeon from the jetty  
Today this area is closed for sturgeon fishing from January 1 to March 15; the fish were simply too numerous and too easy to catch. In addition, there was a problem at one time with anglers snagging the fish. However there are still fish present after March 15, so it is an area an angler might want to try. If you do try for sturgeon remember to use heavy tackle and remember to have appropriate equipment to land the fish. Although ghost shrimp, mud shrimp, and grass shrimp were the traditional year round baits (perhaps along with eel), the sturgeon gorge on herring eggs and herring during the restricted winter months. Some anglers go out at low tide during these times and collect the eggs (you are allowed 25 pounds a day) from exposed rocks and pilings and then save them for bait. Other anglers use the herring themselves. Whatever works!
The most common large fish will be the sharays—sharks and rays. Brown smoothhound sharks, leopard sharks, soupfin sharks, and bat rays are always a possibility when fishing on the bottom; sevengill sharks and big skates are caught just often enough to keep it interesting.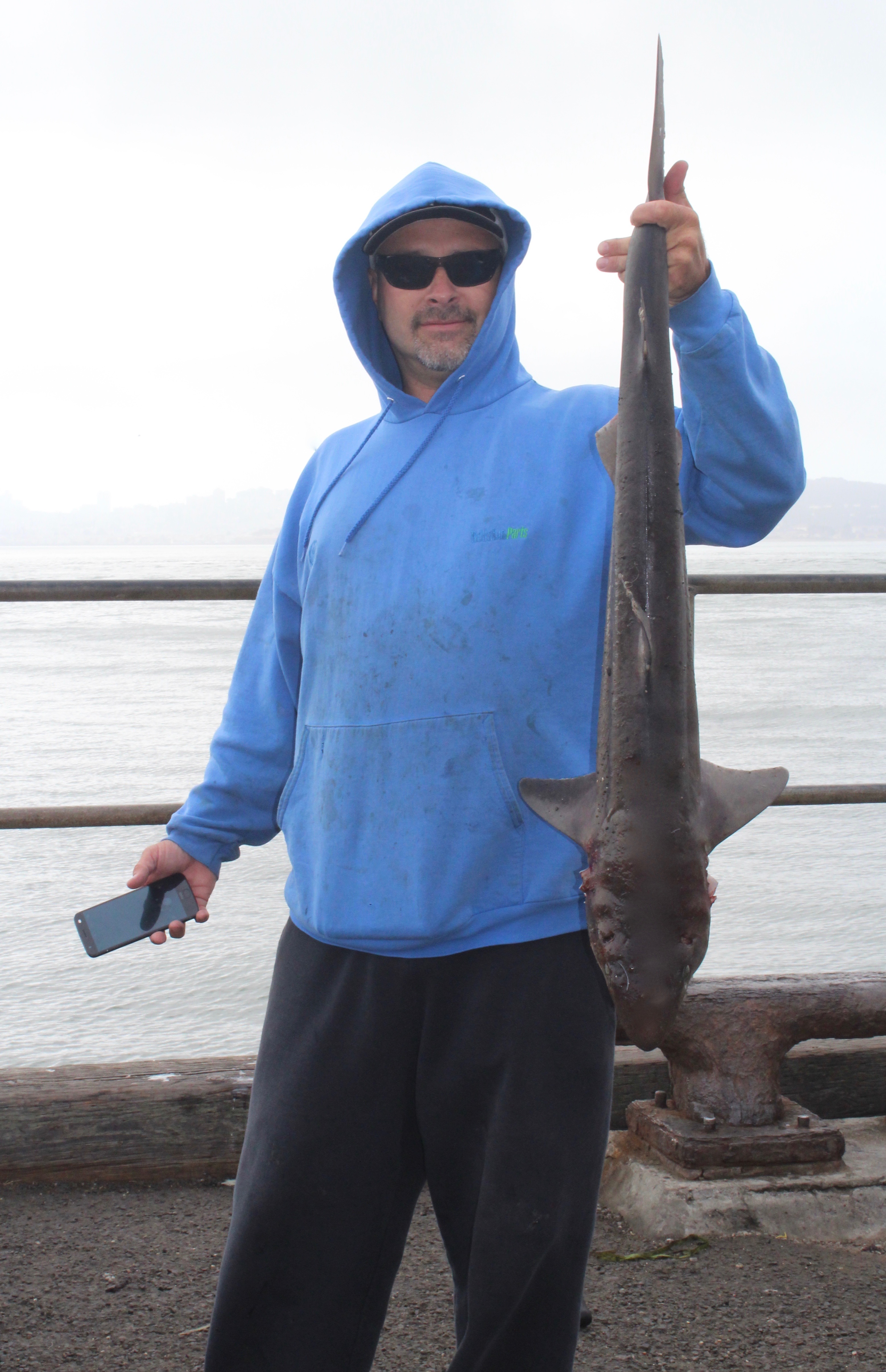 Soupfin shark caught by Jimmy Athas

Most years will see some leopards exceeding 30 pounds in size and a few bat rays approaching or even exceeding 75-100 pounds. Most of the sharks and rays I've seen here were caught by people who had cast straight out from the end of the pier, or cast from the side facing the Gate (although many leopards also seem to be caught in the somewhat shallow water on the south side of the pier). For all of these, squid makes good bait and the evening hours are the prime time. Remember to have a strong rod and reel, a stout line, and a net for these large creatures. It also pays to have a friend to help with the netting.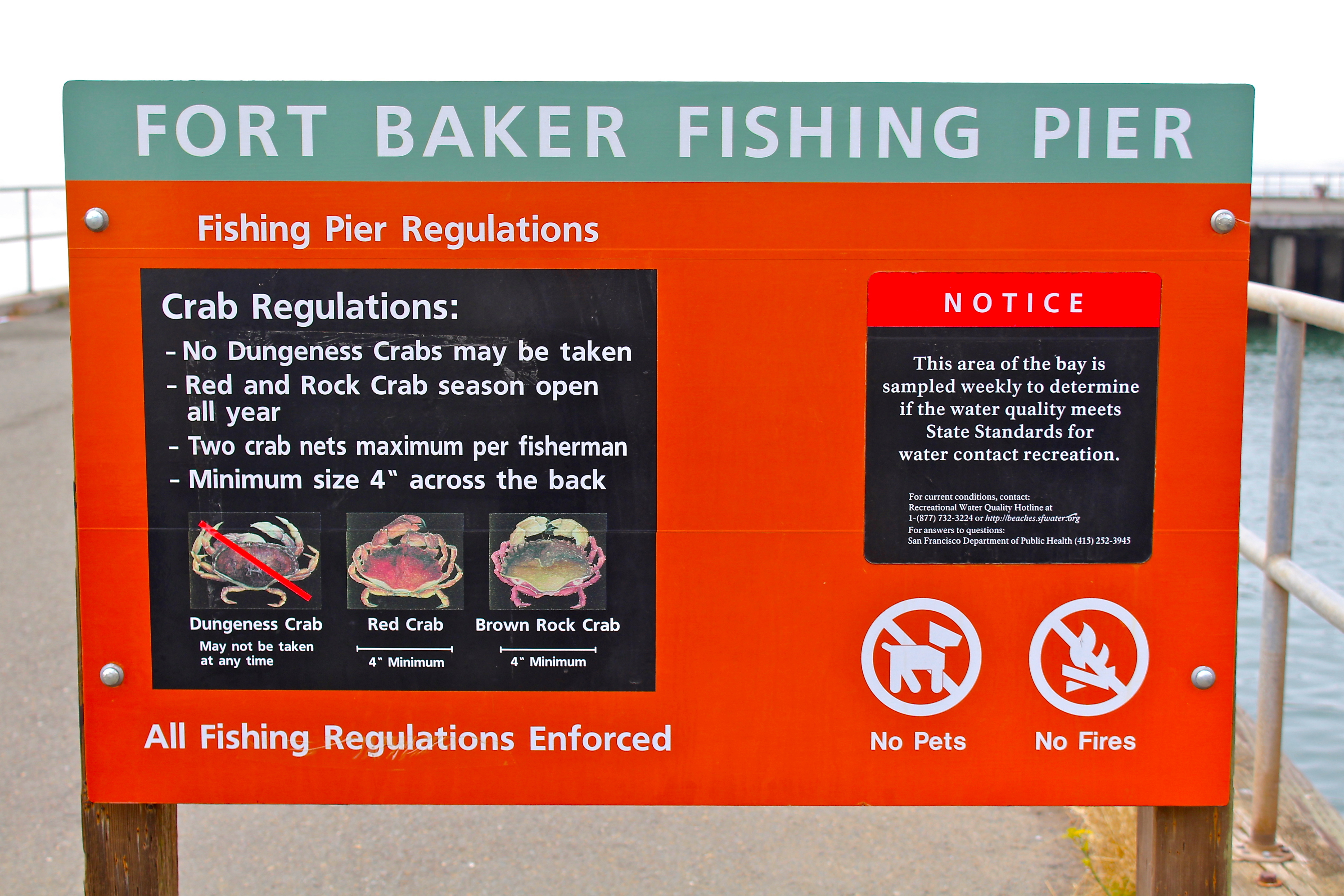 Red and Rock crabs are OK, not so with Dungeness crabs
Last but not least is the excellent crabbing that can be had at the pier. In fact, often times there are more people crabbing than fishing. Just remember that you are inside the bay and can only keep the red crabs and rock crabs, you're not allowed to keep the Dungeness crabs that may also show up in your nets. Although really rare, we've also received reports of another crustacean occasionally showing up in the Fort Baker crab pots—spiny lobsters. The lobsters were a long distance from their usual southern California homes but more than one has been reported.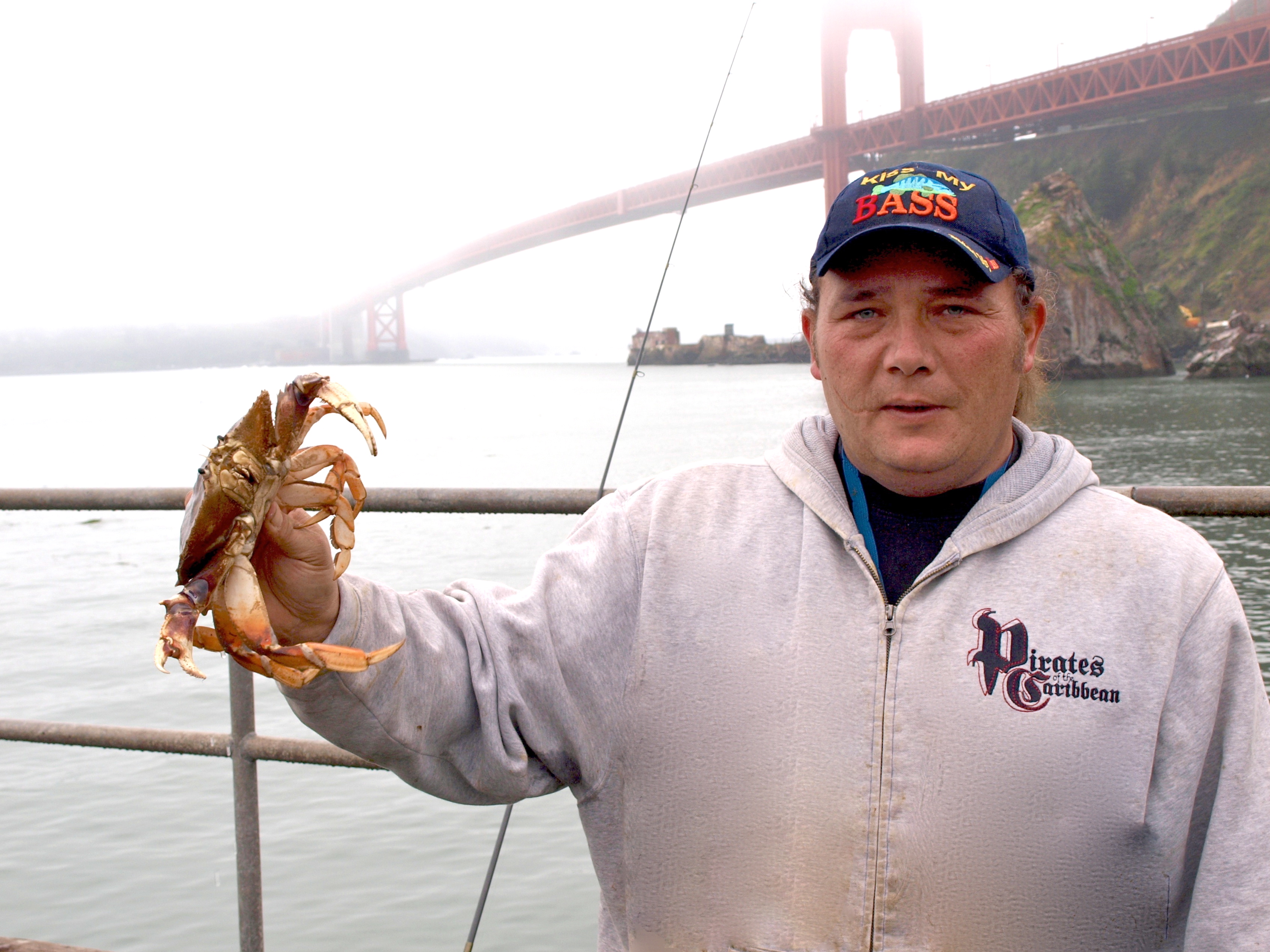 Illcatchanything (Brian Linebarger) and a crab but it's a Dungeness and must be returned to the water.
The Pier Rats Speak 

Date: August 22, 1998; To: Ken Jones; From: Dwight H; Subject: Pier Fishing
Hey Ken, I just got back from fishing Fort Baker! I caught one rather large rubberlip perch and a skate…but what really irks me is that I had three HUGE unknown fish fight with me for a while and subsequently snap my line! The first one was like a large wave of fish that just took my bait and  snapped my line!  The second one, I fought for a good while…running up and down the pier in order to keep up with it…and then IT happened!  The third one was ferocious! I don't think I've ever had anything on that big before! But after a few seconds of fish wrestling, that one too got away! Ugh…I"M SO PI..!!!  It's time for Dwight to head to the sports shop and buy super thick fishing line and head back out  there!  I was using anchovies.  Any idea what it could've been?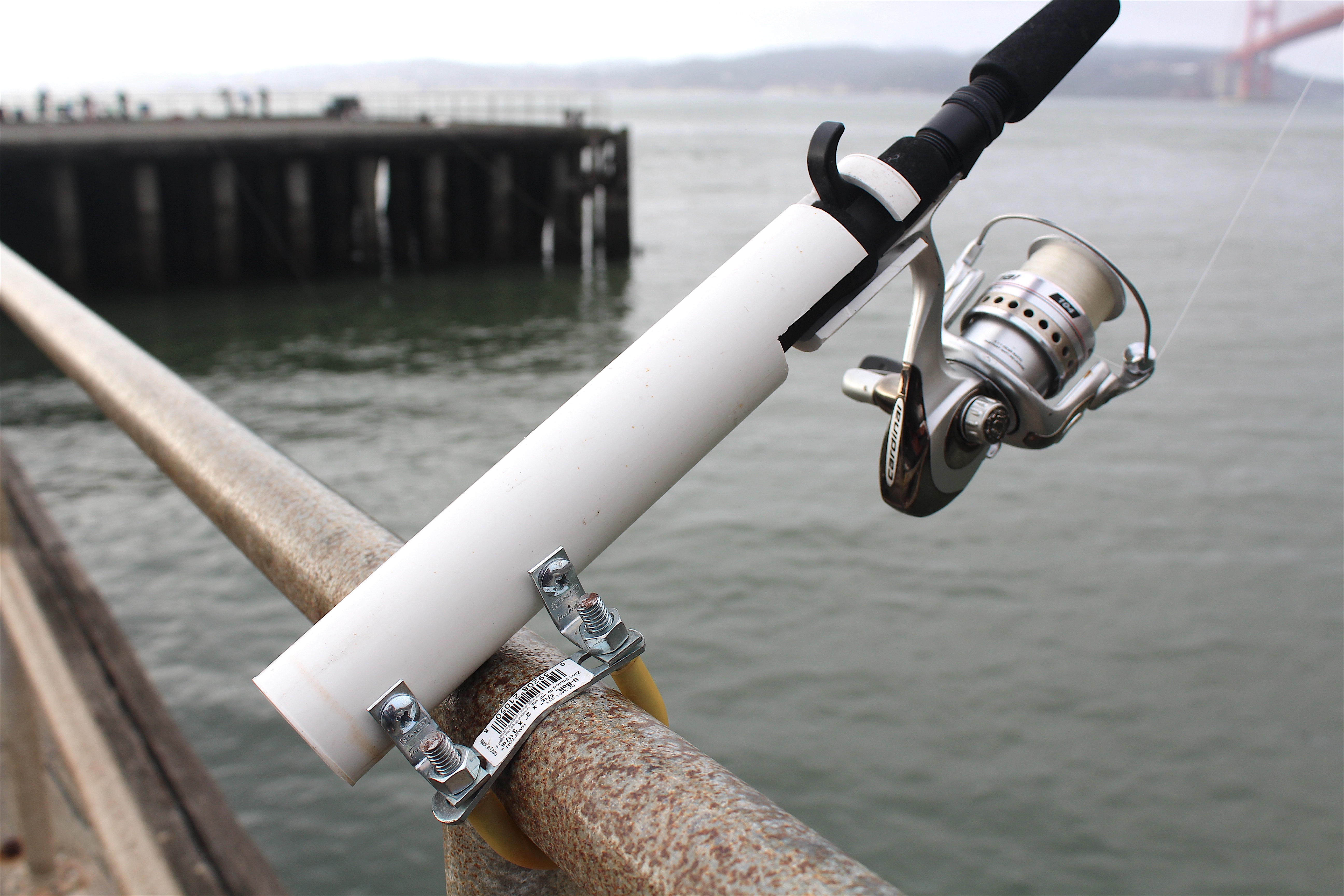 A rod holder designed for the pier
Date: December 18, 2004;  To: PFIC Message Board; From: Mr. Pole Pack; Subject: Fort Baker, Saturday – Yabba-DABa-doo!
Hit FB with my son and some squid to catch some hyped sanddabs and crabs with squid. I met fakefisherman, his friend and another guy (didn't get his screen name). The day was clear and crisp and there were about 20 anglers out at noon. After losing a leopard shark, I caught a 10″ sanddab, My first! Fun little fish kinda reminded me of bullhead hits. Steady action for about two hours with everyone catching.
Weird thing… after filling my bait cage with squid, I pulled it up and all the squid was gone except the bait cage was still tightly closed? What could have taken 1/4 lb of squid without opening the cage? Octopus?
Met another guy with a Hummingbird shore fish finder. It was pretty cool but he told me it works best in lakes. Met the mysterious "homeland security agent." They're filming a time-lapse sequence of the bridge for a documentary.
Fakefisherman and friend caught a few dabs and crabs. We all left at sunset. Thanks for the extra fish, FF! Digesting the tasty morsels as I type this.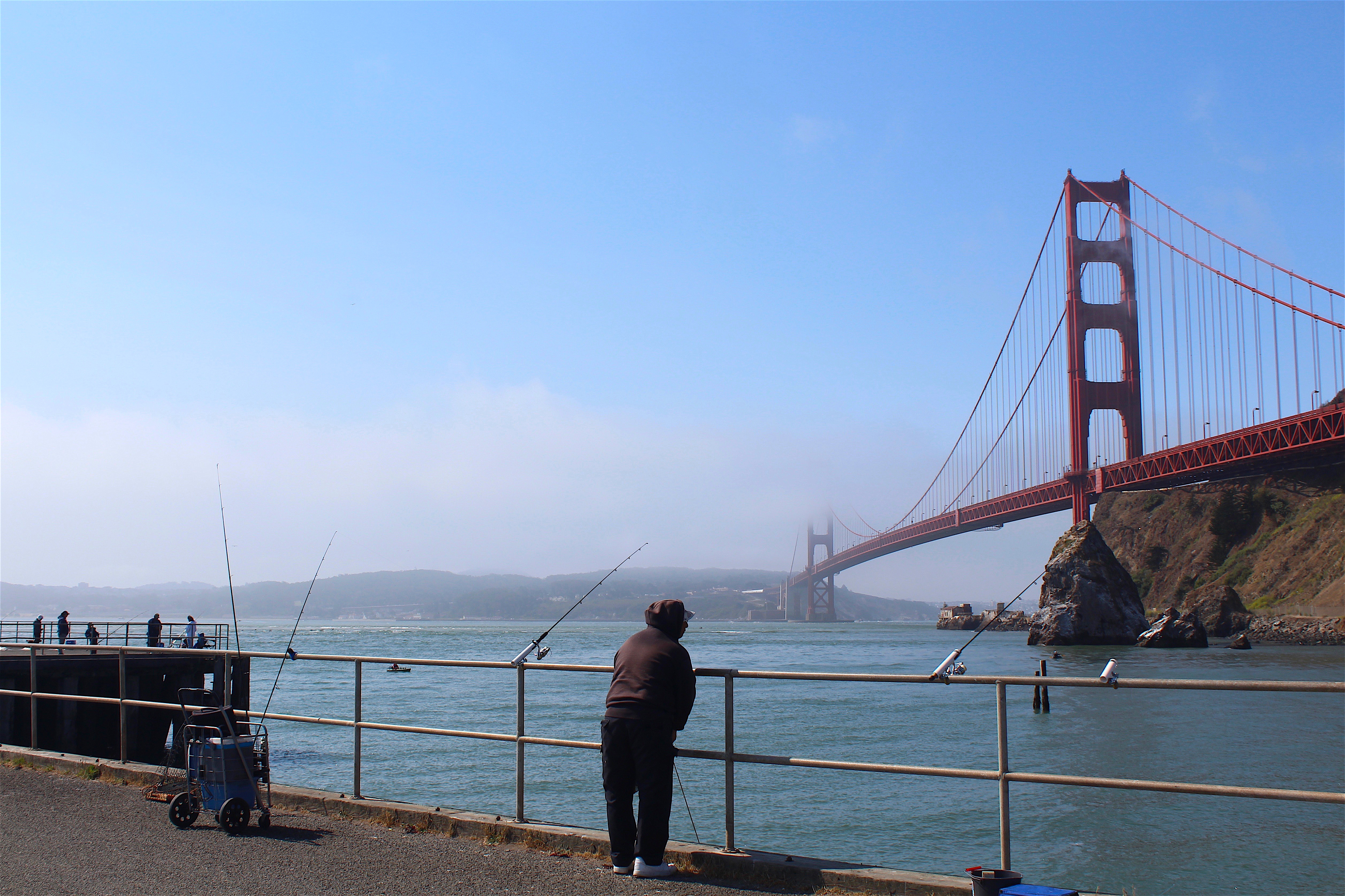 A perch angler
Date: November 29, 2009; To: PFIC Message Board; From: Juanito; Subject:  Fort Baker Pier
Hey fellas! So I went fishing to Fort Baker Pier today, as some of you suggested for smelt. This is my first time to this pier as I recently moved in the Bay Area. First of all, I must say that FB is a beautiful place to fish. U bay area folks really have it made. Anyhow, I started fishing around 8am. I set up one rod with a high low baited with pile worms that I cast out and jigged back in to cover more area, and set up another rod with pretty much a high low but with three hooks (two with pile worms, and one with a piece of shrimp) that was stationary. Less than 5 minutes on the water and I get a bite on the rod that I was jigging in and it ended up being an 9" pogie. Soon afterwards my bobber starts going up and down. I set the hook and get a really good fight, and find that I hooked two jacksmelt simultaneously. Later, I get kinda bored of bait fishing so I fish a pumpkinseed grub on a Carolina rig for perch, and I caught 6 perch. The biggest being 12". I can keep going on and on, but the action was hot all day. I decided to call it a day at 12pm. To sum it up, I caught countless jacksmelt and I caught a good amount of perch (mainly pogies and few rubberlip) out there as well. I released all fish except the first pogie that swallowed the hook, and couple jacksmelt that wouldn't make it. I don't really enjoy eating jacksmelt (or perch for that matter), but it's better than freshwater trout any day.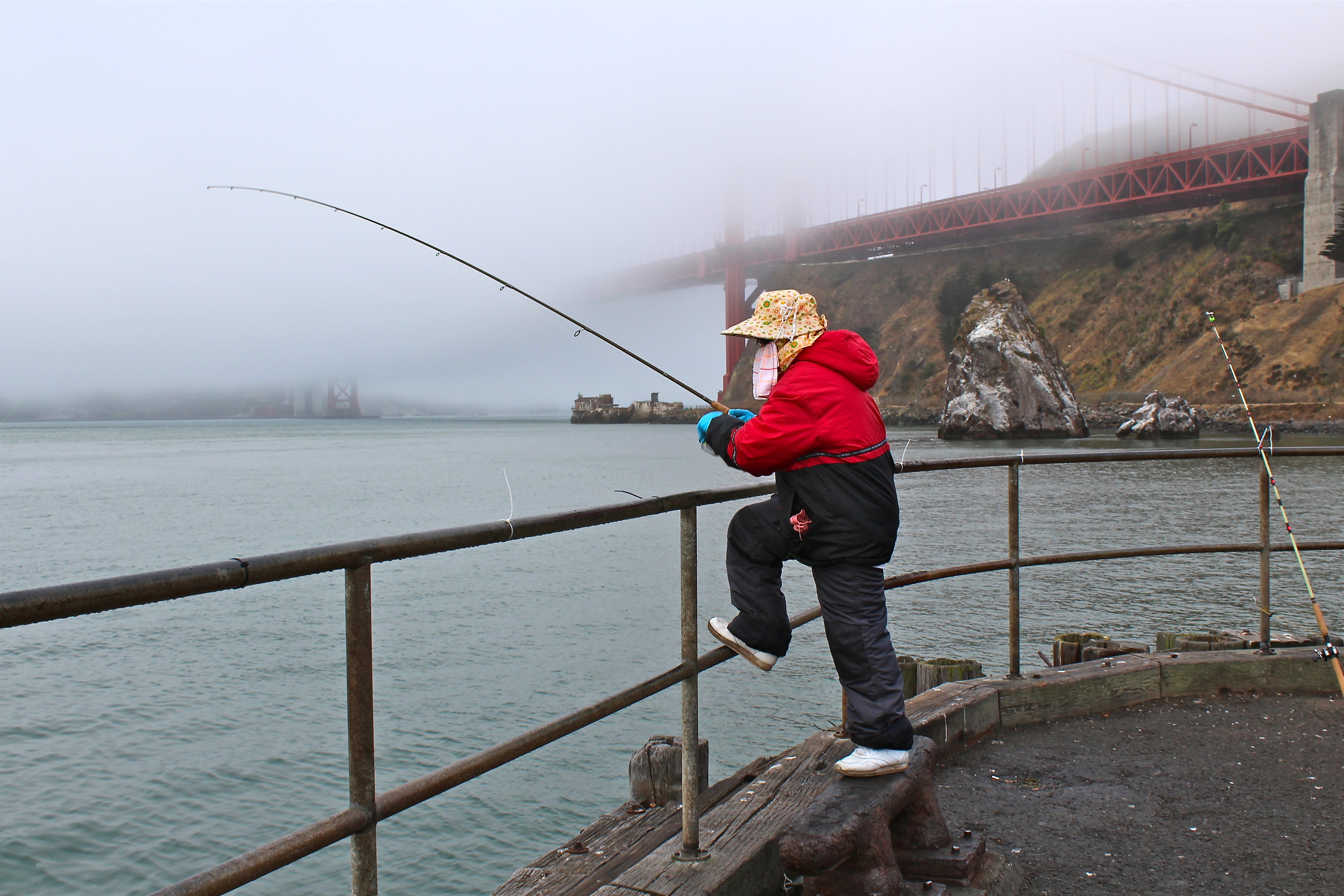 Some days (actually many days) can be cold and foggy
Date: December 10, 2009; To: PFIC Message Board; From: dsrtgl; Subject: Baby it was COLD out there!
 OK… So maybe wire bait cages are NOT the cure after all. I had the pier pretty much to myself all day so I had the UNDIVIDED attention of all the resident furbags… I am REALLY beginning to hate the damn sea lions… I Crabbed with two rings today. The one with the larger bait cage got MUNCHED twice…losing all the bait and got dragged under the pier COUNTLESS times after I tried to continue crabbing with the ring after zip-tying the cage closed. Gave up on that ring and just crabbed with the one that was not getting bothered as much. Here a smaller (suet basket) size cage seems to get left alone.
Spoke to the F&G Warden and shared some intel (and photos) of local poaching activities. When he arrived there was actually another person crabbing and they were allowed to leave without a citation for not having a measuring device even though they were in possession of a crab… The crab was tossed back… Pretty nice of the warden if you ask me. The man's cute as a button little girl might have had something to do with it though.
Fishing SUCKED!!! Crabbing was just ok… AGAIN I netted many crab that were missing one or both claws. People breaking the good parts off and the tossing the crab back….HATE THAT!… Twice saw octopus crawling out of my net on the retrieve. No sign of a herring spawn in the area but there were a lot of little jellyfish. Got pinched by a mean crab. Was bit on the butt by a pelican. Learned that SNEEZING when you have a stuffed up head and a running nose is NOT a good idea when you are wearing a ski mask… .ewwwwwwwwwwwwwwwwwwww! Pretty much have my crabbing spot dialed in. A few feet in either direction and you get nothing buy tiny Dungies. Only occasional brief sprinkles during the day. Very little trash to pick up on the pier. It was a SERIOUSLY low tide today it is shocking just how many crabbing ropes are wrapped around the pier pilings exposed by the low tide. Tried my home made grappling hook but a local named Tim looks like he has cleaned up most of the good stuff…. DID I MENTION IT WAS COLD!!!!!
Special Recommendation. As mentioned, this can be a cold and foggy area. Old records reported that the foghorn at nearby Point Bonito operated an average of 858 hours a year. So, bring some warm clothing just in case the fog does decide to settle in.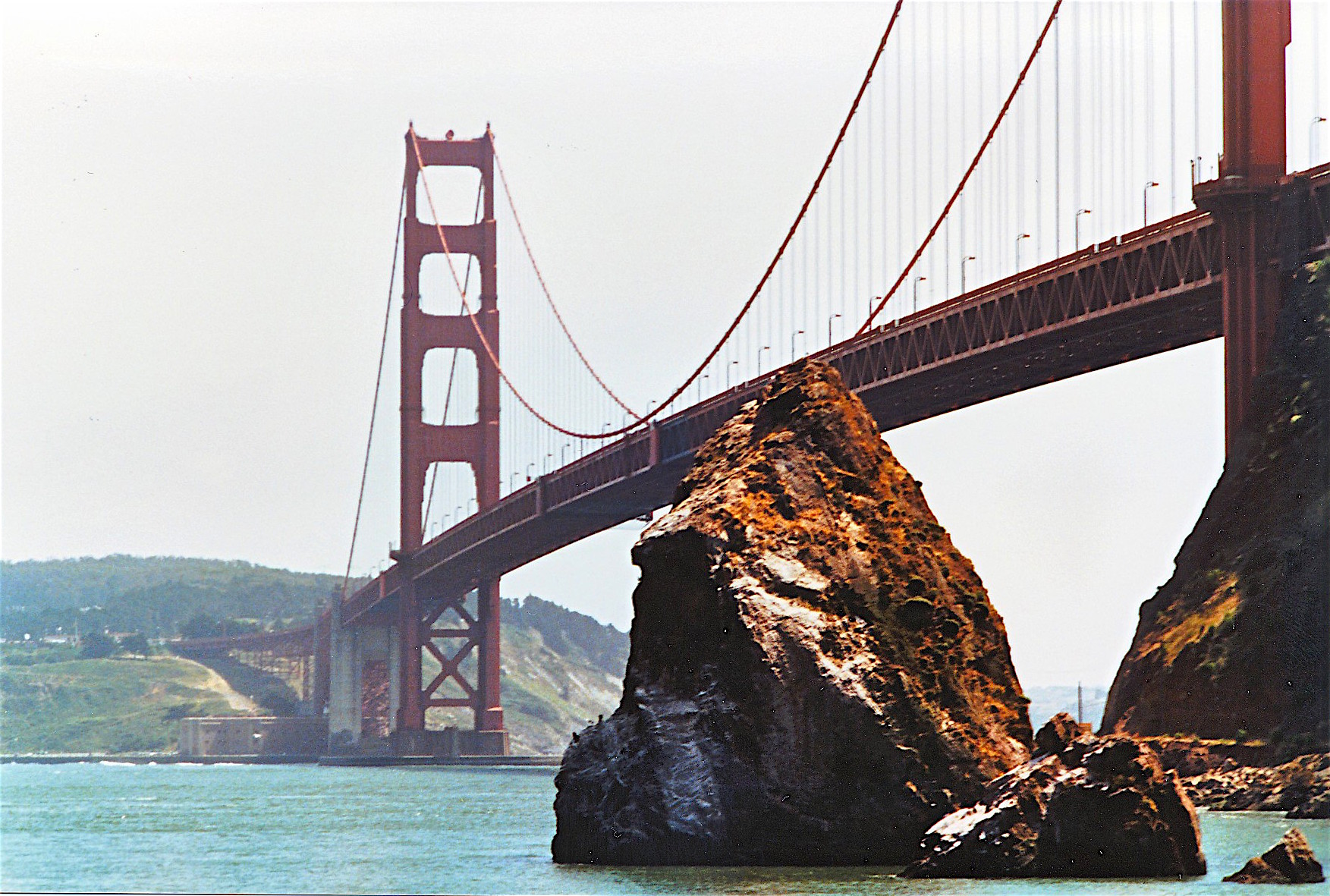 This rock sits out from the pier (picture taken in the '70s)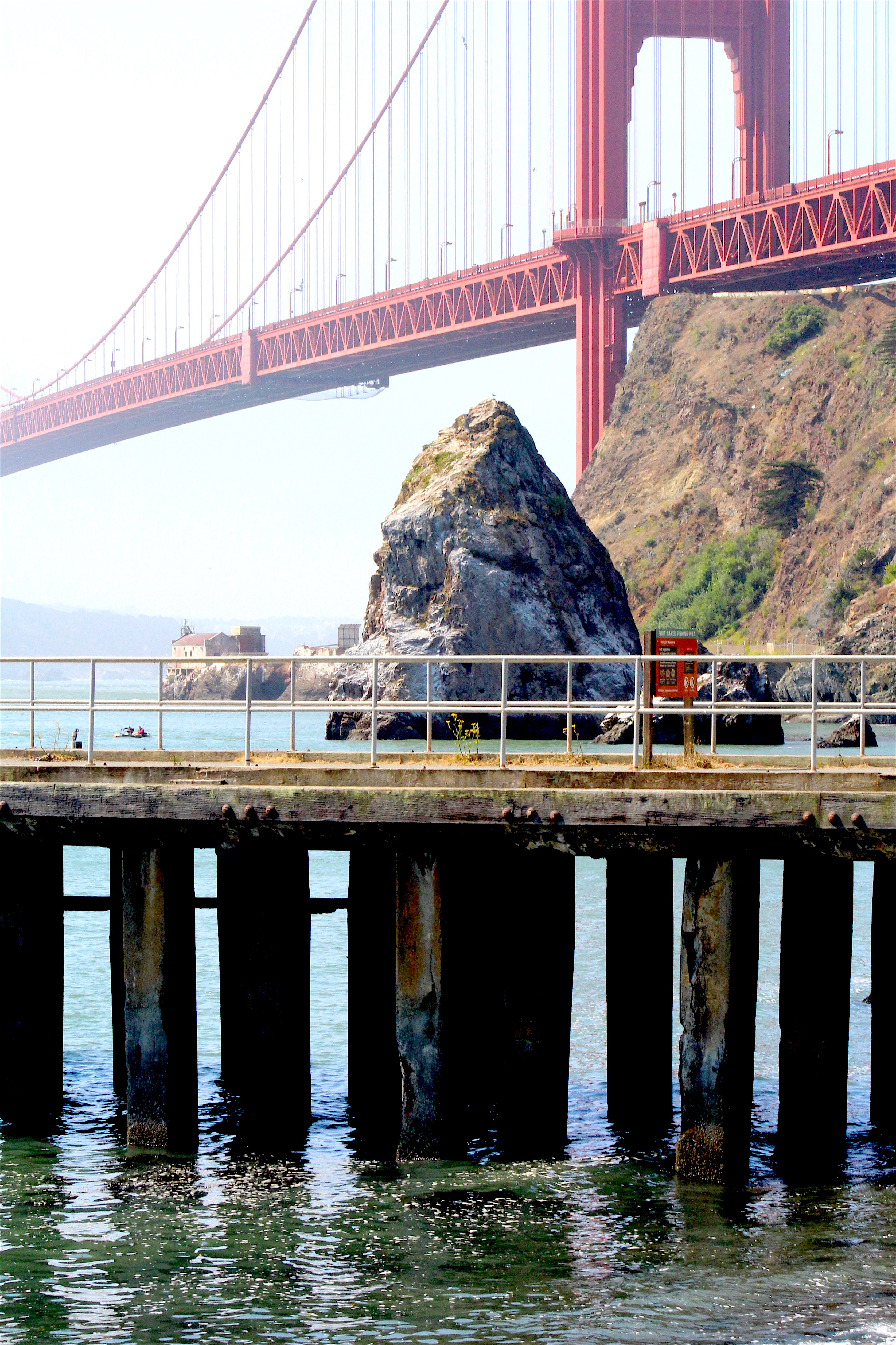 The rock, bridge, and pier are still there and hasn't changed much in 40 years (picture taken in 2018)
Potpourri — Perhaps More Than You Want To Know About The Fort Baker Pier
<*}}}}}}}}}>< — Fish counts done by the California Department of Fish and Wildlife show that the two most common fish most years, numerically, are jacksmelt and Pacific sanddab with the remainder of fish primarily being perch and rockfish. As for the perch, ten species were counted numerically in the following order—walleye surfperch, striped seaperch, rainbow seaperch, white seaperch, shinerperch, black seaperch, pileperch, silver surfperch, rubberlip perch and redtail surfperch.  The main rockfish were brown rockfish and grass rockfish.
<*}}}}}}}}}>< — Special Bay Area Regulations:
A perch closure exits in San Francisco and San Pablo Bay from April 1 to July 31. No perch may be kept other than shinerperch (20).
In San Francisco and San Pablo Bay a fishing line may not contain more than three hooks.
Sturgeon Regulations:
A sturgeon report card and tags are required for anyone fishing for or taking sturgeon. (a) The card must be in the angler's possession; (b) a tag must be used for any sturgeon retained by the angler; (c) the angler must record information on the Sturgeon Report Card immediately after catching and   keeping or releasing the sturgeon.
White sturgeon can only be kept from 40-60 inches; larger and smaller sturgeon must be released.
Green sturgeon may not be taken or possessed.
<*}}}}}}}}}>< — Although fishing barges were a popular fixture in southern California Sportfishing fleets for over 60 years, they never seemed to catch on in central California or the Bay Area. Thus my surprise when I read about a fishing barge once anchored near Fort Baker.
Fishing Barge Open Off Southern Marin
Managers of the new fishing barge which opened in San Francisco bay last week-end are preparing for exceptionally large crowds of anglers over the Fourth of July week-end. Although business has been slow during the first week, owners E. A. Krug and R. S. Wibor anticipate a big week-end pick-up. The barge, a converted LOL is anchored off Yellow Bluff, by Fort Baker, and is open daily from 7 a.m. until 5:30 p.m. A water taxi, leaving Sausalito landing float every half hour, is provided and the  transportation is included in the regular $3..50 per day fee for use of the barge. The location of the barge is described as the best spot in the bay for bass and cod fishing. — San Rafael Independent-Journal, July 1, 1949