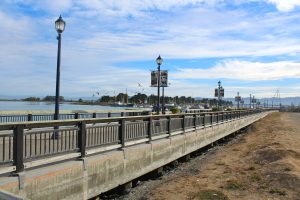 The Boardwalk
The third fishery is for sharays—sharks and rays, with dogfish and leopard sharks leading the shark parade, bat rays leading the parade for rays. Big skates, not just their name but also reflecting their size (some over a hundred pounds in weight) are also commonly encountered.
All are caught on the bottom and the prime time for all is the nocturnal hours when most sane citizens are safely ensconced in their beds (hopefully with happy dreams). Shark anglers are after big game and a five-foot long leopard shark, a hundred pound "mud marlin" (bat ray) or huge big skate will yield some satisfaction (until the next night). If a huge 7-gill shark shows up they may be sated for two nights.
High/low rigs or Carolina rigs with size 4//0 to 6/0 hooks will work for most species. Sharks seem to prefer a whole fish (herring, sardine, jacksmelt) while the rays seem to prefer squid. Given the attention from crabs the tougher squid may be the best way to go. Heavier line and larger hooks are needed.
By the way, landing a large sharay can be a project unless you have some friends along to man the nets. At the south end of the Boardwalk is a dock that is a good place to land sharays.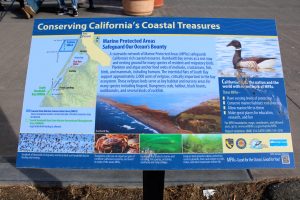 The final fishery is for the top-water species, fish that are pelagic in nature—herring, sardines and anchovies. When present, and often the sight of diving birds will indicate their presence, they can be hooked on a Sabiki-type bait rig. Generally you do not need any bait on the hooks, simply attach a torpedo sinker to the end of the rig and start casting. Sometimes they are on the top; sometimes you need to let the rig sink mid-water before retrieving. Sometimes a steady retrieve works sometimes you want to reel, rest, reel, rest—try different techniques until you find the one that works. And remember, reel all the way to the Boardwalk since often the fish will be in waters adjacent to where you are casting. If done properly, you may be able to catch 2-5 fish on every cast. It's great fresh bait and live bait for the flatfish. As for hook size, it depends on the baitfish that are present. Generally the smaller hooks work best, obviously for the anchovies but also for the slightly larger baitfish. Too big of a hook on the bait rig and you will simply hook less fish. While the sardines and herring seemingly come and go, virtually every trip I have made to the bay during the late summer to Fall months has seem big schools of anchovies.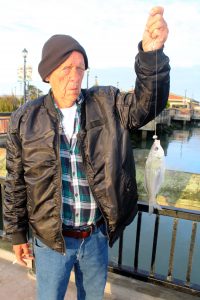 White Seaperch
Jacksmelt also fall into this top-water fishery and they too can be caught on the bait rigs (although I prefer a couple of small hooks rigged on a high/low above a torpedo sinker). Size 8 or 6 hooks generally work best and though sometimes the jacksmelt will hit bare hooks, often they want a small piece of bait—worm, shrimp, or strip of squid or mackerel. If finicky, they may prefer a number of small hooks fished under a float of some type with the hooks being from about two feet under the top of the water down to about 5-6 feet under the top. Large jacksmelt put up a good fight on light tackle and are fun to catch.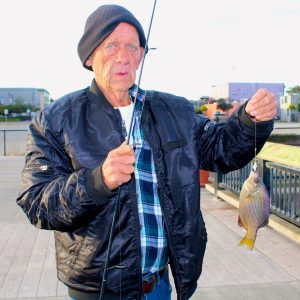 Striped Seaperch
Eureka Boardwalk Facts
Hours: Open 24 hours a day.
Facilities: Lights and trash cans.
Handicapped Facilities: None. Concrete surface with railings that are 38″ high.
How to get there: Take Highway 101 (north or south) and turn to L Street. Turn north on L Street toward the water and follow it down to Waterfront Drive. When you get to Waterfront Drive turn left and follow the street to just past the Adorni Center. The pier is at the western corner of the center.
Management:City of Eureka