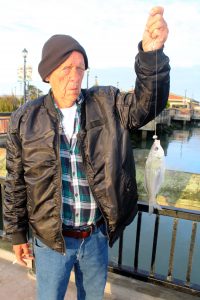 White Seaperch
Jacksmelt also fall into this top-water fishery and they too can be caught on the bait rigs (although I prefer a couple of small hooks rigged on a high/low above a torpedo sinker). Size 8 or 6 hooks generally work best and though sometimes the jacksmelt will hit bare hooks, often they want a small piece of bait—worm, shrimp, or strip of squid or mackerel. If finicky, they may prefer a number of small hooks fished under a float of some type with the hooks being from about two feet under the top of the water down to about 5-6 feet under the top. Large jacksmelt put up a good fight on light tackle and are fun to catch.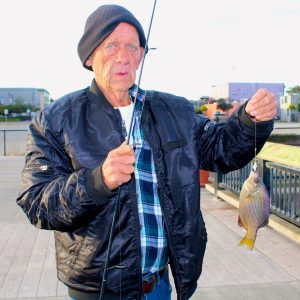 Striped Seaperch
Eureka Boardwalk Facts
Hours: Open 24 hours a day.
Facilities: Lights and trash cans.
Handicapped Facilities: None. Concrete surface with railings that are 38″ high.
How to get there: Take Highway 101 (north or south) and turn to L Street. Turn north on L Street toward the water and follow it down to Waterfront Drive. When you get to Waterfront Drive turn left and follow the street to just past the Adorni Center. The pier is at the western corner of the center.
Management:City of Eureka