It's usually not too hard to watch things while you're on the pier (excepting times when you're distracted while fighting a big fish) but it's a lot harder keeping your eye on things in your car.
It's best to always be vigilant, especially at night, but eventually you begin to wonder if there isn't a safer place to practice your fishing skills. For me it's meant far fewer trips to the pier during the past few years, especially if I am alone, and more time at the other places to fish in Eureka.
Tis a shame given the lack of public piers in Eureka and the money spent by the city and Wildlife Conservation Board to build the pier in the first place.
But, it's an unfortunate reflection on Eureka, which has seemed to get more and more depressing over the past couple of decades. The weather itself can be depressing (since sunshine sometimes seems a rare commodity) but the true depression is the number of people, mostly fairly young people, who seem to hang out at every corner and fast food joint begging for a handout. Highway 101 (Broadway), the main street that runs right through the middle of town, at times seems to be "drug central" or perhaps "panhandle central" and I have friends who say they no longer will even stop in Eureka.
The town has high unemployment, a huge drug problem, and a high crime rate. Humboldt County, its redwood forests, and beautiful coastline, has some of the most spectacular scenery in the world but, in my opinion, the beauty has been marred by its drug culture. The region's status as the drug capital of California, and the laissez-faire attitude toward the drugs by many if not most locals, almost invites problems.
<*}}}}}}}}}>< — You just never know what you're going to see when you visit a pier.  A visit to this pier in 2015 saw the Coast Guard practicing some search and rescue techniques.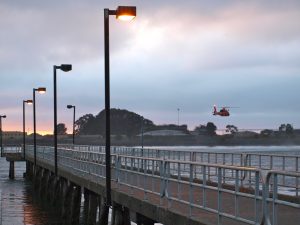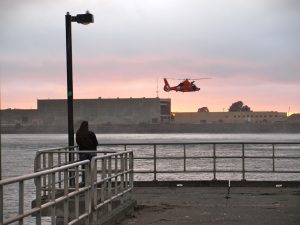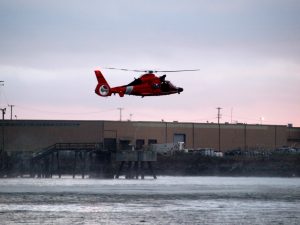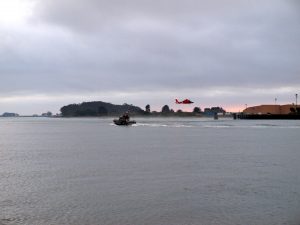 <*}}}}}}}}}>< — Some interesting information from the booklet prepared for the committee working on the Marine Life Protection Act.
Humboldt Bay: Humboldt Bay is a marine embayment located along the central coast of Humboldt County. Humboldt Bay is the second-largest estuary in California, after San Francisco Bay, and consists of Arcata (North) Bay at its north end, Central Bay, and South Bay. The Humboldt Bay National Wildlife Refuge is located in South Bay. The bay encompasses an area of nearly 30 square miles and contains a number of diverse habitats, including tidal flats, salt marsh, and eelgrass beds. Approximately 40% of the known eelgrass in the state occurs in Humboldt Bay (Schlosser et al. 2009). Eelgrass beds in South Bay are denser than those of Arcata Bay (Barnhart et al. 1992; Tennant 2006), contain 78%-95% of the total eelgrass biomass in the bay (Harding and Butler 1979), and are recognized as one of the most important locations of eelgrass growth on the entire U.S. west coast (Phillips 1984)…
At least 110 species of fish have been reported from Humboldt Bay, including many commercially important species that spawn within the bay and several species of salmonids that spawn in the tributaries (Gotshall 1980; Barnhart et al. 1992). At least six fish species listed as threatened or endangered inhabit Humboldt Bay and its tributaries, including Coho salmon, Chinook salmon, steelhead, longfin smelt, and the tidewater goby (Emmett et al. 1991; Moyle et al. 1995; DFG 2009b). Humboldt Bay also serves as an important nursery area for a variety of fish and invertebrate species, including English sole, Pacific herring, lingcod, Dungeness crab, rock crabs, some surfperches, and some rockfishes (Barnhart et al. 1992). Other large fish species, such as bat rays and green sturgeon, can reach high abundances within Humboldt Bay, particularly during the summer months (Moyle et al. 1995; Gray et al. 1997).
<*}}}}}}}}}>< — Yikes!
Humboldt Baykeeper in the News — Simpson To Remove Contaminated Soil
EUREKA – The Simpson Timber Co. will be removing tons of sediment contaminated with dioxin from the foot of Del Norte Street a part of a settlement of a 2006 lawsuit filed by Humboldt Baykeeper and Californians for Alternatives to Toxics.
The lawsuit came after tests were conducted near the site of a former Simpson plywood mill, where the company commonly sprayed plywood with the now-banned wood preservative pentachlorophenol in the 1960s, revealed the presence of dioxin, according to joint news release from Humboldt Baykeeper and CATS. Dioxin is an accidental byproduct of pentachlorophenol, according to Patty Clary of CATS. The tests revealed the presence of dioxin at levels "tens of thousands of times higher than Environmental Protection Agency standards," according to the news release.
"Under the settlement, Simpson is required to dig up contaminated sediment in the ditch, which is adjacent to Humboldt Bay's only public fishing pier, and haul it to a licensed disposal site," the news release stated. "The company also must restore the ditch as a functioning wetland and install a network of groundwater-monitoring wells to ensure that residual subsurface contamination doesn't leave the site. In addition, a Humboldt Bay Wetlands Restoration Fund will be established at the Humboldt Area Foundation for restoration projects designed to offset environmental damage caused as a result of the contamination."
Clary said the settlement was finalized Tuesday following months of negotiation with Simpson Timber Co. Dave McEntee, vice president of operational services and external affairs for Simpson Timber Co., said the plan is to have the contaminated soil removed by the end of summer. "We're hoping to get after it as soon as we can," McEntee said.
He estimated that some 2,500 cubic yards of soil would be removed from the site, but the total may be more or less. The soil in the area will be tested prior to excavation to make sure the area excavated has all the contaminants of concern, he said. The soil removal is expected to cost more than $500,000, McEntee said. "It will depend on the actual volume we excavate," he said. "We've been working on this site for several years … this is a continuation of the effort to make sure the property is cleaned up."
—Eureka Times-Standard, February 21, 2008
 History Note. In 1989 the Wildlife Conservation Board allocated $290,539 to be matched with funds from the City of Eureka (and other agencies) to reconstruct a fishing pier at this site. An eight-foot-wide pier with wooden handrails, water, lights, fish cleaning sink, benches and trash containers were planned. Additional improvements included work to the riprap shoreline, paving a walkway on the causeway and repaving Del Norte Street. The pier opened in October of 1991. It was the first fishing pier built by the City of Eureka in conjunction with the Wildlife Conservation Board and many hoped it would not be the last.
Today the railings are metal and the fish cleaning sink, water, trash containers and benches are history. However the lights remain so it continues to be a good pier from which to fish for sharks at night — in a group.  Cars left unattended in the far distant parking lot and any tackle left unattended while your fishing is at risk.
Del Norte Street Fishing Pier Facts
Hours: Open 24 hours a day.
Facilities: Few! Lights are found on the pier. A free parking lot, chemical toilets and a small park area with picnic tables are found near the front of the pier.
Handicapped Facilities: None. The pier's surface is concrete and the pier's railing is approximately 40 inches high.
How To Get There: Take Highway 101 to the south end of Eureka, turn west on Del Norte Street and follow it to the pier.
Management: Eureka City Parks Department.